Do you want great theming of your favorite Pixar films while enjoying delicious food? You have to try this dining location.
Pixar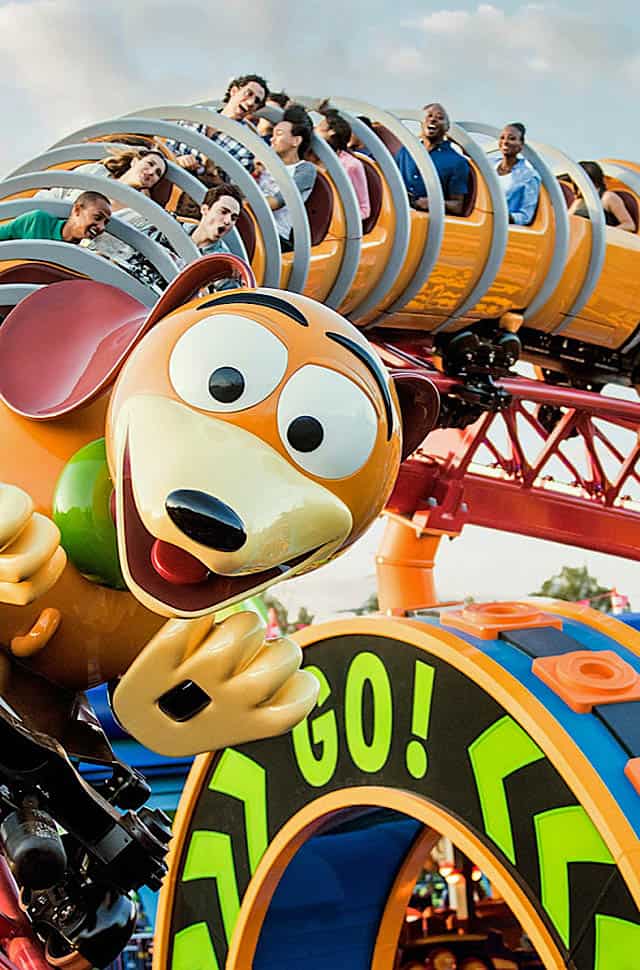 From the first time that we shouted "To Infinity and Beyond" back in the 1990s with Toy Story until now where we shout "Silenzio Bruno" with Pixar's Luca, Pixar creates unique animated films that have shaped our memories. Toy Story first premiered in 1995. Over the years, Pixar continues to create films that leave us wondering how they create such unique storylines and realistic animation.
In 2016, Pixar joined the Walt Disney Company. This beautiful partnership created great animated films and allowed guests to enjoy their favorite Pixar films in the Disney Parks.
At Walt Disney World, guests can shrink down to the size of a toy at Disney's Hollywood Studios in Toy Story Land, scamper through a great adventure at EPCOT's Ratatouille Adventure, and even realize that "It's Tough to be a Bug" at Disney's Animal Kingdom.
Pixar Pier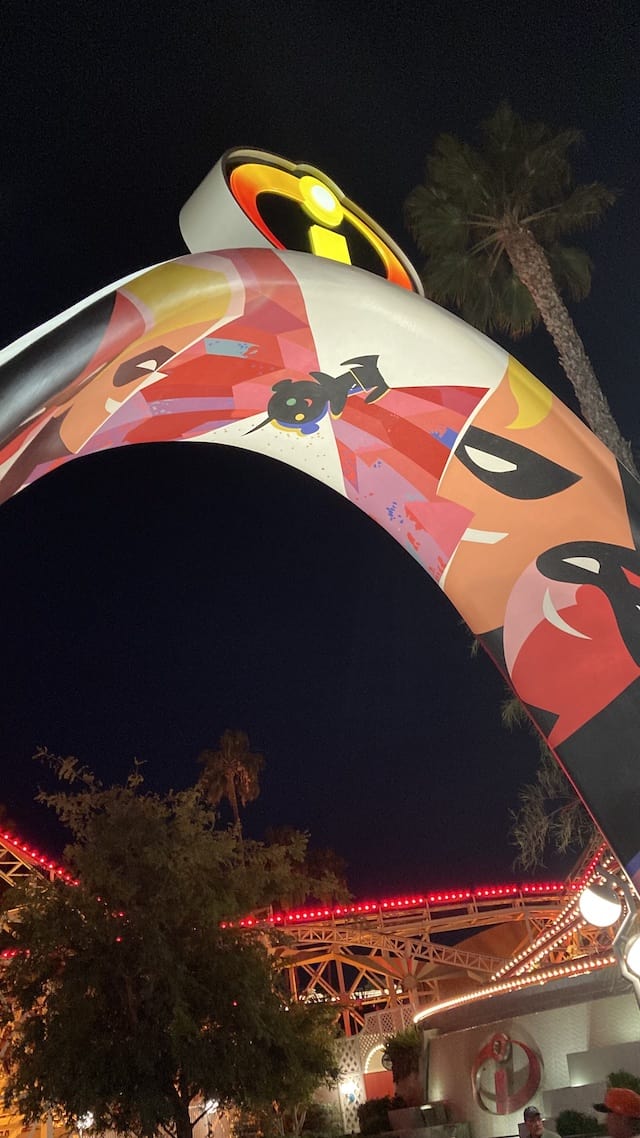 Over at Disneyland's California Adventure, guests can enjoy an entire pier filled with their favorite Pixar characters and hop aboard unique Pixar attractions. Take an exciting journey to find Jack-Jack on the Incredicoaster, climb aboard Jessie's Critter Carousel, try your hand at Toy Story Mania, and enjoy an Emotional Whirlwind from Inside-Out.
The icon for Disney's California Adventure is without a doubt the Pixar Pal-Around Ferris Wheel. Each gondola features many of your favorite Pixar characters. You can enjoy this as a simple Ferris wheel or take your adventure to the next level and enjoy the swinging version where your gondola slides and swings as you rotate around this Ferris wheel.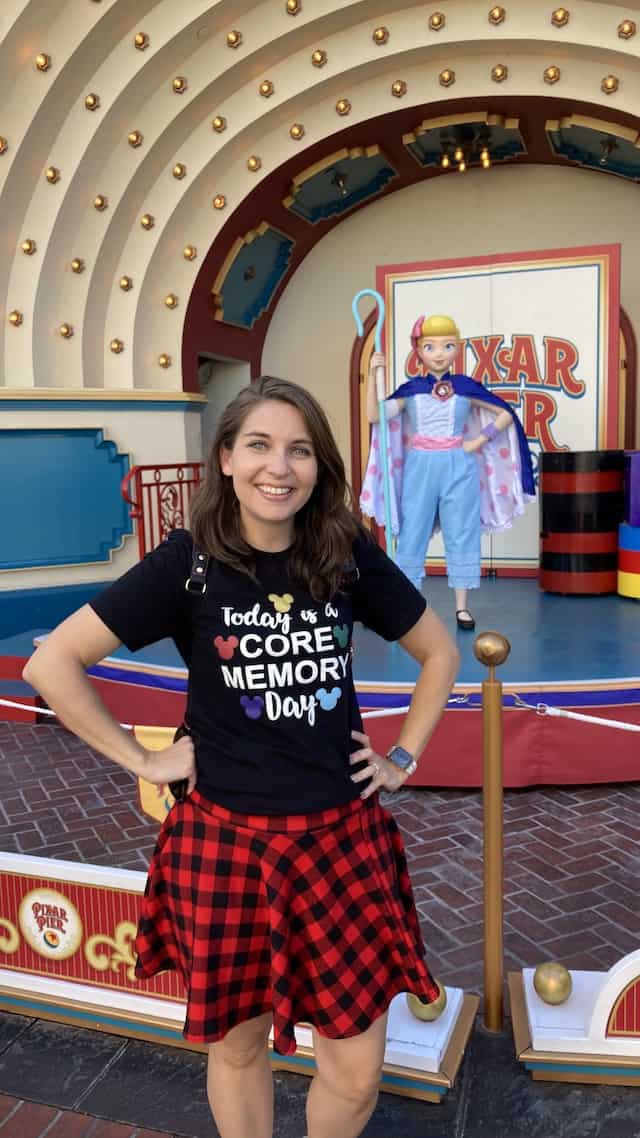 This pier allows for shopping, snacking, and even enjoying carnival games. If you love Pixar, you need to visit Pixar Pier and enjoy dining at this Pixar-themed restaurant.
Lamplight Lounge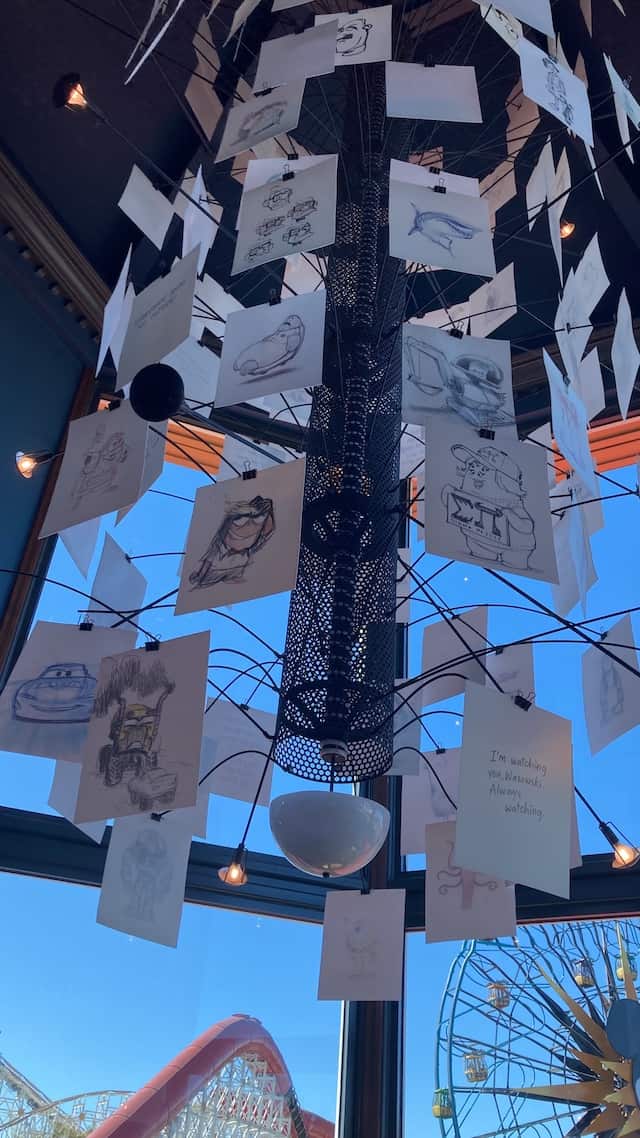 Lamplight Lounge is located at the entrance to Pixar Pier and is a must for all Pixar fans both young and the young at heart. Guests are invited to, "Celebrate the creativity of Pixar animation over gastropub cuisine, signature cocktails, and panoramic waterfront views."
Guests with advanced reservations can enjoy the lower level of Lamplight Lounge. This offers both indoor and outdoor seating with an impressive entree menu.
Guests without advanced dining reservations can still enjoy a limited menu with Boardwalk Dining. This location offers seating outside on the second floor. For our (Donna's family) dining, we enjoyed eating on the first-floor outdoor dining. We enjoyed a breathtaking view of the Pixar Pal-Around Ferris Wheel and the beauty of Pixar Pier.
After ordering our food, we enjoyed looking throughout the restaurant at the many themed elements from our favorite Pixar films. The theming that most impressed our children were the large Pixar ball wall along with the tabletop filled with rows of each Pixar car vehicles.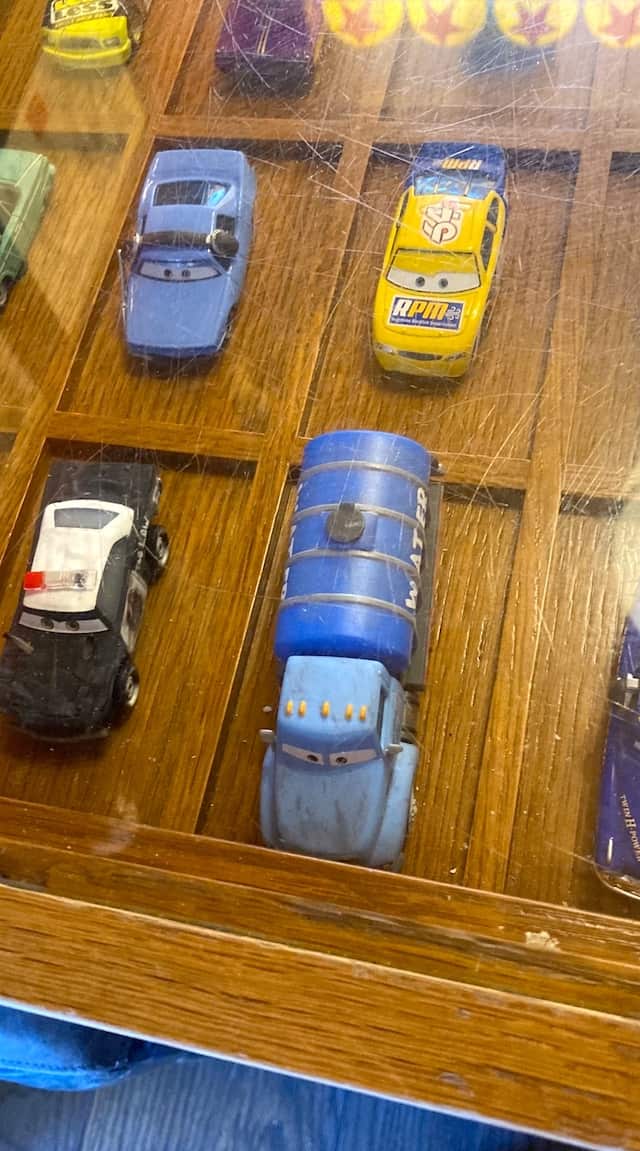 Our oldest son loved Lightning McQueen, and we all now know each Cars movie by heart. It was almost as if he were visiting his favorite friends as he looked at each car through the glass tabletop.
Be sure to check out Marisol's review of food and other great theming found throughout this restaurant HERE.
Kung Pao Bao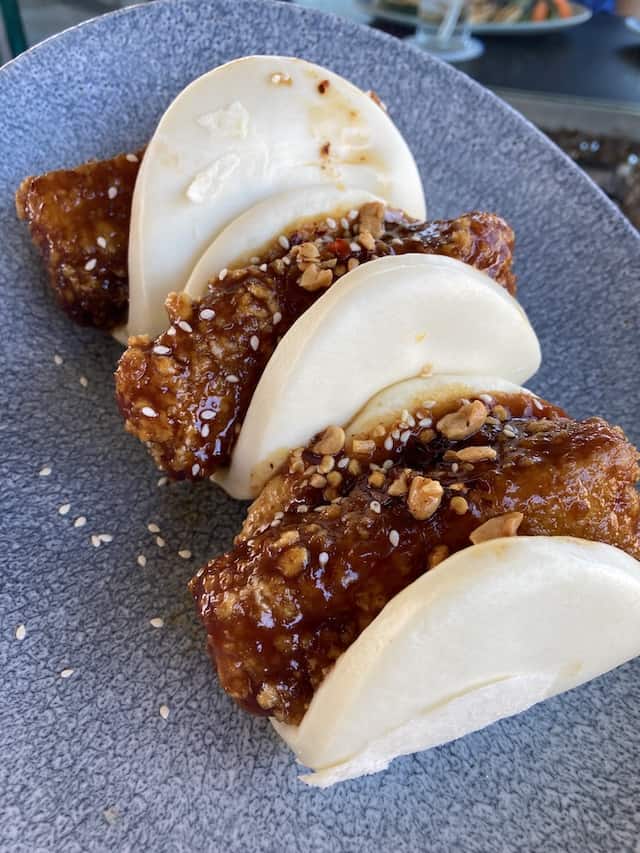 My (Donna) husband ordered the Kung Pao Bao. This is featured among the "Bites" or appetizers, but this was a perfect size entree for an individual. The Kung Pao Bao features a glazed crispy pork belly, topped with toasted peanuts, and green onions. This is served on a soft bao bun.
The Kung Pao Bao is featured among the "Bites" or appetizers, but this was a perfect size entree for an individual.
This was the first meal that we enjoyed during our trip to Disneyland and California Adventure. My husband, who is quite the foodie, loved every last bit of his dish. The pork belly was seasoned to perfection, and it paired perfectly with the soft bao bun. This dish was a definite home run for my husband, and he joked that he wished we could return for dinner.
Chicken Ratatouille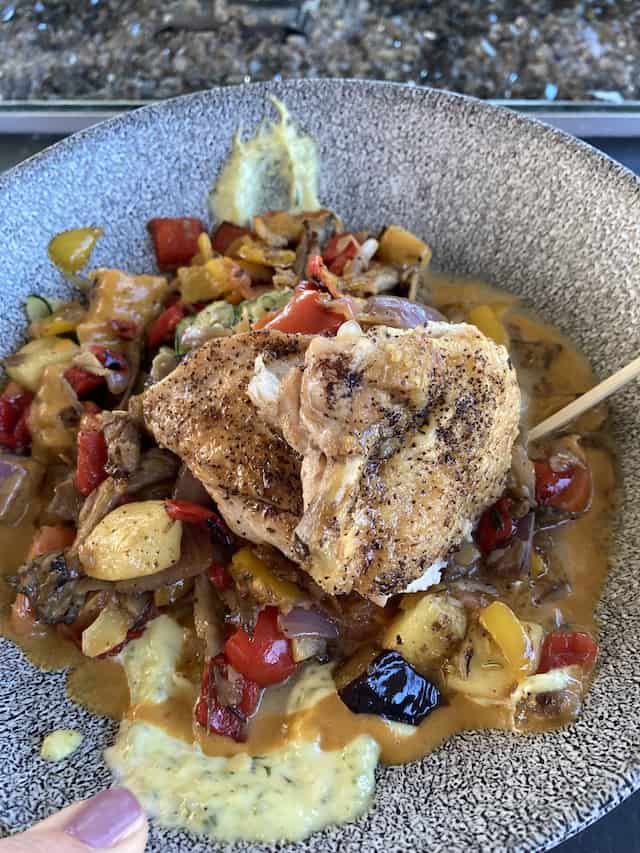 Last year, my husband and I (Donna) had the opportunity to visit Disneyland Paris. I couldn't wait to enjoy Ratatouille at Chez Remy. Unfortunately, that dish was a bit disappointing. Read more about dining at Chez Remy HERE. When I first saw Ratatouille included in the Lamplight Lounge menu, I feared this may once again be disappointing. This dish was everything I could hope for and more.
The Chicken Ratatouille was everything I could hope for and more with perfectly roasted vegetables and a seasoned chicken filet.
This dish consisted of "roasted eggplant with bell pepper ragout with zucchini noodles, warm burrata, mushrooms, smoked tomato sauce, and basil aioli" with a seasoned chicken filet. The flavors blended so perfectly and the vegetables were absolutely delicious.
This more than made up for the disappointing Ratatouille from before. Currently, this entree is not available on the menu, but the menu is subject to change. Hopefully we see it again in the future!
Budding Artists Meals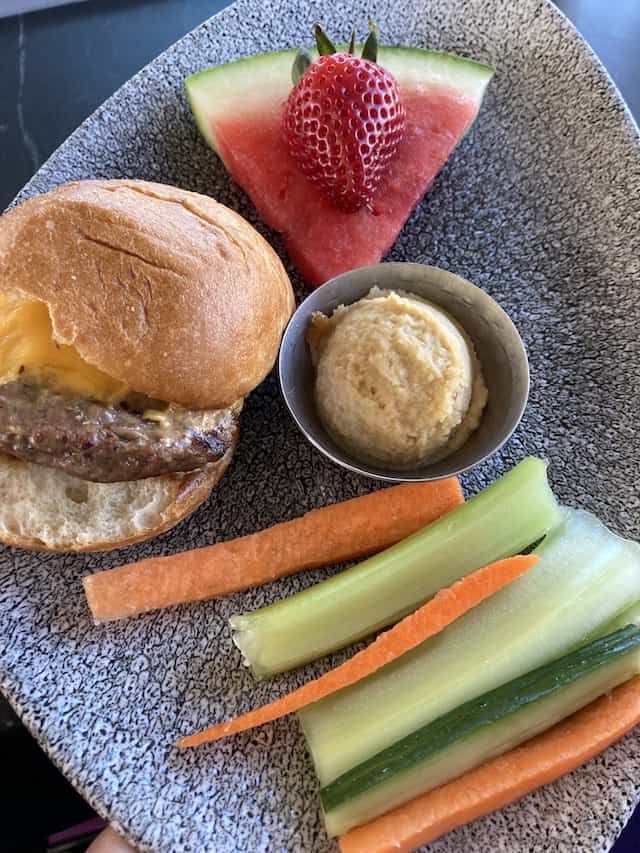 Our two budding artists each ordered different dishes from this menu. The first was the Burger Slider. This mini burger was served with both cheese and pickles. As sides, this dish included both fresh fruit and veggies with a side of hummus. This slider was quite large for a kid size.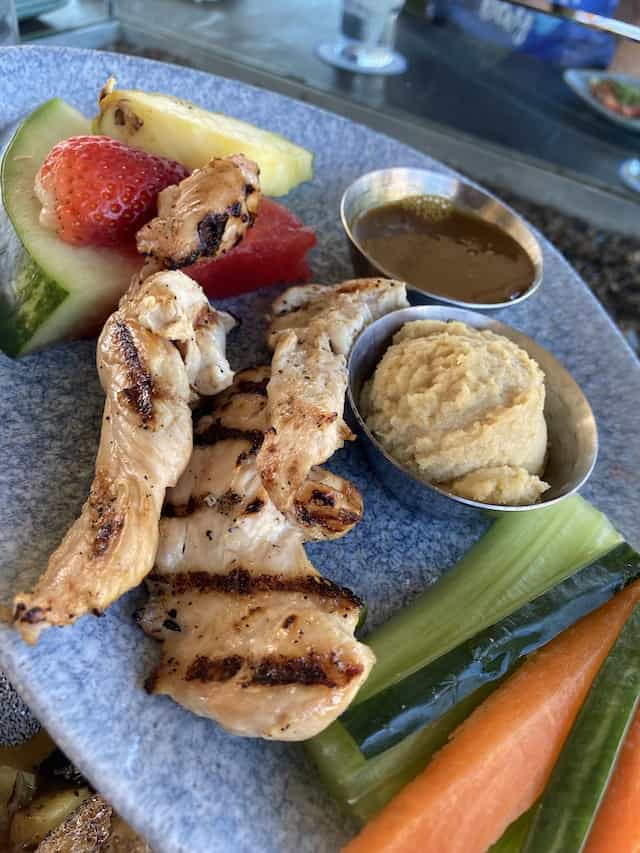 The second choice was the Grilled Chicken Tenders. These were served with a delicious sweet orange sauce and the same two sides as listed above. The grilled chicken tenders were seasoned well, and the dip was a perfect compliment. Both of our budding artists loved the veggies, and the humus was delicious.
Our girls loved the sides, and we loved that they were healthy.
Would we dine here again?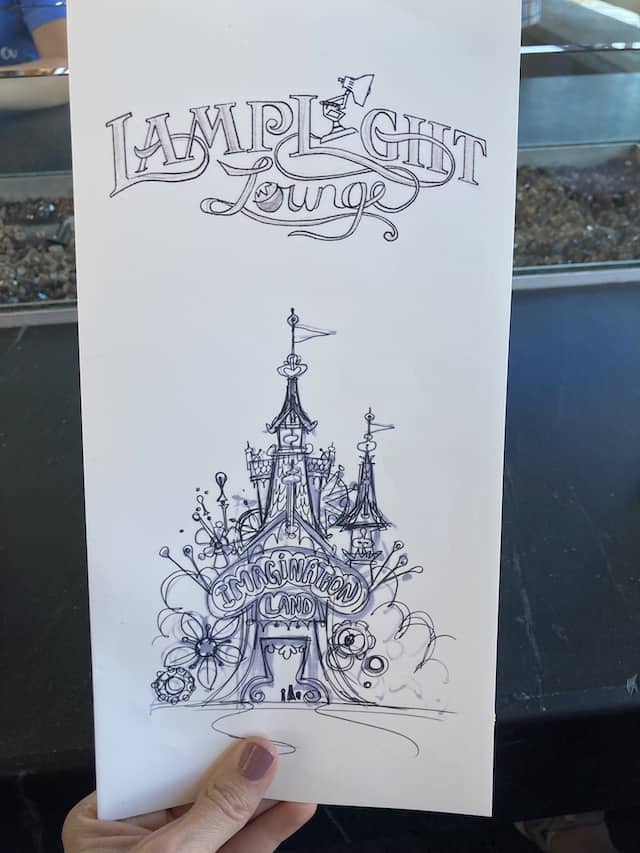 We originally booked this dining reservation to enjoy the great Pixar-theming throughout the restaurant. What we didn't expect was to enjoy our meal so much. At Walt Disney World, many times the food is adequate but you are paying for the experience. Not so at Disneyland and California Adventure.
We originally booked this dining reservation to enjoy the great Pixar-theming throughout the restaurant. What we didn't expect was to enjoy our meal so much.
Lamplight Lounge offered superb cuisine in a breathtaking atmosphere that created art from our favorite Pixar films. This will definitely be at the top of our dining reservations for future trips to Disneyland.
Do you love Disney Pixar films? Have you enjoyed Lamplight Lounge before? What is your favorite dish to order? Will you make a reservation at Lamplight Lounge for your next Disneyland and California Adventure trip? Share your thoughts with us on our Facebook Page.