Are you wondering what parties are like when it rains? Here are a few things to expect when the weather is not the best.
Mickey's Not So Scary Halloween Party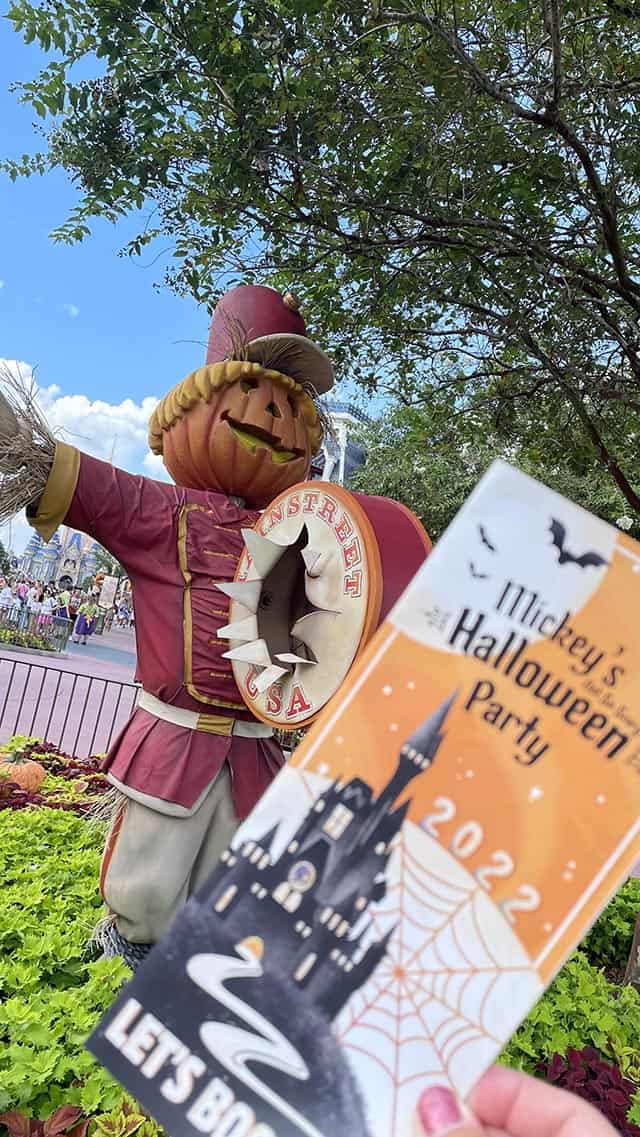 The incredible Halloween-themed event is back at Disney World after a two-year break! This party boasts parades, stage shows, special fireworks, character meets, trick-or-treating, and SO much more.
You can see the dates and pricing for 2022 HERE and what new updates will take place HERE. Be sure to check out the full foodie guide and the dessert party for Mickey's Not So Scary Halloween Party.
You can check out the full party map HERE and see all of the great merchandise HERE. Guests also have a couple of dining options to choose from as well.
What to do when it rains on your parade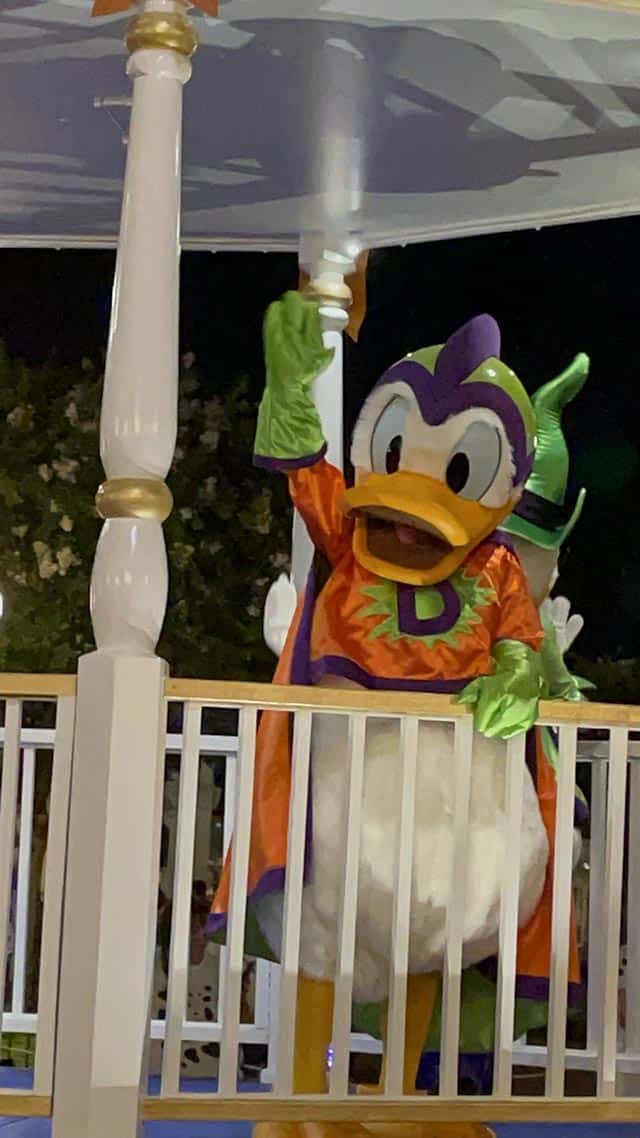 No matter how much you plan, the one thing that you really do not have any control over is the weather. Mickey's Not So Scary Halloween party begins in August and runs through October 31st. The months of August and September also happen to be hurricane season in Florida. While hurricanes are unlikely to affect the events, rain and thunderstorms will definitely impact a few dates.
So, what happens when it rains? If you remember, the first couple of party dates were impacted by the rain. We wrote about options guests have in that scenario HERE. The important thing to keep in mind with those options is that they might not always be available.
Our Experience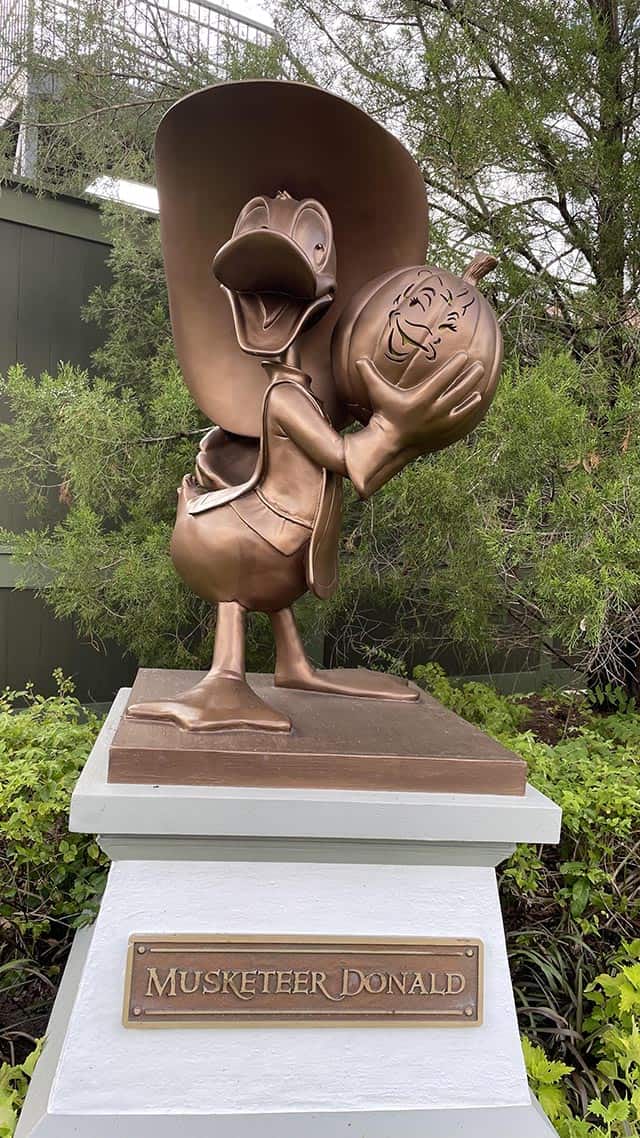 On the day of my (Maggie) party (August 19th), it rained. We arrived to the party around 4:00 p.m. We used these few hours before the party officially started to take some pictures, receive our party wristbands, and enjoy the park.
One of my favorite things that I saw were these fun statues on display. Above, you can see Musketeer Donald. These are great statues to look at and offer fun photo opportunities, so be sure to stop and take a look!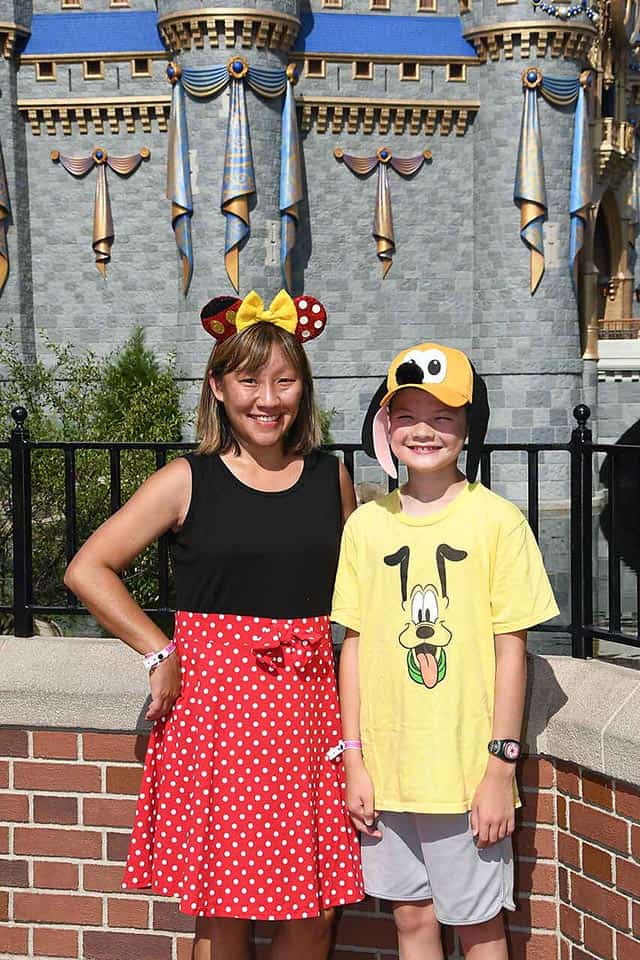 We were able to take advantage of some fun PhotoPass opportunities while we were waiting for the party to begin as well. As you can see in the photo above, it's still pretty nice and sunny! Keep in mind that none of the special Halloween Party Magic Shots will be available at this time, as the party has not "officially" started.
However, you should be able to check out other fun photo opportunities like the ones shown in this post HERE.
Delays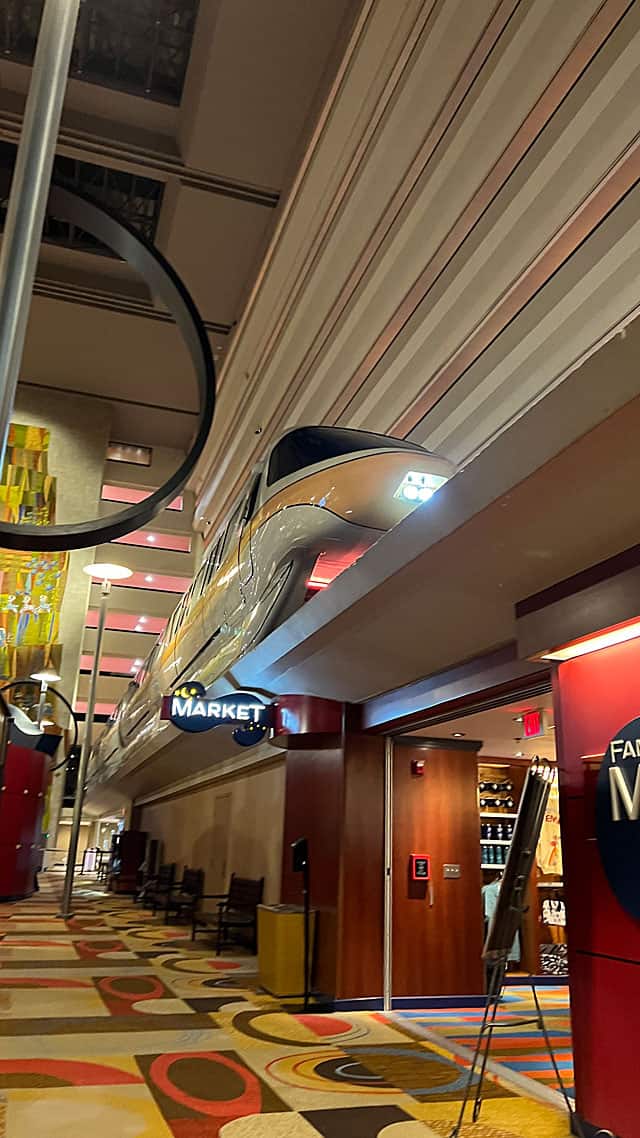 As we were getting closer to 5:00 p.m., dark clouds began moving in, and I knew rain was a possibility. The number one thing to look out for are delays.
If it rains before or during the party, expect delays for everything.
Be prepared and expect delays for transportation. If the weather is unfavorable, this ultimately affects transportation options. The monorail, Disney's Skyliner, ferryboat transportation and bus will ALL have possible delays.
Be patient. Watch for updates at your resort or in My Disney Experience or ask a Cast Member for any updates as they will have the most up to date information.
Attractions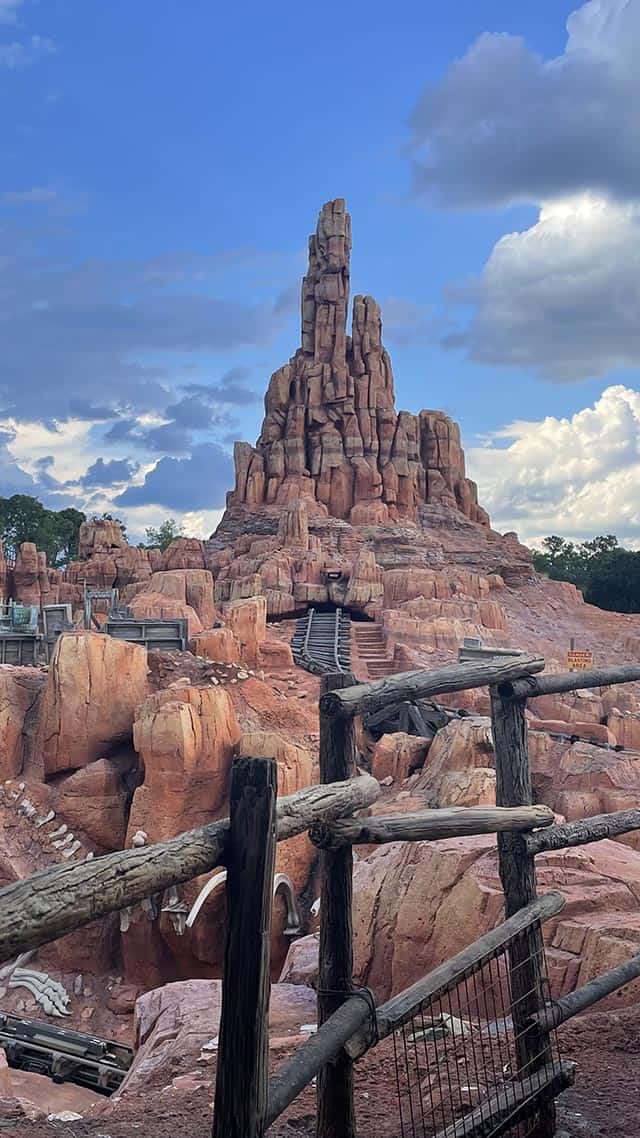 Be prepared for attractions to experience delays or temporarily close due to weather. While we were in line for Big Thunder Mountain Railroad, an announcement was made informing us that the ride could potentially close due to the incoming storms. We were able to get on without any issues, but it does happen.
Many attractions that are available during the party are outside attractions and will likely close if it rains. If the weather is severe enough, even some indoor attractions will be closed.
During our party, it started to really pour a little after 6 p.m. This is also the time the park closed to all regular guests. We noticed nearly all of the attractions were closed. I am not sure if it was due to the rain or because of the park closing and turning over to the party events, but we saw many guests just standing in queues without the attractions actually running.
Treat Locations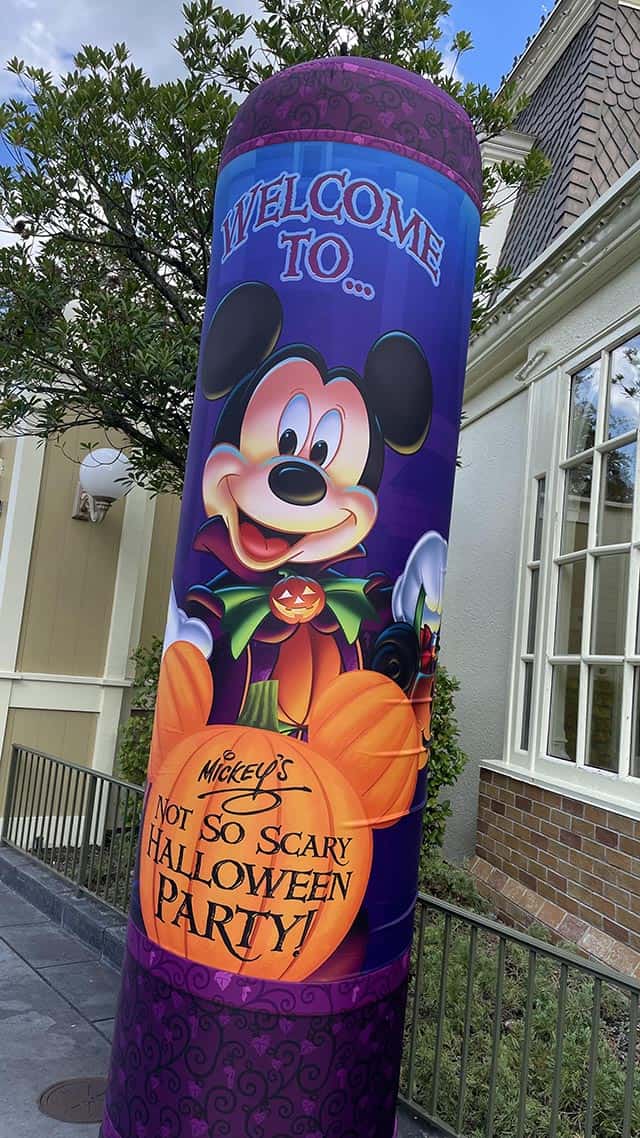 Treat locations can be spotted by looking for these great big inflatables all over the park. On our party day, after the heavy rains finally passed, we started to pass by a few treat locations and noticed that they had not opened yet. The balloons for many of the treat locations were deflated and Cast Members had informed us that they were experiencing delays in opening them.
Locations eventually did open all throughout the park, but there were definitely delays. One of the first treat locations that opened did not open until 7:45 p.m. If you think about it, that is almost an entire hour of party time that they were not available.
Parade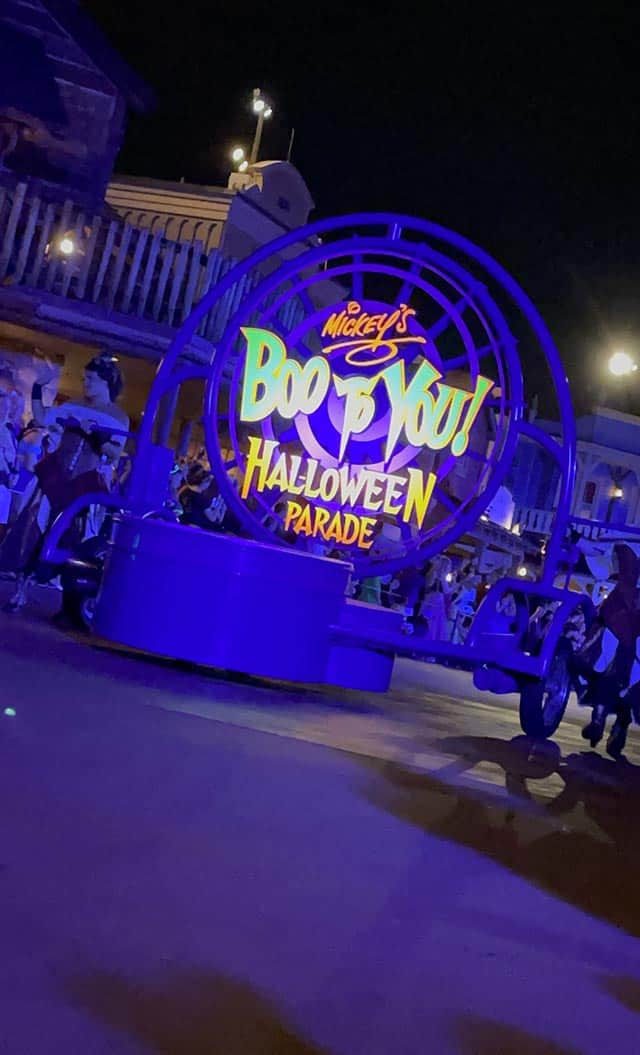 Mickey's Boo-To-You Halloween Parade is held twice during party nights at 9:15 p.m. and 11:15 p.m. It begins in Frontierland and ends on Main Street, U.S.A. If it rains before or particularly during the party, be prepared to – you guessed it – expect delays.
We found a spot in Frontierland right across Country Bear Jamboree about an hour before the first parade was scheduled to begin. Various announcements were made informing guests that the parade was experiencing a slight delay but would be starting soon.
Despite the heavy rains, and to our surprise, we were able to still see the Headless Horseman! We heard the horse clomps, and sure enough, he came trotting down around 9:21 p.m. The parade then officially kicked off around 9:35 p.m. The parade went on with no interruptions, but there was lightning seen during the parade, which actually made it kind of spookier!
Fireworks and other entertainment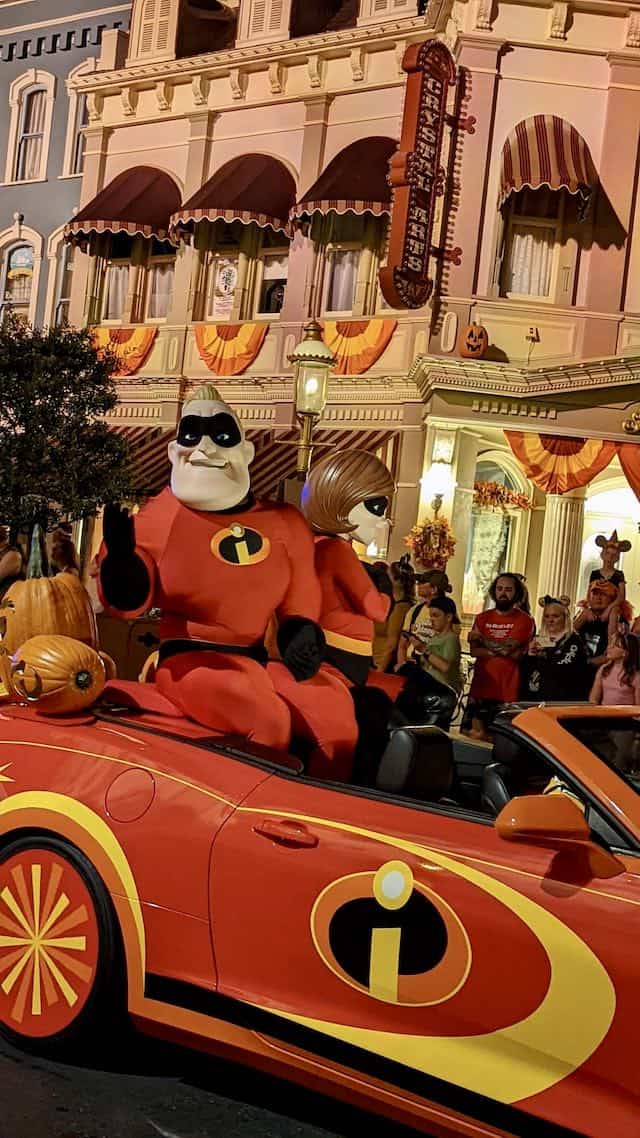 We saw The Cadaver Dans Barbershop Quartet perform prior to seeing the parade. Their schedule did not seem impacted by the rain at all.
Disney's Not-So-Spooky Spectacular takes place at 10:15 p.m. During our night, the timing of the fireworks did not seem delayed due to the rain, so this was on schedule. However, the Hocus Pocus Villain Spelltacular was affected. Stage shows were not canceled entirely but were definitely cut short.
Final Tips and things to know in case it rains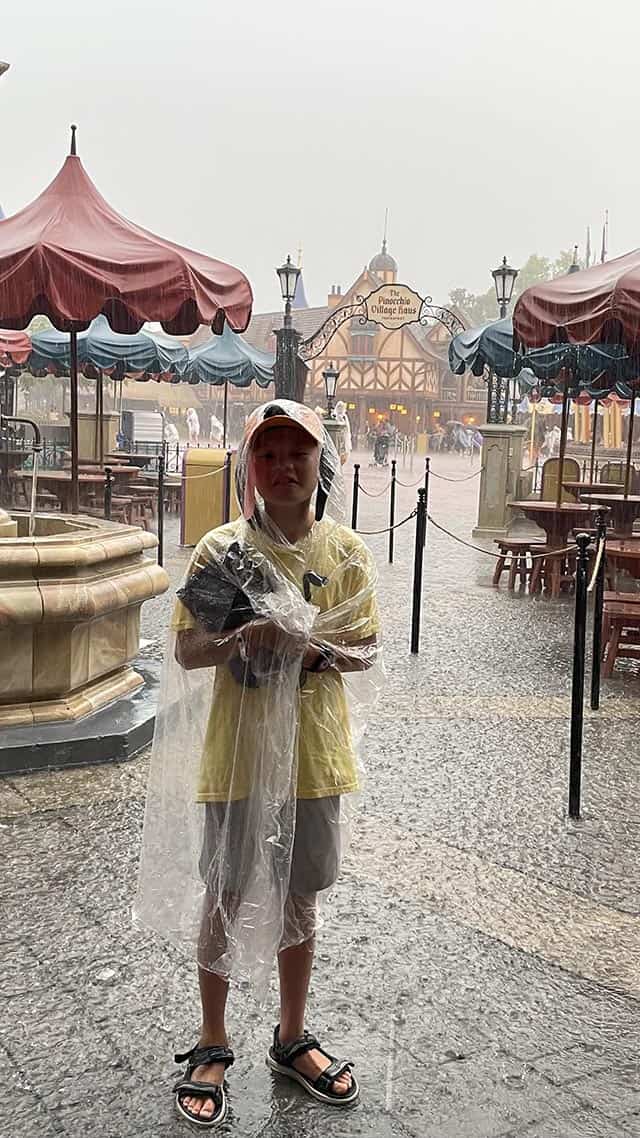 Despite the rain during our party, my son and I still had a really good time! Did it delay a few things for us? Yes. Did we miss out on a few things that we were hoping not to miss? Yes, but the truth is you really cannot do it all in one party. Here are some things to watch out for:
Be prepared for plenty of delays, so pack your patience
Know that some attractions might temporarily close, especially if they are outside
Character lines will likely be longer if attractions are closed
Some Magic Shots might not be available due to conditions
Bring ponchos!
We hope our experience will help you know what to expect if it rains during your party. Truthfully, the rain was only a small part of our party, and despite us experiencing several delays and attractions closures, it was still enjoyable. If all else fails, dance in the rain and splash in those Disney puddles like my son decided to do!
Are you attending Mickey's Not So Scary Halloween Party this year? Have you been to an event when it has rained? What did you do or did not do? Tell us about your experience in the comments below or on our Facebook page.

Are you planning a vacation? Reach out to our trusted travel agency sponsor Authorized Disney Vacation Planner
Mouse Class Travel
!