Many people feel the magic of Disney is fading. It can feel that way with how things are constantly changing, but this event was a magical time. Read my review here.
Disney Vacation Club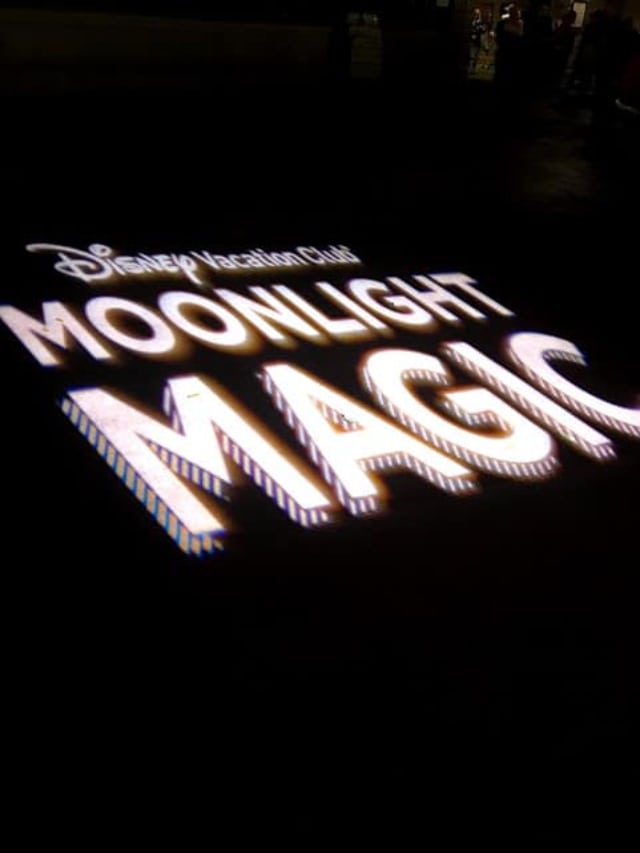 DVC is short for Disney Vacation Club. It is a timeshare run by Disney. Unlike other timeshares DVC has the flexibility of a point system.
You can book the time of year you travel and type of accommodation, including your resort of choice. With this style of timeshare you are not stuck in a particular week every year. You purchase an allotment of points that you can then choose to spend however you would like.
I (Heather) have been a DVC member for years and love being "welcomed home." We love DVC and it helps us get deluxe accomodations at a decent price! Want to know more about DVC? Check out all the ins and outs of it HERE. 
DVC Moonlight Magic Returns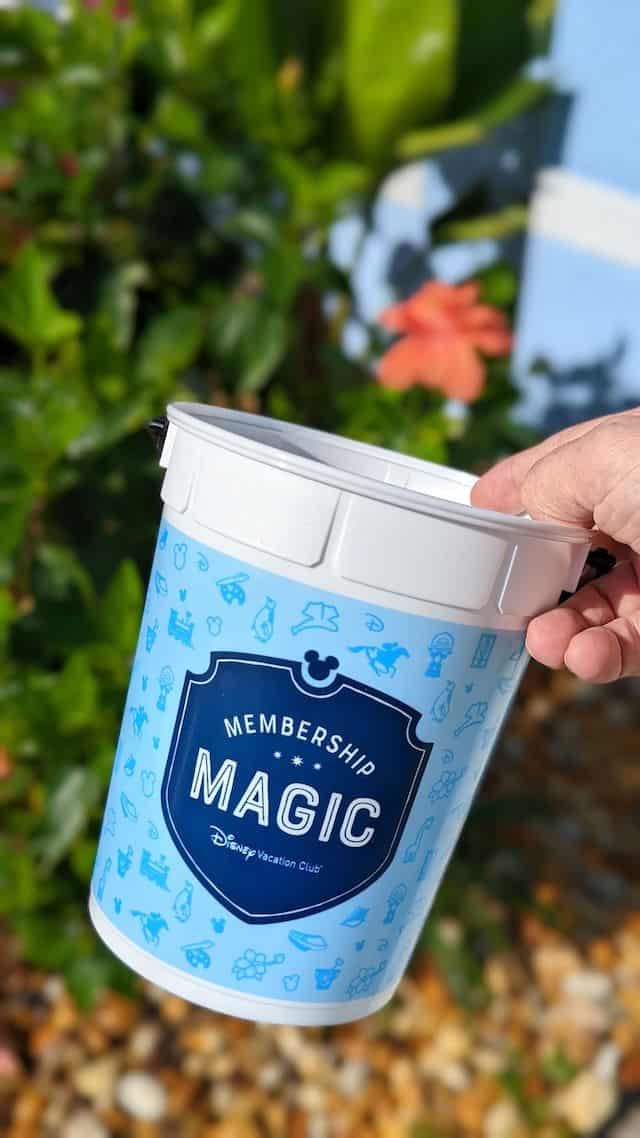 DVC Membership Extras or Benefits are never guaranteed, but they are nice when they do happen. DVC Members can enjoy things like discounts on retail purchases when visiting the theme parks, special discounted tickets on certain events, access to exclusive lounges and even exclusive access to certain parks after the parks have closed.
Moonlight Magic is an After Hours event that happens after the parks are closed. They happen on select nights at select parks. These events are free, however you have to register in order to attend. At these events, guests can anticipate shorter-than-usual wait times, Disney character sightings, reimagined entertainment, and complimentary special treats and delectable delights.
Event dates are August 9, 2022, August 15, 2022, August 23, 2022, and September 8, 2022. I was able to attend the event last night on August 23! Check out all the fun things DVC had in store for their Members!
Pre-Arrival Email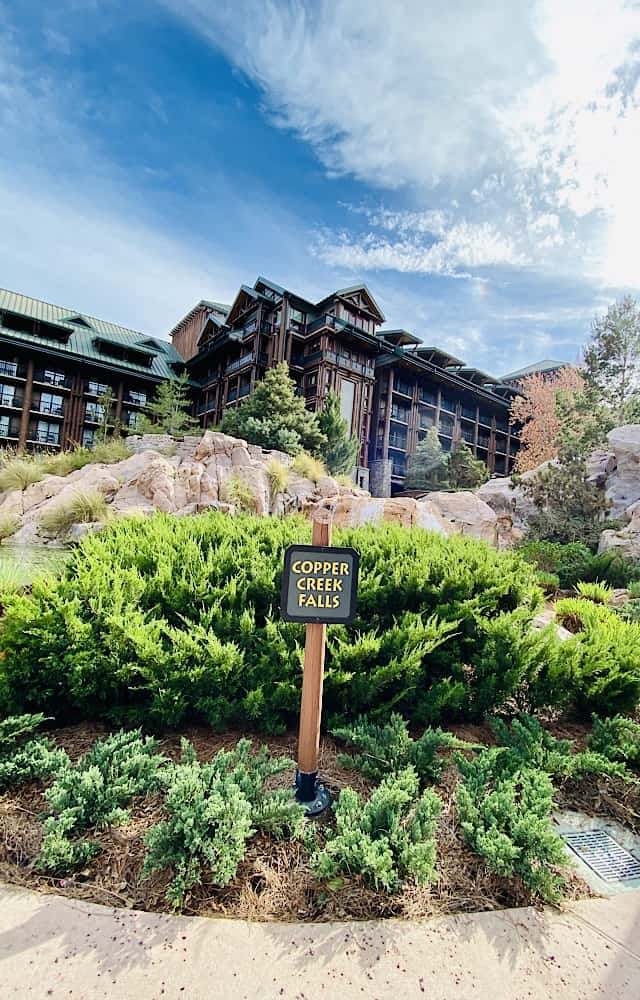 We received a couple of emails regarding this event. The last email we received was sent the day before. It included all the details you needed for the event regarding transportation, how to dress, characters, what to eat, and some other important information.
Transportation started at deluxe hotels at 5 p.m. If you were staying at another Disney hotel, you would need to travel to Disney Springs and then transfer to another bus to the water park. Complimentary parking was also available. This event is held rain or shine, so come prepared! Not all activities are in the water, like the dance parties.
In the email, DVC shared that this event will be unlike previous Moonlight Magic events. There will be no food vouchers! Instead unlimited popcorn and ice novelties, and fruit will be located around the park. There will also be food available for purchase.
No Food vouchers will be distributed at this event!
The last thing to take note of is that the Private Cabanas will be available for paid rental, but they are first-come first-served. Now that we have gotten all that out of the way, let's get to the party!
Check-in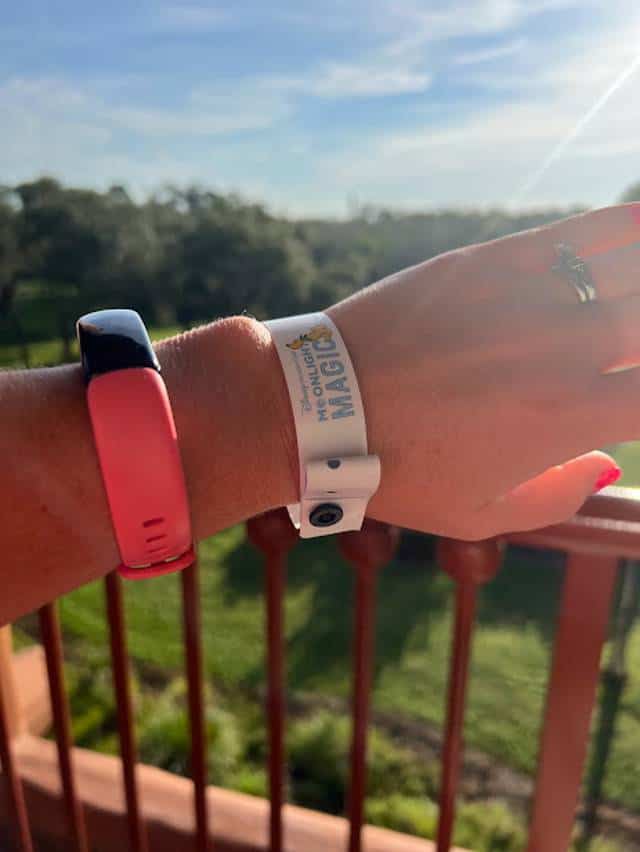 With this event you are able to enjoy the park before it officially closes. In previous years guests could check in at their DVC hotel or at the water park. For this event, you were only able to check-in at the water park.
Check-in began for those already in the water from 4 p.m. – 6 p.m. at Singapore Sal's. My family arrived from our hotel at the start of the event, so we checked-in at the Main Entrance, which was available from 6 p.m.- 10 p.m.
Email confirmations were confirmed along with memberships prior to receiving the Moonlight Magic Wristband. Check-in was simple and quick.
Towels and Lockers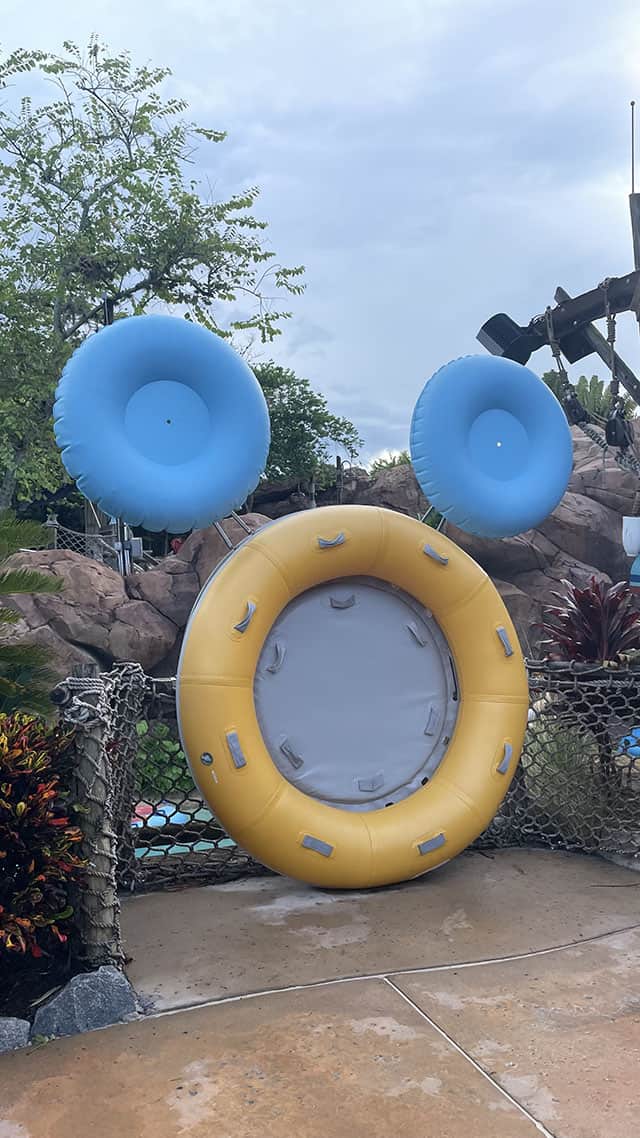 Once inside Members were able to pick up complimentary towels. Locker rentals were available for purchase.
Food Offerings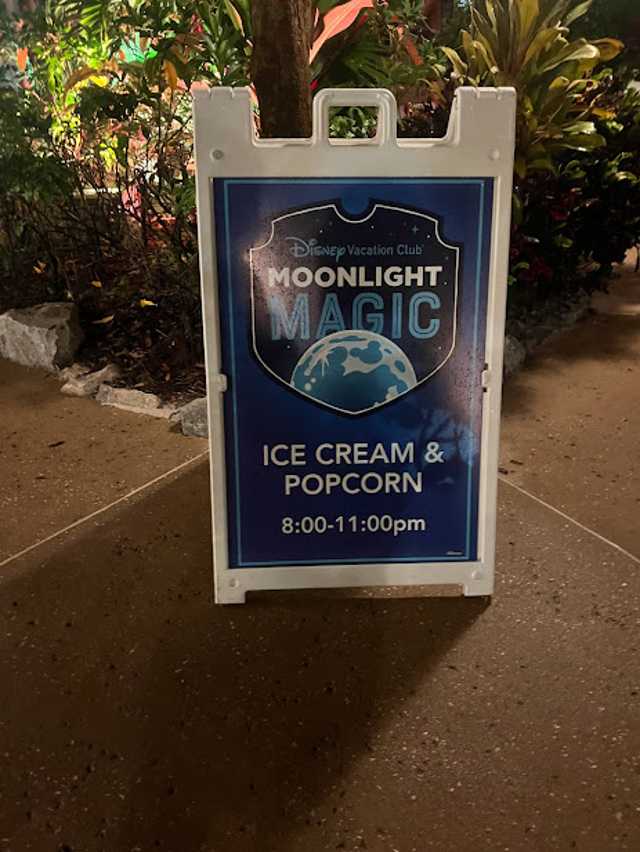 When my family attended this event in 2019, Disney handed out food vouchers. Unfortunately, that was not offered this time. It was a little disappointing when it was close to dinner time but not a deal breaker. Having access to a park for several hours for free along with complimentary snacks and drinks is still a great thing!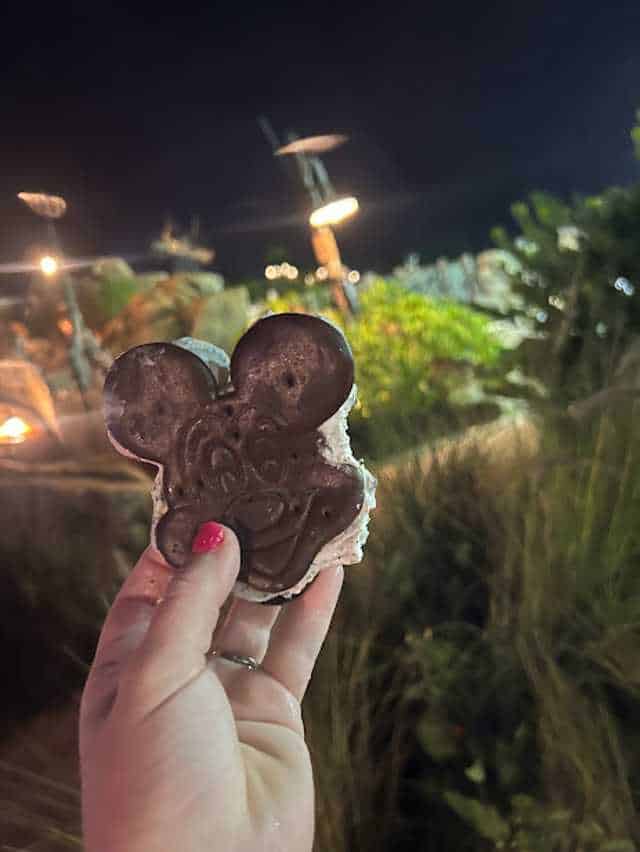 Fountain drinks and paper cups were available throughout the park. Food offerings were scattered throughout the park as well. Guests could enjoy Mickey Bars, Mickey Ice Cream sandwiches, dairy free fruit bars, apple slices, grapes, and popcorn. You could go back as often as you would like.
The lines for food were short and always moved quickly. This is probably due to the fact that only a wrist band had to be checked versus a voucher being collected.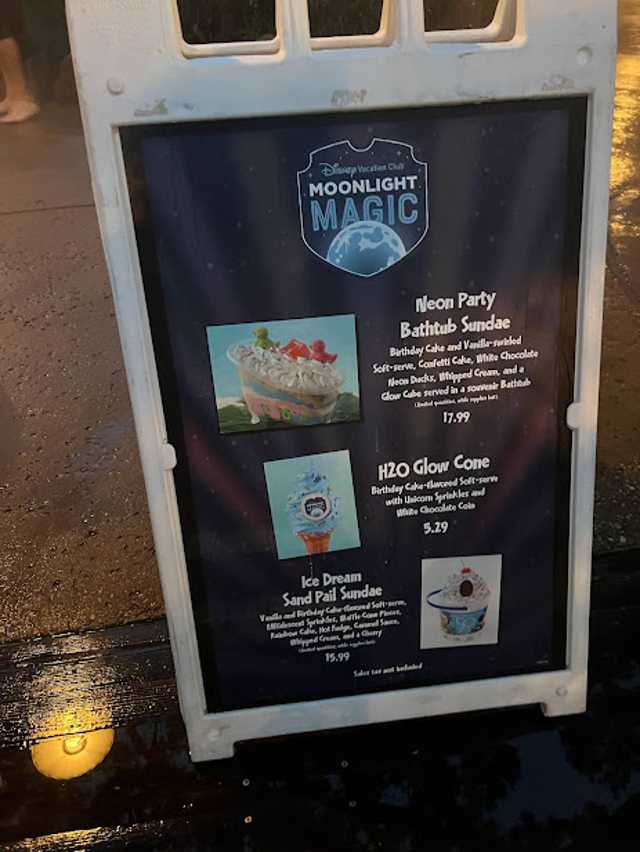 Several food offerings were available for purchase. Items included a Neon Party Bathtub Sundae, H2O Glow Cone and Ice Dream Sand Pail Sundae. Even though I saw some people purchasing dinner items, I did not see anyone purchasing these dessert items.
Attraction Offerings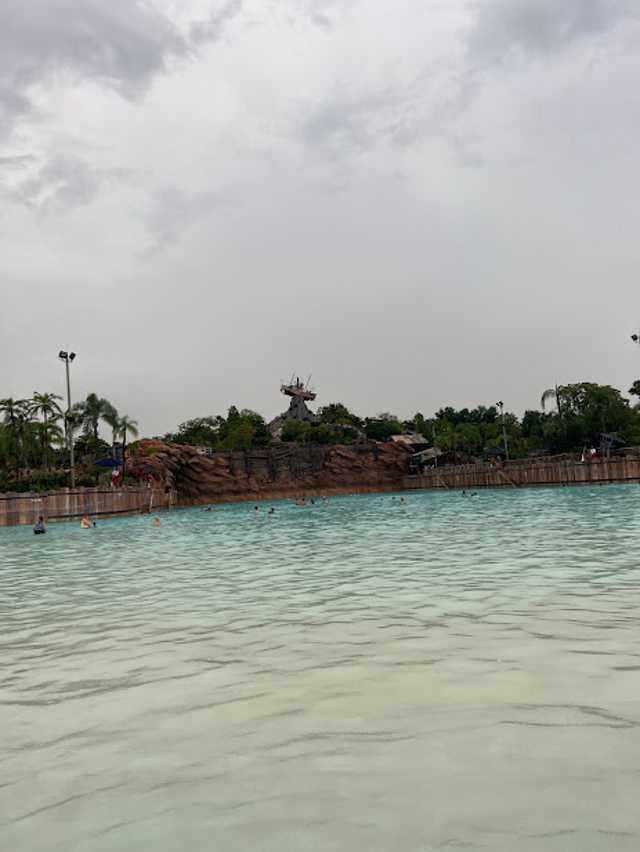 All of the water slides and pools were open for enjoyment. Lines were short for the slides. I was able to ride some with no wait and only a couple with a few minute wait.
You could find most Members enjoying the lazy river and the wave pool. We found ourselves in these locations a lot, too!
Character Sightings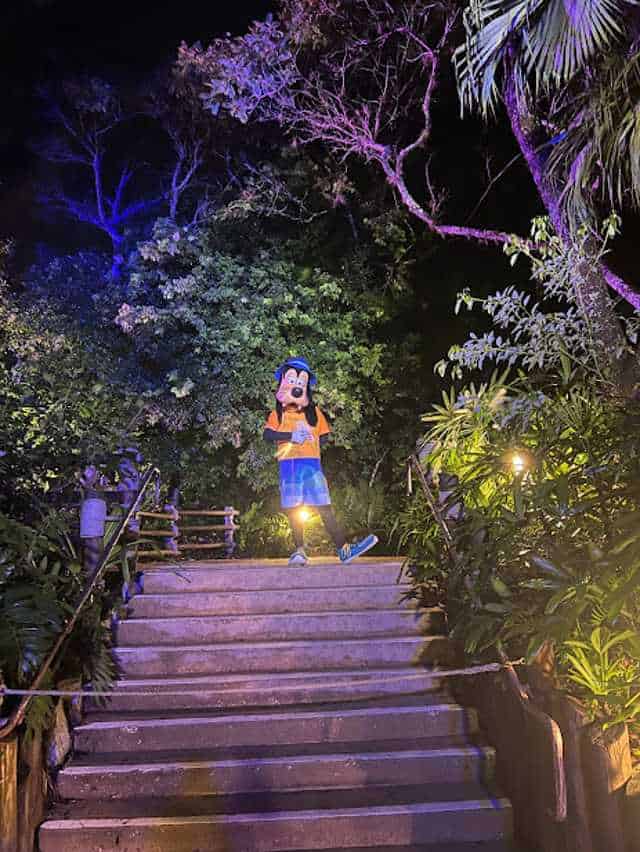 Usually at the DVC Moonlight Magic events, Members get to meet very rare characters. However, this was not the case! The only actual meet and greet for the night was Lilo and Stitch. I was a little disappointed in this because we met the fab five in fun outfits the last time we enjoyed this event.
The only meet and greet was Lilo and Stitch.
However, Mickey, Minnie, and Goofy were at the dance party! Even though these were not official meet and greets, they did a great job interacting with guests. The dance parties were fun and kept the children entertained when taking a break from the water.
Final Thoughts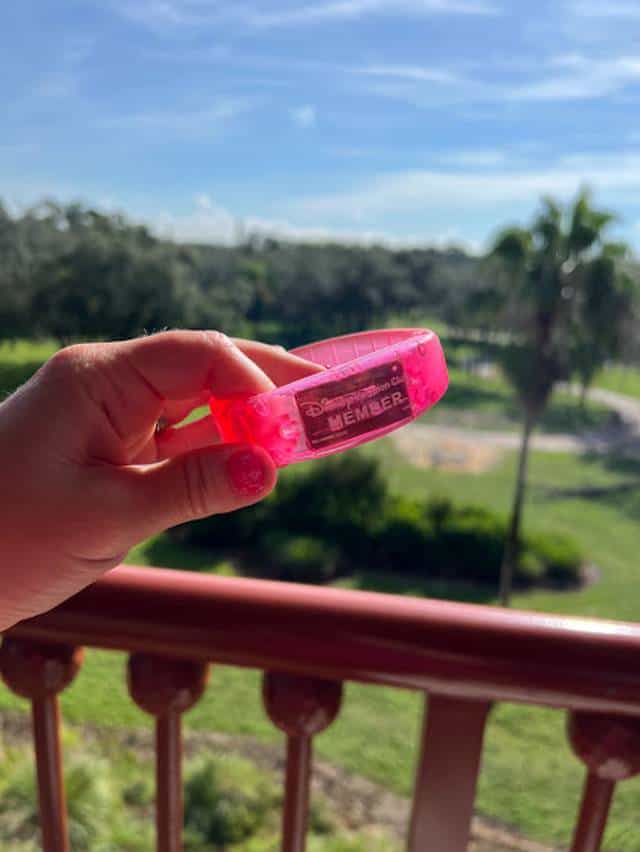 Upon leaving the event we each received a light up wrist band (seen in the picture above). I'm assuming these are not water proof, as they were not given out during the event. This event is still magical even though it has changed. Getting to enjoy a park that my family may not normally go to is a great perk! I love that DVC does these events for their Members!
The only thing I would have preferred was a guide map for the event. For previous events, a map with information regarding where you could find, food, drinks, and character sightings was provided. Even though it wasn't hard to find these offerings, a map would have been a nice touch.
There was also no event-exclusive merchandise! We have always seen at least a t-shirt. I feel this was a missed opportunity, as many people like to show off their DVC status.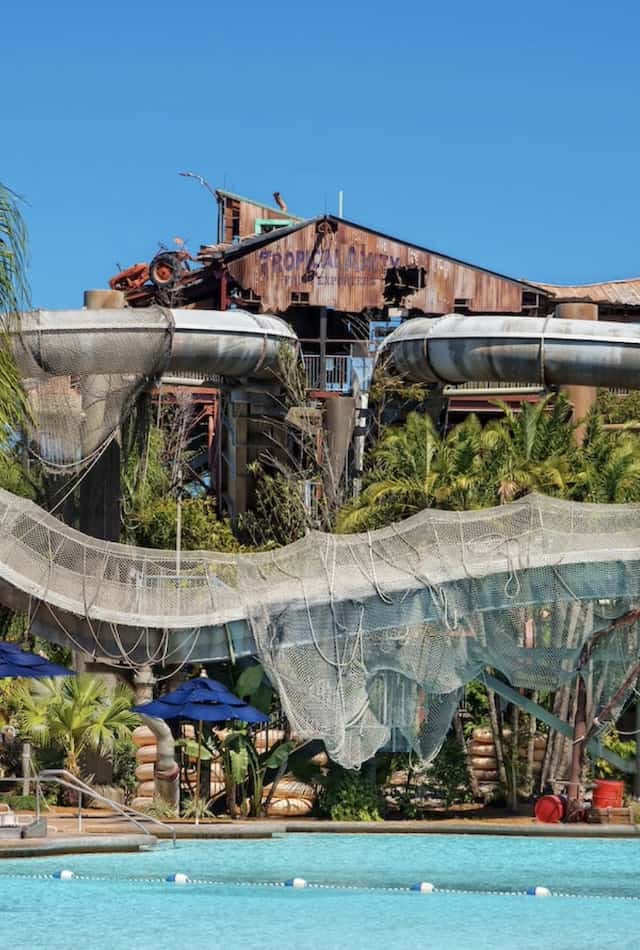 There was no event merchandise available for purchase!
I still wish there were more characters and the DVC popcorn bucket that they gave out in the other park events (I love popcorn buckets!), but it was still a fun and splash worthy event! DVC is still providing the magic to their Members!
Did you attend any of these events? Are you attending the event in September? Let us know on the Kenny the Pirate Facebook page. Don't forget to join the KtP crew page, too!