Traveling with a little one on your next trip? You may want to use the Baby Care Centers, but some are better than others. Here is our list from worst to best!
Baby Care Centers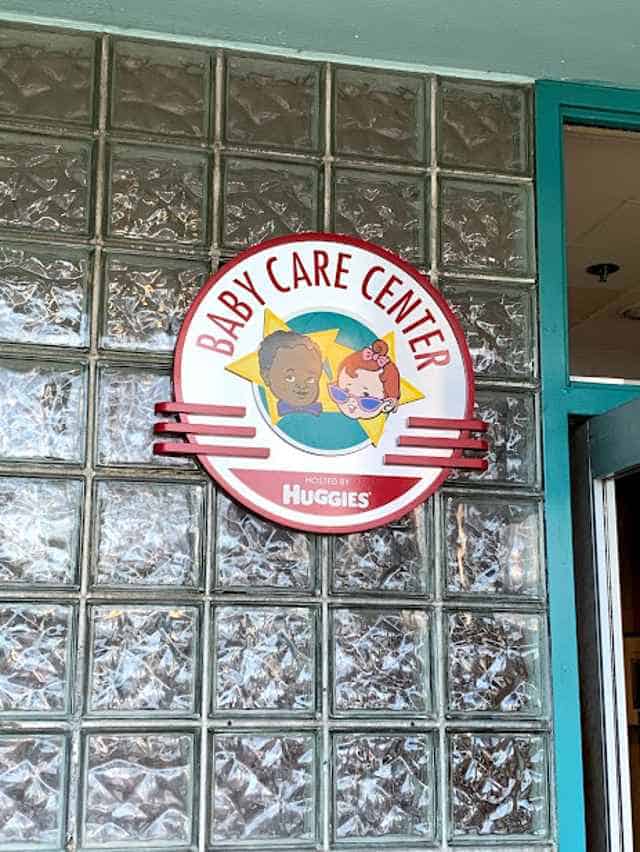 You will find a Baby Care Center in each of the Walt Disney World Theme Parks (Magic Kingdom, Animal Kingdom, EPCOT, and Hollywood Studios). The Baby Care Centers are great for families with babies or small children. Baby Care Centers have changing stations, tables and chairs to feed children, nursing rooms, and a small shop. Plus it's air conditioned!
I (Heather) love using the Baby Care Centers when visiting. They are quiet so it gives the kids a little time to settle down from all the hustle and bustle from the park.
Baby Care Centers have all the essentials for caring for little ones. Changing area, feeding area, meal prep area and even a small shop for any essential baby items.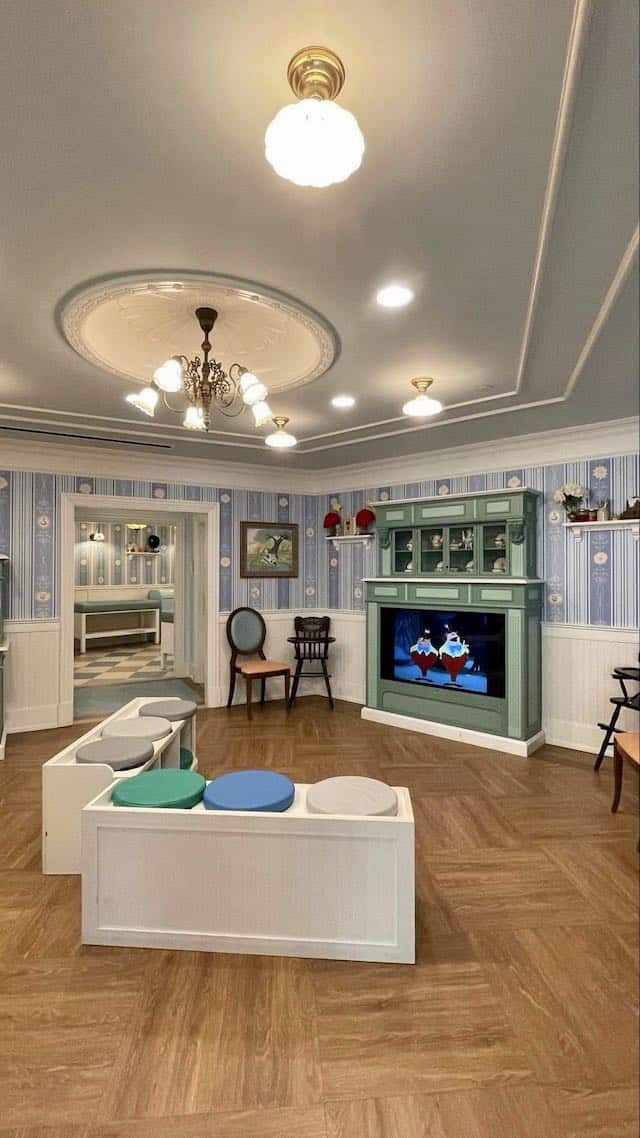 Whenever I nursed my babies they would get distracted easily, so the quiet locations were always a plus! It also gave something for my older son to do because he could be in the large room watching Disney cartoons or a movie that was playing while his brother was getting changed or fed.
Also, these centers are fully staffed with Cast Members! So, if you forgot anything like baby food, diapers, diaper cream, or even a new outfit then you can find it right there!
Check out my previous post about what you can find in the Baby Care Centers and where they are HERE. You can also find them on the map on Character Locator.
Ranking Baby Care Centers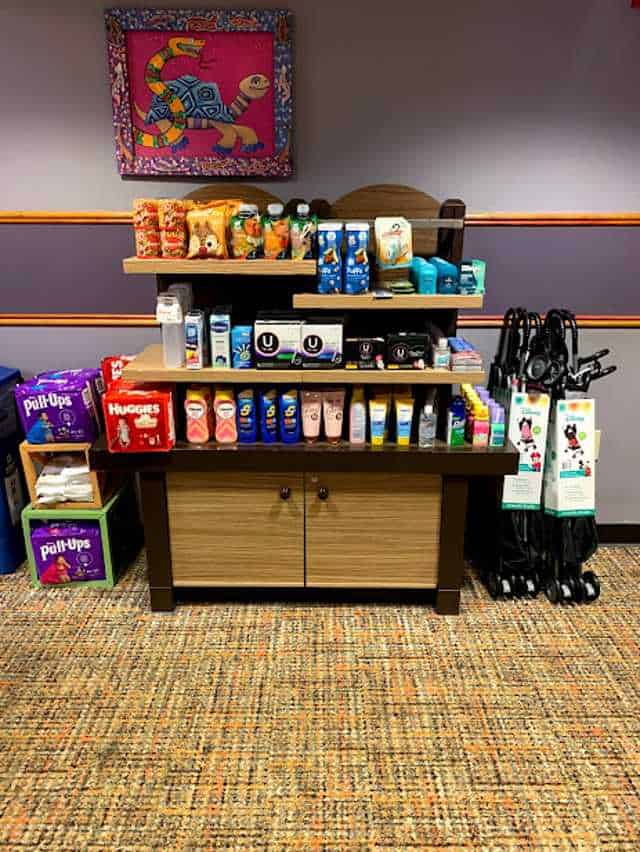 In this post, I am going to rank my least favorite to most favorite Baby Care Center and why. All of these Baby Care Centers are amazing. However, some are much better than others!
EPCOT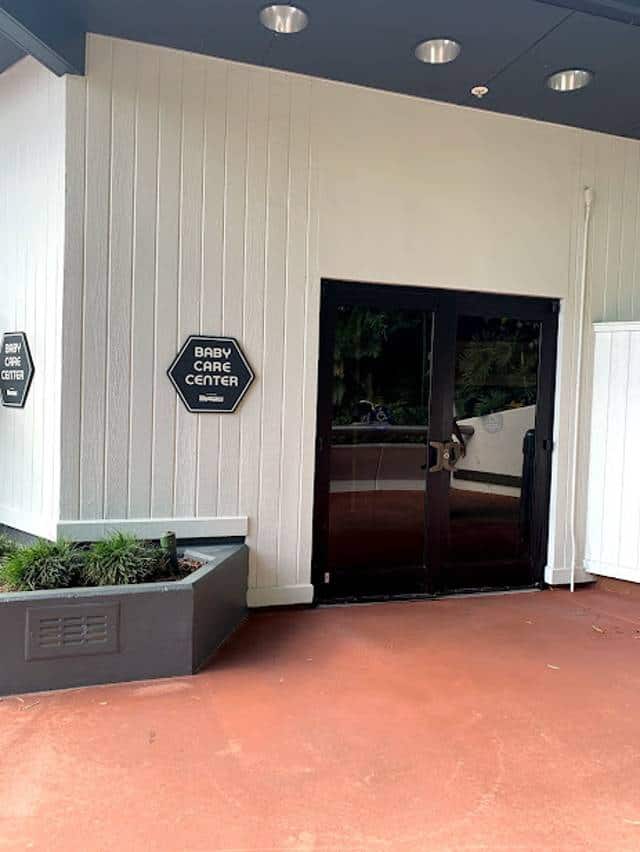 Coming in last is EPCOT. Although this Baby Care Center is big, this is park is HUGE! So it gets a big deduction in location. I find this location too hard to get to. You will find it located behind the EPCOT Experience, which is just too far out of the way.
However, this location has a large changing area which is nice when someone is giving you an extra hand. You will also find bathrooms in this location.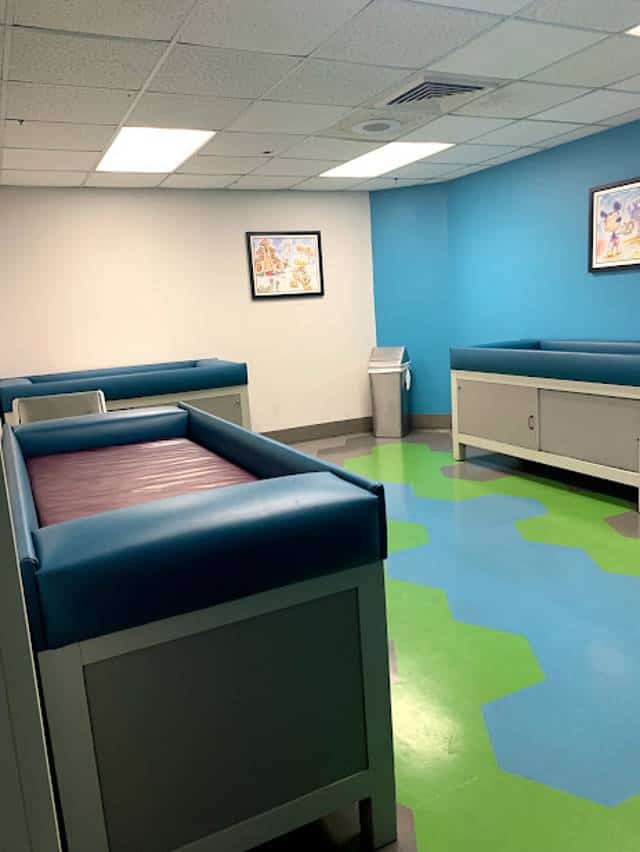 There is a large area for feeding as well, which is nice to take that pause from the park.
Another deduction for me is the nursing room is that it is one big room. Only nursing mothers and their babies are allowed in, but I personally prefer to feed my babies alone. My children would just get too distracted, and I prefer the privacy. Please know that you can nurse in any public location per Florida law.
Hollywood Studios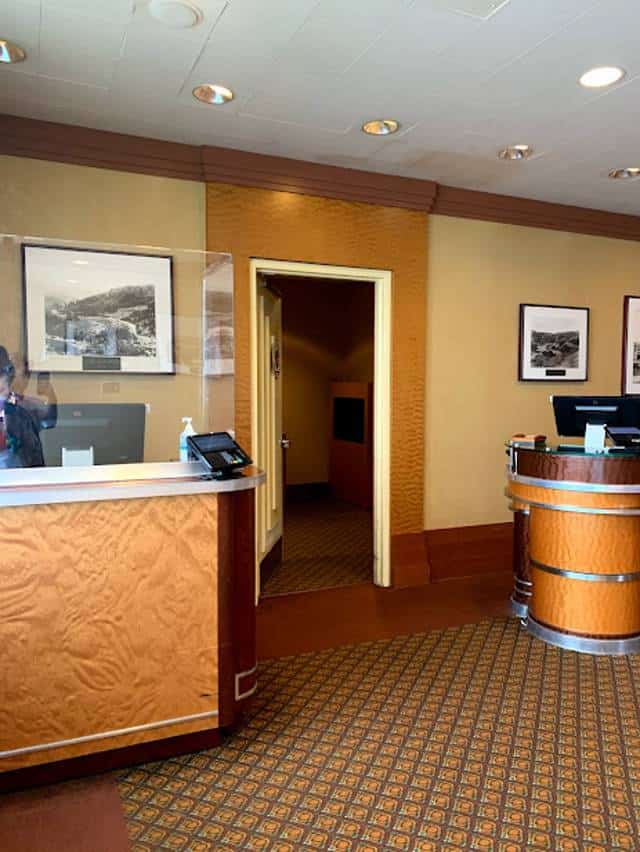 This Baby Care Center comes in at number three for me. I would probably have put it last, but I feel people don't know it's there so we were always alone when stopping by.
The Baby Care Center in Hollywood Studios is right when you enter the park. When you first walk into the park take a left and go into Guest Relations.
Now, here is the BIG reason this Baby Care Center lost points for me. It is INSIDE Guest Relations. As you can see in the picture above, you need to go through the doorway to get to the Baby Care Center.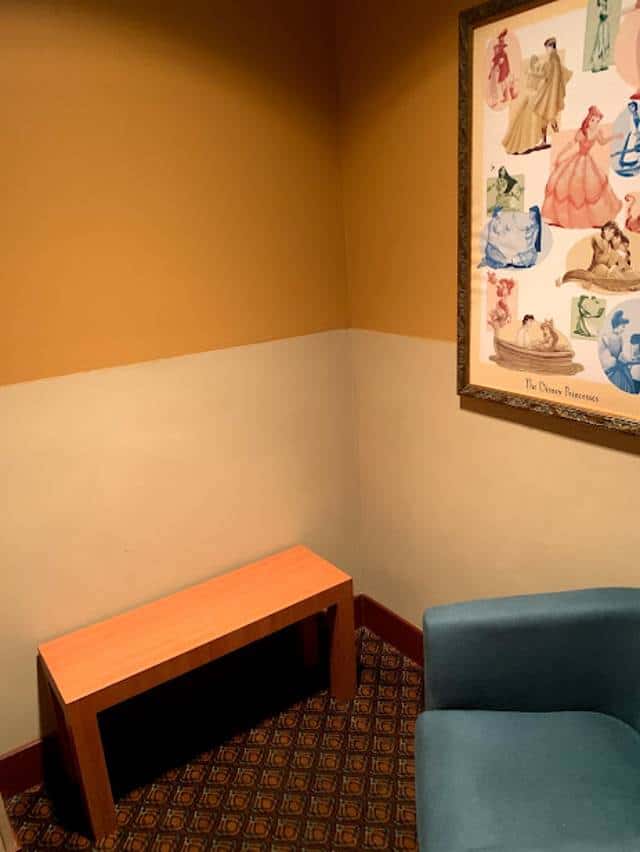 The looks you get when there are people waiting in a queue outside and you walk by them and walk right into the Guest Relations building was not my favorite. Even though there is a separate line for Guest Relations, the people in line may have thought I was trying to cut.
This Baby Care Center did get BIG points back for being clean and having two separate nursing rooms instead of one big room for nursing mothers. As much as this location is clean, it is also the smallest Baby Care Center on property.
The room for nursing is small, so there is only room for one person in each room. There is only room for a small bench and chair. This is plenty of room, and again BIG points for this solo space!
Magic Kingdom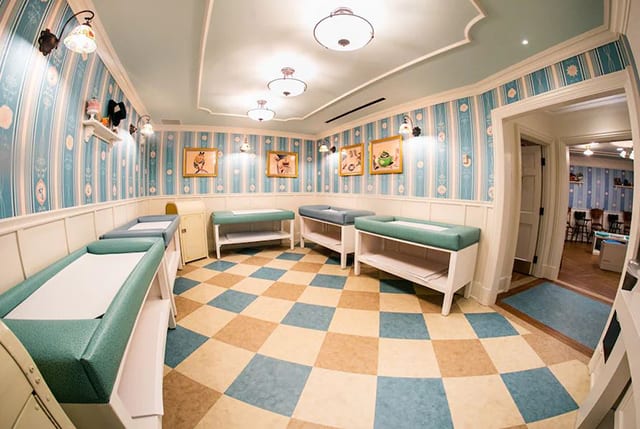 The newly renovated Baby Care Center at Magic Kingdom comes in at the number two spot. Now that this spot has a fresh new look, it is one of my favorites. I love the theme that they did here. Also, the way they have changed things around makes it flow better.
It would always feel so crowded in here as it is a very popular Baby Care Center. This Baby Care Center has a prime location! It is right off the hub, near Crystal Palace. You can't get more centrally located here.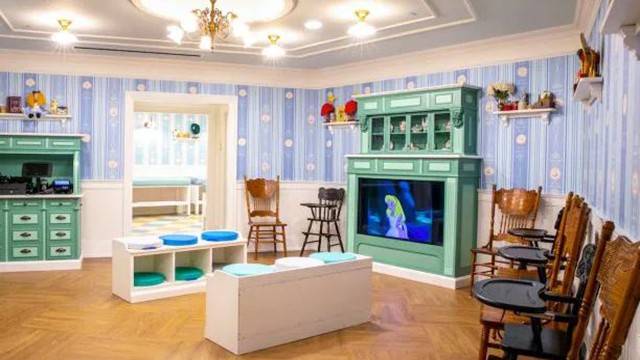 This location gains points for the renovation and location. Check out the picture above to see where bigger kids can rest. You will also see plenty of high chairs available to feed that toddler!
As you can see in the picture below it is one large room for nursing mothers, so for me that's a couple of points lost. This update looks nice as it definitely needed the refresh!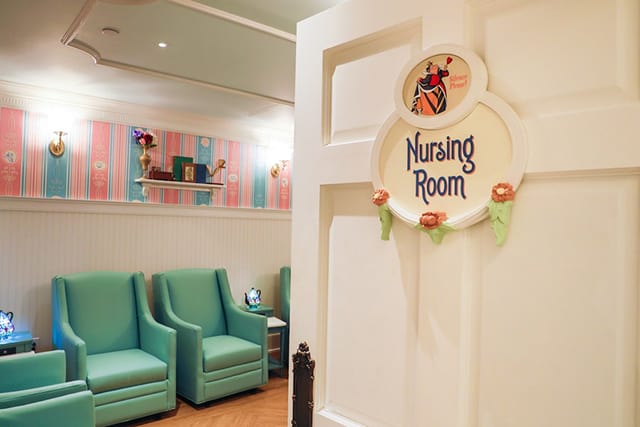 You will find this location to be busy and crowded. I very rarely ever find myself being one of the few families in here. Whenever we stop here, it's for a quick change and back out to the parks. My husband would keep our oldest outside because it was just too busy when we visited to have the extra people in there.
Animal Kingdom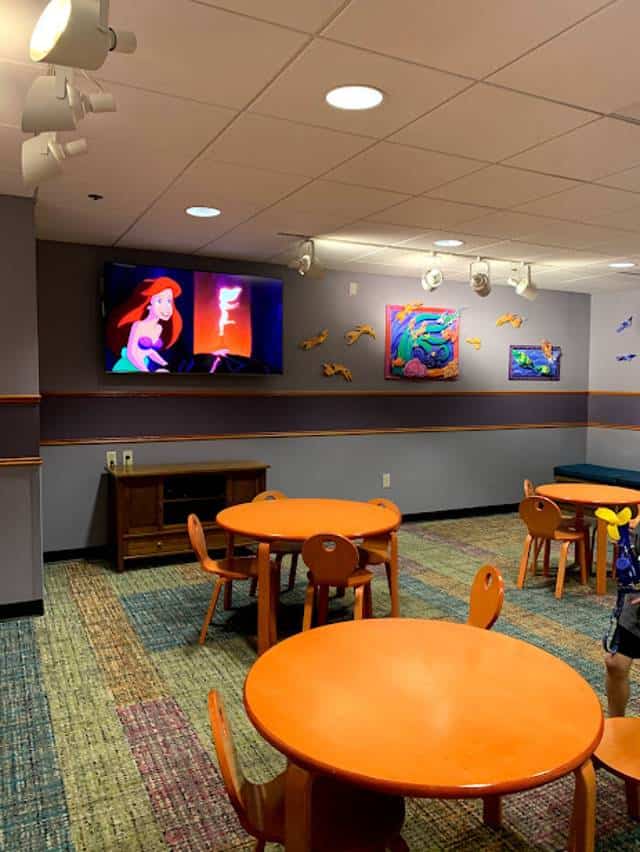 My favorite location, HANDS DOWN, is the Baby Care Center at Animal Kingdom Park. I feel this is the largest one on property. I may be wrong, but the open space definitely gives you that illusion.
This location has a large room with tables and chairs. There are no crowded feelings going on here.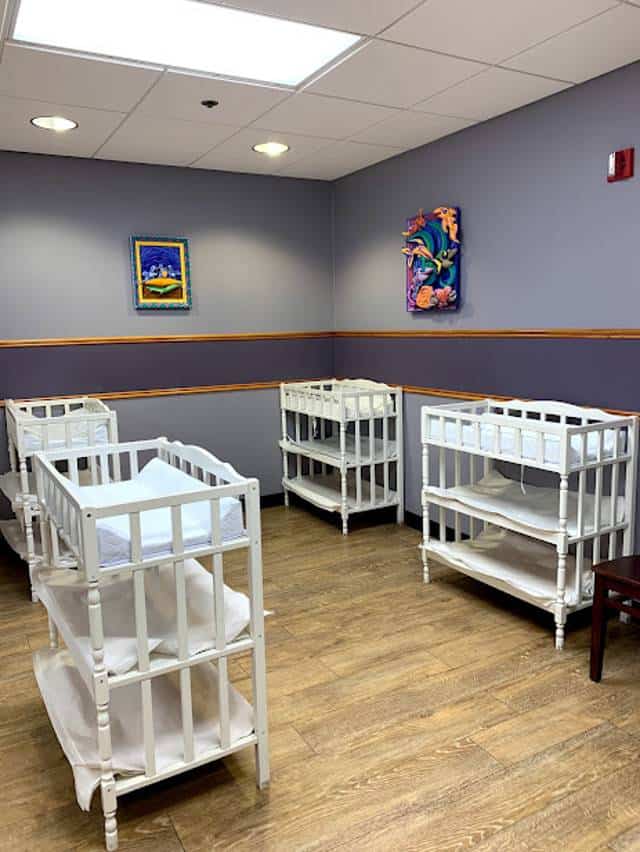 The changing area and meal prep are is large and spacious! There's more! Two individual nursing rooms! The openness and space that this Baby Care Center has puts it at the top of my list.
Final Thoughts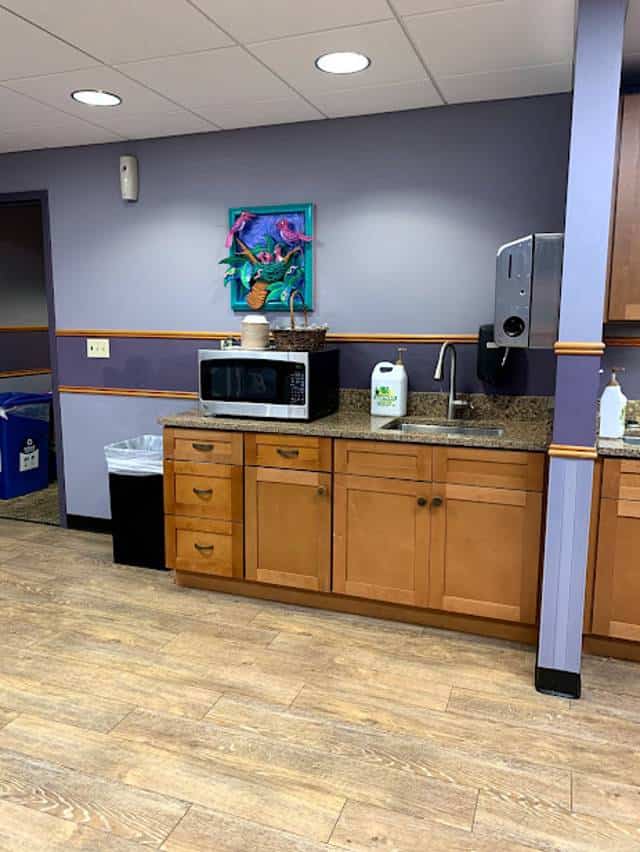 I think these Baby Care Centers are truly an amazing thing that Disney does. I love being able to access them throughout the day and they make a day in the park easier. So, thank you Disney for making families with little ones able to enjoy the parks even more!
Which Baby Care Center is your favorite? How would you rank the Baby Care Centers in Walt Disney World? Let us know on the Kenny the Pirate Facebook page. Don't forget to join the KtP crew page too!