Are you a fan of Chip and Joanna Gaines? If you are familiar with these two "Fixer Uppers," then most likely you have heard of Magnolia Market. I recently took a mother/daughter trip, and I've put together a guide of how to experience this wonderful tourist destination.
Chip and Joanna Gaines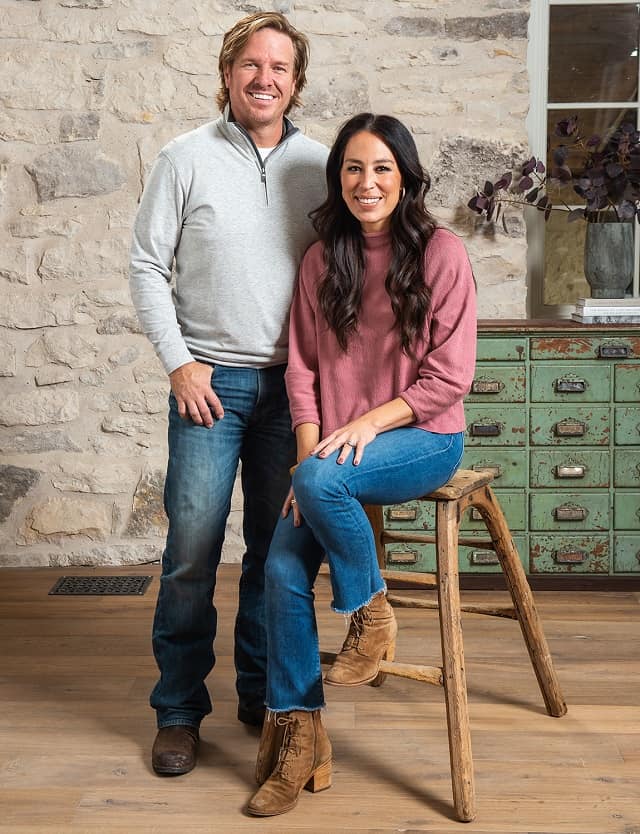 One can not begin to review Magnolia Market without mentioning the famous couple who have done very well for themselves over the years. In 2013, their home renovation television show premiered on HGTV.
"Fixer Upper" shows the process by which the couple turned run down homes with great potential into showstoppers throughout central Texas, mostly focusing in Waco. Chip manages the construction, whereas Joanna is the lead designer. The show ran for five seasons.
Magnolia Market
Fast forward to 2015, and Chip and Joanna opened Magnolia Market at the Silos, a shopping complex that takes two city blocks in downtown Waco, Texas. In the beginning, the property included a food truck park with picnic tables, a garden store, a bakery, and a lawn area. Over the years, they expanded and added Magnolia Press, a coffee shop, along with seven new retail shops, a rebuilt chapel, and a Whiffle ball field.
Two 120′ high silos mark its very location. Chip and Joanna truly placed Waco, Texas on the map as a destination stop as millions of fans visit yearly.
Where to Stay Near Magnolia Market at the Silos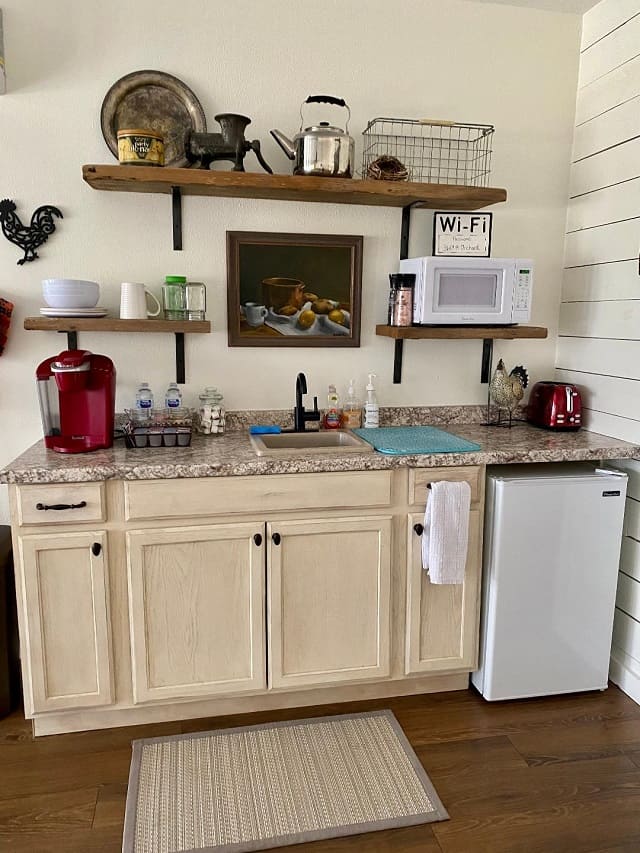 There are plenty of hotels near Magnolia Market and throughout the Waco area. For this particular stay, I (Marisol) rented a very quaint farm style studio on a family farm through Airbnb.
Chip and Joanna also have Airbnb vacation rentals which they have built and designed that are very expensive. Additionally, Airbnb and Vrbo homes also feature homes that were part of the Fixer Upper show.
Magnolia Market Hours and Parking Information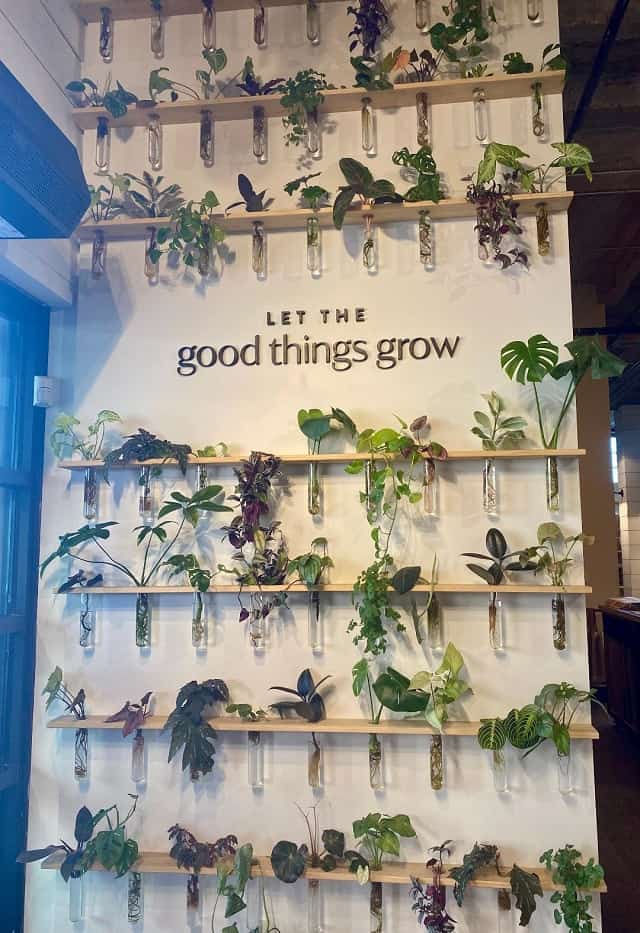 Magnolia Market is open Monday through Saturday, 9 am to 6 pm. They are closed on Sundays. In fact, much of Waco closes at 6 pm on a daily basis. It was a bit frustrating as everything was closed in the evening leaving us with nothing to do but head back to our Airbnb. I was told that the intention of closing early is for people to go home, relax and spend time with their loved ones. Sundays are meant for church and rest.
I visited from a Thursday to Saturday. In order to avoid crowds, I would recommend arriving at 9 am. We were able to enjoy the shops without feeling like too many people were around us. At opening, both Magnolia Press, the coffee shop and Magnolia Bakery, had about a 30 minute wait.
Keep in mind that there is no official parking lot at Magnolia Market so guests will need to find street parking which is free. I would recommend arriving early for a closer parking spot because it does become harder as the day progresses. Think rope drop for Disney parks!
Magnolia Table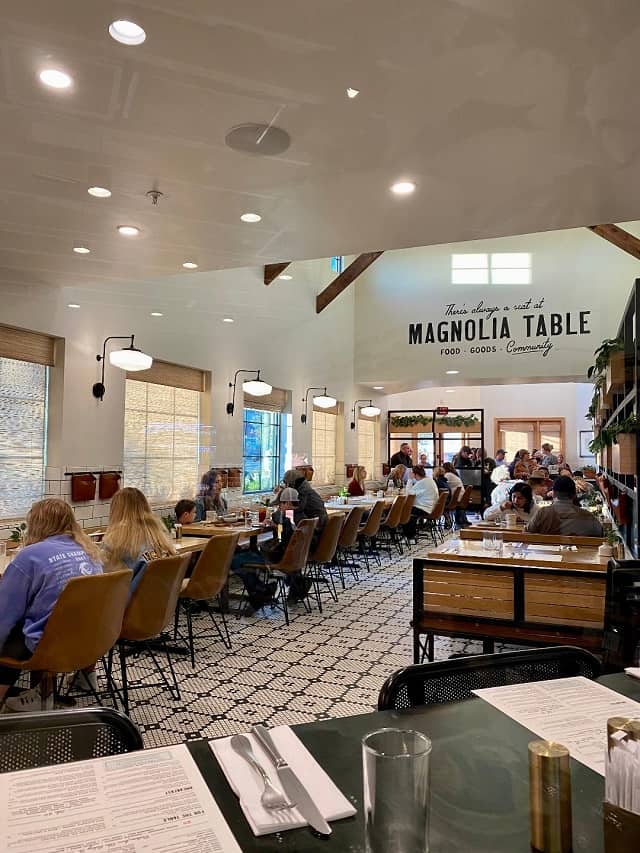 Magnolia Table would have to be on my top five reasons for taking a trip to Magnolia Market. As a fan of Joanna's cooking show, "Magnolia Table," I knew that we had to try some of the dishes that are featured on the menu.
This restaurant is highly popular, so I would strongly recommend making a reservation online. Bookings can be made for Mondays through Thursdays up to 30 days in advance and not within 24 hours of the next available reservation date. The restaurant is open Monday-Saturday from 6 am to 3 pm. It is closed on Sunday.
My daughter and I arrived at the restaurant on a Friday morning at 8:30 am. I figured it would be less busy on this day rather than on a Saturday morning. When we arrived, there were already guests in line by the hostess stand. I provided the hostess with my phone number and was informed that I would receive a text message when our table would be ready in about 30 minutes.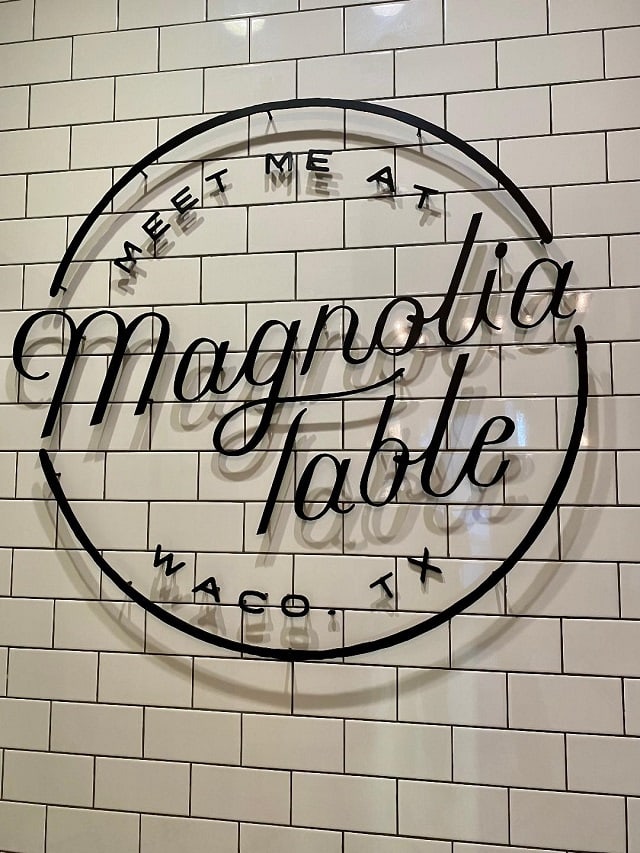 Instead of waiting the in car for the text, we walked next door to the Take Away + Market. The store offers Magnolia Table gifts including t-shirts, cookbooks, kitchen cookware, mugs or hats. Guests can also order from the full Magnolia Table menu or get coffee, pastries, pre-boxed lunches, and treats to go. It is open Monday through Saturday, 6:30-3:30 pm and is closed on Sunday.
Upon entering the restaurant, it was quite evident that Joanna was the interior decorator. It has many of her signature looks throughout, such as the tiles they used for the floors. I especially loved the area near the restroom that featured "Waco Texas" spelled out on the floor and the "Meet Me at Magnolia Table" sign.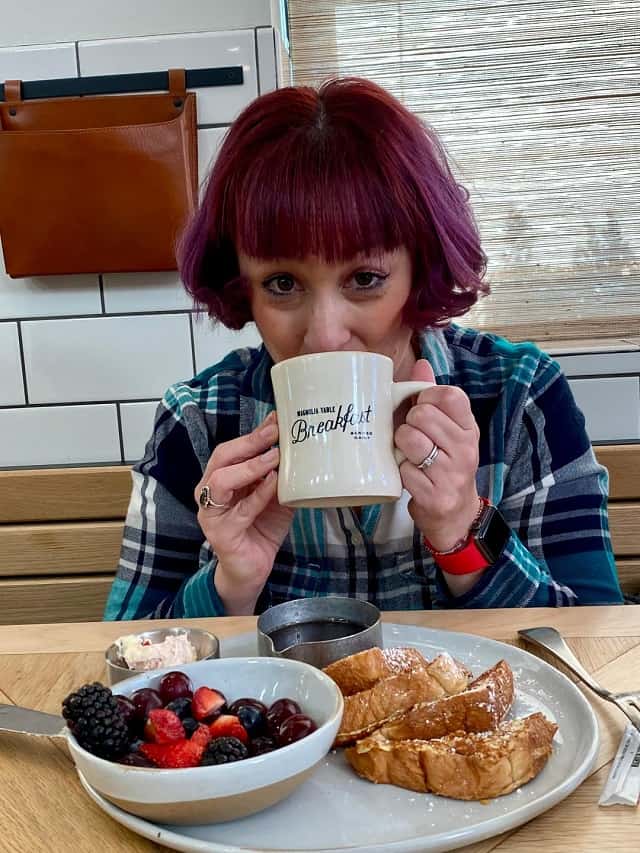 Selecting what to order from the menu was quite difficult because I wanted to try it all! We ordered Jo's Buttermilk Biscuits with Strawberry Butter, Strawberry Shortcake Pancakes and the French Toast Breakfast. Both breakfasts included a choice of house sausage or thick-cut peppered bacon. Since we visited during Lent and we do not eat meat on Friday, we kindly asked if we could substitute with a side of fruit instead.
The French Toast was an out-of-this-world experience. It is the best I have ever tasted! It is custard battered and amazing! The biscuits were very flaky and the strawberry butter was also delicious. It was a treat visiting Magnolia Table, and I would visit again in a heartbeat!
Magnolia Market at the Silos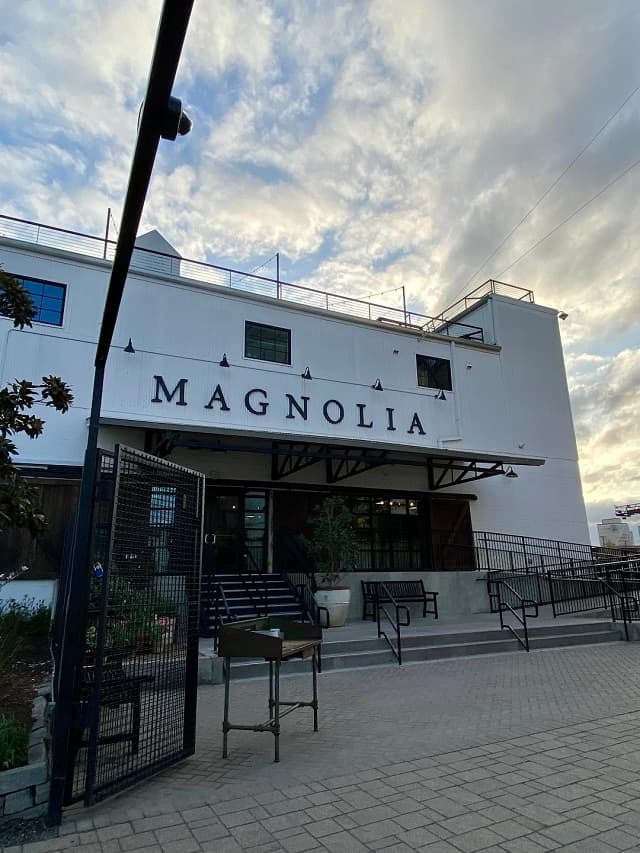 Although I personally consider Disneyland to be "my happy place," I can understand how Magnolia Market could spark the same to Fixer Upper fans. Chip and Joanna have truly created a beautiful gathering location for their community. It feels like "home," which has always been one of their mottos.
Magnolia Market is the original store that opened at the Silos. The shop sells home décor goods, kitchenware, gardening tools, and apparel. It is packed with home décor goods, kitchenware, gardening tools, and apparel. The store is updated each season with new product and pieces. Shipping is offered at an additional cost.
Fun fact: Outside the store is a guest book for guests to sign!
Magnolia Home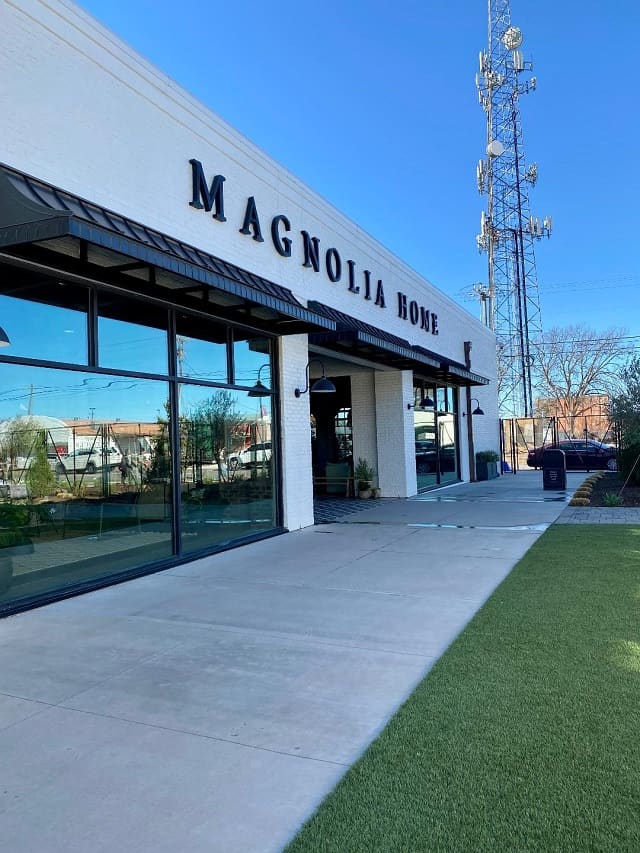 This shop is one of the newest additions which features living room, dining room, and bedroom displays. The entire space is a living showcase to decorating your home. It was truly a home decorator's dream as I was ready to renovate my entire house with such inspiration!
Prices in the shop are reasonable priced in comparison to different furniture stores. Shipping is also offered at an additional cost.
Magnolia Seed & Supply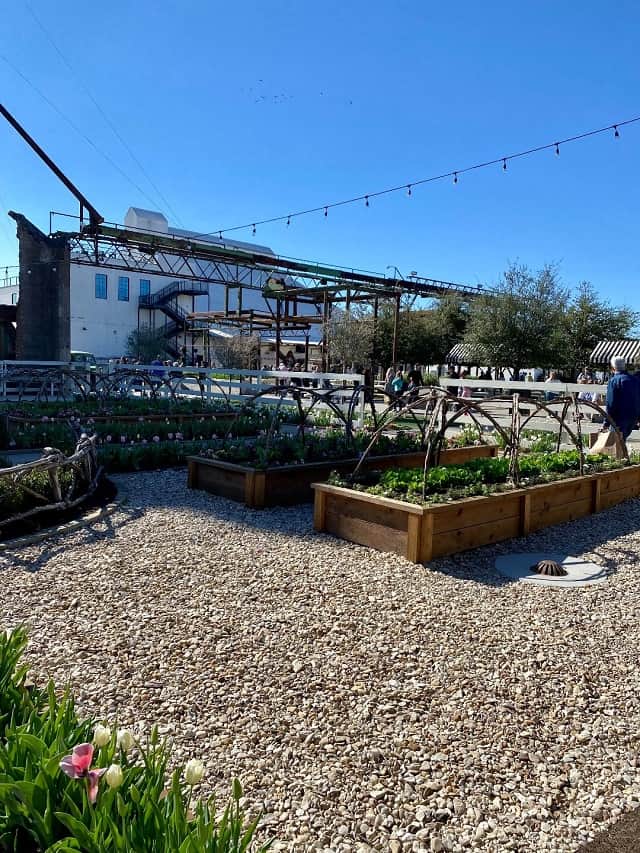 There is a a full functioning garden right in front of the Seed & Supply store. The shop itself is very tiny and can feel tight even with a handful of people inside. If you are a gardener, you will find this location to be quite quaint with many gardening tools and supplies are for sale. Shipping is also available at an additional cost.
Outside the garden shop is a beautiful garden and green house that makes the perfect picturesque location. In fact, while visiting this area of the Silos, a photographer was taking pictures of a couple who are expecting a child.
Shops At the Silos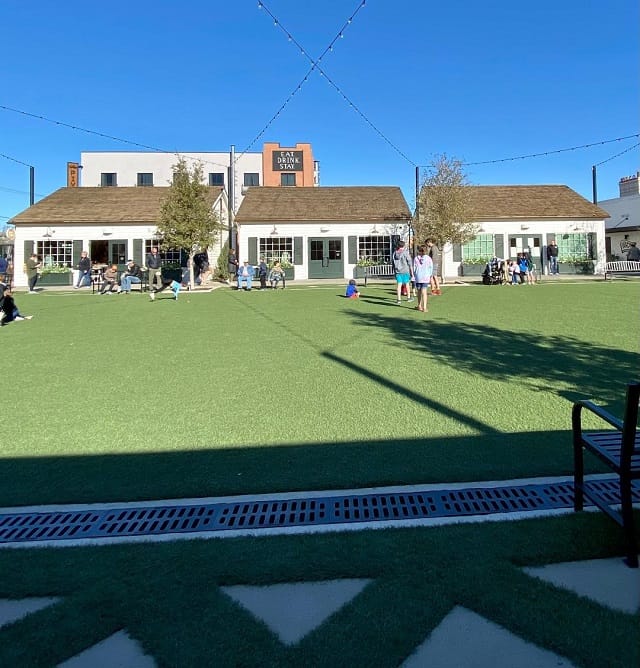 This particular location is quite charming with all six retail shops are petite and each curated by Joanna with a specific style and theme.
Juniper & Crew – The color palette within this shop is quite charming as it has a whimsical fairytale feel with the various toys and clothes for young children.
Reverie – This women's clothing store is filled with clothes that obviously inspired by the clothes that Joanna wears on her television shows. I could instantly recognize many of the pieces. The prices are those of a traditional women's boutique.
Tried & True – The shop offers bags, jewelry, and other accessories. I'm not a big jewelry fan, so I did not spend much time in this shop.
Vie bien aimee – Vie bien aimee, which translates to "A life well loved", offers bath and body products including skincare, makeup, and beauty tools.
Chapter one – This store was definitely my daughter's favorite as she adores stationary and art supplies. Shoppers can purchase journals, calendars, stationary and other accessories.
No. 16 – Named after Chip's favorite number and his baseball jersey, this shop truly shouts Chip Gaines as shoppers can purchase his signature look sleeve shirt and vest! This store was the busiest during our visit and offers camping and woodworking items, apparel, and even different types of BBQ spices.
Where to Eat at the Silos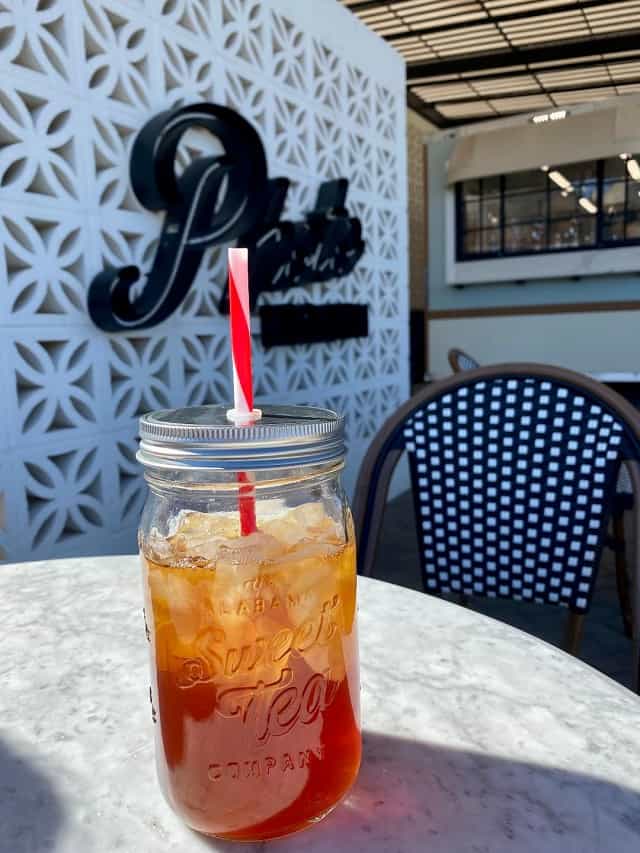 Guests could truly spend all day enjoying the different eateries that are found on property.
Magnolia Press – Our first stop when we arrived to the Silos on Saturday morning was to purchase a cup of coffee so we could enjoy as we walked around the property and shops. The coffee shop has an industrial library feel with green and copper accents.
Do keep in mind that this location always has a long line. Throughout the day, we noticed that the shortest line was early in the morning at opening. The coffee shop also offers a walk-up window located on the back patio.
Silos Baking Co.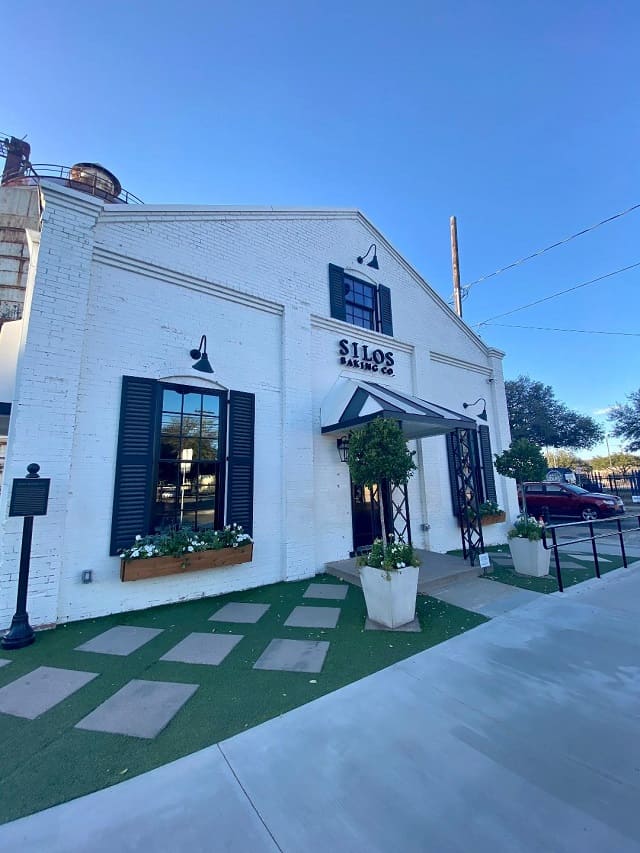 Of all the lines at The Silos, the bakery was extremely popular and always had a line that wrapped around the side of the building. Luckily, the line moves rather quickly. We found it best to get in line 15 minutes prior to closing.
The bakery offers cupcakes, cookies, pastries and apparel that is unique to the bakery. We purchased 9 cupcakes which came in cute packaging. My cupcakes even survived the flight home and into the coziness of our proper home. We brought a little bit of Magnolia back with us!
Food Trucks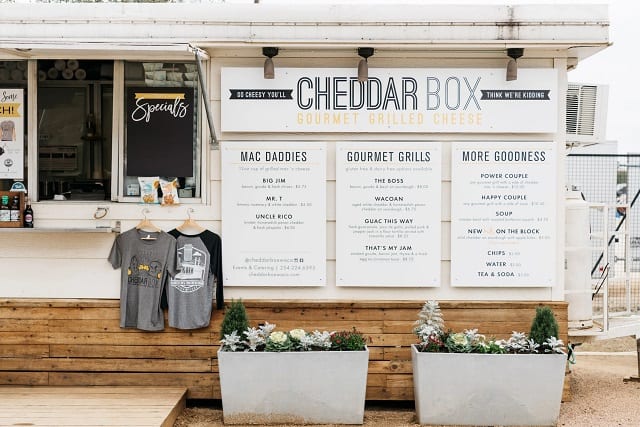 Prior to our trip to The Silos, I already knew which food trucks we wanted to enjoy, and we found ourselves in line for grilled cheese sandwiches, dessert pies and sweet tea.
One would think that the construction of a grilled sandwich can't be too difficult as it includes bread, cheese and butter. This was another of my favorite foods that we enjoyed during the trip. They are quite small in size but very delicious. My daughter has never tried traditional sweet tea from the South, so she was in for a surprise when she ordered her beverage. She never imagined it to be a sugar overload! I decided to order half sweet tea and half unsweetened tea. It was the perfect balance!
The mason jars are part of the purchase and the best souvenir to bring back home! All food trucks open daily from 11-6 pm Monday-Saturday and closed on Sunday.
Entertainment At Magnolia Market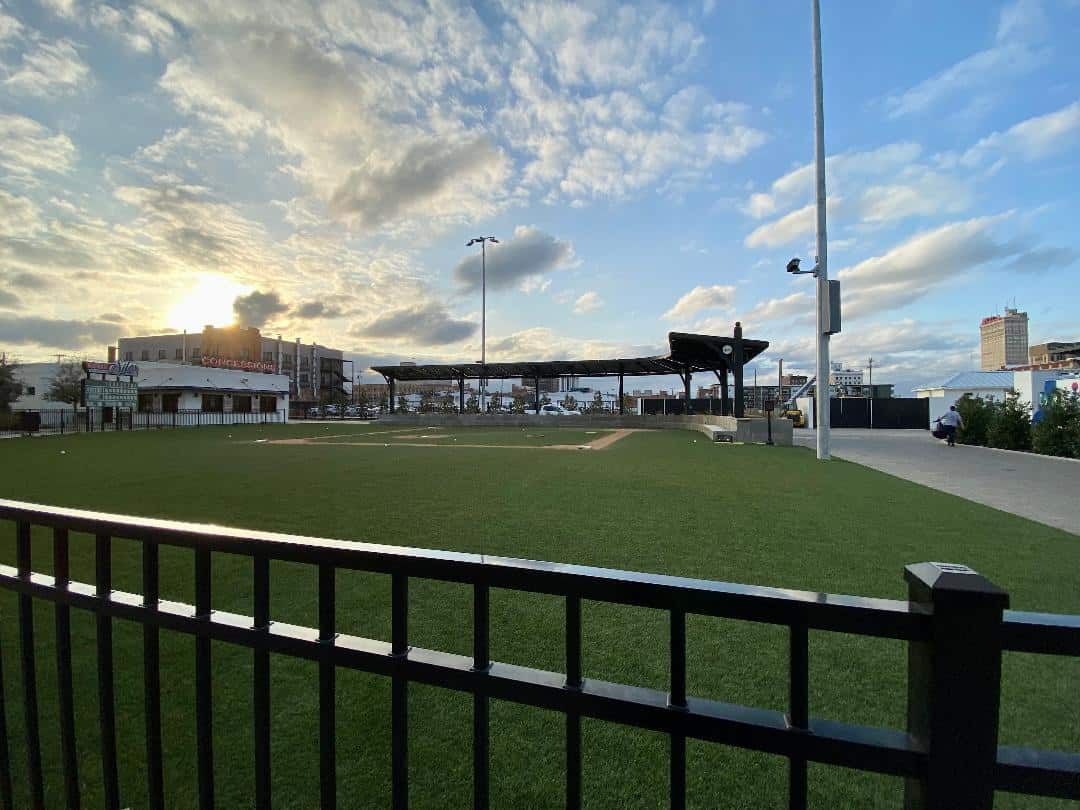 Chip and Joanna were very smart to convert part of the property for entertaining purposes to bring people together, whether for a coffee date, a shopping excursion or a playdate for kids. There is so much to do without even having to spend a single penny!
Katy Ballpark – Originally the location where the New York Yankees played an exhibition game in 1929, this park was later destroyed by the 1953 tornado and became an abandoned location. Leave it to Chip and Joanna to revive it into a Whiffle ball field.
Fun fact: When they purchased the field, it had been turned into a parking lot. Home plate at the new field sits in the exact spot as it did in its glory days.
It wouldn't be a field without the inclusion of a concession stand which offers ballpark favorites like nachos, sodas, sloppy joes, and sweet treats.
The Old Church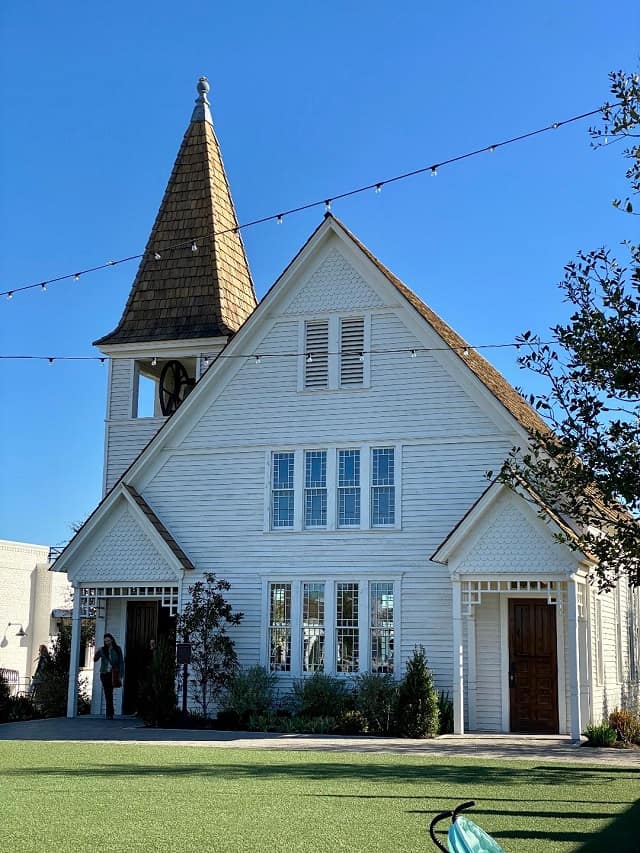 Before purchasing in 2017, the original church built in 1894 was one of Waco's oldest buildings. After sitting vacant for over 30 years, Chip and Joanna moved it to the Silos. The entire process of the renovation can be watched in Season One of Fixer Upper Welcome Home on the Magnolia and Discovery+ Networks.
The non-denominational church is beautifully adorned with stained glass windows and a church steeple. It is a very beautiful and peaceful experience to visit inside.
The Silos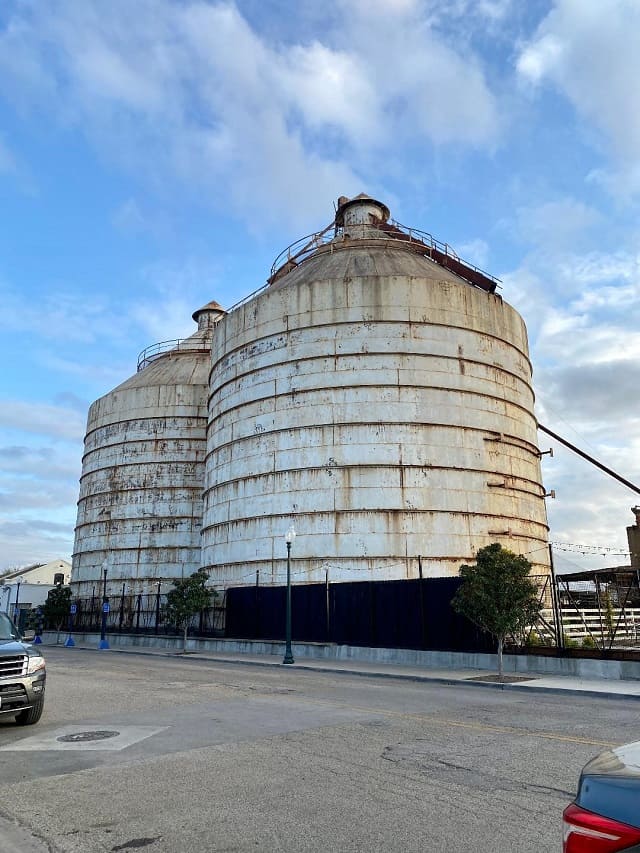 The two silos which are the focal point of Magnolia Market originally served as storage for the Brazos Valley Cotton Oil Company in the 1950's. There is a large open field situated in front of the silos where guests can play with corn hole sets, soccer balls and or enjoy the comfy bean bag chairs.
Photo Booth – Behind Maggie's food truck is an old school photo booth for an additional cost.
Little Shop On Bosque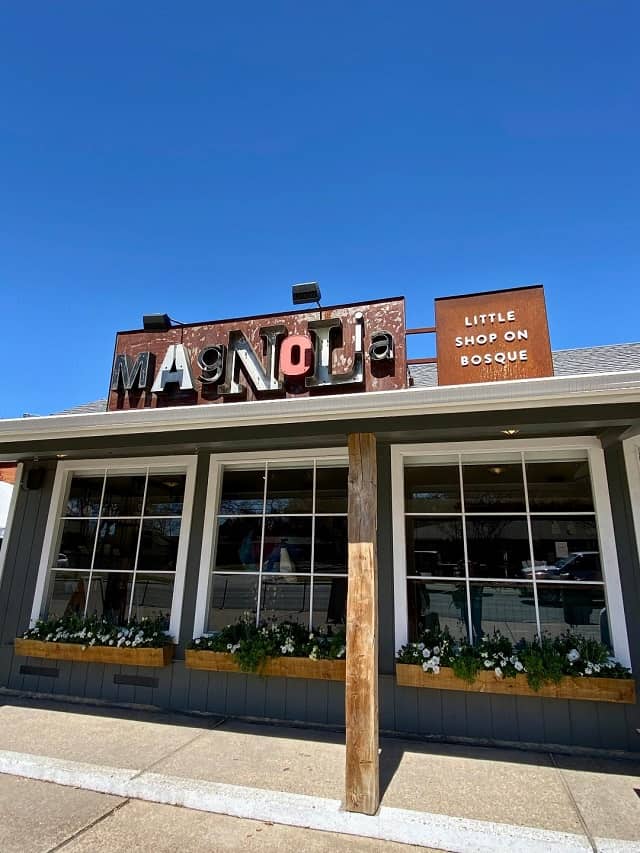 Joanna's first retail shop, which opened in 2003, now serves as a discounted outlet shop that sells discounted Magnolia items. It is located less than four miles away from the Silos. The store is very tiny and does not hold a lot of people, but it is definitely worth the time to visit.
There were lots of discounted items including apparel, home décor, paper goods, etc.
I was able to purchase a large ceramic mixing bowl regularly priced at $88, for $22.50. I did not know how I would get it home on the plane, but at that price I was bound to figure it out. And that I did as it sits on my kitchen counter as our new fruit basket!
stay a while: A Waco Passport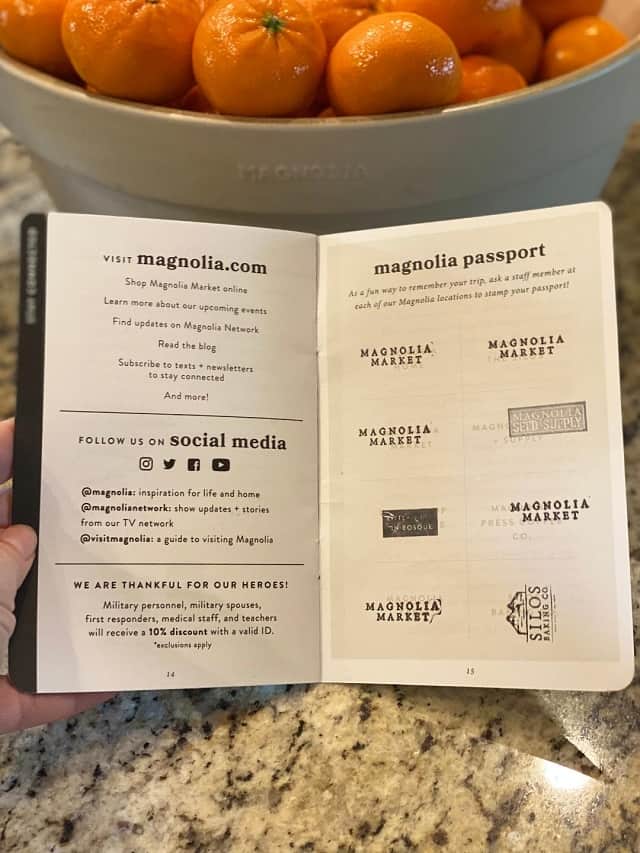 The "stay a while: A Waco Passport" serves as a guide to different Magnolia locations around town. The passports are available at the cash registers. The last page, "magnolia passport," offers a fun adventure.
As a fun way to remember your trip, ask a staff member at each of our Magnolia locations to stamp your passport. When card has been filled, simply return to receive a small treat.
I'm very happy that my daughter and I were able to visit Magnolia Market at the Silos in Waco. After being huge fans of the show over the years, we had always talked about visiting. It was a mother-daughter weekend full of happy memories, shopping, lots of walking, and most importantly, yummy food in our tummies.
My next article will focus on other locations that we visited in Waco and in Dallas.
Have you ever visited Magnolia Market at the Silos? Would you like to visit in the near future? Let us know in the comments on Facebook and in our Facebook group.