There is an abundance of activities that Disney's private island, Castaway Cay, has to offer. I'll provide you with a things to do while visiting as well as provide any updates on health protocols on the island.
Castaway Cay Beaches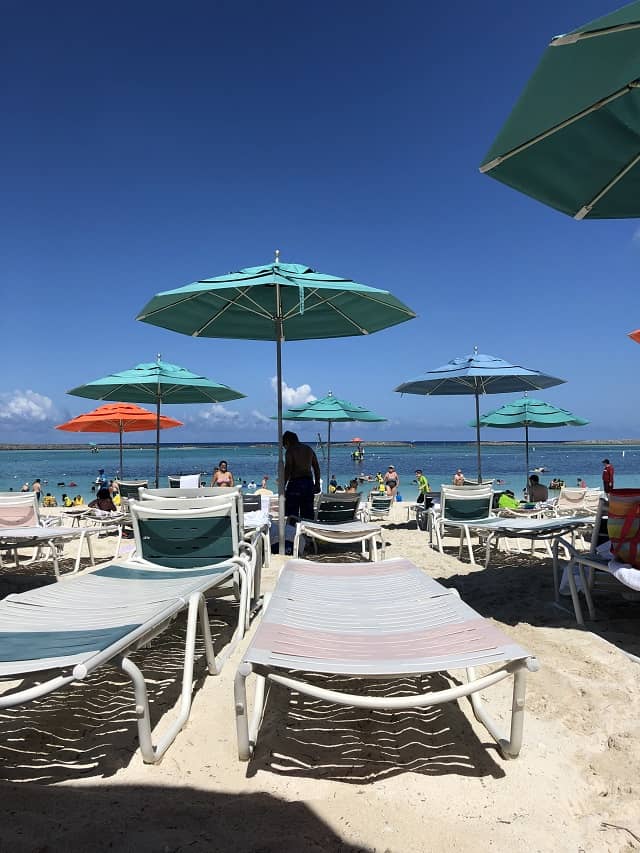 In my previous article, I focused on the new disembarking steps to enjoy Castaway Cay. In this article I focus on the abundance of things that one can do to fully enjoy the island, so that it is filled with magic and life long memories!
The Family Beach on Castaway Cay is the main beach on the island and is available for everyone to enjoy. It is conveniently located near shopping, food, and many other amenities that I will cover in this article.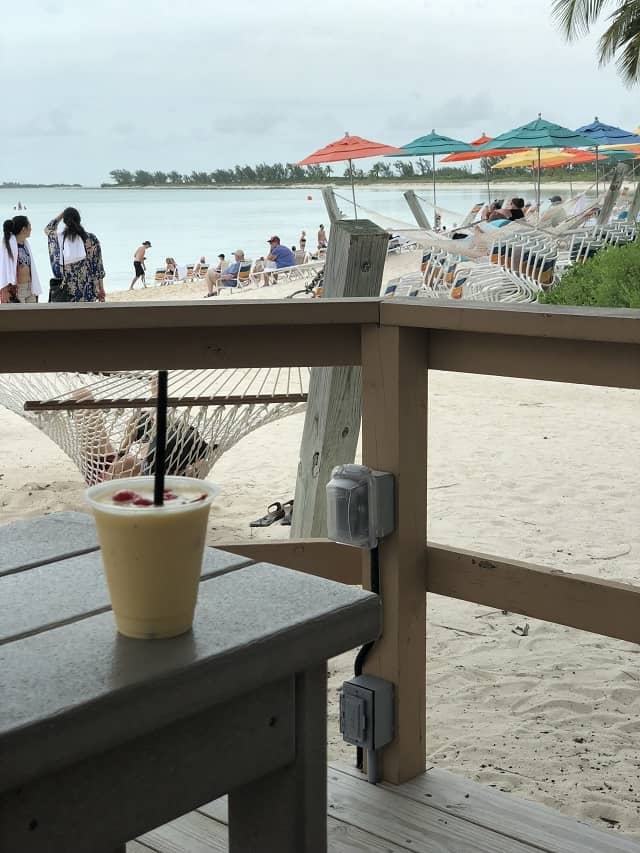 Seating on the beach is plentiful. Seating includes colorful umbrellas and hammocks. I would have to say that it is more difficult to find a hammock as there are not many of them, and they are spread out across the beach.
Want to get away from the Family Beach to a more secluded and peaceful location on the island? Serenity Beach is the place for you!
Serenity Beach is only available for guests 18 and older. It is tucked away on the west side of the island. Guests will find umbrellas, beach chairs and hammocks but without all the noise. It also offers open-air massage cabanas, yoga sessions on the gorgeous white sand beach, and private barbecue spots.
It is a family tradition to take our kids to the kids club in the afternoon for a bit after lunch, and we, the adults, make our way to Serenity Bay. It is here that we grab a drink and wade in the ocean with no cares in the world! It is heavenly and blissful!
Finally, there is a Sports Beach which includes activities such as volleyball, tetherball and a soccer area. Water equipment rentals are available as well.
Kids and Teen Activities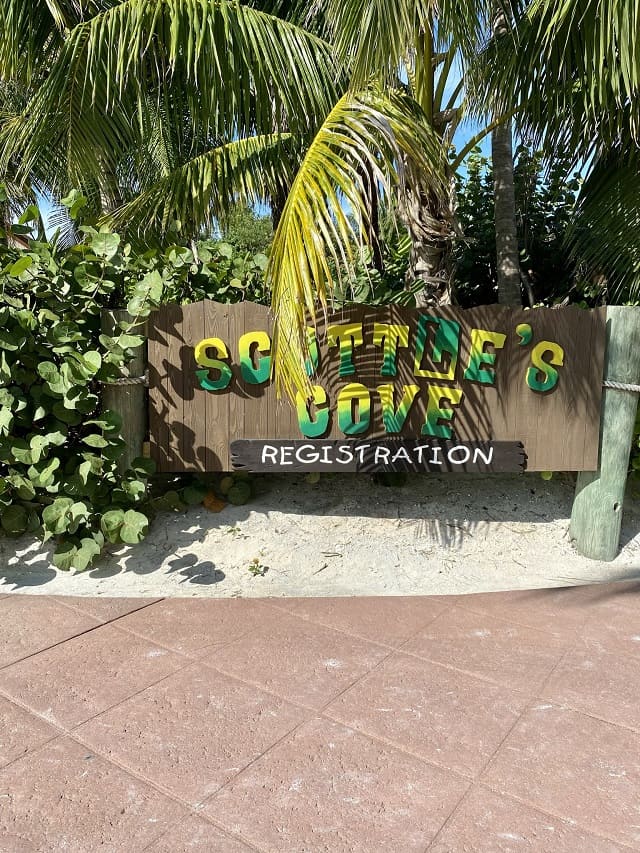 Although the Family Beach sounds like a lot of fun, there may be a time that your kids may want to enjoy the kids club on the island!
Scuttle's Cove is for children ages 3-12. It is a Disney Cruise Line counselor supervised children's fun zone. The 1,200 square foot water play area is great for kids as there are many activities planned throughout the day. This area also includes the soft wet deck, bubblers, geysers and water play area for them to enjoy.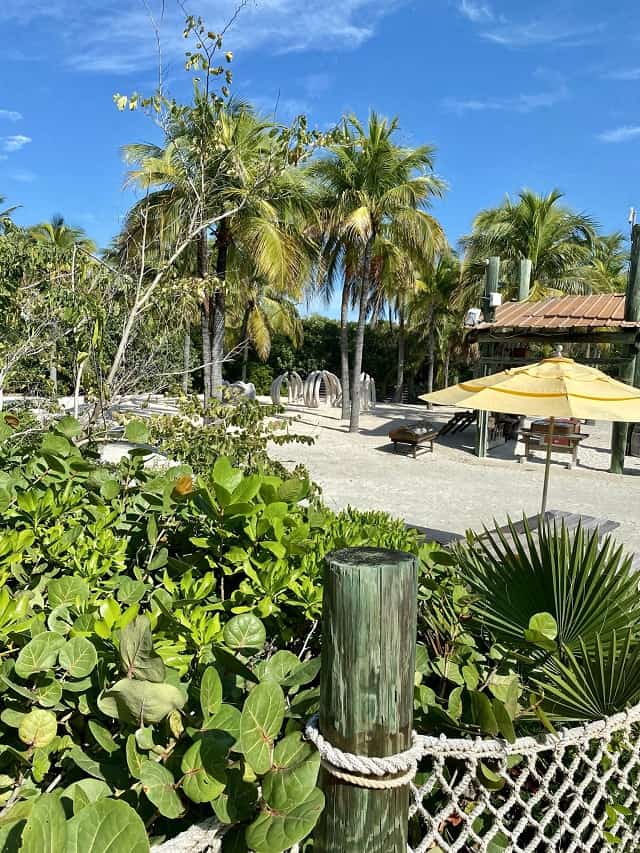 Scuttle's Cove is also connected to Monstro Point, a dig site that is filled with artificial whale bones for children ages 3-12. Scuttle's Cove is available on a first-come, first-served basis, so no advance reservations are required. Lastly, it is also conveniently located next to the first tram stop.
Tweens (ages 11-13) have scheduled time to hang out together, supervised by Disney Cruise Line youth counselors, at In Da Shade Game Pavilion and Pelican Plunge. Information and times are located on the Disney Cruise Line app.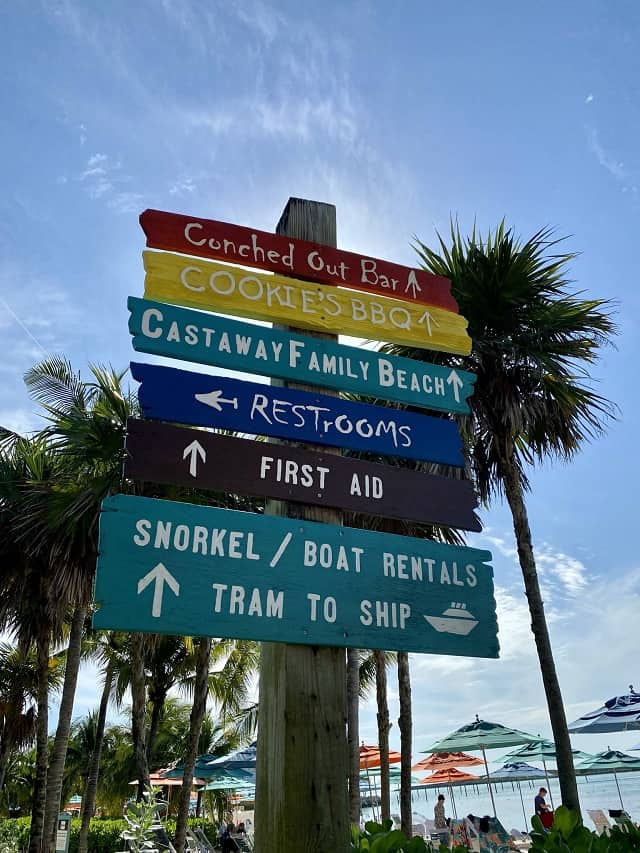 The Teen Beach, better known as Hideout, is for teenagers ages 14-17. It offers activities for them to enjoy without adults or kids present and it is located close to the beach.
There is even a special teen excursion that can be reserved. The Wild Side Teen Adventure excursion takes them snorkeling, biking, and kayaking. It even includes a lunch!
Things to Do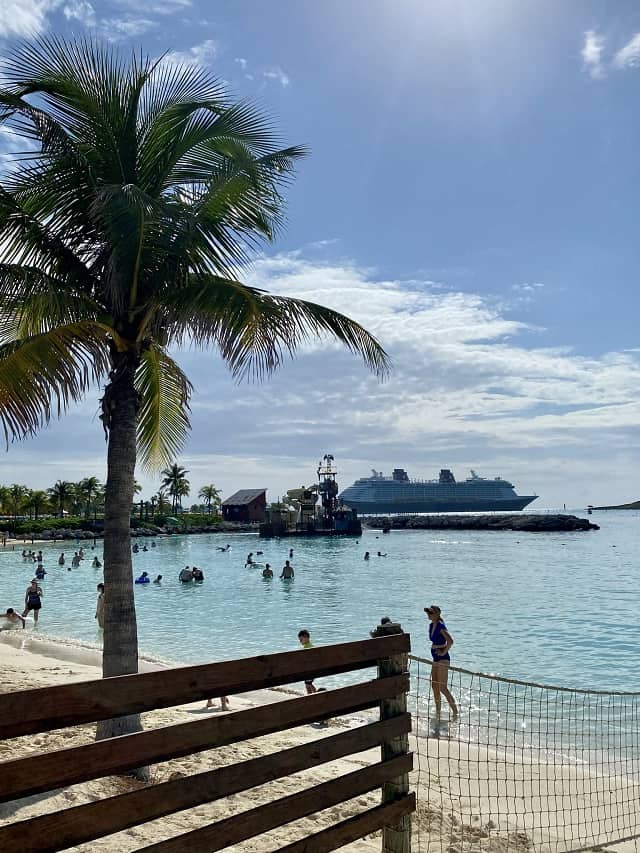 If hanging out on the beach all day is not your favorite thing to do, then there's no need to worry, as there are plenty of activities to do on Castaway Cay. Here are some of the many offerings.
Pelican Plunge is a 2,400 square foot floating platform that includes two water slides, a play platform, a giant water bucket dumper and water cannons that can be used to shoot targets.
Keep in mind that although you can swim to the platform, the water is deep. An adult male may be unable to touch the ocean floor, for example. Minimum height for the Pelican Plunge water slides is 38,″ and anyone under 48″ must wear one of the provided life vests.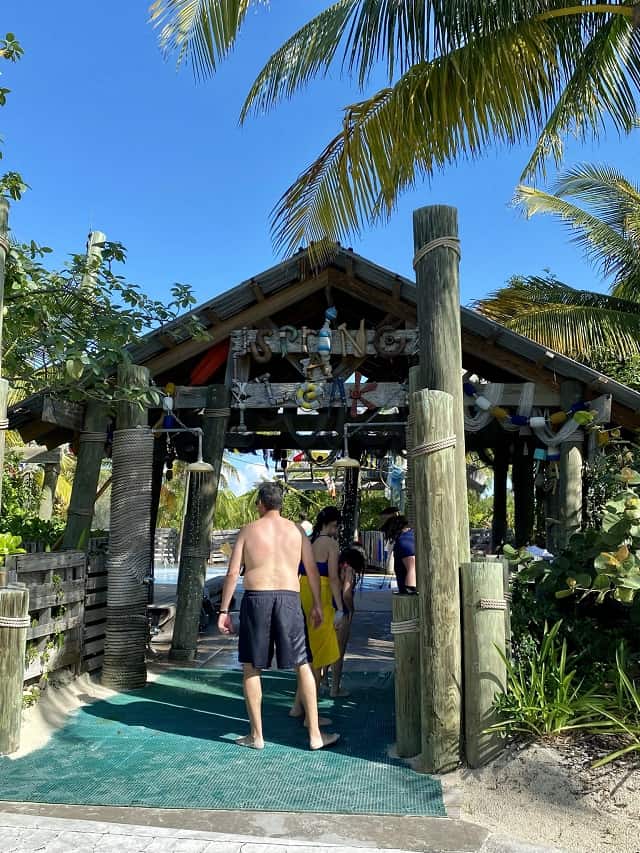 Also located near the Family Beach is the Spring-a-Leak water play area for kids. Water shoots out and sprays from broken pipes onto a splash pad for kids to cool off.
In Da Shade Game Pavilion is another area that includes table tennis, foosball, billiards and basketball. This shaded are is located near the Family Beach.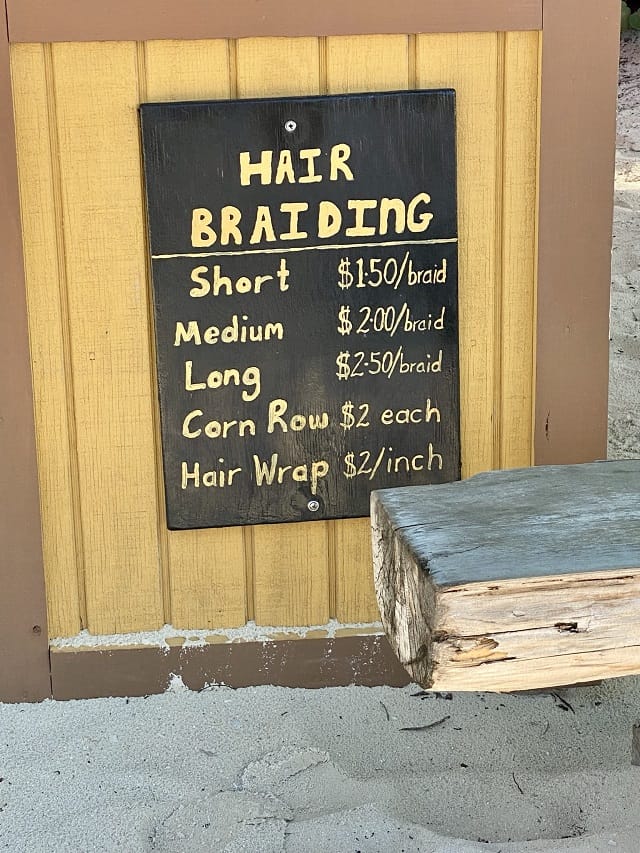 How about getting your hair braided while on the island? Prior to Covid, many of the ships offered hair braiding on the pool deck throughout the course of the cruise. However, due to new regulations, it has been temporarily paused.
Hair braiding is available on Castaway Cay. My daughter had her entire hair braided on the island. An hour and a half hour later and she was quite the happy camper. This was the one thing that she wanted to do on our trip.
No cash is accepted for hair braiding. You will be asked for your room number, and it will be added to your account on the ship.
Dining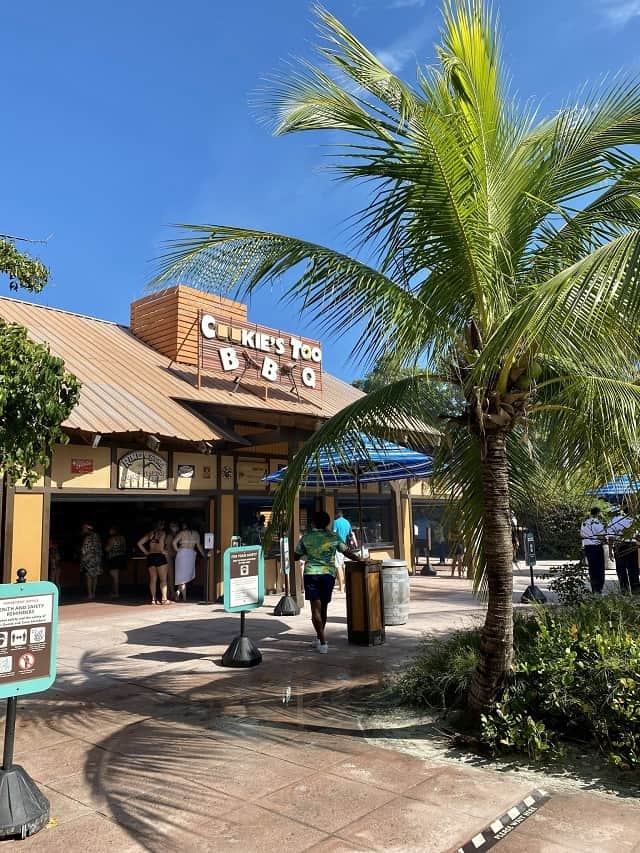 There are three complimentary barbeque dining locations on Castaway Cay Cookie's BBQ is located on the ship side of the family beach, Cookie's Too is located on the far side of the family beach, and Serenity Bay BBQ is located at the adult beach.
All of the locations serve almost exactly the same items. Items include: barbeque, ribs, chicken, hamburgers, hot dogs, fish, salads, corn on the cob, fresh fruit, and soft serve ice cream. Serenity Bay BBQ is unique because it offers adults Ribeye and Cajun Mahi-Mahi.
Guest are required to sanitize their hands when entering the buffet style line and must wear their face coverings while getting food.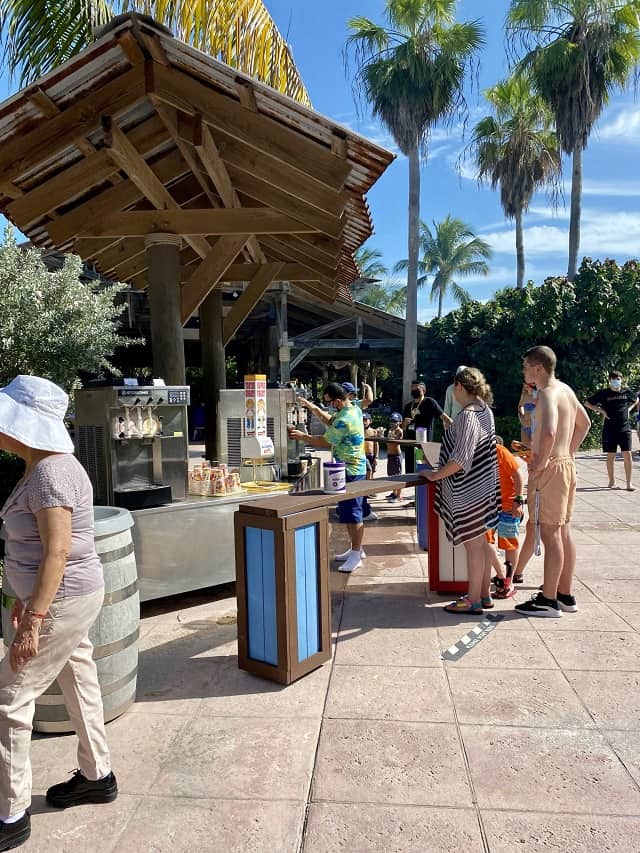 Due to Covid protocols, ice cream is now served by a Cast Member. Smoothies are available for purchase as well. There is plenty of room for guests to enjoy their meals, as there are many seating areas provided at each dining location. 
Guests can enjoy the buffet as many times as they like. Dining locations are only open for a certain amount of time during the day, so make sure to check in the Navigator app for hours of operation.
There are four bars located around the island. You will need to provide your Key to the World card and your room number to purchase beverages, as it is a no cash bar.
Rentals and Excursions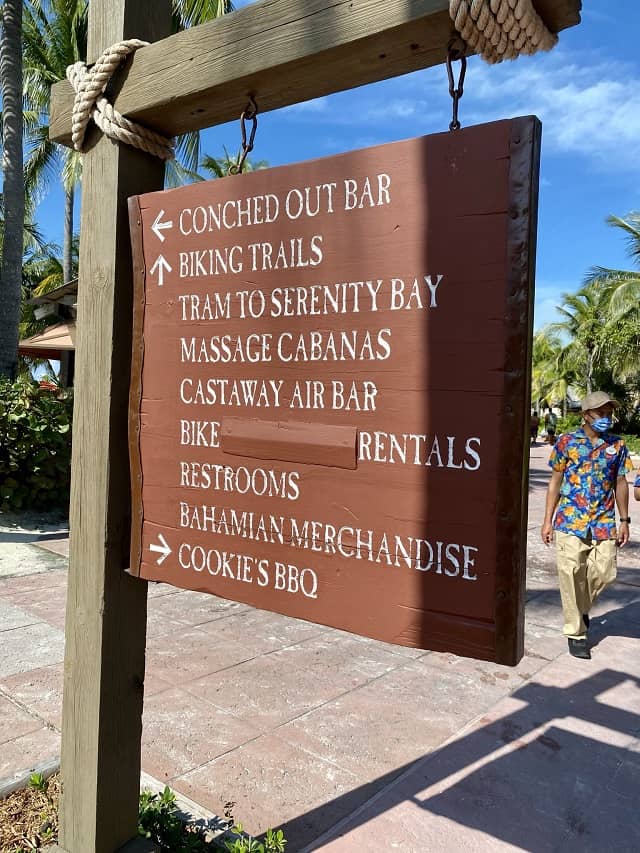 "Marge's Barges & Sea Charter Dock" is the boat rental location which includes a glass-bottom boat, a power catamaran, parasailing, Hobie Cats, fishing tours, and more.
At Gil's Fins and Boats and Flippers & Floats, guests can rent snorkel equipment for use in the Snorkeling Lagoon as well as other aquatic rentals like inner tubes, paddleboats, kayaks, and stand-up paddle boards and more.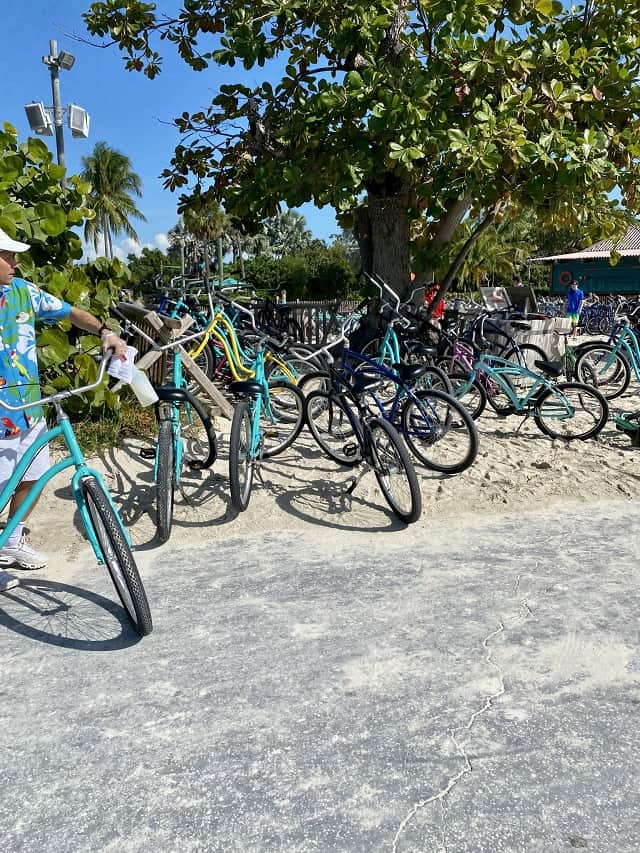 Our personal favorite package to purchase is the 3-in-1 Castaway Cay Getaway Package. This package provides snorkel equipment for the day, an inner tube for the day, and bicycle rental for one hour. We love being able to ride the bikes throughout the island!
My family really enjoy the Snorkeling Lagoon because we see a variety of fish and enjoy looking for the hidden Mickey and Minnie statues at the bottom of the ocean floor!
There are wide variety of excursions that Disney Cruise Line offers while on Castaway Cay. Information on each one that is offered can be found on the Port Adventures page.
Shopping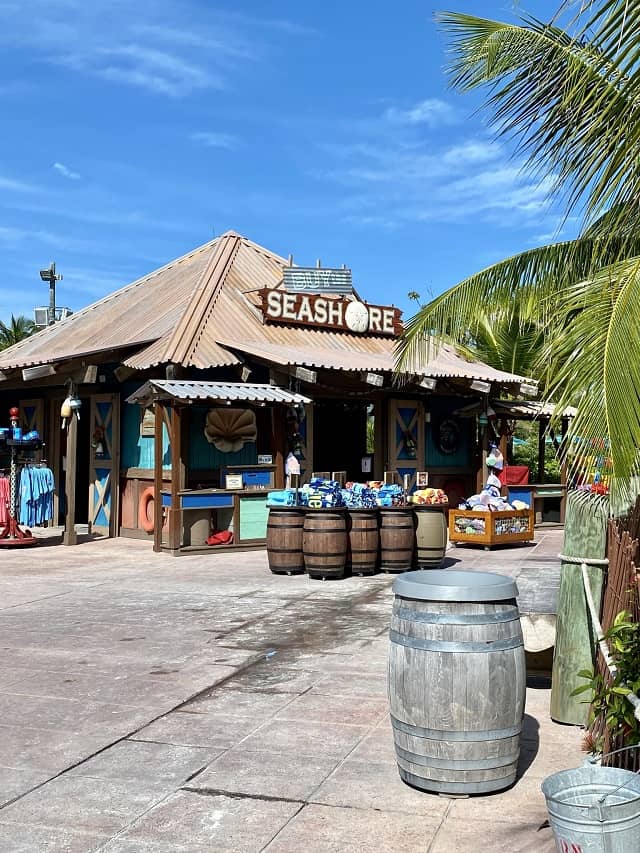 There are a couple of shopping locations on Castaway Cay. The two main stores are "She Sells Sea Shells…and Everything Else" and "Buy the Sea Shore." The second store is the largest of the two has has a slightly larger variety of merchandise.
Castaway Cay logo items are only available on Castaway Cay and are not sold on the ship.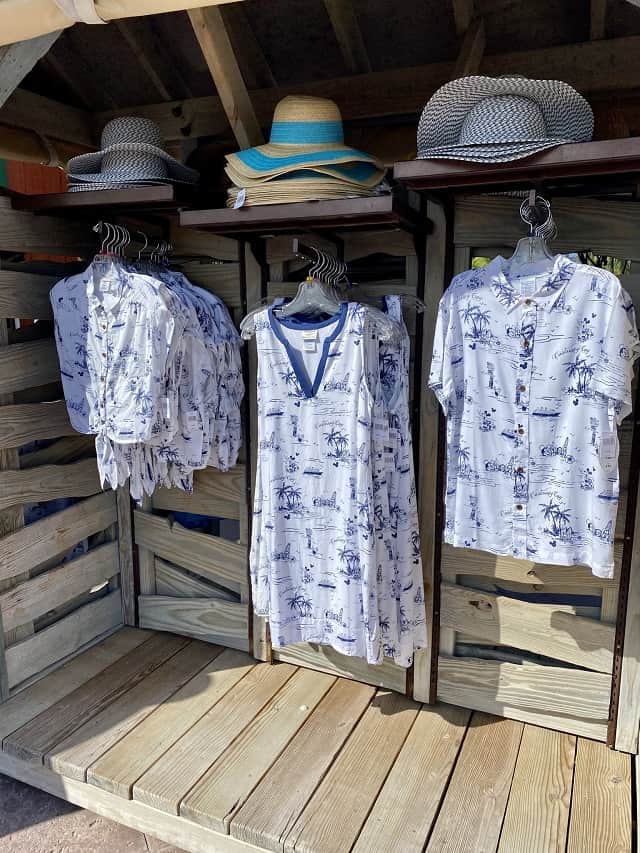 Family themed Castaway Cay merchandise is available for purchase as well as t-shirts, towels, hats, magnets and the typical trinket merchandise found in a tourist beach shop.
The shops are also cashless, so guests will need to pay using their Key to the World card and room number. Purchases will be billed to the guest's onboard account.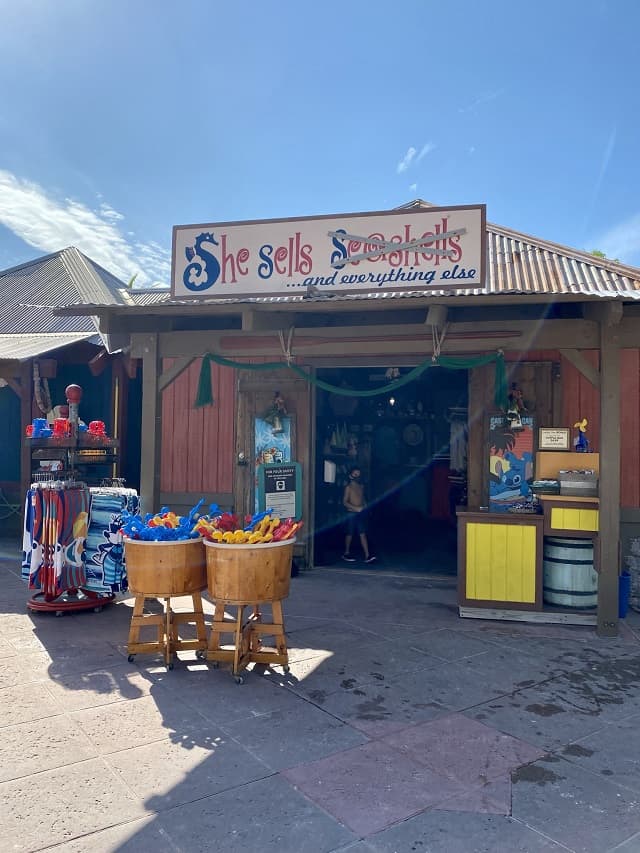 Although items such as sunscreen and beach toys are sold in the stores, they are quite pricey compared to the main land! Currently, face coverings are enforced inside the shops on Castaway Cay.
Local Bahamian arts and crafts are available at a shop on the island near the Family Beach.
Castaway 5K Run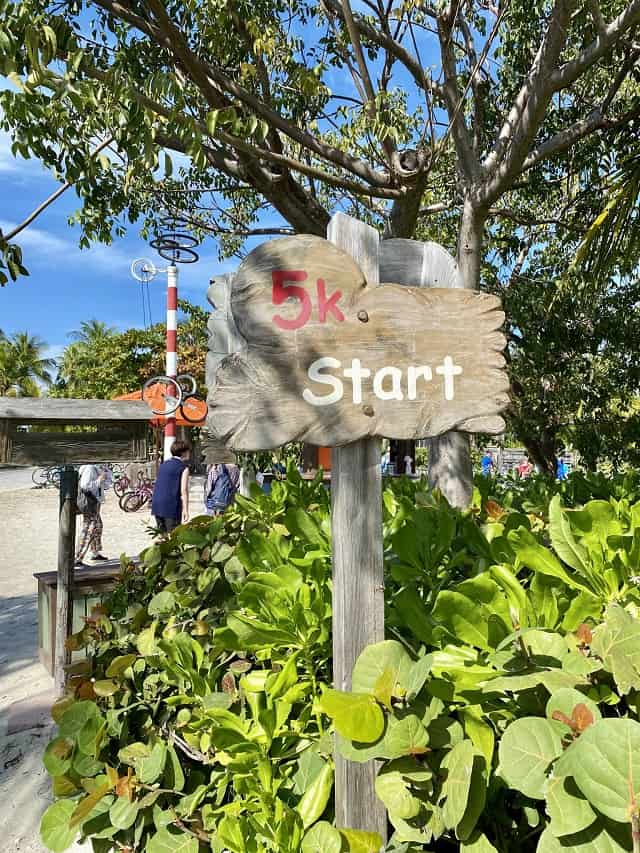 Things have changed due to Covid protocols, so take a look at how the 5K is currently offered.
Presently, guests ages 10 and up are welcome to walk or run the 5K on their own schedule since the group run has been temporarily paused. The activity is free for guests.
The 5K is now on the honor system. The guest now informs Disney that they have completed the 5K and receives a medal for their effort. Information on where and when Guests can pick up their medals is made available via the Disney Cruise Line Navigator app.
Cabanas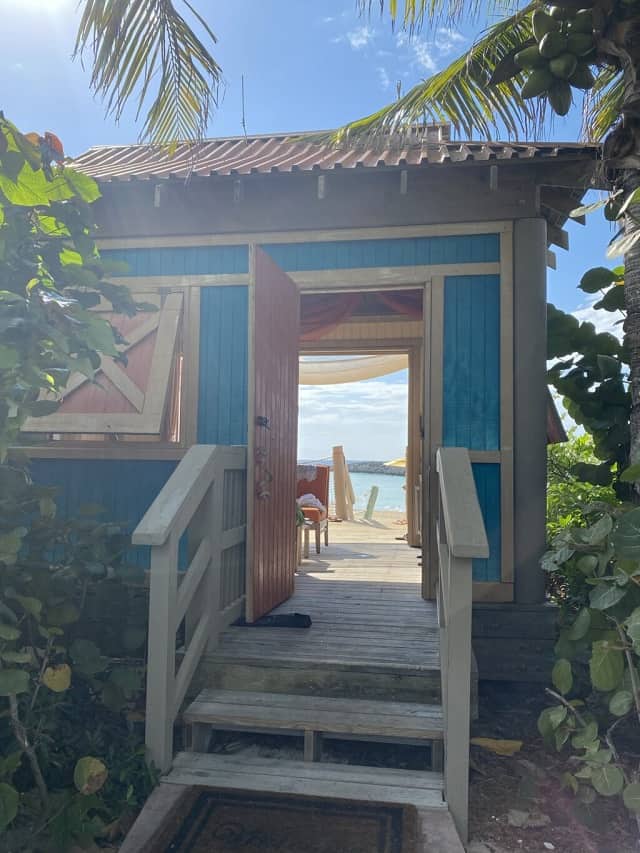 The private cabanas are a highly sought after cruise premium.  They are located along the far side of the Family Beach. Cabanas are limited and are difficult to reserve. Concierge guests tend to book them first. 
The 325 square foot private cabanas provide a majestic view of the Disney cruise ship from the cabana's patio deck and private beach area.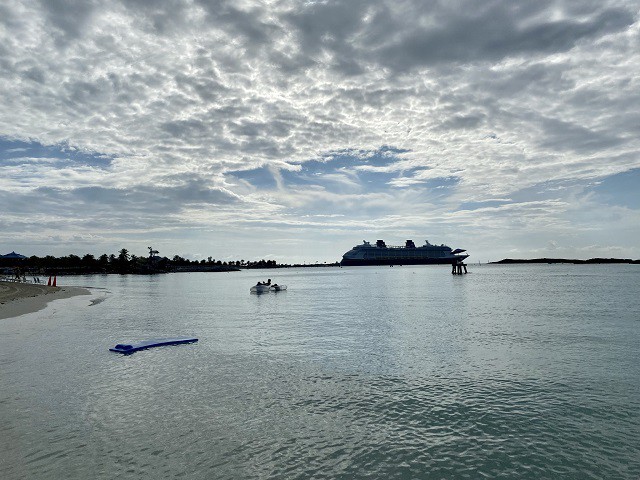 As you can see, Castaway Cay is full of many activities and amenities. One can simply enjoy the day without even having to spend a penny to purchase rentals, excursions and beverages.
It truly has become one our family favorite vacation spot that we always look forward to visiting. Double dip cruises, which include two stops at Castaway Cay, are even better in my personal opinion!
Have you visited Disney's private island, Castaway Cay? What is your favorite thing to do on the island? Let us know in the comments on Facebook and in our Facebook group.