Are you a Disney fan expecting a baby and wondering where to find all the best Disney baby clothes, bedding, and gear? Here is where you can find the best brands that carry Disney themed baby merchandise and how to compile them all onto one baby registry!
Pottery Barn Kids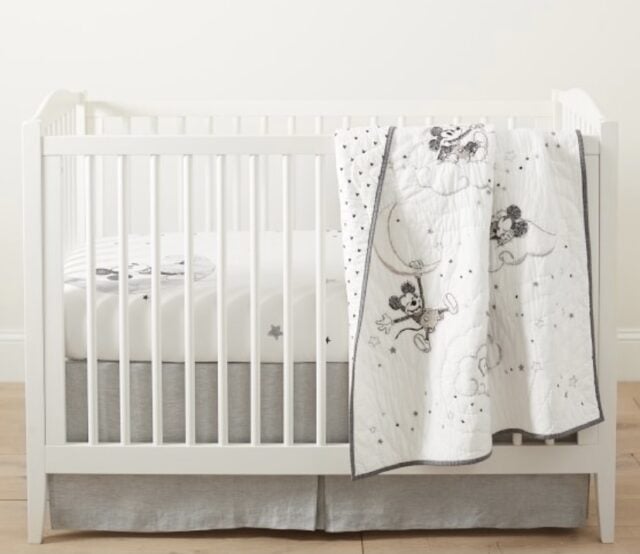 Pottery Barn Kids is one of my favorite brands for Disney themed bedding, swaddle blankets, clothes, towels and decor. Some characters they carry are Mickey, Minnie, princesses, Toy Story, Bambi and Winnie the Pooh.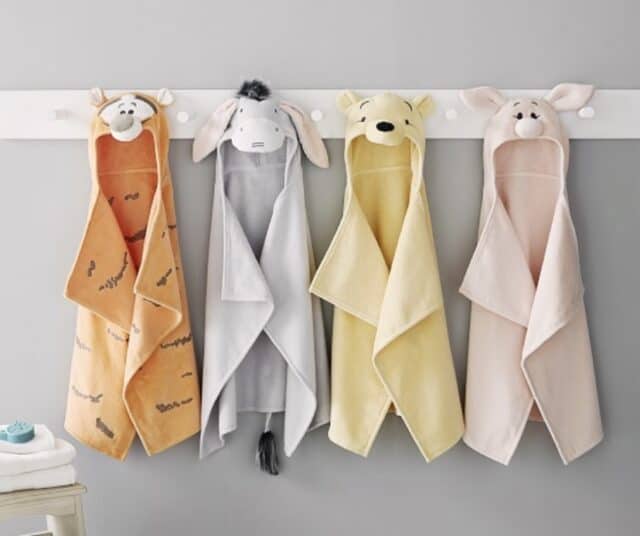 They also carry amazing Harry Potter and Star Wars lines. When I (Ashley) decorated my son's Star Wars themed bedroom I purchased bedding, decorative pillows and an R2D2 beanbag chair from Pottery Barn Kids.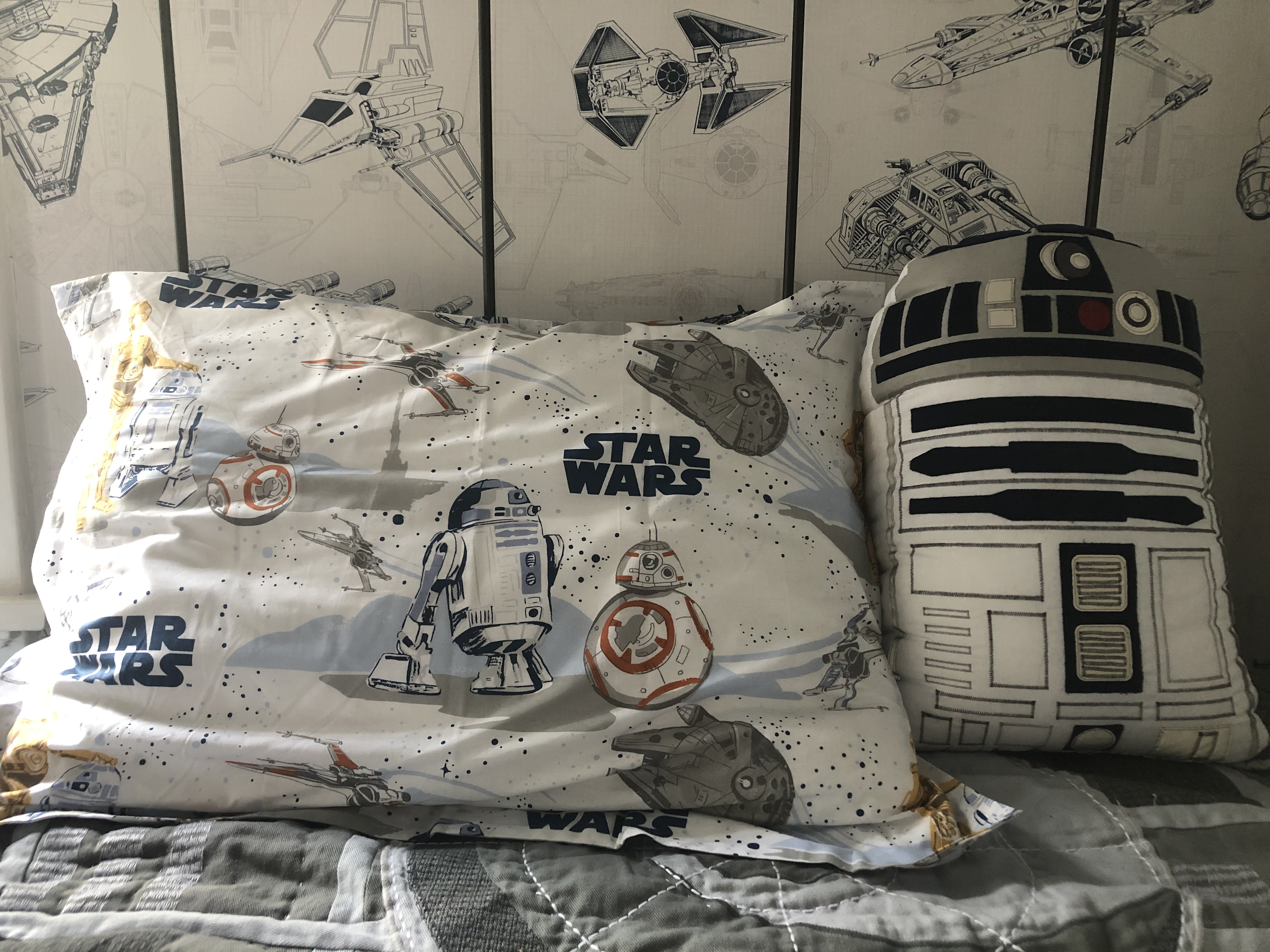 Their new Baby Yoda crib sheet and blanket would be adorable for a baby boy's nursery!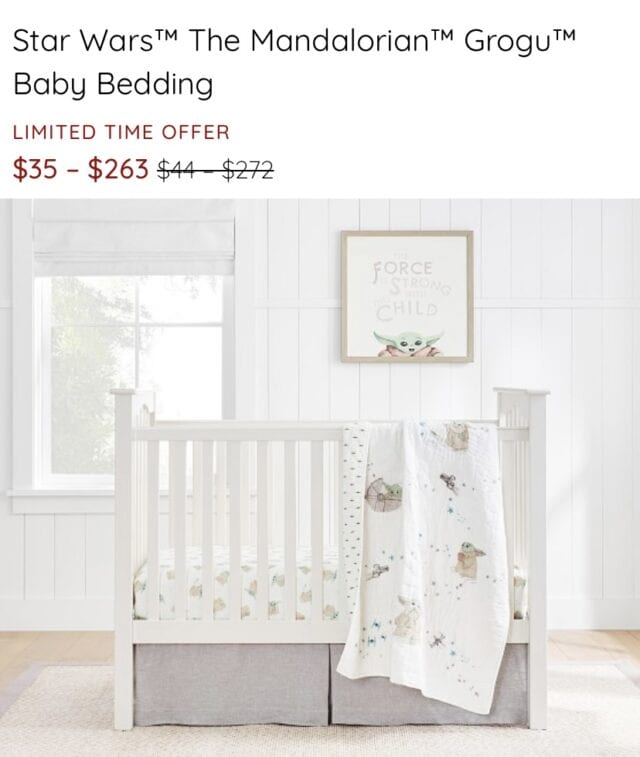 I am currently expecting a baby girl and decorating the nursery with a magical forest theme that, of course, includes some Disney touches.
I purchased a Bambi themed crib sheet, swaddle blankets, burp cloths and bibs from Pottery Barn Kids. They will be perfect with our nursery theme! I love the sketchbook look of this Bambi design.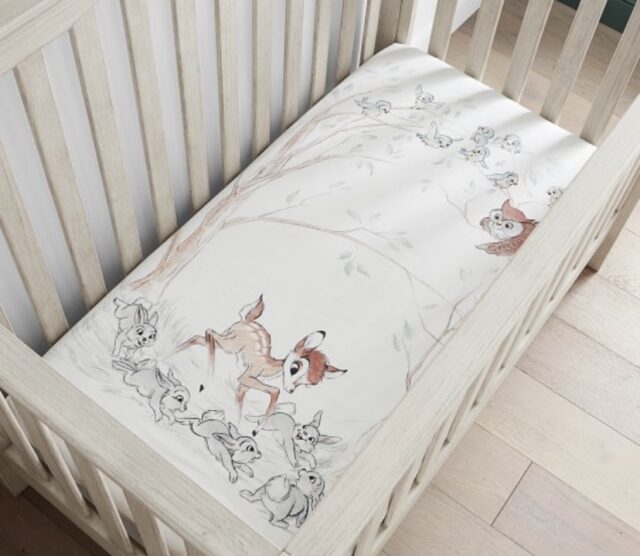 Aden and Anais: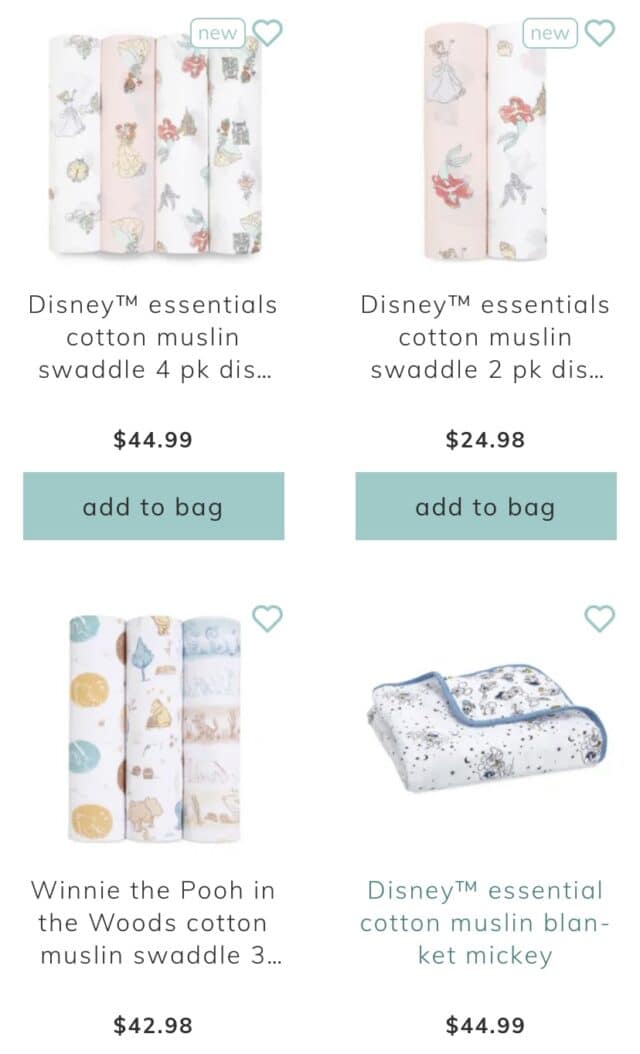 This brand is known for their soft cotton muslin swaddle blankets that can be used for a stroller sun shade, tummy time blanket, nursing cover, and changing mat. They also make thicker "dream blankets", sleep sacks, bibs, and burp cloths.
Some Disney themes they have used on their products are Mickey, Minnie, princesses, Winnie the Pooh, Dumbo, Lion King, Jungle Book, Marie, 101 Dalmatians, and Bambi. They also carry a stunning Harry Potter line that I am very tempted by!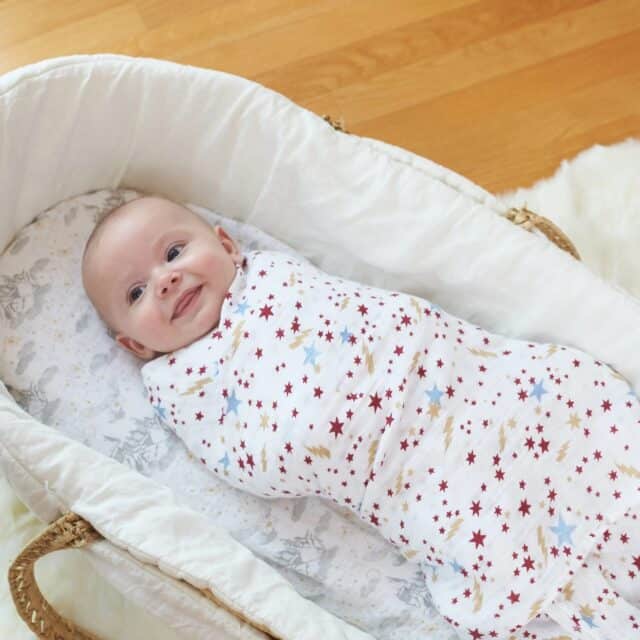 Halo:
Safe sleep friendly velcro swaddles and sleep sacks are a baby registry must-have. Halo makes a few Disney themed options in Mickey, Minnie and Toy Story prints as well as Harry Potter.
Petunia Pickle Bottom: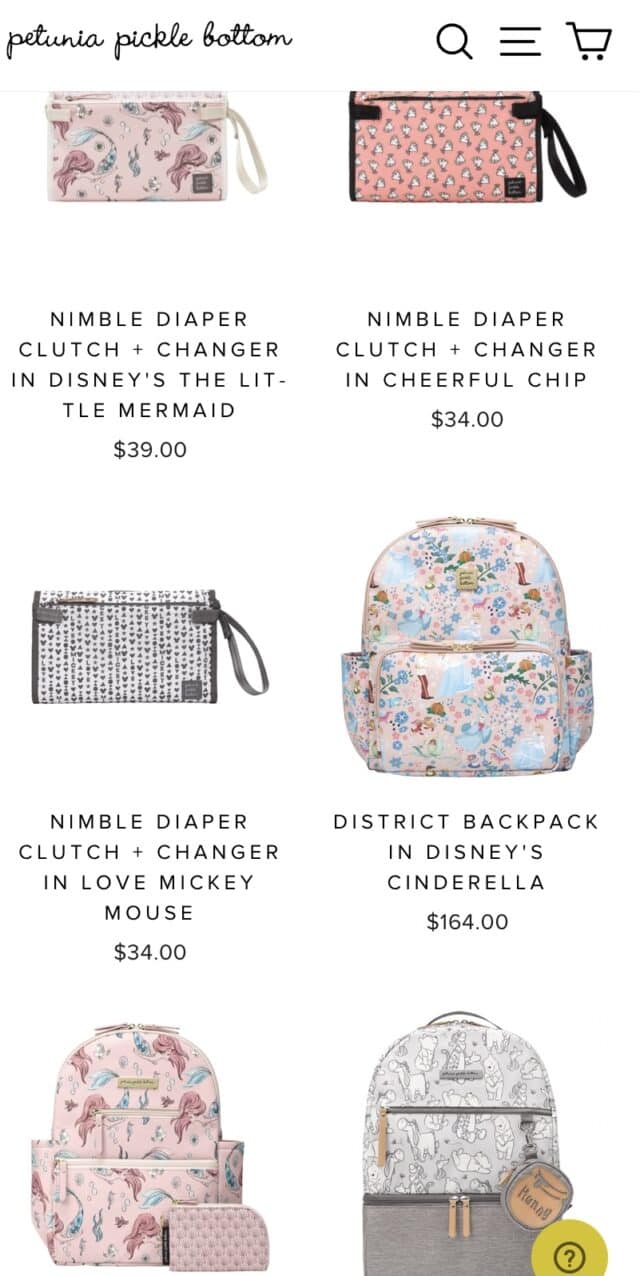 If you're looking for a Disney themed diaper bag backpack, this is a great place to find it! Some Disney characters on their bags include Minnie Mouse, Mickey Mouse, Cinderella, Ariel, Winnie the Pooh and Toy Story.
While I love their patterns I already own an extensive collection of Disney bags and will probably end up using a lot of Loungefly backpacks and Harveys totes as diaper bags.
Petunia Pickle Bottom also makes insulated bottle/snack pouches, stroller caddies and portable changing pads in the same patterns, and I will definitely add a few to my registry.
JuJuBe: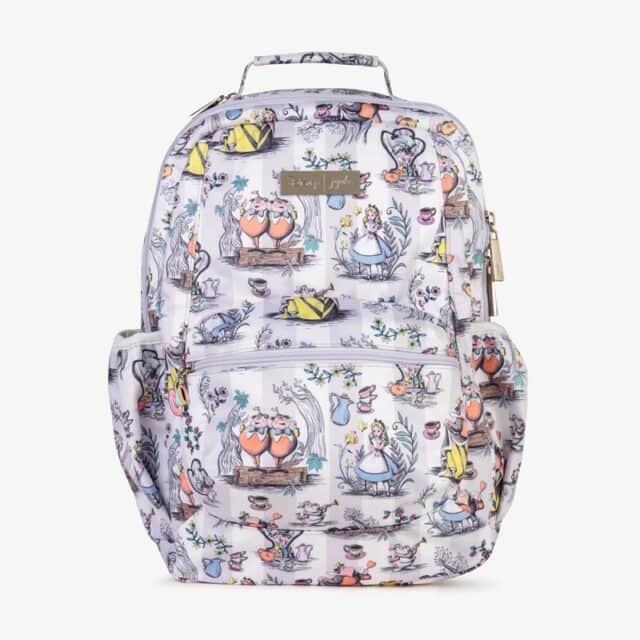 One print that may tempt me to add a new diaper bag to my collection is this stunning pastel Alice in Wonderland toile design on a line of diaper bags by JuJuBe called "Mad Mad World". They create a few limited edition prints at a time and I noticed that some popular ones including Harry Potter and Nightmare Before Christmas are completely sold out.
However, some Disney prints, including this Alice one, are still available on their website and Buy Buy Baby/Bed Bath and Beyond. They also create new prints a few times a year, so follow them on social media for updates!
Milk Snob: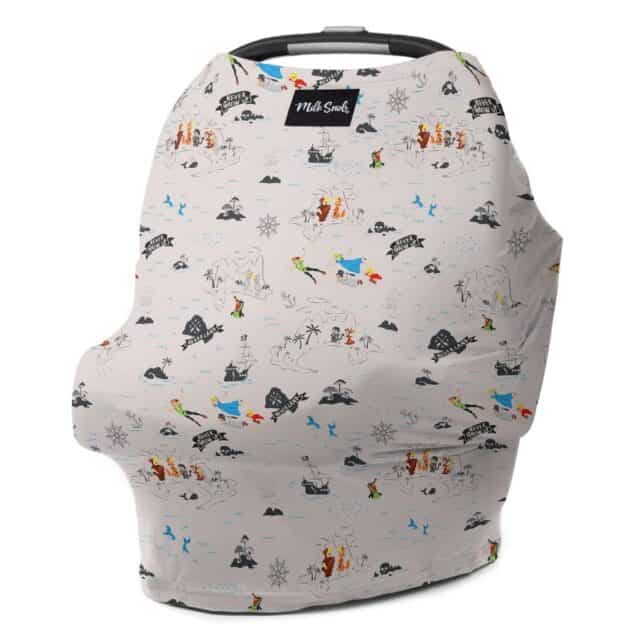 Milk Snob makes adorable car seat covers that also have multiple uses such as nursing cover ups and high chair and shopping cart covers. They sell fun patterns featuring Mickey Mouse, Minnie Mouse, Winnie the Pooh, princesses, Toy Story, Peter Pan, and Monsters Inc as well as Star Wars and Harry Potter!
Their car seat covers sell for $39. They also carry a few Disney themed blankets for $45.
Moby Wrap: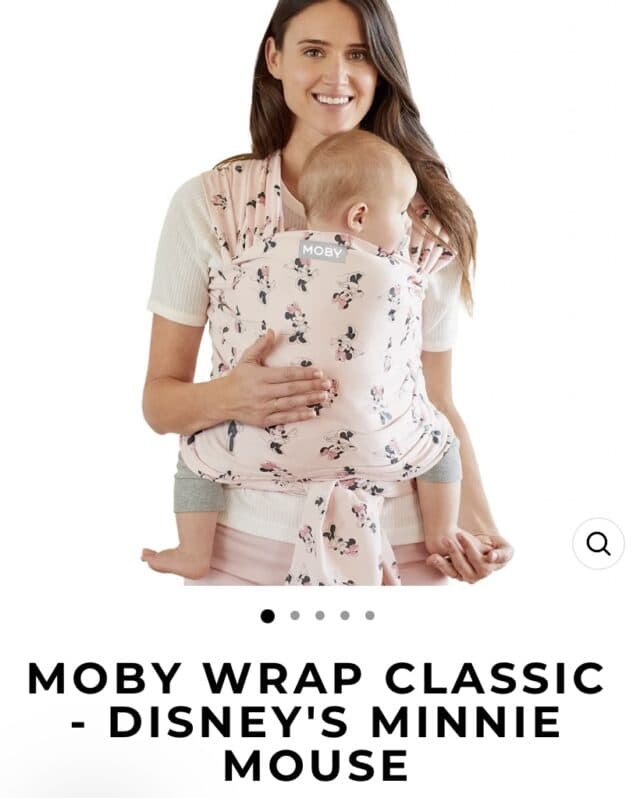 Moby is a very popular brand for stretchy cotton wraps, and their Disney designs make baby wearing even more magical. In addition to their original style of wraps, they also make some ring slings and hybrid buckle/wrap carriers.
They carry a limited number of Disney patterns including Mickey, Minnie and Winnie the Pooh. I adore this pink Minnie Mouse pattern, and it would be perfect for carrying a baby while waiting in lines at Disney World.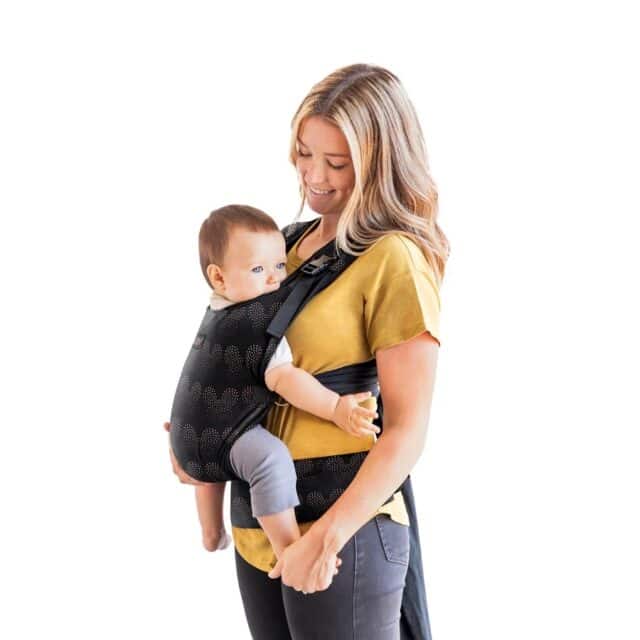 Even if you are planning to bring a stroller on your Disney vacation a carrier can definitely come in handy if you have a baby or toddler who wants to be carried while waiting in lines!
Disney Moby wraps sell for $49.99-$54.99 while ring slings are $64.99 and the Ombre Mickey hybrid carrier is $69.99.
Little Crowns & Capes: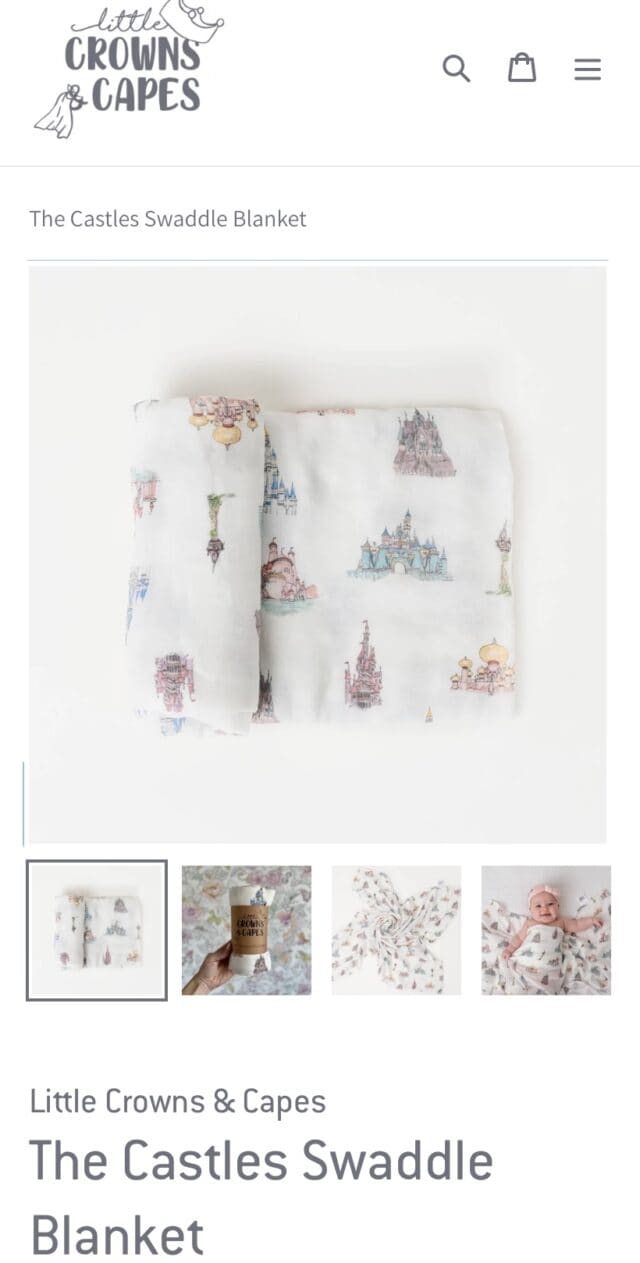 This company makes soft breathable cotton muslin swaddle blankets that are 70% bamboo and 30% cotton. I adore this castle pattern that features watercolor princess castles from the parks and Disney films. They also sell matching art prints that would make wonderful decorations for a baby girl's nursery.
Some other Disney inspired patterns they carry include "Star Babies", "Fish are Friends", crowns, pirates, cowboy and princess symbols featuring icons such as an apple, a glass slipper, and an enchanted rose. Their swaddles sell for $25.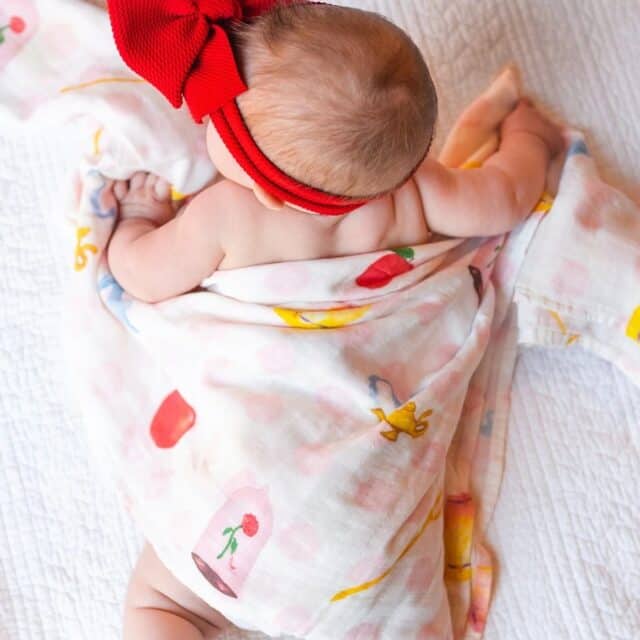 Hanna Anderson: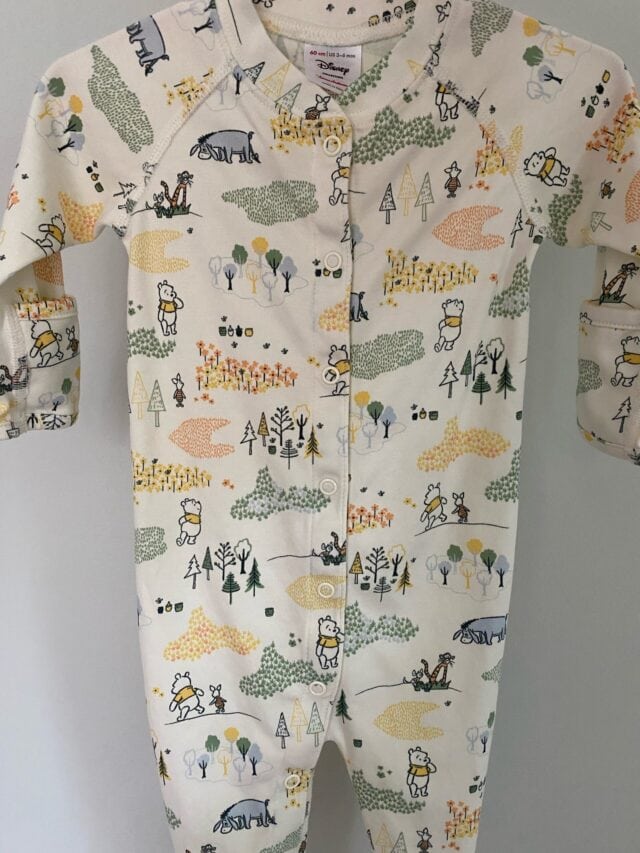 This is one of my favorite places to shop for Christmas jammies for the entire family. They also sell some adorable baby sleepers such as this Winnie the Pooh layette and some Star Wars and Baby Yoda sleepers.
For older girls it is also a great place to buy Minnie Mouse and Princess themed dresses that are great for the parks.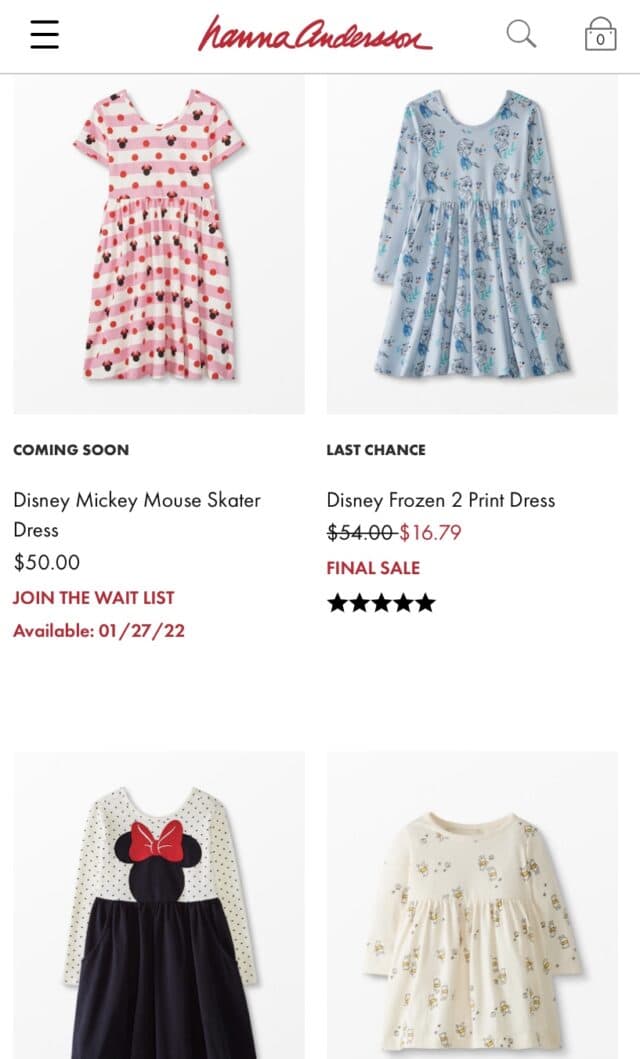 Lambs and Ivy: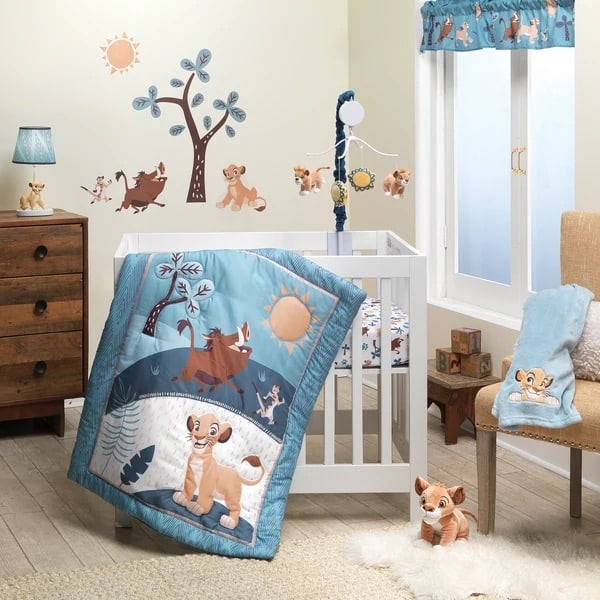 If you want a fully coordinated Disney themed nursery this is the perfect place to shop! They carry bedding, window valances, lamps, wall decals, mobiles, wall art, plushies and loveys. Several Disney themes include princesses, Mickey, Minnie, Lion King, and Winnie the Pooh.
Barefoot Dreams: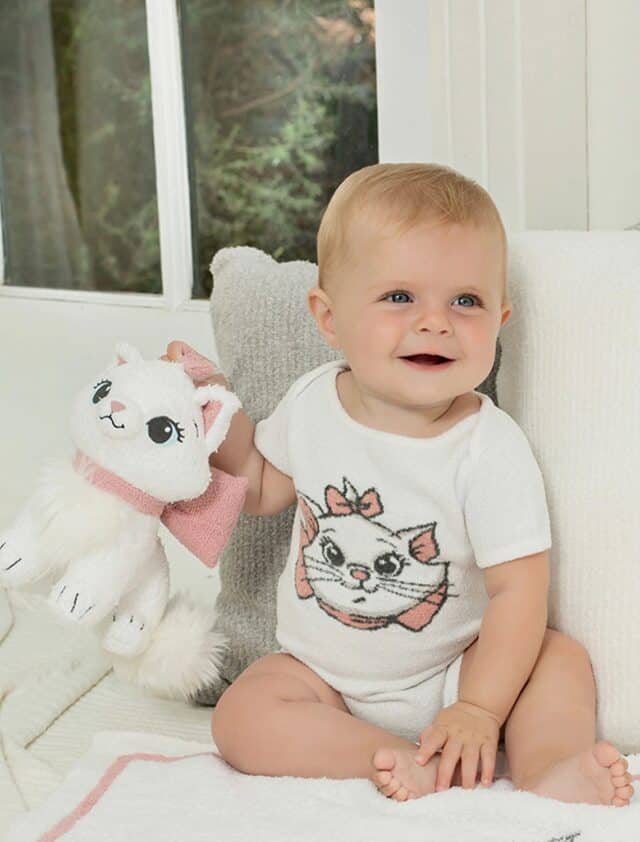 Barefoot Dreams sells cozy blankets, playsuits and plushies in Disney themes such as Marie, princesses, Dumbo, Bambi, Frozen, Little Mermaid, Winnie the Pooh, Mickey, Minnie, Toy Story and Lion King.
This Marie onesie and plushie set sells for $125 and coordinates with the matching blanket that sells for $84.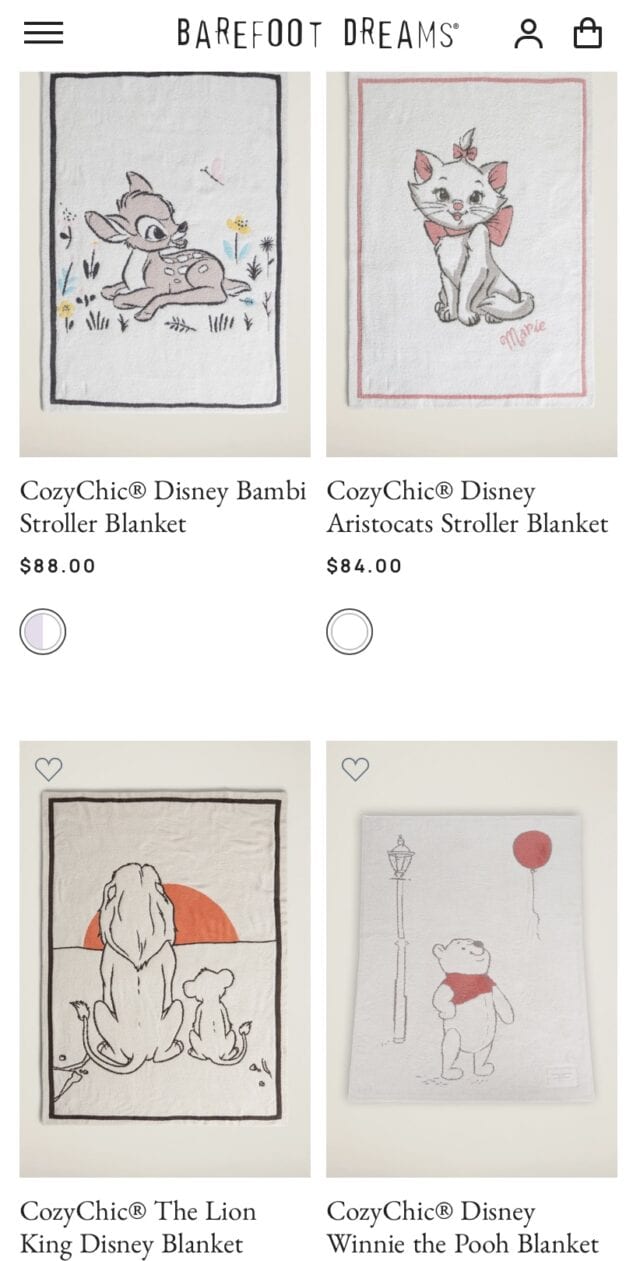 Bumkins: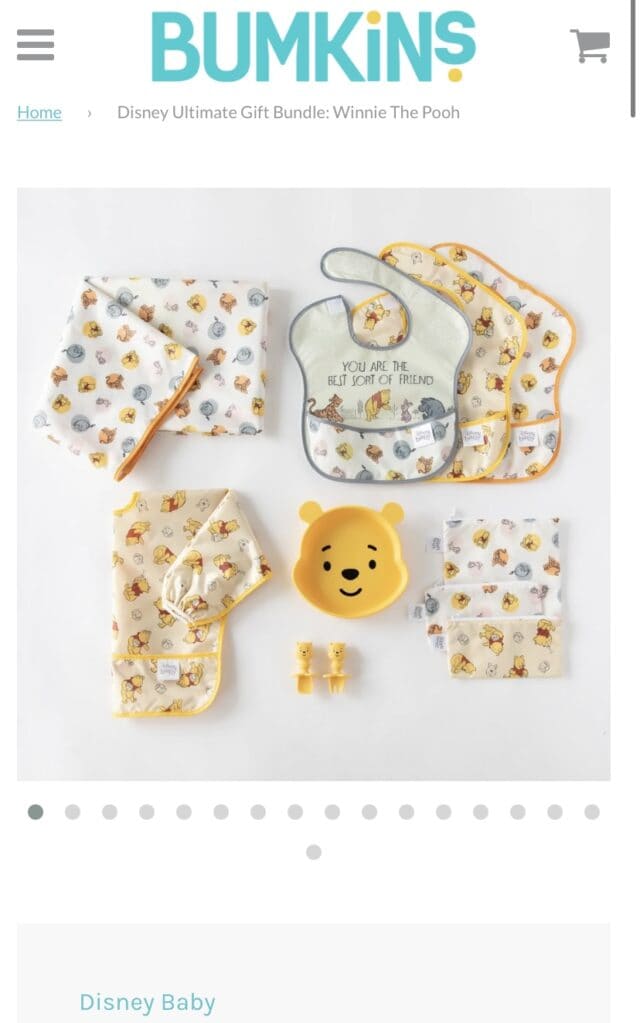 Bumkins is the place to register for Disney themed feeding items including bowls, utensils, bibs, smocks, splat mats and travel food pouches. Some characters they sell are Mickey, Minnie, Winnie the Pooh, Toy Story and Harry Potter.
Target: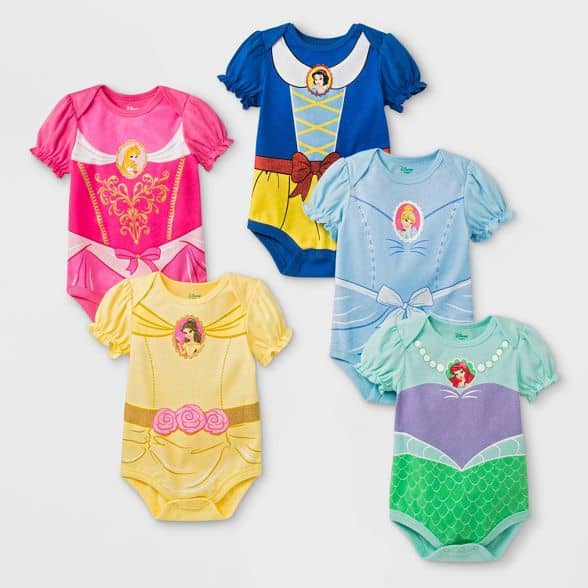 Target is a great place to shop for Disney baby clothes themed after almost any Disney character you can imagine. How cute are these princess onesies for a Disney vacation? They are sold at Target for $24.99 for the set.
You can also find a lot of Disney themed gear at Target such as this Bright Starts Finding Nemo Mr Ray Ocean Lights and Music Gym which sells for $74.99.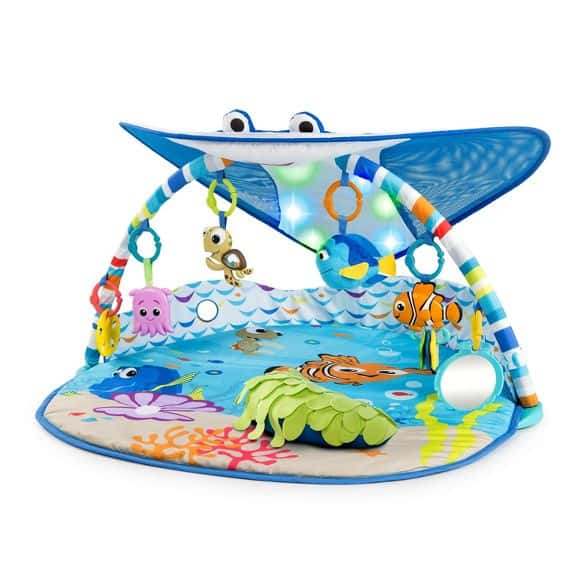 Target sells many different brands which makes it a good one stop shop for a baby registry. You can find some Disney Aden and Anais blankets, Moby wraps, Petunia Pickle Bottom diaper bags, and Lambs and Ivy nursery decor.
Additionally, you can also find Bumkins bowls, bibs and utensils, Halo sleep sacks, and J.L. Childress travel products such as this Mickey stroller organizer for $16.99.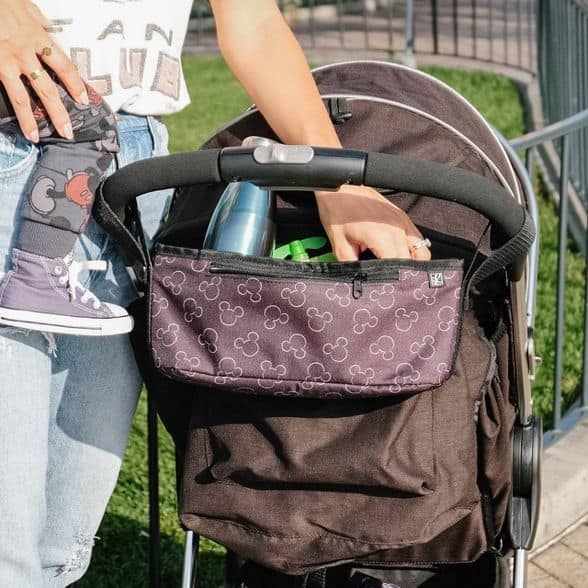 shopDisney: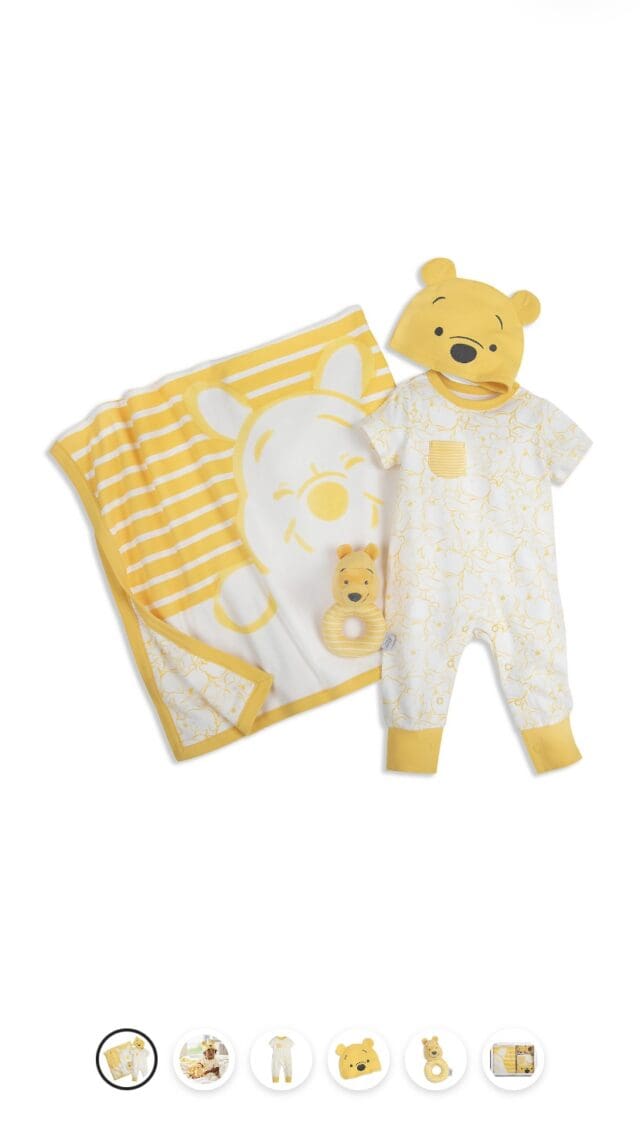 Last, but not least, you can find lots of Disney baby merchandise on shopDisney! In addition to exclusive baby gift sets, onesies, hooded towels, bibs, toys and nursery art Shop Disney also carries a limited selection of Disney products.
They include brands mentioned above such as Moby, Aden and Anais, Petunia Pickle Bottom, Bumkins and Barefoot Dreams.
Where to register?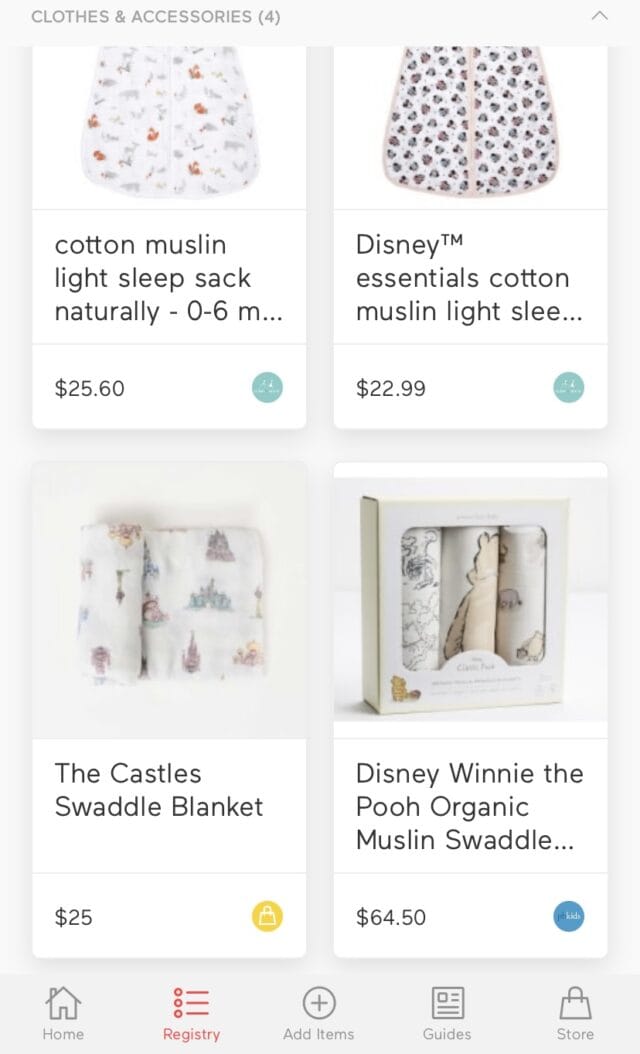 One option is to register at one or two large retailers such as Target, Amazon or Buy Buy Baby – all of which carry several different brands of Disney baby merchandise. But you won't find every brand in this article on those websites and in some cases selections will be more limited.
If you are interested in specific products from several different brands the best place to register is Babylist.
It will compile your selections from multiple stores onto one website and organize them by category. You can even include Disney themed merchandise from small independent shops on Etsy.
Where is your favorite place to buy Disney themed baby items? Comment on Facebook with your feedback and suggestions of any brands I may have missed!
Ashley Beckwith McKellar
Follow me on Instagram: @disneyparksmom