Here it is! Part four of my (Christina) blog series of traveling to Disneyland for the the first time. Today, I'll be diving into our experiences at Disneyland Park and how it compared to Disney World!
In my last installment of the Beginner's Trip to Disneyland series, I talked about our amazing experience staying at Disney's Grand Californian Hotel & Spa. You can read all about that HERE.
In the Beginner's Guide to Disneyland Part Two, I discussed our experience staying at Paradise Pier Hotel for the first time.
When we first began planning our trip to Disneyland it was a bit overwhelming. There was so much to factor in. You can catch up on the entire planning process in Part 1 of my Beginner's Guide to Disneyland series.
Now, let's talk about the parks. Specifically in this article: Disneyland Park. No one in my family had ever been to Disneyland before, so we couldn't wait to check it out!
Disneyland Park
First Impression
When I first arrived at Disneyland, I found myself comparing it side by side with Walt Disney World.
In all honesty, this really wasn't fair to Disneyland. Of course Walt Disney World is bigger and newer, but Disneyland has a charm unlike anything at Walt Disney World.
I remember my first thought when I saw Sleeping Beauty's castle was: "this is it?" It looked like a kids blow-up bouncy castle. Coming from years of visiting Walt Disney World, it was a striking difference in comparison.
I quickly learned to cast Disney World out of my head and reminded myself that this is the park Walt imagined. Though there were similarities, you could feel the history and his presence so much throughout the Disneyland park.
What I Wish I Knew Before Going
Something I wish I had known beforehand was how much time I needed to experience Disneyland for the first time. Everyone I spoke with seemed to have the general consensus that 4 days was plenty of time to see and do everything.
I, personally, did not find this to be the case. I would have loved at least another day in each park because we missed out on a lot even with all we accomplished.
If I had spent three days in each park, I would have felt as if I had seen and done it all, or close to it.
Disney World and Disneyland Similarities
Disneyland and Disney's World's Magic Kingdom are very similar in some ways. They are both designed with a central hub and spoke layout with themed lands jutting out on all sides. Even Main Street, U.S.A. was very similar. The shops were different, but it almost felt like being back at Disney World.
Both parks have similarly themed lands such as Adventureland, Fantasyland, Tomorrowland and Frontierland. Naturally, there are many attractions that are similar in those lands and elsewhere, too.
Rides
One thing that surprised me was how much more I enjoyed the attractions at Disneyland compared to Walt Disney World. Everything that was at both parks seemed to be better at Disneyland.
Peter Pan's Flight
One perfect example of this was Peter Pan's Flight. The one at Disneyland was hands down far and above superior. The only shift in Disney World's direction was that they had Fastpass+.
Aside from having to wait an hour for Peter Pan's Flight at Disneyland (despite being there right at rope drop), it was absolutely amazing! Disneyland's version was upgraded a few years back and the improvements were astounding.
Everything was brighter and more vivid in color and the ride as a whole was much faster and smoother. If I had waited 60 minutes at Disney World for Peter Pan's Flight I would have considered myself a mad person, but 60 minutes was worth the wait to experience this attraction at Disneyland.
It's A Small World
Another ride that was far and above superior at Disneyland was It's a Small World.
I love this classic attraction at Disney World, but it is so much bigger and better at Disneyland.
There were more rooms to go through and I absolutely loved finding the Disney characters in their designated countries.
We ended up riding this numerous times because we loved this version so much!
Space Mountain
Space Mountain was also much better at Disneyland. I didn't think that it could get much better than Disney World's version, but it was. It felt faster and more intense and it was interesting to see the difference in ride vehicles, too.
At Disney World, you are seated three to a rocket (one in front of the other) but at Disneyland, you are seated side by side in groups of two like Rockin' Roller Coaster at Hollywood Studios.
Autopia
When I go to Disney World, I often skip riding the Tomorrowland Speedway. It's not something I would waste a Fastpass on or wait in a long line for. We did however, take the time to ride Autopia at Disneyland and I am so glad we did!
This ride was an unexpected hit for my family. In every way it was better than the Tomorrowland Speedway. I had more control over my vehicle and the ride path was long, winding and exciting.
It was far more interesting than Disney World's version. My one regret was not riding it again.
Pirates of the Caribbean
Pirates of the Caribbean was another surprising standout. The attraction is great at Disney World, but I wasn't really expecting it to be much different at Disneyland. My brother and I hopped on this ride in the evening right before Fantasmic! and it was pretty incredible.
Pirates of the Caribbean at Disneyland is much longer and contains more scenes than Disney World's version. It also has more drops!
Monorail
Both Disneyland and Disney World have a monorail system. However, Disneyland's Monorail is used primarily as an attraction rather than a form of transportation like at Disney World.
The Disneyland Monorail goes from Tomorrowland to Downtown Disney and back and you must have a ticket to Disneyland Park to ride the monorail. While I always enjoy riding a monorail, I will give the edge to Disney World on this one since it is more practical as a mode of transportation.
Disney World and Disneyland Differences
While you'll find lots of similarities between Disney World's Magic Kingdom Park and Disneyland Park, there are a LOT of differences, too. For starters, Disneyland is much smaller than the Magic Kingdom at Disney World. That being said, there are a lot of things that Disneyland has that Disney World does not.
Lands
There are three lands in Disneyland that do not exist in Disney World's Magic Kingdom: New Orleans Square, Mickey's Toontown, and Critter County.
New Orleans Square
I absolutely loved the theming of New Orleans Square! The detail was incredible and we enjoyed both the Cafe Orleans and Blue Bayou restaurants located in this land.
We also found it super cool to walk by the original Club 33 entrance and even caught Dr. Faciler lurking in the bushes causing mischief.
Critter Country
We didn't spend a ton of time in Critter Country because Splash Mountain was closed for refurbishment at the time we traveled. We did ride The Many Adventures of Winnie the Pooh though, which was also way better at Disneyland than Disney World.
During non-pandemic times, you could also encounter some of your favorite friends from the Hundred Acre Wood hanging around. Rabbit was high on my list of priorities to meet and we found him!
Mickey's Toontown
Until around 2010, when construction began on New Fantasyland, Walt Disney Word also had a similar land called Mickey's Toontown Fair. I was never a huge fan of Mickey's Toontown Fair because there really wasn't that much to do.
When I went to Disneyland, I had the same expectations for Mickey's Toontown as I had with Mickey's Toontown Fair at Disney World.
To my surprise, I really liked Mickey's Toontown at Disneyland! There was a lot more theming involved in the entire land and more to experience.
We stopped into Mickey's house because I had heard you could see Mickey in one of four different outfits.
While I really wanted to catch him as Steamboat Willie, Mickey was feeling like dressing up in his Sorcerer's Apprentice attire that day, which was still adorable. I think he must have forgotten his hat in the dressing room, though.
Rides
Pinocchio's Daring Journey
There were many unique-to-Disneyland rides that we really enjoyed! In Fantasyland, there was Pinocchio's Daring Journey which, while it wasn't anything spectacular, was still entertaining and new for us.
Storybook Land Canal Boats
We also enjoyed floating along the Storybook Land Canal Boats, although the miniature castle display felt a little odd.
I think overall there is some room for improvement on this attraction, but it was still fun.
Mr. Toad's Wild Ride
Another ride that is unique to Disneyland (now) is Mr. Toad's Wild Ride. This attraction used to be at Disney World's Magic Kingdom Park in Fantasyland, but was replaced with the Many Adventures of Winnie the Pooh. (If you look closely there is a picture of Mr. Toad handing over the deed of the ride to Owl in one of the first scenes).
While this was a fun ride, the storyline is a bit odd, so I can see why Disney World decided to remove it. I mean, if speeding gets you a ticket to hell we are all in trouble.
Joe compared Mr. Toad's Wild Ride to the Many Adventures of Winnie the Pooh, which you can read about HERE.
Matterhorn Bobsleds
The Matterhorn Bobsleds is another uniquely-Disneyland attraction (though the storyline resembles Expedition Everest in Animal Kingdom at WDW). We rode the Matterhorn Bobsleds twice, and the first time was a lot of fun.
The second time, I was seated in the front seat of the bobsled and there was way more room up front. I honestly was terrified I was going to fall out. Not only that, but because there was excess room, I was thrown back and forth against the sides of the car and bruised my knees pretty badly.
When the Cast Member asked if we wanted to ride again, I said "no way" and high-tailed it off as fast as I could. I might consider going back and retrying the ride out in a back or middle seat, but the front was way too bumpy for me.
Roger Rabbit's Cartoon Spin
I really enjoyed the fact that there was a unique attraction at Mickey's Toontown and not just character meets.
Roger Rabbit's Cartoon Spin was so much fun! Not only was it a unique dark ride, but the added ability to spin your car as you went was so cool!
Alice in Wonderland
One of my favorite rides at Disneyland was the Alice in Wonderland ride. I was not prepared for how good this actually was. Everyday the line was over an hour long to ride, but we decided it was worth the wait to see something new that we couldn't find at Disney World.
During our wait, the ride broke down several times, which added to the total amount of time we waited. However, many people jumped out of line which helped to speed up the process a bit.
On this ride, you hop aboard a colorful caterpillar vehicle and mosey through the story of Alice in Wonderland, which is very similar to many Disney dark rides.
What made it different, however, was the way the track was designed and wound around inside and outside the ride making this a lot more entertaining. If I went back to Disneyland I would put this ride high on my must do list!
Characters
During pre-pandemic times Disneyland often would have characters roaming around throughout the park. This was totally new to me since Walt Disney World does mostly staged meet and greets. I, personally, am not a fan of roaming characters.
I would much rather wait in a line and know that I was going to get my chance to meet the character than have to follow them around and hope they will stop for a quick photo.
Right now all characters at Disney are appearing in a safe and socially-distanced way, but I hope that Disney will see the guest desire to be able to meet and hug these beloved characters again once things return to normal.
Dining
The Plaza Inn
I couldn't go to Disneyland and not book the famous character breakfast at the Plaza Inn. I had heard how amazing this character meal was from so many people. At most character meals, you'll encounter between 4-5 characters usually grouped by a theme (Fab 5, princesses, etc.).
At the Plaza in breakfast however, there were way more characters and an eclectic variety of them.
It was like a Character Palooza for breakfast! During our particular meal we saw Captain Hook, Chip & Dale, the Fairy Godmother, Tigger, Pooh, Eeyore and Minnie Mouse.
The food at the Plaza Inn was good. It wasn't spectacular, but that's not the main reason you go to the Plaza Inn for breakfast.
The food was served all-you-care-to-enjoy, but it was not laid out in a buffet-style. Instead, you went up to a line and were served by Cast Members cafeteria-style.
Overall, I loved the Plaza Inn and would go back in a heartbeat in the future.
Cafe Orleans
One of the dining locations I loved the most on our trip to Disneyland was Cafe Orleans. The main reason we booked this restaurant was because everyone kept telling me we had to try the Monte Cristo Sandwich.
The initial thought of putting berry sauce on a ham and cheese sandwich was odd to me, but I decided to order it anyway. WOW is all I can say!
A moment of silence please for the amazingness that is this sandwich…..
This was one of the best things I ate on my entire trip to Disneyland. The sandwich was fried to perfection, and the saltiness of the ham balanced with the creamy cheese was heavenly. Then I tried dunking it in the blackberry sauce that came on the side, and I think my brain might have exploded.
I don't know how or why this combination works, but it does! The sweetness from the berry sauce rounded out the flavors from the savory sandwich to create pure magic.
I know I am not alone in saying this, but if you go to Disneyland you have to get the Monte Cristo Sandwich!
We also tried the garlic pomme frites and shrimp and grits which were both amazing. Since it was my birthday, our wonderful server even brought me a mickey beignet for dessert.
I would highly recommend a stop at Cafe Orleans if you are planning a trip to Disneyland.
Blue Bayou
Another restaurant location that came highly recommended to us was the Blue Bayou restaurant. We wanted to try some place that was unique in theming and this fit the bill perfectly.
The atmosphere of the restaurant reminded me of something similar to San Angel Inn at Epcot. It was very dark inside and was designed to make you feel as if you were eating outside on the bayou.
What was pretty neat about this restaurant was that you could see the boats from the Pirates of the Caribbean attraction floating past since the ride shares the same building area as the Blue Bayou.
Everyone in my family ordered the steak and lobster since we planned this to be a more fancy meal. We did have some issues with our meals not being cooked to order properly, but once that was resolved, everything was very tasty.
Overall, I enjoyed the Blue Bayou, but I might consider trying something else on my next trip rather than racing back like I would with Cafe Orleans. For the ambiance though, if you are a first-time traveler to Disneyland, this is worth a visit!
Shows
Unfortunately, the fireworks and parades were not taking place during our trip to Disneyland. This bummed me out a little bit, but we still got to enjoy many other experiences.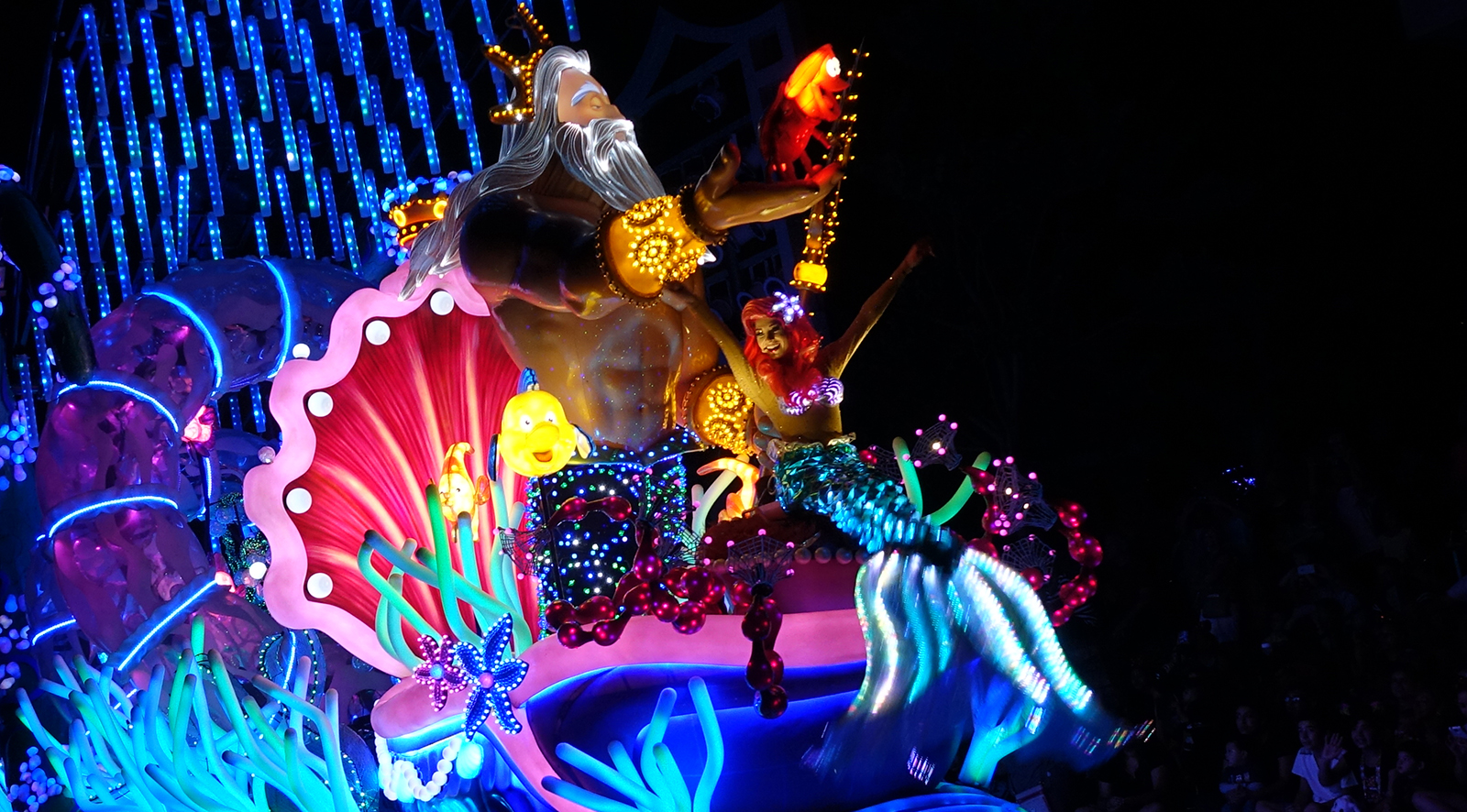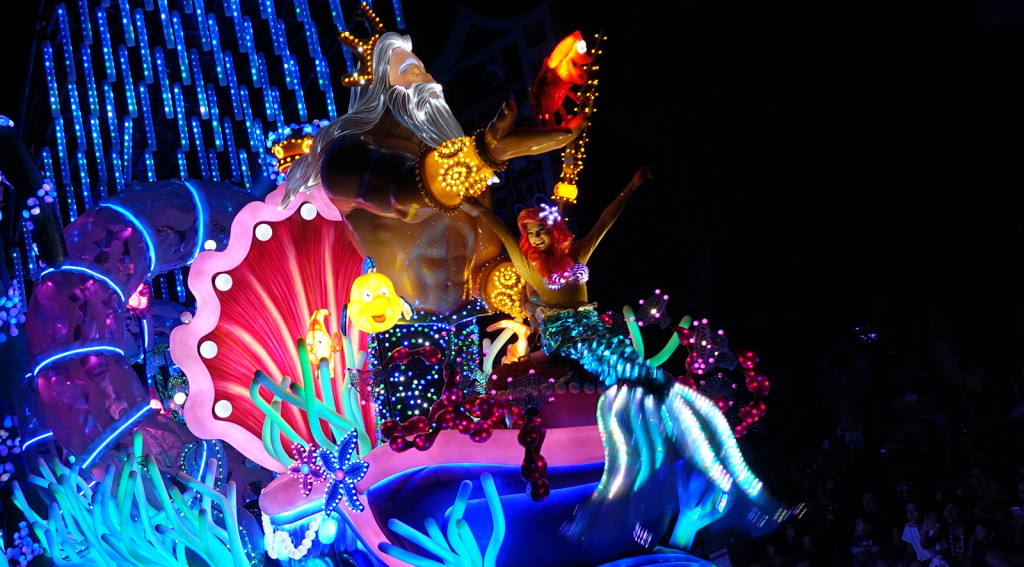 Storytelling at Royal Theatre
We really enjoyed the shows at Royal Theater. My mother and I are big theatre fans and this presentation reminded us of a mix between Shakespeare and Second City performances.
At the Royal Theatre you'll be entertained by your hosts, dynamic thespian duo Mr. Smythe and Mr. Jones, as they play out their witty version of scenes from Beauty and the Beast or Tangled.
During our showtime, the performance was based on Beauty and the Beast. It was exceptionally witty, entertaining and emotional all at the same time.
Unlike some Disney shows, this one was good for all ages. It wasn't overly cheesy so adults will enjoy sitting through this one, as well.
Fantasmic!
Upon planning my trip to Disneyland, I wasn't all that excited about Fantasmic! since we have our own version at Walt Disney World. Though it's fun, it's not a must-do for me every time I visit the parks.
A Disney-loving friend of mine who had seen the Disneyland version of Fantasmic! told me I had to see it and that it was 10x better than the one at Hollywood Studios.
The night we planned to watch Fantasmic! at Disneyland was very cold, and though part of my family decided to pack it in and go back to the resort early, I was bound and determined not to miss this show.
I am so glad I stuck around to watch it because it really was so much better than Disney World's version! It's even more amazing to say that when you see the size of the area they use to put on the show.
The stage area at Disney World is so much bigger, and while I desperately missed the fact that Disney World's Fantasmic! had seating, I couldn't believe how good Disneyland's show was.
By far my favorite part of Fantasmic! was always the princess medley and I loved the addition of Rapunzel and Flynn Ryder dancing to "I See the Light". It was so magical.
The part of the show that literally almost made me fall over was the Pirates of the Caribbean scene. As if from out of nowhere, this massive ship emerges and has pirates sword fighting, flying between the rafts and Elizabeth Swann flies through the air doing acrobatics on a bungee line.
The whole thing was incredible and it was one of my favorite shows we saw in Disneyland! If you plan on going to Disneyland, do not skip Fantasmic!
Final Thoughts
The more I reflect on our trip to Disneyland, the more I appreciate all there was to see and do. In fact, not only were there new attractions to experience that don't exist on the east coast, but I found that all of the rides that were both at Walt Disney World and Disneyland were far better at Disneyland!
I also regret not carving out more time to experience the parks. If you are making this a once in a lifetime trip, give yourself the extra time to do it right and you won't feel rushed. I hope to be able to return to Disneyland again in a few years because we had so much fun as a family!
Have you ever been to Disneyland? What was your experience like? Let us know in the comments or on Facebook and be sure to stay tuned for the next installment of this series coming soon!