The Disneyland Resort App has received a new update! Check out the new features right here.
As Disney moves towards a more digital experience for their guests, their apps have also received new updates.
New Personalized Home Screen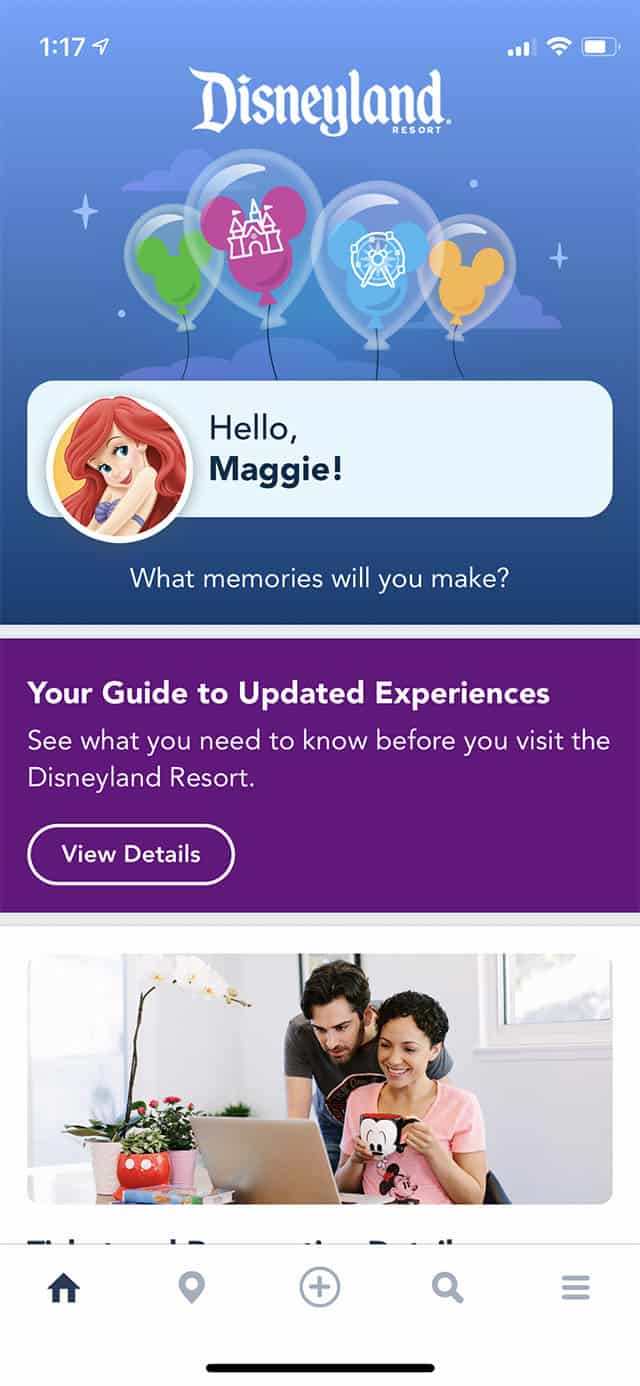 My Disney Experience recently received an update not too long ago. Now the Disneyland app has also received one. Like in My Disney Experience, users are greeted with a new personalized Home Screen. Guests will also be able to link their tickets, view menus, mobile order food and drinks from select locations, make dining reservations, view attraction wait times, park maps and hours of operation, request to join a virtual queue and go right to their hotel room using online check-in and the new digital key!
Digital Key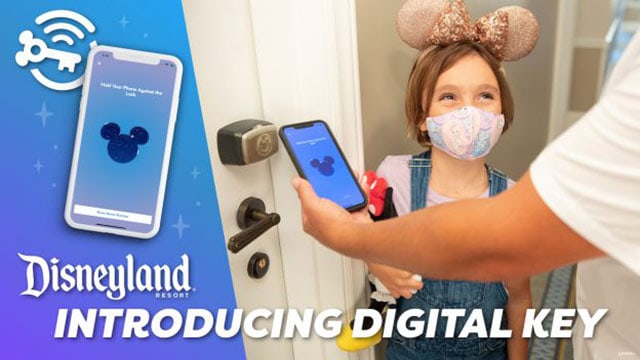 Disneyland guests were introduced to a new online check-in service not too long ago. Now, similar to My Disney Experience, guests will be able to head straight towards their rooms and unlock their hotel room with a digital key.
The digital key will be optional for guests. For those guests who prefer to use a traditional hotel key, those will still be available at the Front Desk.
To use the digital key, just do the following steps:
Link your hotel reservation to your Disney account in the Disneyland app or online.
Complete online check-in up to five days prior to arrival, or check-in at the Front Desk upon arrival to complete the traditional process.
Upon arrival, once your room is assigned and ready, you can access your room and locate your hotel room number within the digital key feature by tapping the "Unlock Door" button after signing in to your Disney account on the Disneyland app. If you completed online check-in, you can use your digital key to bypass the Front Desk and go straight to your room!
Tap the "Unlock Door" button and then hold your mobile device against the door lock. A Bluetooth®-enabled device with the latest version of the Disneyland app is required.
This digital key will also allow guests to charge select dining and shopping towards their hotel room. Guests will also be able to access designated hotel areas from the app, such as pools and fitness centers.
The digital key will soon be available at the Disneyland Hotel and Disney's Grand Californian Hotel & Spa. Disney's Pixar Paradise Pier Hotel will receive this feature on a later date.
Mobile Order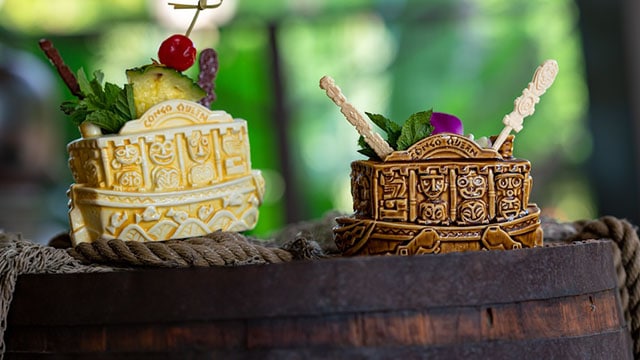 More mobile order locations have also been added. The following locations now are available for mobile ordering: Lucky Fortune Cookery, Schmoozies! and Pacific Wharf Café in Disney California Adventure park; Hungry Bear Restaurant, Refreshment Center and Harbour Galley in Disneyland park, and the Coffee House at the Disneyland Hotel.
Disney Parks Blog has shared that guests can order a Trader Sam's Souvenir Mug!
"On Friday, July 30, souvenir mugs inspired by the world-famous Jungle Cruise attraction will be available for a limited time with this special Trader Sam's Mug Release at the Disneyland Hotel. These uniquely designed mugs can only be purchased via mobile order from 7 a.m. – 11 a.m. that day only on the Disneyland app, while supplies last. Snag a special edition mug (limit of one per transaction), the first edition mug (limit of 2 per transaction), or both!"

Disney Parks Blog
Check out these other features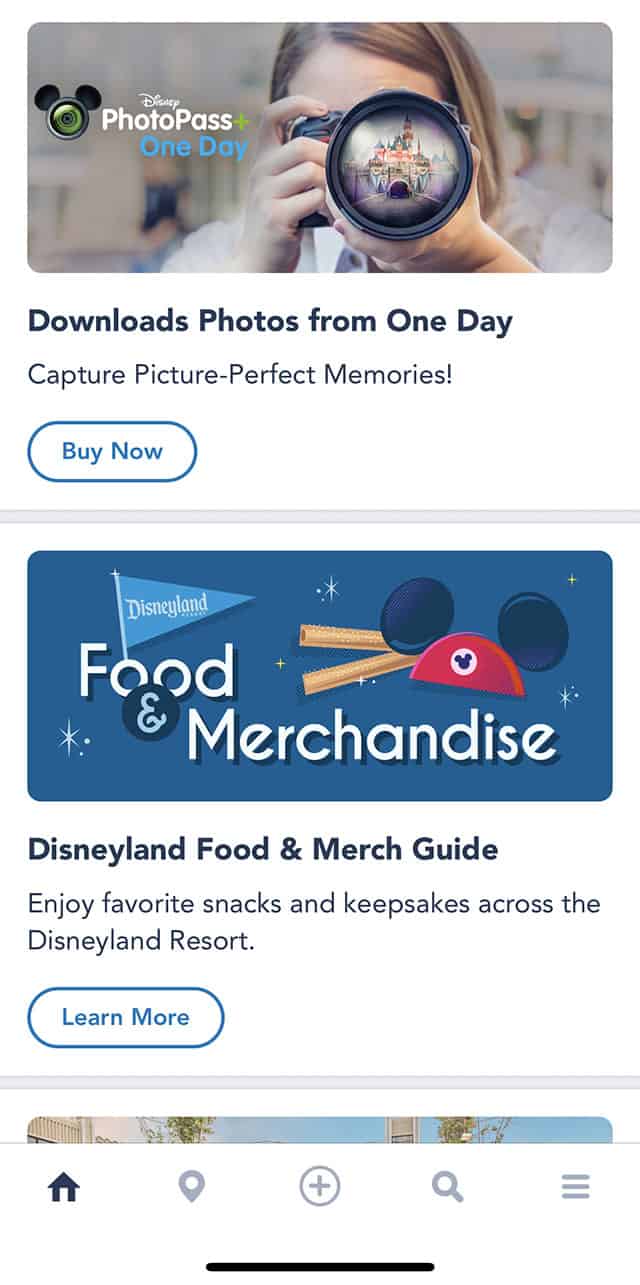 Guests are also encouraged to use Disney PhotoPass+ One Day. Guests can receive unlimited photo downloads of their vacation pictures for one day to share with their family and friends.
Another fun feature for guests is Merchandise Mobile Check Out. This feature is available at the following locations: World of Disney in the Downtown Disney District, Emporium at Disneyland park and Elias & Co. at Disney California Adventure park.
If guests are at any of the above locations, simply scan your items as you shop and then tap, "Check Out" to pay from your mobile device.
What do you think of the new features in the Disneyland app? Do you like the digital key that has been introduced? What is your favorite feature to use in the app? Tell us about it in the comments below or on our Facebook page.
Maggie Baltz