When I first visited Disneyland park on reopening day, I was able to round up pictures of where and how to find favorite characters at Disneyland park. Now after my second visit, I have more pictures to share on who and where other characters can be found throughout the park.
The New Way of Meeting Characters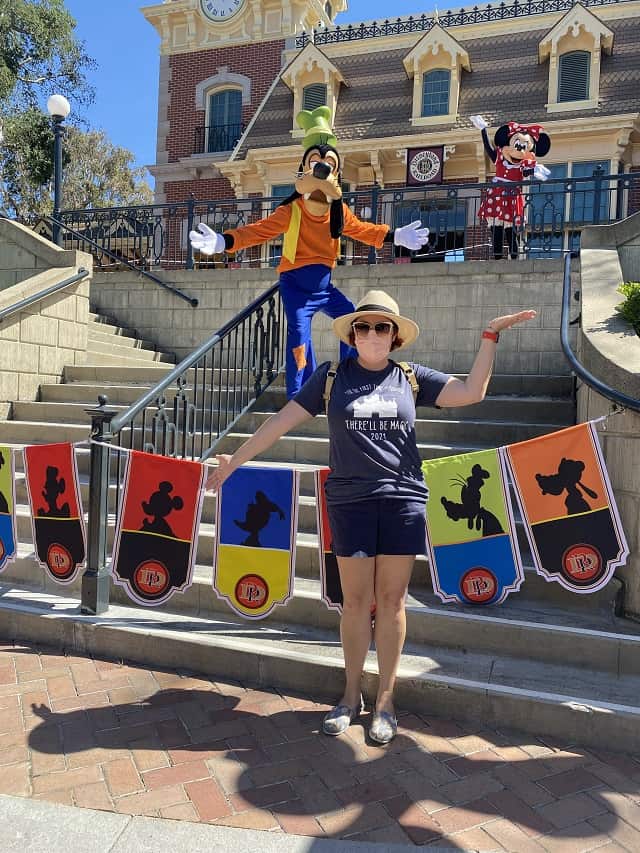 Disneyland had to become quite creative when showcasing the characters around the park especially after the pandemic's many rules and regulations.
At Walt Disney World, the use of flotillas, cavalcades and socially distant meet and greets have proven to be successful among guests.
To some guests, they actually prefer this new way of interacting with guests.
Personally, I have to admit that I am enjoying not having to stand in long lines to meet characters but rather wait a few seconds at most to have them still in the picture with me but a little bit further away.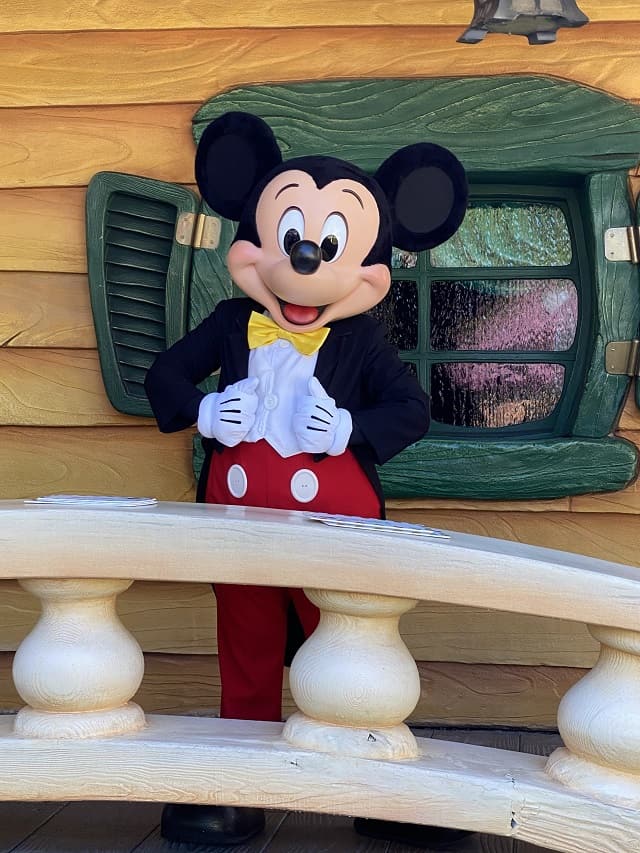 Don't get me wrong, I still miss my Mickey hugs and I can't not wait for those days to return!
At Disneyland, however, there are no cavalcades or flotillas. Instead a variety of characters meet around the park.
There were times that I would be walking to another attraction, but my eye would be caught by a character. I would have to take a detour!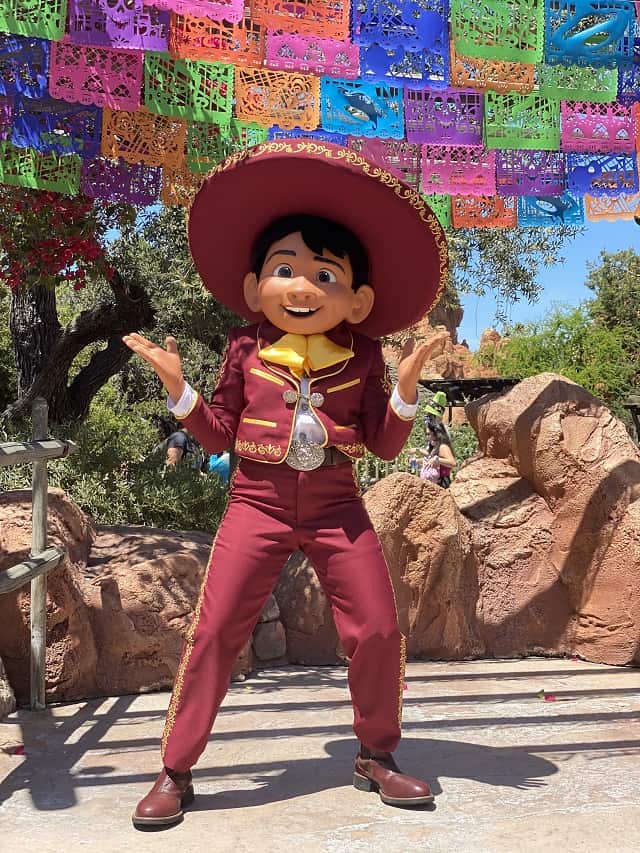 Characters meet throughout the parks in different locations such as by Small World, Toon Town, and Main Street's Train Station to name a few.
In case you did not read my prior article on where to find favorite characters at Disneyland from reopening day, you can find it HERE.
Characters Located in Royal Theatre
While we were making our way around Fantasyland, we decided to make a stop inside the entertaining area of Fantasyland. Guests become immersed as if they were stepping into the world of a Disney princess complete with a beautiful courtyard and balcony.
This is where we we first encountered our first set of characters.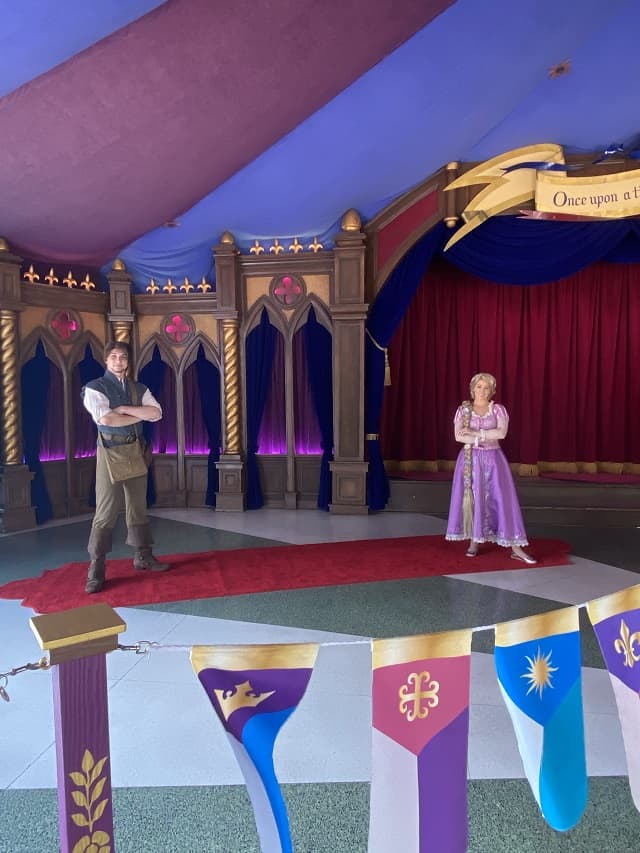 Rapunzel, Flynn Rider, Cinderella, Snow White, Princess Elena, Ariel, Anna and Elsa are also meeting inside the Royal Theatre.
The Royal Theatre is an open-air medieval style tent complete with a stage.
Dynamic thespian duo Mr. Smythe and Mr. Jones are your hosts as they direct their witty version of scenes from Beauty and the Beast or Tangled.
Currently, due to pandemic restrictions, there are no presentations at the moment. However, there is a wonderful and quaint meet and greet.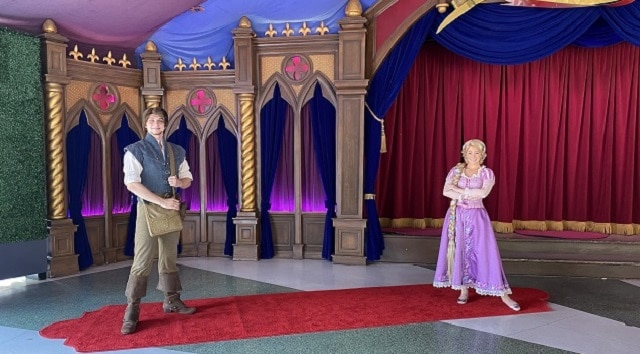 Upon arrival in line, I noticed that Rapunzel, Flynn Rider, Snow White and Princess Elena were meeting and greeting with guests. I have to say that this interaction has been one of my favorites up to date of all my interactions with characters.
Each and everyone of them took their time engaging and having a conversation with me. In fact, when speaking with Rapunzel and Flynn, we had a conversation about NASCAR as I explained what it entailed and what they win. We also spoke about marriage and commitment.
I mean, how are both of the topics that we spoke about related to one another? It was a great time with these two!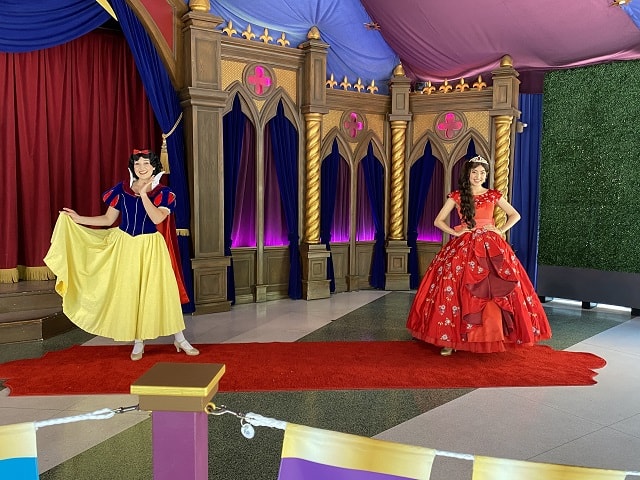 Snow White asked me what I did while I was away from Disneyland. We also spoke about baking during quarantine.
Elena told me that while she had been away she had become Queen. I was quick to let her know that we had watched her coronation on television!
Great character meet and greet interactions!
Jack Sparrow in Adventureland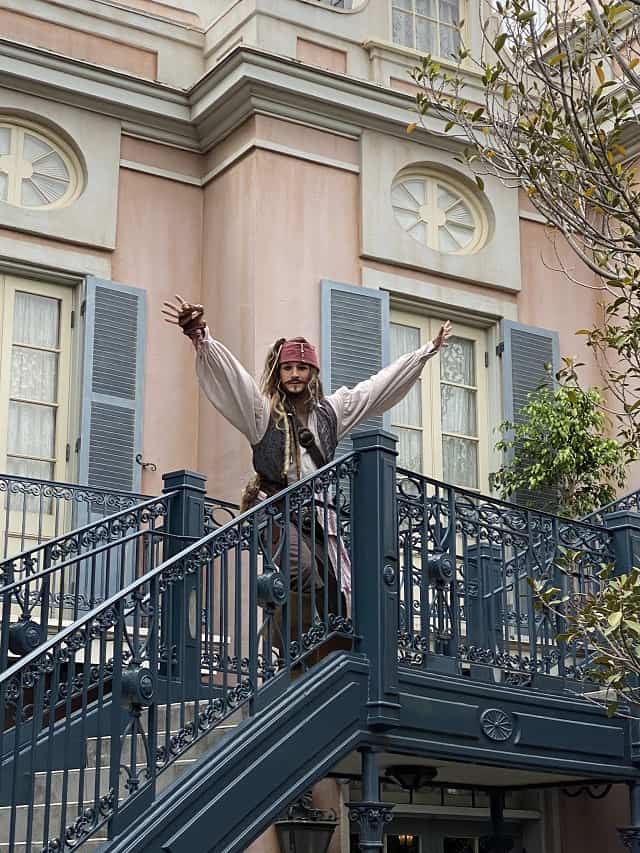 Throughout our day at Disneyland I kept my eyes open for characters, and although I was not able to take a picture, we did spot Redd.
However, on this particular trip while standing in line for the Pirates of the Caribbean Attraction our little eyes spied Captain Jack Sparrow on the attraction's stairwell. He was quite interactive as he spoke to guests standing in line. He asked guests whether they had seen any treasure and if they were to come across some, to be sure to let him know.
When asked if I could take a picture, he was quick to abide and then proceeded to pose in at least three different ways! He kind of looks like he is ready to surrender some of his rum and treasure doesn't it?
Mary Poppins and Her Entourage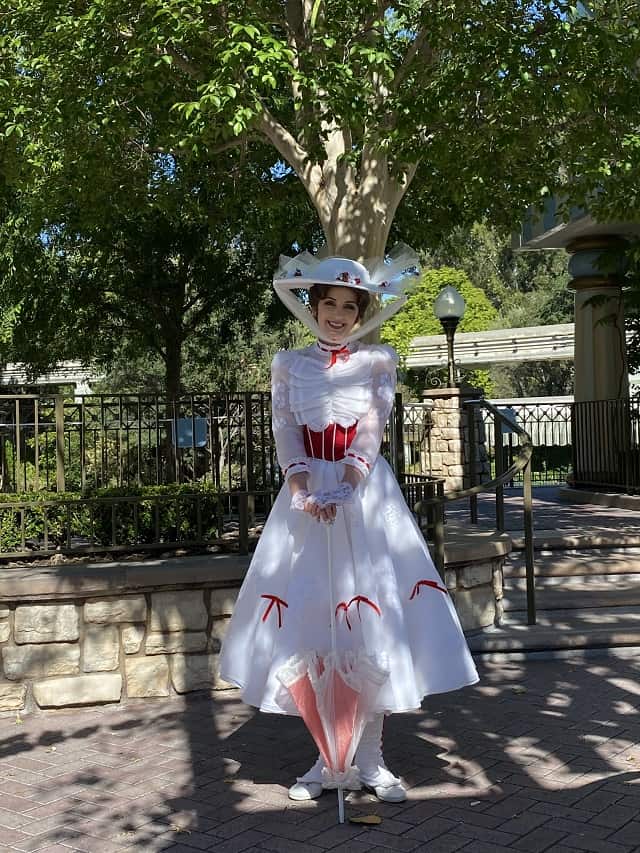 On my first visit back to Disneyland on its reopening day I was delighted to see Mary Poppins and Bert side to side. How can you have one but not the either? They are practically perfect in every way!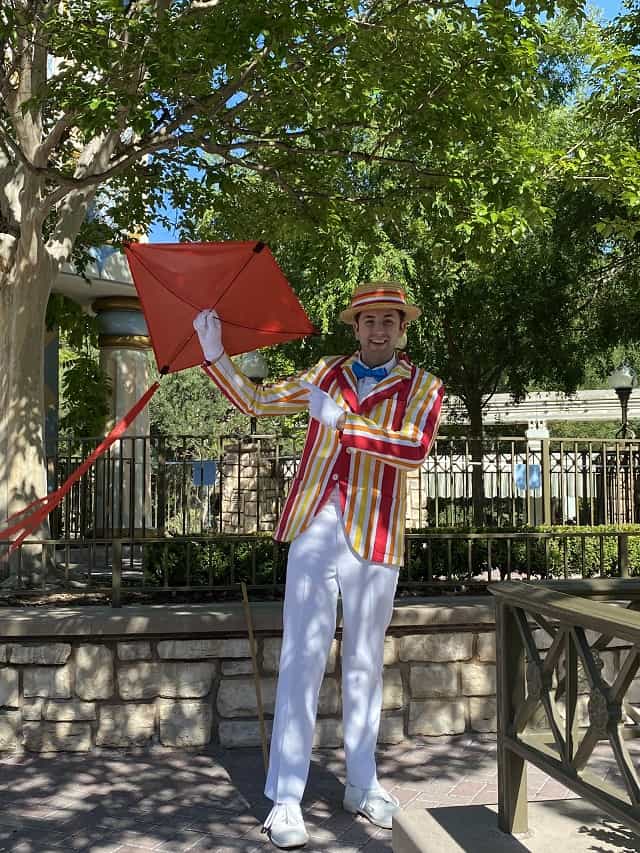 However, on this trip not only did I see the dynamic duo, but they were accompanied by a character that I have not seen before!
It was a rare sighting of one of the dancing penguin waiters from the feature film!
We were on our way to ride it's a small world when I turned and found myself walking over to the character. We even waddled together!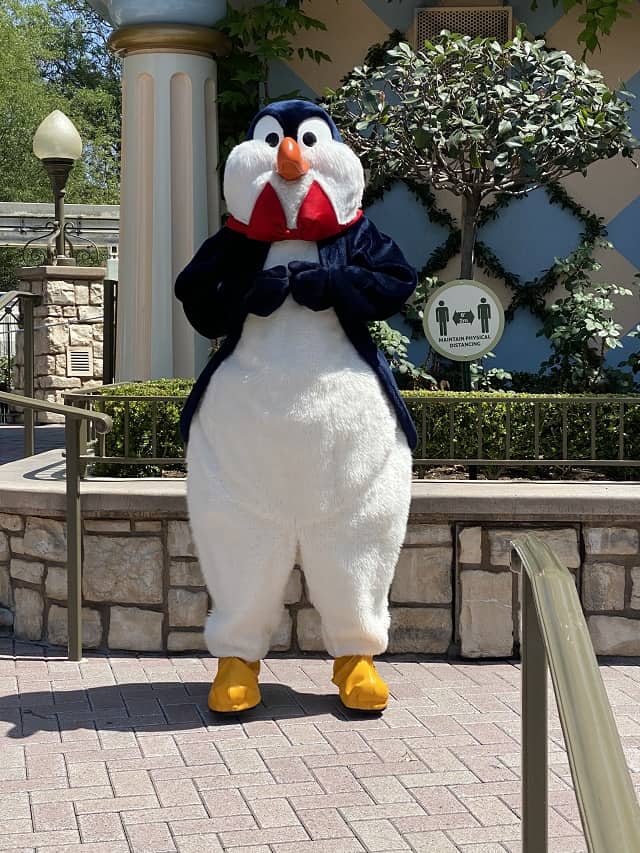 The Penguin Waiters sing Jolly Holiday and dance with Bert in the animated sequence. One of my favorite animated sequences in the film!
Later in the afternoon, we spotted Winnie the Pooh, Tigger, Eeyore and Alice in the same location which is situated right across from it's a small world.
Back to Fantasyland For Two More Character Greet and Meets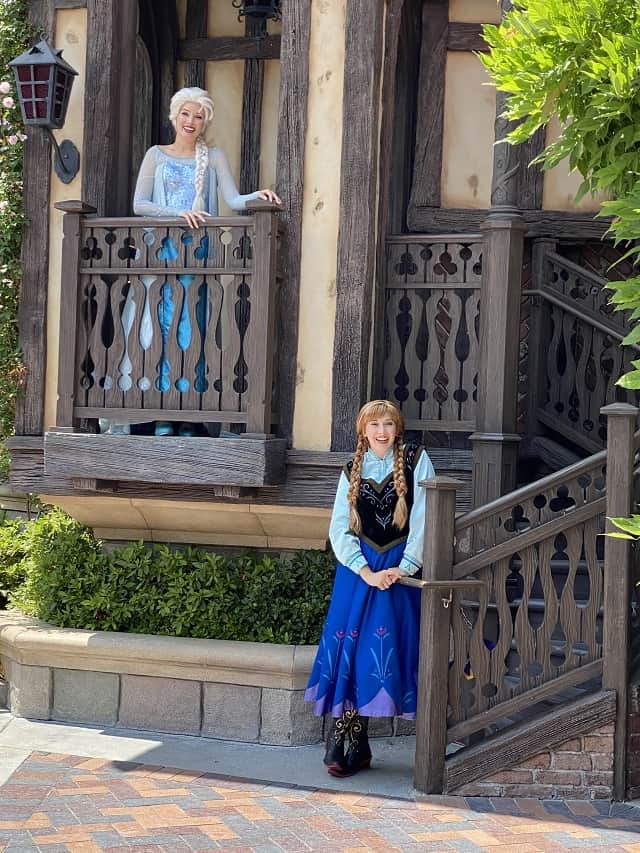 Later in the day when we decided that we wanted to ride Snow White's Enchanted Wish, the line to the attraction wrapped its way around Fantasy Faire.
This time we spotted Anna and Elsa having an outdoor distanced meet and greet as well. The cute part of this meet and greet is that not only do they interact with guests, but they also interact with each other from a distance.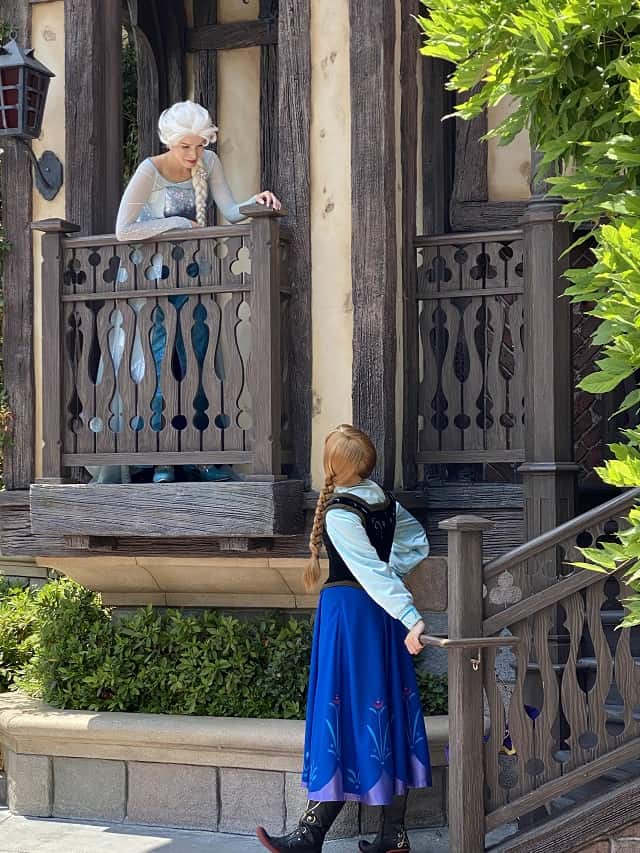 This made for some really cute photo-ops. It is important to also note that appearances in this balcony area rotate throughout the day.
At different times of the day it is Rapunzel and Flynn and at other times the Evil Queen herself graces guests with her vibrant presence.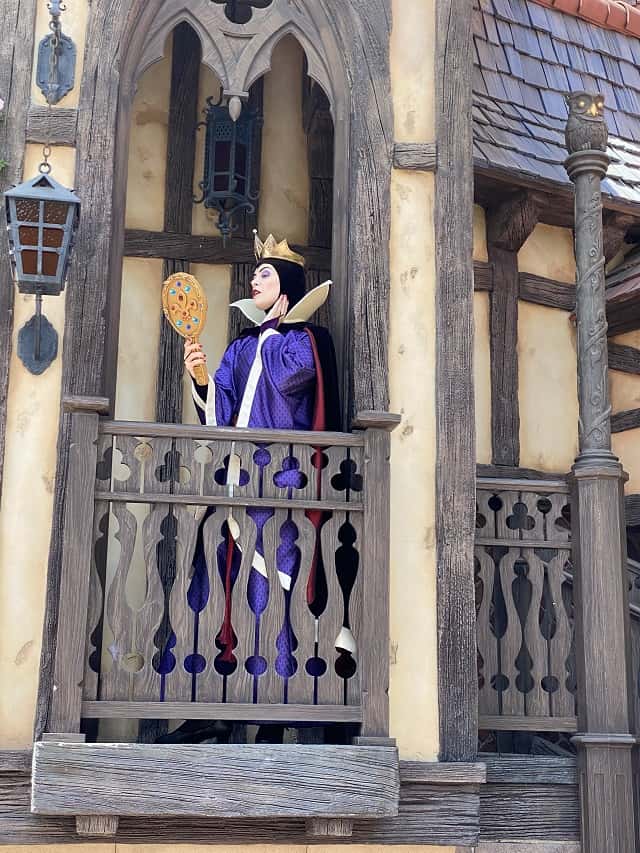 You just never know who you are going to encounter as Mulan is also known to roam around this particular area while interacting with guests at a distance.
I was very happy to have come across these characters that I missed on my first trip to Disneyland. I eagerly await my next trip to see more of them!
Which character would you be most excited about to meet at Disneyland? Let us know in the comments on Facebook and in our Facebook group.
Are you planning a vacation? Reach out to our trusted travel agency sponsor Authorized Disney Vacation Planner
Mouse Class Travel
!