On June 3rd a Harry Potter mega store opened in New York City. The store features some amazing Harry Potter merchandise, original props from the films and New York's first Butterbeer bar! Take a peek inside this amazing new store and see if you think it is worth the extensive wait times it experienced on opening day!
What to see inside the Harry Potter store
Harry Potter New York is a three story store featuring 15 different themed areas. It is stacked with amazing Harry Potter merchandise, including collaborations with Pottery Barn and Loungefly.
Opening later this summer are two virtual reality experiences – one called Chaos at Hogwarts and another called Wizards Take Flight which will give fans the feeling of flying on a broom over London. Sounds absolutely magical!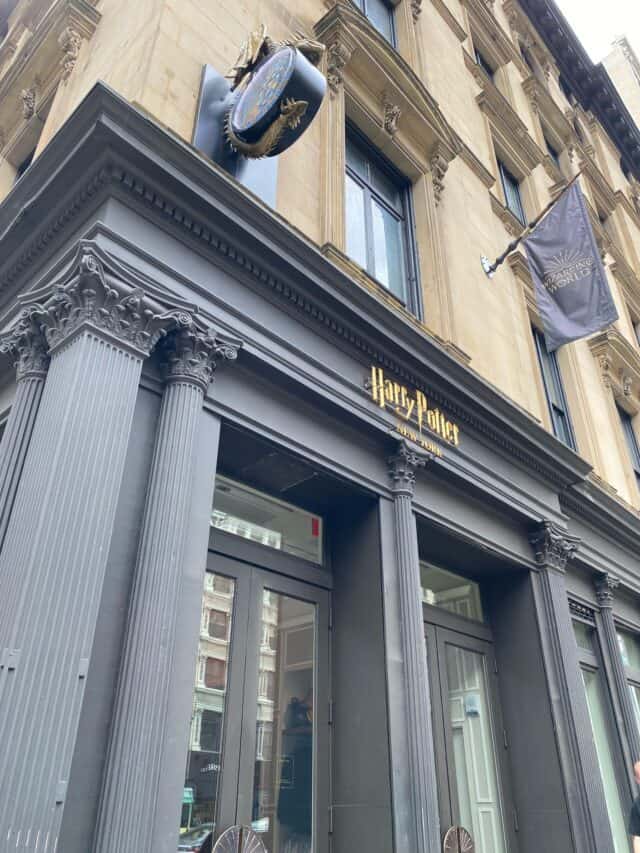 You will also discover fun interactive elements, authentic movie props and photo ops such as a London phone booth and the ability to step into Hagrid's boots.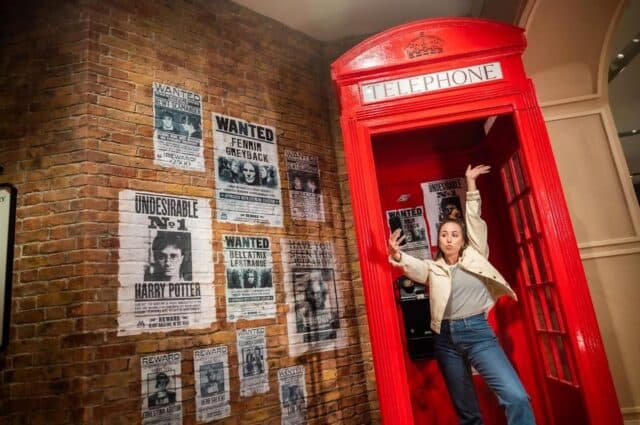 When you first enter the store you step under this enormous sculpture of Fawkes the Phoenix created by propmakers.
There are also some actual movie props scattered throughout the store including Ravenclaw's diadem, Marvolo Gaunt's ring, Tom Riddle's diary, a Death Eater's mask, wands, the golden egg, and Harry's golden snitch.
The prop displays have a key you can scan to get more information about the items and complete a scavenger hunt to receive a prize.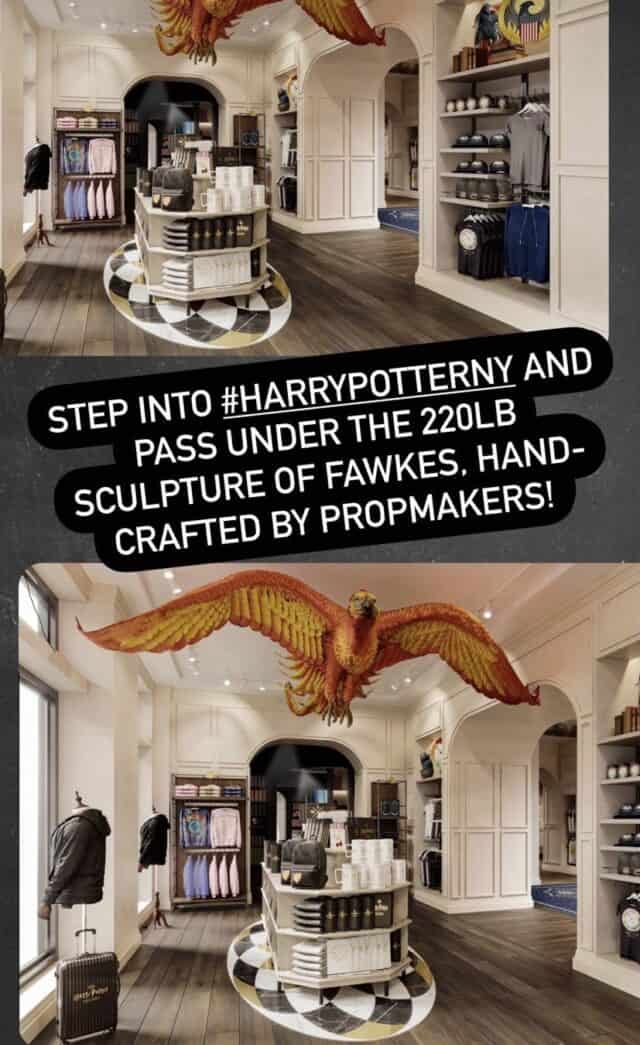 Under this dirigible plum tree you can buy plushies, brooms and other toys and games. The tree is one of the many wonderful decorative touches throughout the store that make it a truly magical experience.
Look up and you can spot mandrakes, bowtruckles, acromantula and the Weasley's Ford Anglia stuck in the tree.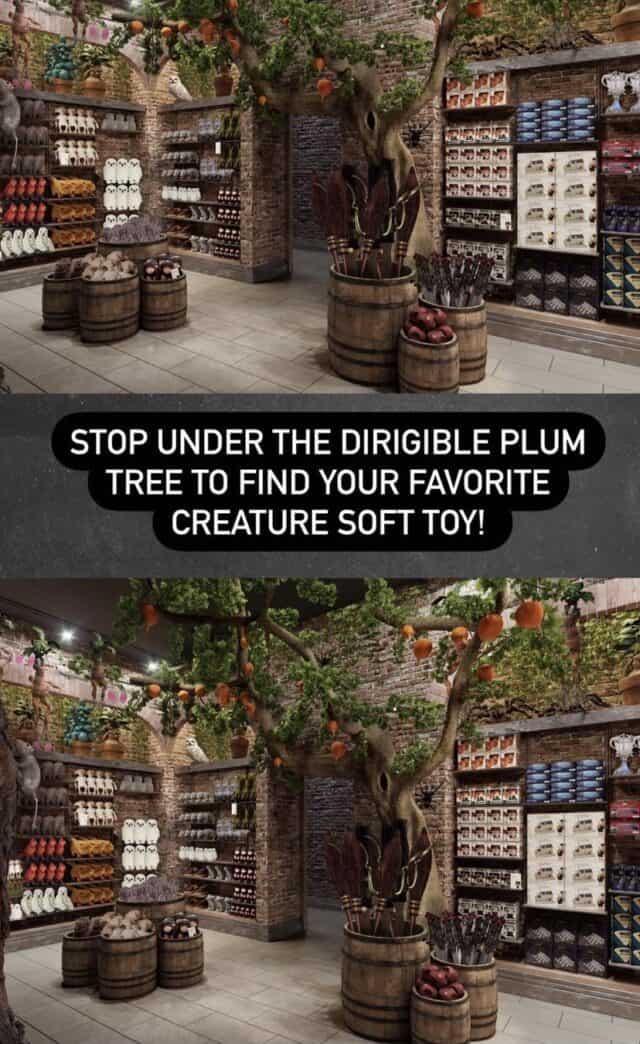 Other magical decorative touches include an elevator themed like the floo network, an enormous ribbiting chocolate frog in the Honeydukes section, and an archway of books.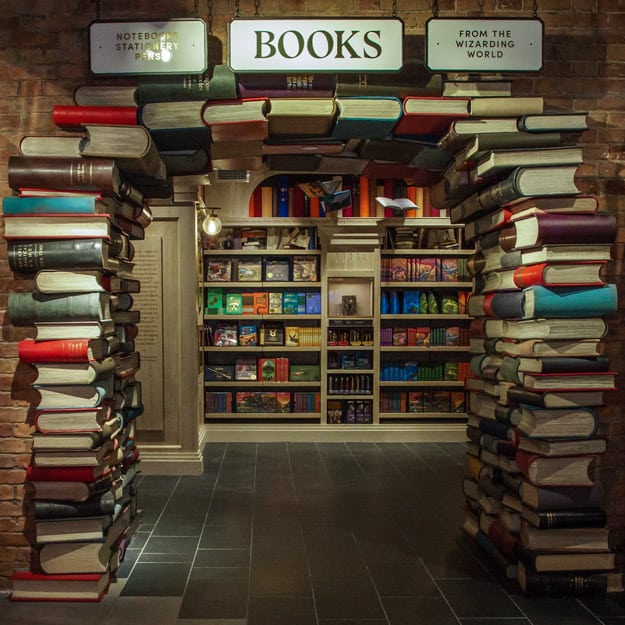 In the basement, which is covered in glossy green subway tiles just like the Ministry of Magic, you can find a giant Nagini who moves and speaks parseltongue coming out of the ceiling.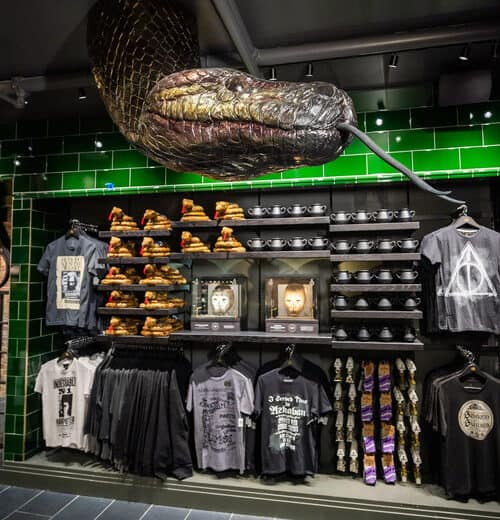 Harry Potter New York sells over 50 different types of wands including an exclusive golden snitch wand. You can simulate wand battles at an interactive wand table and even get your wand (as well as your house robes, Quidditch jersey and journals) personalized with your name inside the store.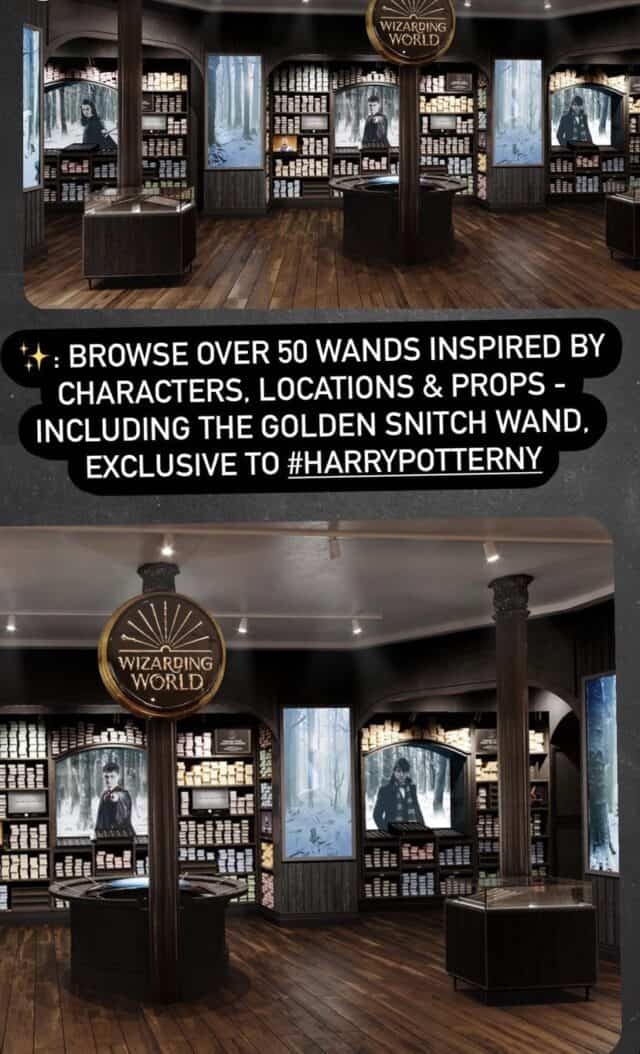 One of the most amazing sections in the store is this MinaLima graphic design shop where you can buy prints, Daily Prophet and Quibbler covers, Harry's acceptance letter, notecards, and journals.
You can even bring home wallpaper with a design of either the Black family tree or the Marauder's Map.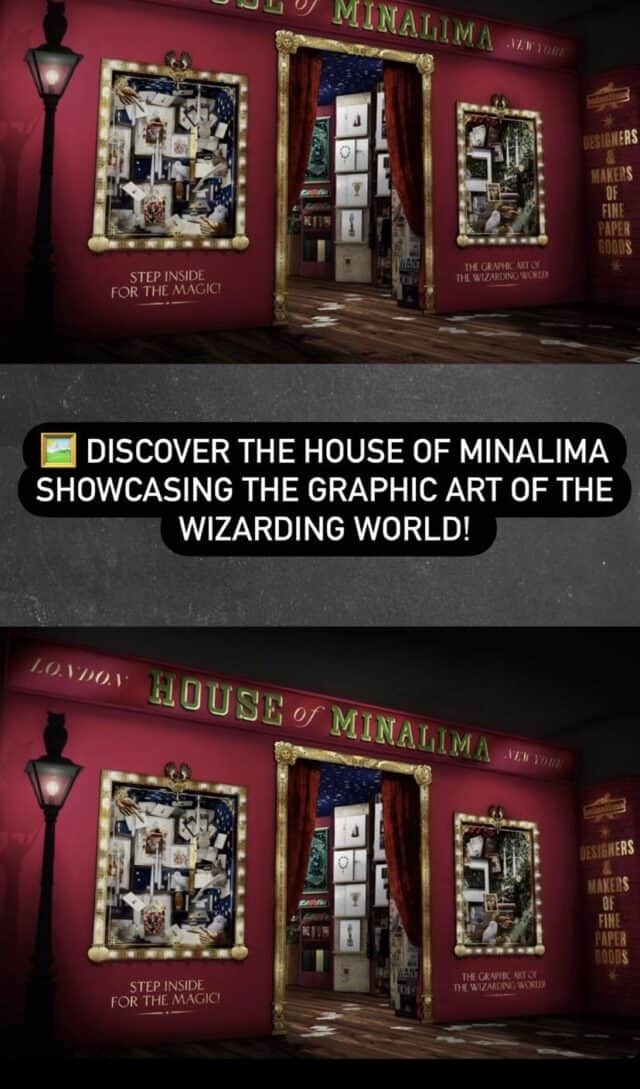 Butterbeer Bar
Maybe the most highly anticipated section of the store is New York's first Butterbeer bar! A fun magical touch is that the signs appear to float, and you can see Butterbeer moving through the pipes.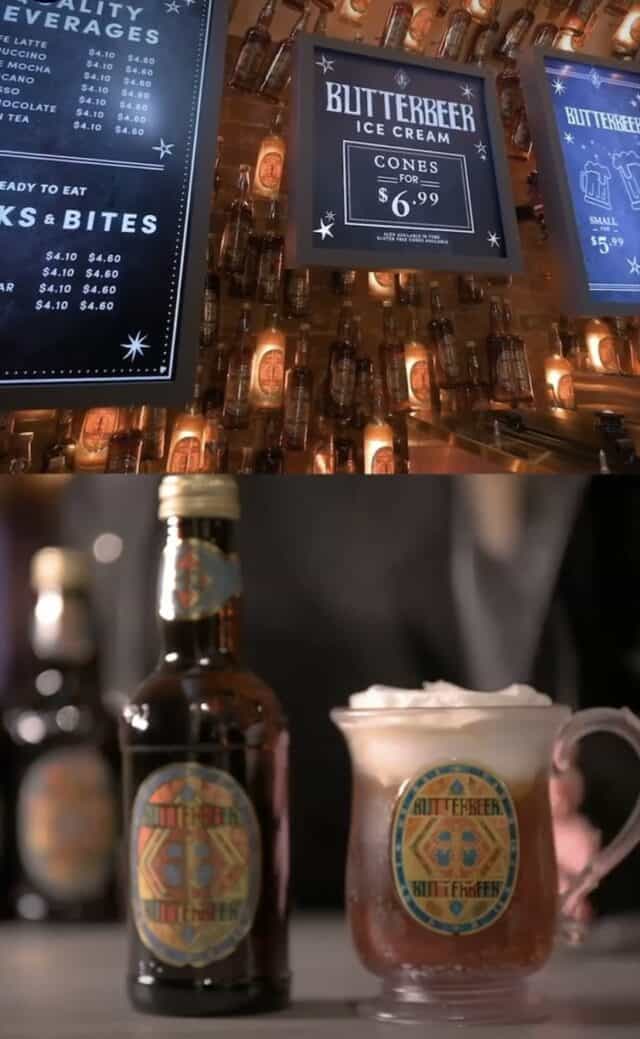 Fans seem to agree that the Butterbeer here tastes better than at Universal Studios! I can't wait to try it and see for myself! I hope that eventually they will add frozen butterbeer in the summer and hot butterbeer in the winter.
I've heard that eventually the store will have a walk-up butterbeer window so you can get your Butterbeer fix without even entering the store!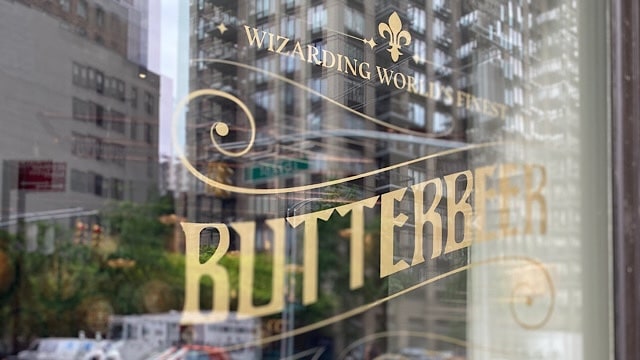 You can purchase butterbeer in a bottle or a souvenir mug, butterbeer soft-serve ice-cream, themed cupcakes and cookies, as well as other tea and coffee beverages.
I'm excited to try the Hedwig cupcake, chocolate frog cupcake, Ron and Harry's Christmas sweater cookies and a sorting hat cookie that is covered in delicious fudgey chocolate.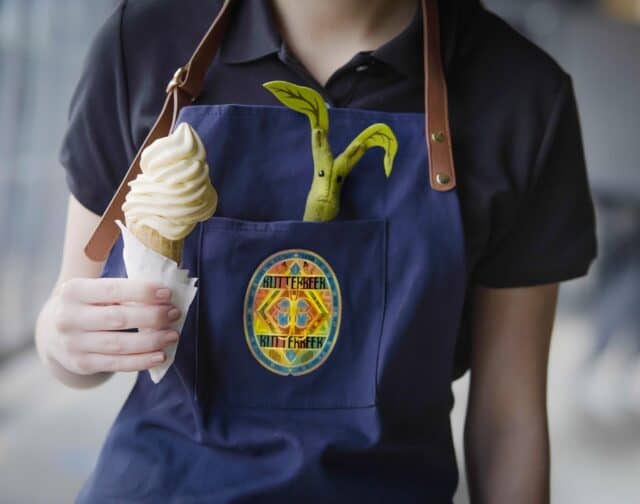 MinaLima even designed a special butterbeer label for the opening of Harry Potter New York! MACUSA stands for Magical Congress of the United States of America (USA's version of the Ministry of Magic)
MACUSA is based in New York City so it was a fun touch to include that on the label with the image of the Empire State Building.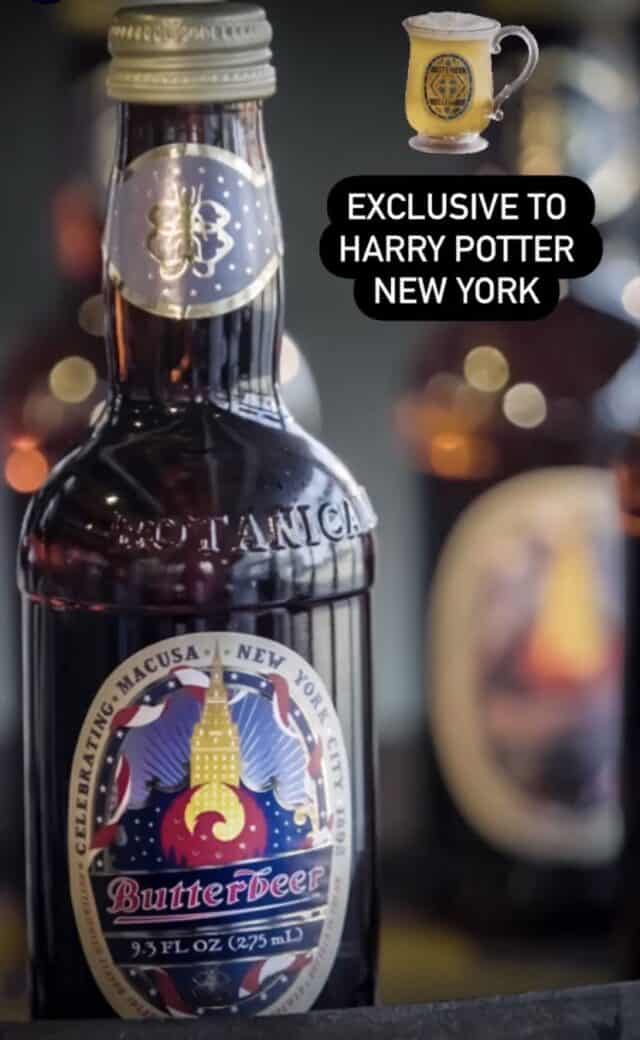 How to get to Harry Potter New York
The store is located at 935 Broadway in the Flatiron District of Manhattan near Madison Square Park. You can get to it by taking the 6 train or the NRW train to 23rd street.
Some nearby attractions are a LEGO store, Eataly food hall and Madison Square park, which includes a playground and a Shake Shack location with an Empire State Building view.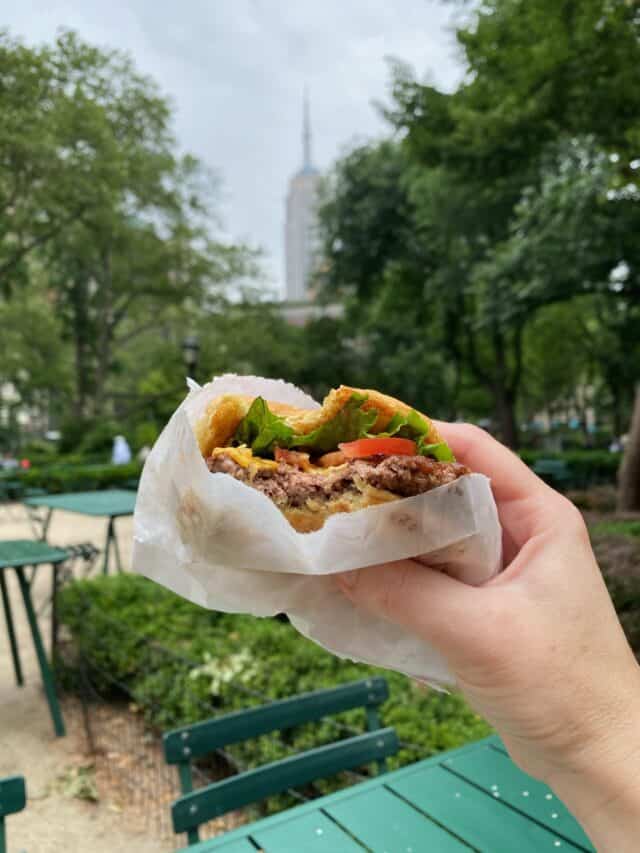 Store Access with Virtual Queue
Because of high demand and capacity restrictions, Harry Potter New York is currently operating on a virtual queue system. When you arrive at the store you scan a QR code on your phone.
When your turn is called you are asked to return within 15 minutes. This means you can explore the city, but you should stay within a few blocks of the store.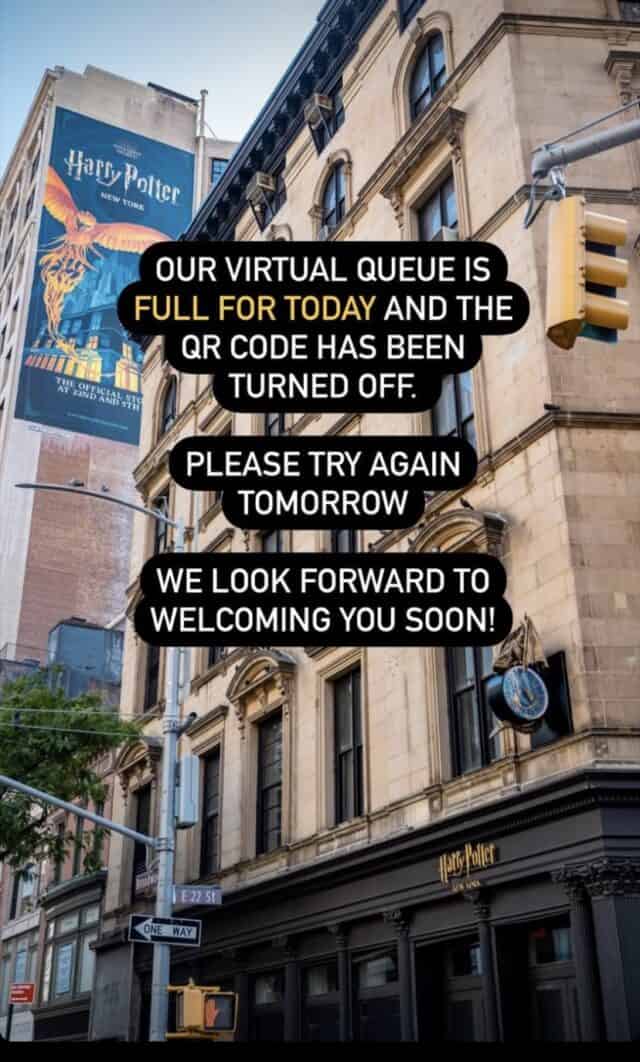 On opening day, fans lined up as early as 5-6am for a 10am opening, with some even camping out all night!
Guests were able to scan for the QR code at 9am. Those at the front of the line got inside in the late morning, but by 11am all QR codes were gone and some guests reported waiting over EIGHT HOURS until their time was called!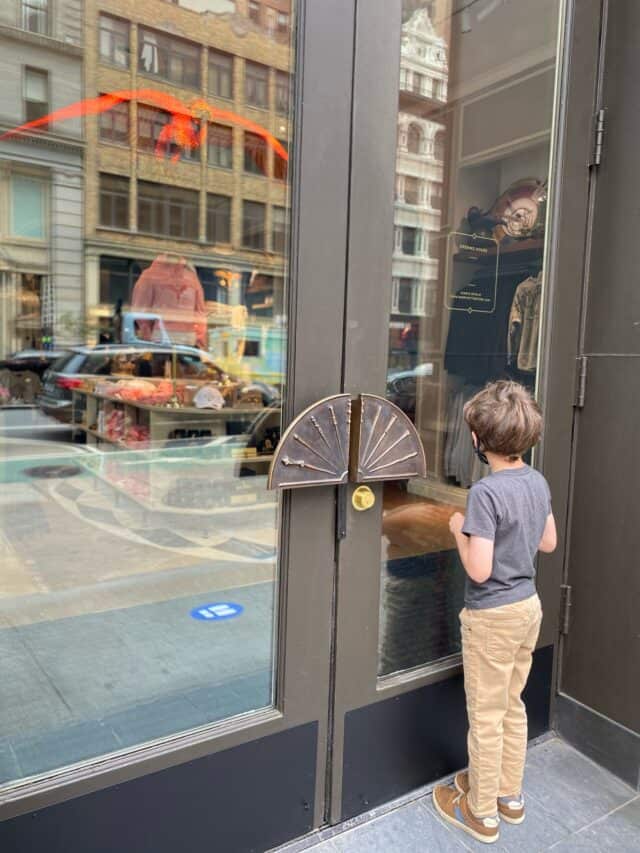 On the second day the store started letting guests scan for the QR code at 7am, and it will remain this way until June 13th. Hopefully as the initial surge of demand drops and capacity can be increased the wait times will go down and the store will eventually become a walk-up.
However, I would expect another boost in demand in the few weeks after the virtual reality experiences open which is rumored to be in July.
While I am very excited to experience this amazing new store, I will wait for the demand to go down before I attempt a visit. My parents live in New York City and I go back every few months so my plan is to try and get into the store in mid December. I'm hoping they decorate their windows for Christmas!
What do you think of this new Harry Potter store? Are you planning to visit anytime soon? Comment on Facebook and let us know!
Ashley Beckwith McKellar
Follow me on Instagram: @disneyparksmom
Are you planning a vacation? Reach out to our trusted travel agency sponsor Authorized Disney Vacation Planner
Mouse Class Travel
!