Join me as I take you through my experience of eating my way through A Taste of Universal at Universal Studios Hollywood. Was it worth it? How does it compare to A Touch of Disney? I'll let you know!
Universal Studios Hollywood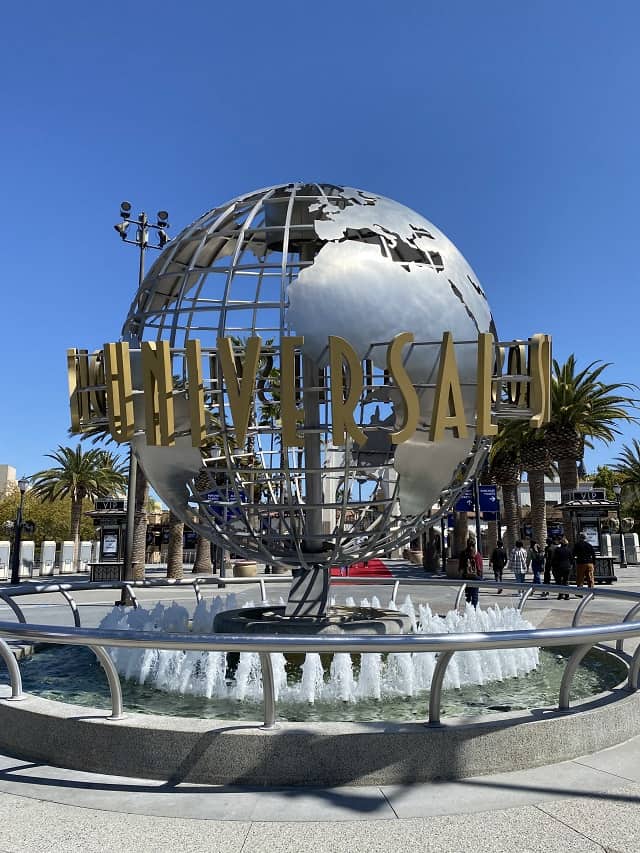 Situated on the hills of Hollywood stands Universal Studios Hollywood. It first opened in 1964, and not only is it a theme park but it also serves as a film studio!
About 70% of the studio lies within the unincorporated county island known as Universal City while the rest lies within the city limits of Los Angeles, California.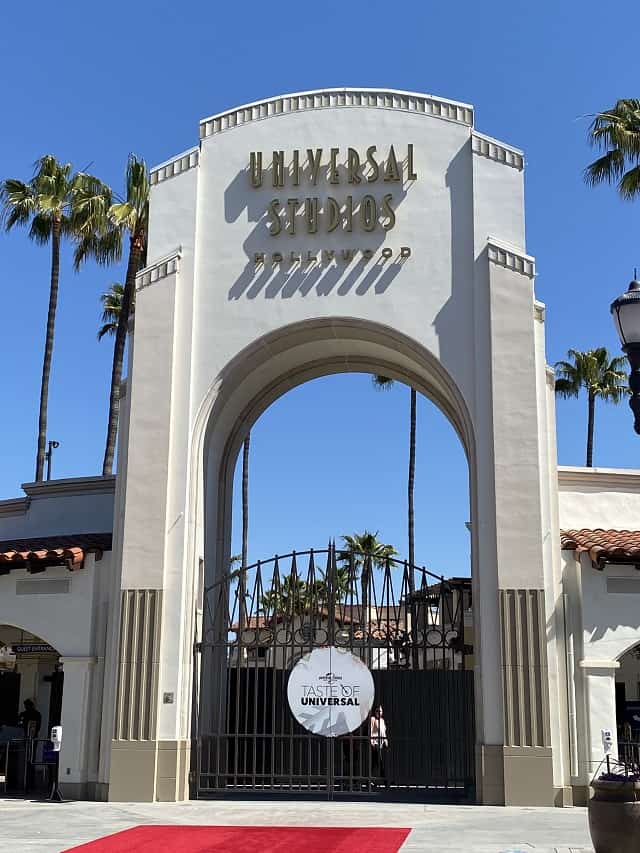 As of 2019, there are only 9 attractions, 7 shows, and a large outdoor play area.
This gives you an idea of the size of the theme park. It is relatively small in size and is divided by the upper and lower lot.
Taste of Universal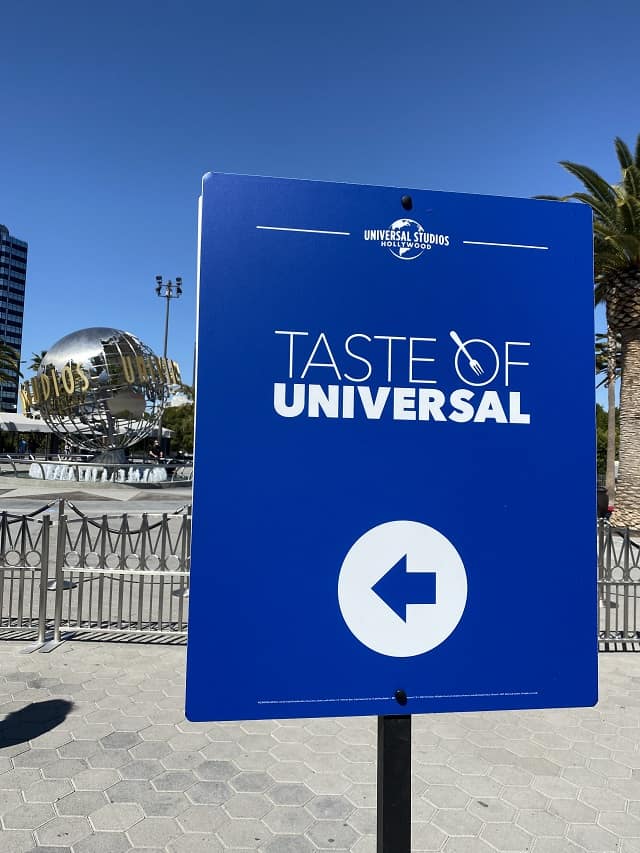 The last time I visited Universal Studios Hollywood was in 2016. We are not a really big Universal Studios family.
However, my oldest and I did visit Universal Studios in Florida two years ago as she's a huge Harry Potter fan and the lands are much larger than the one land in Hollywood.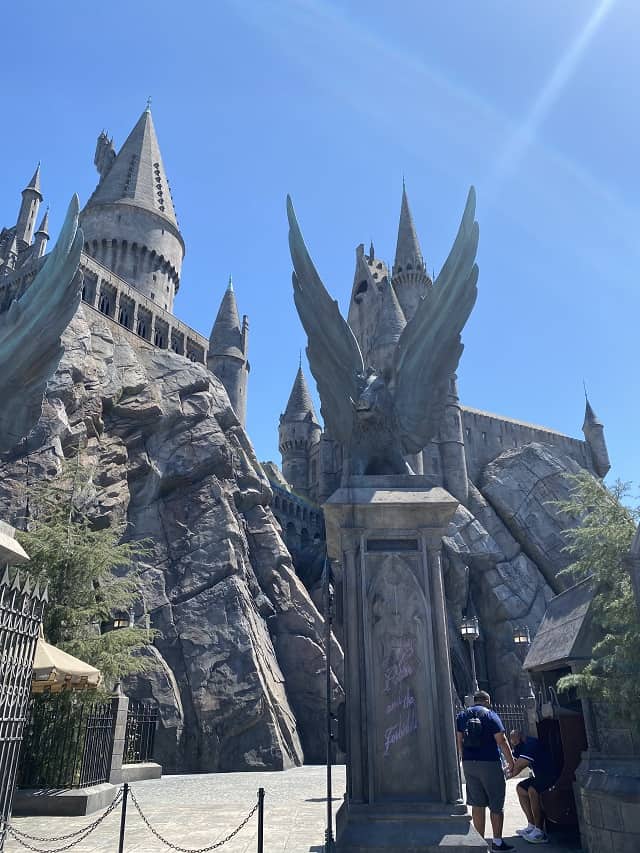 The way that Universal Studios Hollywood first released information for Taste of Universal was quite sneaky. They released it the morning that Disneyland Resort began ticket sales for Touch of Disney.
While it took me 4 1/2 hours to purchase A Touch of Disney tickets, it only took me 5 minutes from start to finish in purchasing tickets for Taste of Universal. Big difference, right?
So, why did we decide to visit Taste of Universal? Well, for one, we felt like it would be a fun visit as it has been so long since our last visit. We also thought it would be a nice outing from the house because many entertainment options in California have been closed for the last year.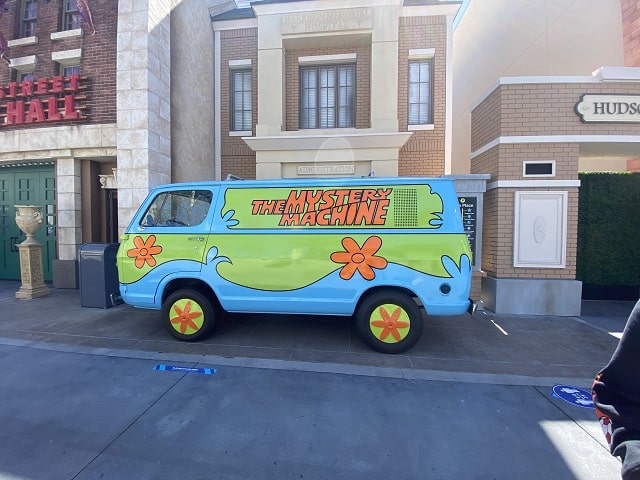 Tickets cost:
Adults:
$44.00($48.18 with tax) – THU
$49.00($53.66 with tax) – FRI
$54.00($59.13 with tax) – SAT/SUN
Children (3-9):
$25.00($27.38 with tax) – ALL DATES
Parking was not included with the event ticket. Main parking was $10 and preferred parking was $20.
Compared to A Touch of Disney tickets, which are $75, A Taste of Universal ticket was cheaper.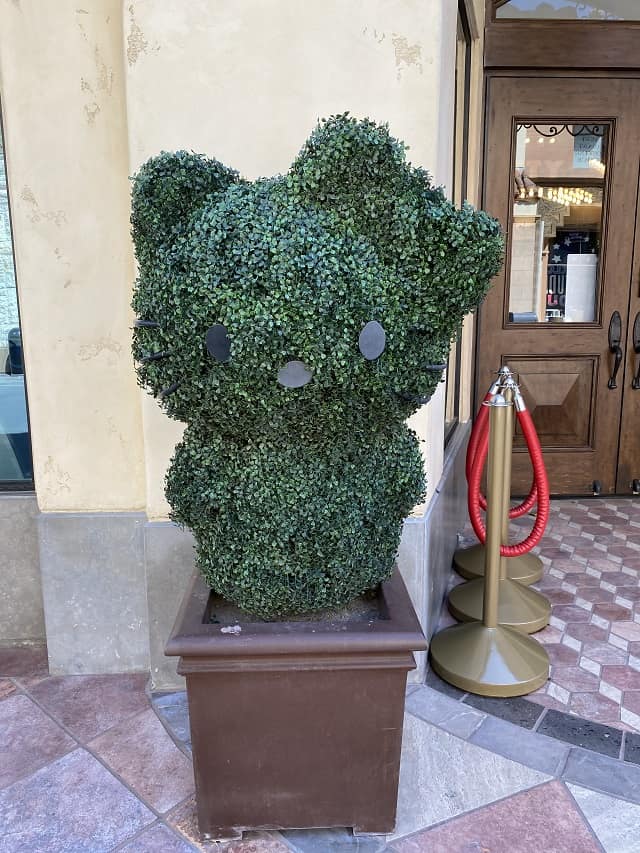 At the time of our purchase of tickets and our visit to Taste of Universal on Saturday, March 27th, a reopening date of the park itself had not yet been released.
In fact, it was a couple days later that Universal Studios Hollywood announced that it will reopen its doors on April 16, 2021.
How Passes Work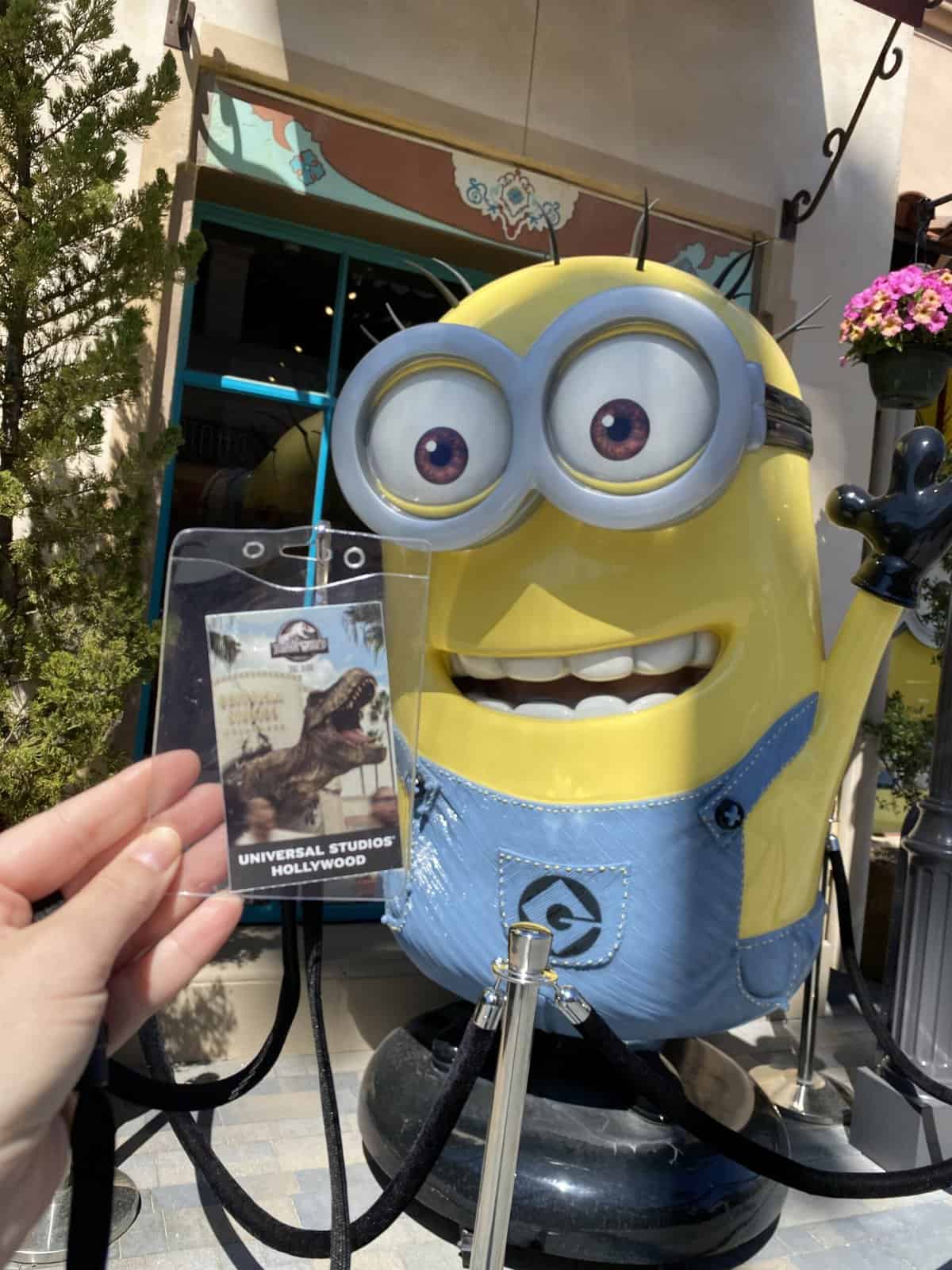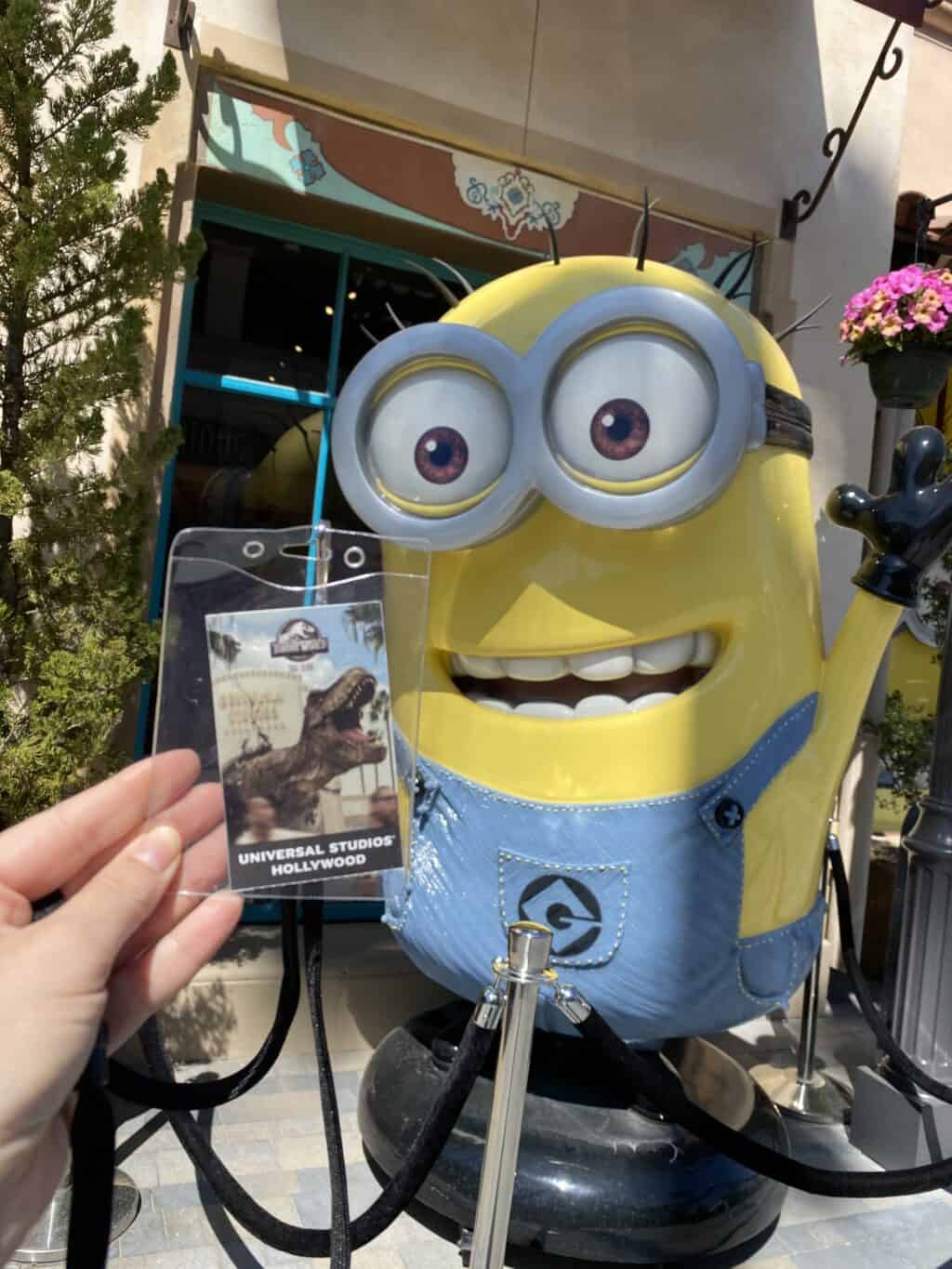 Upon scanning your ticket, each guest is provided a lanyard.
Your ticket includes your choice of 5 menu items (3 items for kids) from an extensive menu of appetizers, entrees, beverages and desserts. Additional items are available a la carte for a separate price.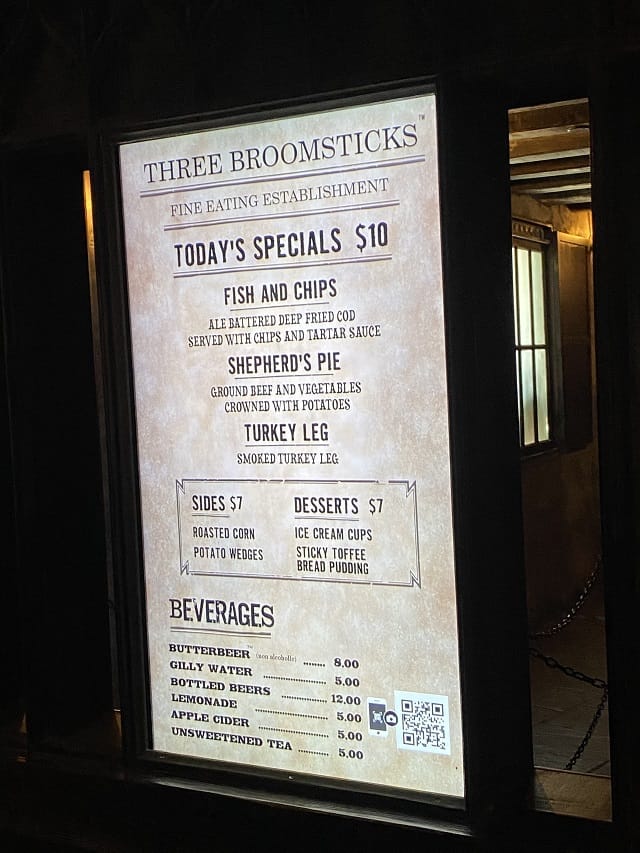 Now when I tell you that as an adult you received 5 menu items, I was under the impression that the portions would be the smaller size that we received at a Touch of Disney.
For my experience at Touch of Disney, you can read my review here.
But no, Universal meant business which meant that they were FULL SIZE menu items!
What We Ate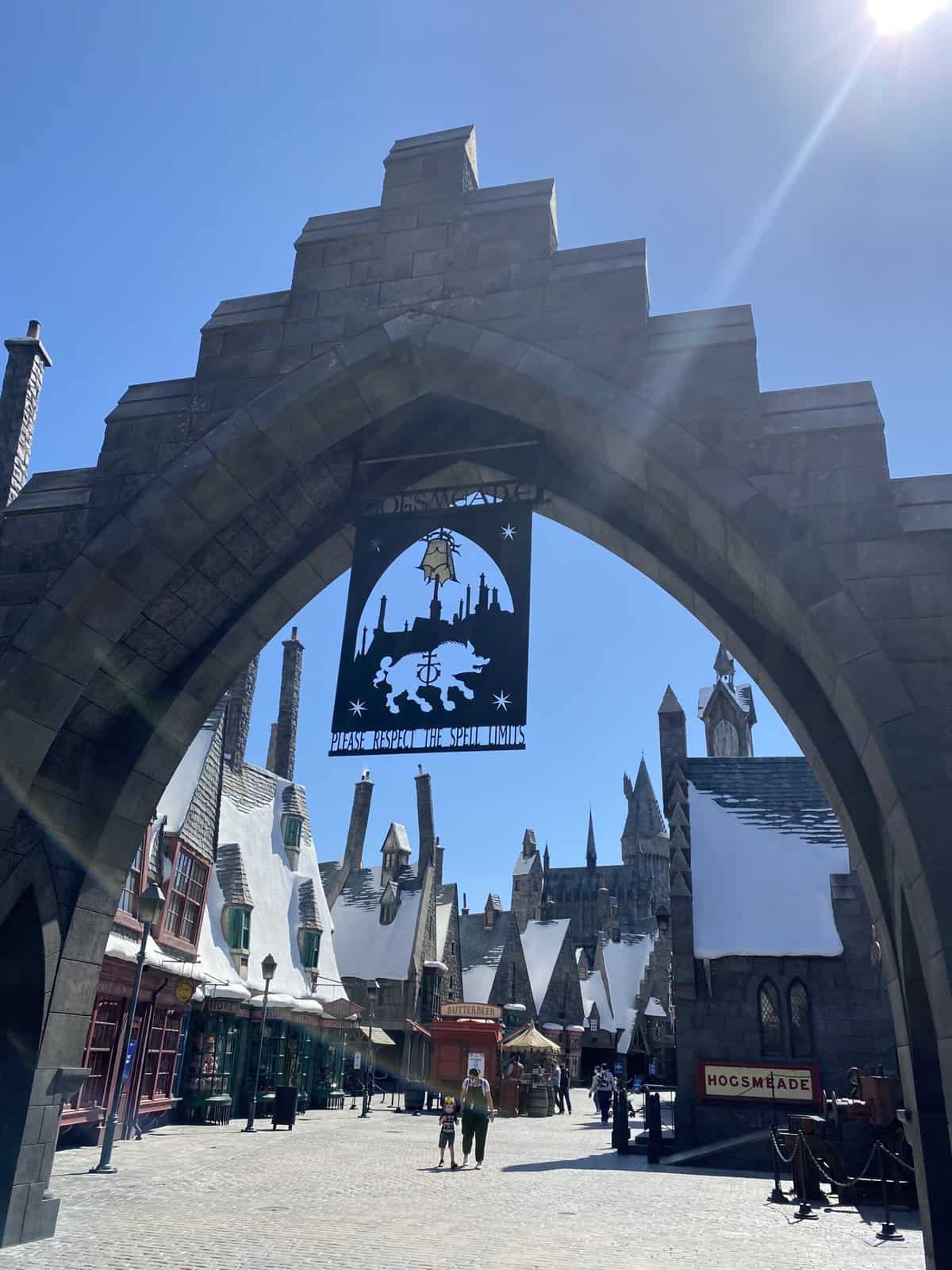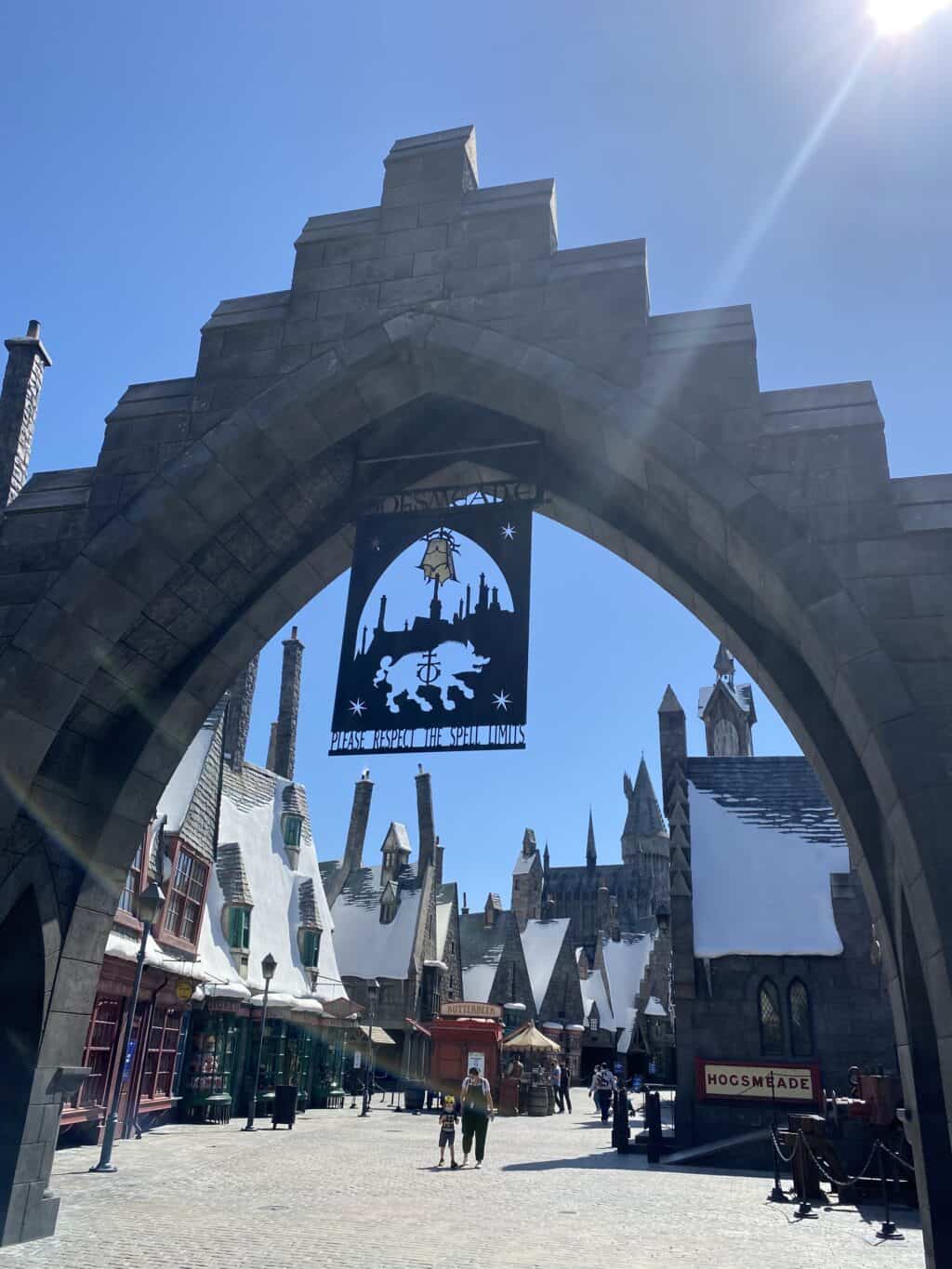 Our first stop was into Harry Potter World where we immediately used our first item to purchase Butter Beer! Our whole group opted to have the Frozen Butter Beer ($8).
It is quite yummy but SUPER sweet, especially the "foam" on top which tastes like caramel.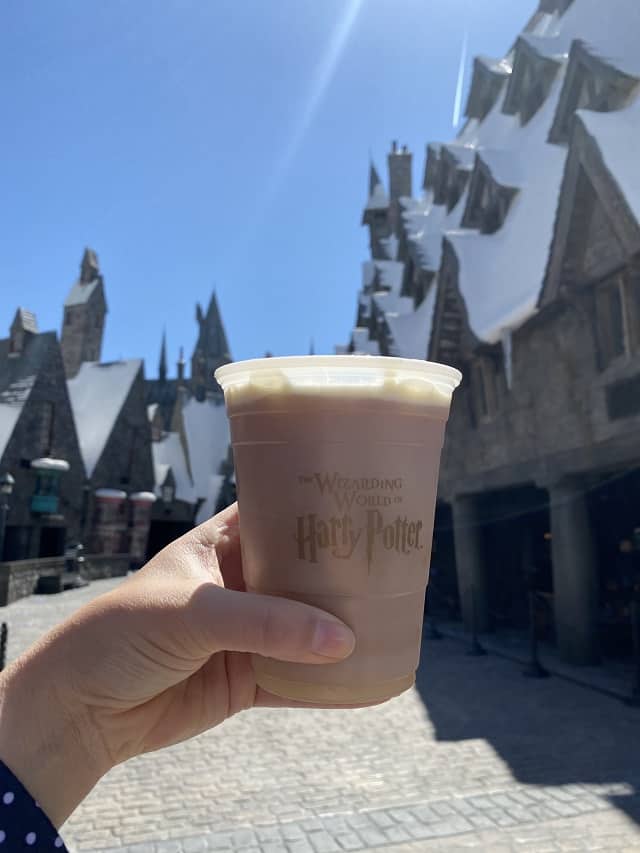 We then made our way to Three Broomsticks where I enjoyed two more items: Sticky Toffee Bread Pudding ($7) and Fish and Chips ($10).
Luckily, I came up with the bright idea to split the Fish and Chips with my youngest daughter while I had the dessert all to myself.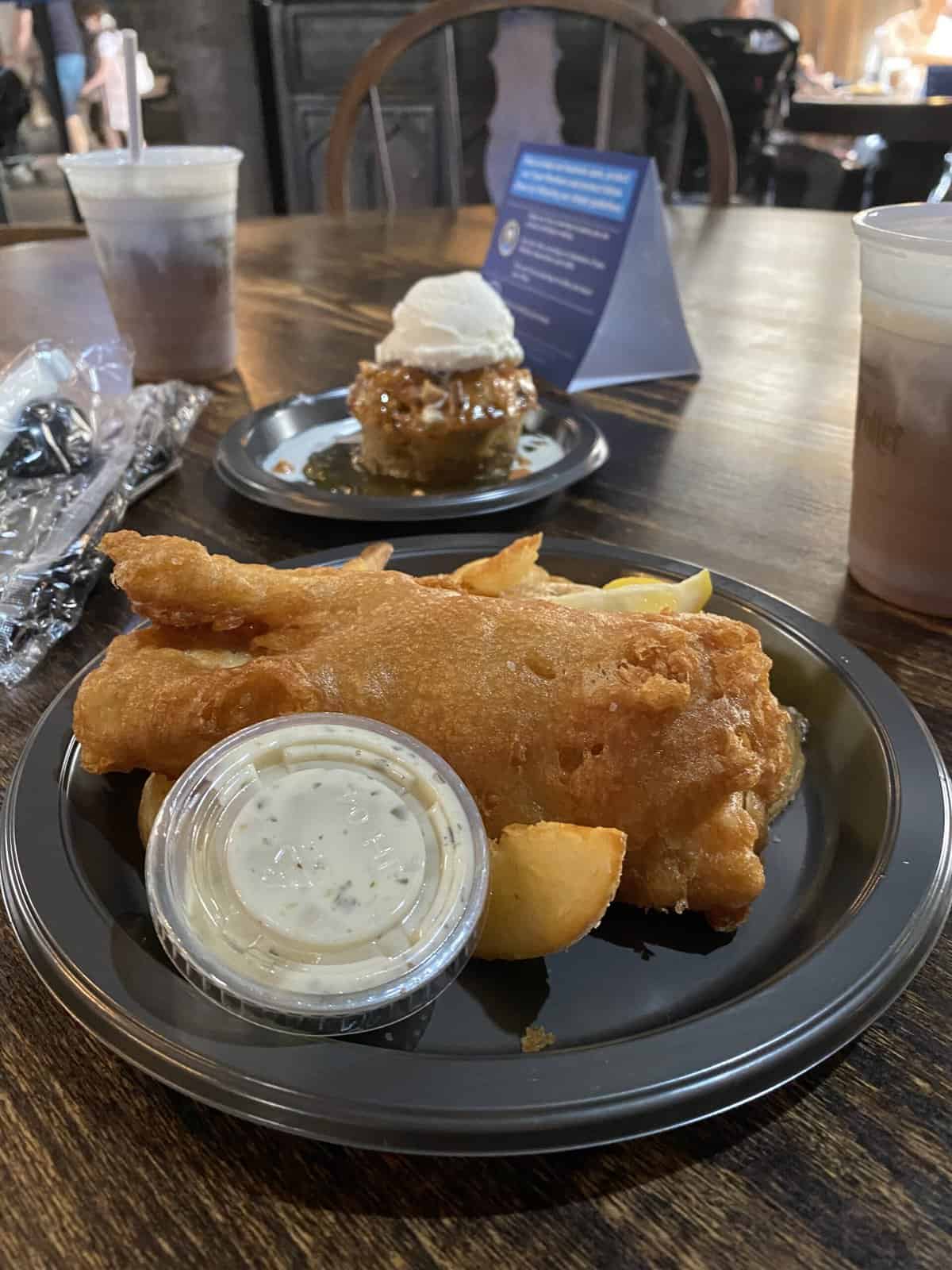 Well, by the end of the meal we were all stuffed and very happy with our purchases. The fish and chips were super tasty, and don't get me started on the Sticky Toffee Bread Pudding!
Thus far, had I paid in cash for my three items my total would be at $25! That's exactly the amount I was given on the preloaded Dining Card for Touch of Disney!
I still had two more menu items to go!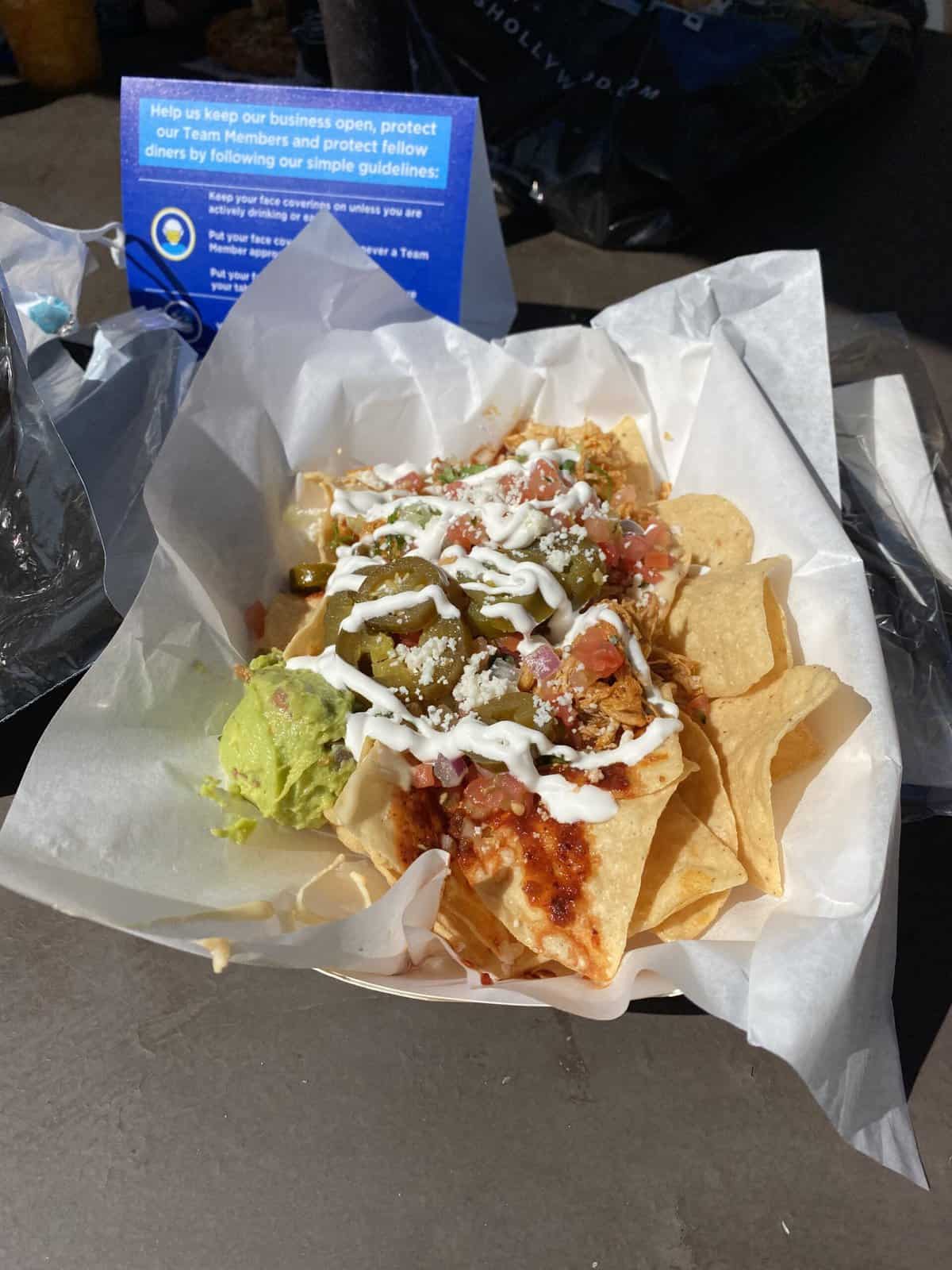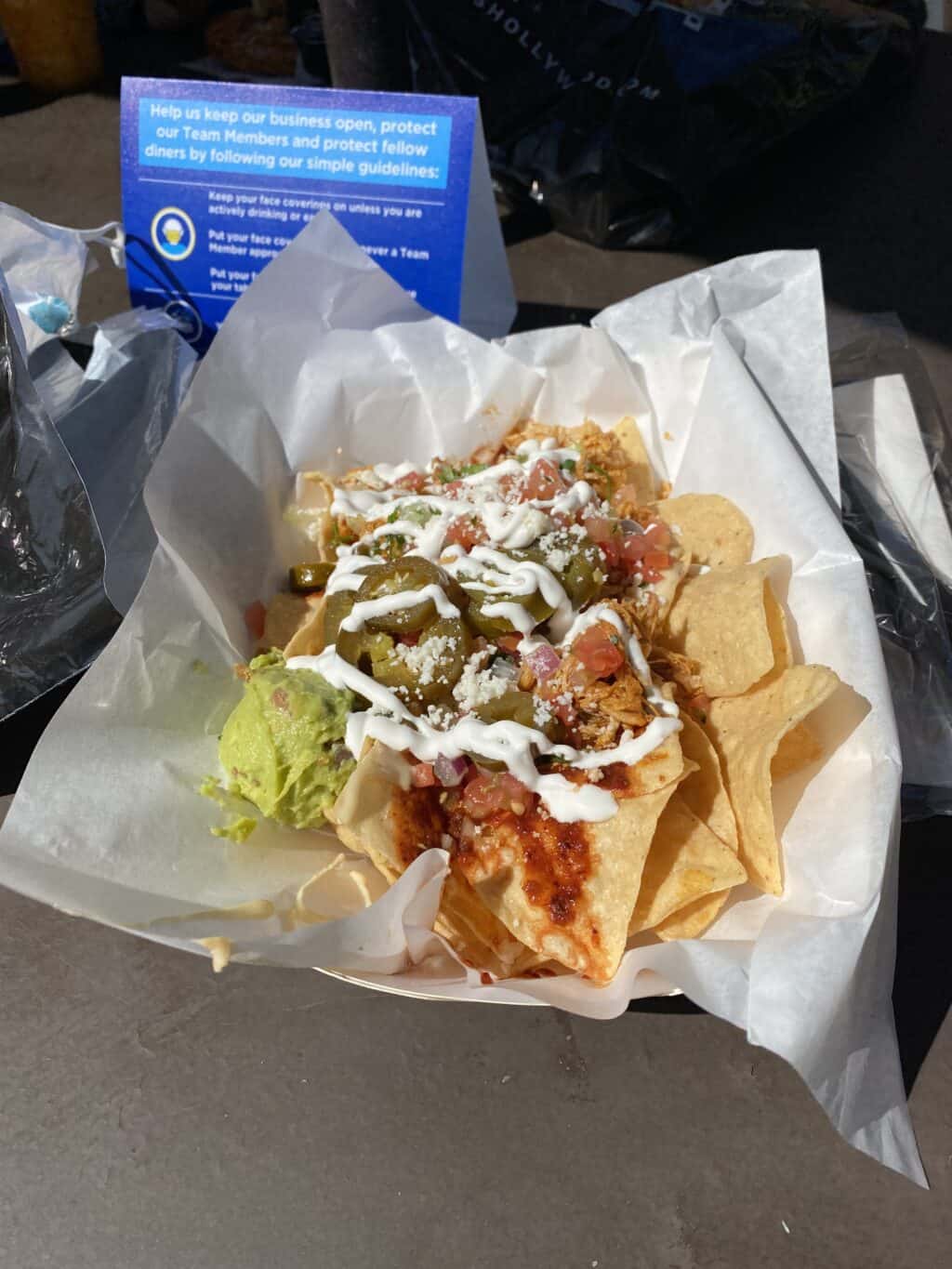 I ended up using my 4th purchase on loaded nachos ($10) and my fifth item on a Diet Coke ($5). In total, my 5 menu item purchases came out to $40.
Not bad at all considering it cost $54 before taxes to gain admission to the event.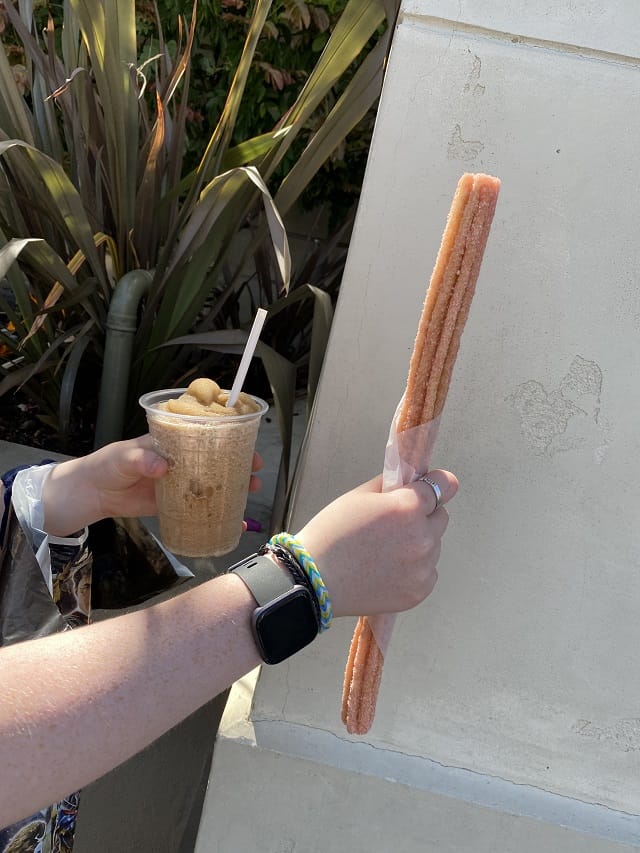 My girls ended up purchasing different flavored churros. For example, this one was cotton candy flavored!
We also purchased the famous HUGE doughnut from Lard Lad situated in Springfield, USA. Even Homer Simpson wanted to eat our doughnut!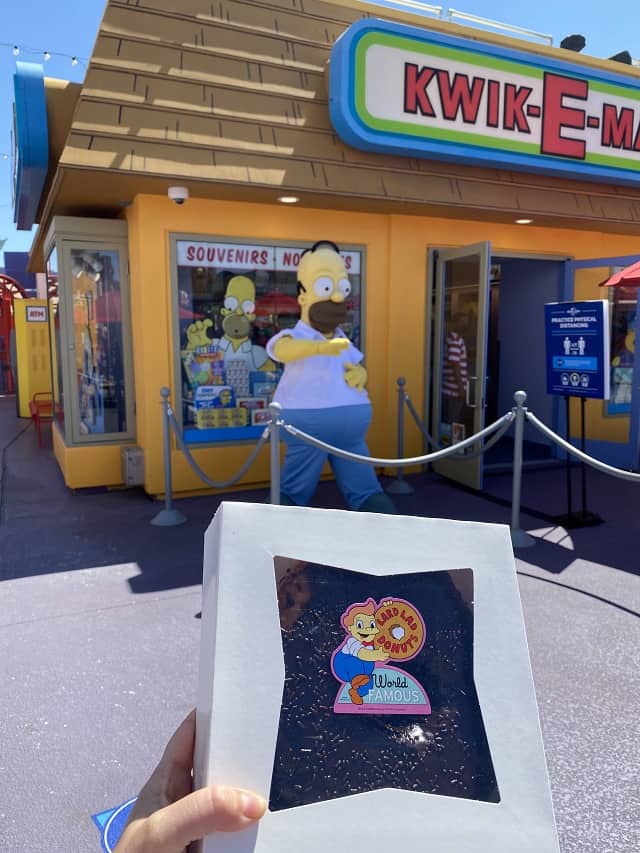 Photo Ops Throughout the Event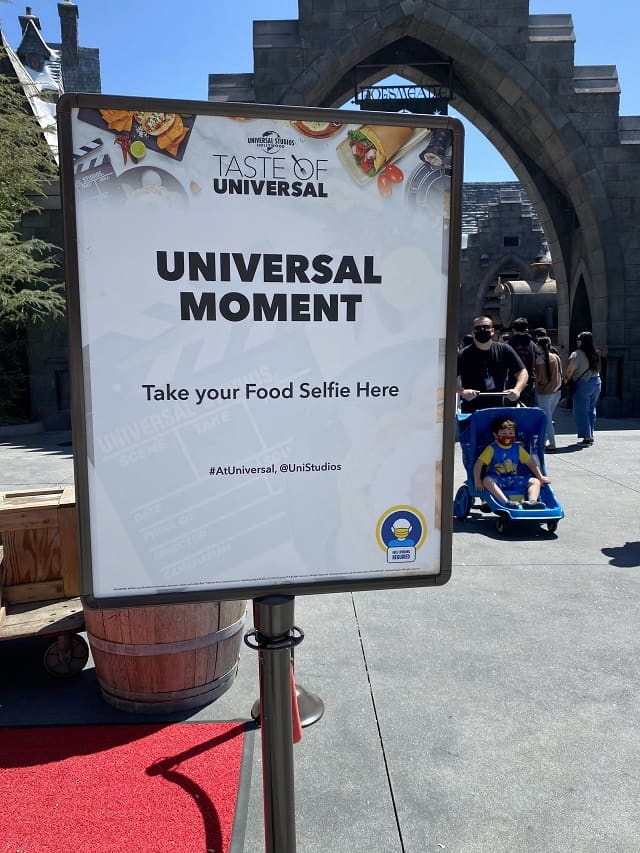 One of the fun parts of attending the event was seeing the many different photo ops throughout the park.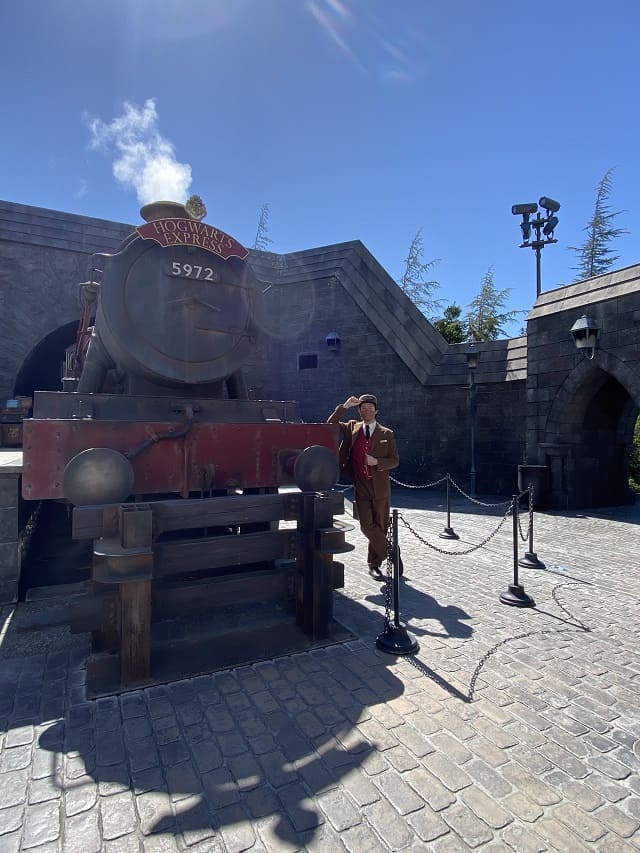 There were plenty of locations to take your picture. Some included the cars that were part of The Fast and the Furious movies a Vespa or motorbike from the world of Minions.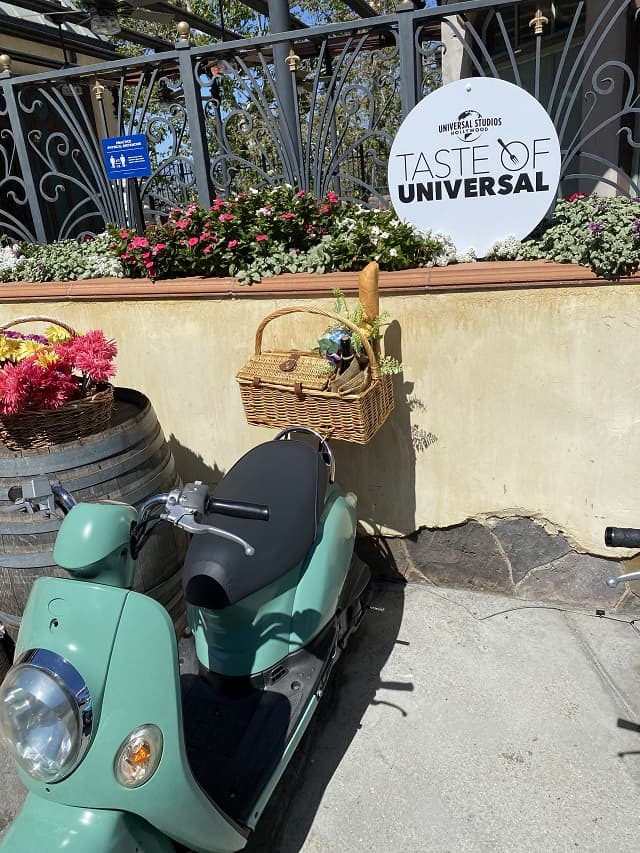 There were many characters that were out such as a Minion, the conductor at Harry Potter World, and the talking Donkey from the animated film Shrek.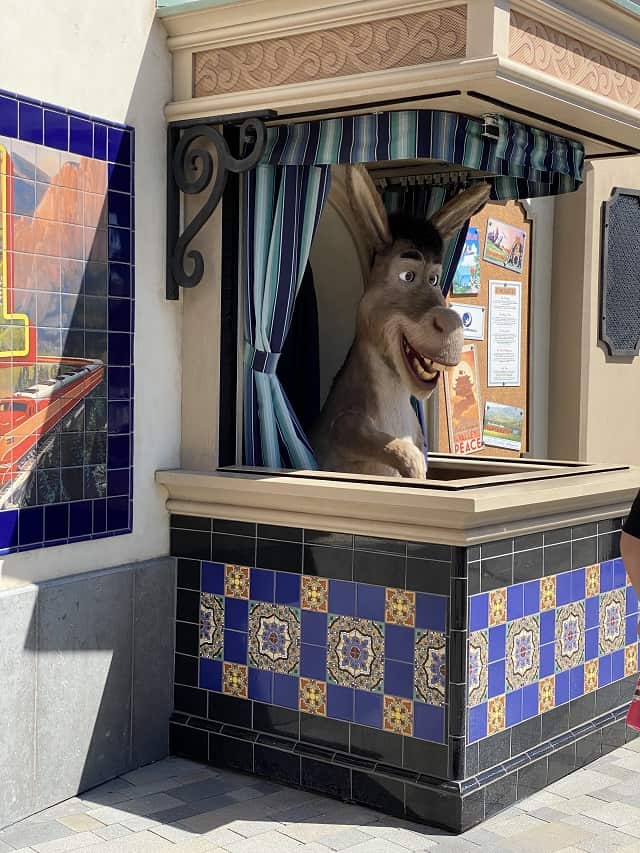 Even Hello Kitty greeted various fans! Ooo la la!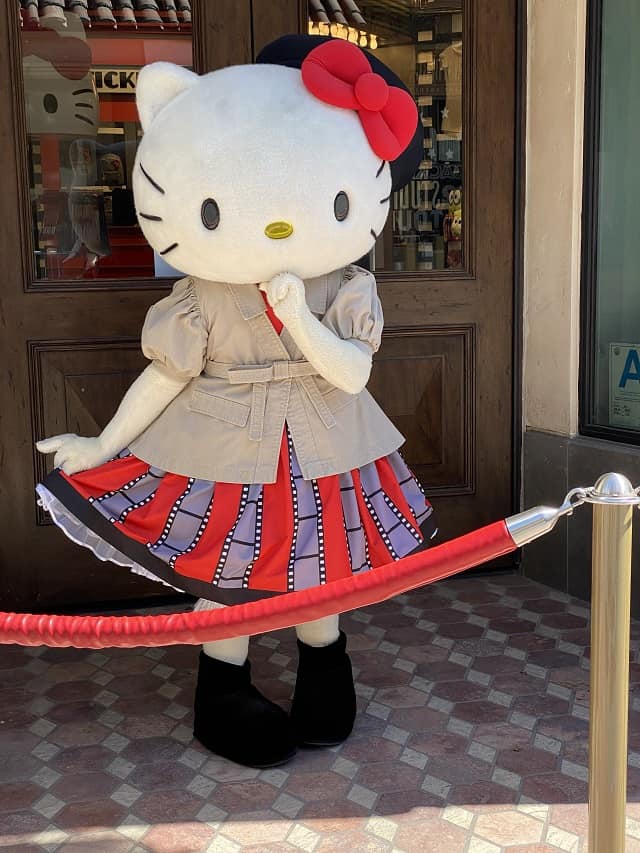 There were plenty of opportunities throughout the park for photo ops. In terms of taking pictures with the characters you stood right in front of them with really no barrier.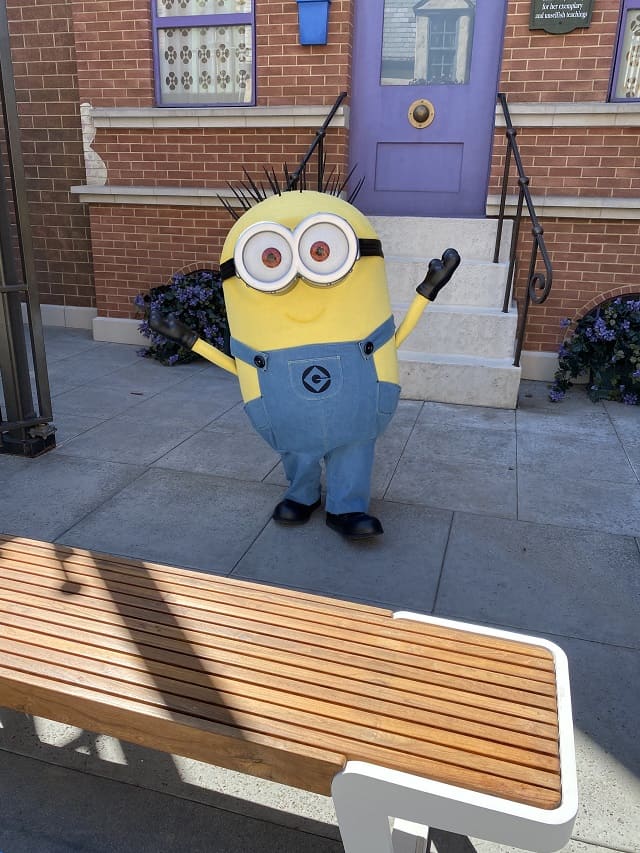 In fact, the photo op with the Minion consisted of a small bench right in front of the character where guests would sit directly in front of the Minion!
This is a bit different compared to Touch of Disney where the characters are seen from a distance. Many of them wave down to Guests from a balcony or pier.
Safety Protocols Throughout the Event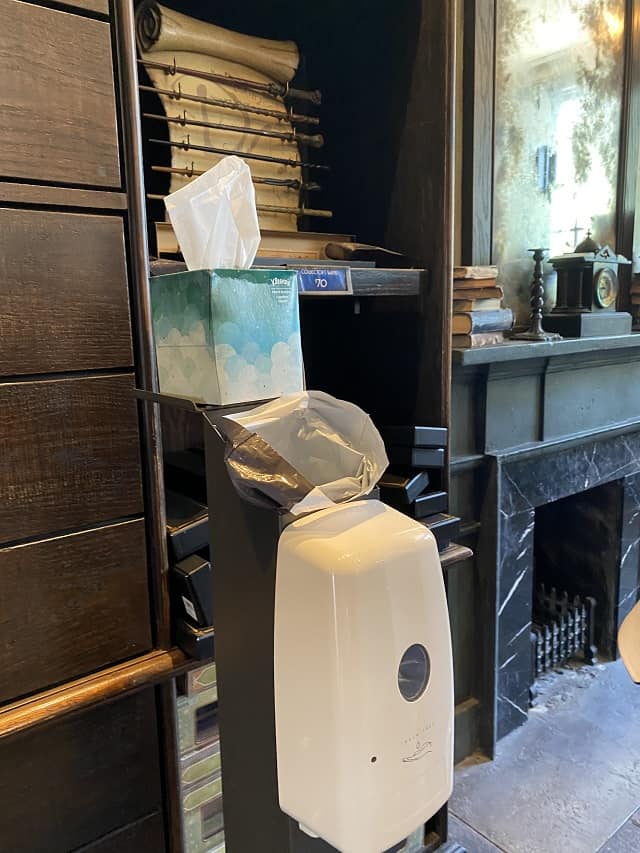 I have to say that I was quite surprised to see boxes of Kleenex at the top of all of the hand sanitization stations inside all restaurants and gift shops.
I had never seen this before and thought it was a good idea!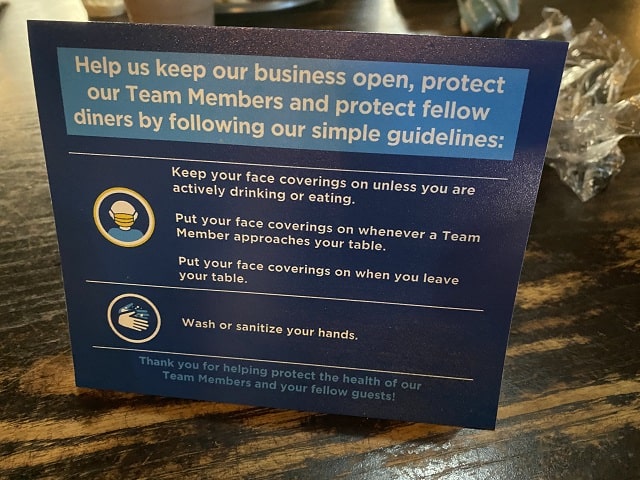 These placards were placed on each table inside the restaurants. Over all, we felt like Universal did a great job and keeping all guests feel safe with safety and sanitation.
The Secret Life of Pets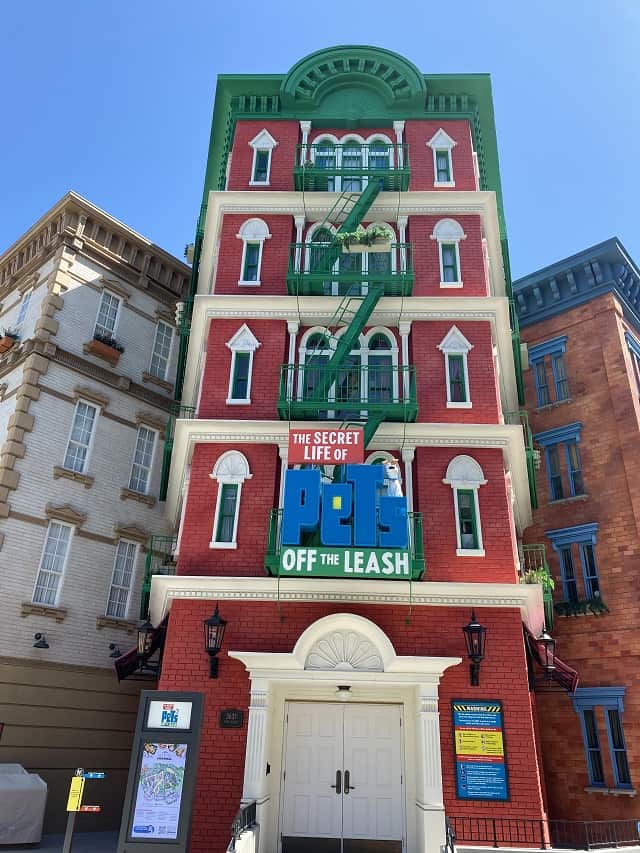 While walking throughout a particular section of the theme park, I noticed that many people walking around us were making remarks about how amazing this section of the park had turned out.
I did not know what they were talking about so while my kids adopted a pup inside the Pet Store, I asked the cashier.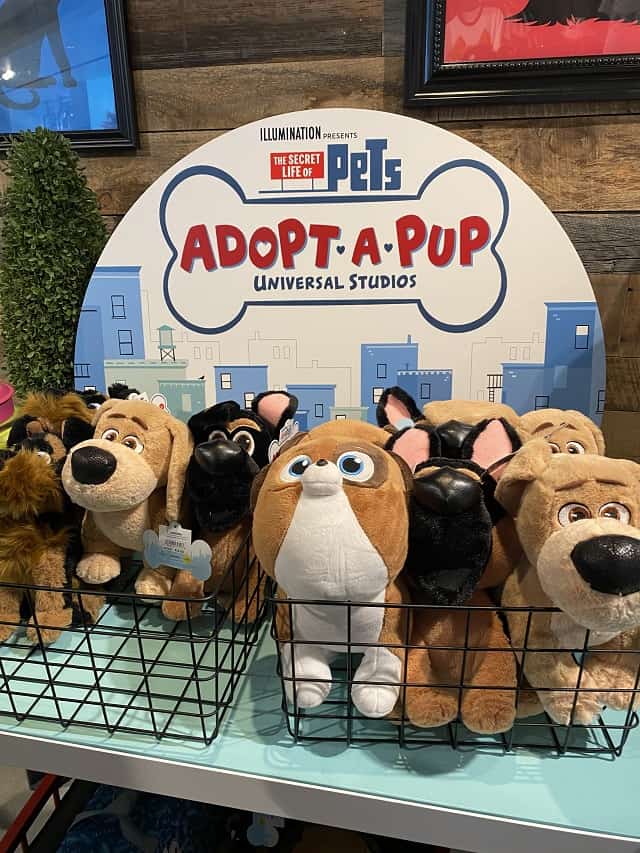 Little did I know that this area along with the new attraction, A Secret Life of Pets, was scheduled to open the week that the theme park closed due to the pandemic.
How unfortunate, right?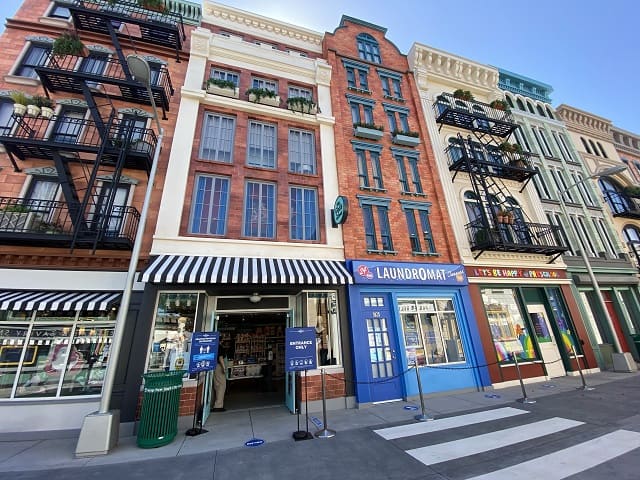 Well, thankfully no need to fret as Universal Studios Hollywood announced that The Secret Life of Pets: Off the Leash! attraction will open upon the reopening of the theme park on April 16!
Overall Thoughts
Was it worth attending A Taste of Universal?
I would say "yes" simply due to the fact that you receive so much food at the majority price of your ticket! I wish I could have said the same while visiting A Touch of Disney!
Our family very much enjoyed walking around the theme park, especially inside Harry Potter World. They were excited because they were able to go shopping and purchase candy and a wand!
In terms of how long we spent at the event, we were inside the park at 11:30 am with a 12:00 pm opening. Again, rope drop and arriving early is priceless! We left the park a little after 3 pm.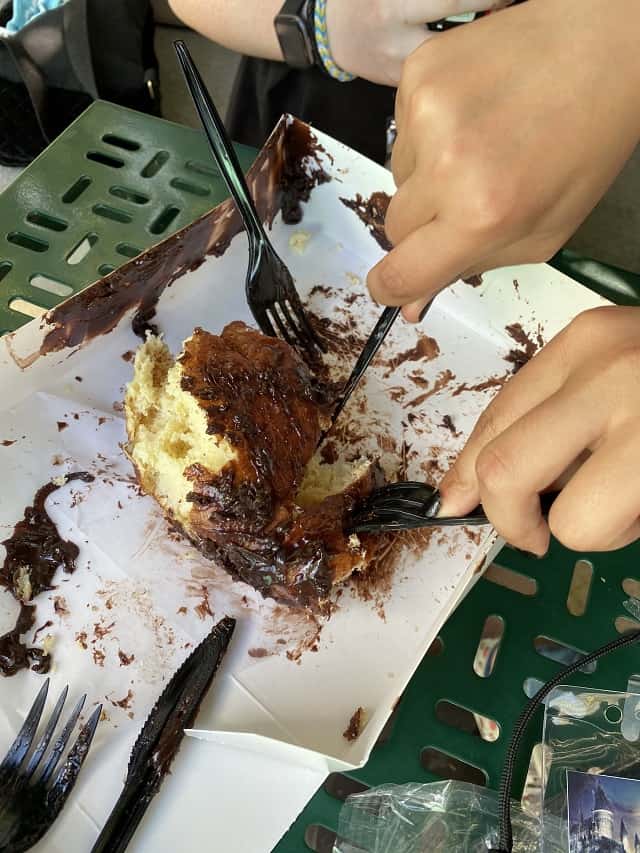 I felt like we had eaten as much as we could have eaten, and we were able to use up all of our menu items during this time!
We had already walked around the theme park several times and had visited all the photo op and merchandise stores.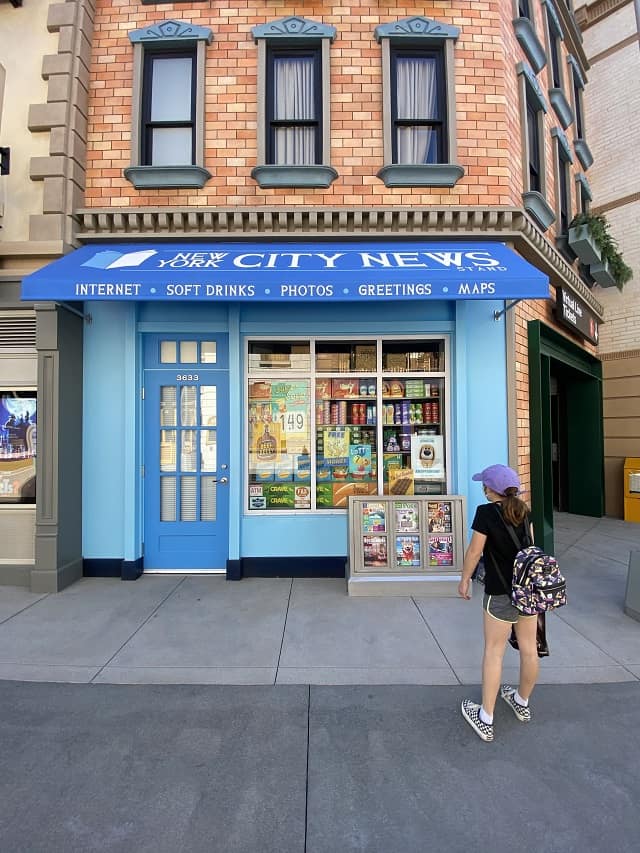 Overall, we had a very nice visit at Universal Studios Hollywood. I am very happy to hear that they will finally be reopening after such a long year!
I'm hoping to visit sometime in the future!
Have you ever visited Universal Studios Hollywood? Would you have liked to have attended the now sold out event, A Taste of Universal? Tell us about it in the comments below or on our Facebook page. Please make sure to also share them with us in our crew!
Are you planning a vacation? Reach out to our trusted travel agency sponsor Authorized Disney Vacation Planner
Mouse Class Travel
!