Little Golden Book has created many adorable books over the years that are interpretations of popular Disney films. Now they have a new line of books based on Disney attractions, and I'm obsessed! Come take a look inside and see which other Disney attraction themed books are currently available for pre-order!
"it's a small world"
I immediately ordered the first in the series which is titled after the classic beloved attraction "it's a small world".
The story starts with children boarding a boat and traveling the world, illustrating scenes from the attraction.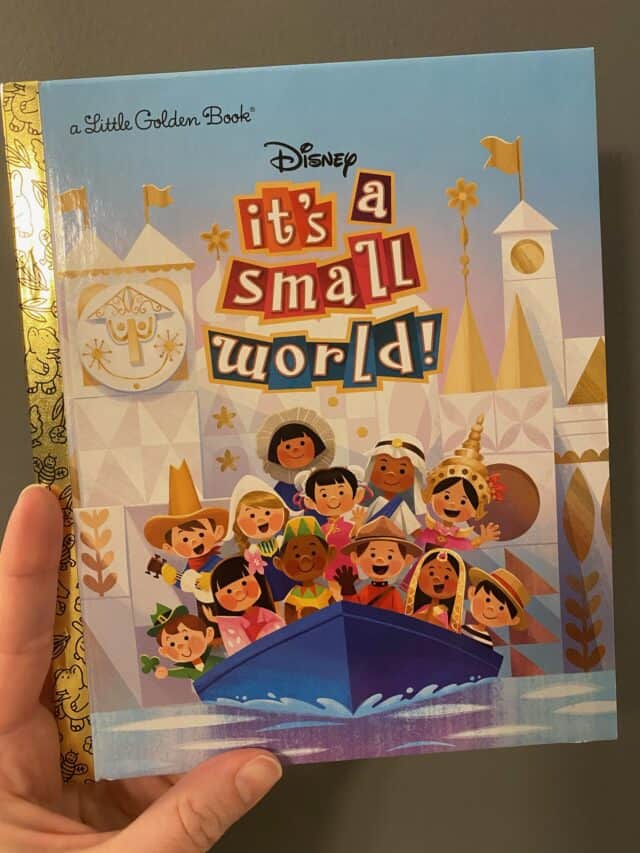 I love how Disney characters are mixed in with characters from the attraction. The first page show Peter Pan and Alice in Wonderland in England.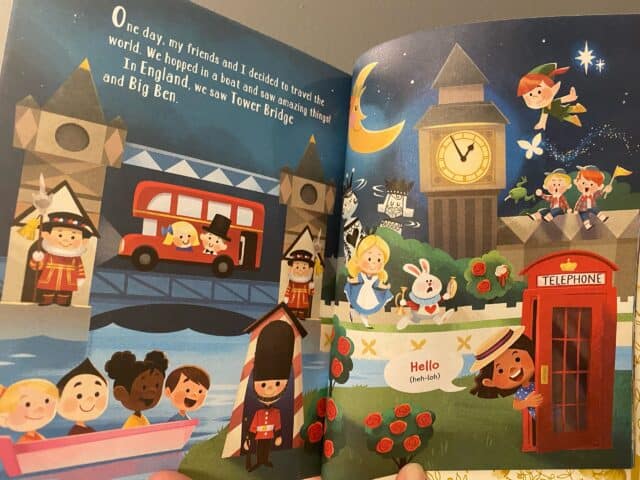 This is very similar to the Disneyland version of the attraction, which has characters from Disney movies scattered throughout the ride. I think this makes the experiences of the ride and the book more engaging for young children who will enjoy spotting familiar characters in the scenes.
In France, you can spot Cinderella and Ratatouille.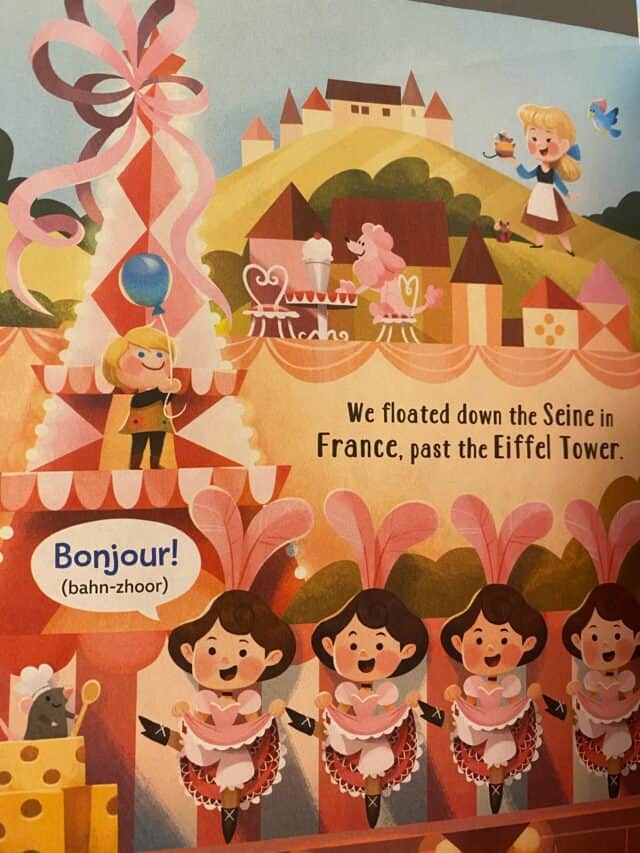 Additionally, Pinocchio can be spotted as a marionette in Italy.
I also love how they included the word for "hello" in different languages with a pronunciation guide that will help children learn how to read in many languages.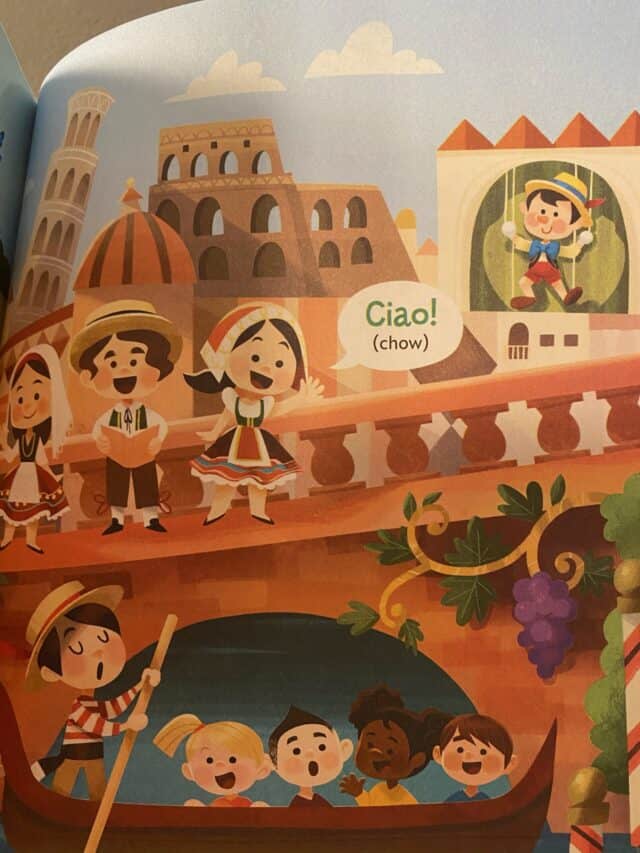 One of my favorite scenes features Aladdin and Jasmine flying on a Magic Carpet over India.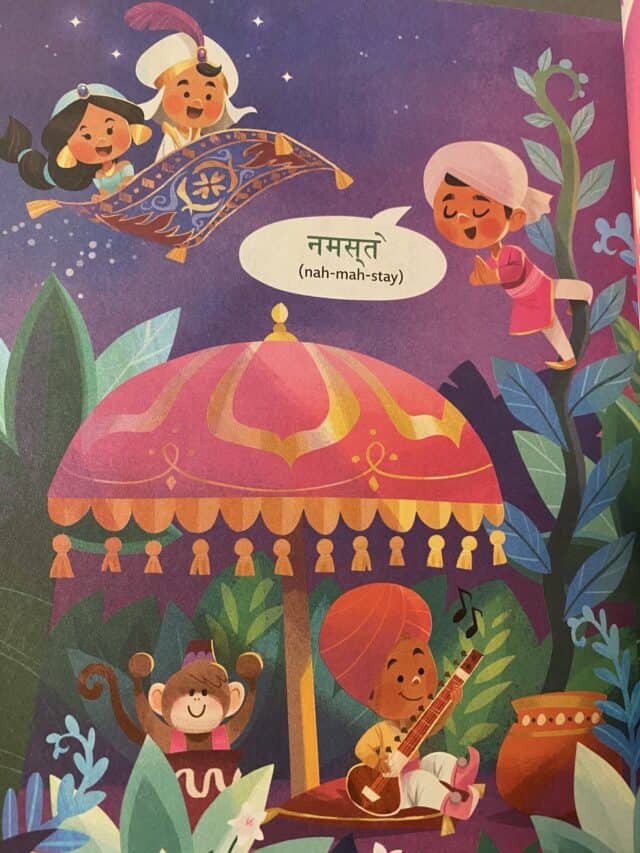 In the photo below, Mulan is seen running on the Great Wall of China. A torii gate is pictured that will remind Disney fans of the one found in the World Showcase at EPCOT.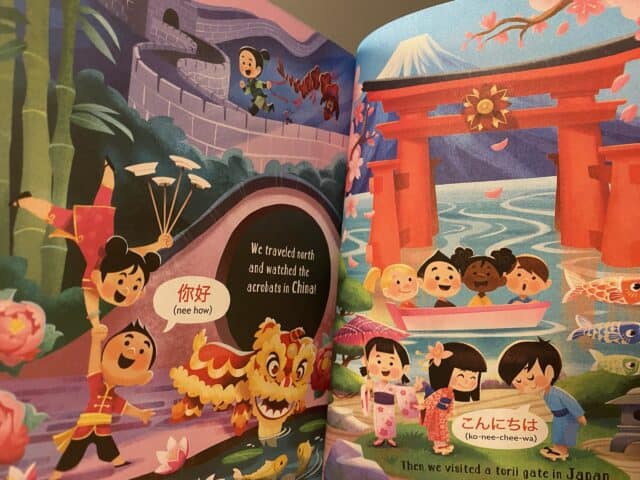 I love this next Africa scene because the elephant is such an iconic figure in the attraction. You can also see Simba, Timon and Pumba but they blend in so well I almost missed them!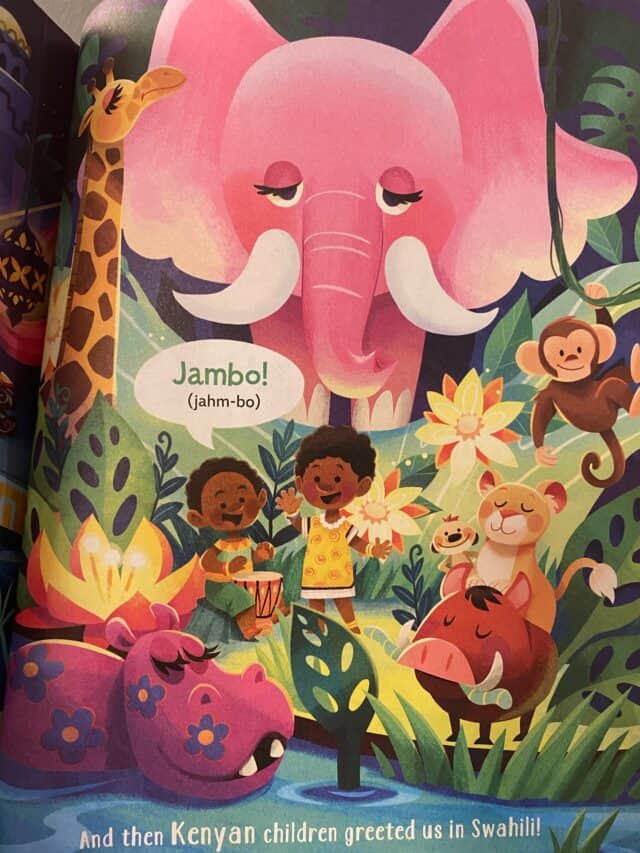 Your favorite 3 Cabelleros can be spotted in this colorful scene set in Mexico.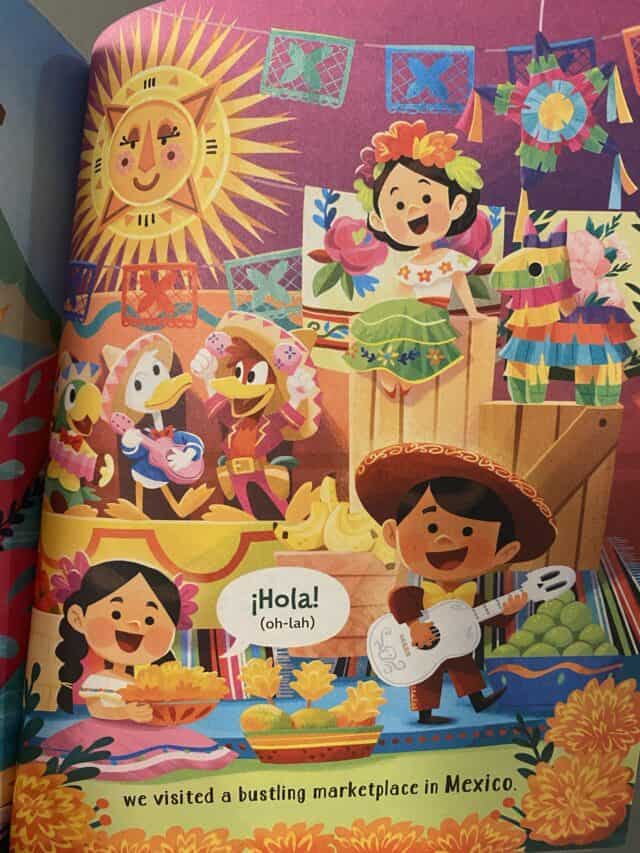 I love how this page shows a mashup with characters from the Little Mermaid and Finding Nemo swimming together under the waves.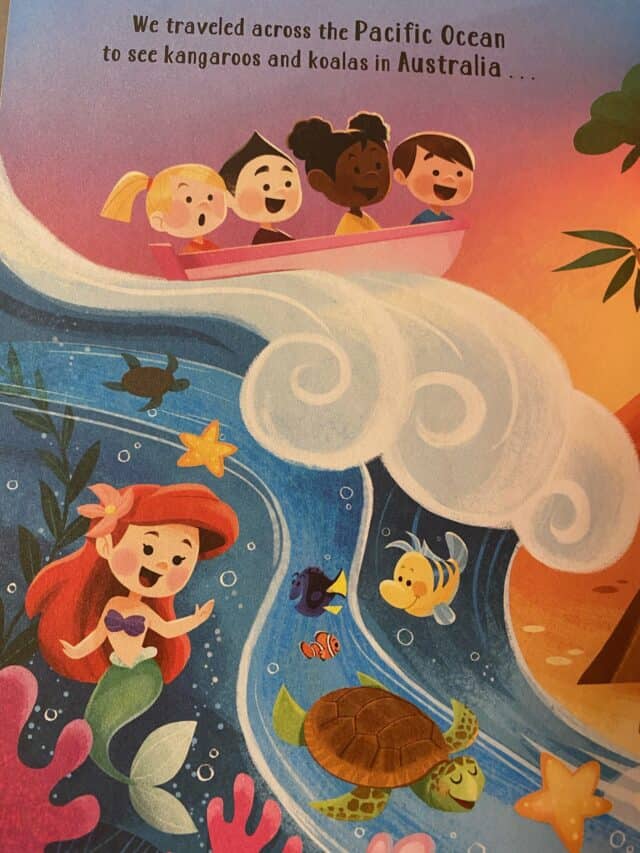 Next, this crocodile holding an umbrella is one of my favorite characters from the attraction. And I think this parrot is a nod to the Enchanted Tiki Room. That's a fun touch!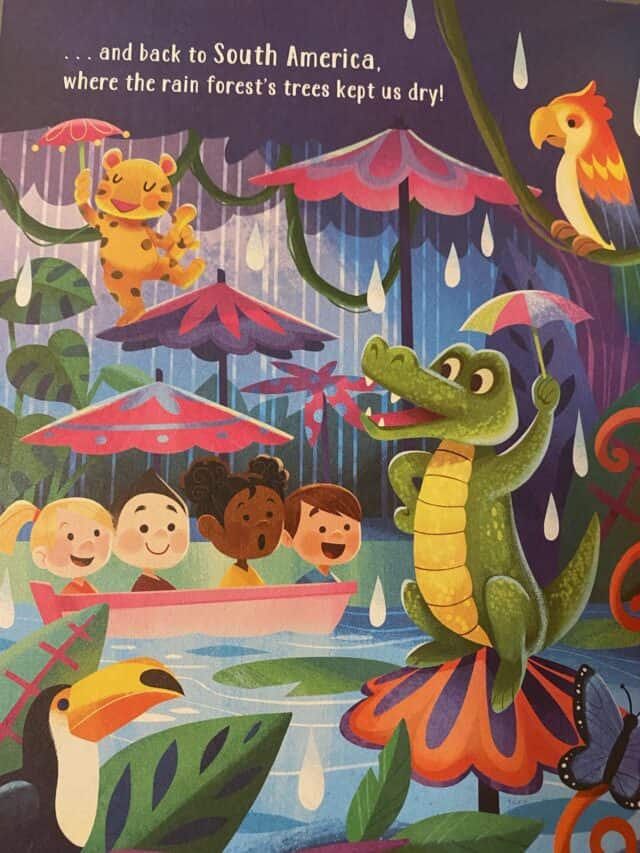 Stitch looks adorable in the scene where he and Lilo are seen surfing in Hawaii.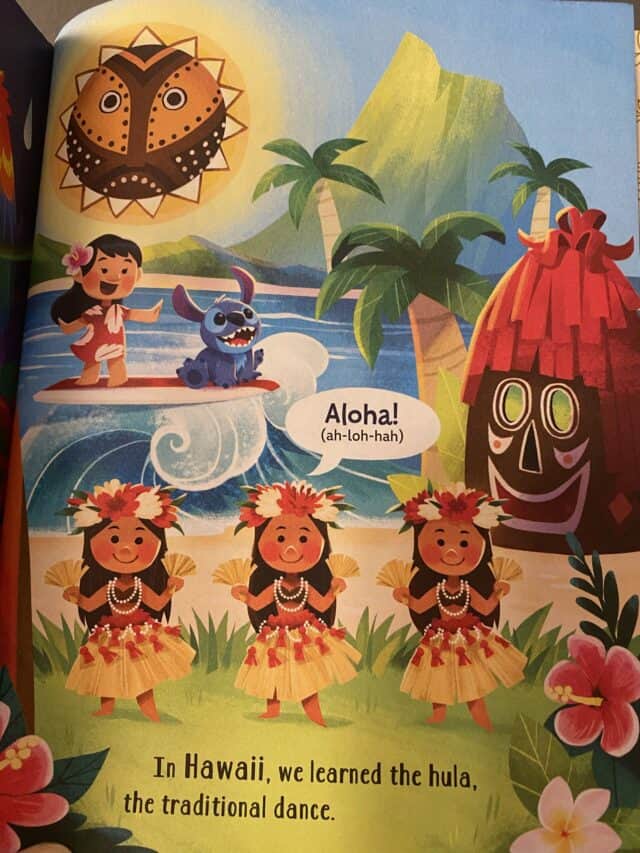 Just like in the Disneyland attraction, the book ends in America with Woody and Jessie in the American West. This is a creative addition not found on the attraction.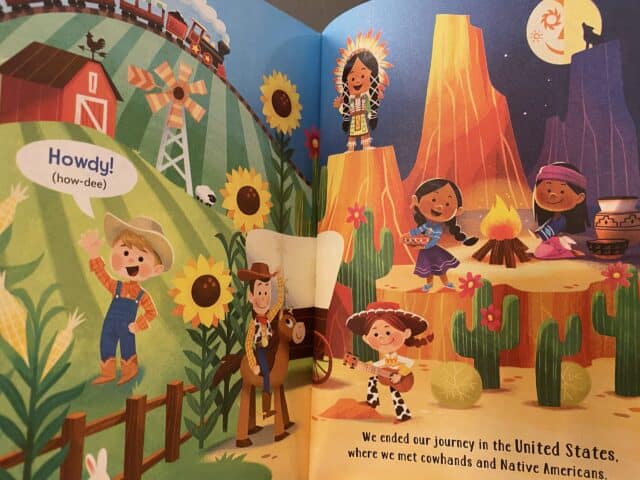 "it's a small world" is available now on Amazon for $5.99. I was so excited when I learned that Disney is planning to release more books based on attractions at Disney Parks.
Other Little golden Books based on Disney Attractions
The next book in the series that will be released is the Jungle Cruise!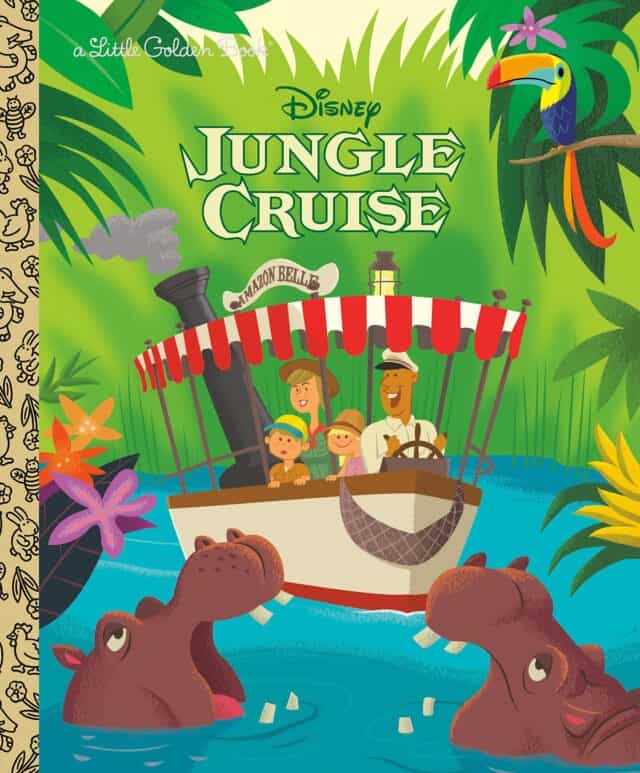 It will be released on May 25th and is currently available for pre-order on Amazon for $4.99.
And, Disney also has plans for a third book based on the Haunted Mansion! This one will be released on July 13th and is available for pre-order on Amazon for $5.99.
I can't wait to see what they're going to do with the story for this one!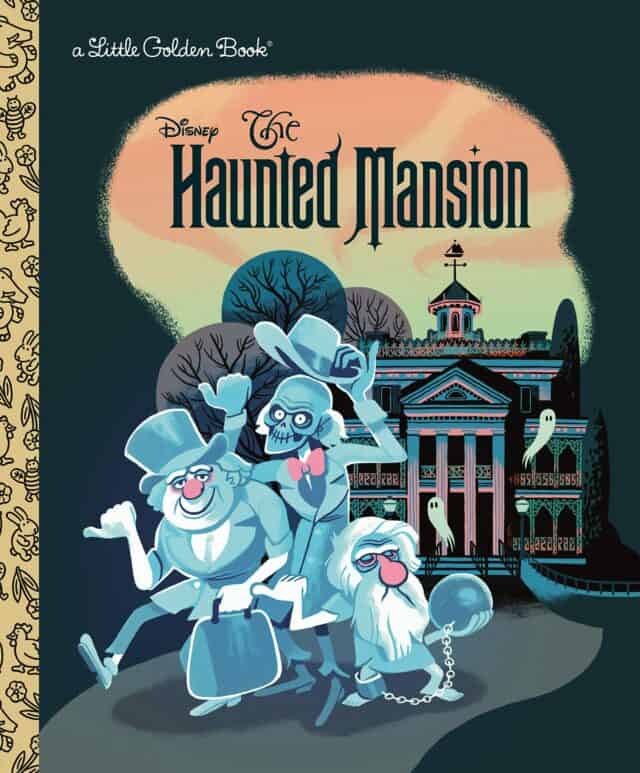 I've already pre-ordered my copies of the Jungle Cruise and Haunted Mansion and am so excited to receive the whole set. I hope they make more!
What do you think of these new Little Golden Books? Are you planning to collect them all? Comment on Facebook and let us know!
Ashley Beckwith McKellar