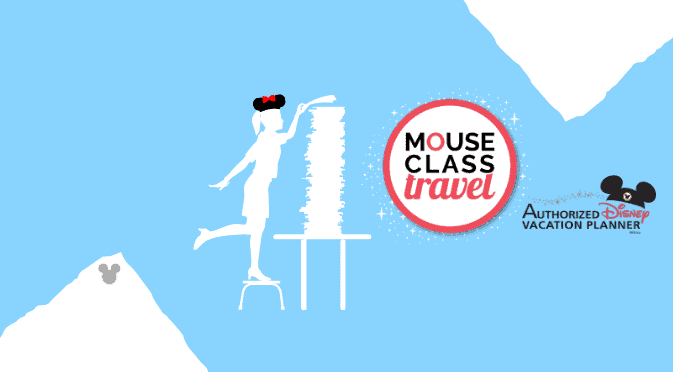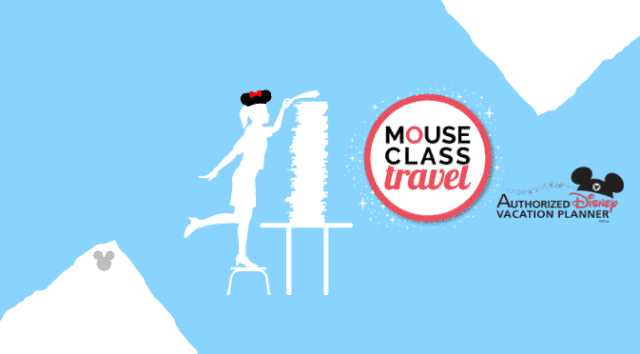 When it comes time to book your next Disney Vacation, there's no shortage of information and travel agents out there to help you. Just type in "Disney World travel agents" into your Google search bar and you'll get over 21 million results (that's a lot of zeros!). So how do you choose the right agent without taking a stab in virtual darkness? 
Well—ask me and I'll tell you: choose my #1 choice for agents: Lisa Thompson at Mouse Class Travel.

I've known Lisa for years and have watched her first-hand help hundreds of families take Disney vacations that they will happily remember forever. 
Mouse Class Travel also uses Character Locator, the best Disney daily planning tool on the internet (yes, that was a shameless plug of my own). 
And yes, I can speak volumes about Lisa and her team's work ethic, integrity, and unending desire to make their clients' trips the best possible. But let me give you some tangible reasons why you should book your next Disney vacation with Mouse Class Travel. 
1. Reliable and Responsive Travel Experience
Going to Disney World is a magical experience. But just like any story with magic, there are some behind-the-scenes stressors that come with it.
The logistics of navigating Disney World's four parks is a lot (to say the least)!
From…
Booking the right hotel with the perfect pool
Making dining reservations (sometimes SIX months in advance—say what?!)
Understanding the transportation to get from your hotel to the parks.
Knowing the insider tips, so you're not standing in line to ride Seven Dwarf Mine Train for countless hours
…navigating Disney World's four parks can be overwhelming—even to the most experienced Disney traveler.
That's why Lisa and her team set out to create the most stress-free travel experience possible. 


This starts with them getting on the phone with you (as in having a real conversation) to answer all your questions and discover what's most important to you and your family on your trip.
When you book with Lisa's team, they strive to have all your questions and requests answered within 12 hours. 
Another benefit to booking with Mouse Class Travel is that you have exclusive access to their Facebook Group to stay on top of all the recent Disney happenings and to hear accounts of fellow Disney-goers, their experiences, and their questions (which is priceless). 
They also provide you with a number where you can text them directly—morning, noon, or night.
It's so important to plan your trip with a reliable agent, especially right now because of the constant COVID changes.

Missing a small detail like how Disney has changed the way you enter through security could cost you 30-60 minutes of your day (and not to mention, cause some serious child breakdowns).
In short, they plan the big—and the small—details.
2. Mouse Class Travel Plans Your Daily Itinerary (at no extra cost)
If you've researched Disney World at all, then you know that there is A LOT to do across the four parks.
You might have questions like:
What rides should our family not miss?
How can we be the first in the park so we get the most out of our day?
Where can our family eat and not spend a million dollars (or what feels like it) on food for the day?
How can we make sure our 10-year-old gets on Slinky Dog Dash when our 6-year-old is terrified to go on roller coasters?
Planning your trip to Disney from a logistical standpoint takes time and a lot of insider knowledge to make the most of your trip.
That's why Mouse Class Travel uses Character Locator to help plan and organize clients' trips.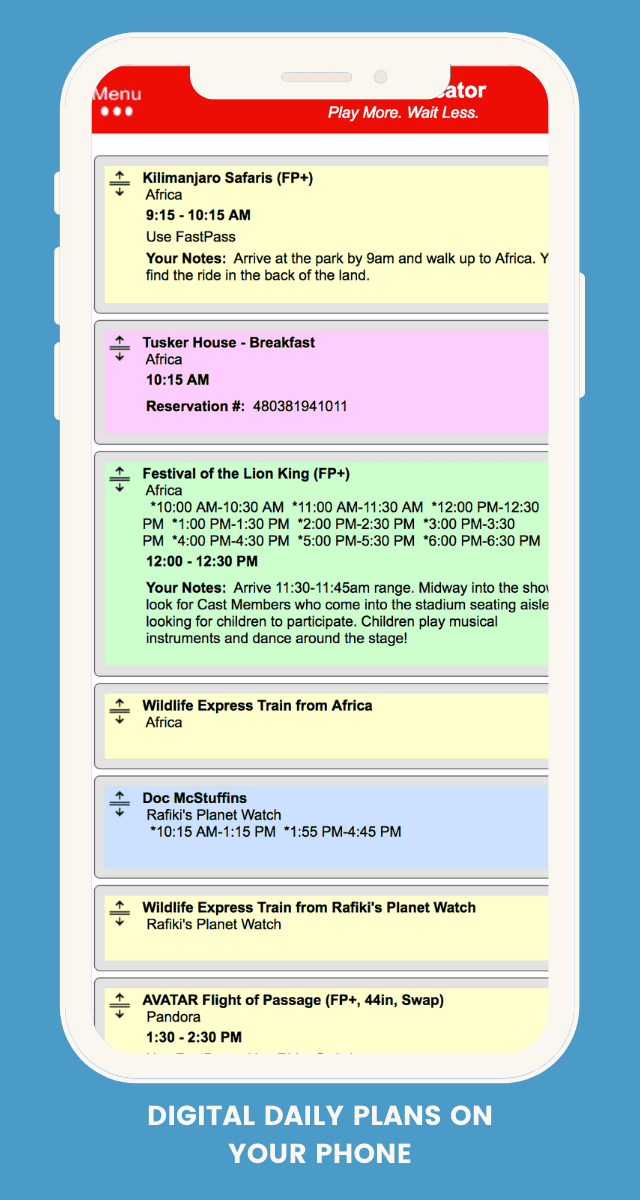 When it comes time to plan your itinerary, someone from Lisa's team gets on the phone with you and asks detailed questions. They also help you determine how the whole family can have a blast—even if you have a mix of younger and older children—and help you get the most out of your day.
The team ensures that you can see everything and still have time to rest (believe me, by day four, you'll be thanking Lisa and her team for adding in some pool time or a beach day).
Your detailed daily itinerary is given to you before your vacation (it's like getting a vacation before your vacation because you don't have to think about the planning). They even go as far as to include special notes and tips through Character Locator to enhance your experience.

And all plans are user-friendly on any smartphone or computer. 

Mouse Class Travel updates all your plans the week before arrival, so your plans reflect park hour changes, last-minute entertainment cancelations, and inevitable COVID changes. 
And you get to feel like one of the kids because Mouse Class Travel does all the work for you.
They plan the big—and the small—details.
3. Mouse Class Travel is an Earmarked Planner
What does this mean in plain English?

Mouse Class Travel is an Authorized Disney Vacation Planner. This means planning through them is the same as booking directly with Disney—because when a company is earmarked, Disney has given them their official stamp of approval.

And if you already booked your trip with Disney, no problem! Lisa and her team can help you transfer or rebook the trip through them and get all the incredible benefits and personalized help they offer as long as you contact them 31 days before your trip date.

Plus, they can apply all the same discounts that Disney drops, including military discounts.

Now, because of this, I bet your next question is:

Is it more expensive to book with Mouse Class?
I got you….
4. Working with Mouse Class Travel Isn't More Expensive Than Working With Disney Direct
Yes, that's right—Mouse Class Travel is no more expensive than if you booked directly.
They do not charge you any planning fees, even though you get all the planning benefits I mentioned earlier.
Plus, they go by Disney's cancellation policies (many other agencies have specific change and cancellation policies that can sometimes muddy the water).
So, in some ways, I could argue that you're getting more bang for your buck when you travel with Mouse Class, mainly because of my next point…. 
5. Mouse Class is a Small But Mighty Team 
With Lisa's team, you're working with the SAME EXACT PERSON the entire trip. Why is this so important? Well, there are times when you will have to contact an agent to discuss your trip, a change, etc.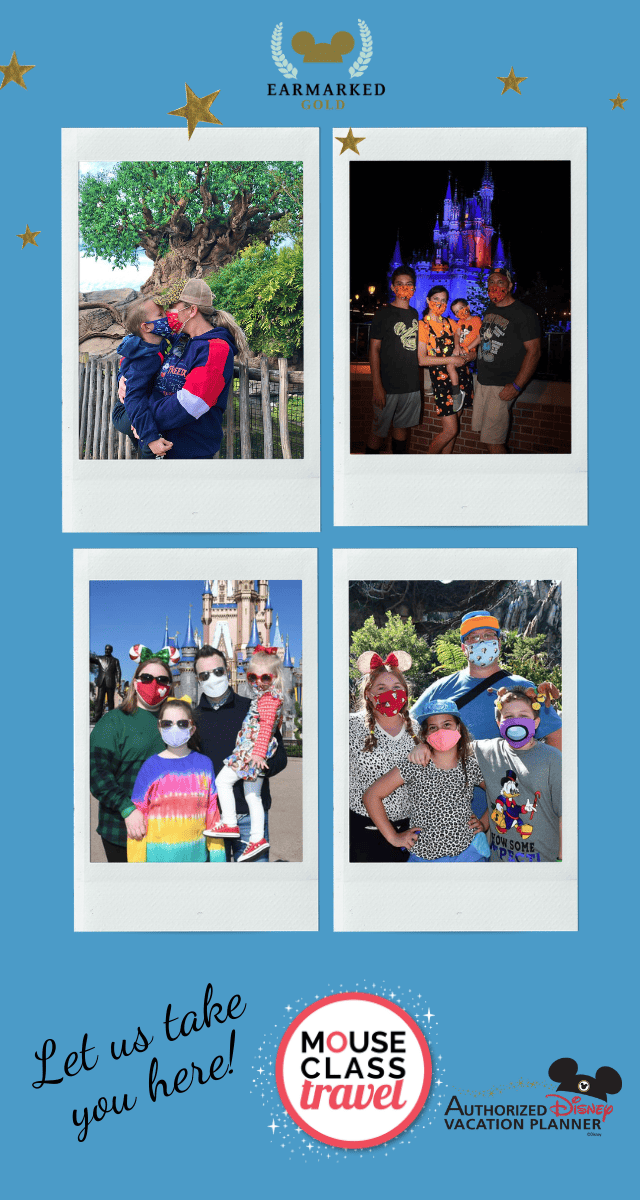 With most agencies, this means you're talking to a different person each time you call. This means each time you have to re-explain who you are, your situation, etc.  Not to mention the time you have to spend on hold. 
But Mouse Class Travel runs a small-but-mighty team that gives you a personalized experience.
Additionally, booking with Lisa and her team means you get a unique vacation on your wants, needs, and special requests. And as I pointed out above, when you book with Mouse Class Travel you'll also get an in-depth detailed daily planning itinerary utilizing Character Locator—for the same money as booking directly with Disney. 
And Mouse Class Travel has direct access to Disney's planning tools, so they're always on top of reservations and taking advantage of the best deals.
Lastly, depending on your payment option selection, there could be several deadlines that you pay to Disney before your trip for hotel, dining, Memory Maker, etc. Lisa and her team track and notify you of important dates so you don't have to worry about it.
6. They are On-Site Once a Month
With family in tow, each and every month, a member of Mouse Class Travel stays in the Disney resorts.

This means they have the inside scoop on food, rides and the lines, special events, travel on Disney transportation, swimming pools, and more. 
When you go with most other agencies, you'll talk to someone who may travel to Disney once a year.
And being in the parks gives Lisa and her team inside information—like when to line up for transportation, so you're the first ones in the park (and not wasting that precious time sitting in a massive line just to get in) and how to work your way through security in the most time-efficient way possible.
It also allows them to watch from the sidelines the parks' ins-and-outs and the changes Disney has made (that they haven't announced publicly).

If traveling to Disney World is on your bucket list this year, then be sure to check out Mouse Class Travel and all the amenities they have to offer. 
Not only do they help guests book trips to Disney World, but other destinations such as:
Disneyland
Disney Cruise Line
Aulani, A Disney Resort & Spa in Hawaii
Adventures by Disney (guided tours in the U.S. and abroad to destinations like Paris, Greece, Australia and Africa)
Universal Orlando
You can reach Lisa and her team directly by calling or texting here at 1-407-452-0566 or emailing [email protected] or getting more information on vacation pricing here through their quote form.