Last year, my family and I checked out the campsites all decked out for Christmas at Fort Wilderness. Read on to see the awesome guest creativity.
When we came down for Winter Break last year, we decided to rent a golf cart and check out the decorated campsites at Disney's Fort Wilderness Resort and Campground.
As we waited for our Lyft from the Contemporary to Fort Wilderness, we were skeptical about our evening plans:
Renting the Golf Cart
We rented a golf cart for the evening even though we were not staying at Fort Wilderness.
Pick up was easy and quick and it was around $60 to rent it for the night. Remember to bring your driver's license if you wish to drive. I had to drive because my husband forgot his license at the resort.
The golf cart pick up can be found at the front of the resort. This means the best way to get there is by rideshare, taxi or personal vehicle. You could also take a bus from one of the parks.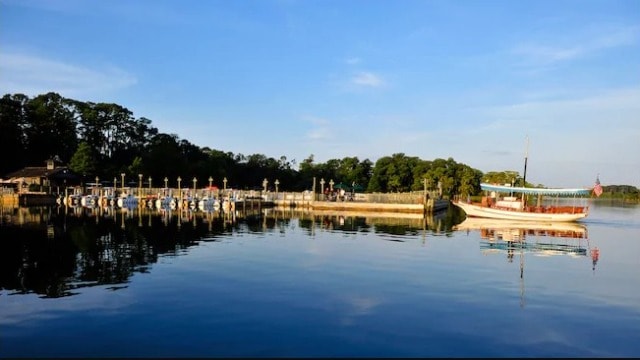 If you opt for the boat from Magic Kingdom, you'd be at the opposite end of the campground and have to take the internal resort shuttle to the front of the resort.
The Decorations
Lots of campers made use of inflatable decorations, like the ones you can find at Lowes or Target.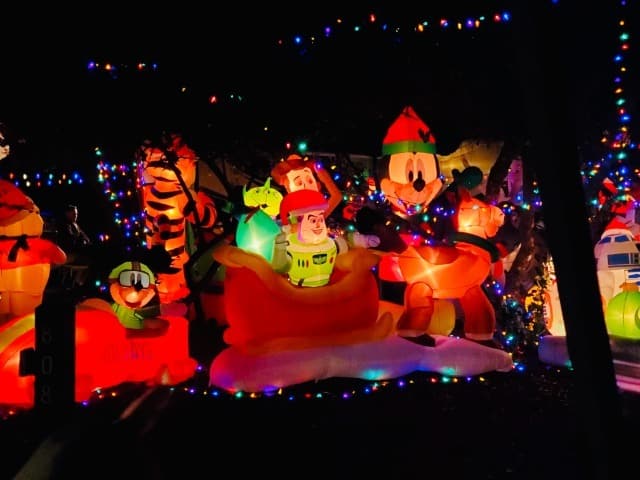 We saw Star Wars Christmas inflatables: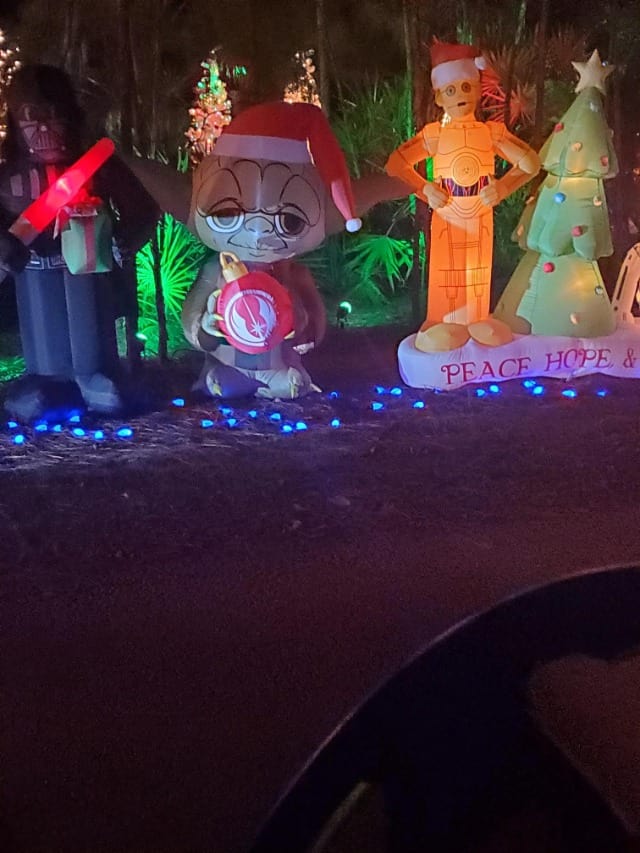 Hank and Dory– so cute!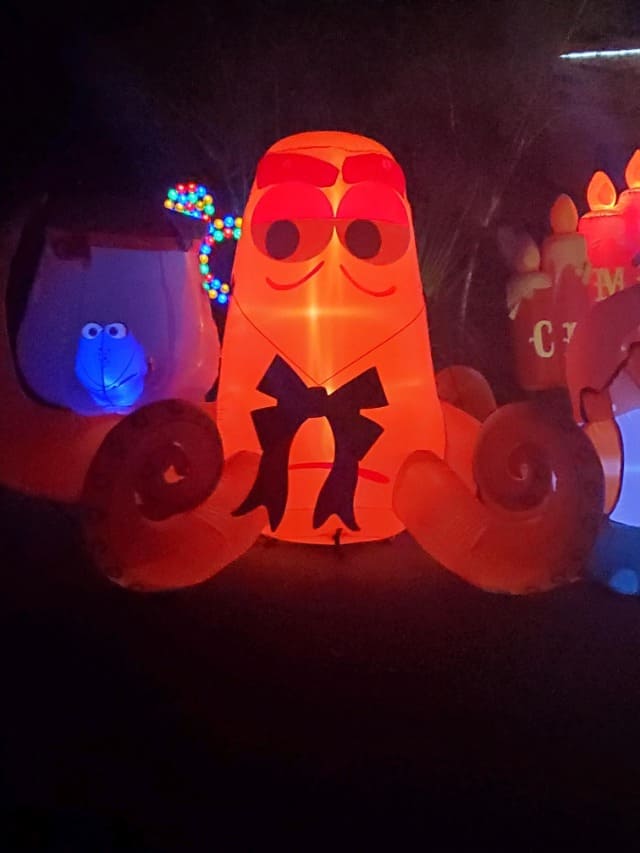 Mickey and Minnie in Christmas teacups? How perfect for Disney World at Christmas!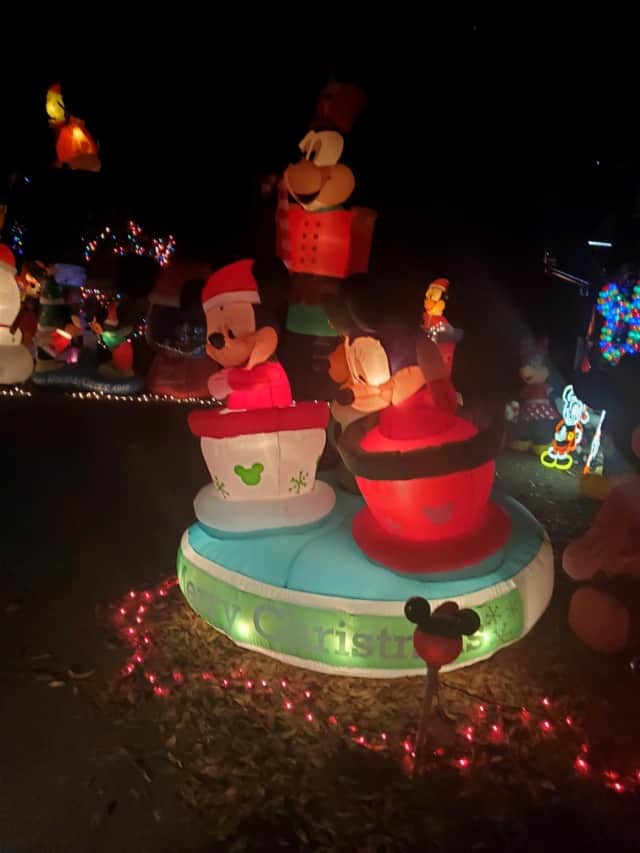 Of course, we saw plenty of lights at each site!
But the most impressive campsites were the ones where campers had created their own Disney-themed decorations.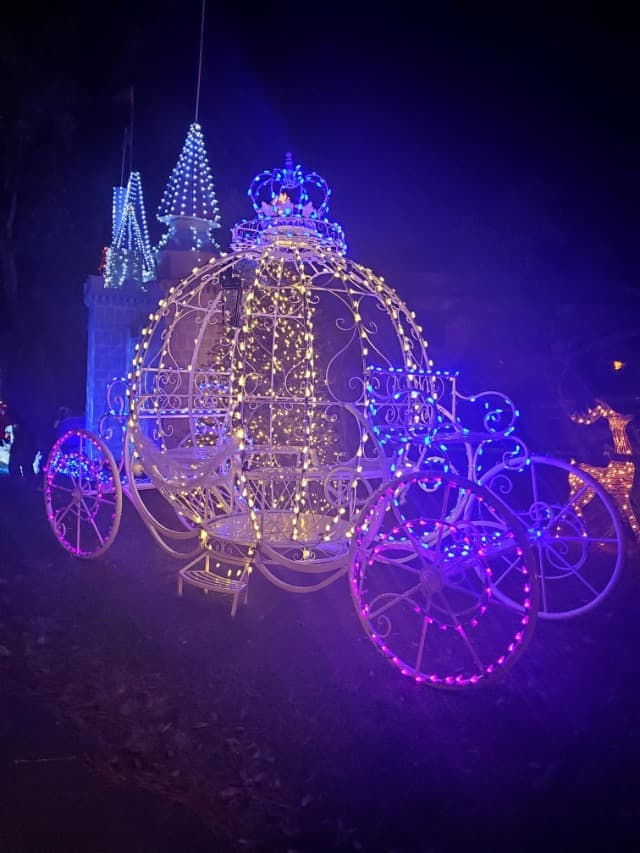 Wow! We saw Cinderella's carriage! And her castle, too:
Dining at the Campground
We parked our golf cart near the Hoop Dee Doo Musical Revue and ate delicious ribs from the quick service restaurant, P & J's Southern Takeout.
While we were eating out on the porch, a group of carolers came to serenade guests. I would assume that due to COVID-19 they will not have carolers this year.
Final Thoughts
The effort the campers put into their displays dazzled us. It almost made me want to go camping… almost.
Have you seen the campsites at Fort Wilderness decked out for Christmas? Let us know in the comments on Facebook and follow us on Instagram!
-Rebecca W Davis