Florida annual passholders on the monthly payment plan were surprised today to find excess charges on their credit card statements this morning. Read on for details.
While most of the tweets and reports indicate that the charges are still pending, many Florida passholders were charged for four months of annual pass payments all at once today.
Users on twitter noted that they have pending charges roughly equivalet to four months of payments hit their accounts today.
Florida Residents are the only passholders who are eligible to make monthly payments on their annual passes. Disney had previously stated that monthly payments would resume when the parks reopened.
Of course, as we know, the parks have not yet reopened. But it seems the payments may have resumed in error.
Payments were paused when the parks initially closed back in March due to the novel coronavirus. It is possible the system is processing the payments for March, April, May and June all at once.
Some passholders were surprised with charges of as much as $600!
Here is the language currently on Walt Disney World's site regarding passholders on the monthly payment plan: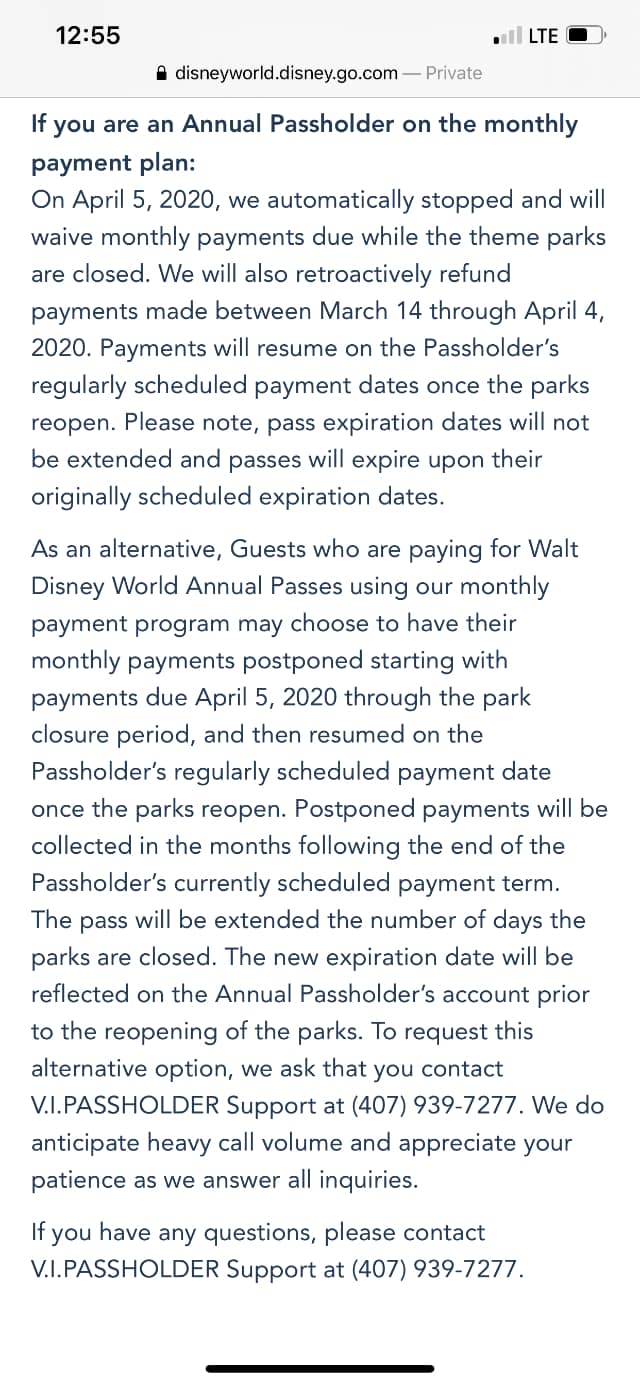 It does say that passholders on the monthly payment plan had their payments "postponed" and that the paused payments will be collected in the months following the end of the passholder's current term.
As you can see, it is a little confusing. All passholders are going to recieve a one month extension in order to compensate us for the restrictions suddenly in place on the use of our passes:
Passholders are, not surprisingly, angry about the pending charges and Disney has clarified to callers that the charges are in error and will be refunded. If you are affected, you can try calling the VI Passholder line at (407)-939-7277.
Did you have this charge on your account today? How did Disney resolve it for you? Let us know in the comments on Facebook and in our Facebook group.
-Rebecca W Davis
Are you planning a vacation? Reach out to our trusted travel agency sponsor Authorized Disney Vacation Planner
Mouse Class Travel
!