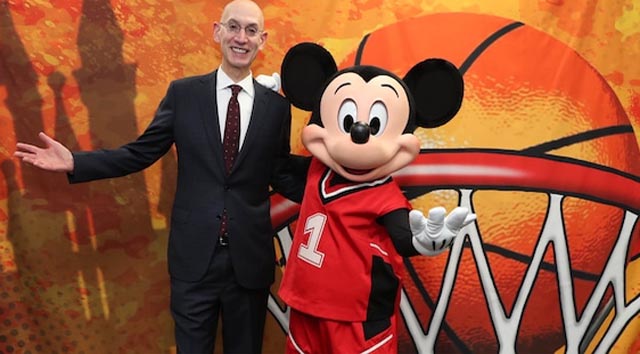 After much talk and speculation, it's been confirmed: the NBA will resume its 2019-2020 season at Disney World! Full details on when and where below!
With coronavirus shutting down all sporting events, many leagues scrambled to figure out if they could resume the season and how to do that safely.
Much speculation involved talks between Disney World and the NBA for weeks about possibly using the ESPN Wide World of Sports Complex in Orlando, but nothing was confirmed by either Disney World or the NBA.
An official announcement was put out yesterday saying the two organizations were currently discussing the restart of the NBA season.
"The NBA, in conjunction with the National Basketball Players Association, is engaged in exploratory conversations with The Walt Disney Company about restarting the 2019-20 NBA season in late July at Disney's ESPN Wide World of Sports Complex in Florida as a single site for an NBA campus for games, practices and housing," said NBA Chief Communications Officer Mike Bass via release.
"Our priority continues to be the health and safety of all involved, and we are working with public health experts and government officials on a comprehensive set of guidelines to ensure that appropriate medial protocols and protections are in place."
Now it's official!
The large banner at the top of this NBA article states: "It's official: NBA plans to restart season in July at Walt Disney World."
July it is!
The games will be exclusively played at the ESPN Wide World of Sports Complex instead of multiple sites. The size and infrastructure of Walt Disney World as a whole makes it the ideal location to host all 30 NBA teams in a somewhat controllable environment for games, practices, and housing.
But, how will these games be played?
According to Sham Charania at The Athletic, the league sent out a survey to general managers detailing a number of options regarding resumption of play.
The options are all 30 teams playing a certain number of games before playoffs to jumping straight into a tournament format that would not include teams at the bottom of their respective conferences.
Even with all these plans, the league still has to be cautious regarding COVID-19 consequences including the possibility of a spike in new cases and how many people from each team would be allowed to play.
Despite the unknown side effects, the NBA and Walt Disney World are moving forward to restarting the season! Share your thoughts with us over on Facebook.
Source: NBA.com