As I was planning my fall trip, I noticed Dapper Day was happening on our Hollywood Studios Day. I'm always up for new Disney experiences, so I began doing research on Dapper Days. In case you're wondering what Dapper Days are, check out what I found here.
Dressing Up
I became intrigued with the whimsical costumes and events around the world. How cool would it be to dress up for one right here in Florida?? So I began researching outfits and settled on a Mickey inspired dress I found on Amazon.
Amazingly, I managed to talk my husband into dressing up as well. We kept things simple so he would feel comfortable. He agreed to wear a black bow tie and suspenders with his button-down shirt and black pants.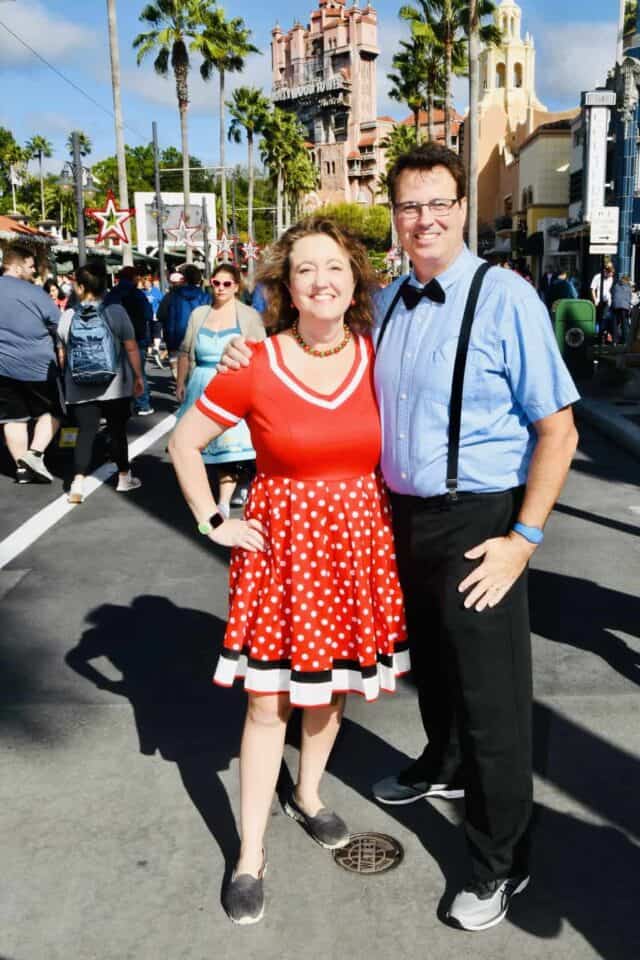 Legends Of Hollywood
In doing research, I learned there was a Dapper Day event at the Legends of Hollywood store on Sunset Boulevard from 10 am -12 pm. After getting in a few morning rides, I jetted over to Legends of Hollywood to check it out.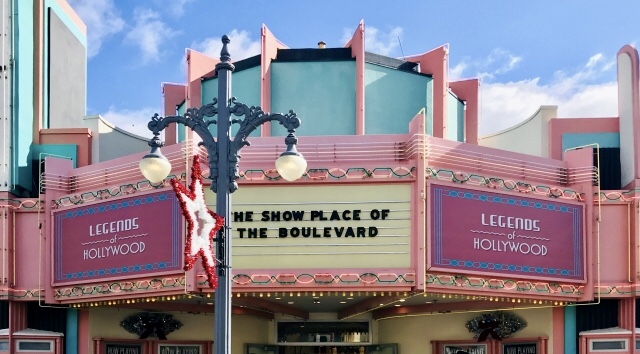 They had official photographers taking random pictures of people dressed up. It was such a fun atmosphere! There were also a couple of dapper ladies handing out pins and greeting people as they entered the store.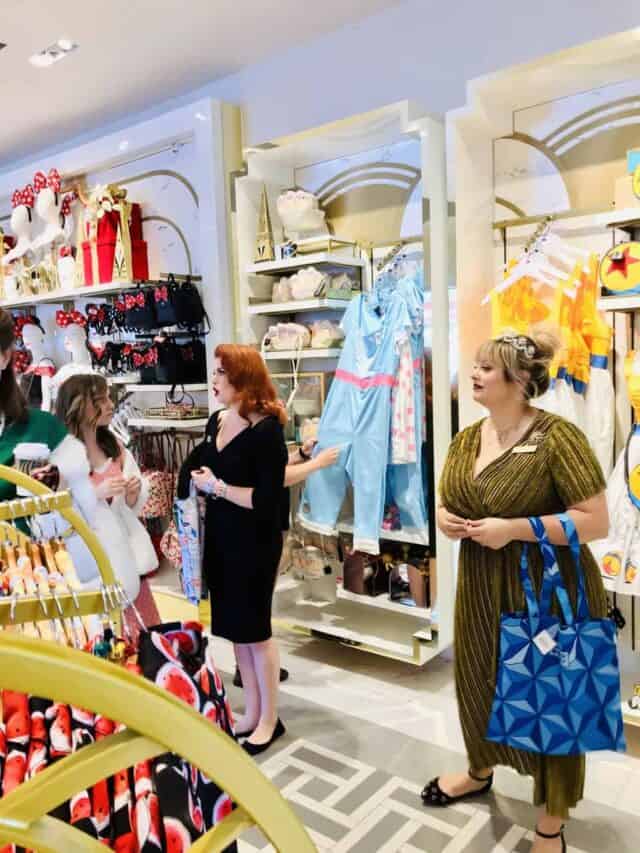 Legends of Hollywood was a perfect place to gather since they carry cool retro clothing daily.
Meet and Greet with "Mr. Dapper"
In addition to seeing everyone dressed up, I was able to chat briefly with Justin, the actual founder of Dapper Day! Although he was busy, he politely agreed to have his picture taken with me.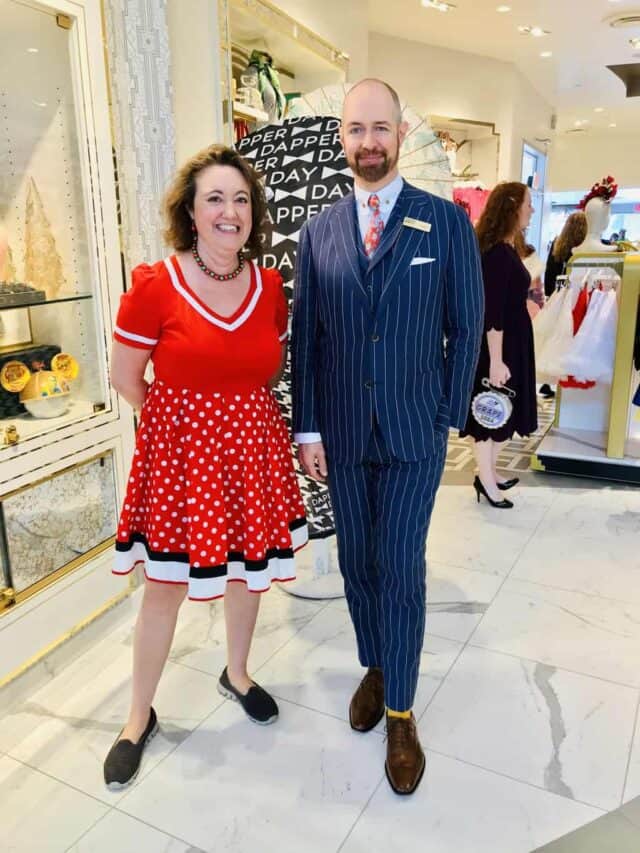 What a fun souvenir for my day! Also, in case you're wondering, Mr. Dapper is NOT his name, just couldn't resist since he's the "father" of this fashion movement.
Meeting New Friends
While strolling the park and waiting in line, there were so many people dressed up. It was super fun to see all the creative people and fun themes. While waiting in line to meet Mike and Sulley, I struck up a conversation with another dapper friend who was also waiting.
They passed out Dapper Day souvenir buttons at Hollywood Legends also. They were so adorable! My new friends didn't have one so I gave her one of mine right before meeting the characters.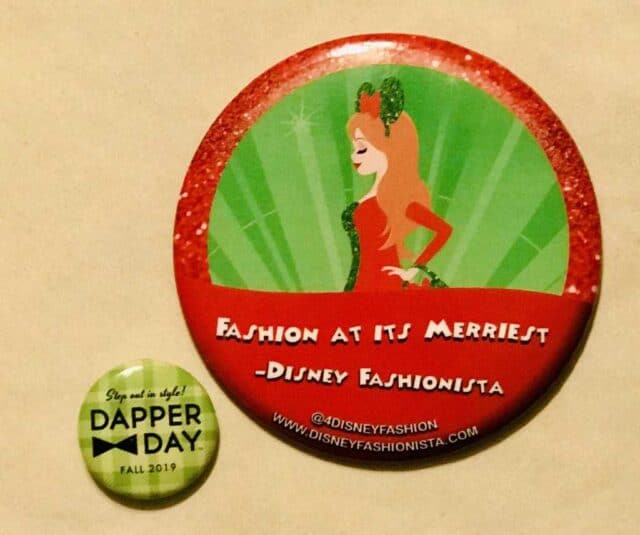 Well, to my surprise, she caught up with me later, and handed me a Disney Fashionista button! I wore both with pride the remainder of the day!
Upcoming Events
Check out dapperdays.com for specific details on upcoming events. Typically, Dapper Days are held in the fall and spring for Disney World and Disneyland along with Disneyland Paris and D23 events.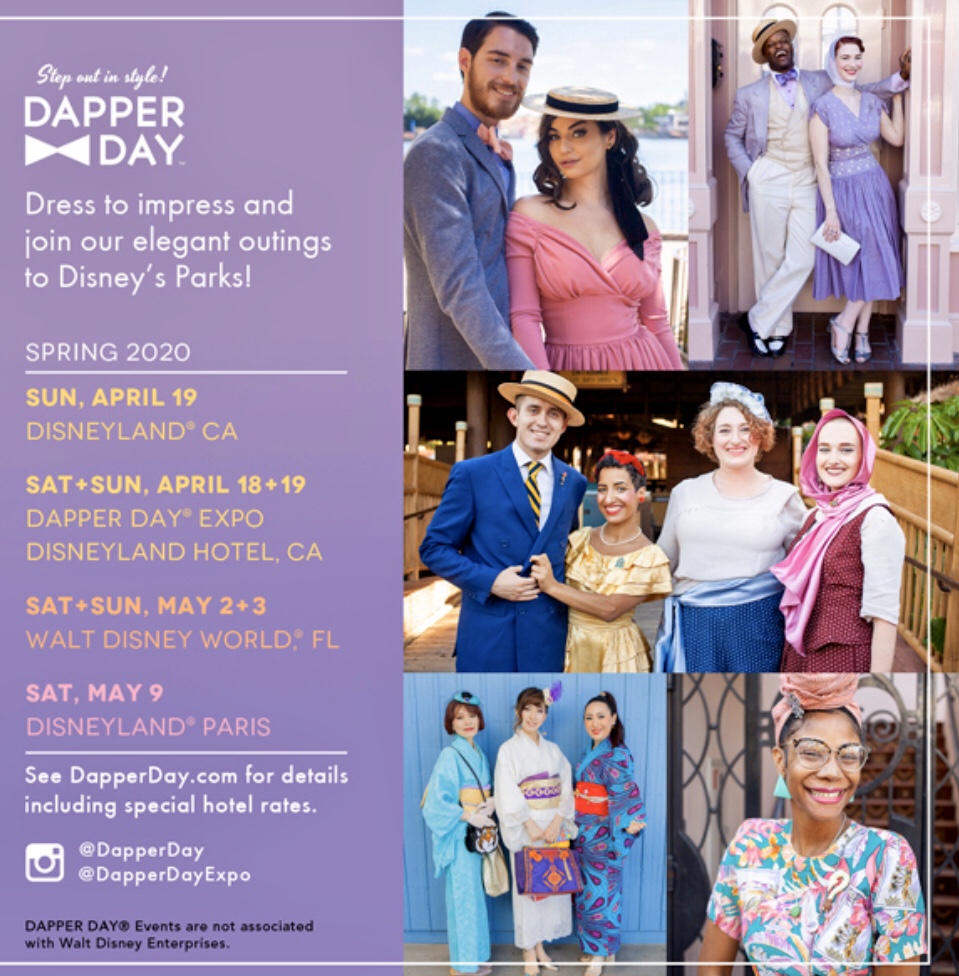 I had way more fun than expected participating in Dapper Days, and I hope you can join in the fun! I even got to participate in the group photo taken by the Dapper Days photographers!! Look for me below on the back left!! ;)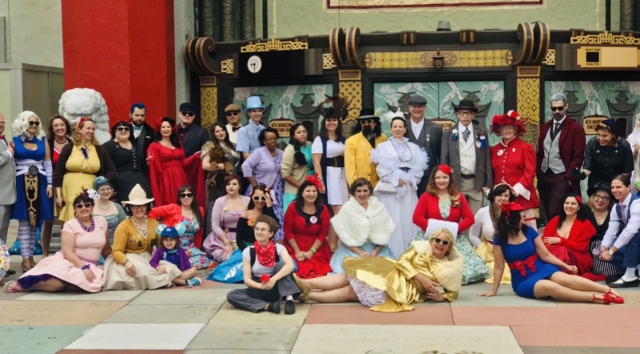 Have you attended a Dapper Day event? Do you plan to participate in a future event? If so, which event would you like to try? We'd love to hear your thoughts. Please share them below or on the KtP Crew Facebook group.
~Your Dapper Day Minnie, Susan

Are you planning a vacation? Reach out to our trusted travel agency sponsor Authorized Disney Vacation Planner
Mouse Class Travel
!