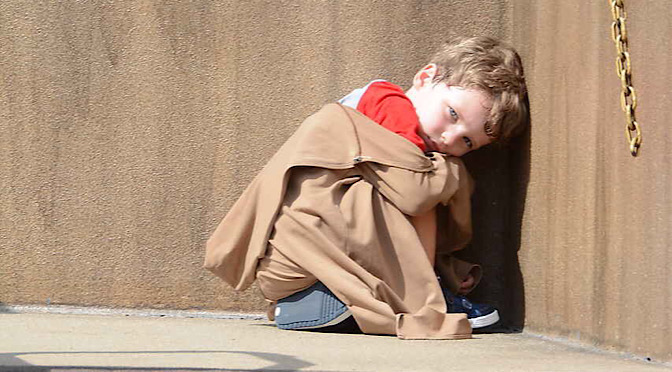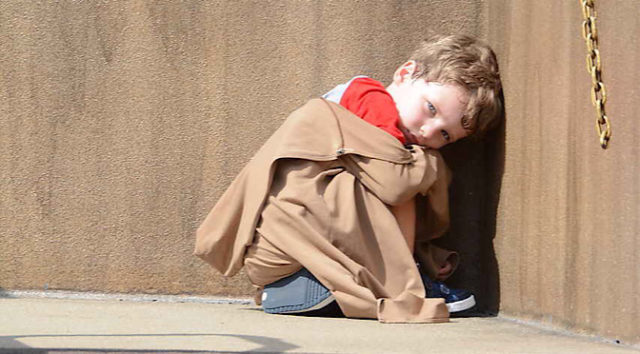 Jedi Training is an interactive show that takes place about once an hour on the stage next to Star Tours in Hollywood Studios. Children aged 4-12 can sign up to participate in the Jedi Training where they will have the chance to cross lightsabers with Star Wars villains such as Darth Vader and Kylo Ren.
I had read some reports that people felt age 4 was a little too young for Jedi Training. But my son seemed interested in participating at age 4 so we decided to give it a try and see for ourselves.
He was starting to get into Star Wars, loved play fighting with lightsabers, and seemed enthusiastic about the opportunity to have a lightsaber battle with Darth Vader.
I noticed when we arrived that he was likely the youngest of all the children participating but it didn't seem to bother him. He was excited to be chosen to help carry the banner when they marched on stage and seemed very proud to wear his Jedi robe. Plus, he was very attentive to the instructors.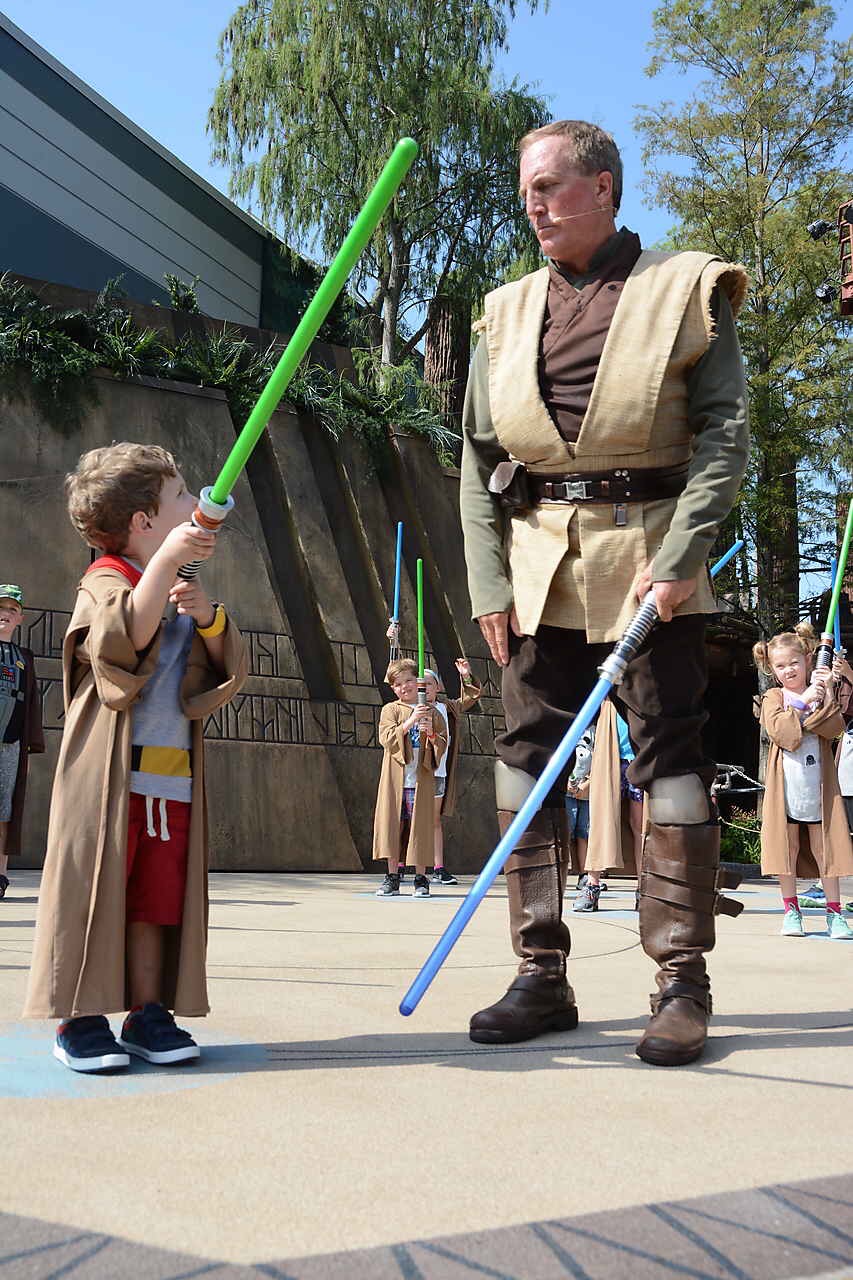 But then Darth Vader came out…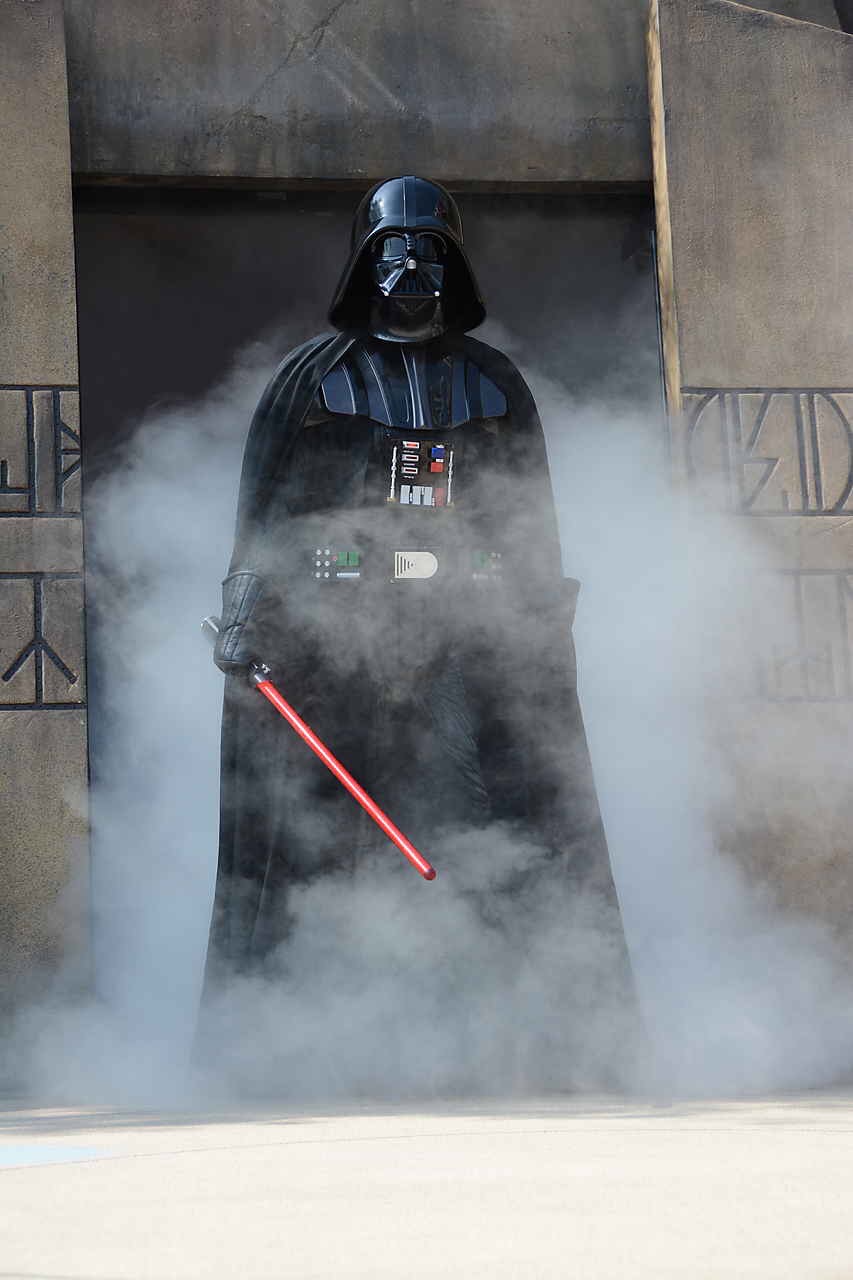 followed by Kylo Ren…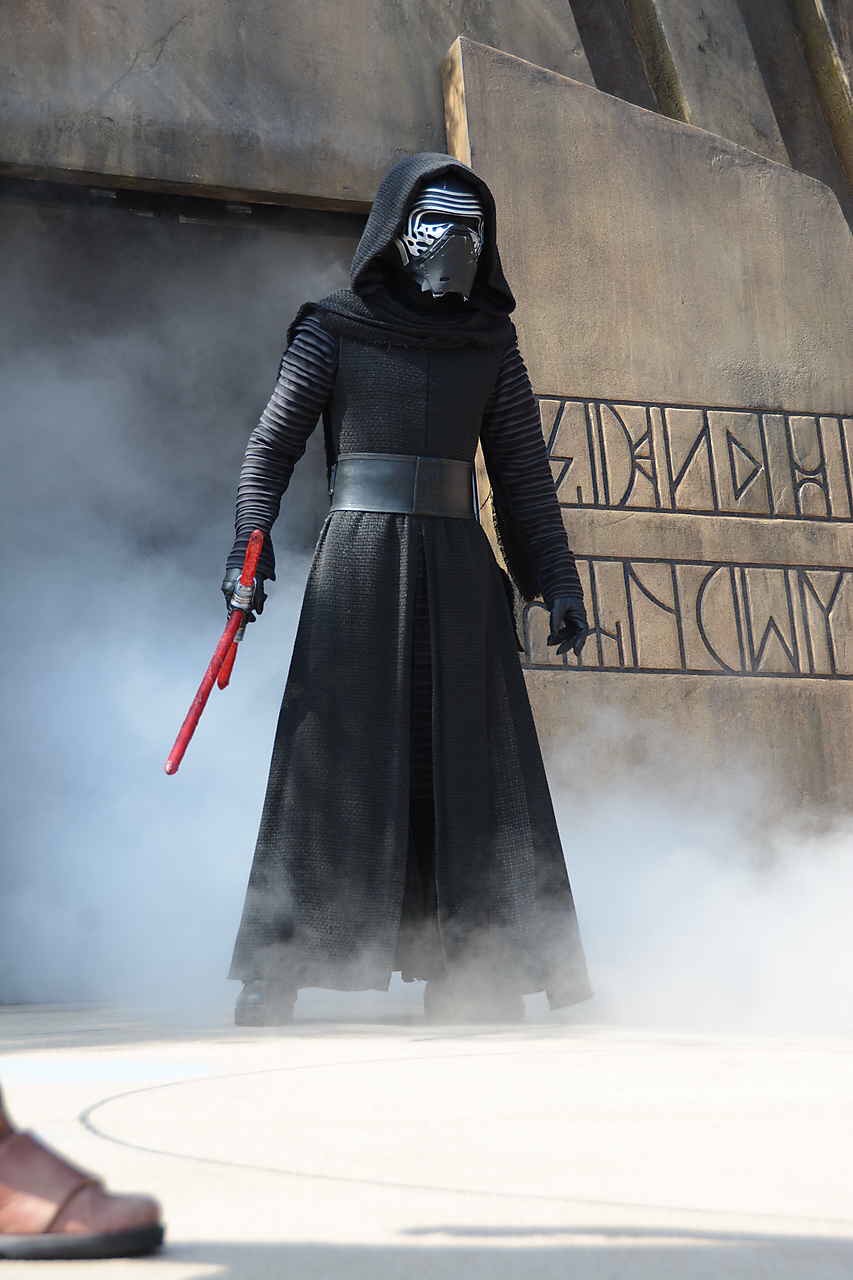 I was in the audience so I didn't have a good view of what was going on onstage. But I could tell that it seemed like they kept passing over my son when the children came out one by one to battle the villains.
It wasn't until I saw the PhotoPass pictures that I realized what was happening onstage.
Even though in theory he wanted to fight Darth Vader when reality hit it was all a little too overwhelming for him. When you think about it, at age 4, the characters are still VERY real to a child. So it makes sense that it would be very intimidating!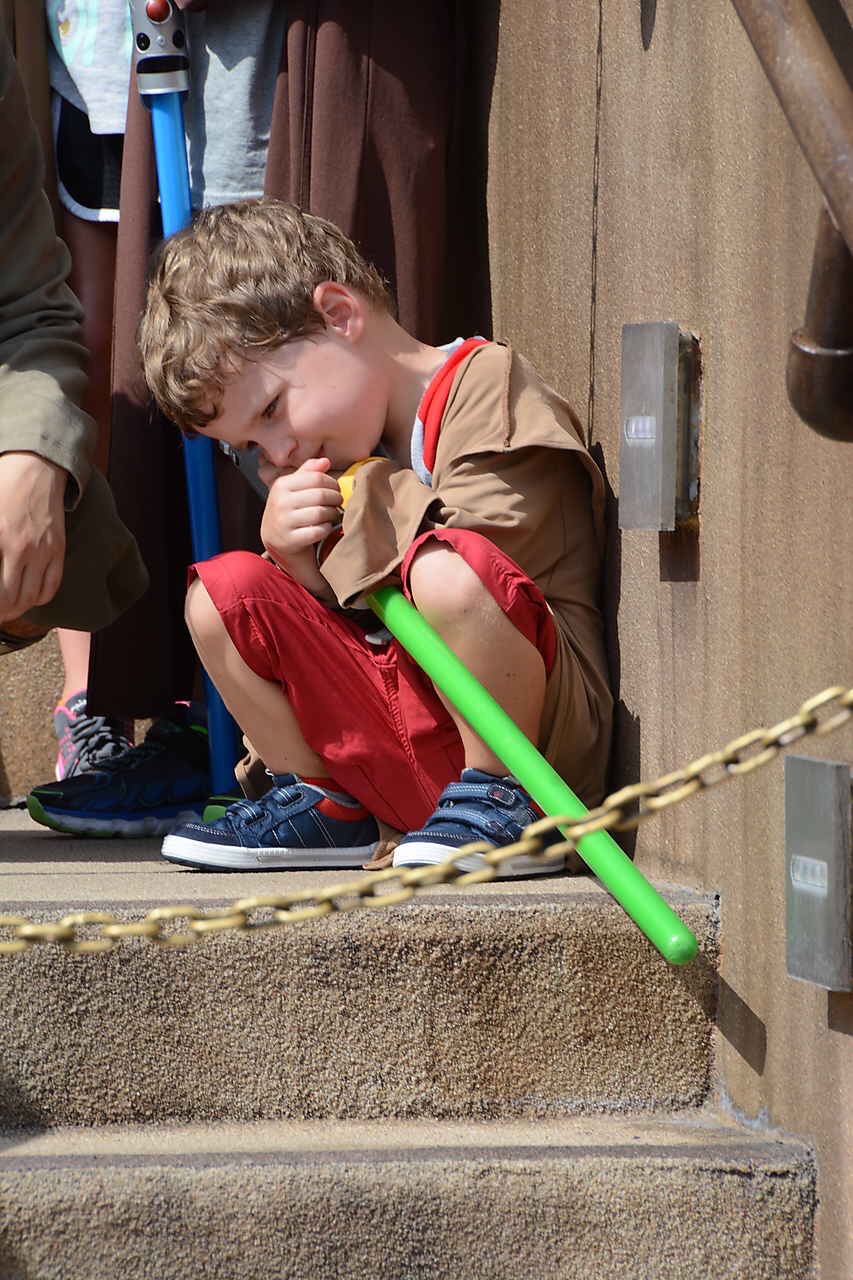 The Cast Members were very good with him – they comforted him and tried to encourage him to participate, but he still refused.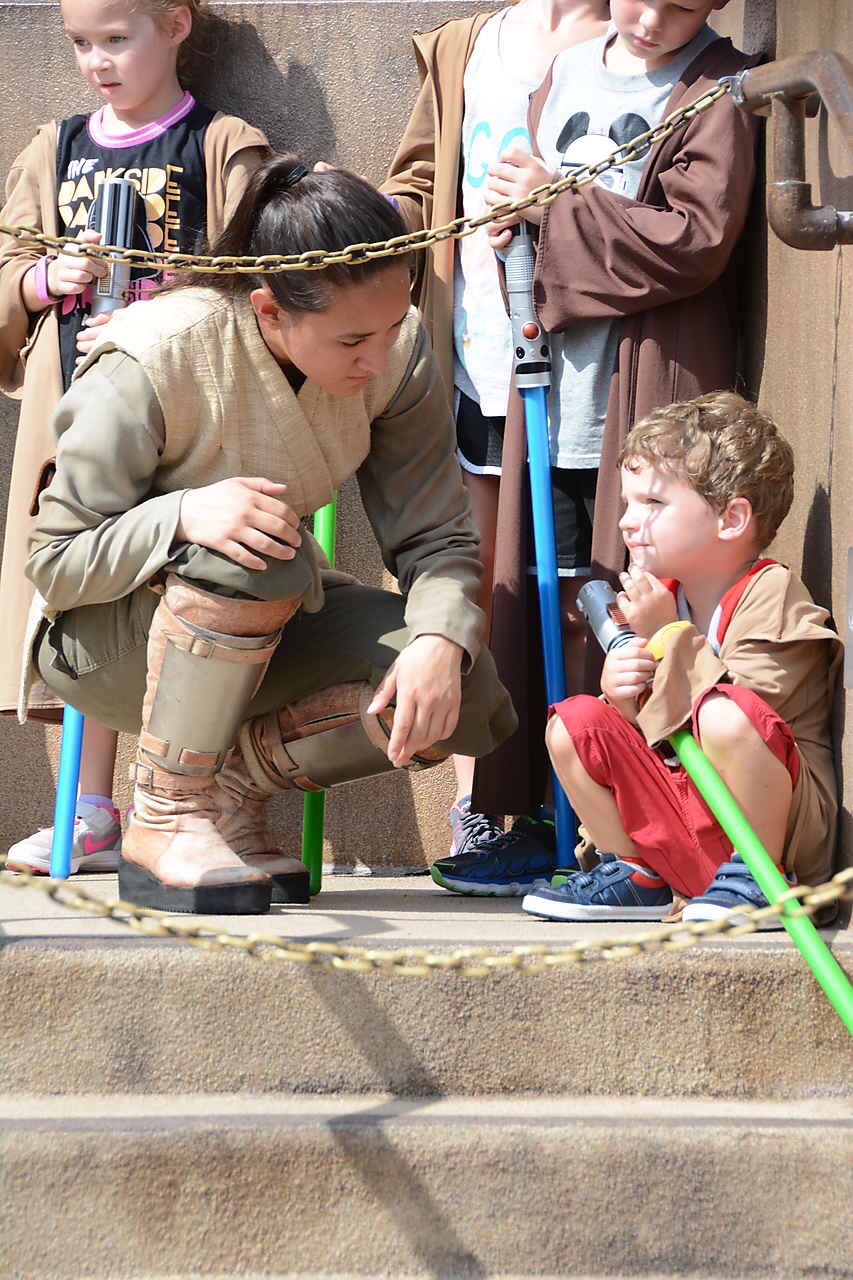 The experience wasn't a total loss – he enjoyed the first part of the Jedi Training and the end where all the children worked together to use The Force.
But it was clear that at 4 years old he was too young to fully participate in and enjoy the experience.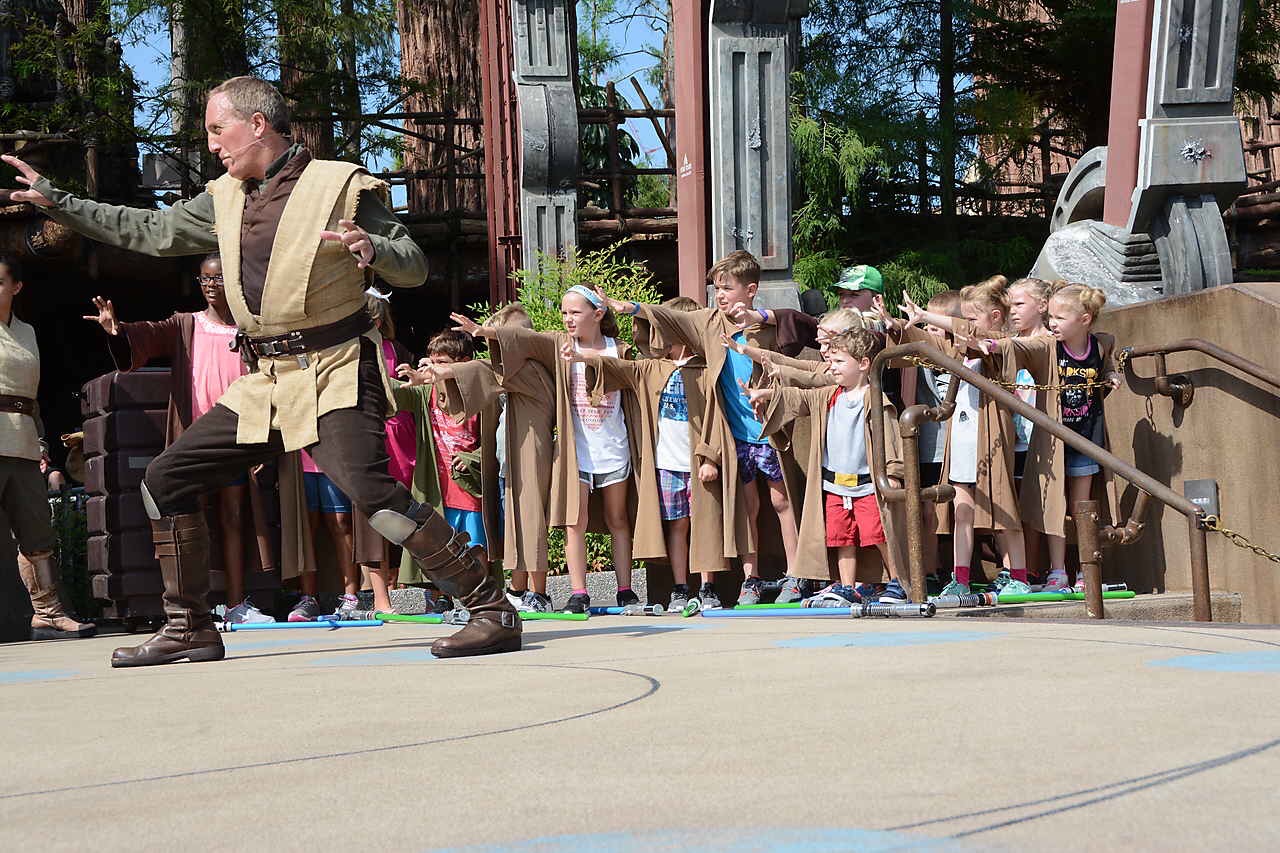 It took about 2 years before he expressed interest in doing Jedi Training again and I think we will give it another shot on our next trip when he is 7.
Fellow writer, Monica, shares that her experience with Jedi Training with a 4 year old was much different than mine.
She said her 4 year old daughter enjoyed every second of Jedi Training. She was separated from her big brother and big sister but still held her own very well and loved fighting Kylo Ren. You can even see the smile on her face as she battles him!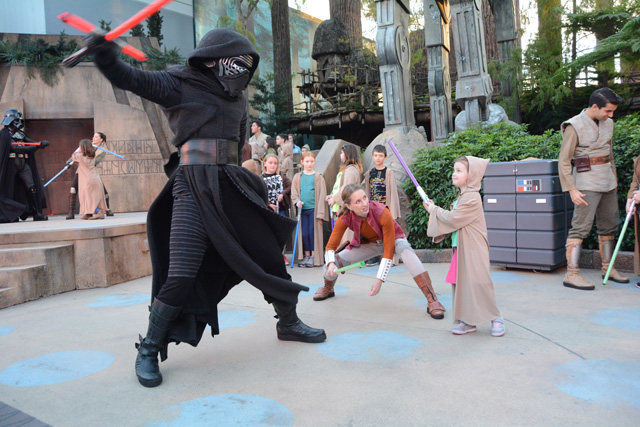 While some children may be ready at age 4 (and there is no doubt that the smaller the child, the more adorable they look in Jedi robes), from my experience I think Jedi Training is probably best suited for children at least 6 years old.
At this age, they are better able to understand that the villains on the stage aren't real and the experience is more likely to be fun than terrifying.
I hope I've given you some suggestions for things to ask yourself if you and the young travelers in your group are considering Jedi Training.
Has anyone else tried Jedi Training with a young child? What was your experience like? Let us know in the comments or on the Kenny the Pirate facebook page.
By Ashley Beckwith McKellar
Follow me on Instagram: @disneyparksmom