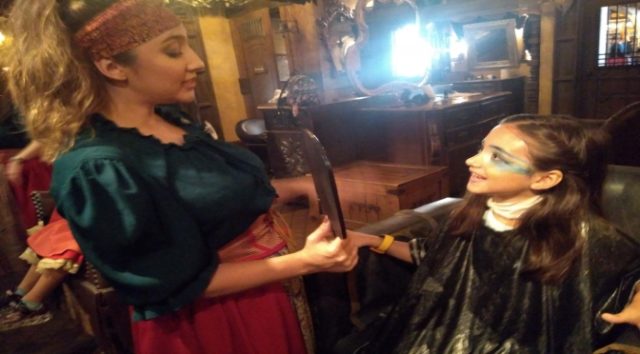 Are you looking for an experience to book for your child at Disney World but want something a little different than Bibbidi Bobbidi Boutique?
A Pirates League may be a perfect choice. Here kids are given a choice between being made up as a pirate or a mermaid. Pirates League is for anyone 3 years old and up, and that does include adults as well! It is located in Adventureland at Magic Kingdom, right next to the Pirates of the Caribbean ride.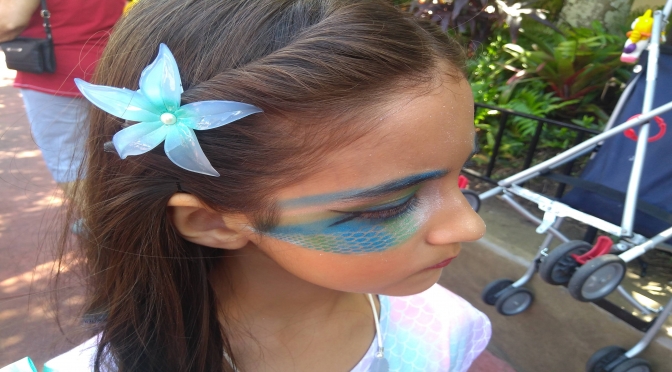 The experience begins with a Cast Member reading the "rules" to your child. My daughter, having chosen the mermaid makeover, was asked if she would make sure to not bite their toes, throw seashells, or hit them in the face with a flipper which she agreed to and then signed her name to seal the mermaid oath.
From there your child is invited back to have a seat and begin their makeover.
As mentioned above, there are two different packages: pirate and mermaid. The pirate packages range in price from $18.95 – $99.95. This includes either a facial effect or makeup that is put on for the pirates. Each child also receives a pirate coin necklace and a sword and sheath that say The Pirates League.
When we visited back in March, we experienced the mermaid makeover, which ranges in price from $44.95 for the basic package to $84.95 for the deluxe package.
Both mermaid packages include a mermaid twist hairstyle, makeup application, and nail painting. Your child will also take home the remainder of the makeup palette and nail polish that is used during the makeover so you can recreate the experience at home.
Mermaids will also receive a necklace, bracelet and hair clip that all change color when exposed to sunlight.
The only difference between the two packages is that the basic package includes a sash, whereas the deluxe package offers a t-shirt and tutu.
My daughter's makeover began with getting her nails painted. From the moment she sat down in the chair, a smile spread across her face and remained there for the entire makeover.
Next up was the mermaid hairstyle. The cast member took two pieces of her hair from the front, twisted them, and secured them with the hair clip. It was just enough to have a little style and to keep the hair out of her face.
The last part of the makeover was the makeup application. This included eye shadow, eyeliner, and even a stencil they use to give the appearance of fish-like scales. Of course it's all topped off with a dusting of shimmer powder so your mermaid can truly sparkle.
After the makeover was complete, she was officially introduced to the room as a mermaid. (This happens for the pirate makeover as well).
Then we were whisked away to a secret passageway, where my daughter received a special treasure: a necklace. You are then welcome to take as many pictures as you would like in the "secret room." I thought this was a nice touch, especially since they only invite one pirate or mermaid and his/her family at a time.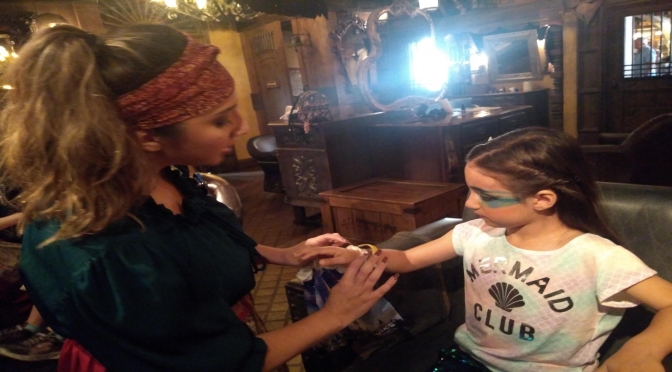 Overall, my daughter absolutely loved every minute of the experience, and I thought it was well worth the price and definitely something I would book for her again in the future.
Have you visited The Pirates League? Share your experience below!
Tara Duarte