LATEST VIDEOS
Subscribe to my Youtube!
JUST MOUSING AROUND - LIVE!
Would you pay $18 for this? The strangest B mode attraction experience in a Disney park.
R2-D2 makes a surprise appearance in Star Wars Galaxy's Edge!
Calling all Star Wars enthusiasts!  On November 1, Le Creuset will offer unique Star Wars items ranging in price from $20 to $900!  I've got all the details and info on how to purchase below.
As Star Wars fans anticipate the new Star Wars: The Rise of Skywalker movie coming out in December, we can enjoy 8 fabulous Le Creuset new items, 9 if you're a true enthusiast with deep pockets!
[the_ad id='41487′]
Porg™  Pie Bird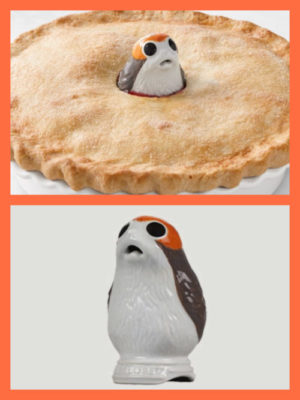 Made exclusively for Williams Sonoma by Le Creuset, this adorable Porg stands guard over your home-baked pie, preventing boilovers and soggy crusts. Our Porg pie bird celebrates the inquisitive little creatures that live on the planet of Ach-To, located in the Unknown Regions of the Star Wars galaxy.
I had no idea such a thing existed, but it sounds like a terrific idea! It anyone wants to invite me over for pie, I'm game!  This cutie  is 1 1/2″ in diameter, 5″ high and retails for $25, and can be purchased here: stoneware pie Porg
Stoneware Mini Round Cocottes, Star Wars Droids
Inspired by a galaxy far, far away, these Star Wars Droid mini coquettes are dutiful little companions in the kitchen. Our special-edition set by Le Creuset features three cocottes emblazoned with designs cues from R2-D2™, C-3PO™ and BB-8™, and are ready for any culinary adventure. Their primary mission: baking and serving individual dishes like pot pies, pastas and desserts.
Who doesn't love the Star Wars droids? How fun to bake in these tiny crocks.  Dimensions for these are 4 1/4″ in diameter, 3″ high, and hold 8 ounces in the crock, and 15 ounces with lid.  Although LeCreuset.com lists these for $30 each, William-Sonoma.com states they are exclusive to them.  The set of 3 retails for $90, and lists here for $79.95: set of 3 cocottes.
Cast-Iron 5 1/2-Qt. Round Oven-Star Wars Darth Vader™
Find the power of the dark side when you cook with our special edition Darth Vader oven, an exclusive collaboration with Le Creuset. Enameled in a glossy black finish, the cast-iron Dutch oven is embossed with the Star Wars™ villain's menacing mask. The underside of the lid is cast with Le Creuset's iconic "France" label translated into Aurebesh, an alphabet used in the Star Wars™ universe.
Darth Vader is my favorite villain since childhood, way back in 1976.  What is more cool than cooking with Darth??   Darth Dutch oven has a 5 1/2 quart capacity, is 10 1/2″ in diameter, and is 5″ high.  You may have to save up for this bad boy since it retails for $395, and can be purchased here:   Darth Vader Dutch oven.
Silicone Trivets: Millennium Falcon & Death Star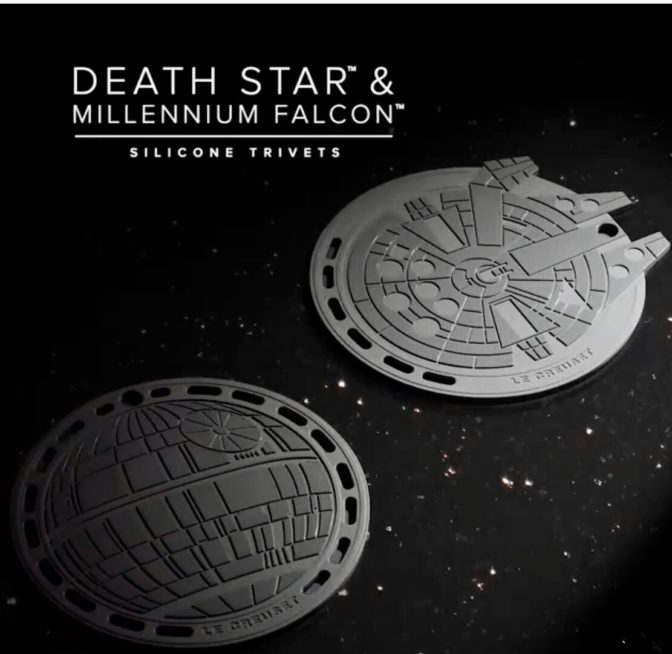 As durable as the legendary Star Wars starship and Death Star, these silicone trivets provide a safe landing for piping-hot pans. The reversible design features intricately texture detail on both sides.
These would make the best Christmas presents ever! They are so amazing!! Something about them makes me want to throw them around like a spaceship!  Each of these trivets can be purchased for $20 each.  The Death Star trivet measures 7 3/4″ in diameter and is 1/4″ thick, and can be purchased here: Death Star trivet.  The Millennium Falcon trivet measures 8″ x 8 3/4″ x 1/4″ thick, and can be purchased through the following link. Millennium Falcon silicone trivet.
Le Creuset Cast-Iron Star Wars Han Solo™ Carbonite Signature Roaster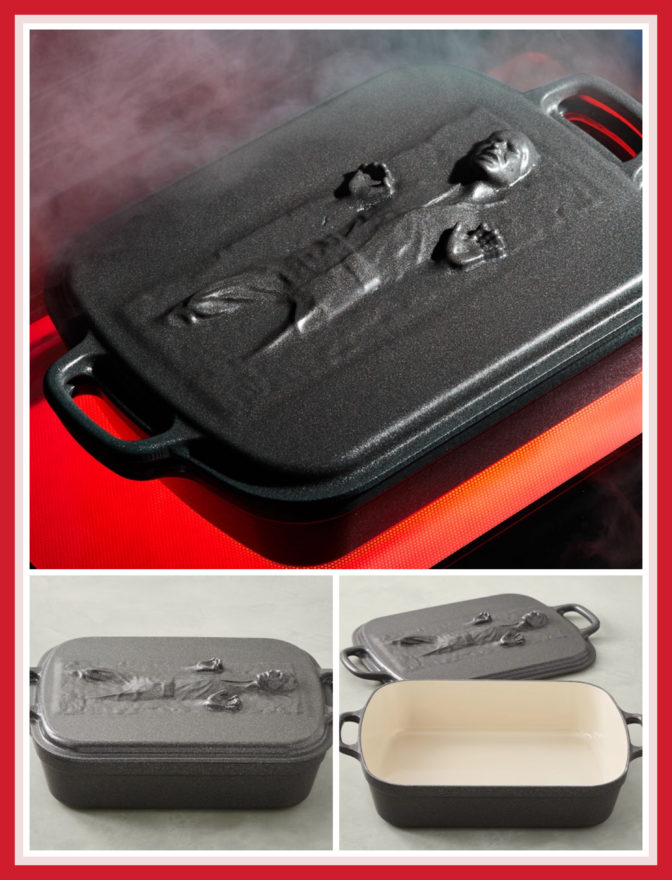 Celebrating the galaxy's most charismatic smuggler, our Le Creuset roaster features a unique slab lid cast with Han Solo frozen in carbonite. Created exclusively for Williams Sonoma, the special-edition roasting pan displays a striking stone-grey enamel finish on cast iron. Inside the lid, Le Creuset's embossed "France" label is translated into Aurebesh characters.
Wait? What? Can you imagine having your Star Wars friends over and bringing this out to your table???  This is seriously the coolest casserole dish I've ever seen in my ENTIRE life!!  This limited edition roaster has a5 1/4-quart capacity and has the following measurements: 15″ x 10 3/4″ x 4 1/4″ high.  If you have an extra $450, and want to be the coolest host in the galaxy, you can purchase this here: Han Solo roaster.
Last, But Not Least…
If you want this baby, you'll have to click this link, and scroll to the bottom of the page: lecreuset.com for the "opportunity to purchase."  Even if you can dish out the $900 to purchase this hand-made beauty, you may not get one.  (YES, I SAID $900!!)
Due to the hand-made nature of the Tatooine Round Dutch Oven, only nine have been produced worldwide.
I just don't even know what to say about this, except for this amount of money, I'd need a chef with the Dutch oven.
Pictures courtesy of lecreuset.com and williams-sonoma.com
Are you excited about these Star Wars limited edition items? Would you consider buying any of them? The Han Solo roaster is my favorite, but since that will never be in my budget, my realistic favorite items to purchase are the trivets.  What about you? Please share your thoughts.
-Susan P
Are you planning a vacation? Reach out to our trusted travel agency sponsor Authorized Disney Vacation Planner
Mouse Class Travel
!