Kia Ora, Islanders! That's the Maori greeting that will welcome you to Volcano Bay water park at Universal Studios Florida. Take a tour of this terrific water park with me.
Many children are water park OBSESSED and Volcano Bay is by far our favorite. We go to Disney World a lot, and despite often referring to Universal as "that other park" we have since become 3 park Annual Passholders at Universal-Volcano Bay really is that good!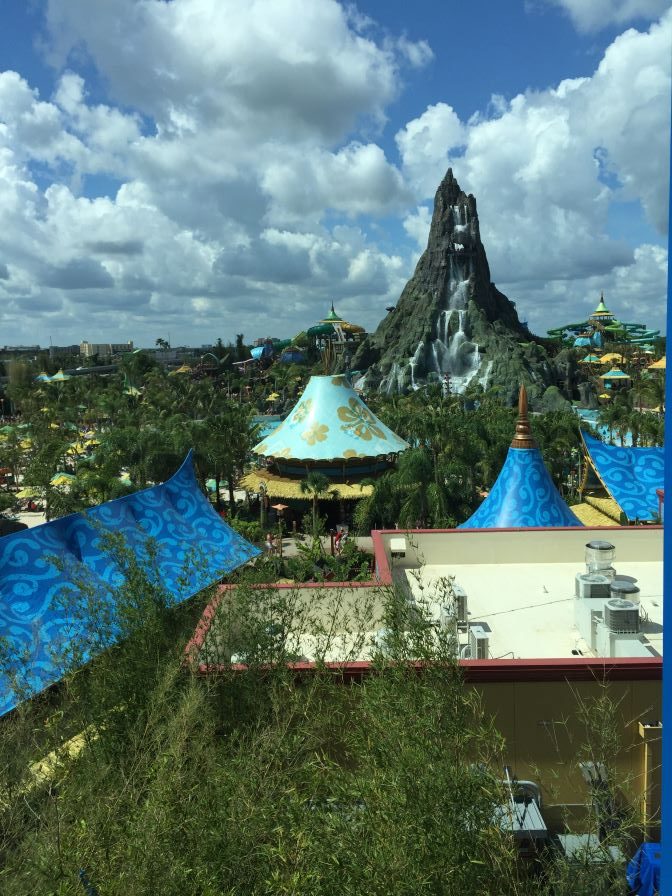 The first time we went in August of 2017, we stayed on site at Cabana Bay Beach Resort, which is an inexpensive resort located next to Volcano Bay. It has its own entrance to Volcano Bay, accessible to all guests of Universal Resorts, but most convenient to Cabana Bay. We requested a Volcano view room and that put us in the tower directly next to the special entrance. They advertise that guests of Universal resorts get in one hour prior to opening time, but when we checked in they said it was actually 90 minutes.
Luckily it was August so it was warm enough to do a water park at 7:30 am! If you are visiting Volcano Bay in the Summer, I found this to be a great way to do the park. We knocked out at least half of the headliners before the park opened to other guests and then just made TapuTapu reservations the rest of the day and evening.
view of volcano bay from our room at cabana bay beach resort
Your Day at Volcano Bay
TapuTapu
Upon entering Volcano Bay you are given a wearable called a TapuTapu. It's like a cross between a magic band and a waterproof smart watch, though it does not display the time . The TapuTapu is linked to your ticket, and is used to reserve your place in line at each attraction.
It also is used for opening your locker, if you rent one, and for some interactive features around the park. You can link it to your universal account to use it for tap to pay and photo ops. Unlike a magic band, you must return it when you leave Volcano Bay at the end of the day.
Once you scan your TapuTapu at the station near the entrance to your chosen attraction, it will display a wait time and the name of the ride (e.g. Krakatau 25min). It counts down in increments of 5 minutes and vibrates when it is time for you to ride. I was told that once your watch says "ride now", you can return anytime within an hour of that message. So, don't fret if you get the buzz while you're eating lunch, just finish your lunch and head on over.
After you reserve an attraction return time, look for a ride that says "ride now". You can ride that slide while waiting for another attraction on your TapuTapu! You do have to tap in when you enter the ride, but it will not affect your wait time for the reserved attraction. It will continue to count down. This is a nice feature, and it confuses people a bit because of the fact that they still have you scan in to the "ride now" attraction. For any attraction, whether it is a "ride now" or when you are ready to ride your reserved attraction, you will probably wait around 10 minutes once you get up the stairs. The wait is pleasant though, as they have done their best to make all the waiting areas covered and you do not have to haul any rafts up more than one flight of stairs.
Note: Other than the "ride now" attractions, there are no standby queues at Volcano Bay. You either ride now, or you ride with a TapuTapu return time. Every time we have gone we have found plenty to do while we wait for our TapuTapus to count down!
Slides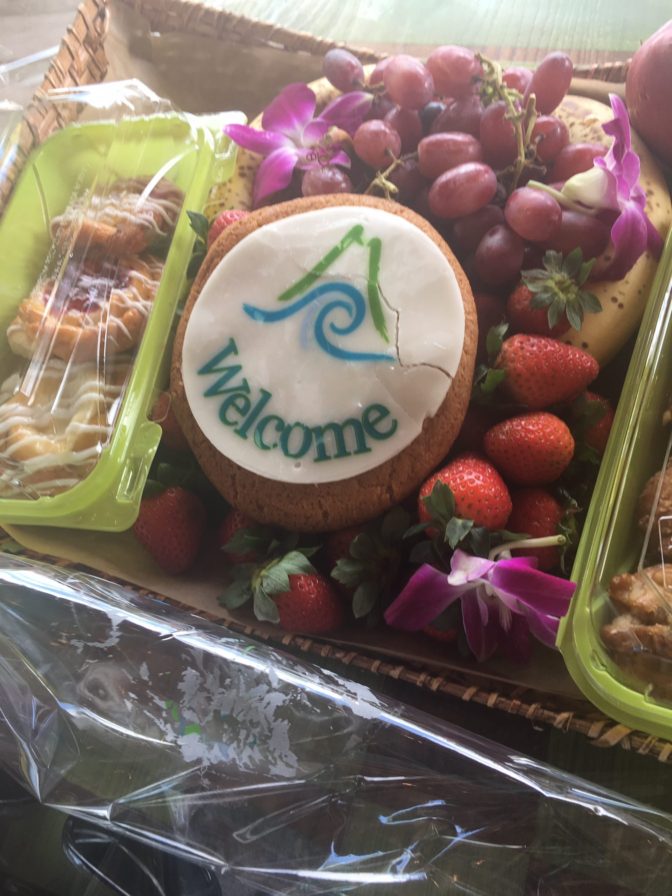 Height and Weight Requirements and Safety Information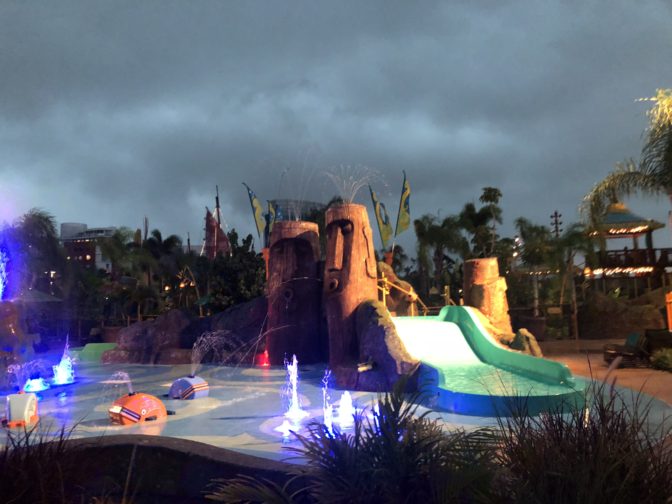 The first thing to note here is that Universal's Volcano Bay is quite concerned with what your raft is going to weigh with you in it in order to make the rides balanced and safe. There are maximum weight restrictions for 3 rides (the slides in the volcano where the bottom drops out from under you, also called body slides or trap door slides). The max weight is listed as 275lbs. They warn you at the base of the ride. But, it is frustrating because Universal has been toying with the appropriate weight limit, and their literature and the info on our cabana screen was incorrect.
The screen claimed it was 230lbs, but they were enforcing 200lbs. So, that was sort of annoying for my husband, 220 that time, who reserved a ride time for one only to find out he was too heavy when he arrived. Just now, when I checked the Universal Official site, they list it as a max weight of 275. If anyone in your party is in that weight range, I would verify the limit before booking the attraction with your TapuTapu. It seems to be different every time we go.
For the family raft style rides, they weigh your group on a giant scale in the ground that does not give a number, but rather a red or green light. On the Puihi one evening, my son and I had to wait for more people to join us because we didn't weigh a combined 300lbs. On Krakatau Aqua Coaster, they sort you by weight for your 4 person boat. Largest in back, second largest in the front, smallest in the second seat, etc. It is a little awkward when you can tell that is what they are doing and you are riding with strangers.
I guess the weight really matters or they wouldn't bother with it. Because of my son's strong interest in water park design, I have communicated a lot with the staff at ProSlides, who produced the slides for Volcano Bay. They are very safety focused, which has been a big issue for parents of water park loving kids since the Schlitterbahn incident. We have since stuck to big name parks that contract out their slide design and production to professional companies like ProSlides. I always describe Volcano Bay as looking like a Universal Executive went to a water slide trade show and said, "Ok, give me one of everything and make it island themed!"
Now, on to the slides!
Krakatau Aqua Coaster (42″ to ride, 48″ to ride alone)
The Krakatau Aqua Coaster goes through the volcano and boasts 7 drops! It is really fun, and is the most popular ride at Volcano Bay, so reserve a time early! My son says it is his favorite because it is so long. He did get stuck on it once and had to be rescued (along with my husband). I was a little surprised that they did not offer to let them try it again later. They were at the bottom of a hill with water spraying in their faces for about 5 minutes and had to be helped out of the raft by 3 team members. But we have ridden it many times without issue.

Maku and Puihi (both 42″ to ride, 49″ to ride unaccompanied)
The Maku and the Puihi are side by side 6 person raft rides. The Maku is yellow and is referred to as the "wet" slide, whereas the Puihi is green and referred to as the "wild" slide. We like the Puihi better, as it has some cool banks and truly is wild. Hold on tight, though! At the end my father and I both fell out of our raft and got dunked underwater! The Maku is great too, definitely try them both and see which your group prefers. These slides rarely have long waits.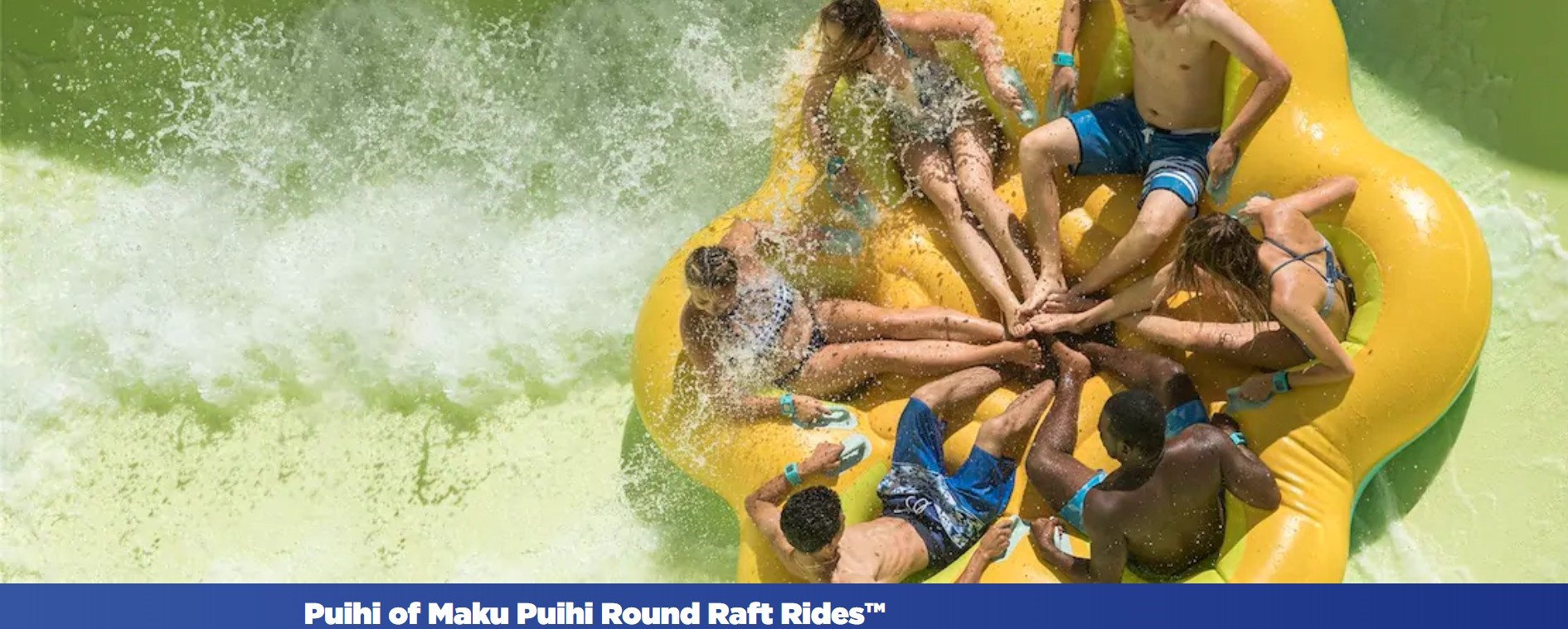 Honu (48in to ride) and Ika Moana (42″, 48″ to ride unaccompanied)
The Honu (or turtle) is the slide that is often featured in advertisements for Volcano Bay, it looks cool, but unfortunately we have not tried it as my son is only 47.5 inches. Next year!! The line to get into it always looks super long, but I think they just try to limit how many people are having to wait on the stairs, which means they are instead out into the park and it makes the line look longer than it is. The Ika Moana (or whale) slide is another family raft ride with banks and splashes that make for a ton of fun. While the rafts appear to seat 6, our group of 5 was split up 3 and 2. I think they keep it to 4 per raft based on what I have seen.
OhYah! and OhNo! drop slides (48″ to ride)
These twin slides are pretty basic water slides that happen to end with a drop into a 10ft deep pool. The OhYah! drops you from a height of 4ft, while the OhNo! drops you at a height of 6ft. I rode the OhYah! and did not feel like I needed to do it again. It was your basic enclosed water slide you ride on your back with arms and legs crossed, and then you get dropped from a higher distance than usual. I didn't bother with the OhNo! as wait times for this ride are usually fairly long and it wasn't really my thing.
Taniwha Tubes (42″ to ride)
This is a set of four standard 2 person inner tube water slides. There are four different colors, and I just choose whichever is available once we get up there. This is an attraction that is often "ride now" and it is pretty fun. The slides that are darker in color feel like saunas in the hot weather, as the heat from the sun makes the slide itself hot. If you find yourself at Volcano Bay in the cooler months perhaps this effect will work to your advantage.
Punga Racers (42″ to ride, max weight 300lbs)
These are located in the Volcano and are the type of slide you ride on a mat on your belly. My husband and son tried it a couple of times when it was "ride now". My husband said he found it uncomfortable and bumped his head a lot. But if you enjoy that type of ride at other water parks, definitely give it a shot.
Edit: On July 17, 2020 Punga Racers was changed to a body slide, in part because some guests hit their heads on it. The max weight capacity is 300 lbs. I'll let you all know how it is when I get a chance to try it!
K'ori Body Plunge (48″ to ride, max weight to ride 200lbs)
Kala & Tai Nui Serpentine Body Slides (48 in to ride, max weight 200lbs)
My family and I were finally all the "correct" height and weight to experience these trap door slides for the first time last summer (August 2018). They are thrilling, fast and the anticipation that comes from standing in a tube, arms and legs crossed, waiting for the floor to drop out from under you, is intense! The actual slide is so fast and I had water in my face the whole time so I personally did not find it worth the 200 stair climb. But, I'm sure I'll begrudgingly go again with my son.
Kopiko Wai the Winding River (children under 48″ must wear life vest)
There are 2 rivers in the park. One is a lovely, lazy river called Kopiko Wai winding river. We did it when the park was open at night and it was very pretty and relaxing. Like other lazy rivers, you use an inner tube in Kopiko Wai.
Te Awa the Fearless river (42″ to ride, all riders must wear life vest)
The other is called Te Awa, the fearless river. In the fearless river there are waves and rapids and the water moves very quickly. Riders are required to wear life vests. Even with the life vests, I would only suggest this attraction for strong swimmers. It is difficult to stay together as a group on this ride, so you will want to prearrange a rendezvous point.
Runamukka Reef and Tot Tiki Reef (for children under 48″)
I have never seen such a giant water play area for kids. It has so many slides and my son enjoyed playing on it a lot. He has continued to play in this area even since he surpassed 48″. I'm not sure how well enforced it is. I suspect they allow slightly taller kids to play as long as they're being gentle and not interfering with the little ones.
Cabanas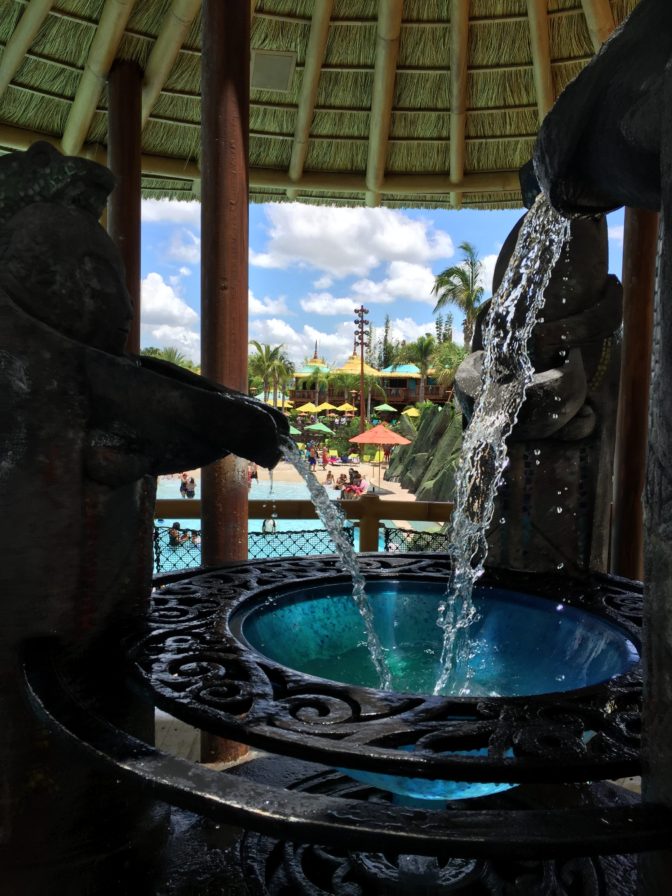 I booked a cabana for our second visit because I felt that would reduce the overall stress levels and make the experience more enjoyable for us. The cabana is a little hut that comes with a concierge (the reason I booked it), 12 cold bottles of water in the fridge, towels, locker, and a fruit and breakfast pastry welcome basket. It has a fan, lights, and curtains for privacy. There is also a place to charge your phone. We left our phones in our locker as you cant bring loose items on rides anyway so we didn't need to charge them.
You can book a cabana over the phone. Once you arrive at Volcano Bay, you check in at the concierge station near your cabana (you are given a location when you book, ours was in the river section- perfect if you have little kids as it was inside the giant kiddie area). They take you to the cabana and show you the features. There is a cabana dining menu and the concierge acts as your server, taking your order and fetching the food and drinks. We had chicken sliders, a pu pu platter and a longboard cheese pizza. The coconut shrimp and fritters on the platter were great and everyone loved their food! The concierge even brought mixed drinks and beer and if we were off riding at the time, he left the drinks in our fridge. It was perfect.
But, I haven't even mentioned the best part of the cabana! There is a screen in it from which you can view ride wait times AND book your TapuTapu ride. We would just pick a ride and then each "scan in" from the cabana. With all the stairs at a water park, it was nice to not have to run around booking wait times. I paid $266.00 for the cabana that Tuesday in October 2017. Prices vary by date and season. There were 5 in our group, so I figured around $50 per person isn't so bad. They hold up to 8 and there are larger, two story ones that can accommodate groups of up to 12.
As time has gone on, I no longer feel it necessary to book a cabana just to have what I call a "tier 2 customer service agent." However, throughout the Universal resort, I do try to look for an employee with a blue border on the bottom of their tag that says "trainer" or "team leader" as they tend to be the most knowledgeable and helpful. One Team Member gave me grief about trying to walk my son up the single rider line on the mat slides, which I can't do for health reasons. She asked me what was my restriction that meant I couldn't do the slide? So I spoke a team lead to make sure that it is not Universal policy to inquire about a guest's disabilities or physical limitations (no, it isn't).
Stray Observations about Volcano Bay:
The Restrooms and changing area are quite a step up from your average theme park or water park restrooms. They are very clean, themed, and well lit. My mother always complains she can't see in the changing areas at Typhoon Lagoon.
While most rides require you to remove your shoes or flip flops, they provide a spot for shoes or other small items (not valuables) at the entrance to the ride. Note: this may not be convenient to the end of the ride.
If you prefer to keep your shoes off the whole day, you'll love that all of the sidewalks and bridges have sprinklers so are kept wet and cool!
The food is really good. Eat a meal here- next time I want to try the taco bar. There are no kids meal options.
Go through the volcano even if you are not planning to ride the slides inside it. You can cut from one end of the park to the other through it. Plus, there are some cool interactive features inside it. We had fun exploring it! There's a tiki god in there that speaks to passersby, using technology similar to Turtle Talk with Crush.
In addition to the wave pool, there are two smaller pools that are just for swimming. I find most water parks do not have this feature, but we welcome a break from climbing stairs! One pool allows guests to observe riders shooting out of the drop slide, and a calm pool is hidden behind the OhYah! and OhNo!
Some of the slides at Volcano Bay are accessible to guests using a wheelchair! There is an elevator at the Maku and Puihi and at the Krakatau aqua coaster! I have seen bored handicapped guests at plenty of water parks, so it made me happy to see that they are accommodated on at least some slides here.
If you are going to be at Universal over the summer, definitely check Volcano Bay out in the evening. Its beautiful, relaxing, and most guests seem to clear out after the afternoon rain storm, but June to August Volcano Bay remains open until 9pm.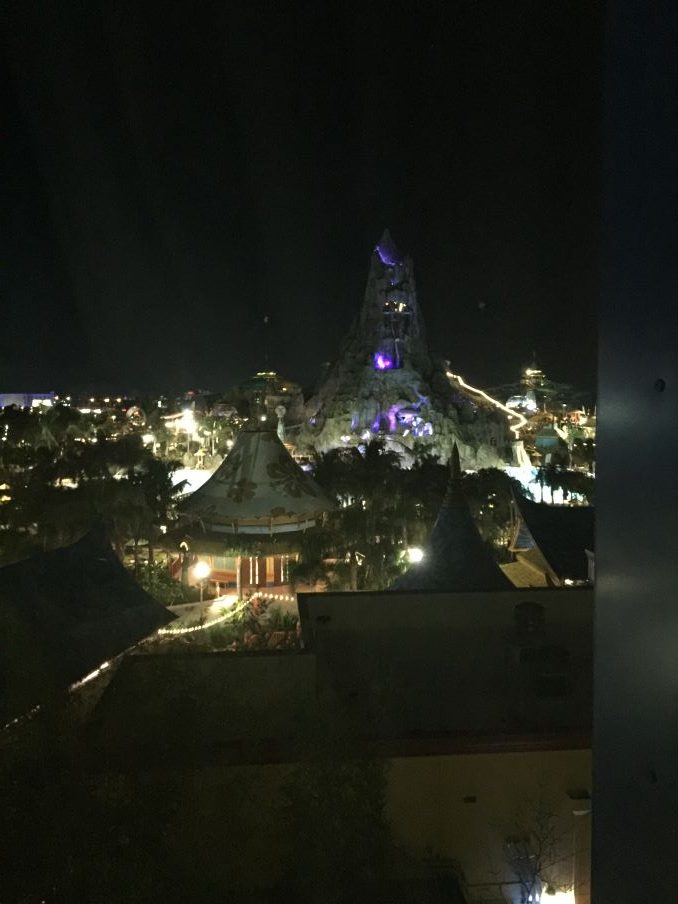 What do you think? Have I convinced you that Volcano Bay is worth the trip to "that other park?"