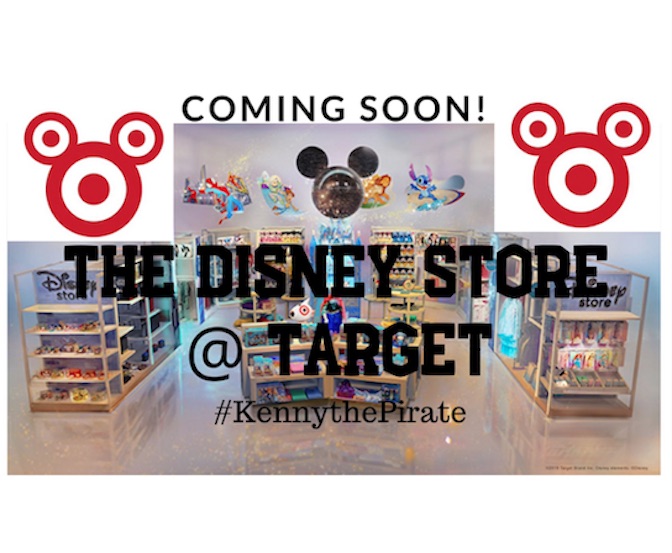 Coming soon (like, really soon) there will now be Disney stores INSIDE of select Target stores! The announcement was made at the recent D23 Convention in Anaheim, California, this past August. Keep reading for what we definitely know and for TOP SECRET insider info in regard to this historic and groundbreaking matchup!
At the biannual D23 Expo in Anaheim, California, Disney announced their new partnership with Target. The "shop-in-shop" concept is an exciting opportunity for lovers of both Target and Disney! According to Business Insider, select stores (see list below) will open on October 5, 2019 for the in-store shopping experience, while online shoppers get first dibs on October 4, 2019. However, other news outlets are reporting (i.e. The Wall Street Journal and The Miami Herald) that both the online and physical stores will launch simultaneously on October 4, 2019.
[the_ad id='41460′]
Available items will include a myriad of Disney delights including Disney Princess, Star Wars, Marvel, Disney Junior characters, Classic Disney plush, apparel, home and holiday products, along with collectibles like the Disney Animators' Collection. Stores will be managed and operated by Target employees. Online shoppers, click here to find everything your Disney heart desires. Or, visit Target.com/Disneystore when the clock strikes midnight (and mind your glass slipper)!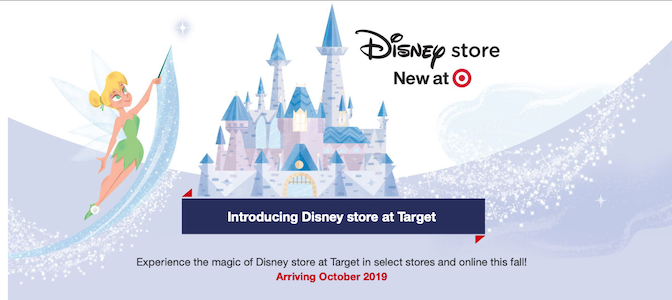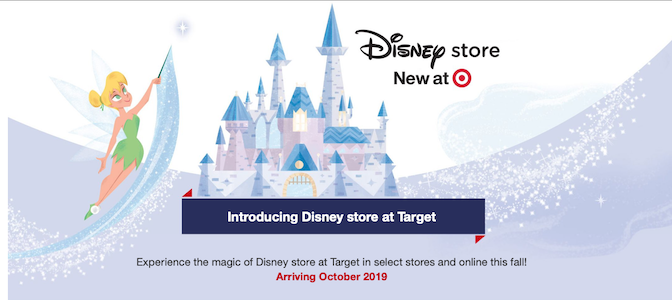 The first of the physical "shop-in-shop" Disney Stores/Target Stores, include the following locations:
Allen North #2516 (Allen, Texas)
Austin NW #1797 (Austin, Texas)
Bozeman #1237 (Bozeman, Mont.)
Brighton #922 (Brighton, Mich.)
Chicago Brickyard #1924 (Chicago, Ill.)
Clearwater #1820 (Clearwater, Fla.)
Denver Stapleton #2052 (Denver, Colo.)
Edmond #1398 (Edmond, Okla.)
Euless #1368 (Euless, Texas)
Houston North Central #1458 (Spring, Texas)
Jacksonville Mandarin #1300 (Jacksonville, Fla.)
Keizer #2110 (Keizer, Ore.)
Lake Stevens #1331 (Lake Stevens, Wash.)
Leesburg #1874 (Leesburg, Va.)
Loveland #1178 (Loveland, Colo.)
Maple Grove North #2193 (Maple Grove, Minn.)
Mobile West #1376 (Mobile, Ala.)
Murrieta #1283 (Murrieta, Calif.)
New Lenox #2028 (New Lenox, Ill.)
Pasadena #1396 (Pasadena, Texas)
Philadelphia West #2124 (Philadelphia, Pa.)
San Jose College Park #2088 (San Jose, Calif.)
South Jordan #2123 (South Jordan, Utah)
Stroudsburg #1260 (Stroudsburg, Pa.)
Waterford Park #2068 (Clarksville, Ind.)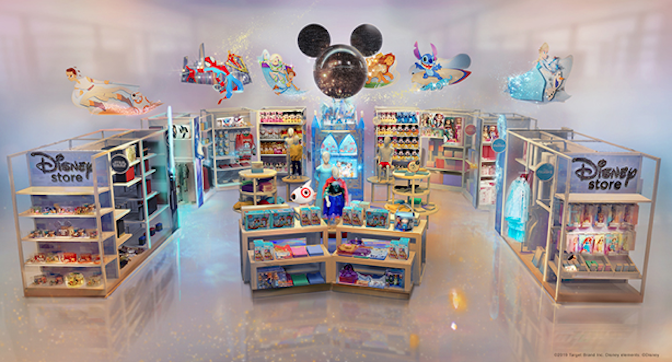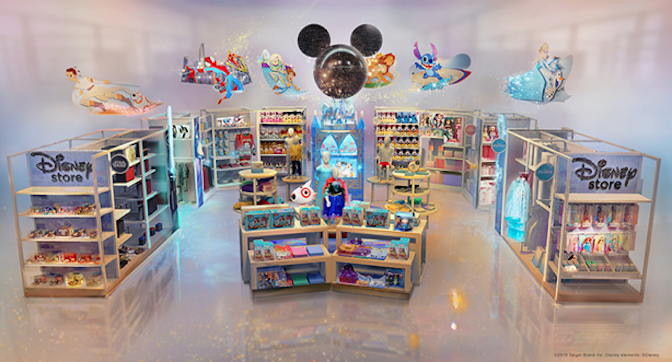 Even more exciting information:
Adding to the excitement, there will be another 40 "store-in-store" Disney/Target locations by the end of 2020. In 2021 Target will open a new retail location "near" Walt Disney World in Orlando, FL.  Please, just take all of my money now.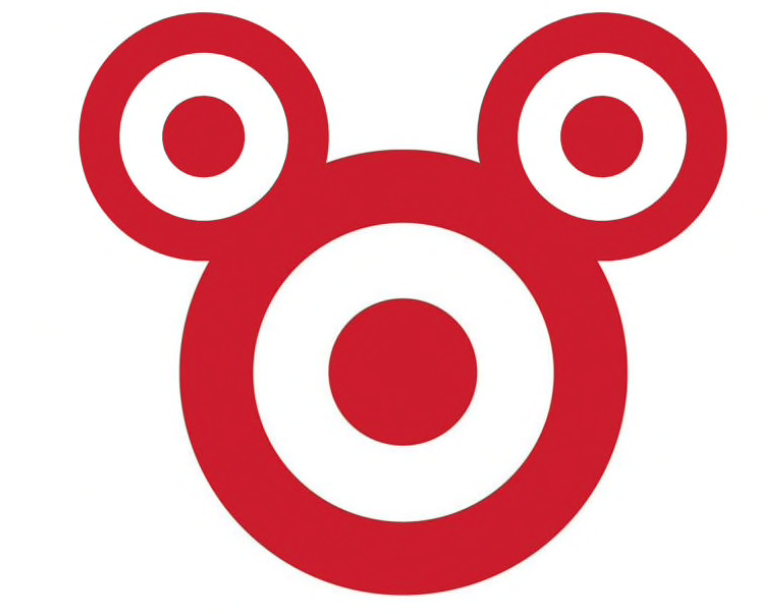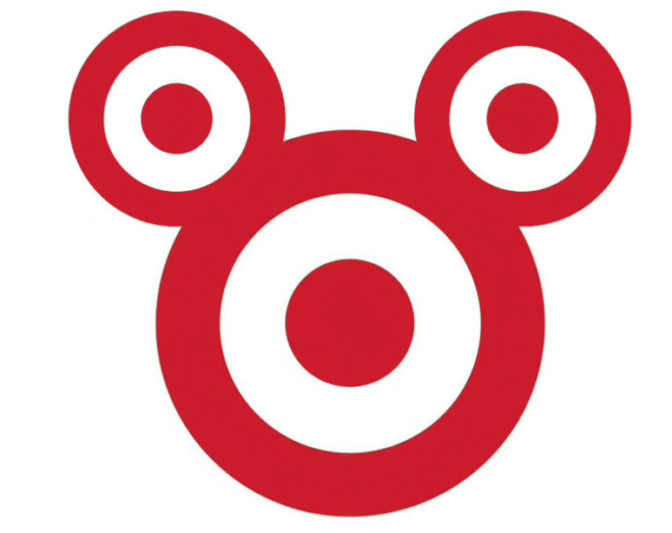 As a shopper, what can you expect to find in the new retail locations?
According to Target, the Disney store at Target will feature more than 450 items including toys, games, apparel and accessories—with more than 100 products that were previously only available at Disney retail locations. The mini Disney stores will span about 750 square feet on average and will be located next to kids clothing and the existing toy aisles in Target stores. Prices will range from $2.00 – $200.00.
And, did you know?
People who own Disney gear or visit Disney theme parks are likely people who also shop at Target, according to Bob Chapek, chairman of Disney Parks, Experiences and Products. He said there's about a 90% overlap between the two company's customers.
Now that we have the facts – I'M ABOUT TO SPILL THE TEA! 
So, I love Target, right? I mean, who doesn't? I spend so much time at my local Target, I've actually made a few friends there, as in, actual employees of the company. So when this news dropped last month, I immediately hit up our local Target to check in with my peeps.  At first, no one knew too much and there was a significant amount of speculation. Disney speculation coupled with Target tales are my favorite rumors to Google (which I did, of course). It turns out, even the Internet didn't know too much about this new, brilliant partnership. I wasn't able to find any information online.
***Disclaimer: Most of the following information is speculation (albeit, incredibly reasonable and intelligent speculation,  but speculation nonetheless.)***
Now, we're a few weeks in and my Target friends (yes, they're real people) have shared some amazing insider secrets with me. I took this information, threw it into a pot, mixed it with my own personal detective work, baked it in the oven for 45 minutes, and this is what I came up with:
1). Some news outlets are reporting that the physical store inventory won't be released until October 5, 2019. The employees of my local Target store are required to have everything shelved by October 3, 2019 (overnight). This leads me to believe that October 4, 2019 will be the grand reveal for both online and in-store shopping. You do not want to be late to this party! Plan for the 4th.
2). Even though there are 25 "store-in-store" Disney/Target locations – additional stores are getting stocked with extra heavy Disney merchandise and Target/Disney merch exclusives – also dropping on October 4, 2019.  My local Target store has everything in stock and ready to be displayed BUT, this is not the case for EVERY Target store. As an example: I am situated about 30 – 45 minutes away from 4 Target stores and one high-end Target. Out of the 4 Target stores and the high-end Target, only ONE of these is getting the "extra" Disney merchandise (but, remember, it's not an official "store-in-store" location) and it's my local Target (not the really fancy one). I don't know how this location was identified to carry the additional (special) Disney/Target merch. But, if I were to guess the rationale would, most likely, fall somewhere between its exceptionally rural location and sales data.
3). My local Target store currently has an end cap of Haunted Mansion merch – including tees, Funko large and small figures (as of blog publication, not available at Target.com), and two Loungefly bags. Just seeing the new Loungefly labels at Target should be a really good indication as to what is coming next! It should also be noted that the Haunted Mansion merch and end cap display was only available in 1 out of the 5 aforementioned brick and mortar Target stores. The Loungefly bags are available at Target.com but the other Haunted Mansion items are not showing online at all (at the time of publication).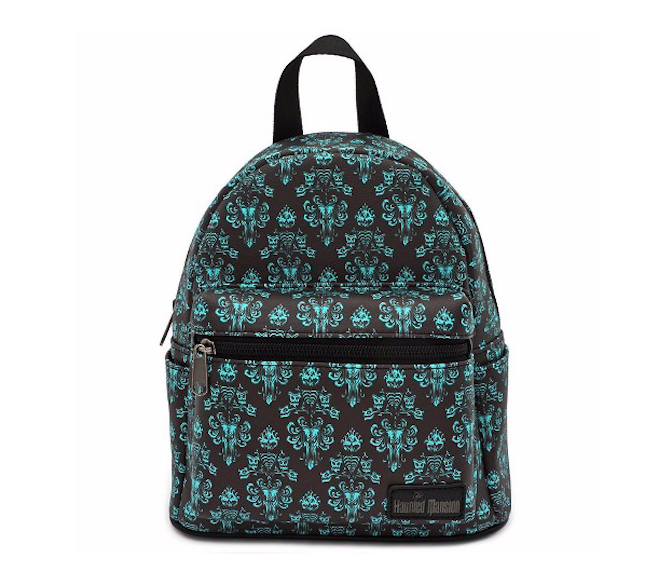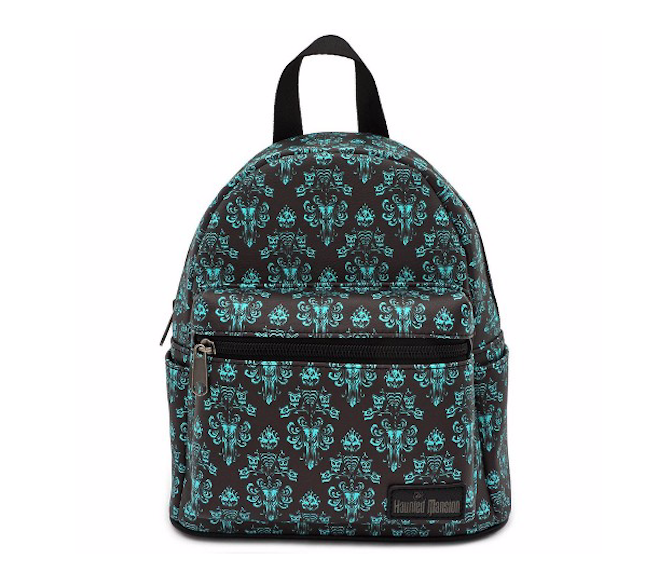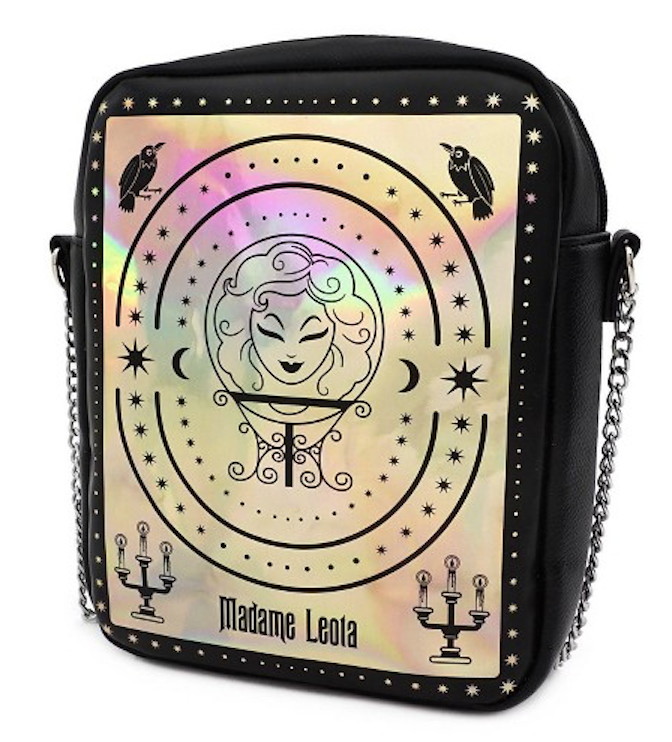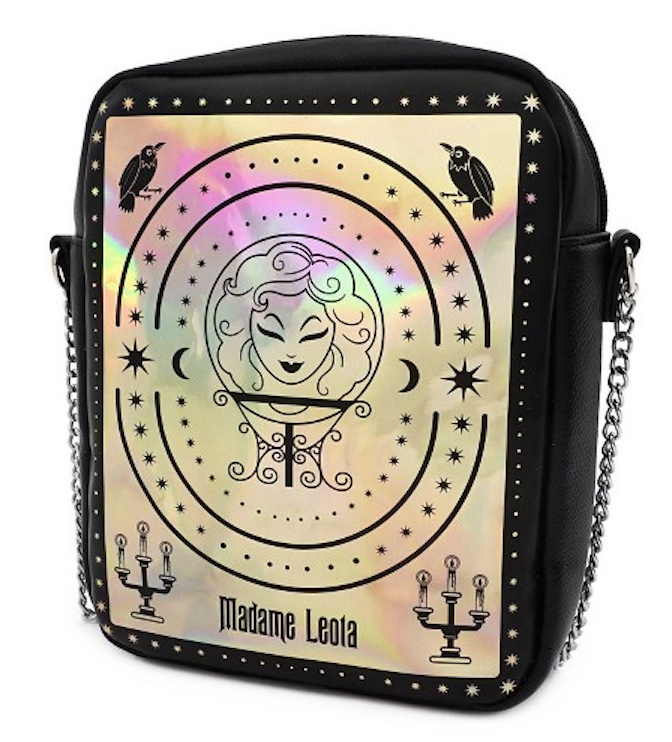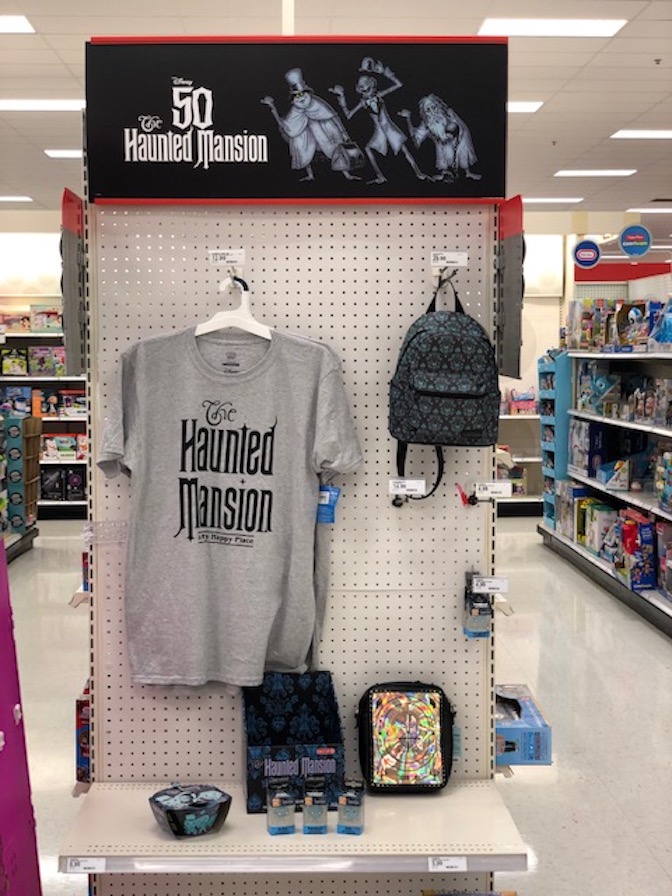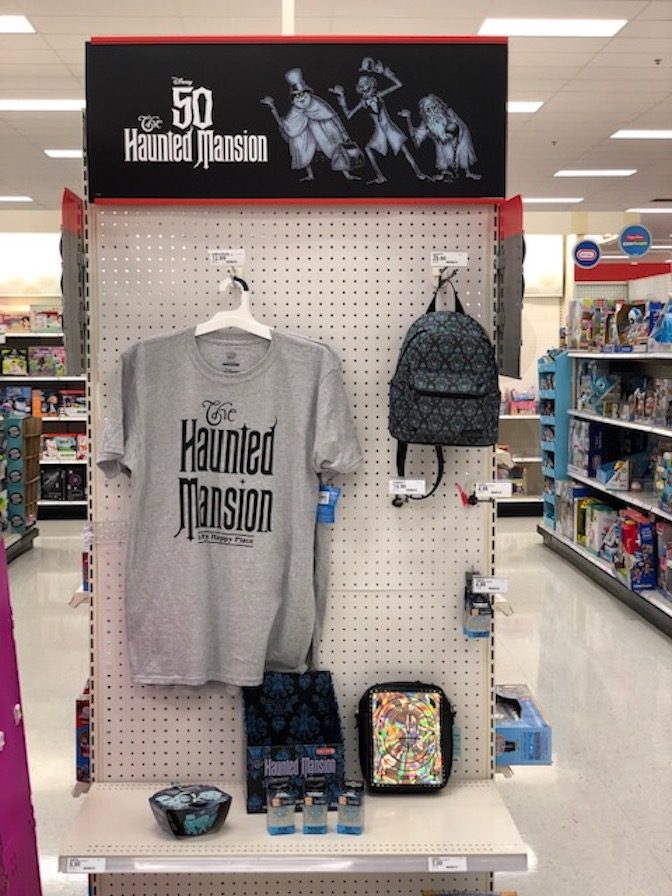 4). I actually got see a sneak peak of just some of the new Disney merch coming to my local Target store and, I can honestly say, all of my Target/Disney tribe will be very, very happy on October 4, 2019.
I am so excited for this new Disney/Target colab! I can't wait to see all of the magical and exciting things that are coming our way! Now that I've spilled the tea, it's your turn! Have you heard anything? Do you have Target friends too? What are they saying? Tell us what's happening in the comments!
You've got a friend in me!
Sincerely, Auntie Bri