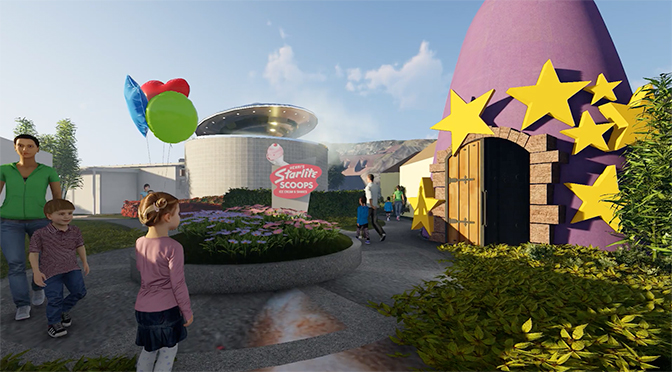 Give Kids The World Village, the Kissimmee-based nonprofit that fulfills wish vacations for critically ill children and their families, is building a $2 million ice cream parlor slated to open in late 2019, called Henri's Starlite Scoops.
The new parlor wouldn't be possible without the help of twelve community partners and countless individual donors who contributed specifically to this space-themed venue. Henri's Starlite Scoops will be a nod to Give Kids The World Founder, Henri Landwirth, who managed the Starlite Motel in Cocoa Beach during the Apollo era prior to founding the nonprofit resort.
"The entire building is designed with our guests' needs in mind," said Michael Bausman, project manager at Give Kids The World. "One accommodation we're particularly excited about is our accessible ice cream chest freezers. The traditional ice cream chest is 34 inches in height, making it difficult for children in wheelchairs to see in to pick out their ice cream. We custom-built ours at 28 inches so everyone can choose their flavor."
Wheelchair accessibility is key at Give Kids The World Village, and this new venue will be no different. The countertops, ice cream freezers, and the building's open floorplan will allow those in wheelchairs to easily navigate the venue and enjoy its immersive theming. Families will see a 30-foot UFO on top of the building and when inside, they'll look through the windows out into "space."
The nonprofit has built a legacy on unlimited ice cream, dating back to the Village opening its gates in 1989. According to Pamela Landwirth, president and CEO of Give Kids The World, the latest venue will mark a new era for their ice cream tradition and magical moments for wish families.
"Unlimited ice cream is an important part of giving wish families a week of 'yes' where they can forget the worries of critical illness," said Landwirth, president and CEO of Give Kids The World. "Henri's Starlite Scoops is our next chapter and we're so grateful to the partners who are helping us turn this page."
Give Kids The World is still seeking donations for operational support and added experiences.
KtP – Donate to Give Kids the World Village today by joining our KennythePirate Crew effort.  We've raised $25,000 this year and almost $12,000 last year.  Let's make another wish come true for a family in need of HOPE!
Participating Partners:
AECOM – Architect, Mechanical, Electrical, Plumbing
WDW – Original Design Concept
Universal Creative – Creative input
BVCC – General Contractor
Ardaman and Associates – Original surveys and NESHASP
WCCI – Estimator
Kern Studios – Flying saucer
Cemex – All block and concrete
Lo-Temp – Donated HVAC Install, Freezer and Install
Peninsular Engineering – Updated mechanical design for HVAC
American Panel of Ocala – Freezer
Trimark Gill Group – Food Service Equipment
Western Florida Lighting Inc. – Donated light fixtures
About Give Kids The World:
Give Kids The World Village is an 84-acre, nonprofit "storybook" resort in Central Florida. Critically ill children and their families are treated to weeklong, cost-free vacations, complete with accommodations, donated attraction tickets, meals, and more. Since 1986, Give Kids The World Village has welcomed more than 170,000 families. For more information,
Are you planning a vacation? Reach out to our trusted travel agency sponsor Authorized Disney Vacation Planner
Mouse Class Travel
!