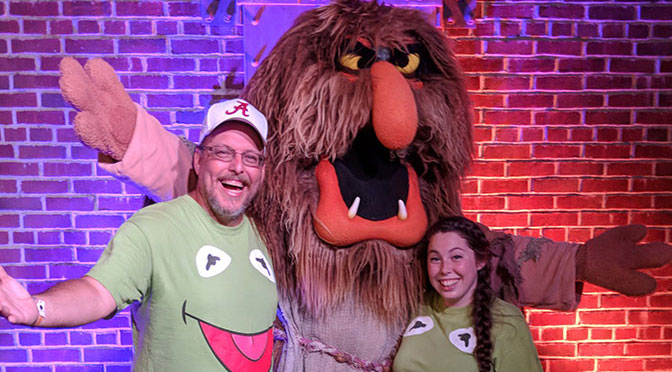 We recently had the opportunity to attend the DVC Moonlight Magic event at Disney's Hollywood Studios.  Here's our review of the evening.
Before we begin, it should be noted that this event is for Disney Vacation Club owners and their guests.  Each owner is allowed to bring up to 5 additional guests with them.  The events offer special character meet and greets, a complimentary meal and most rides in a given park are open for the evening.
When we arrived and checked in, we were given a map that would help for the evening.  However, not all characters that were meeting for the evening were on the map.  Those not listed included:  Oswald the Lucky Rabbit, Horace and Clarabelle and the Ewoks.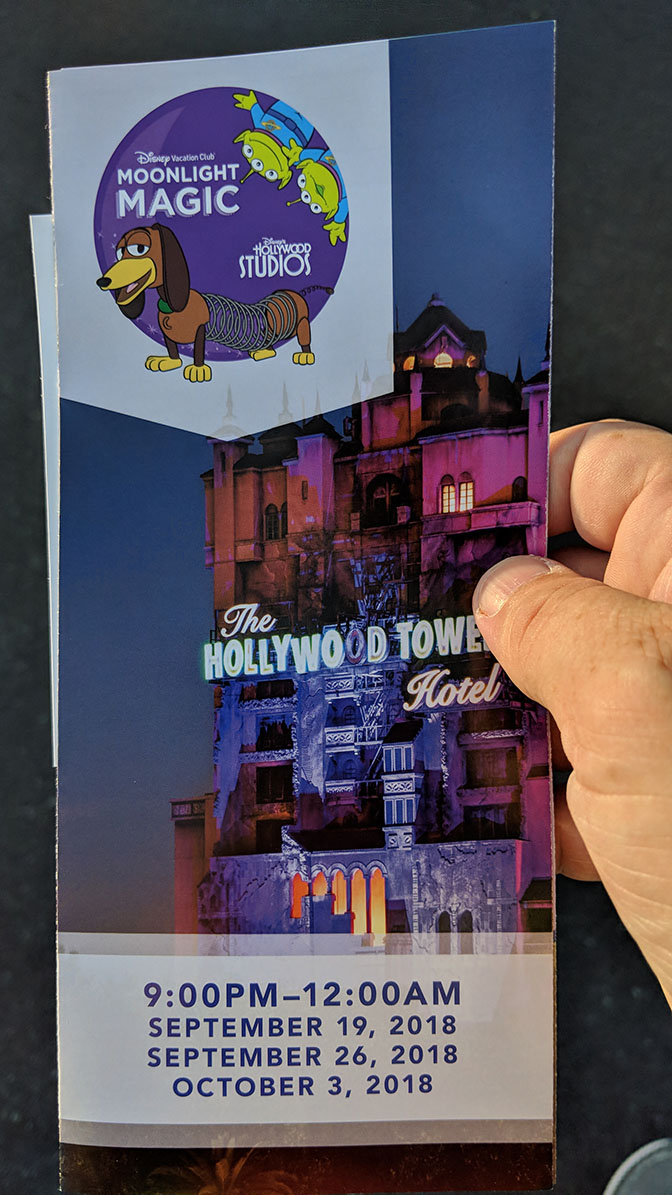 Each person attending is also provided with this coupon that can be redeemed for a free meal at one of the locations listed.  Along with our friends, we chose Catalina Eddies/Rosies for pizza and burgers.  We were also able to order a slushy or large sized soda with the meal.  I love that they made this move a few parties back and have stuck with this.  It provides options for guests who don't like hot dogs or chicken nuggets.  Additionally, they offered ice cream treats in several locations in the park.  They also had many ice water stands set up, which was a great blessing for such a hot late September night.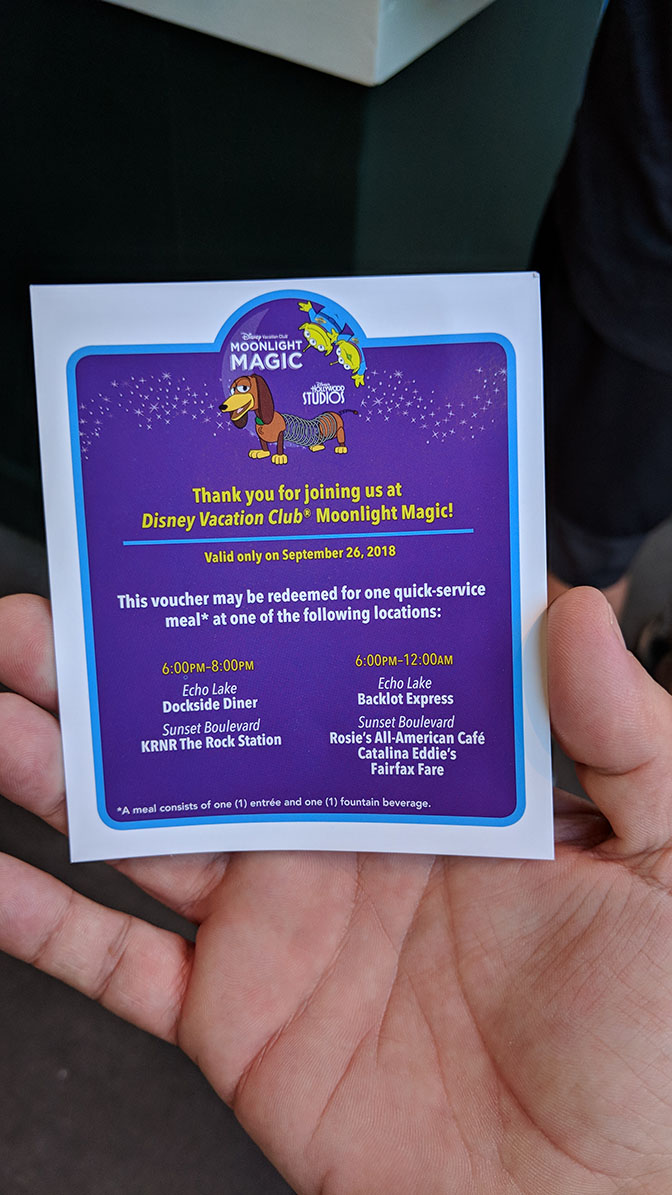 Sweetums
Our top priority character for the evening was Sweetums from the Muppets.  We've not had the opportunity to get a photo with him previously, so we were excited.  He offered a signature card, rather than signing autographs.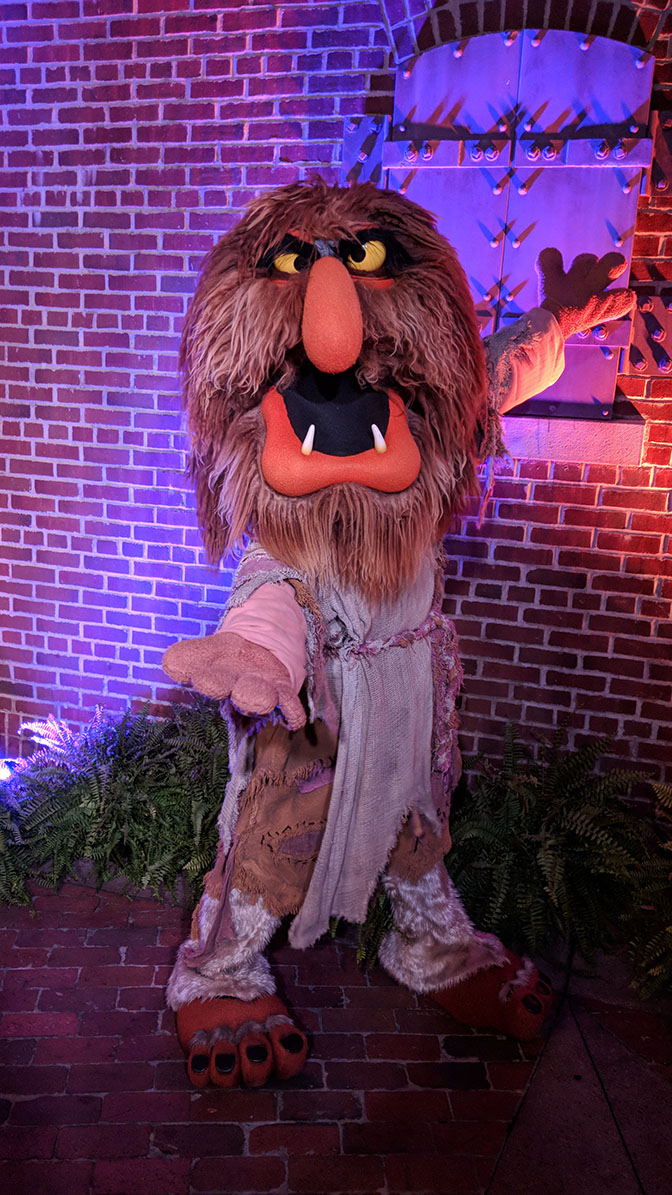 You can tell from our shirts that we sorta planned to meet this guy, huh?  We received many compliments on our shirts.  We last wore them together back on our Leap Day Ultimate Tour when we experienced 82 attractions in the Magic Kingdom.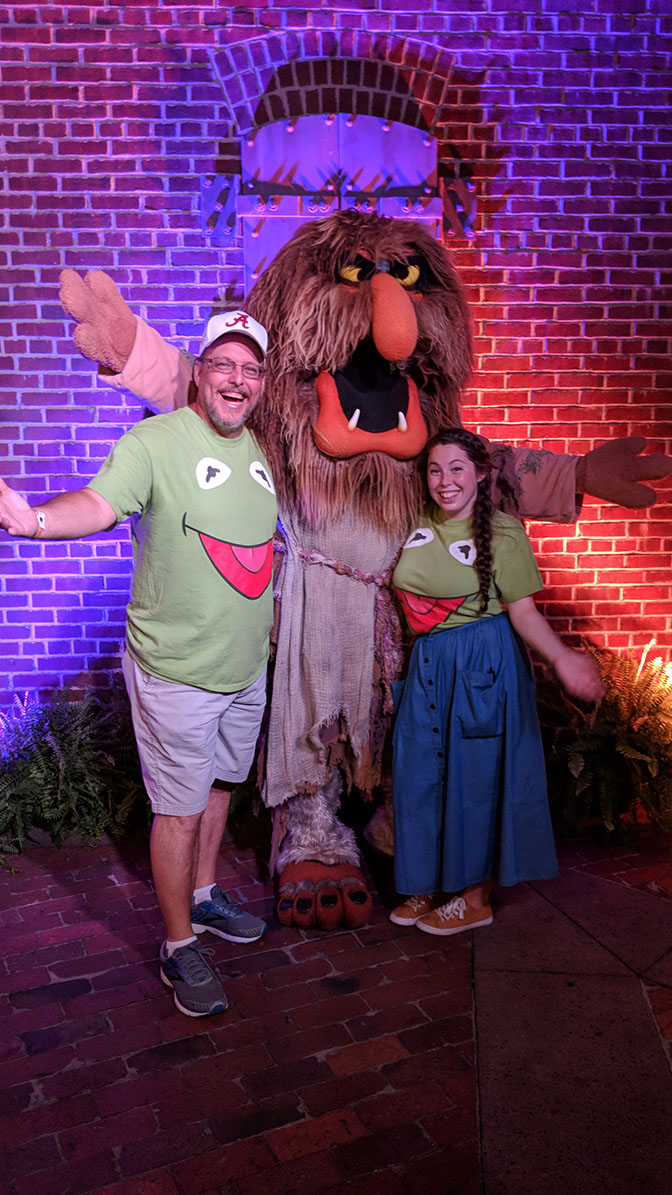 Bolt
Our friends really wanted to meet Bolt, so we planned for him next.  we were shocked by how small the lines were for both Sweetums and Bolt.  I suppose the late September date meant that fewer guests attended?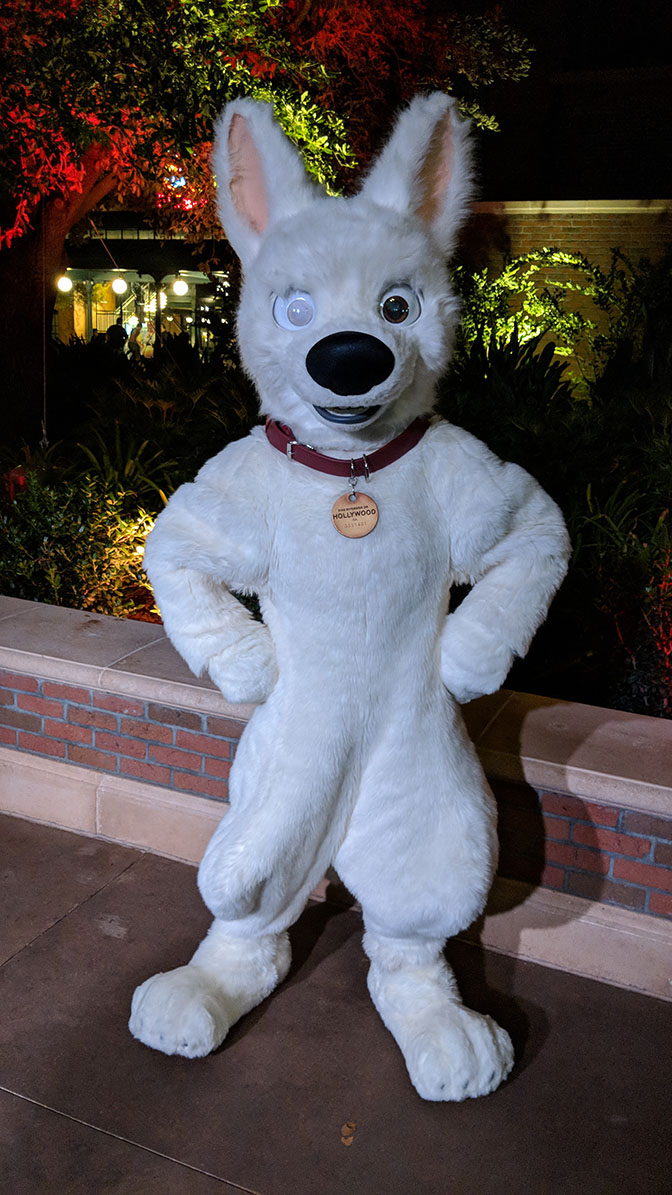 He doesn't have an issue with his eye, the light was blinding him :)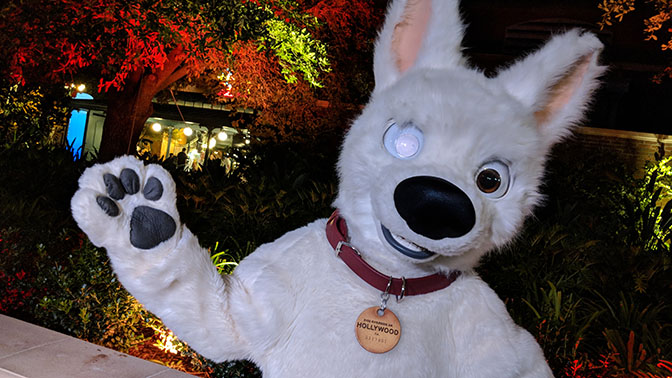 We practiced our Super Bark!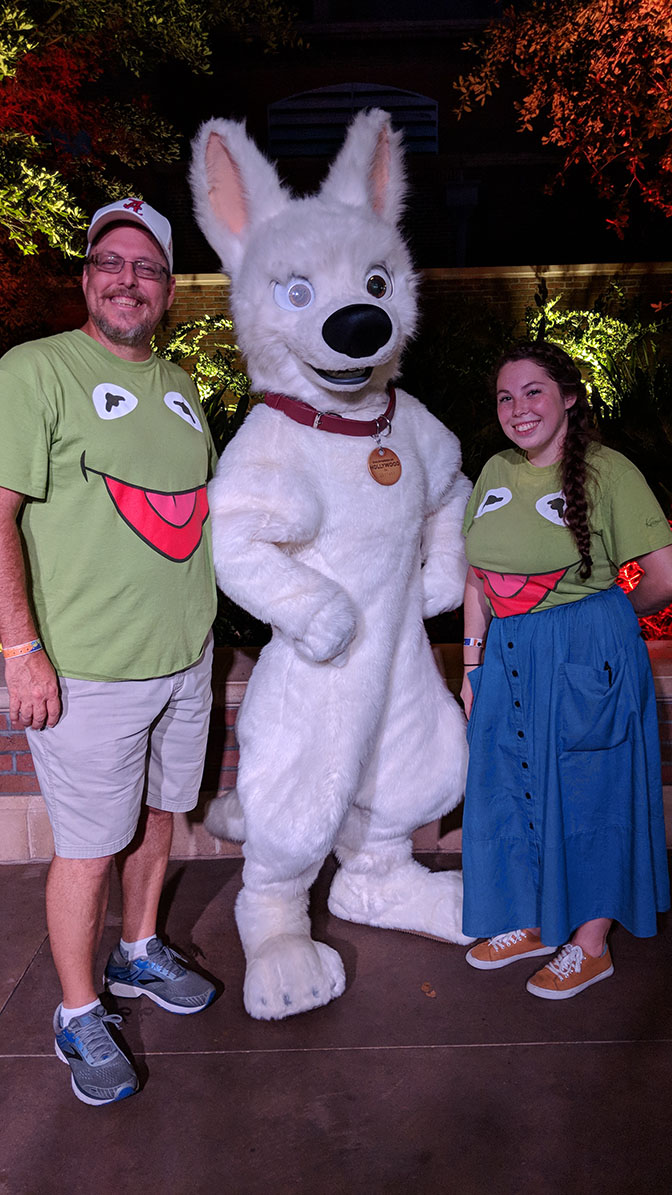 We were on our way the Oswald meet when we ran into this Disney approved Jessie Super Fan.  She's awesome.  You might see someone that resembles her during the day along Sunset Boulevard too ;)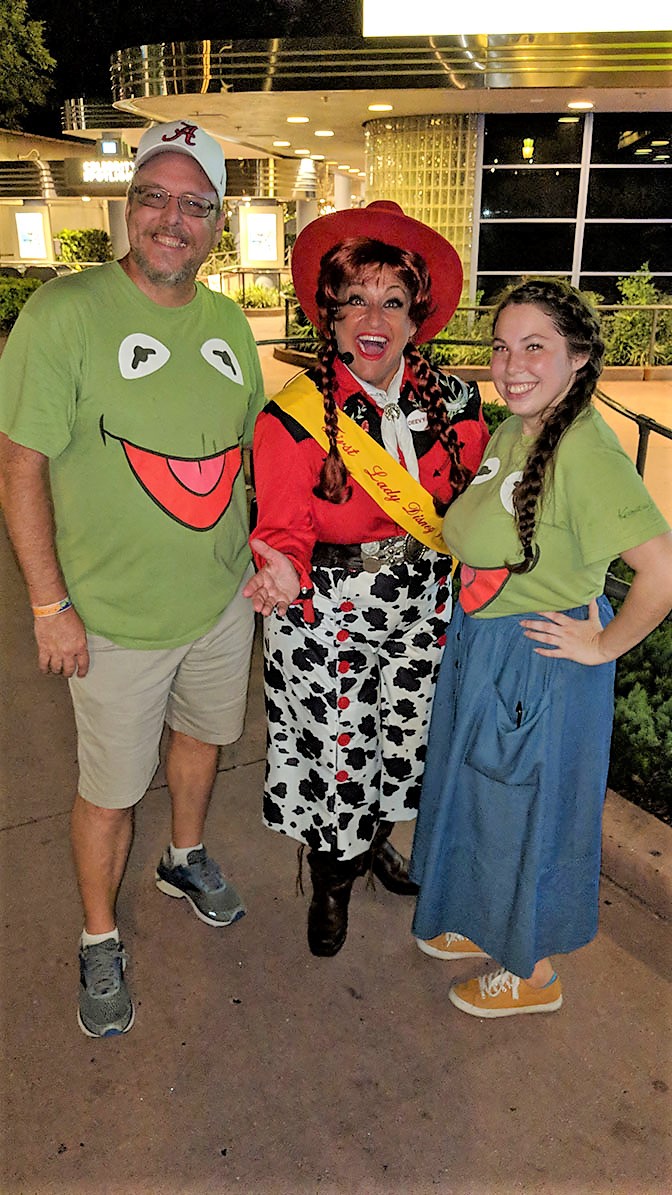 Oswald the Lucky Rabbit
Oswald had the longest line of the night, but even that wasn't more than about 25 minutes for this guy.  He doesn't appear often at Walt Disney World, so people were excited to have some of his luck rub off on them.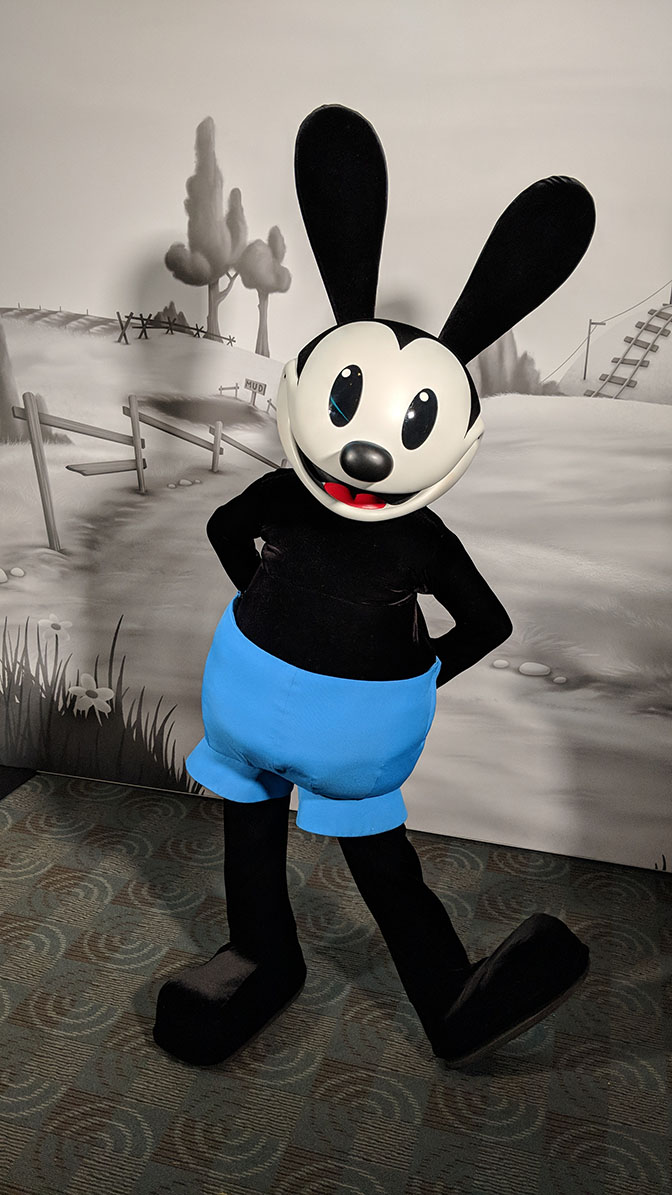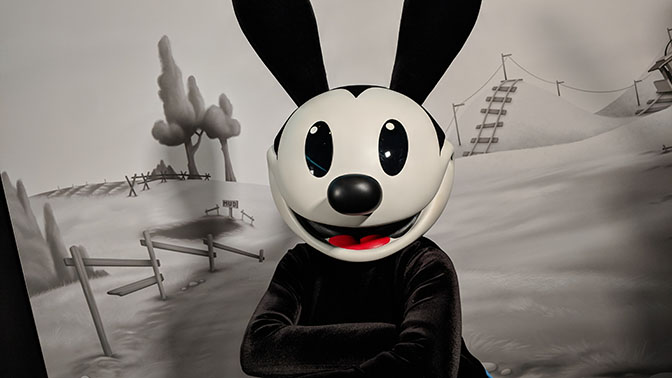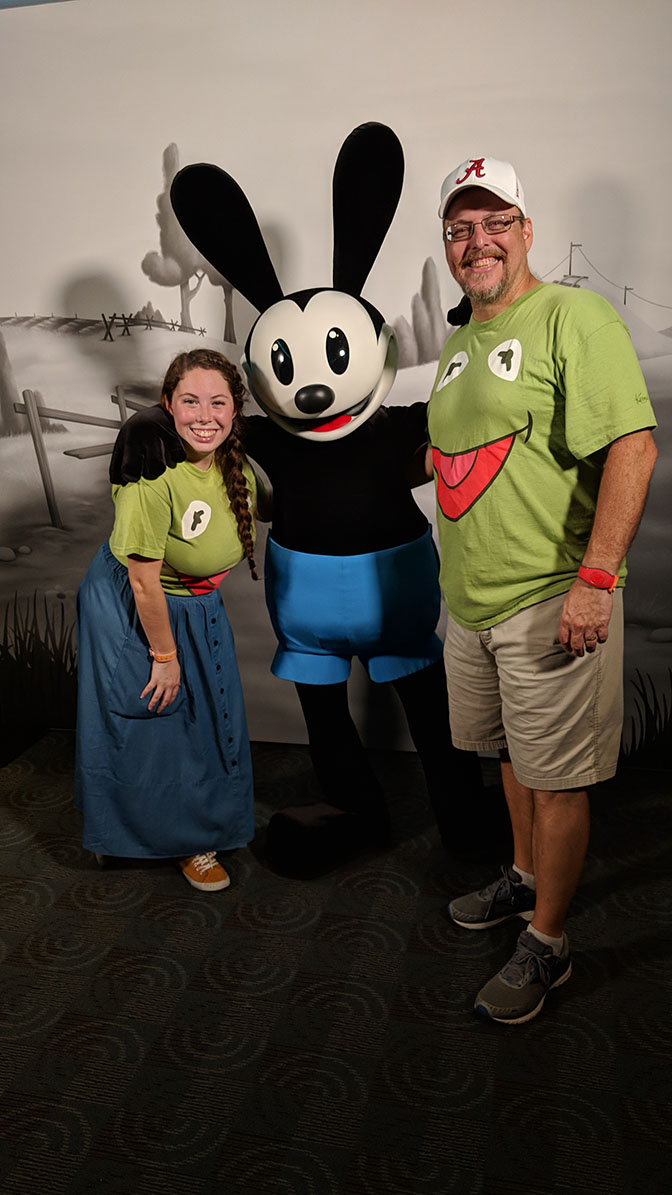 Seventh Sister aka Inquisitor
The Seventh Sister was meeting at the Jedi Training stage area and had a very short line when we approached her.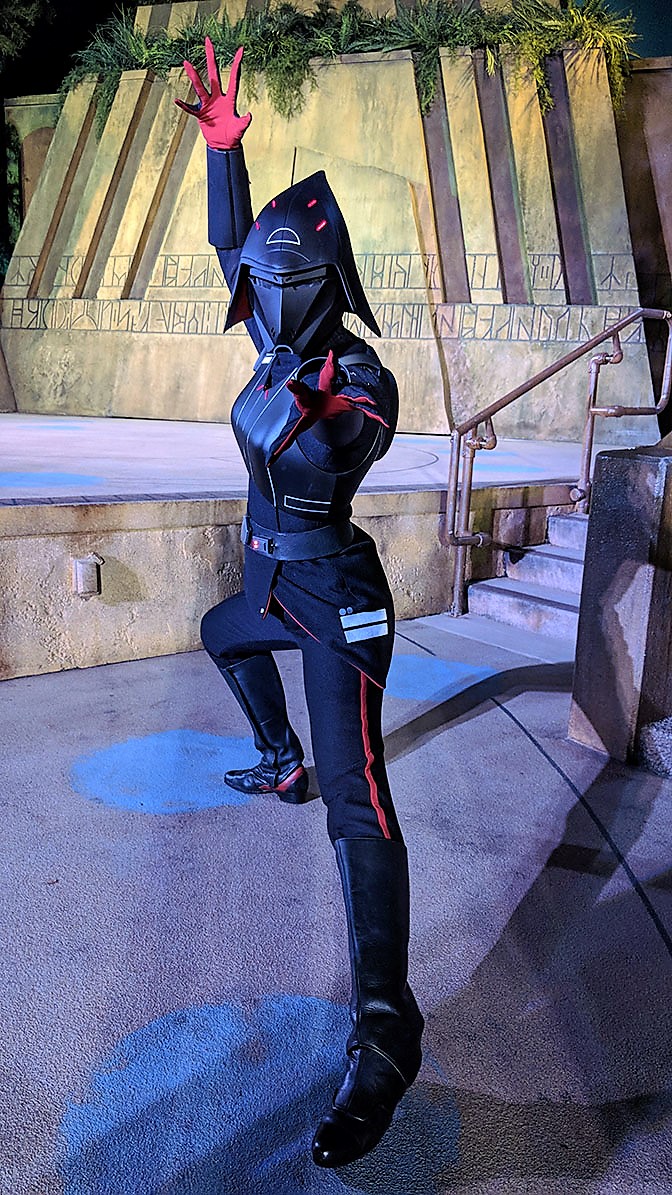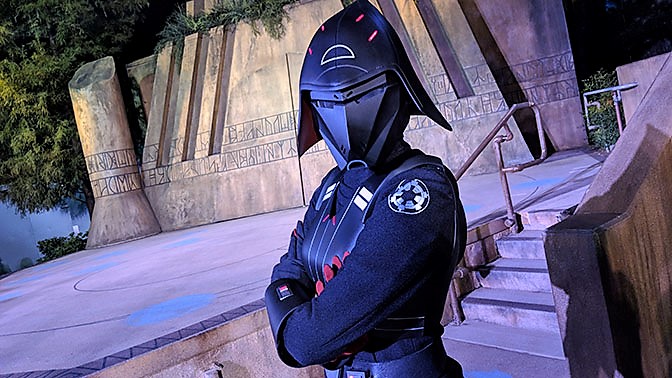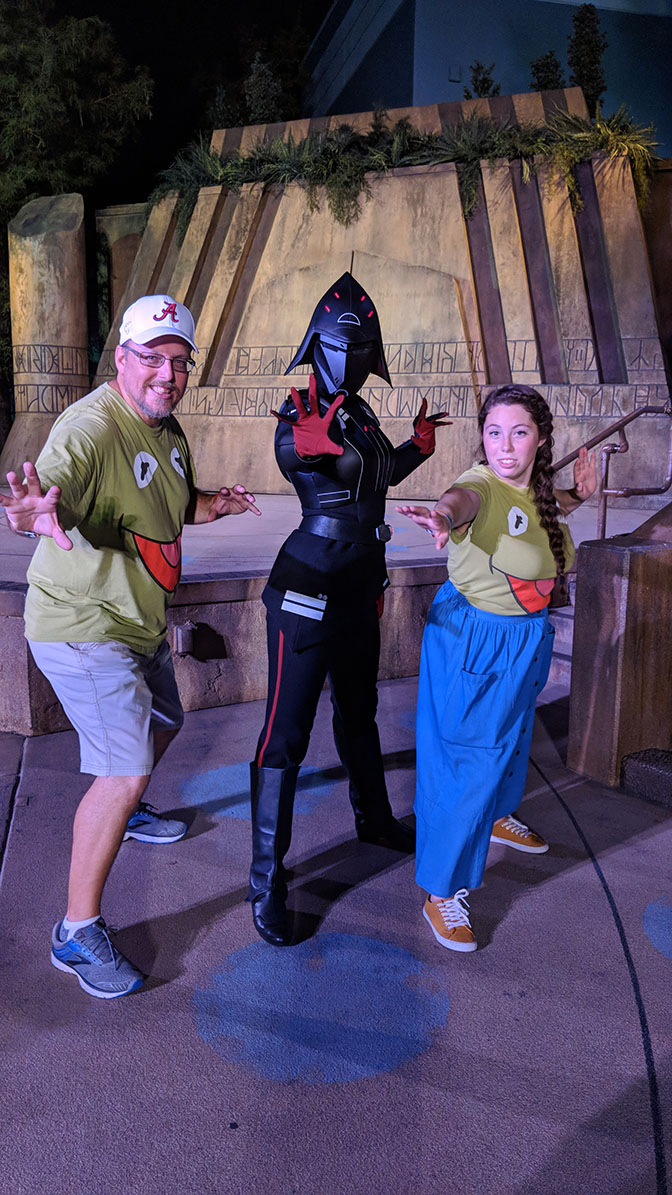 The Batty Bash Dance Party
We dropped into the dance party that was being held at Indiana Jones Stunt Show and found Mickey, Minnie and Goofy dancing with guests in their Batty Best.  The kids seemed to enjoy being on the Indy Stage.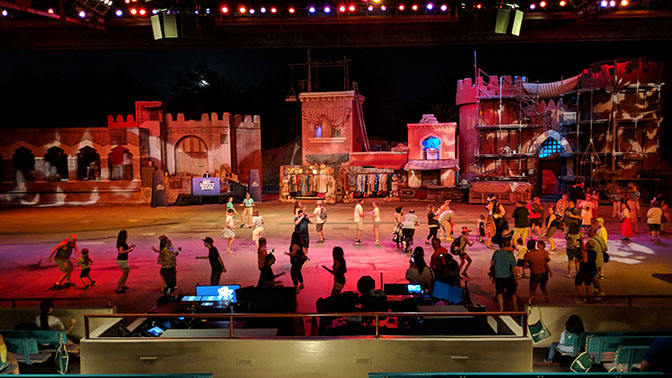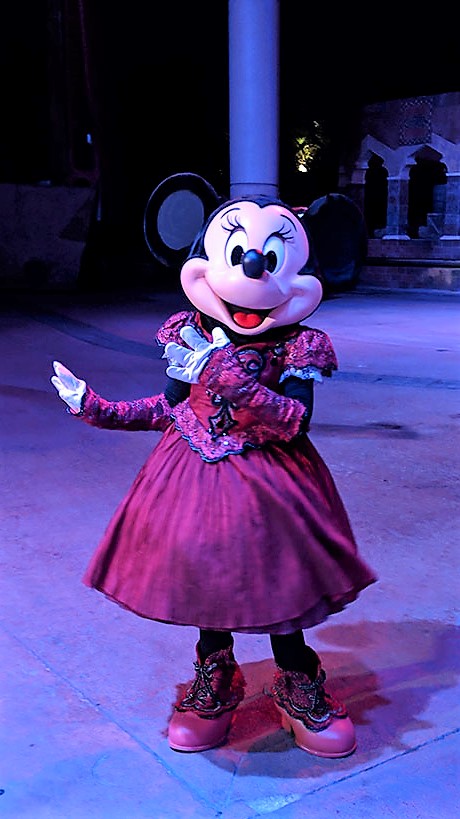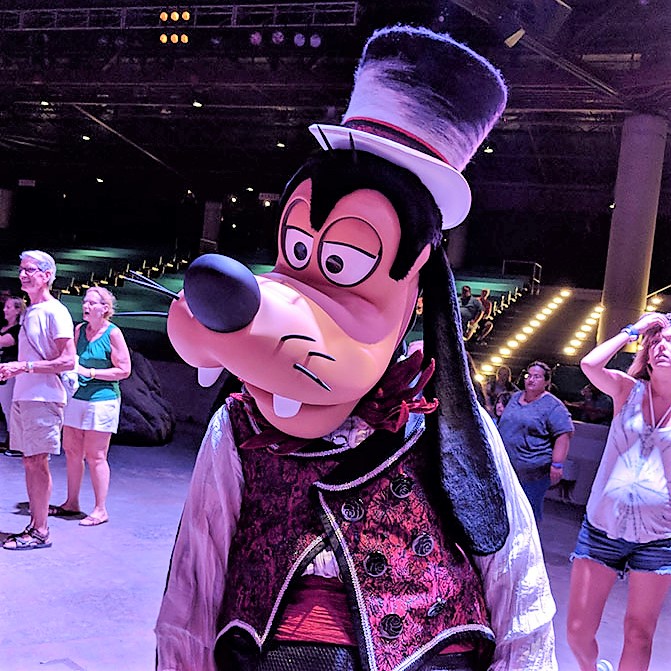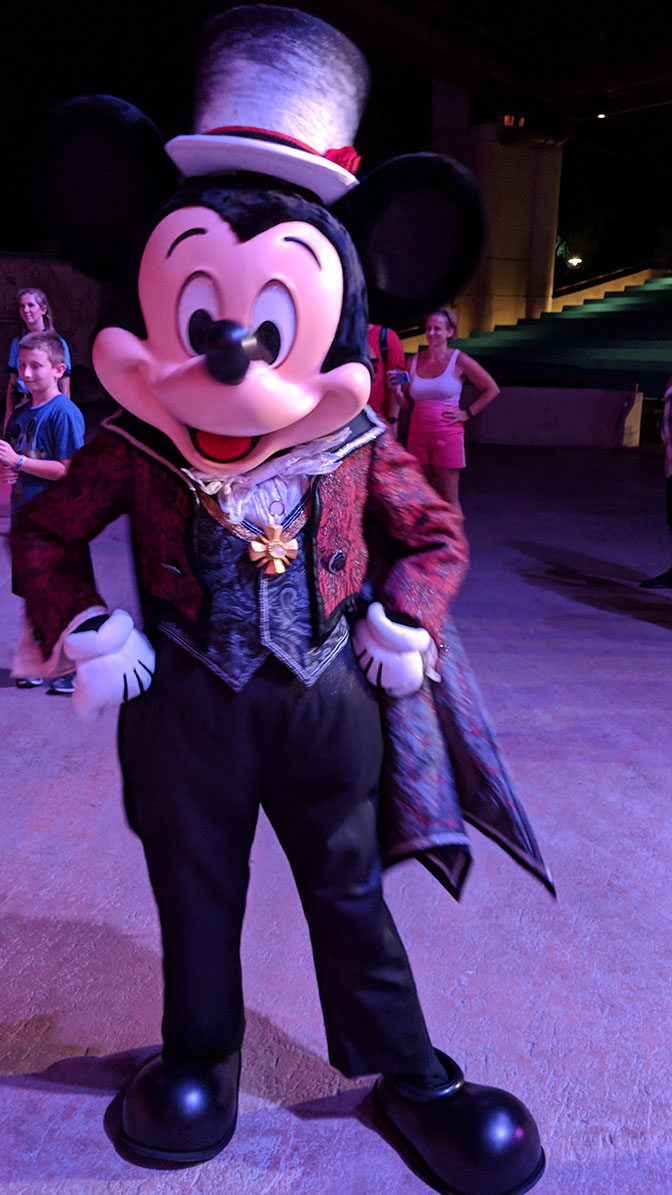 Captain Phasma
Jordyn and I had never met Captain Phasma for a meet and greet, so we looked forward to this meet.  I think she was more intimidating than meeting Kylo Ren!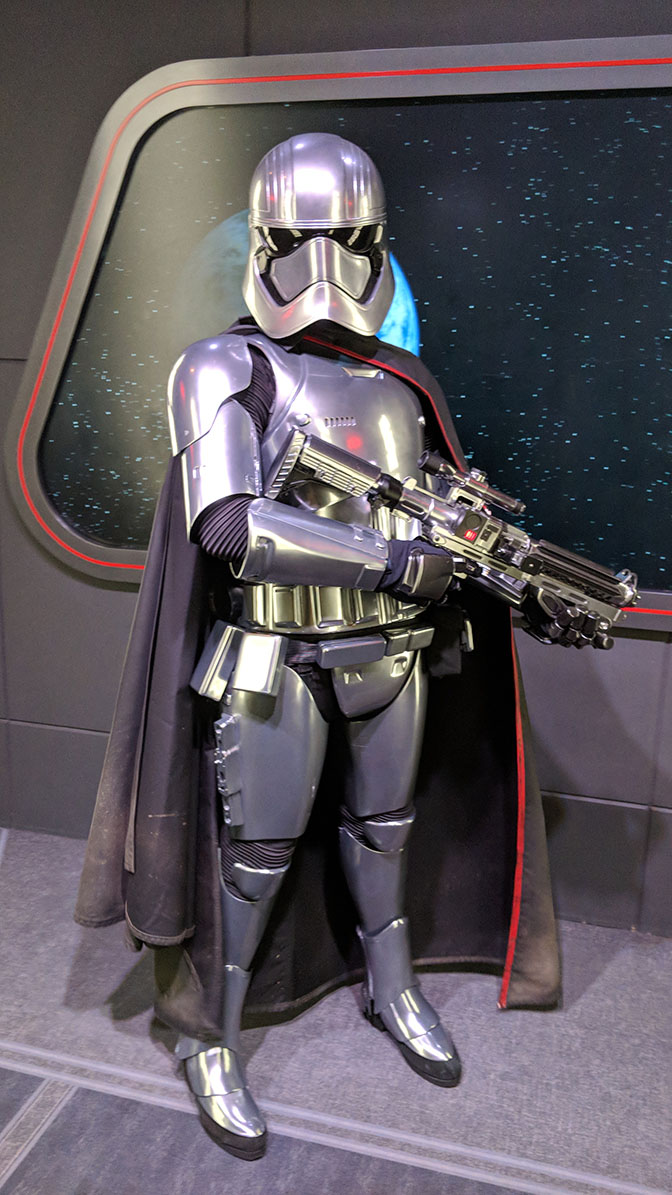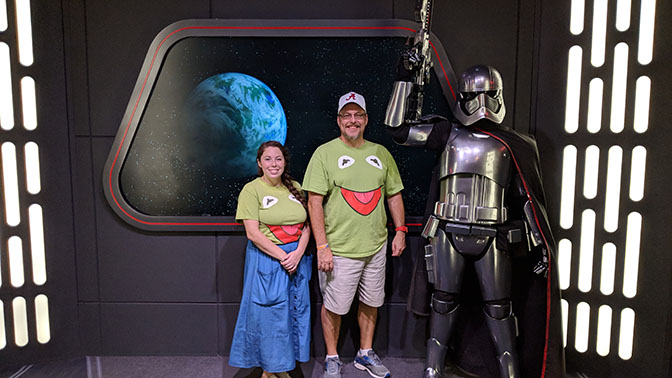 Jordyn had not yet visiting Toy Story Land, so she was excited to ride Slinky Dog Dash and Alien Swirling Saucers.  Slinky Dog wait was around 20 minutes and Aliens was a walk-on.  Our friend's son had taken to riding Tower of Terror on this night, so we went back over for a 2nd and 3rd ride on Tower.  They decided it was time to depart and we used the remaining 30 minutes or so for a couple of last minute meets.
Horace and Clarabelle
We had a short wait inside ABC Commissary, while they returned from the watering hole.  They were fun, as always.  Clarabelle wanted us to know about how she is a true star and one of the early ones as well.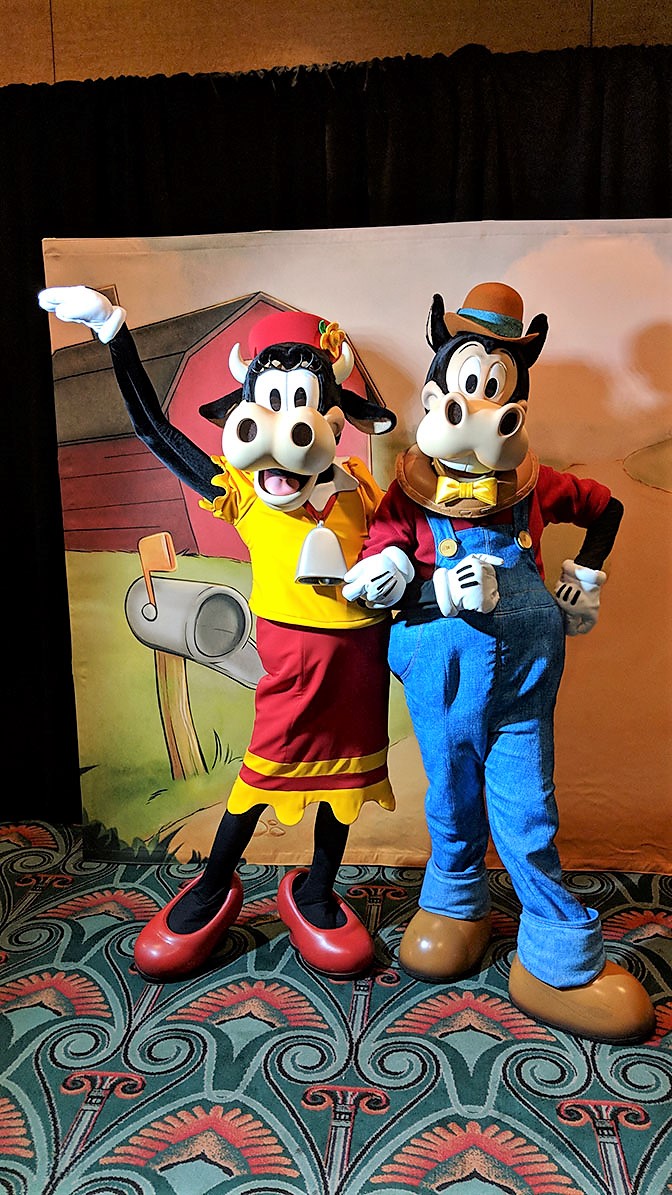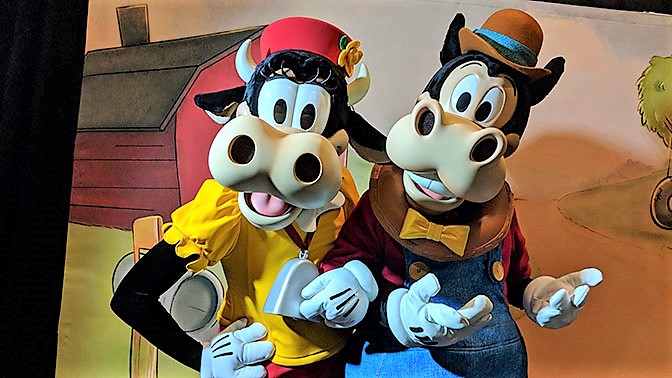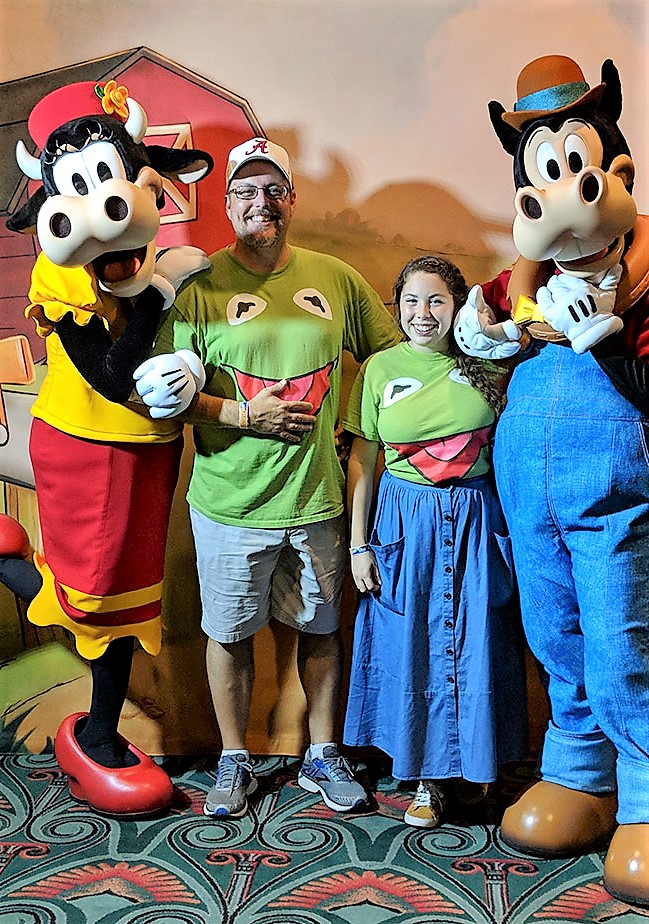 Ewoks
We finished off our DVC Moonlight Magic by meeting the Ewoks, were located near Star Tours.  Aren't they adorable?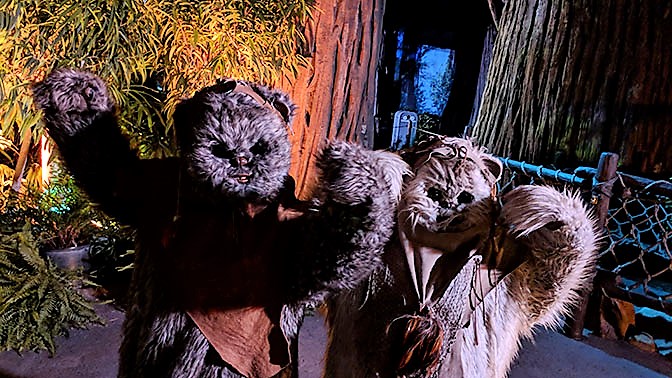 Characters that were available:
BB-8
Bolt
Buzz Lightyear and Jessie
Captain Phasma
Chewbacca and Rey
Darth Vader
Ewoks
Horace and Clarabelle
Oswald the Lucky Rabbit
Seventh Sister
Sweetums
Rides that were open:
Alien Swirling Saucers
Rock n Roller Coaster
Slinky Dog Dash
Star Tours
Tower of Terror
Toy Story Mania
Entertainment that was open:
Batty Bash Dance Party
Disney Movie Magic
Fantasmic!