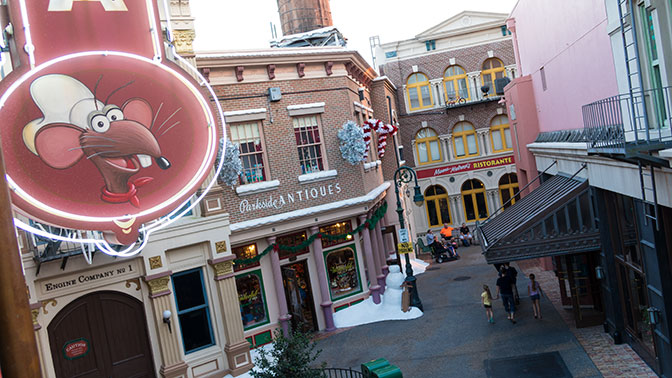 PizzeRizzo opened in 2016 as a re-theme for what was Pizza Planet.  It offered almost the exact same food and has been widely panned by Disney World guests for offering the same pizza found elsewhere in the park.  It could be closing soon.
According to a Disboards rumor post, some Cast Members are hearing that PizzeRizzo could be closing in late October, 2018.  If it were to occur, it could merely be for a change of menu or it could involve another re-theme.
Thematically, it fits into the Muppets courtyard, but Star Tours is right beside it and will be disconnected from Star Wars Galaxy's Edge when it opens late next year.  Is it possible that they will try to bring that area into the Star Wars theme?
The rumor seems plausible because the restaurant is tucked back into a very empty area with little guest flow and has light sales numbers from the overly expensive pizza.  My son always enjoyed this type of Disney World pizza, but I found it to be overly bready and I don't really care for the sauce as it has no definitive flavor.  Most guests head to Muppets late in the day, only to find PizzeRizzo is already closed anyway.   At least they were honest when they stated "It's rat pizza!"
From an armchair imagineering perspective, it seems that the entire area could be removed and re-themed at some point.  Many guests love Muppets 3D because it is Jim Henson's final work, but it has very light attendance almost every day of the year.
This is merely a rumor at this time, but what do you think of PizzeRizzo possibly closing?  Will you like new food options like Satuli Canteen, or a re-theme?