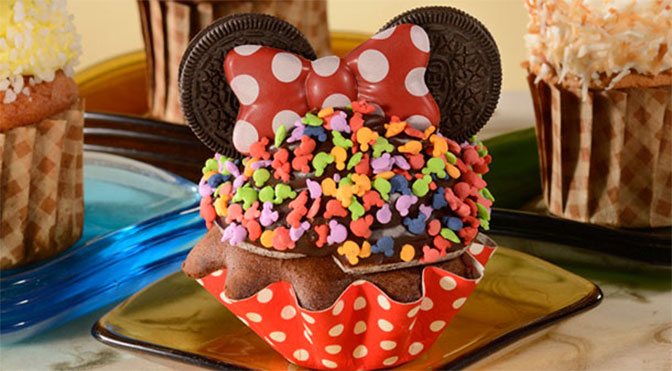 Minnie Mouse is ready to celebrate her special day and being added to the Hollywood Walk of Fame by offering some delectible delights for Walt Disney World guests on January 22, 2018!  Take a look at these cupcakes that are too beautiful to eat.
Minnie Mouse Dome Cake – Amorette's Patisserie in Disney Springs
A lemon-chiffon cake with white chocolate mouse and strawberry pate de fruit jelly.
"When I arrived at the party, I couldn't stop raving about this beautiful Minnie Mouse Dome Cake! It was a lemon chiffon cake with white chocolate mousse and strawberry pate de fruit jelly, and it was absolutely delicious! You can find this cake at the popular Amorette's Patisserie at Disney Springs, where you can also order it as a chocolate chiffon cake with milk chocolate mousse and orange pate de fruit jelly. No matter what you get, it will definitely serve as the perfect addition to any event!"
Minnie Mouse Strawberry Cupcake – Roaring Fork at Disney's Wilderness Lodge
A strawberry cupcake filled with strawberry preserve, topped with pink and white buttercream and garnished with pink crispy pearls and chocolate pieces. This cupcake is even served in a cute red and white polka dot liner.
Vanilla Minnie Mouse Cupcake – All Star Resorts
A vanilla cake with strawberry filling and topped with strawberry buttercream and a chocolate bow.
Strawberry Sponge Cake – Saratoga Springs Resort – The Paddock
A strawberry sponge cake with fresh strawberries and vanilla cream filling.
Chocolate Minnie Cupcake – Riverside Mill Food Court at Disney's Port Orleans Resort
A chocolate Minnie cupcake with vanilla buttercream icing.
Chocolate Minnie Cupcake – Gasparilla Island Grill at Disney's Grand Floridian Resort & Spa
A yummy chocolate Minnie cupcake filled with cookies and cream chocolate mousse, topped with cookies and cream buttercream and garnished with chocolate cream cookies and a chocolate polka dot bow!
Minnie Mouse Chocolate Candy Apple – Various Candy Shops
A chocolate covered apple coated with red sugar.
These treats make me want to resort hop on January 22, 2018  just to sample them all, what about you?  #rockthedots