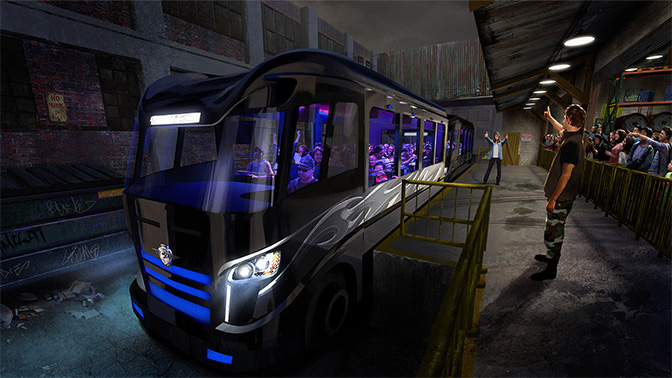 Universal Orlando just provided some behind the scenes footage and new concept art for "Fast & Furious – Supercharged" which will come to Universal Studios Florida spring of 2018.  Here's how things are taking shape:
Fast & Furious is all about adrenaline and action-packed thrills. We're taking all of those awe-inspiring experiences and creating the next chapter in this blockbuster franchise with an all-new theme park ride. We'll immerse you directly into the storyline alongside your favorite characters and make you a part of the Fast family forever.
There are four specific details exclusive to Universal Orlando's Fast & Furious – Supercharged that make it the ultimate Fast & Furious experience:
Supercharged Cars
New Characters
New Story
Virtual Line
Buckle up and hang on tight as I give you a front-row look inside this high-energy adventure with the Fast family.
The Family's All Here
You'll encounter Dom (Vin Diesel), Letty (Michelle Rodriguez), Hobbs (Dwayne Johnson), Roman (Tyrese Gibson) and more of your favorite Fast & Furious characters during your action-packed experience. But it's not all good guys that you'll come face-to-face with either. Owen Shaw (Luke Evans) and his criminal cartel are back with a vengeance.
And for the first time ever, Ludacris (Tej Parker) and Jordana Brewster (Mia Toretto) will join the all-star cast of this attraction.
Cars from the Fast & Furious Film Franchise
We've worked closely with Dennis McCarthy, the man behind the insane cars for the Fast & Furious films, to craft 15 authentic cars for our attraction.
Fast & Furious – Supercharged is the only place you'll find these vehicles, including Dom's iconic Dodge Charger, Letty's Turbo Truck and more.
An Original Fast & Furious Story
Before you even step inside the attraction, you're immersed in the story. You'll first encounter Dom's iconic car parked outside.
The Fast & Furious – Supercharged building has become the all-new home base of operations. You'll get to explore familiar scenes inspired by the films, including Tej's high-tech War Room and the Family Room—complete with photos of the Fast family.
Dom invites you to attend a race after-party that you won't want to miss. The best part is Tej hooks you up with customized party busses to get you there.
As you make your way to the party, Dom calls with an urgent message: Criminal mastermind Owen Shaw has tracked you down. Now, a high-speed chase is on as the Fast & Furious crew strives to keep you safe from the clutches of Shaw. But will you make it?
Virtual Line
Fast & Furious – Supercharged is the next attraction at Universal Orlando Resort to feature the Virtual Line system.  While you wait, you can check out the other attractions at Universal Studios.
And that's not all.
Throughout the attraction, you'll hear hit songs from the Fast & Furious soundtracks. Your favorite film clips will play on screens throughout the queue. There will be photo opportunities with cars from this year's blockbuster The Fate of the Furious after you exit the ride. And you won't want to miss gearing up with "Family Forever" merchandise in the gift shop.
Mark your calendars for next spring and stay tuned here for more details as we take you inside Fast & Furious – Supercharged.
KtP – It appears from the artwork that the attraction will be very similar in technology to the Skull Island: Reign of Kong attraction.  It appears to be a large vehicle, which means that the attraction will be heavy on video that surrounds you instead of the physical thrill of actual speed like that of Test Track at Epcot.  The small footprint of the ride building seems to lean that way as well.