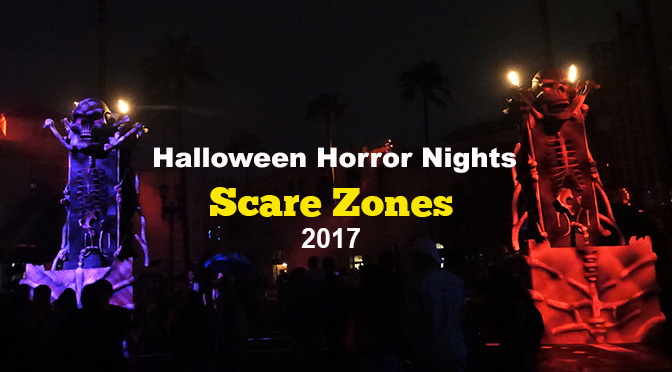 I've visited Universal Orlando's Halloween Horror Nights a couple of times already over the last couple of weeks.  I've taken part in the Scareactor Dinning and visited every house and spent several hours shooting photos in the various scare zones.  Some readers have expressed an interest in seeing photos and hearing reviews, so I'll post those.  I realize that it isn't for everyone, but here's some photos and thoughts on the scare zones for 2017.
Be aware that many of these photos are of a scary or faux bloody nature.  No one was harmed in the taking of these photos. I did purchase a chicken finger combo. My wallet is now lighter.  Click on a photo for a larger view.
Altars of Horror
This is the first scare zone you'll enter as you enter the park and head north on Production Central.  It is meant to expose you to all the creepies that you'll encounter through the various Houses in the evening.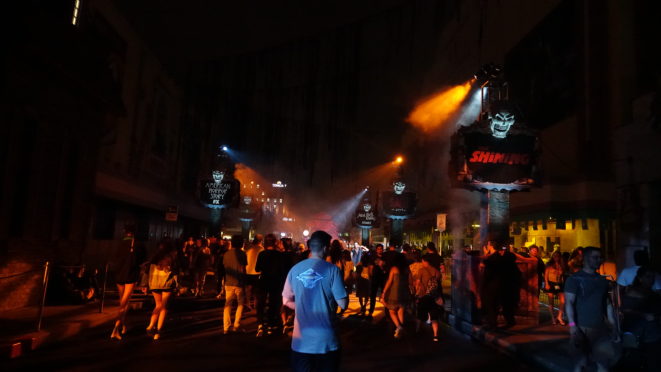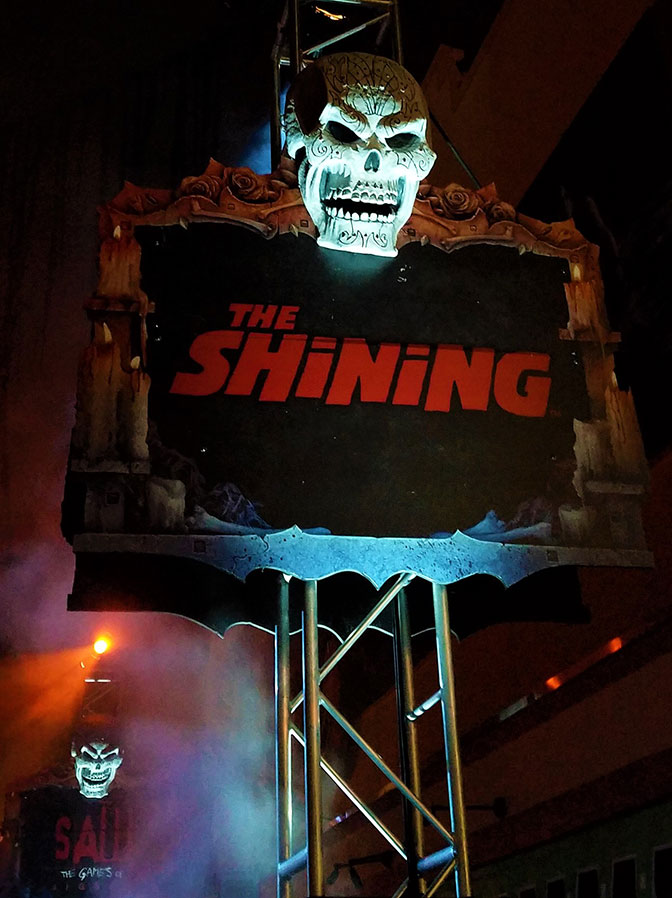 The twins from The Shining have been a big hit in the scare zone.  Many guests want photos with them.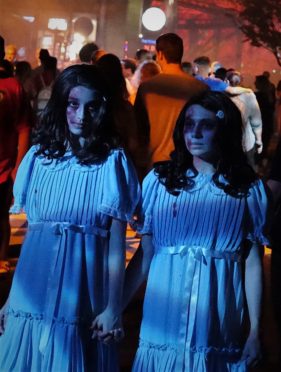 Just a man waiting on his opportunity to break into your home.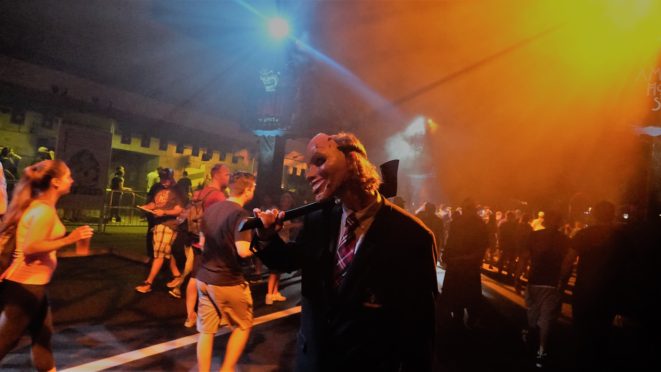 Voodoo Guy from the Dead Waters maze.  I think he forgot that the shush thing belongs to the Purge guy above.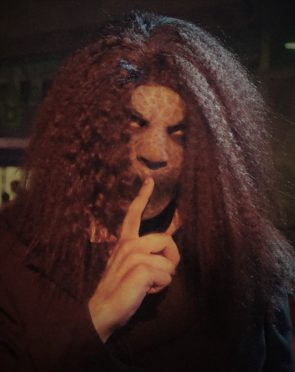 Forget gory things.  This is just creepy.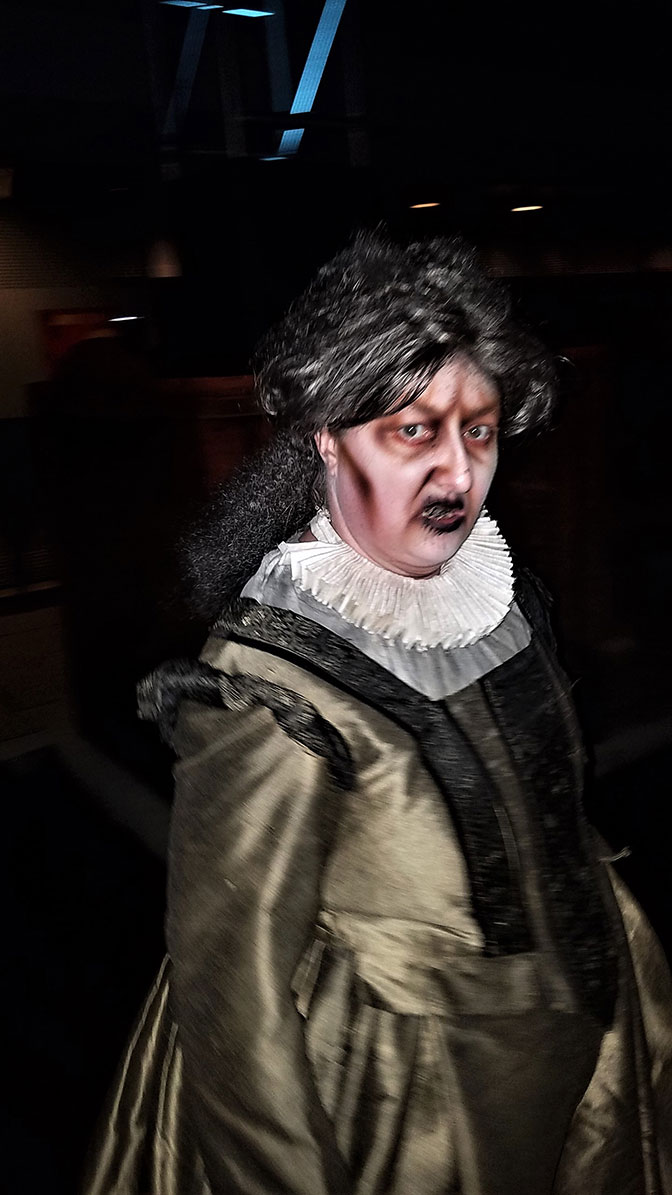 The Purge
The Purge Zone is located in New York and is mostly contained on the boulevard that runs in front of Macy's and the Mummy.  The theory behind the movie is that violence and crime have been virtually eliminated, except for one night a year.  For 12 hours people are allowed to roam free and no crime is illegal.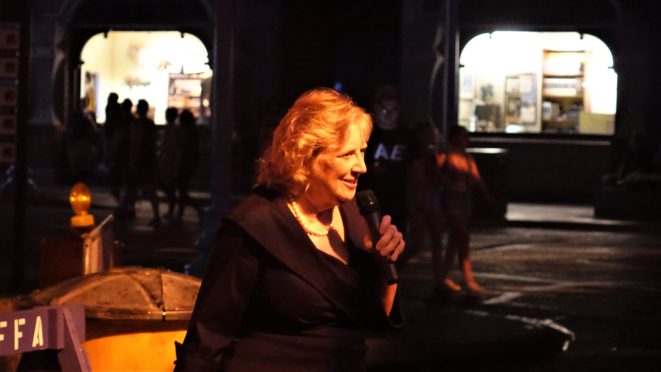 She seemed happy when they were auctioning off unwilling souls, but didn't seem that happy when they were turning the tables on her.  It's sort of a modern day spin on The Lottery by Shirley Jackson.  "It isn't fair!"
They've included various characters that appear in each incarnation of the Purge series within the zone.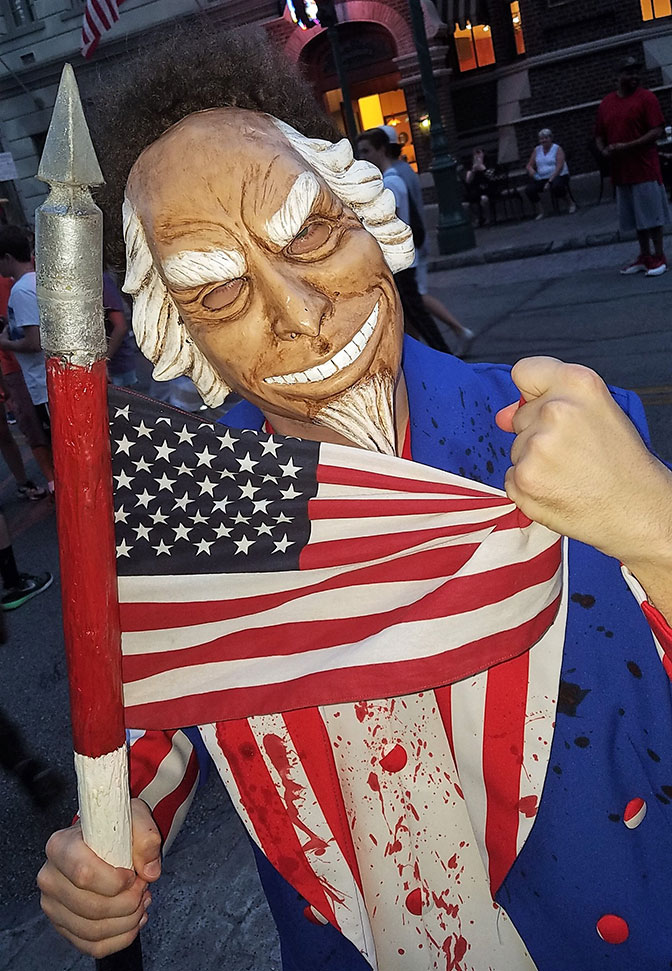 I think my son can take him.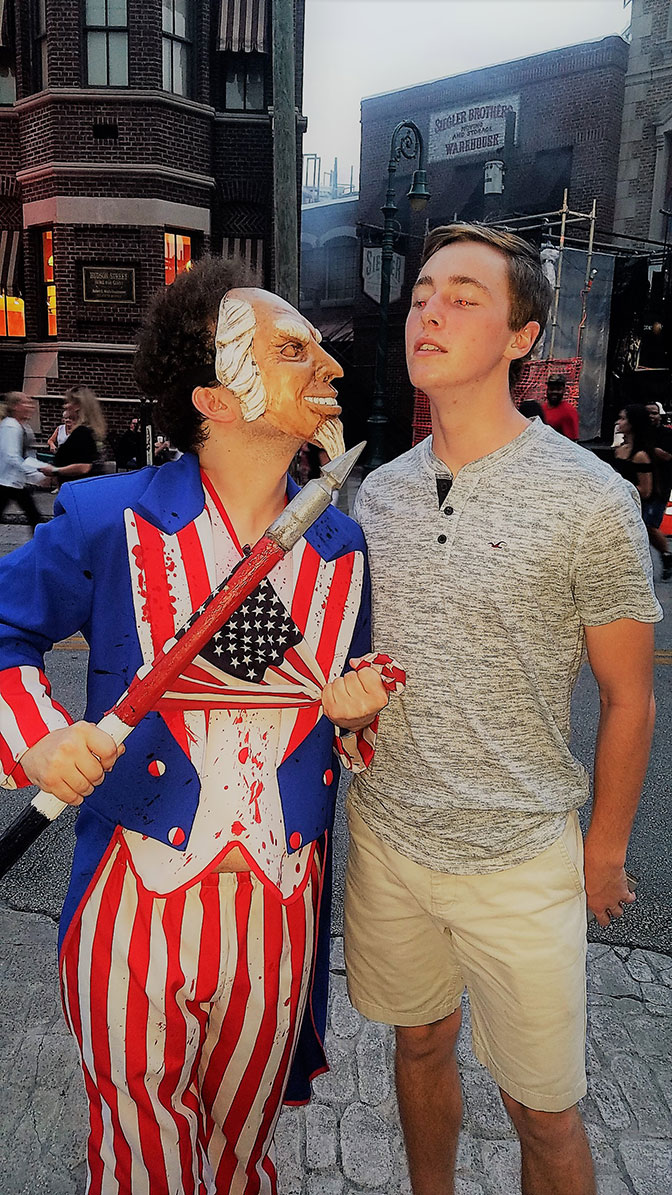 One of the unwilling participants in the Auction.  She was pleading for her life.  30 minutes she was pleading for her life again.  30 minutes later…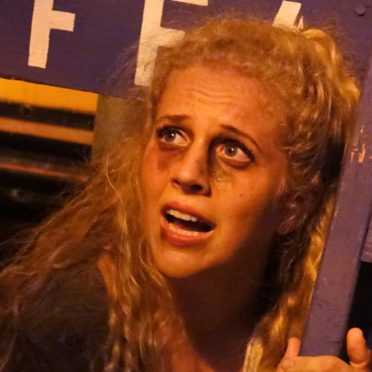 Purger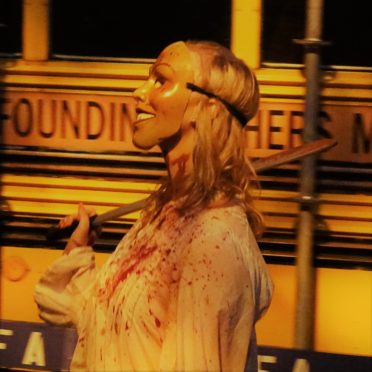 Another purger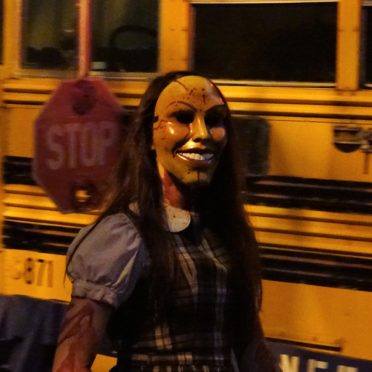 This year they added a chopper scene that doesn't occur all night.  It is located right in front of the Mummy on top of a car.  The purger places the faux body parts into the chopper and it spurts out fluid all over the guests.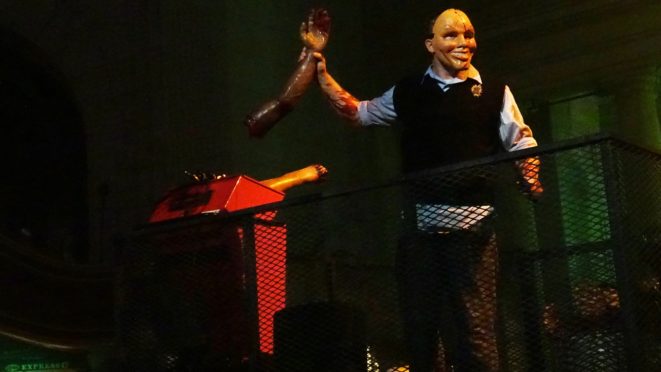 Only a mother could love that face.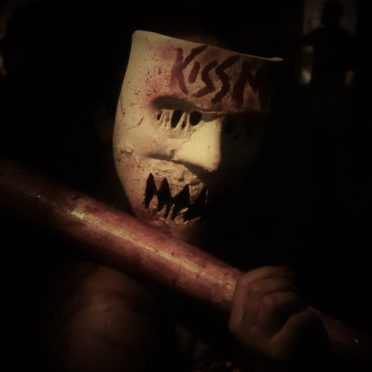 It's a requirement that there be at least 2 zones each year with chainsaws.  They must have a large contract with the chainsaw company.  I wonder if they helped with Irma clean up?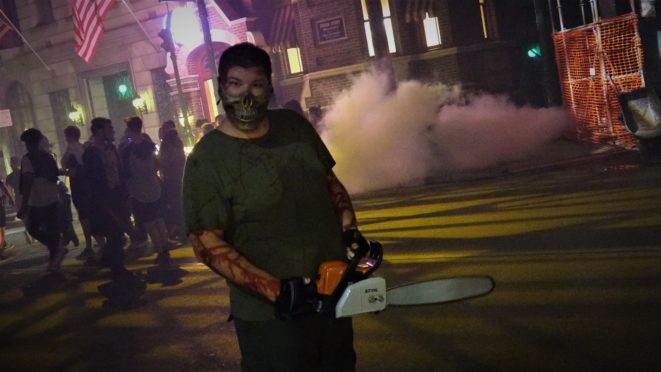 Invasion!
Invasion isn't scary in any sense of the word.  Aliens have crash landed in San Francisco and the military is wondering around afraid, but we aren't really sure why!  The crash scene looks great, but overall the feeling here is a 1950's B movie with weird aliens.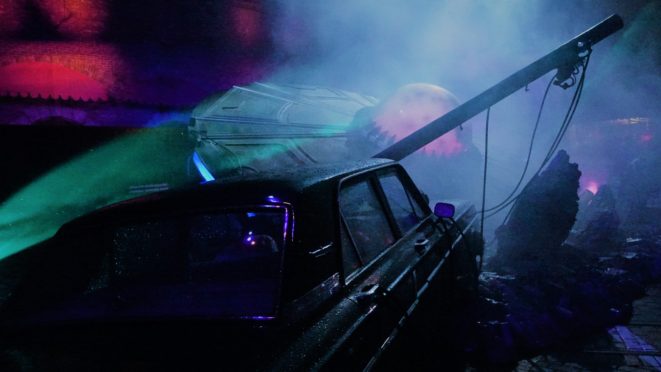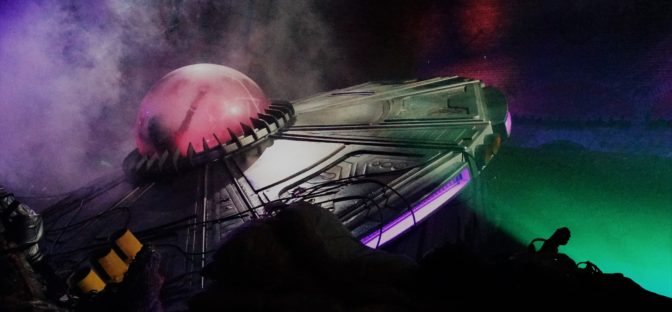 I come in pieces!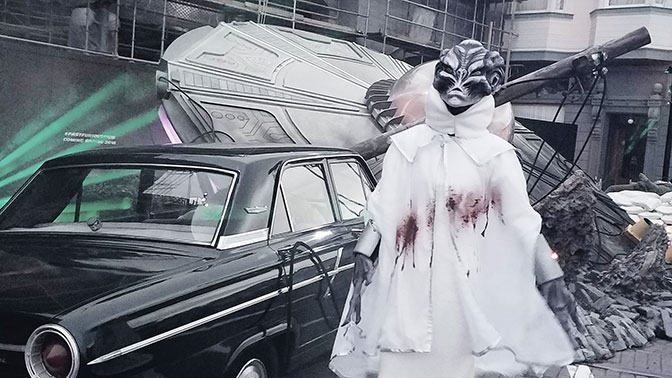 Maybe, if we hadn't chopped off the front of their faces, they wouldn't be mad at us?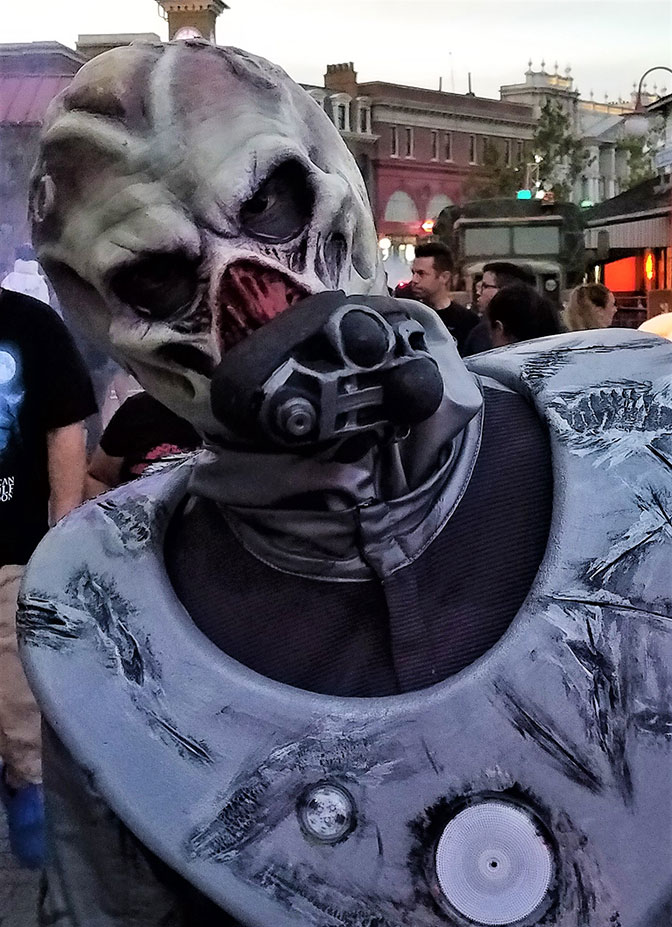 I think he took the zapper from the Men in Black ride.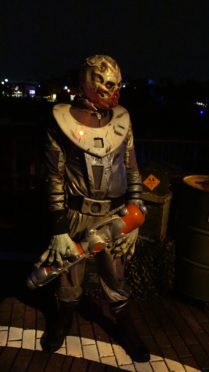 Yes, this ride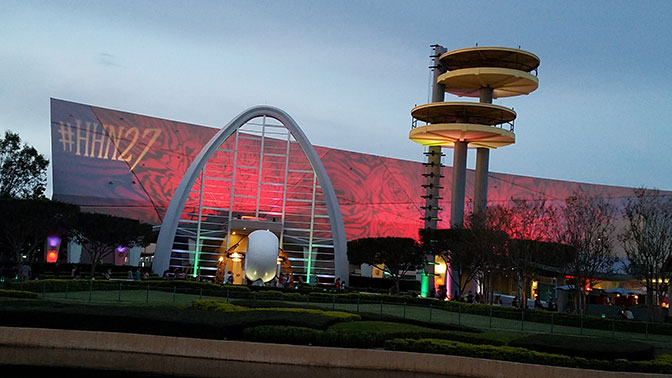 Killer Clown Zone
I'm not sure what the real name of this zone is supposed to be.  It isn't listed on Universal's information.  I just know that evil clowns are angry and they all carry chain saws.  It's located in the Simpsons area.  When you see them during the daytime, it's just odd.  At night, they sneak up on unsuspecting people and fire up the chainsaw.  "Everything floats down here."  I wonder why Universal didn't do an IT House?    One clown photo is sufficient, right?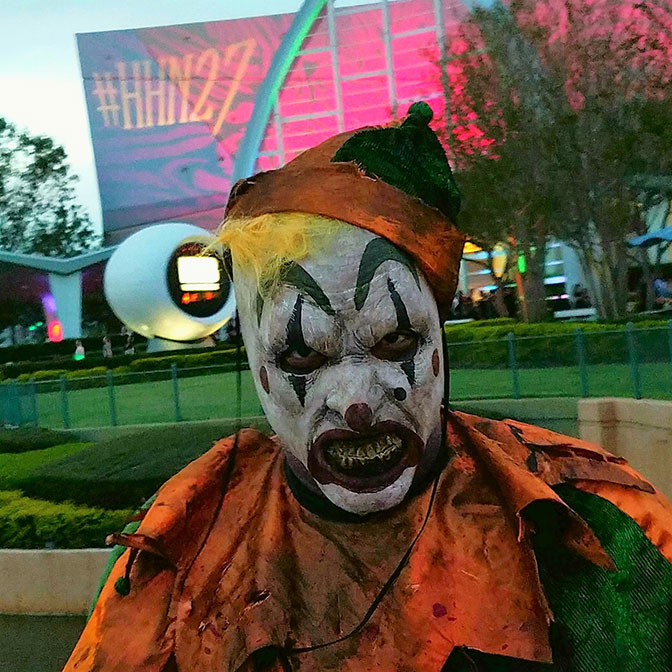 Trick r Treat
This zone is actually has a very appealing aesthetic.  It's attractive to the eye in terms of Halloween decorations.  It is located in Battery Park between Simpsons and Hollywood.  Lots of pumpkins and ghosts like you'd see in your own neighborhood.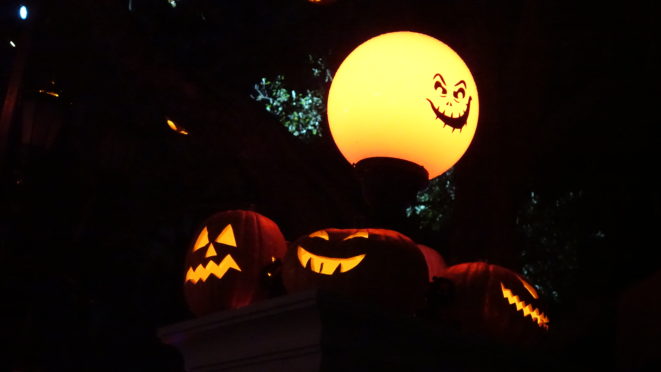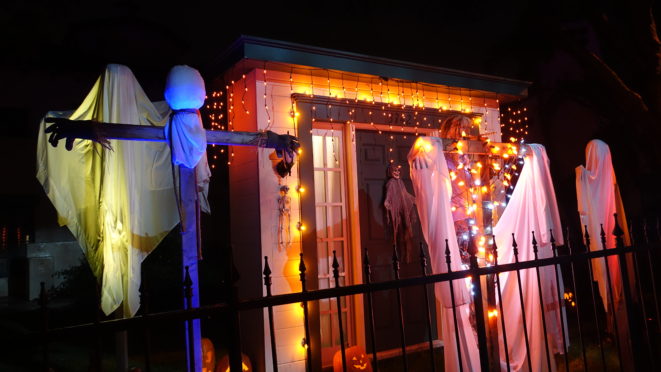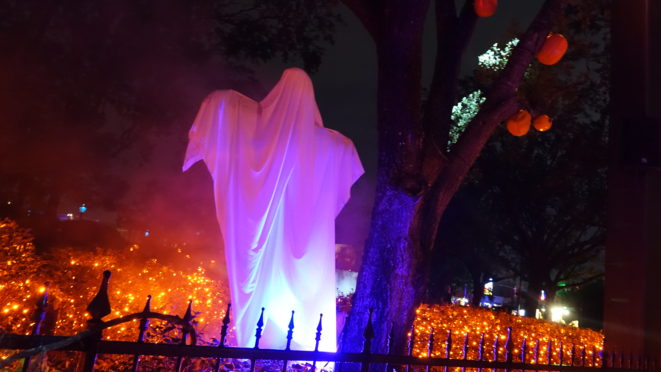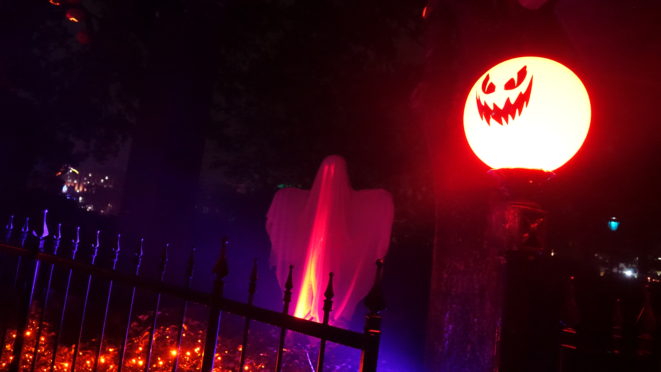 And then you come across this guy.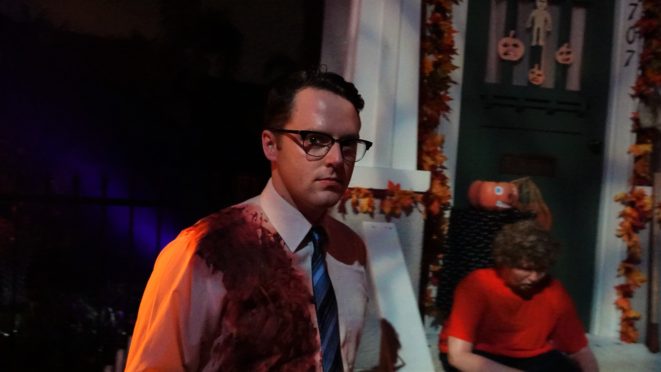 But this fella always seems happy.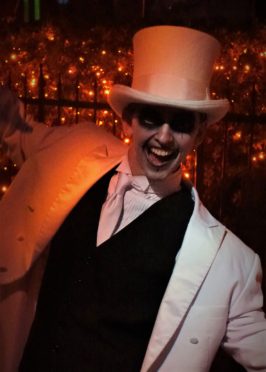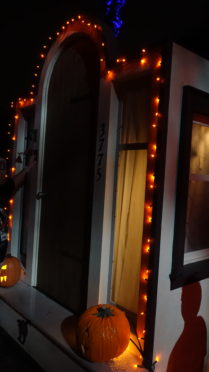 I'm not sure why, but Cinderella and other Princesses have turned into Vampires.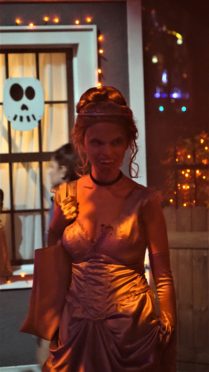 It's the Unknown Comic from the 1970's Gong Show!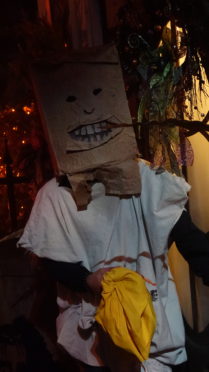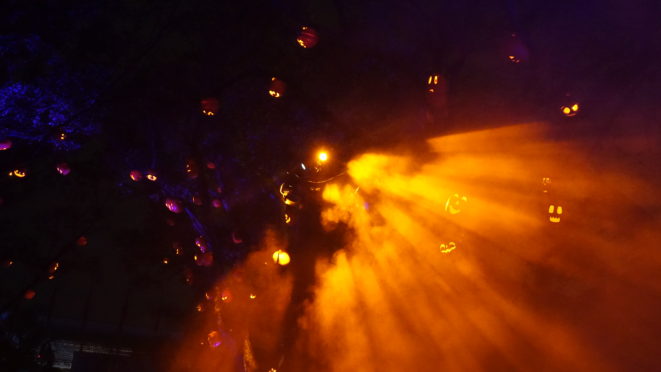 I've been told that Sam is in charge of enforcing the rules of Halloween.  I've not seen his movie, so I'll take other's word on this.  I just know that I've got a huge bowl full of candy from Mickey Not So Scary Halloween Party!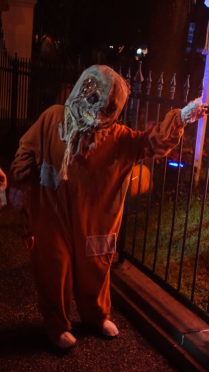 Could you spare some candy for a brother down on his luck?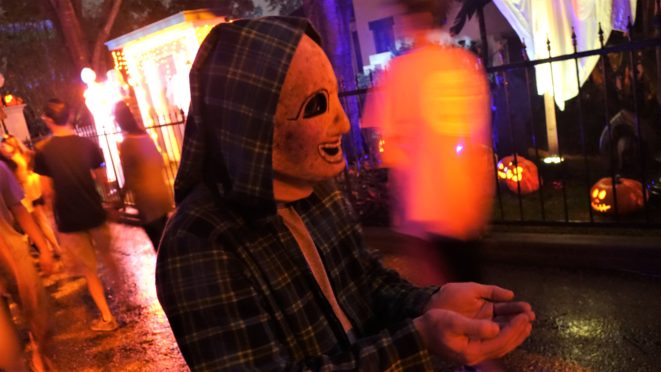 I've got my eyes on this post, Pirate!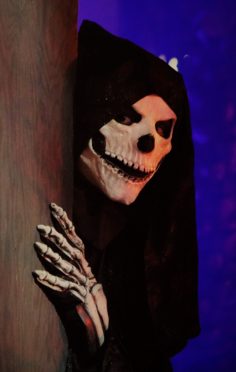 I don't know the story with the bunny, but he wanted me to take his photo.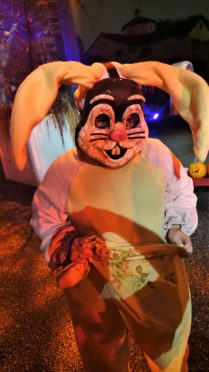 This is how you should decorate your lawn!  I'm thinking of sticking a candle in a brown bag with a pirate face cutout.  Think that will pass the rules of halloween and keep the guy with the sucker out of my yard?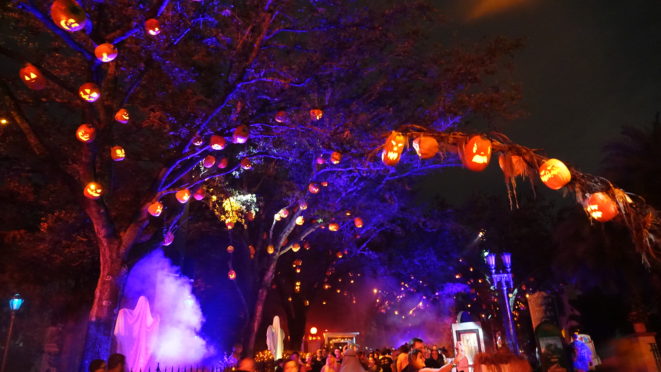 Festival of the Deadliest
This scare zone is located in Hollywood.  I'm not sure what makes it "the deadliest."  It seems like people just walk back and forth in a menacing manner or dance around.  Occasionally they say boo!  It is a very photogenic zone with the lighting and costumes though.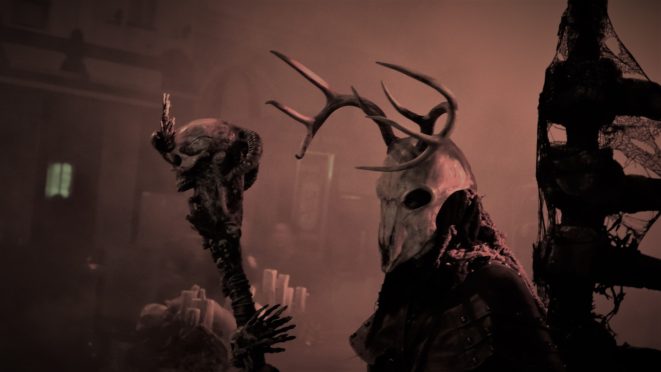 Who you photographing blogger guy?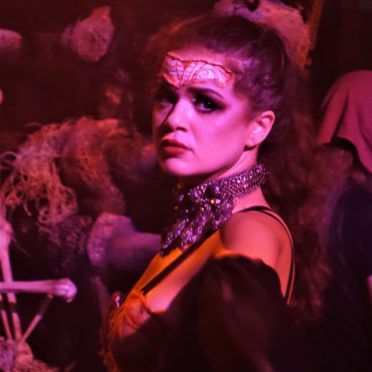 Does he remind you of Skeltor from He-Man too?  "How upleasant it is to see you, sniveling coward!"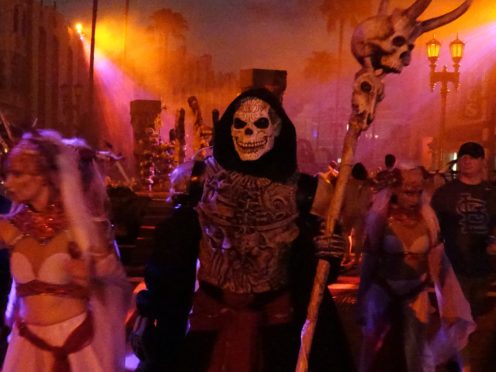 Smile and say Quesarito!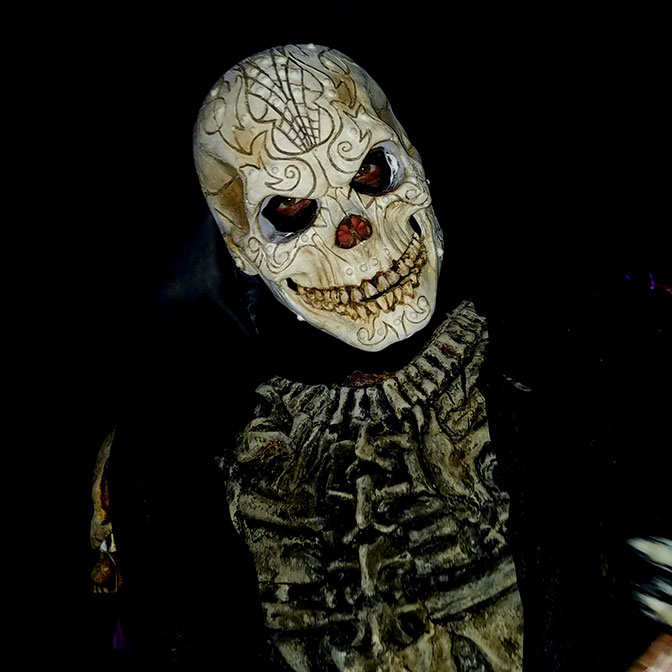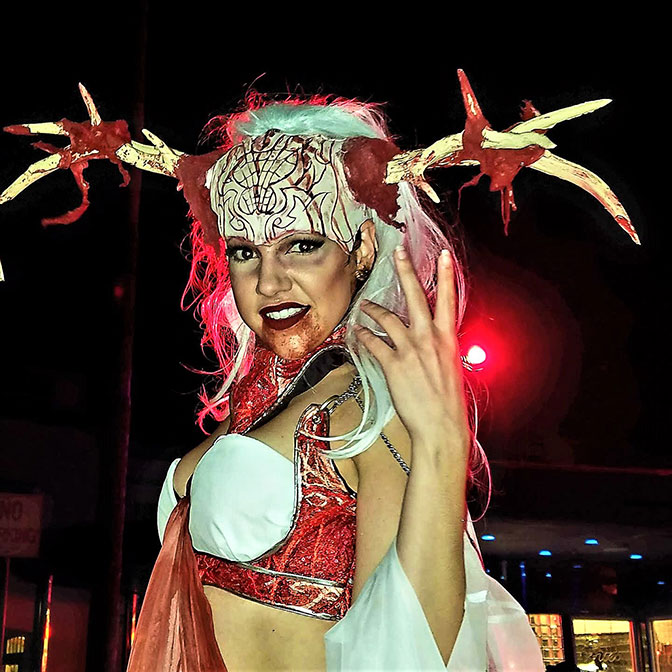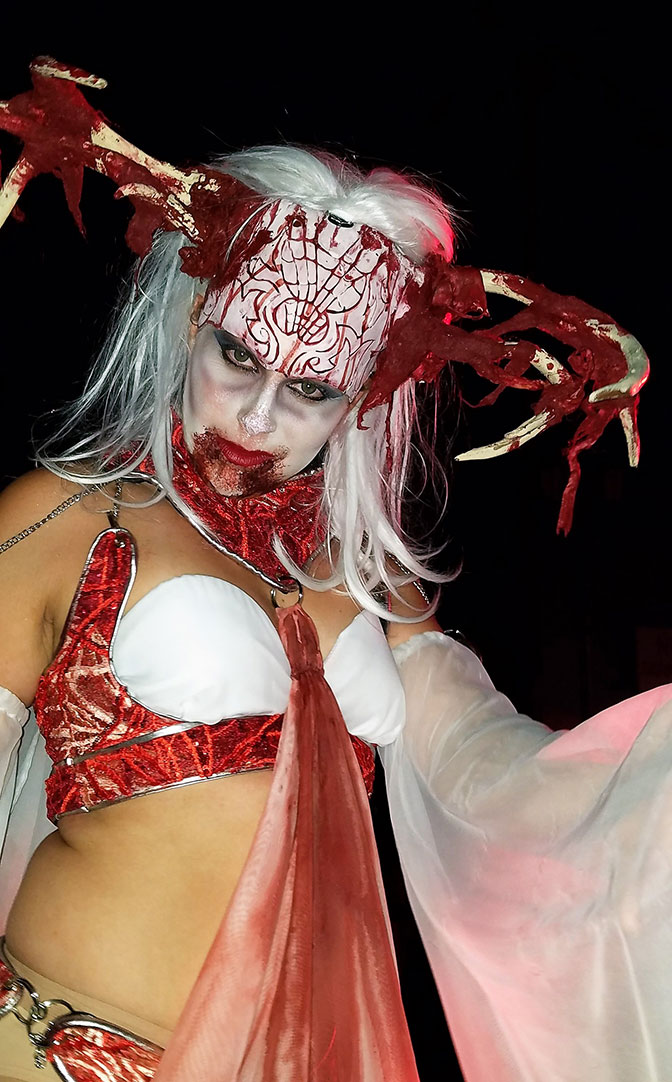 Who you photographing blogger guy?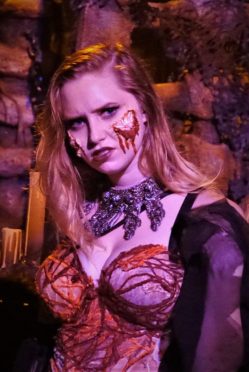 Peek-a-boo!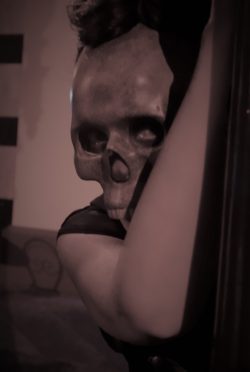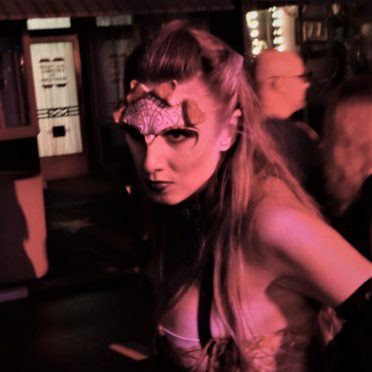 I think I saw this guy on his way to biker week in Daytona last year.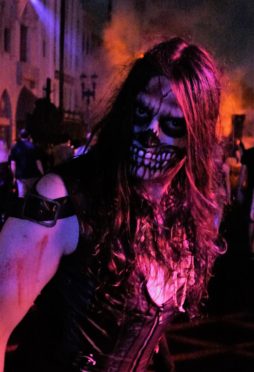 What up?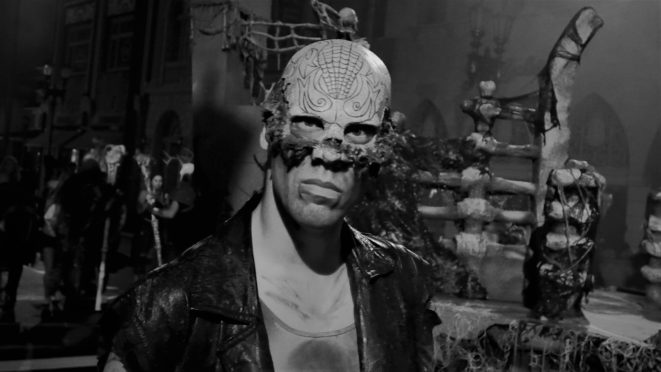 Artsy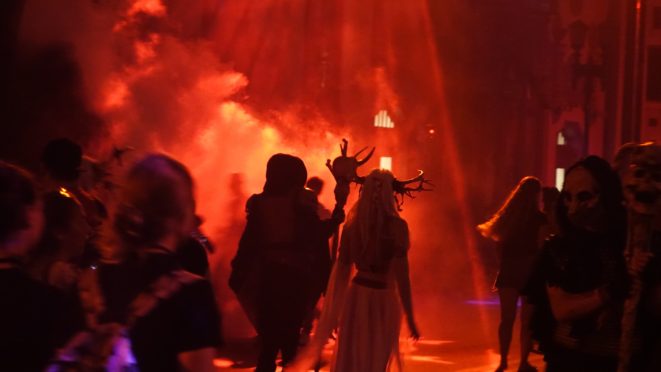 I revel in tourists spending their money!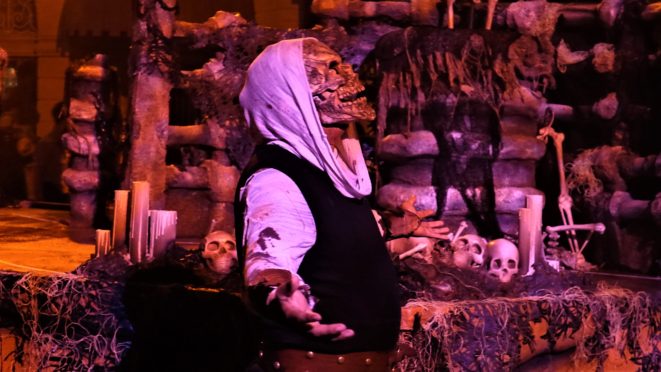 I thought this had a very Gladiator sort of vibe.  What do you think?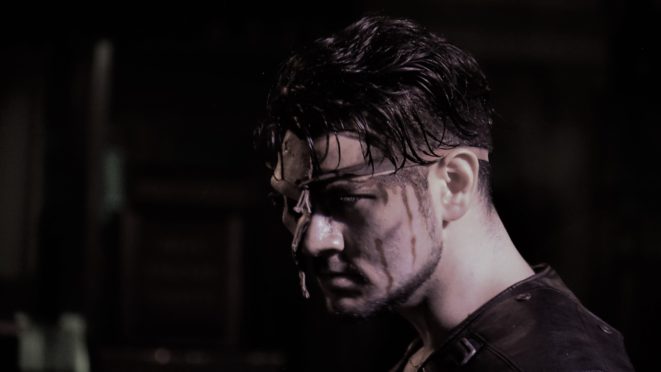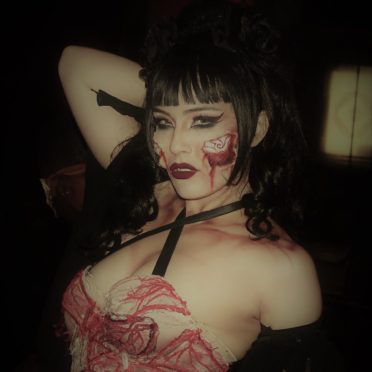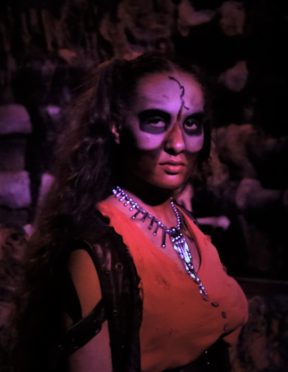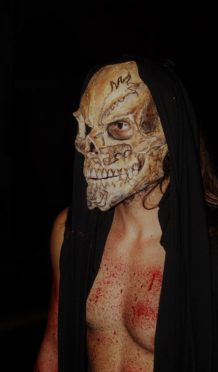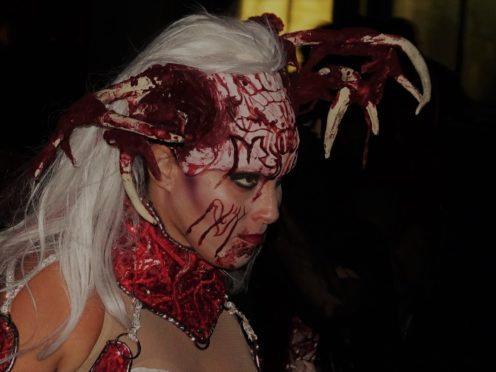 Sticking an animal head on your noggin isn't the most original costume.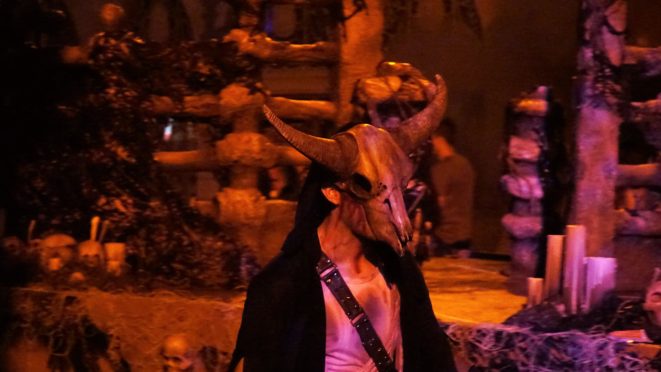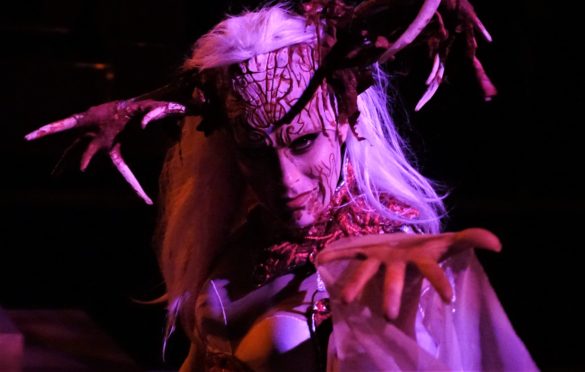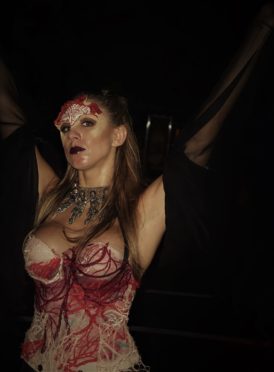 Artsy!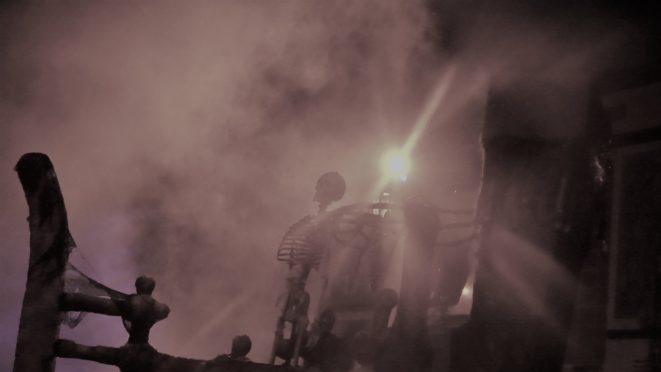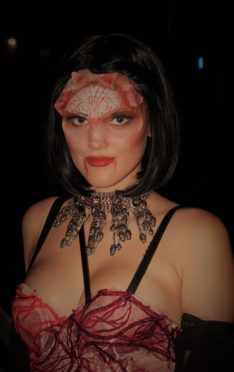 Artsy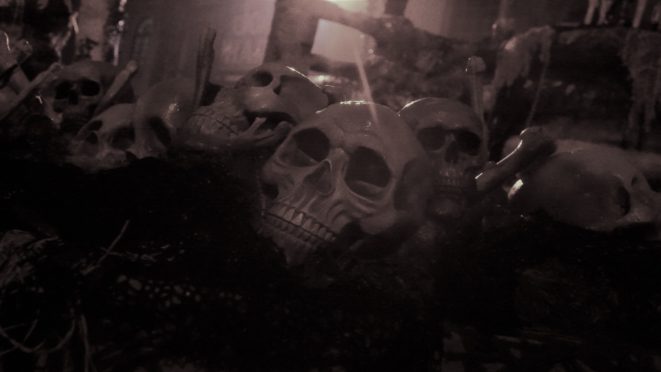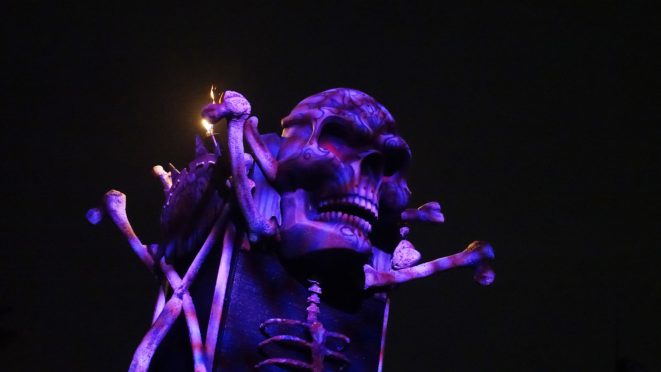 Well, the torture has ended and the pain of reading my regular articles may continue until further notice.
Did you like any of my photos or terrible attempts at humor?  Let me know in the comments here or on my Facebook page.