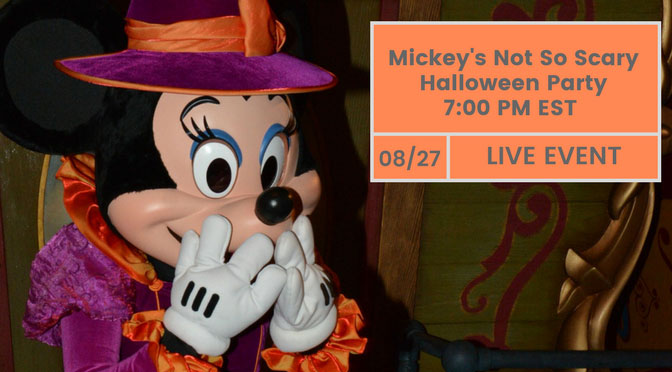 I'm excited to announce that I'll be offering my 2nd Annual Mickey's Not So Scary LIVE Webinar event! Here's the details:
Event Information
On Sunday, August 27, 2017, at 7:00 p.m. EST KennythePirate is joining you LIVE for this FREE event!
Get all the latest details for the 2017 Mickey's Not So Scary Halloween Party at Walt Disney World's Magic Kingdom Park.
Bring your questions and keep a note pad handy to learn how you and your family and can make the most of your night!
Be sure to sign up now and we will Spook Ya Real Soon!
You must "save your spot" to join!
In order to attend this event, you need to click the link below to "Save my spot." After registering, you'll receive a confirmation email and can add the event to your calendar! 10 minutes before the event you'll receive an automated reminder email – use the link provided to join the webinar!
Polls & Questions
Have fun before the event!
Look under respective tabs on the event page and be sure to take our poll and ask a question that we will answer LIVE during our event.
How to Ask Questions
If a guest has already asked a similar question, rather than posting the same question, please vote on the question with a simple click of the up-arrow! Questions with the most votes will be answered first.
F.A.Q.
Will there be a replay available?
Yes, however, we cannot commit to a specific date for the replay at this time.
Is this really FREE?
Yes! We LOVE sharing our Disney tips and secrets with our audience. Making the Disney experience easy for guests allows for a much more magical experience.
It's important to understand, we pour hours of work into our webinars to give you the most recently available ACCURATE information out there. We do the webinars each year because we LOVE hosting them and want to share the fun with all of you!
Any promotional items that are offered for sale during our webinar help us offset the cost of the technology.