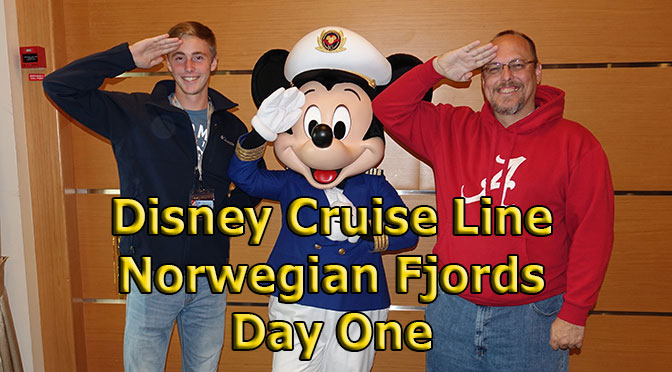 I promised my children when they were little, that if they graduate high school with honors, I will take them wherever they wish to travel as their gift.  Well, I told them I would send them, but they seem to like me a little and want me to tag along.  My daughter chose Hawaii two years ago.  My son chose to visit Norway.  When we found that Disney Cruise Line was traveling there, it was a win-win.
I think I come out ahead in the deal because they are going through college for 4 years with no debt and it only costs me the price of a trip.  The bonus is spending a week with my awesome son and talking about life, future plans and sharing some great memories together.  Today is the first in a series of posts about our experiences onboard the Disney Magic and the ports of call in Norway.  Follow along!
Because it involved international travel from Florida to Denmark, we chose to depart one day early and return one day late.  It helped us acclimate a bit and be safe in case there were any travel delays.
We flew via Air Berlin, which was a pleasant first for us.  The staff was professional and attentive and the food was actually quite good.  Our first flight was about 8 hours to Dusseldorf, then we had a ridicoulously long delay.  I fell asleep on the floor only to have a security guard wake me up to see if I was okay.  I was sleeping on a pillow :)  Well, there went the sleep.
After the connection from Germany, we arrived in Copenhagen, Denmark.  We took a cab to the Crowne Plaza hotel near the airport.  It cost me about 220 Danish Krone.  When traveling through 3 countries with different money, you get confused about how much things cost, but do know that Denmark and Norway are EXPENSIVE.
Our room slept two.  The bed looks like a Queen, but it is actually two smaller beds side by side.  Seems like a lot more work to change the sheets.  The bed was comfortable, but the air conditioning never made it to a reasonable level, so it was a bit warm for our liking.  We were told Euros like it warmer because it is more green.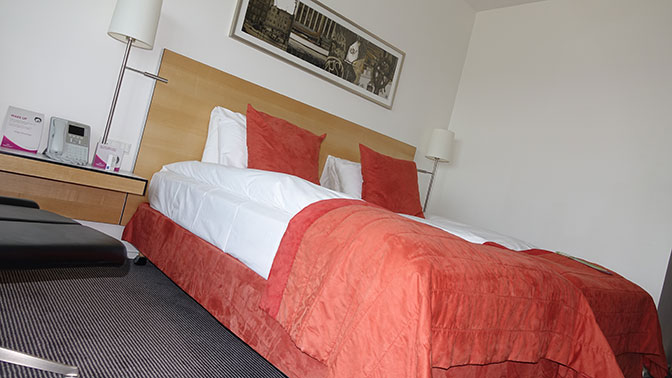 The restroom area was nice and the room overall was clean and acceptable by American standards.  It wasn't a 5 star resort, but it was functional for an overnight or a business stay.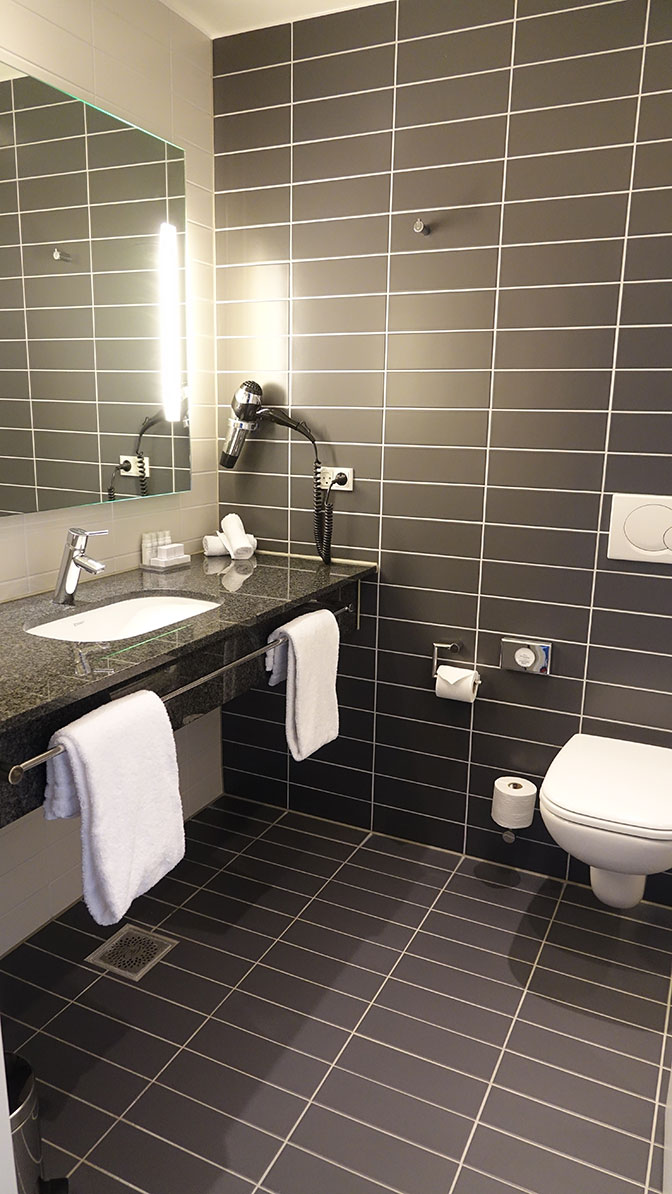 Euro style bathrooms often have the small glass divider for the shower.  I suppose it is cheaper than replacing shower curtains.

The shower did produce very hot water, so that was a plus.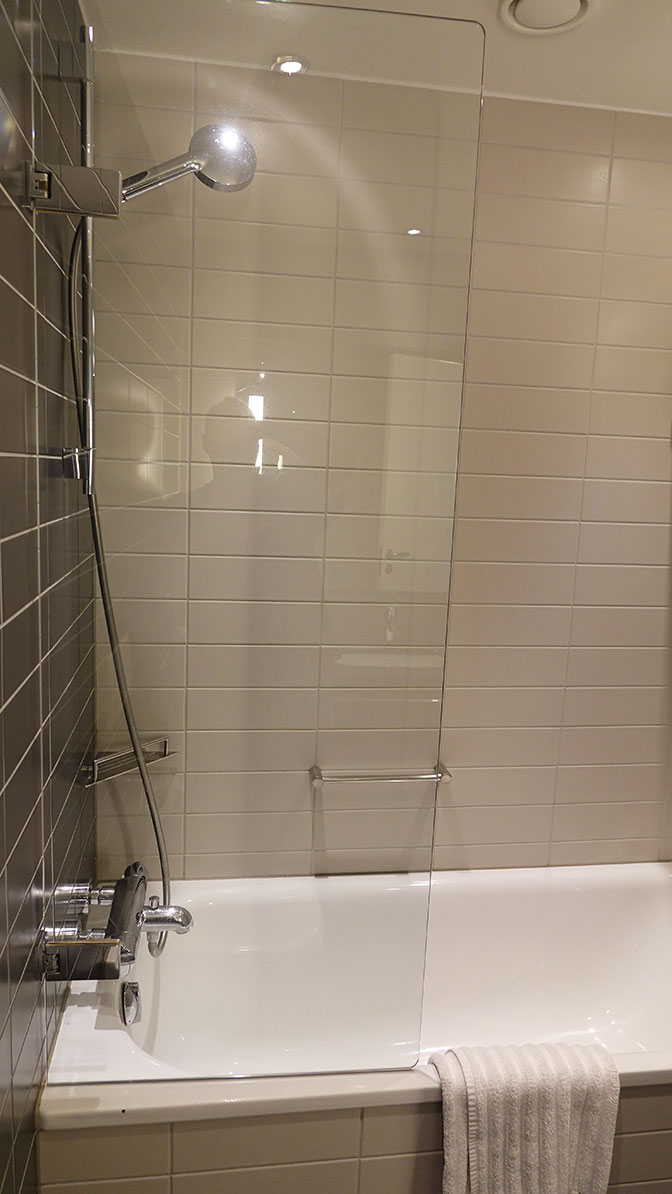 You're provided complimentary bottled water, coffee and tea.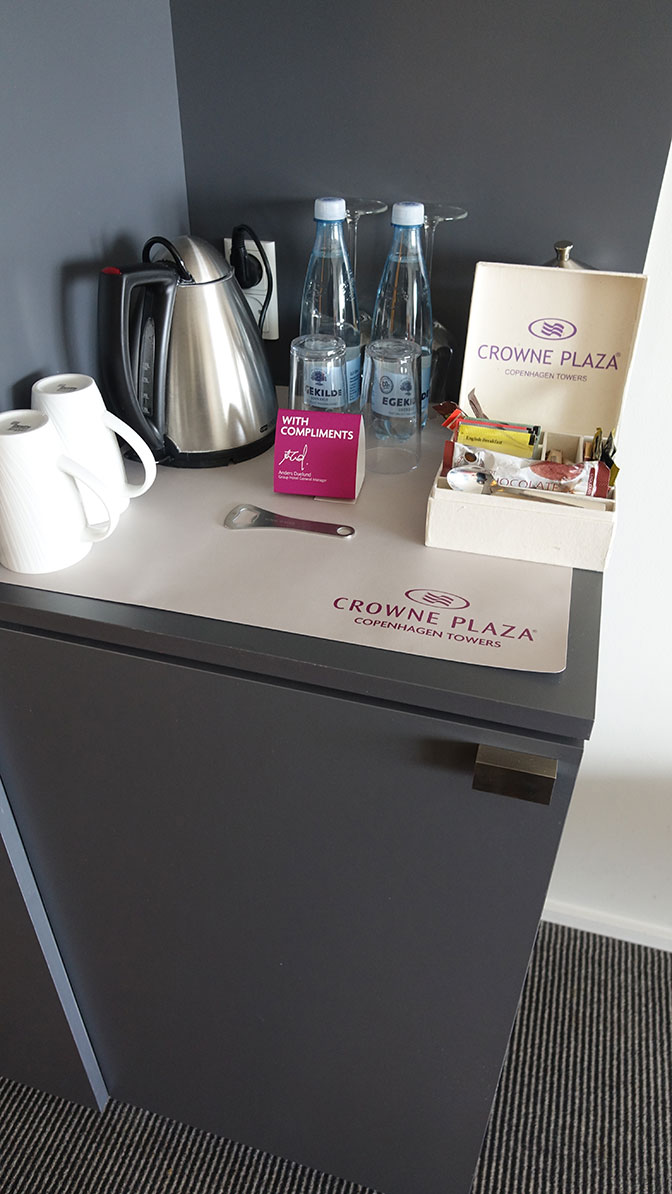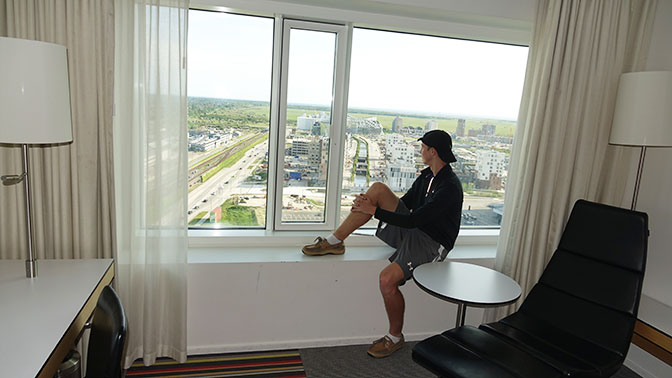 Gazing out at the neighborhood.  It appears that this is a new area near the airport with a big stadium next door.  You'll see a great deal of construction, but nothing you can hear.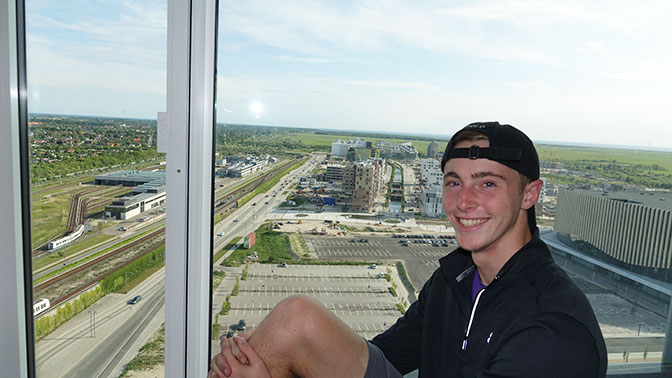 It has a big screen television, but most stations are in Danish.  You'll find a couple of things in English.  If you forgot your power converter, like we did, you can get a couple for free at the front desk.  Just return them at checkout to avoid being charged.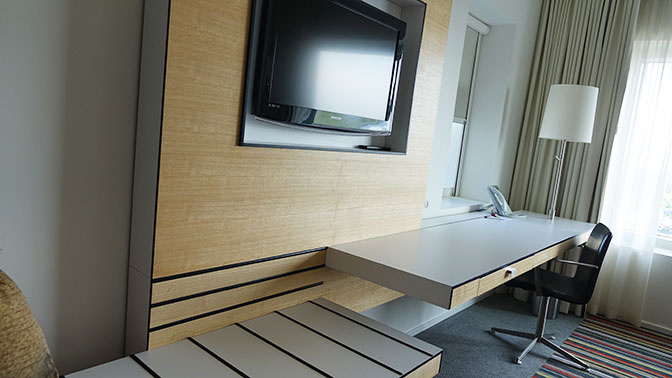 We went downstairs for dinner and ended up with a $20 cheeseburger.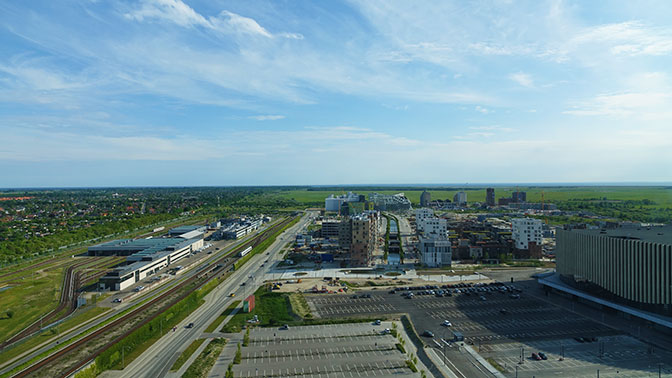 You're probably interested in the actual CRUISE, so I'll jump into that.  we stayed in an inside cabin for budget reasons and because we are just a couple of dudes.  We don't spend a great deal of time in the room anyway.  My Silver level gift this time was a handy backpack that we used while touring.  My son opted for the fold out sofa bed that is made each night, leaving the giant bed for me alone!  muhaha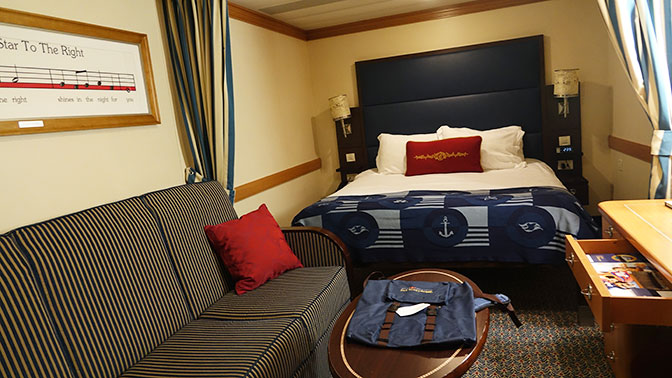 The small counter has your wave phones, the small television with remote and reading materials.  We chose a character meal for the next day, so the tickets were already waiting on us in the room.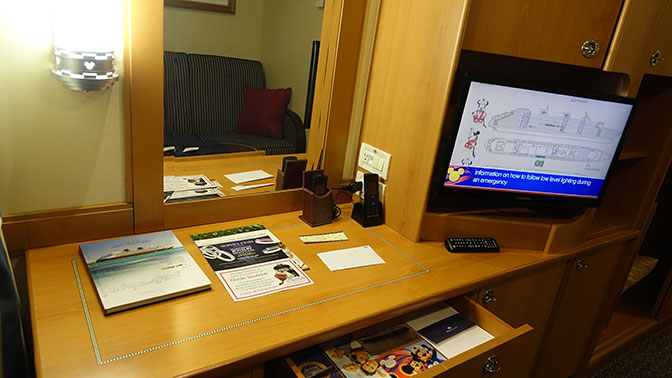 Our room had a single bathroom with a shower.  It had great water pressure.  The toiletries are refreshed as needed and towels changed out when you desire.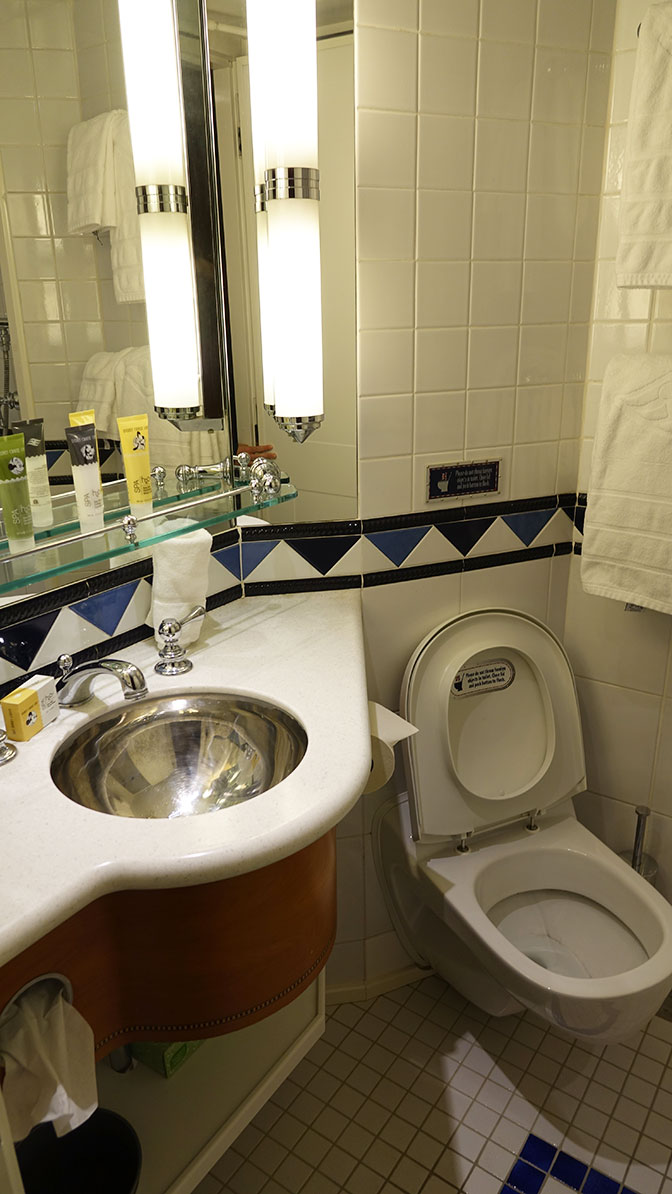 Hey, look it's from Peter Pan!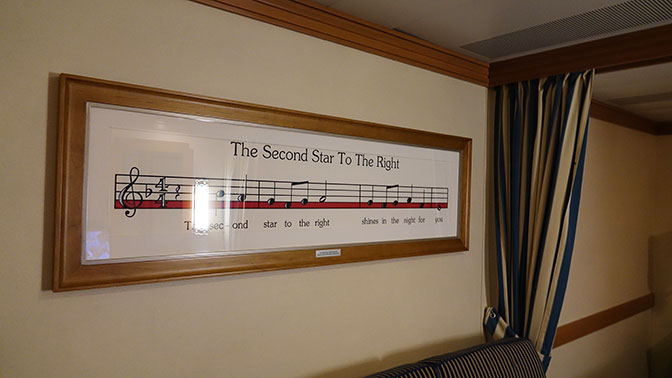 We then decided to take a self-guided tour of the ship.  I've done the one with the staff guiding and found it better to just walk around and explore.  We talked about how different everything was on the Magic vs the Fantasy, including the child play areas which were open for preview before the ship departed.
We started with the Oceaneer Club.  The Oceaneer Club is designed for children 3 to 12 years of age.  It offers a great deal of fun, planned activities, as well as free play in the area.  It is staffed by trained adults and you have to check your children in and out of the club.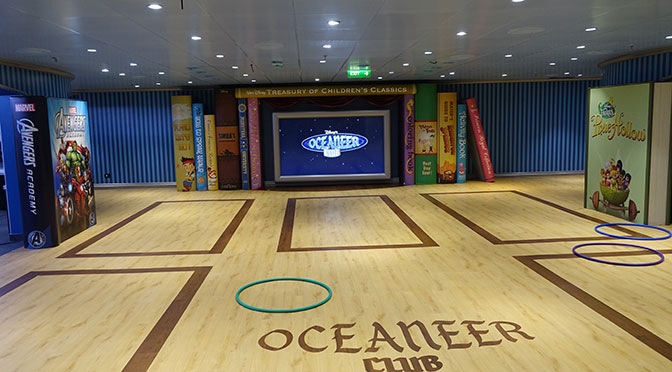 The Disney Magic offers a Marvel themed area inside it's Oceaneer Club.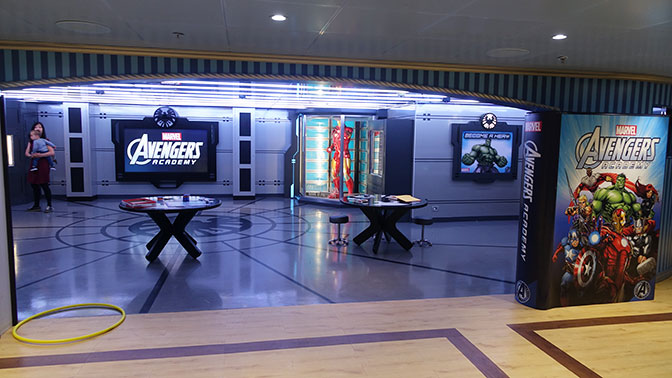 There's an area with notepads for children to play with.  They offer a wide variety of video games and interactive challenges.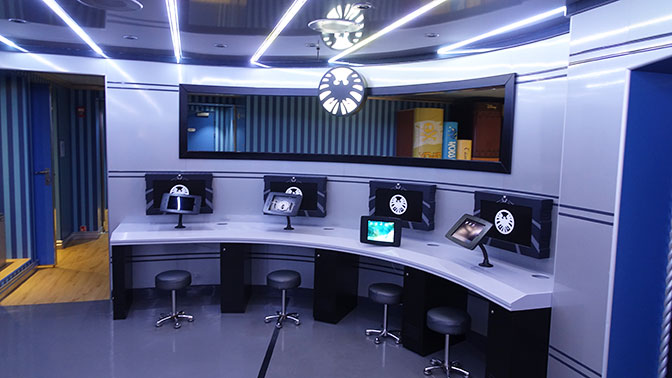 There's an Iron Man costume behind glass, but he did not offer meet and greets.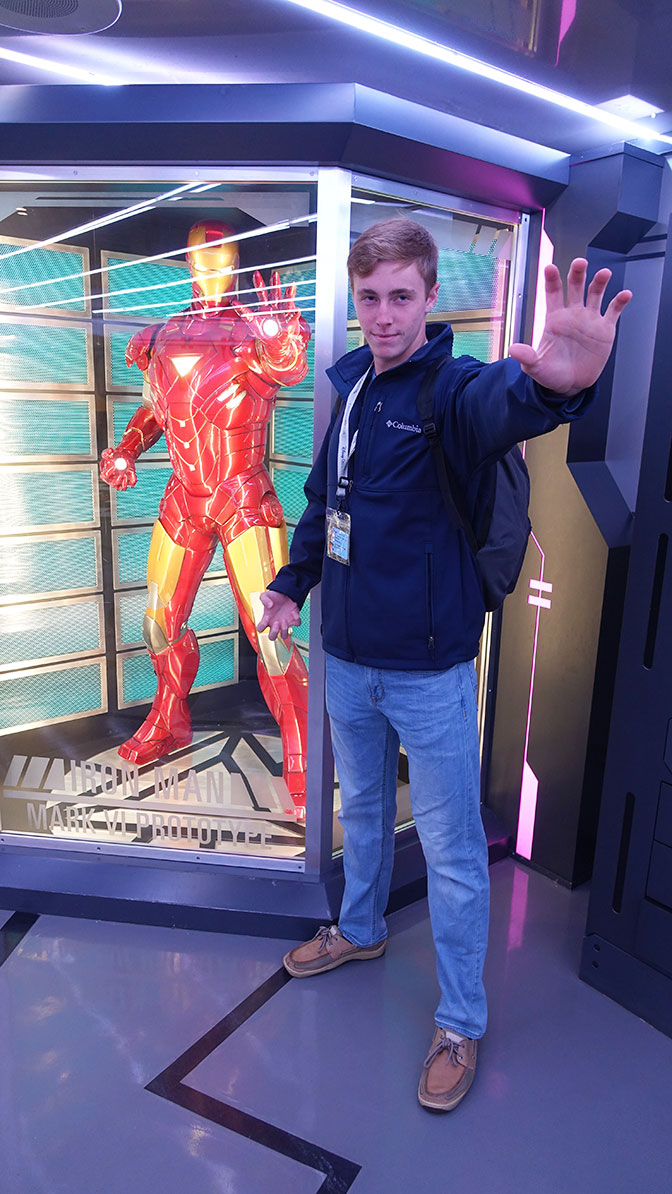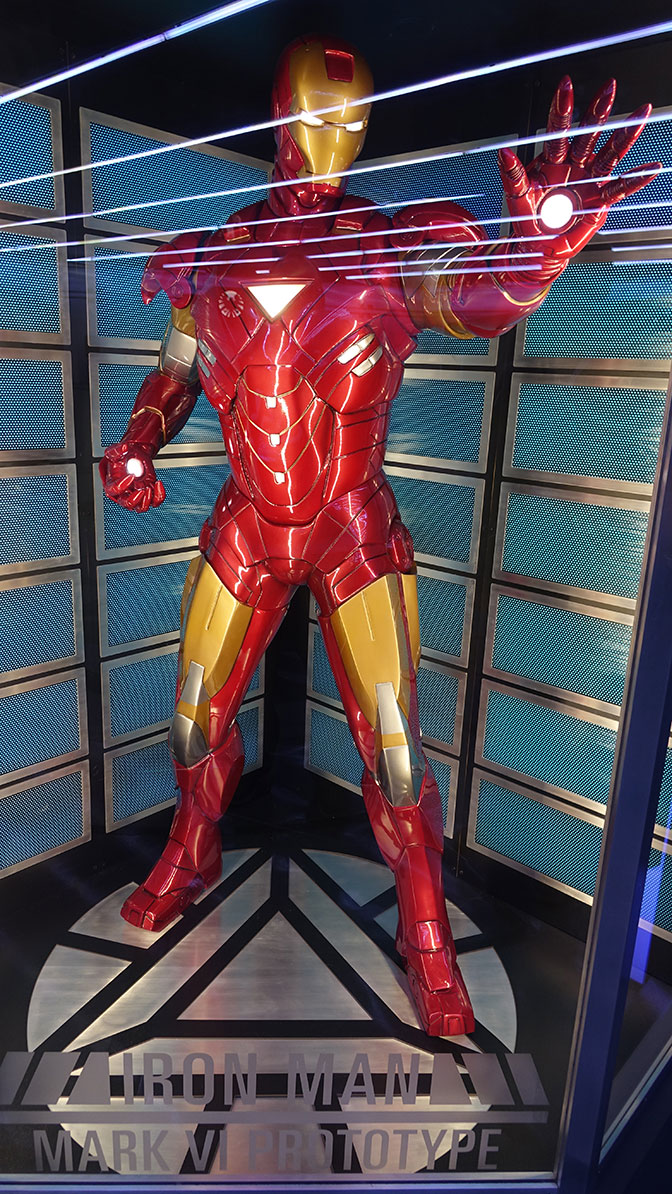 Captain America's shield is safely kept in the area.  He did offer meet and greets with kids and adults.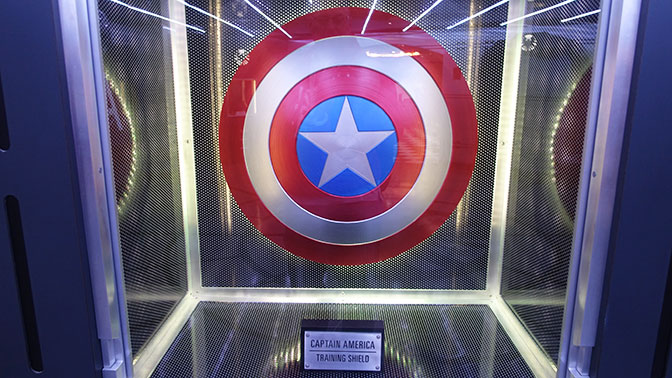 Thor's hammer is on display.  He met with guests as well.


We took a peek inside the Mickey Mouse area.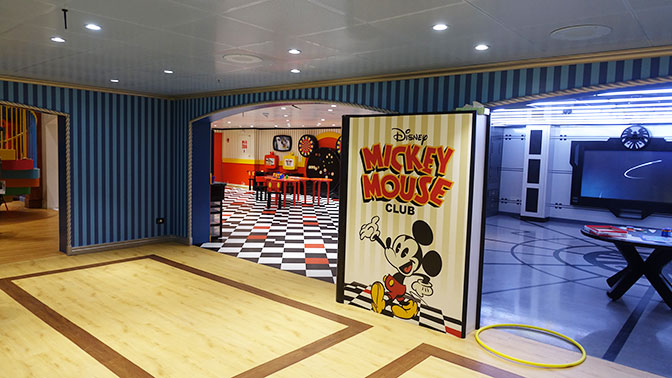 Pretty neat looking place with some games and several tables.  Kids can enjoy some snacks in this zone.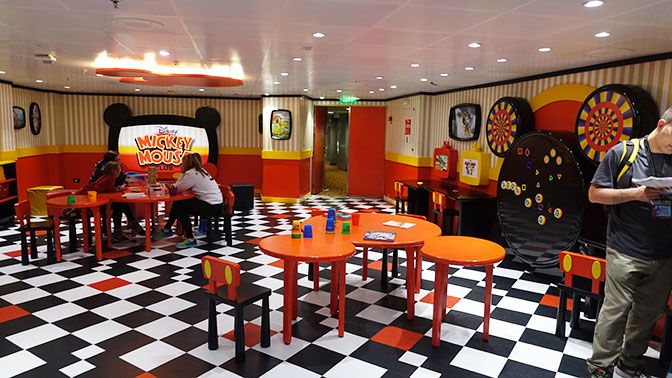 Oceaneer Club aslo has a Pixie Hollow themed area with additional touchpads and other games.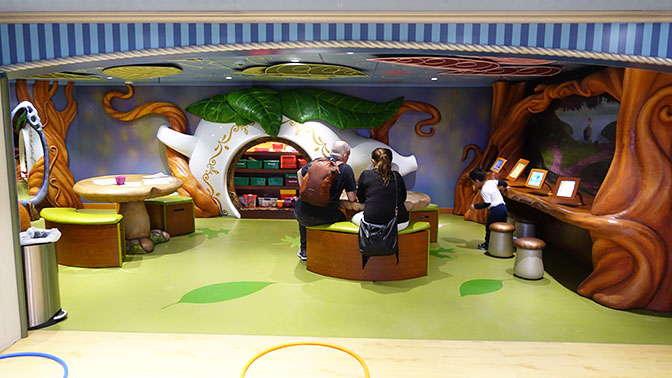 The final area was the Toy Story area with a climb and slide area.  Kids were already enjoying the twisty Slinky Dog Slide.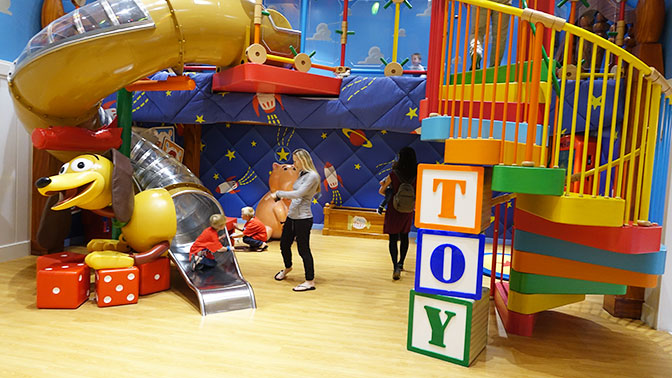 I found that potato guy once, but he escaped my clutches after a photo and is still at large for $50Bzillion.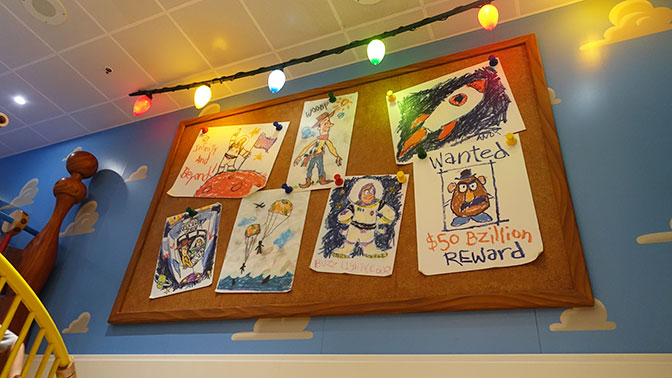 Andy's room always sparks some great memories from Toy Story and childhood, doesn't it?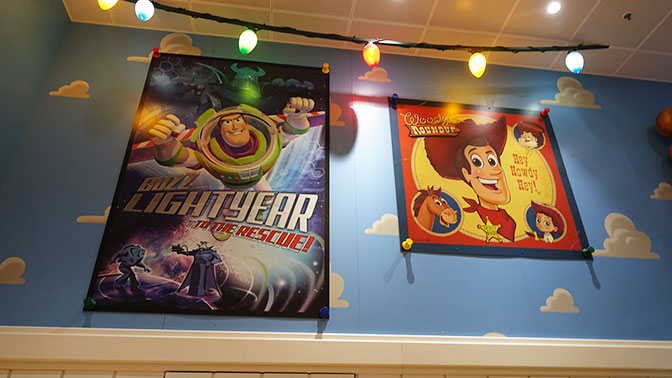 What up dog?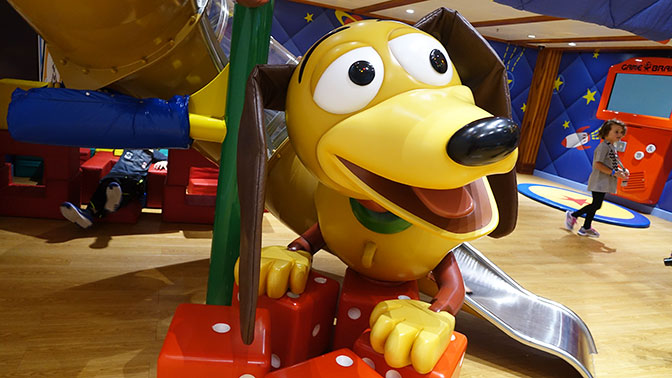 Nate poses in his Slinky pose.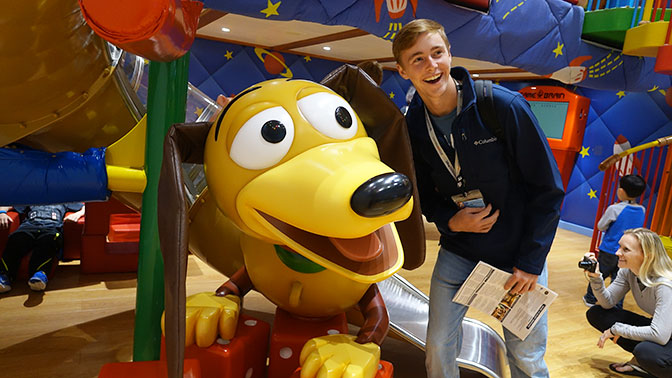 Ham and Potatohead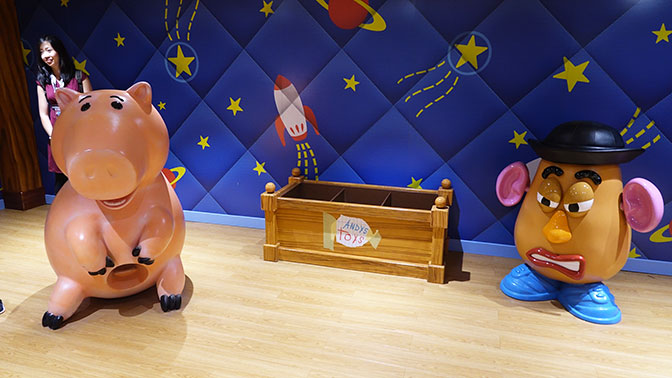 $50 Bzilion!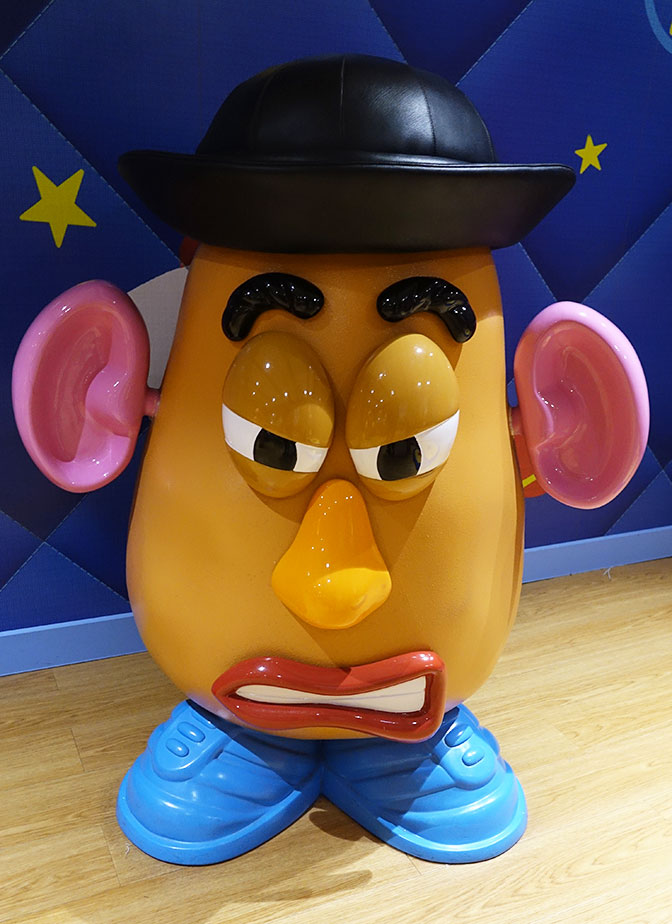 I give my Potato pose.  Probably do this better in my chair typing this post.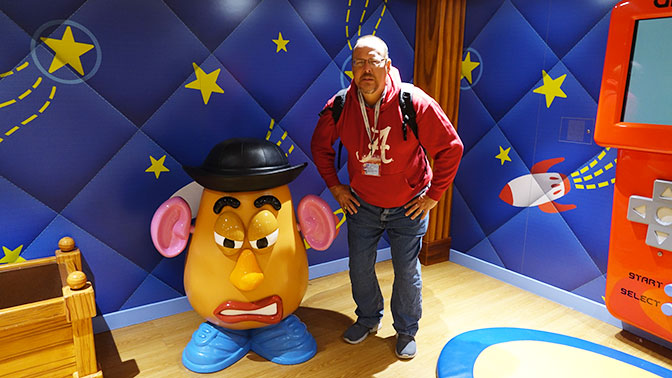 I so wished this was a real game!  I can't play those games with 14 buttons very well.  Give me a Coleco football or old school Nintendo and I'll dominate.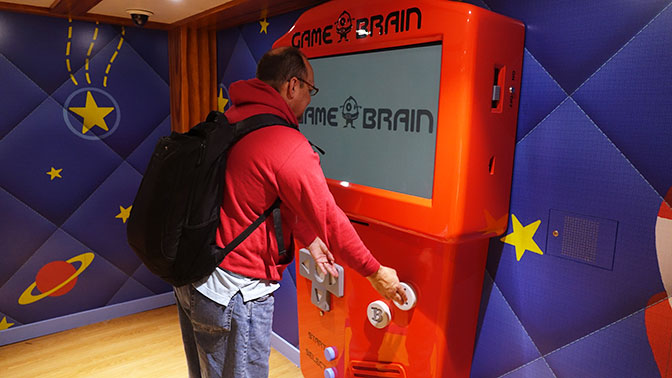 After looking over the Oceaneer Club we stopped briefly in the it's a small world Nursery area while it was in open house mode.  You have to register your child in advance for this opportunity and there is a fee involved.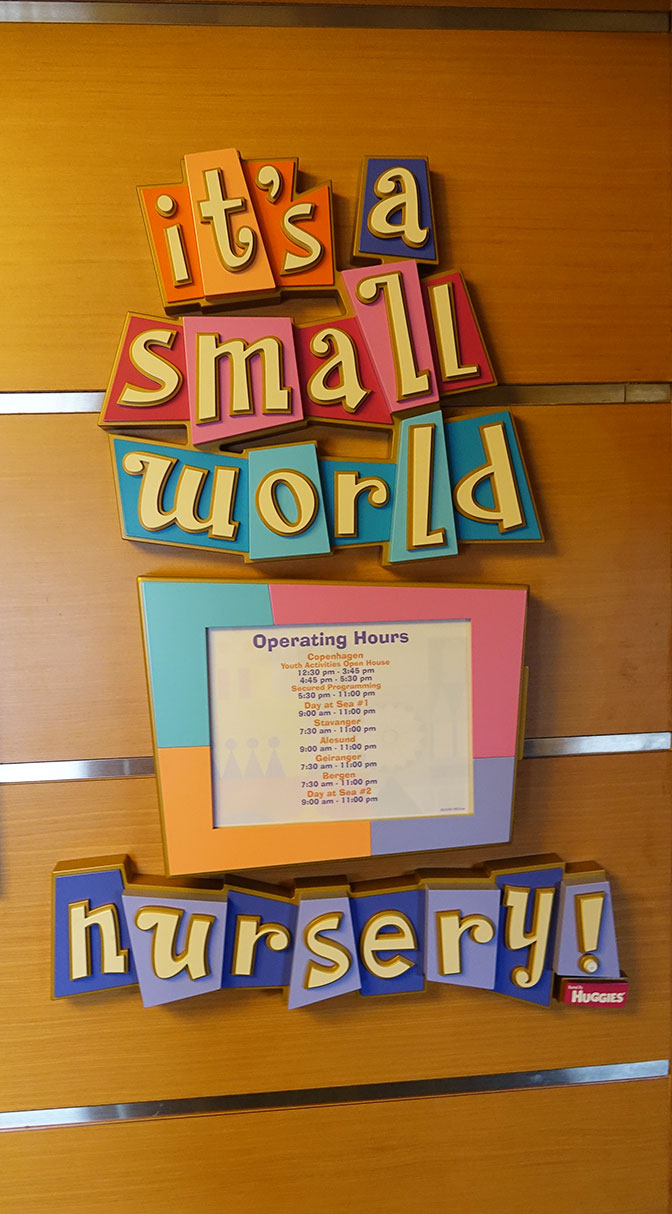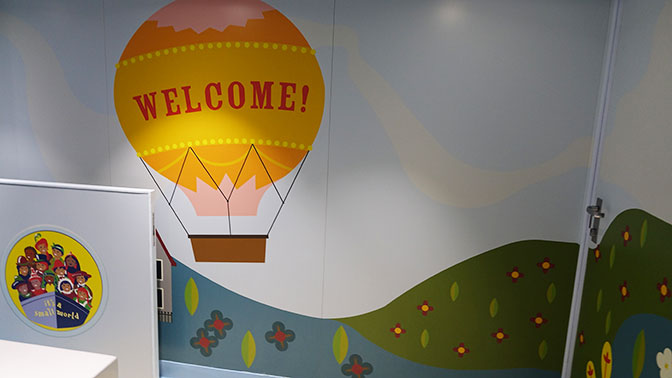 Here is the check-in station.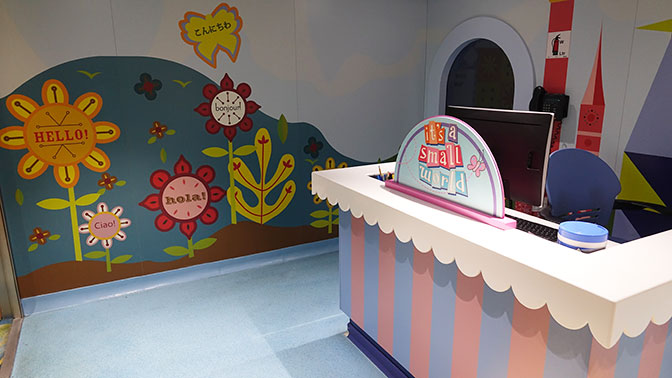 They have a few little push toys.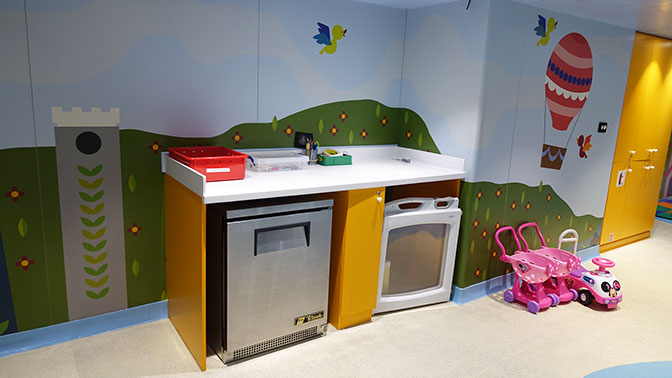 Roll tide!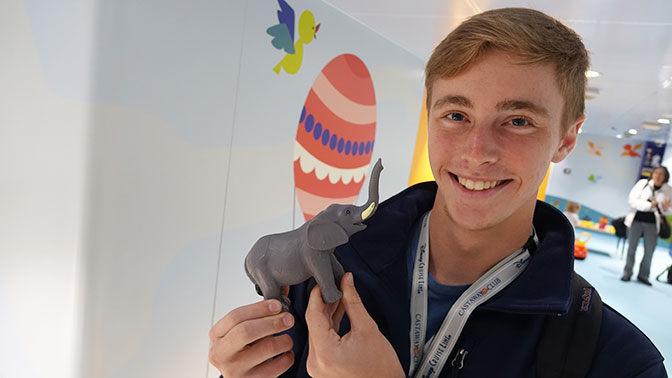 It is a very small area, so the number of children allowed inside is very limited.  Nate wanted to stay and work on his #dunkcity #wingsup, but he was a little out of the age range, plus I didn't sign up in advance.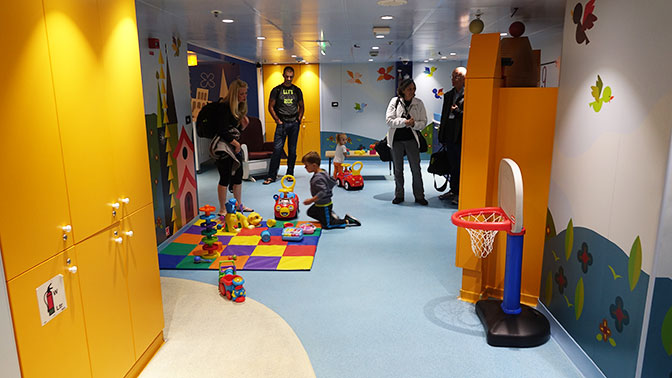 Here's the Buena Vista Theater.  You can view first run Disney movies at no additional cost.  You can even bring snacks down from deck 9!  I watched Guardians of the Galaxy 2 on my last sea day onboard.  I enjoyed the movie.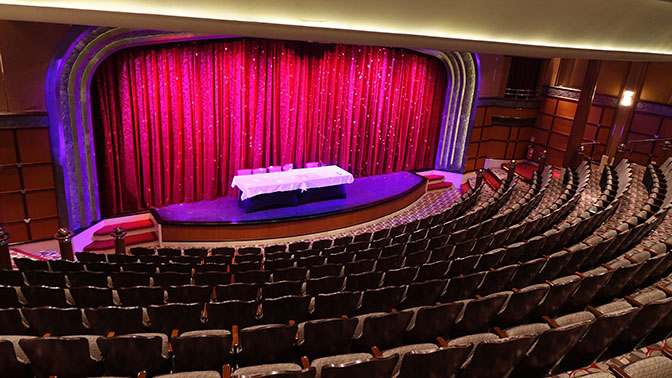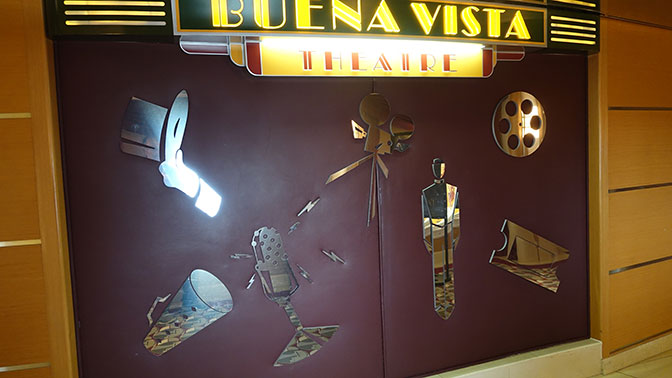 Elevators.  There is a set forward, mid and aft as well as stairs.  I climbed a bunch of stairs to compensate for all the dessert samples and free ice cream.  We went up to deck 9 to get some food at Cabanas before we sail away.  You can find burgers, pizza, chicken nuggets and such most of the day.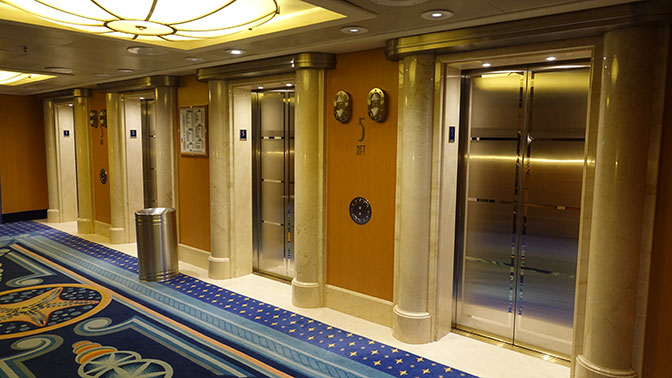 Our check in station for the muster drill was inside Animator's Palate.


It was raining in Copenhagen as we left, so they moved the sail away party indoors.  It was VERY cramped.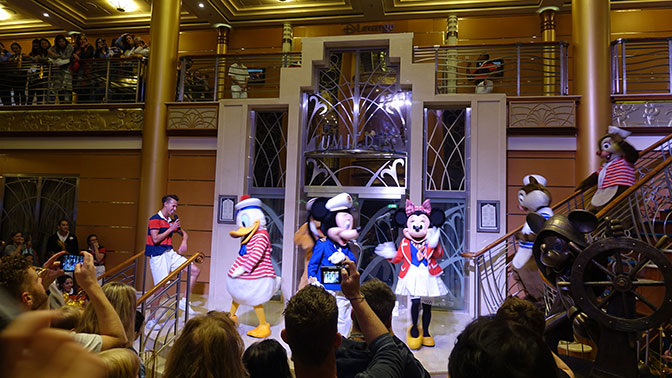 I appreciate them doing it indoors for the safety of the performers and guests, but it is much more fun outside.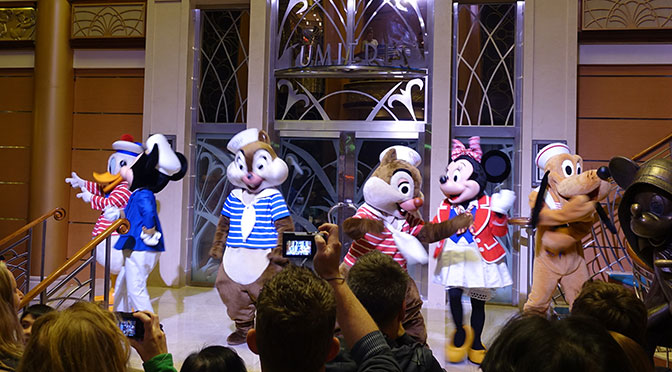 How much of this confetti will be in little kid's pockets tonight?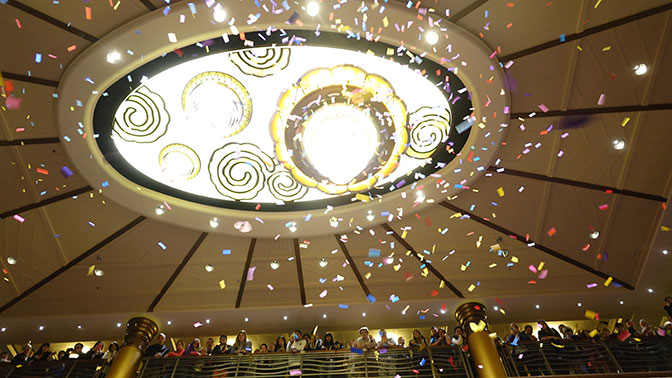 Anchors away!!!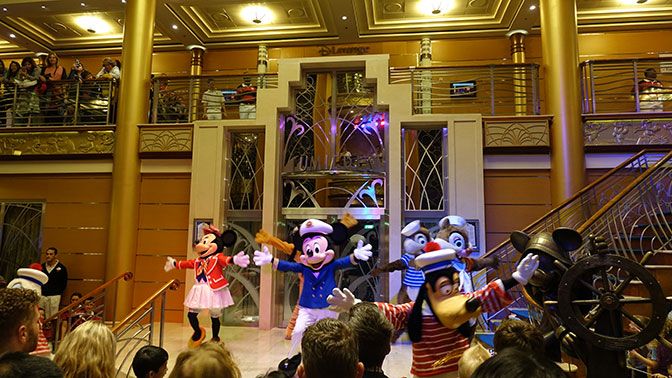 After the sail away party, everyone begins looking for things to do.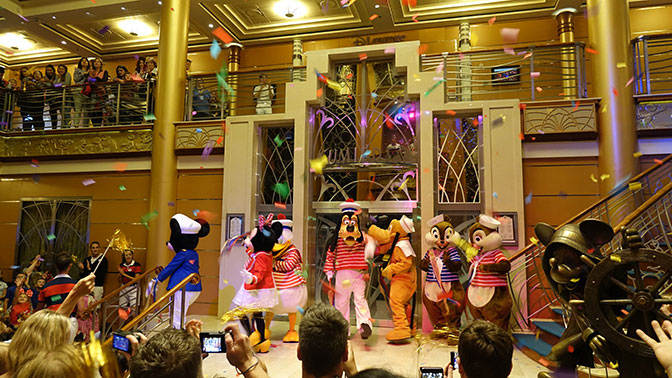 We visited the Edge Club next.  It is designed for "Tweens" which are people from ages 11 to 14 years.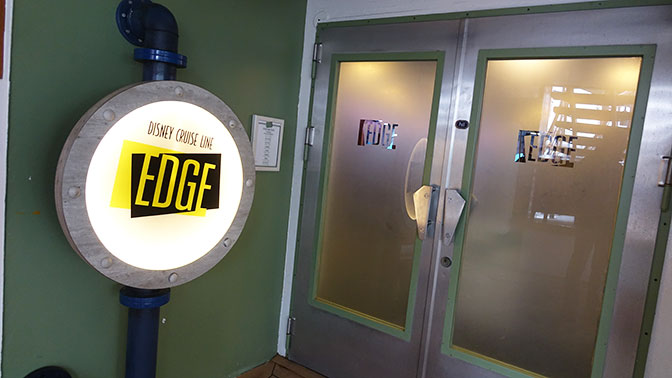 11 to 14 was an awkward age for me.  I'd prefer not to repeat that range.  Looks like these kids are more well adjusted.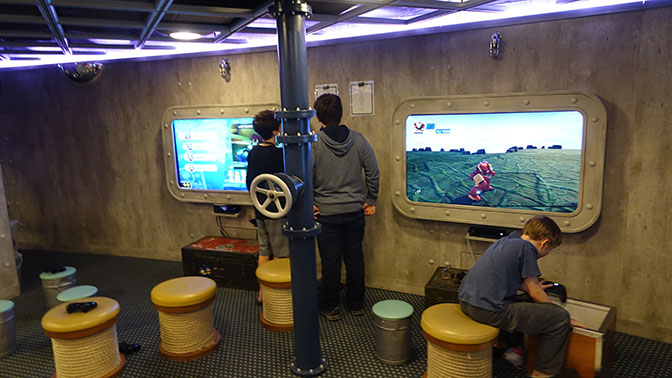 Big ole tv.  That's all a kid really needs these days, right?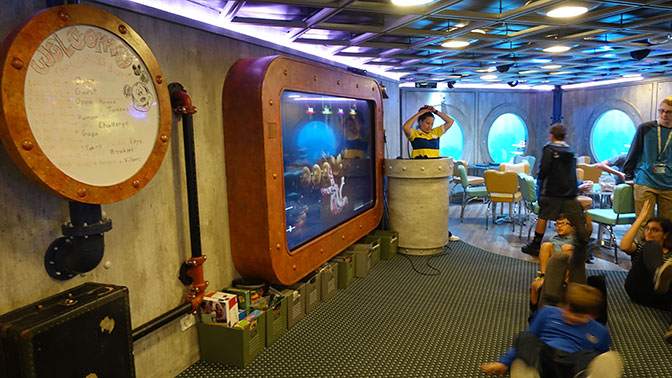 And dad, granddad, grandma…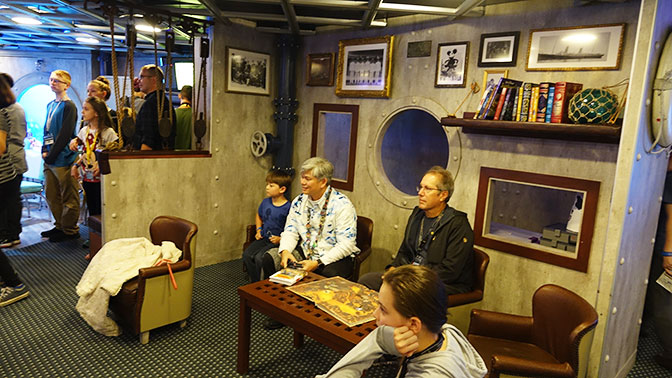 Mix and mingle area for snacks and chat, maybe some board games.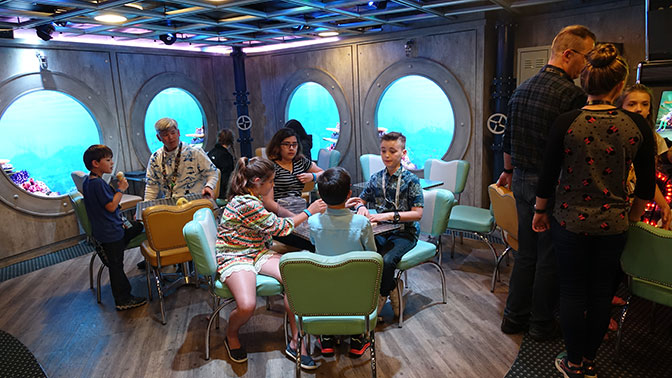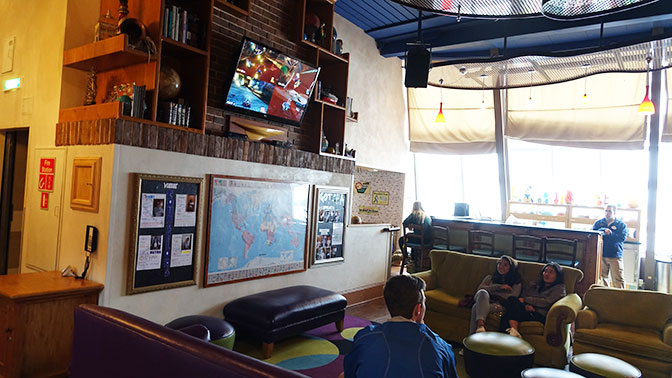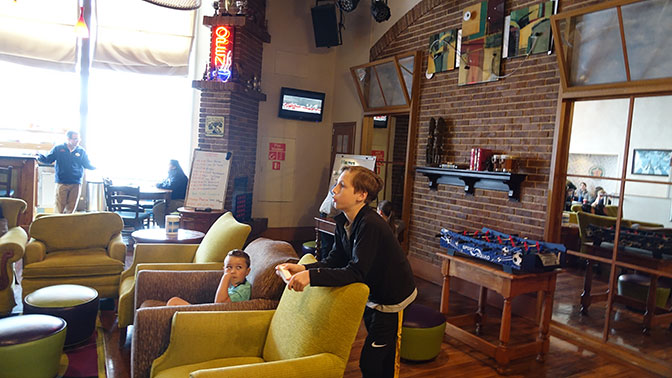 It was cool seeing a dad showing his son how to play guitar, or was it the other way around?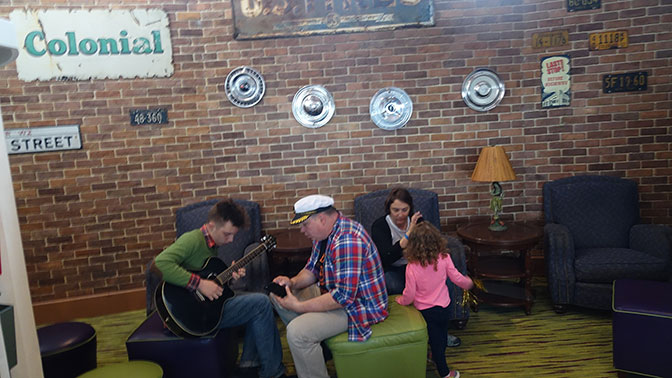 Looks too much like a geography classroom here.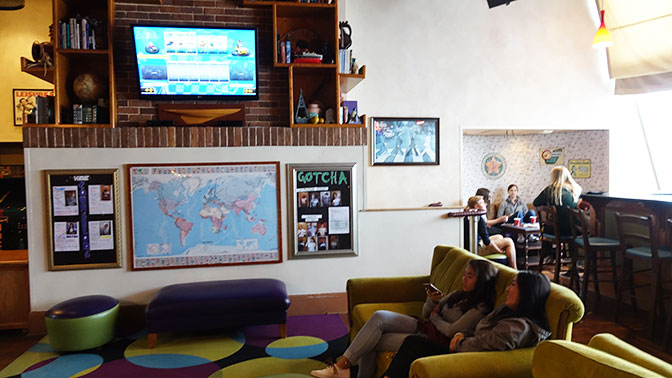 I allowed Nate to decide what characters we would meet on the trip.  He wanted to begin with nautical Goofy.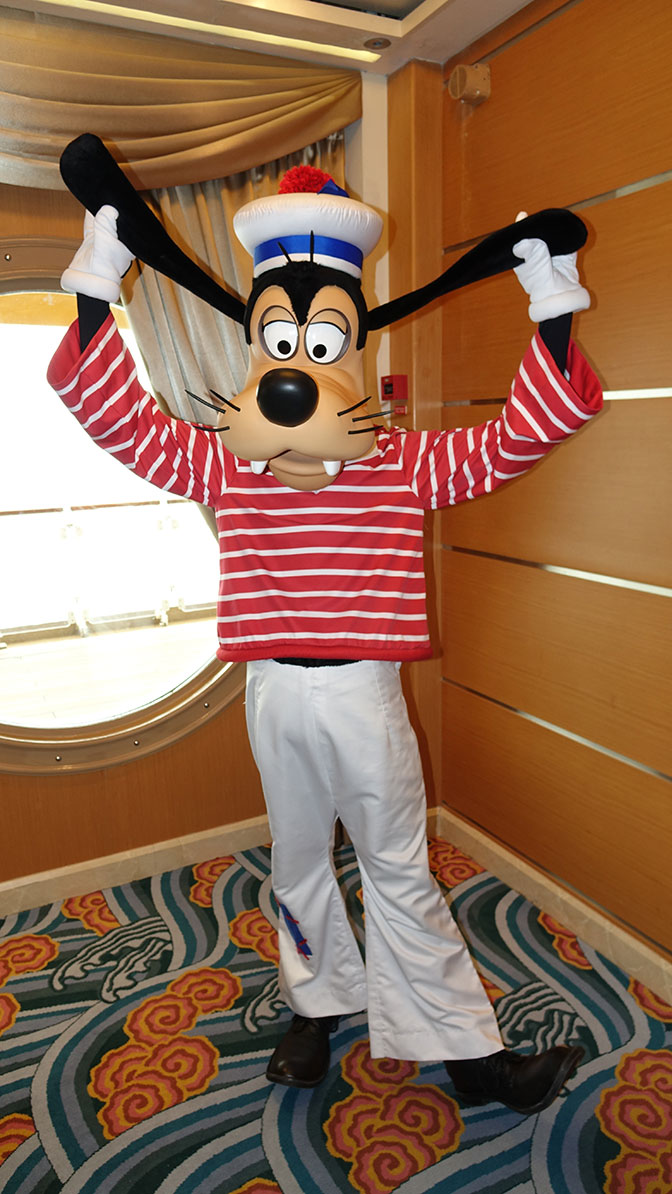 Hey, the gang's all here.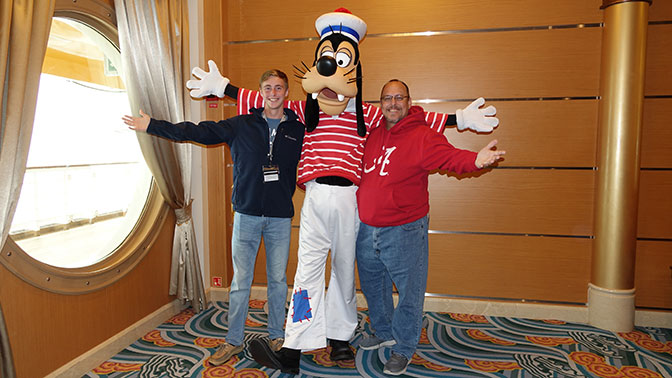 We then waited for Captain Mickey.  The characters wore these costumes often on the ship.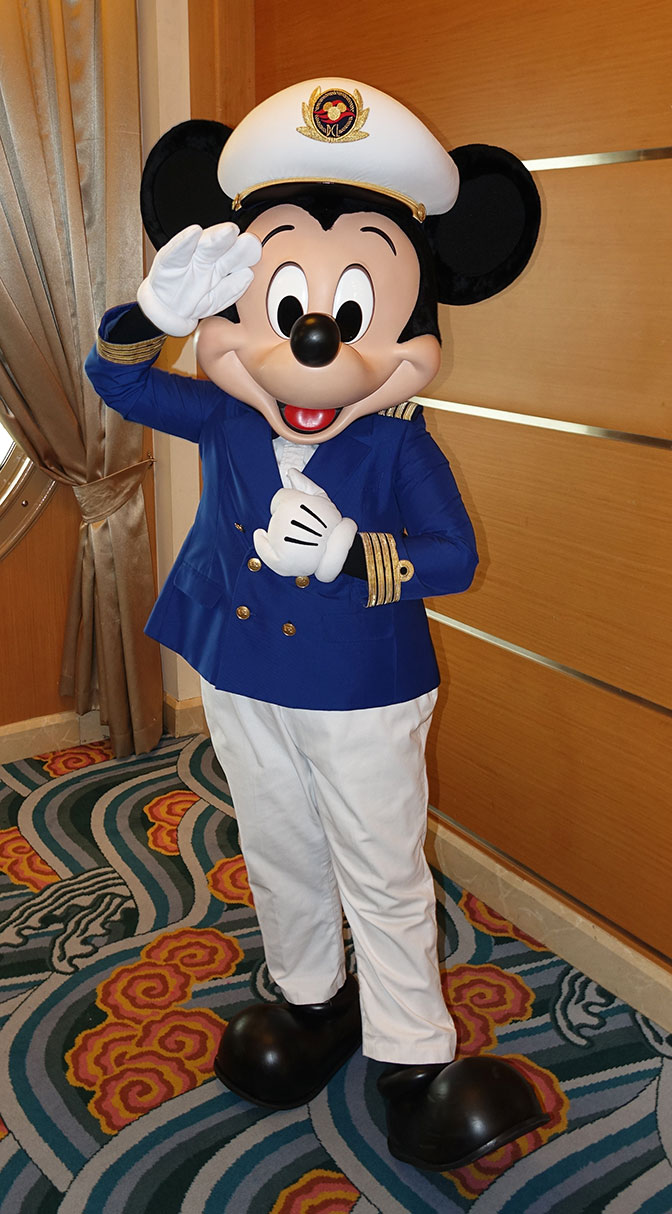 Salute!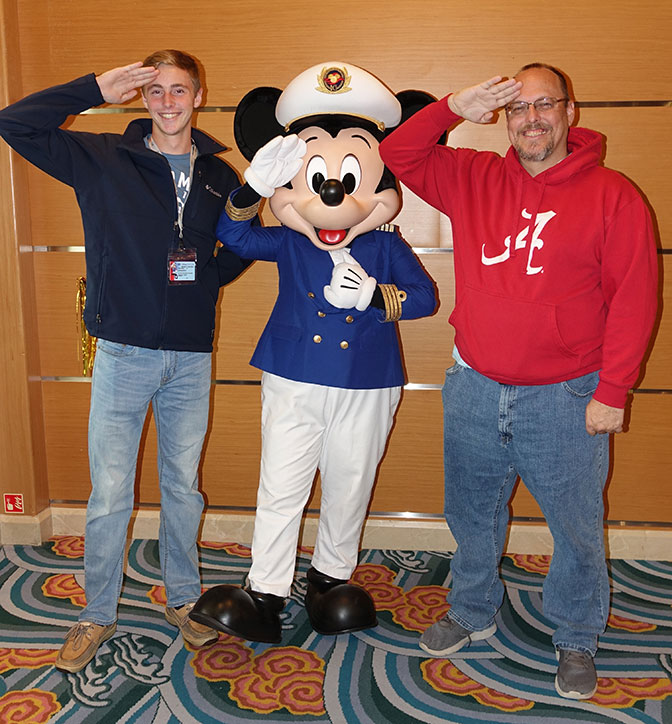 We then watchd the Be Our Guest show in the Walt Disney Theater.  It is an overview show with samples of the shows you'll see throughout the cruise.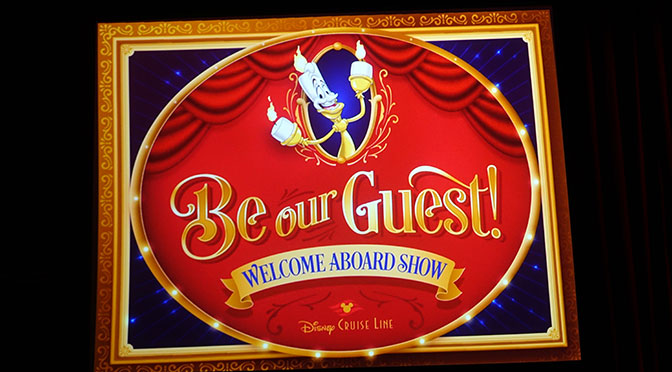 We found cruise director Clayton.  He's been with Disney Cruise Line for quite a long time and usually gets the honor of christening new ships as cruise director.  Well deserved for such a great guy.  He even knows a friend with whom I grew up.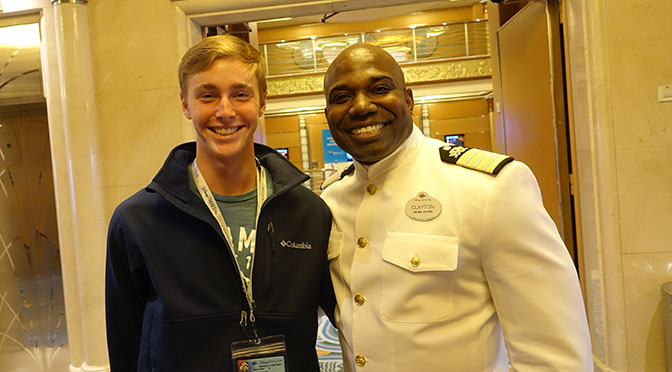 Hostess Minnie was next up for us.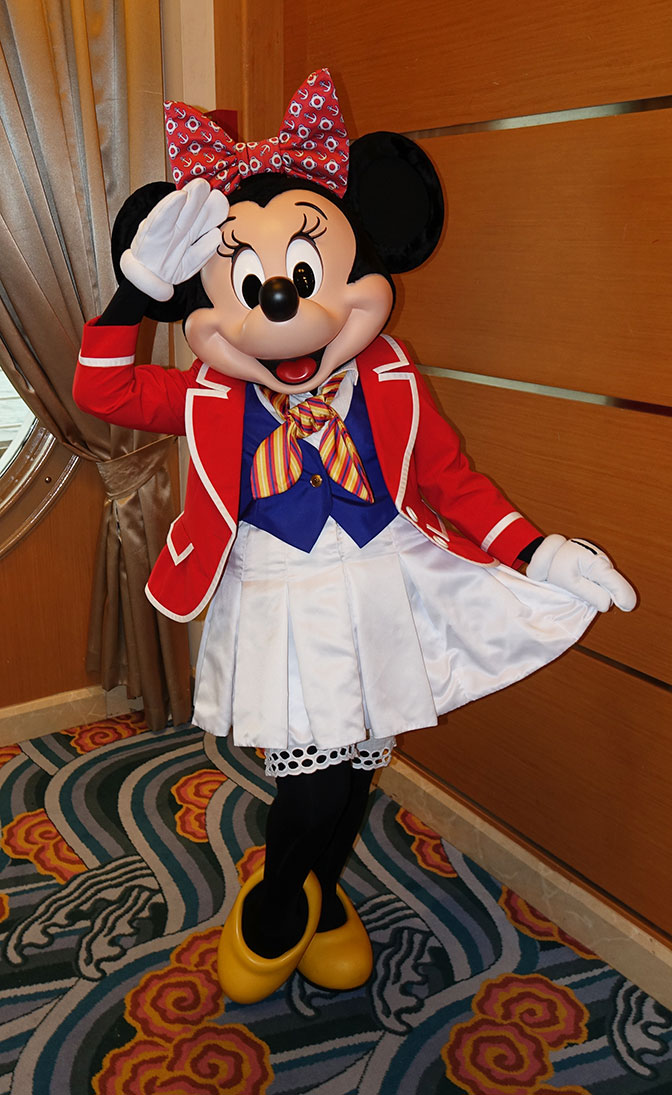 Always offer your arm to a lady.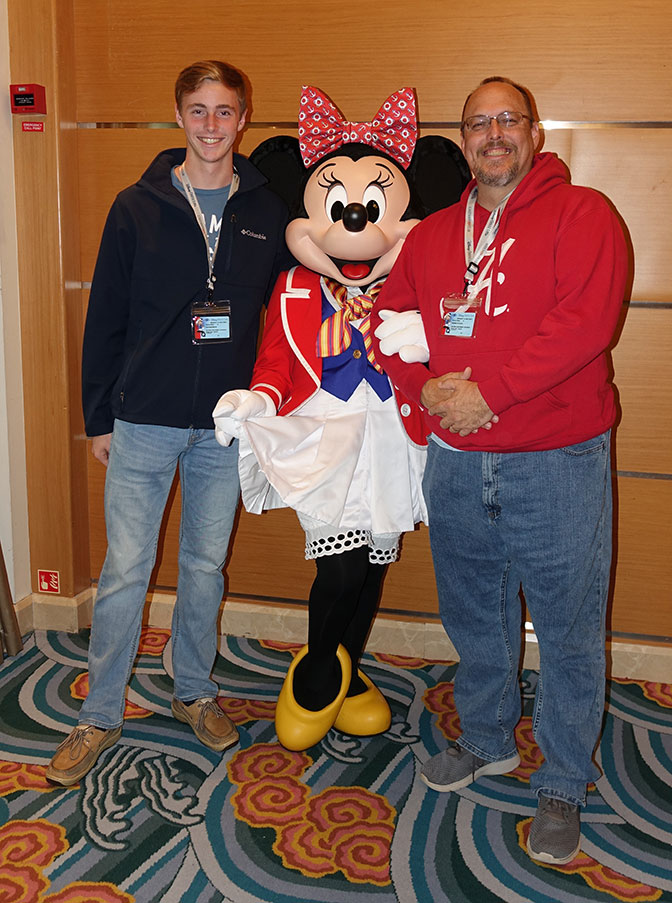 My son wanted a few photos on deck, so we took a few minutes together here.


It was what should have been the middle of the night by now, but it's still bright as day.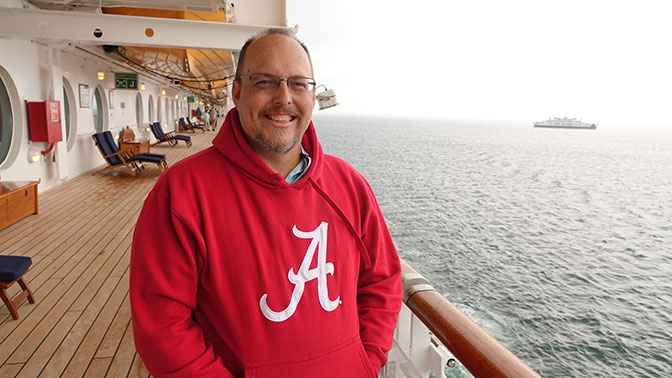 Selfie style.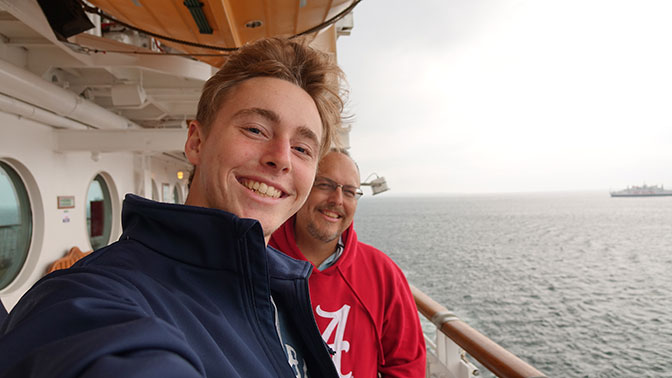 Artsy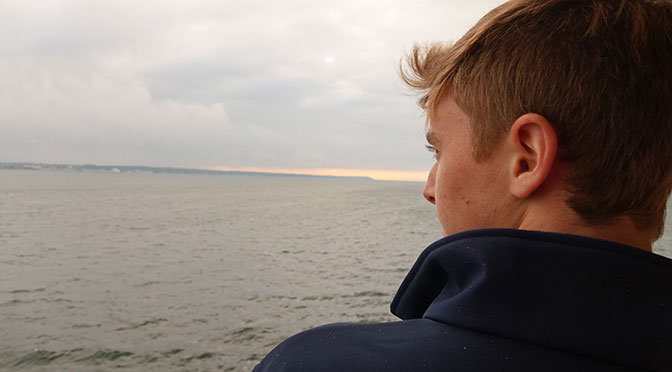 Our first dinner was in Carioca's.  We had second seating.  Our table mates were great and we enjoyed our meals together.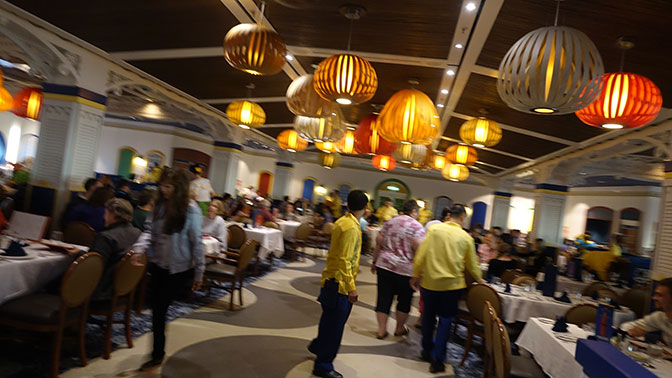 Yum!!!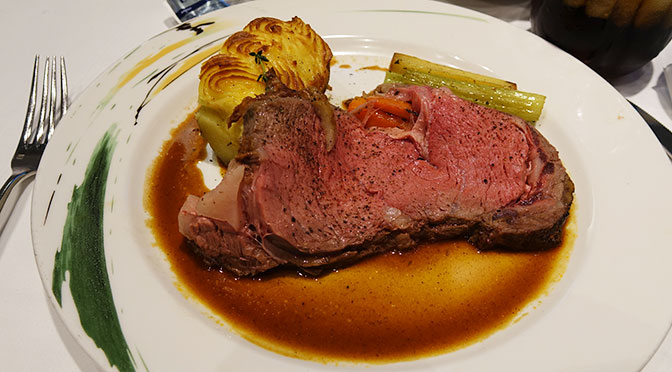 It was around 10:30pm and we were still wide awake, so lets go to the clubs.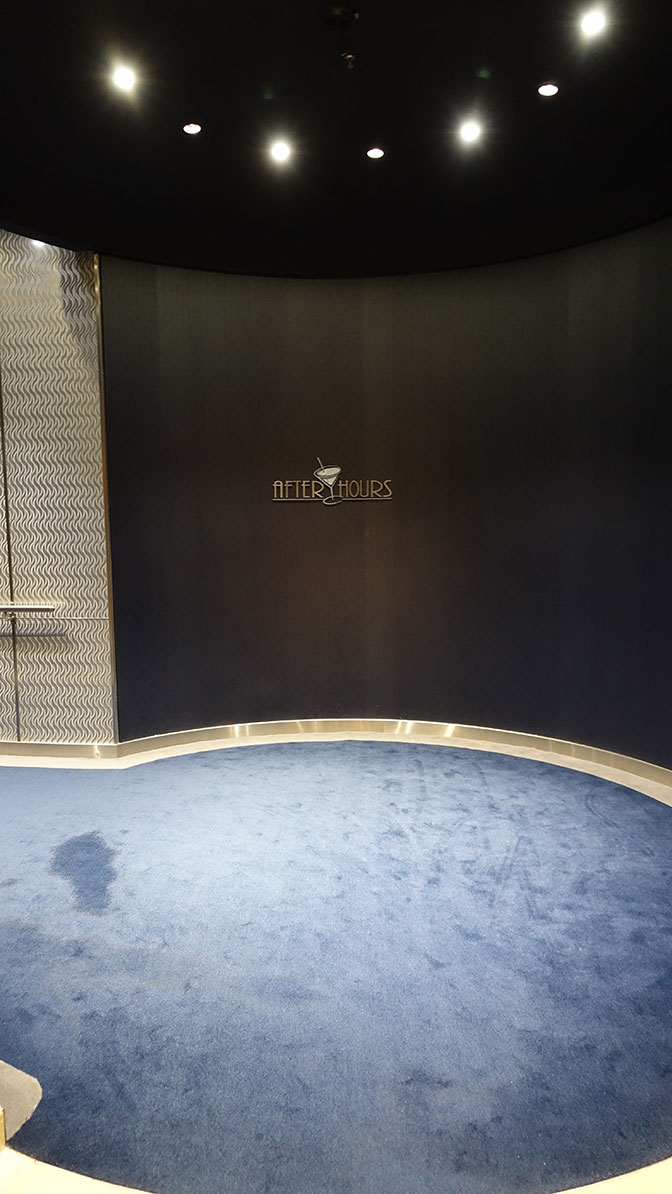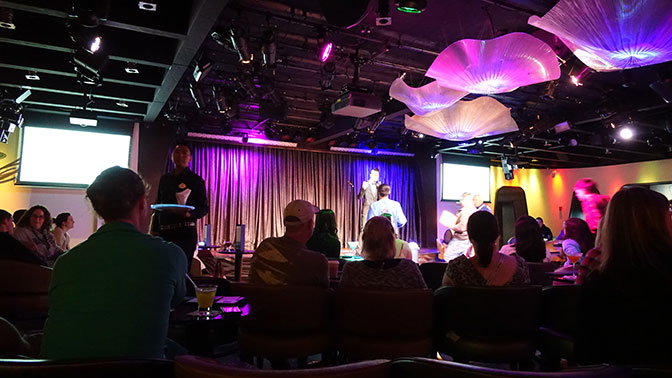 We watched the magician/comedian who was quite good as both, but really funny.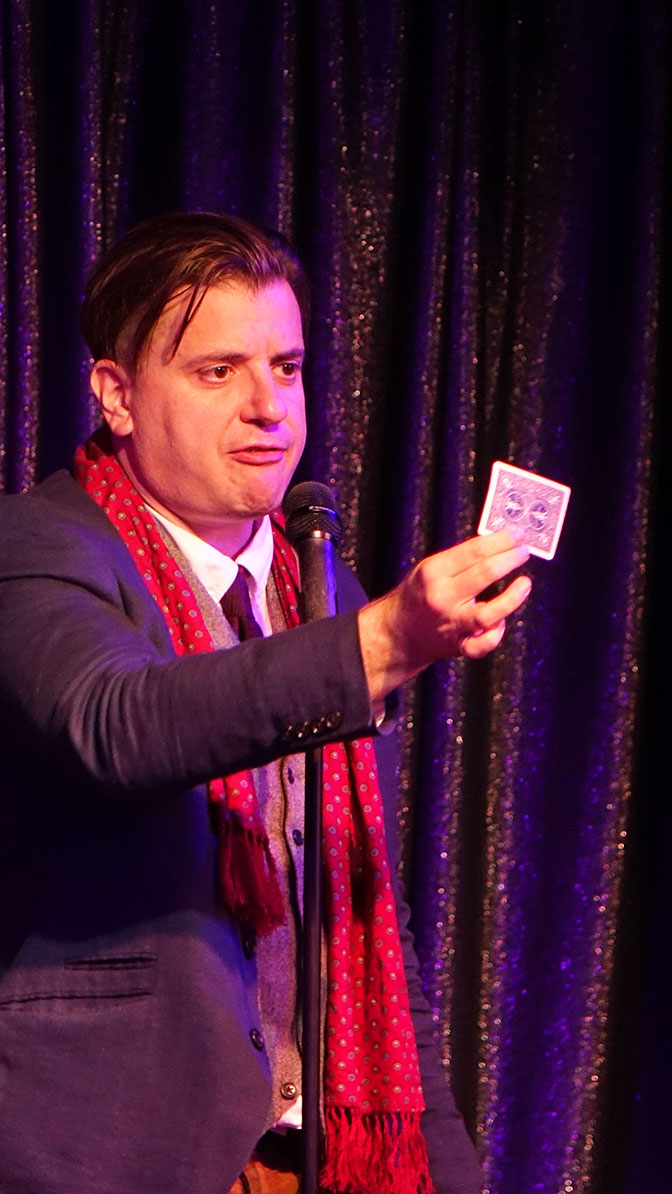 When we returned to the room for the night we found our first towel animal awaiting us with a couple of chocolates.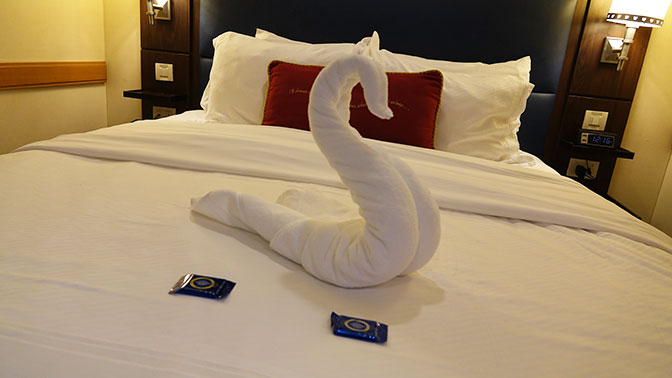 Have any questions about day one on the Disney Magic Norwegian Fjords crusie?