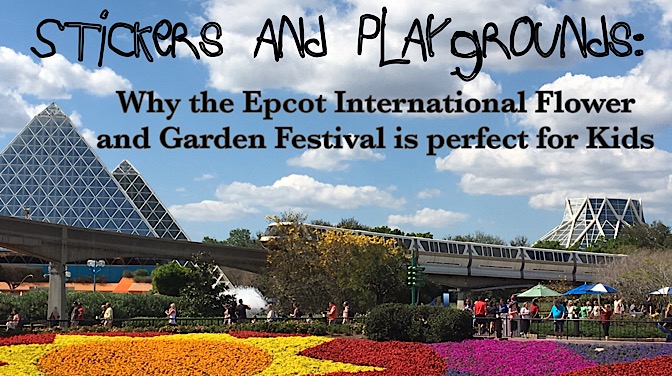 LATEST VIDEOS
Subscribe to my Youtube!
LIVE - Just Mousing Around
Just Mousing Around - LIVE
LIVE - Just Mousing Around
One of the major components of planning a Disney World vacation is selecting which parks to visit on what days of your vacation. What is really surprising is that many times we hear things that are very similar to this statement: "We only have five days at Disney, and since we have smaller kids, we are only going to plan for half a day at Epcot because Epcot is mainly for adults." Many, who are not as familiar with all that is within Epcot, perceive that kids will not enjoy their time in Epcot as much as the other three Disney Parks. Let's look at why the Epcot International Flower and Garden Festival is perfect for kids!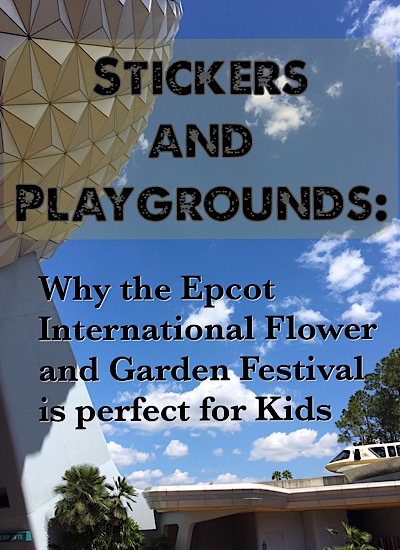 Though the personal rankings of Disney Parks may fluctuate with the members of our own family, it is pretty much guaranteed that our kids will rank Epcot as either #1 or #2. They love visiting Epcot, and their love of this park is multiplied during the times when Epcot is hosting one of its Annual Festivals. Currently, the Epcot International Flower and Garden Festival is taking place from March 1st through May 29th 2017. The longest period for the Festival since it first started way back in 1994. A longer Festival means more time for our kids to visit and enjoy all that the Flower and Garden has to offer.
This annual event adds many activities to the already existing ones at Epcot that are perfect for children, and if your perception is that your kids would not enjoy a full day playing at Epcot during the Flower and Garden, I would like to present a list of kid-centric things to do at this Festival that may change your mind.
1. Outdoor Playgrounds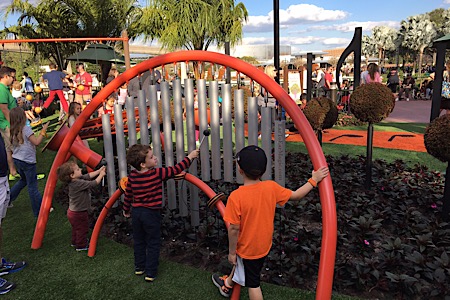 There are playgrounds within Epcot? Right off the bat, the idea of Epcot is an "Adults Only" park is shattered. Yes, during the Flower and Garden Festival, there are now three (3) play areas added for the little ones to run off some energy and have some kid time with other kids.
The Road to the Florida 500 is found outside of the MouseGear gift shop near Test Track, and has a Cars 3 theme to it this year, perfect with this Pixar film being released this coming June. There are three topiaries in the area: Lightning McQueen, beloved best buddy Mater, and a new character Cruz Ramirez from Cars 3. This small playground is "geared" toward the younger children, and is surrounded by flower beds for the parents to enjoy while their kids play on the jungle gym. Disney has even hidden automobile parts throughout the flower beds in this area for kids to search for, adding just one more fun game to play in the Road to the Florida 500.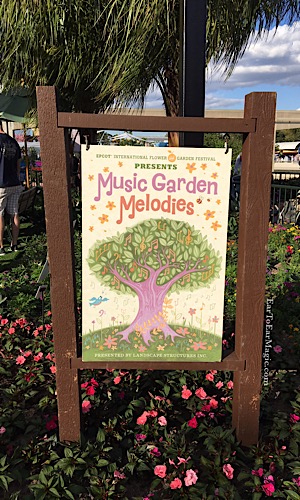 The second playground is much larger and has more room for the slightly older kids. The Music Garden Melodies Playground is found along the pathway between the Imagination Pavilion in Future World and the Urban Farm Eats Outdoor Kitchen. This playground has musically interactive stations as well as two jungle gyms, and hosts topiaries of Mickey and his closest pals. Benches are provided for family members who wish to rest, while the children back and forth among the astro turf in the play area.
Finally, there is a much smaller play house structure found near the Florida Fresh Outdoor Kitchen, located between the Morocco and France Pavilions at the backside of the World Showcase. While more for the youngest of children, this play area does allow for a brief playtime while others can sit at the provided tables and enjoy the flavors of the Shrimp and Grits plus cool down with a Cucumber Watermelon drink from the nearby Florida Fresh kiosk.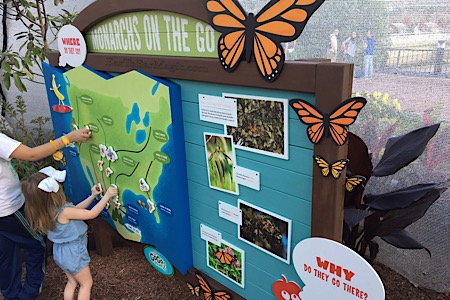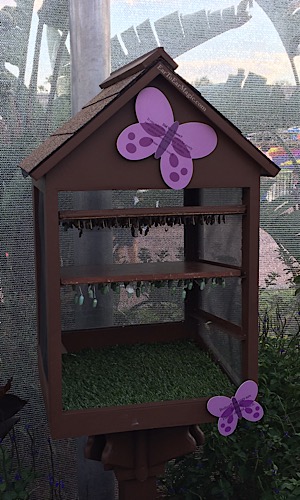 Though not technically a playground, there is also an activity that feels as energizing to kids as running around on a playset. It is called Butterflies On The Go, and is an opportunity for kids to get up close in a learning environment with butterflies. Located near the Imagination Pavilion and on the backside of the Coke Club Cool area, this huge outdoor tent area is dedicated to teaching about the life cycles and behaviors of butterflies. Kids can watch butterflies slowly emerge from cocoons, and eventually fly off to join other butterflies from different species. There are interactive learning stations that are lower in height, perfect for younger guests to learn about butterfly life cycles, color schemes, and species distinctions. They may even get a chance to have a butterfly land on them for a few moments. Butterflies On The Go is a must stop for anyone visiting the Flower and Garden, but especially when you have kids in your group.
2. Stickers!
I know, I know! Why would I include stickers on this list? It's because kids love them! Why else would Disney have Cast Members hand out stickers in the other three Parks as well? Your kids will get character stickers and either immediately place them on themselves or stash them away for later. Stickers elicit smiles from children. The stickers that I am talking about for this list are very specific stickers, and have a purpose.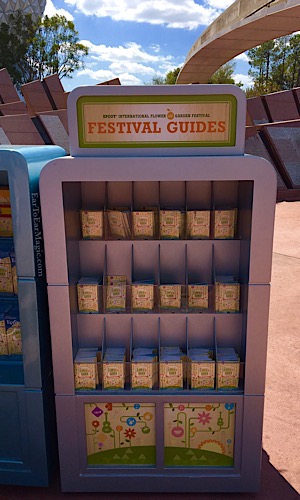 When guests enter Epcot during the Flower and Garden Festival, there are stations where Festival guides, called Garden Passports, can be picked up. These little booklets contain a ton of information about what can be found in Epcot specifically for the Festival, and are very important for guests to hold onto during the day. Locations of activities are printed in the book and they all have a small dark square by their title with a unique symbol. Flip to the middle of the Passport (where the staples can be found), and pages of stickers are there with little squares with corresponding symbols. The concept here is that every time a guest reaches one of the locations listed in the guide, they can go to the sticker page, find that location's sticker, and place the sticker beside the name of the place that they have visited.
While this is a handy way for adults to keep track of what they have done and what is yet to be done while at the Festival, it is an engaging way for kids to do the same. Here's the key: make sure that every family member has their own Garden Passport. Everyone can write their names in the spaces provided in the front pages, and as you go through the day, make sure to document where you have gone with your stickers.
Make a family game of it. See if you can go to every location and place all of the stickers. Split up with family members and see who gets the most stickers on their checklist. You can even visit some locations and activities during your day, and then hold onto your Passport until the next visit to Epcot during your stay, using the Passport to see where you left off. No matter how you develop your family strategy, these stickers can be used as a tool to add some additional fun while the family makes their way around the World Showcase.
3. Outdoor Kitchen Festival Food
In speaking with many families, this is one area of the Flower and Garden that is often undervalued when it comes to visiting Epcot with kids. There are fifteen different Outdoor Kitchen food stations dispersed around the World Showcase with a very diverse menu of culinary tastes, and unfortunately some families are quick to discredit the variety of foods as not something that kids can enjoy.
We did not consider our kids to be "foodies" when we visited our first Flower and Garden Festival many years ago. In fact, we had labeled two of our children as being what you would call "picky" about certain things. By going around and exposing them to new foods and flavors, their palate has increased greatly over the years, and they now look forward to the chance to make their way around to all of the Outdoor Kitchens.
As mentioned before, when you enter Epcot, everyone should pick up a Garden Passport booklet. Every menu item offered at the Outdoor Kitchens is listed within that guide. The first part of the day, I suggest that you encourage all of the family members to flip through the menu pages and find some dishes that appeal to them. Have younger kids that cannot read? Read the booklet to them. This is a great activity to do while you are in line for Spaceship Earth or Test Track, and is something that adults and kids can do together as they explore the various menus. Finding some menu items of interest and highlighting them in the Passport is great mental preparation for hitting the World Showcase later in the day as well.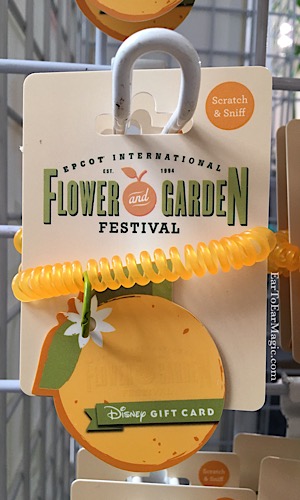 The other great thing that I recommend is to purchase a separate Disney gift card for every family member. The 2017 Festival gift cards are shaped like little oranges, and when scratched, even smell like the Florida fruit. The minimum amount for a gift card credit is $15, so start them off small for the first time. (Remember that these are Disney gift cards and are good for use at ALL Disney locations and Parks, so if you don't use the entire amount at the Festival, use it later for food or souvenirs elsewhere in Disney World.) These gift cards come with an expandable coil that allows guests to wear it on their wrists or arms, and makes them easily accessible but also less likely to be lost.
Why provide each child with their own gift card? Because as they decide to purchase a food item on their wish list, you can allow them to place the order (with support if needed) and then they can even pay for it by handing over their card to the Cast Member. Cast Members are very friendly and whenever our family does this, most Cast Members go out of their way to encourage our kids while they order and pay. Involving the kids in the ordering and purchasing process provides another step of interaction, and avoids the possibility of boredom that may come if they just wait somewhere else for the adults to bring them some food.
With being in charge of their own budget, ordering and paying for their own food, and receiving some encouragement from others to try new foods and flavors, kids can eventually discover that the Outdoor Food Kiosks are one of the most fun activities of the Festival.
4. Character Topiaries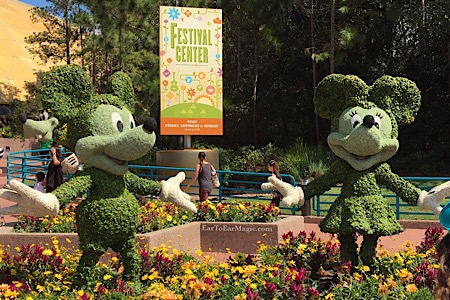 While there are plenty of Disney character Meet and Greets found within Epcot on any regular day (check out Character Locator for those details), the Flower and Garden Festival adds a horticultural aspect to seeing some of the most beloved Disney friends. All of the Festival Topiaries are listed on a page in the Garden Passport booklet, and your kids can use this as another checklist throughout the day, making sure that your family finds them all. While these green works of art may not speak back to your kids, they are still a very popular aspect of the Flower and Garden, and are not to be missed!
Most of all of the topiaries are placed very strategically around the Park. Buzz Lightyear is by Mission Space. Lightning McQueen is nearest Test Track. The Anna and Elsa topiaries are in Norway, where the Frozen ride is located. Belle and the Beast are in France, and Snow White and the Seven Dwarves are in Germany. So between rides, attractions or other locations, there are always larger than life representations of our favorite Disney characters to look at and pose for pictures with.
5. Egg-stravaganza Easter Egg Hunt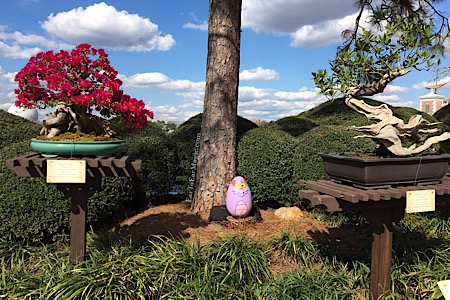 The height of kid fun during every Spring season is the Easter Egg Hunt, and Disney has captured the thrill of the egg hunt in an activity that can be enjoyed throughout the entire season. The Egg-stravaganza Easter Egg Hunt is a scavenger hunt that in past years was only available for about a month before the Easter Holiday, but with the 2017 Flower and Garden Festival, guests can join the hunt up until the end of the Festival on Memorial Day, May 29th.
Hidden throughout the twelve country pavilions of the Epcot World Showcase are twelve rather large egg-shaped decorations, each painted as a unique Disney character. To play, all you need to do is purchase an official Egg-stravaganza map for $5.99 from one of three locations in Epcot (Pin Central by the fountain in Future World, Disney Traders at the entrance to World Showcase, or the World Traveler shop at the International Gateway). Kids can then travel with you from country to country, and are motivated to explore every area of the country pavilions. Once they find the egg and identify the correct character, kids then remove a sticker from the map with the corresponding character and place it on the right country. Finish the scavenger hunt and return the map to the Disney Traders shop, and the kids get a cool little souvenir to take home with them. A hunt, stickers and a prize = Win, Win, Win with the kids.
The thing that needs to be taken into consideration is that this provided list are simply activities that are exclusive to the Flower and Garden Festival. In addition to everything mentioned are all of the year round activities, rides, and interactions that kids can enjoy anytime that they enter Epcot. This includes meeting Mickey and pals at the Character Spot, helping to find Nemo on the ride at the Living Seas, playing on the indoor playground at Mission Control at the exit to Mission Space, and even visiting the entire Arendelle crew on the Frozen ride in Norway.
During this Spring season, and future ones years from now, don't overlook the vast opportunities for your kids found at Epcot during the Flower and Garden Festival. Make sure to give ample consideration to spending your vacation time in Epcot during this time. With all that is offered during this season at Epcot for your kids, there is too much fun to be had by kids to ever consider this a "Just For Adults" Park any longer.
Are you planning a vacation? Reach out to our trusted travel agency sponsor Authorized Disney Vacation Planner
Mouse Class Travel
!