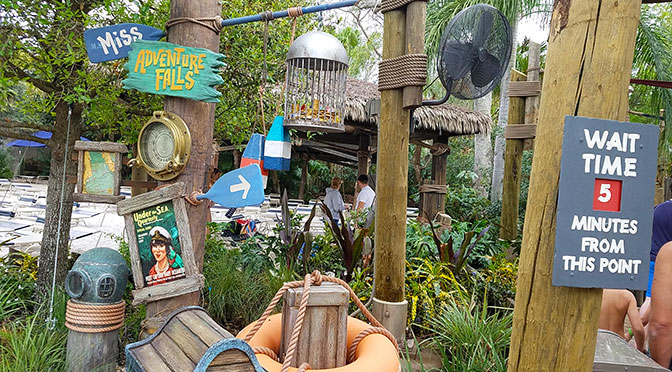 Miss Adventure Falls opened today at Disney's Typhoon Lagoon water park.  My girls and I were on hand to ride so we could provide you with a full review with photos and video.
Before we dive into the ride review, here's the current cost of water park tickets.  We opt for the yearly pass for $125 per person.  The new "Park Hopper Plus" option includes access to the water parks as well.  Many aren't aware that they can purchase a single day ticket to one water park and freely hop to the other on the same day without a park hopper pass.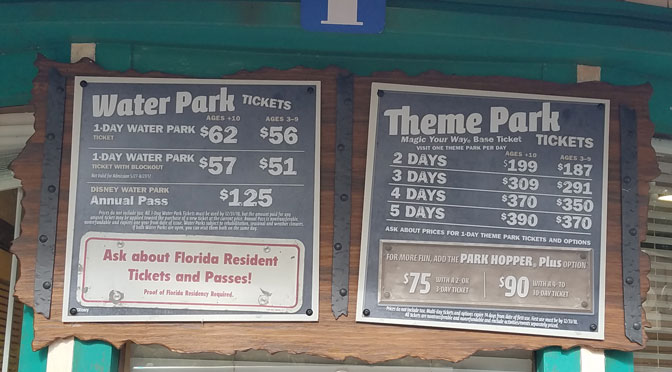 When we get lightning in the area, the water park will close until the area clears.  Water parks are also closed on days when the low temperature is forecasted below 50 degrees.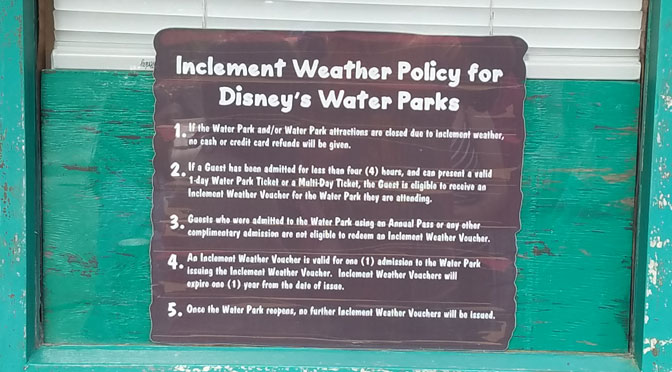 The entrance area for Miss Adventure Falls is located just past Crush n Gusher on the right.  We dropped our towels on a chair just before the ride and went to the queue.  Posted wait times at water rides are updated manually based on a best guess, so they aren't very reliable.
I would make this ride step 1 for my Typhoon Lagoon touring plan as I did on my plan on Character Locator or the final step if you arrive in the afternoon.  It doesn't load as slowly as Gangplank Falls, but is a bit of a slow loader.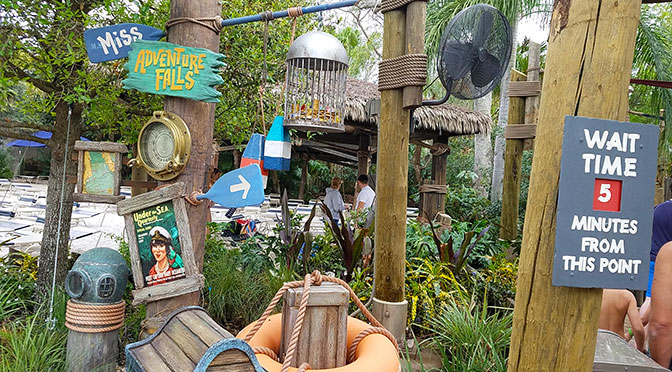 Disney describes this attraction as a "family-raft attraction owned by Captain Mary Oceaneer—a sea-faring treasure hunter whose haul was caught in a rogue typhoon… and scattered across this tropical paradise years ago."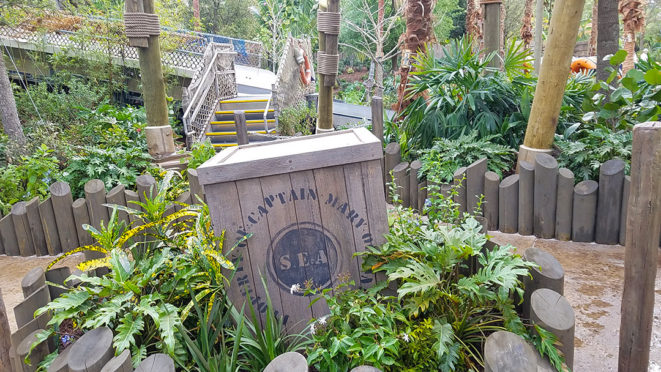 The queue area at Miss Adventure Falls is beautiful, but quite simplistic.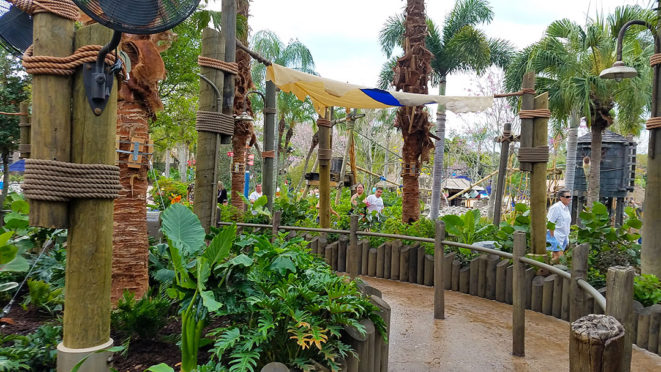 The slide is only for groups of 2 to 4 riders.  If you are a single guest, you'll need to find at least one other person to join in order to experience the attraction.   The water in the landing zone is only 16 to 24″ deep.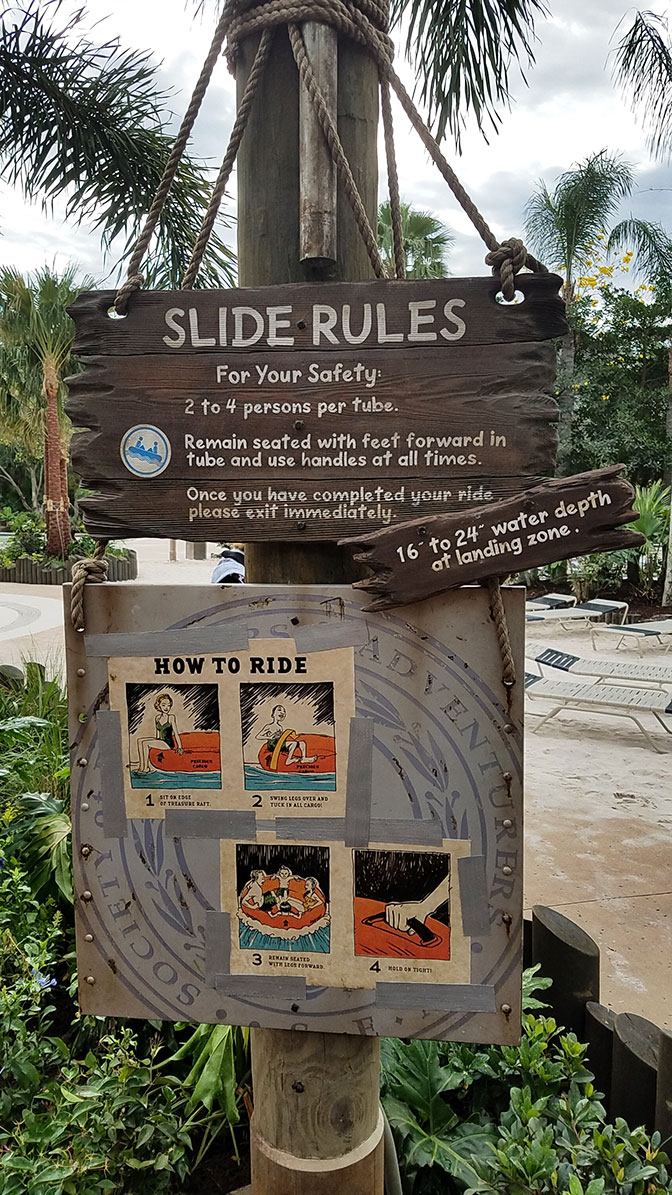 No "infants" are allowed on Miss Adventure Falls.  A Cast Member said that is usually interpreted as someone who can't grasp the hand-hold by themselves.  There are no height restrictions.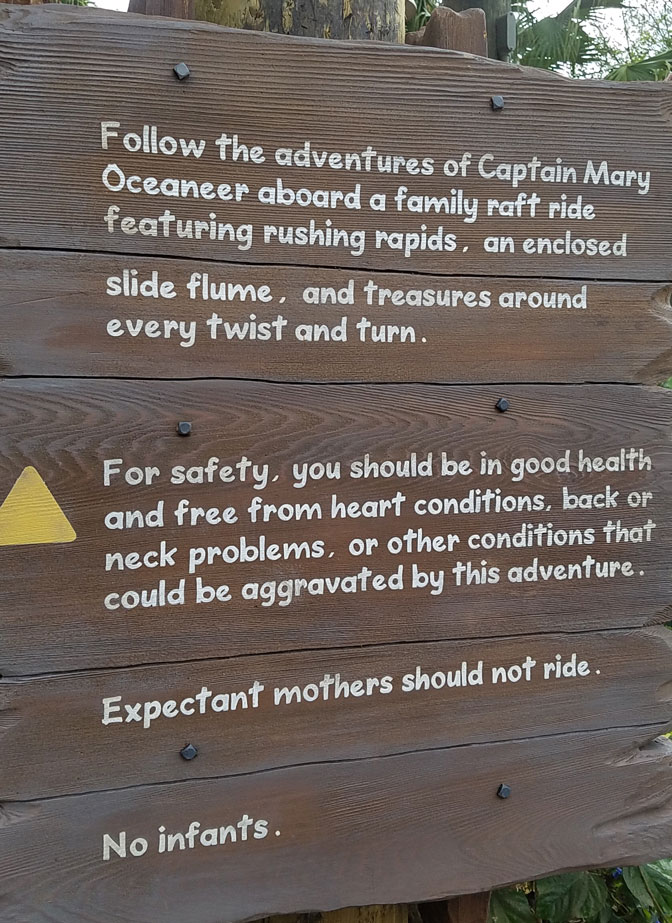 My daughter said the submersible reminded her of BB-8 from Star Wars.  It kind of does, doesn't it?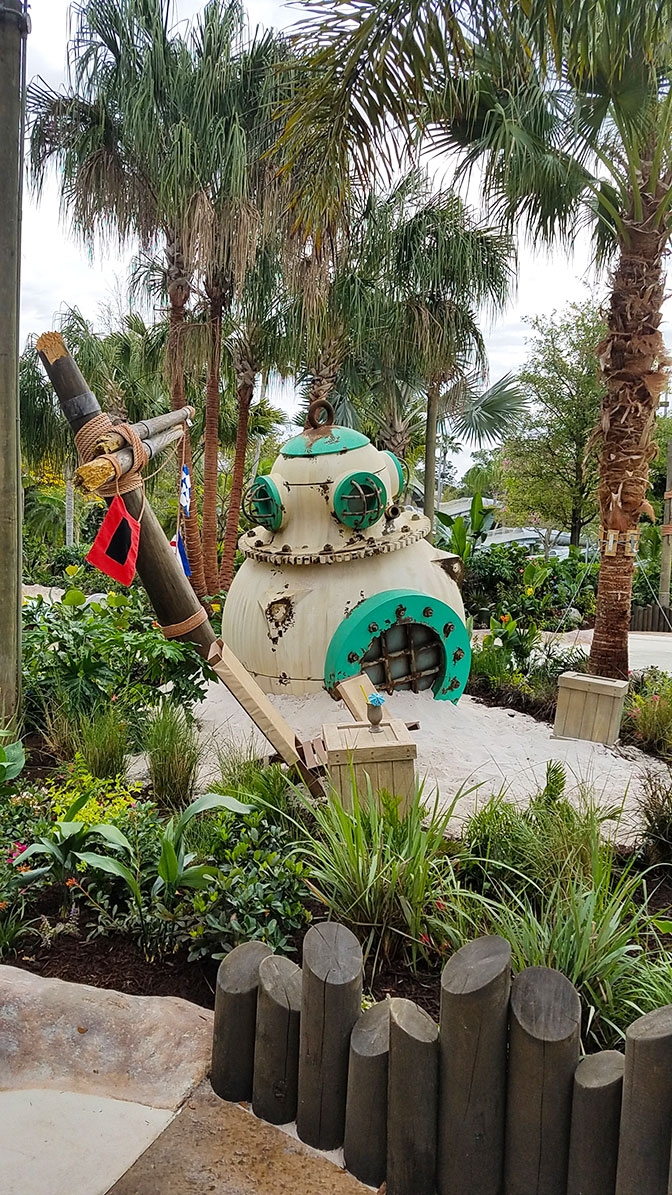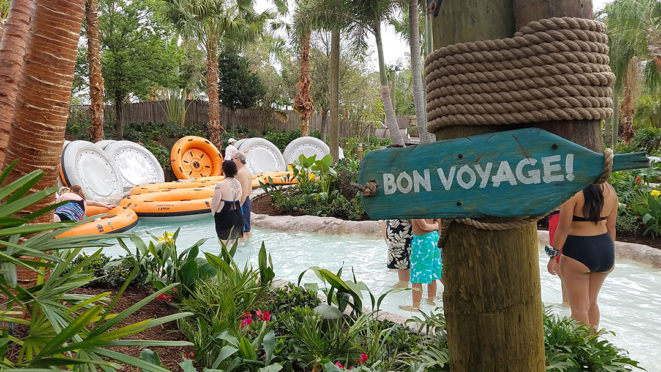 Typically, when you board a water attraction, it requires a ridiculous amount of stair climbing.  Well, this ride is pretty great, because you actually board on ground level in your Orange 4 person raft with "precious cargo."  In case you didn't know, the orange side is supposed to be up.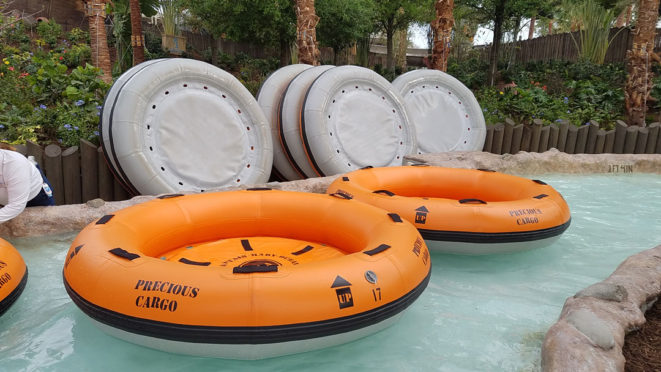 Very scenic boarding area.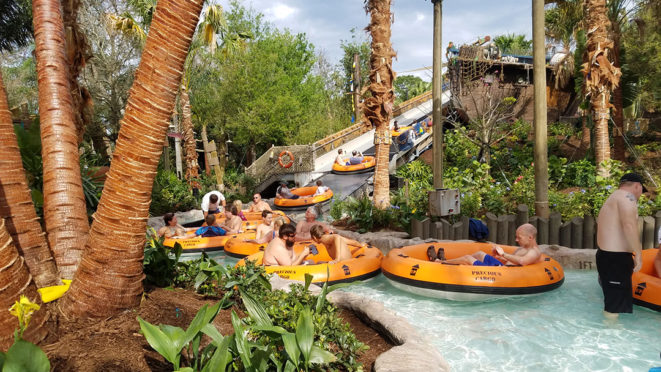 My girls were excited for their first ride.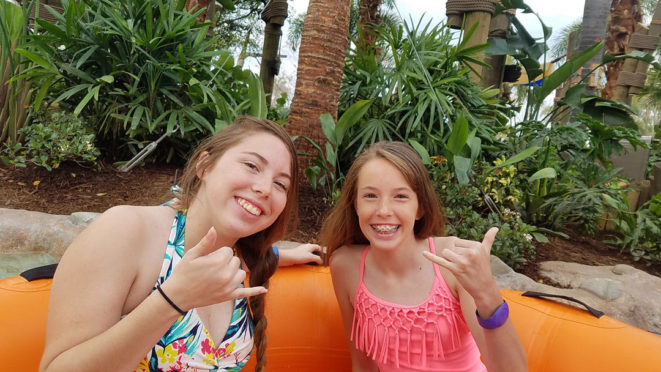 As you stay inside the boat, it is carried up the tall hill by a giant conveyor belt.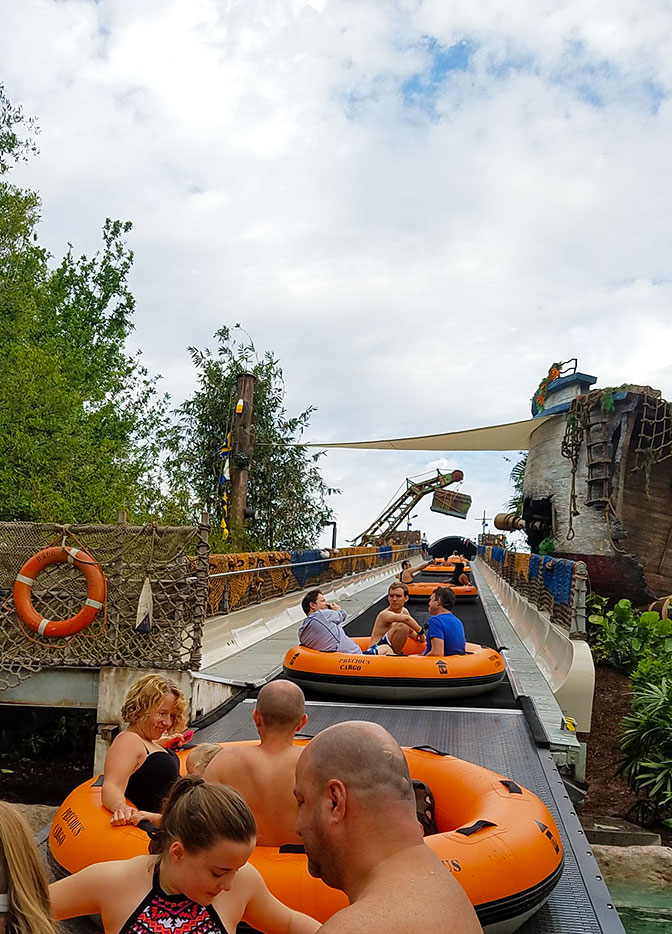 Be sure to check out the parrot on Mary Oceaneer's old ship.  "The captain's old diving partner—a talking parrot who's still hunting for treasures at Disney's Typhoon Lagoon water park to this day!"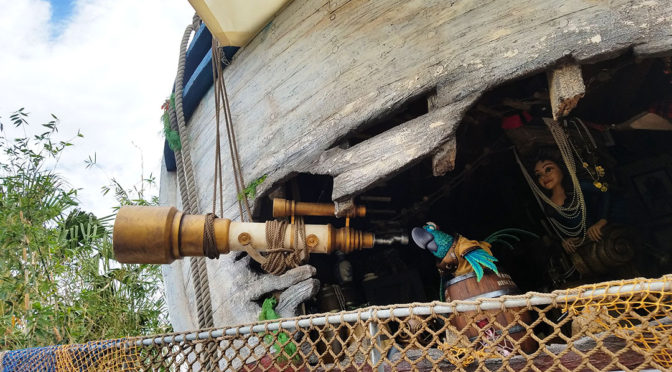 Maybe he spotted the large crate that dangles precipitously over your head?  My daughter was concerned it would fall and give her a "concussion."  It won't fall.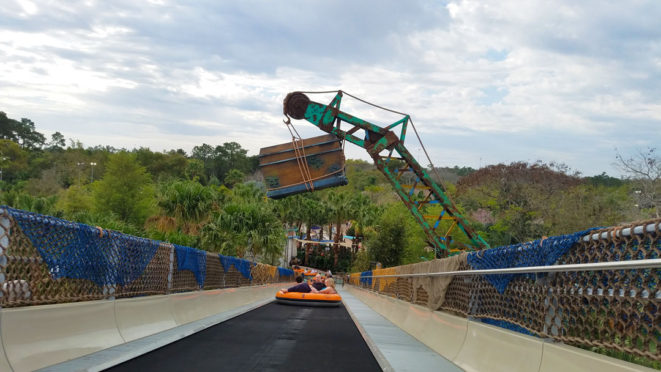 Alright, from this point you'll need to check out the video I created in order to experience the full attraction.  The ride only takes about 2 minutes, plus any time you're on hold on the hill awaiting your turn to ride.
It's a very fun ride with enclosed and open areas as well as water falls to get you wet.  It doesn't feel quite as fast or long as Teamboat Springs at Blizzard Beach, but we enjoyed it a great deal and rode it a couple of times despite the cool weather today.  We liked that you're guaranteed to get wet on this while having some family thrills as well.
Miss Adventure Falls joined Crush n Gusher, the wave pool and the lazy river as must-do attractions for our family at Typhoon Lagoon.  I think the park still needs more fun things for the 6 to 10 year old range like Blizzard Beach offers, but it's a great step forward.  We did, however, lose the Shark Reef attraction, which is now closed.