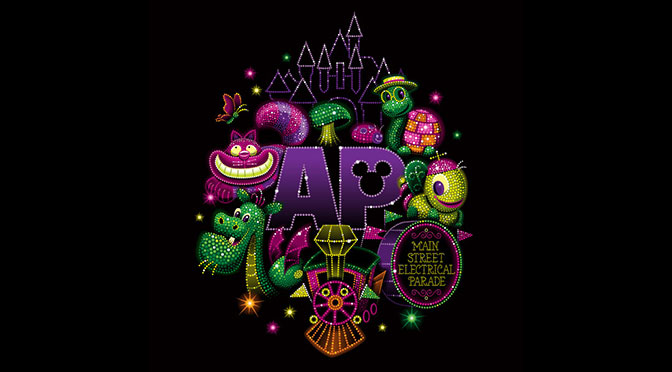 No one throws an Annual Passholder party like Disneyland.  From February 10 to March 9, 2017 Disneyland Annual Passholders are invited to take a Retro jouney to remind them of 1972. This special celebration will also offer "Retro Characters."  One might assume that to mean characters that appeared in movies prior to 1972.
Disneyland – Re-ignite excitement as we honor our APs… and the quintessential parade that dazzles from beginning to end!
Starting February 10, AP Days are back and packed with more magic than ever before—it's our way of saying "thank you" to Annual Passholders! Feel the love with exclusive amenities and retro-inspired revelry surrounding the illustrious arrival of the Main Street Electrical Parade, a timeless Disneyland tradition that debuted in 1972. After a stint in the vault, this cherished treasure once again returns to its native roots, lighting up park nights while illuminating imaginations young and old.
You're invited to commemorate the occasion with AP-only offerings, secret menu items and more—it's a flurry of festivities Annual Passholders simply can't miss!
Event Details
Disneyland Park, California
February 10 to March 9, 2017
Daily from 11:00 AM to 8:00 PM (AP Welcome Center at Tomorrowland Starcade)
Daily after 4:00 PM (Main Street Opera House)
Passholders must present a valid Annual Passport to receive benefits
Send your theme park adventure soaring with souvenirs, unique experiences and a dash more pixie dust!
Take the chill off winter by checking out the plethora of surprises we've planned for Annual Passholders! Say "Cheese!" to parade-perfect photo ops, indulge in retro menu options or reminisce while watching screenings filled with behind-the-scenes parade footage. Collectors will go gaga for our event-themed button series and recipe cards—or perhaps an around-the-park adventure might pique your interest? Give it a whirl and amp up the fun factor!
AP Welcome Center – Starcade in Tomorrowland
Get the details on daily events, benefits, merchandise and more at the Tomorrowland Starcade, official headquarters for Annual Passholders.
Highlights include
Meet and greets with special retro Characters
Family-friendly activities, including parade-themed paper crafts and an AP Adventure activity
Complimentary AP Days goodies, including Disneyland Resort recipe cards from yesteryear and a button series featuring new Main Street Electrical Parade artwork each week
Exclusive AP Days merchandise, including t-shirts, lanyards, pins, tumblers and more
AP Days guide map
Parade-themed photo opportunity
Lounge, phone-charging area and more
Additional AP Experiences – Opera House
Head over to the Main Street Opera House for screenings of historical parade videos after 4:00 PM daily—you'll leave with an unforgettable feeling of nostalgia!
Exclusive AP Offerings
Satisfy snack attacks by purchasing an AP-exclusive refillable popcorn bucket featuring one of 2 distinctive parade or park designs. Plus, Passholders will receive $1 refills now through April 16—bon appétit!
Limited-Time Secret AP Menu Items
Hungry for the good old days? For a limited-time, Passholders can refuel with parade-themed menu items at select quick-service restaurants across the park. Stop by the AP Welcome Center to see what's on the menu or visit each eatery for a surprise blast from the past!
Participating locations include:
Carnation Café
Galactic Grill
Gibson Girl Ice Cream Parlor
Main Street Refreshment Corner
Plaza Inn
Offerings are subject to availability and cancellation or change without notice.