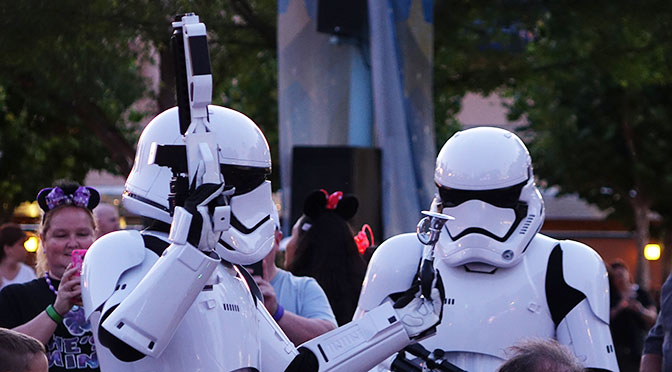 New! Star Wars Galactic Nights
Experience an epic premiere party– Opens a dialog where the Star Wars film saga comes to life around you! Don a costume for this galactic gala, the first of the new Star Wars events for the entire family coming to Disney Hollywood Studios on April 14, 2017 from 7:00 PM to midnight!
Adult $129 and Child (3-9) $124 plus tax
Get your ticket! On select nights and as the seasons change, new experiences come to life across the parks—marvel at magical decorations, discover world-class theatrical entertainment and enjoy special goodies.
Enjoy Special shows and activities for everyone, including:
Hollywood Arrival:  Make your entrance walking the red carpet
Stars in Cars Motorcade – This procession will welcome in Star Wars celebrities down Hollywood Blvd.
Stars in Cars Motorcade – This procession will welcome in Star Wars celebrities down Hollywood Blvd.
Special Star Wars Character Sightings and Greetings:  Look for Boba Fett, Storm Troopers and more!
Some of the Character opportunities you can expect to experience include:
Stormtroopers on Patrol
As you board your shuttle at Star Tours – The Adventures Continue, get ready to come face-to-face with Imperial Stormtroopers patrolling the embarkation ramps in pursuit of a Rebel spy.
Ewok Encounter
While you adventure through the forest of Endor en route to your flight with Star Tours – The Adventures Continue, prepare for a curious encounter with a few furry village inhabitants.
Imperial March
Clear the way for Darth Vader as the feared-and-revered Sith Lord leads a battalion of Stormtroopers down Hollywood Boulevard during a dramatic Imperial March to the event stage.
March of the First Order
Clear the way for Captain Phasma as this ruthless commander leads her squad of Stormtroopers up Hollywood Boulevard in a daunting demonstration of the First Order's obedience and strength.
Characters at Star Wars Launch Bay
Visit the Cantina at this popular Disney's Hollywood Studios destination for a chance to interact with the most notorious bounty hunter in the galaxy, Boba Fett—and possibly even Darth Vader himself!
Rebel Base:  Dance the night away at this DJ-hosted party featuring a stunning projection of Yavin Base
The Star Wars Show on Location
Join the hosts of the popular starwars.com show as they interact with Guests like you… and film material for their weekly online program!
Celebrate the Saga
Throughout the evening, take off on an interactive journey that chronologically celebrates the milestones of 40 Force-filled years of Star Wars.
Inside the Saga:  After a brief pre-show warm-up featuring the hosts of the Star Wars Show, hear from a Star Wars feature film cast member.  As your host asks question after riveting question, their stories will be yours—including what it was like to perform before an audience of millions!
Behind the Magic: Following a pre-show with the hosts of the Star Wars Show, learn what it takes to make some of cinema's most beloved moments, as experienced by one of the Saga's behind-the-scenes wizards. Their adventures will be yours as this special crew member explains all that goes into bringing the world—and worlds—of Star Wars to life.
Star Wars: A Galaxy Far, Far Away
Unique, Park-wide Scavenger Hunt:  Search for the Death Star plans throughout the park and capture your experience to share on social media
Put together a puzzle of interactive proportions as you collect Star Wars-themed pieces from each of the 8 live-action films!
During the Seize the Saga Scavenger Hunt, you'll be enlisted to find 8 takeaway clues located at each of the Star Warsphoto backdrops. After gathering the clues, Guests like you will be encouraged to act out your very own mini scene or capture a heartfelt message about your love for Star Wars—and post your moment on social media during the event.
Dimensional Photo Backdrops:  Feel like you're in the middle of the action as some of the most iconic Star Wars scenes surround you.
Unique Food and Keepsakes:  Treat yourself to galactic-themed bites and special souvenirs available for purchase
Fireworks:  End the evening with a nightime spectacular bursting with memorable Star Wars moments.
Plus, ride Star Wars themed, Disney Hollywood Studios attractions and more!
Explore a cinematic assortment of theme park adventures, inspired by some of your favorite films—only at Disney's Hollywood Studios.
Attractions available throughout the event include:
Star Tours – The Adventures Continue
Star Wars Launch Bay
Star Wars: Path of the Jedi
Jedi Training: Trials of the Temple
Toy Story Mania!
The Twilight Zone Tower of Terror
The Great Movie Ride
Muppet*Vision 3D
Voyage of the Little Mermaid
*Tickets are nontransferable and nonrefundable. The number of tickets available is limited. Events often sell out early. Tickets are valid only during specific event dates and hours. Prices, entertainment, attractions, experiences, ticket types, entitlements and other event elements subject to change without notice.
At this time the event is only scheduled for April 14, 2017, which is during Star Wars Celebration 2017, but with the word Nights being plural, it sounds like they may begin offering a paid, upcharge event similar to Star Wars Weekends after park closing in the future.  If they don't OVERSELL it like Villains Unleashed, it could receive positive reviews and continue.  If they have crazy mass crowds, it will end up being a one time event due to negative feedback.
Annual Passholders may receive a $10 discount per ticket.
You can purchase tickets to this event HERE.
Is this an event in which you'd like to participate?