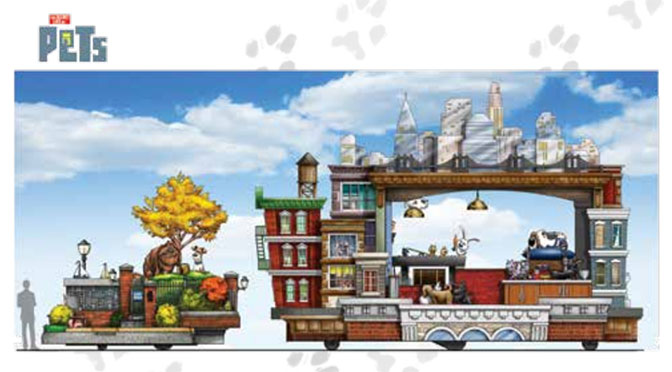 Beginning in December, guests will be able to view a new Superstar Parade segment featuring "The Secret Life of Pets" movie characters.
The new parade floats will allow you to experience the life of the pets while their owners are away from home.  It will feature two all-new, highly-detailed floats.  The first is themed for Central Park and will feature Max and Duke, who are the stars of the film version.
The second float will offer apartments and the skyline of New York, as seen int he film.  This float will offer Leonard, Buddy, Snowball, Gidget and Chloe.
One feature that is making it's way to Universal for the first time is the ability for the pets to actually speak to guests.  You'll also see pet owners who dance and perform gymnastics style movements.  The flaots will makey their way around the normal parade route at Univesal Studios Florida in the Universal Orlando Resort.
I've been told that the pets and their float will make their way out for meet and greets like other floats and characters do.  They should appear 2 to 3 times daily in front of Mel's Diner.  The schedule is usually included on the park map.
No exact date has been provided, but the Macy's parade begins December 3rd.
Are you looking forward to meeting the pets?