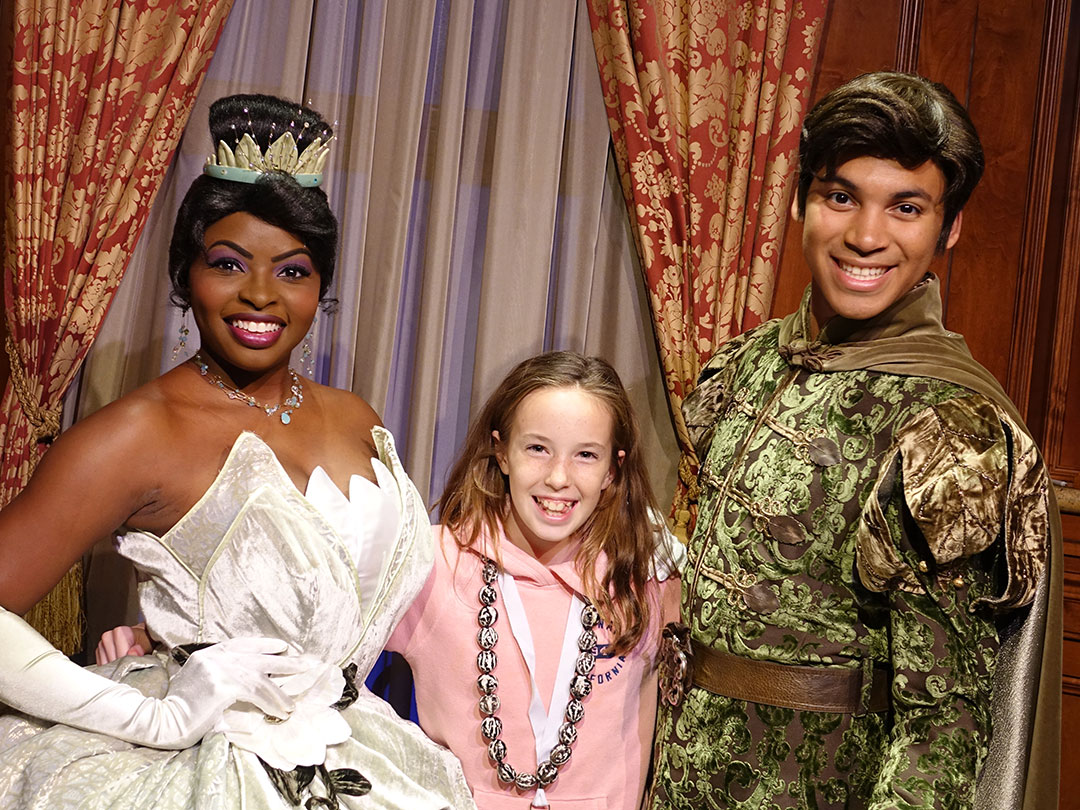 Tiana and Prince Naveen are set to provide a new Ice Cream Social experience that will involve the Liberty Square Riverboat and a "special" viewing of the Festival of Fantasy Parade.
Note:  December 23-31 the viewing will be for the Once Upon a Christmastime Parade
Guests who take part in this Ice Cream Social with Tiana and Prince Naveen (in winter) will be "reserved viewing of one of our grandest processions."  Let me state that I have made the ride upon the Riverboat during a parade and you can't see hardly anything!  You'll mostly see trees and the heads of characters blocked by those viewing from ground level.  You're also very far away from the parade.
If you wish to pay the upcharge for the event in order to meet Prince Naveen, that's your choice, but if you're doing if for a great view of the parade, you will be dissapointed.
You'll be asked to check in 45 minutes prior to the parade at the Riverboat dock in Liberty Square.  The Riverboat will be closed to regular guests 2 hours before and 1 hour after the parade.  Here's the promo information that Disney released:
Treat your senses to a Liberty Square Riverboat "sundae fun-day" and reserved viewing of one of our grandest processions.
Make the most of your next visit to Magic Kingdom park, where Princess Tiana and Prince Naveen are throwing an unforgettable party… and you're invited! The occasion begins on the dock as your royal hosts welcome you and your sweet tooth to an ice cream social, complete with ice cream and toppings, drinks, and sweet treats.
Then board the Liberty Square Riverboat and relax while enjoying the Disney Festival of Fantasy Parade—all from the comfort of your special viewing location!
After the parade, Tiana and Naveen will join you to continue the party as you all cruise around the Rivers of America, circling Tom Sawyer Island.
Pricing and Reservation Details
This special event is available for $49 per adult and $29 for children ages 9 and under (tax included). For reservations, you can book online or by calling (407) WDW-DINE or (407) 939-3463.
Please check in at the Liberty Square Riverboat entrance 45 minutes before the parade begins.
Guests in wheelchairs will experience the cruise from the first level of the Riverboat
Guests will receive a commemorative autograph card.
Trio Plates of Themed Desserts
Tiana's Vanilla Cupcake, White Chocolate Lily Pad Tart, Double Chocolate Cookie with Chocolate Ganache Filling with Chocolate Frog accent)
3 Flavors of Single Cup Hand Dipped Ice Cream
(Vanilla, Chocolate, Strawberry, Shorbet)
Ice cream novelties
(Mickey Premium Bar, Mickey Cookie Sandwich, Chocolate Covered Banana, Sugar Free Strawberry Bar)
Snacks
Flavored Popcorn, Regular Popcorn, Cotton Candy and Apple Slices
Beverages
Flavored Lemonade, Water and Soft drinks (coffee and hot chocolate during colder season)
BOOK ONLINE AT https://disneyworld.disney.go.com/dining/magic-kingdom/tianas-riverboat-party/
What do you think about this new experience?