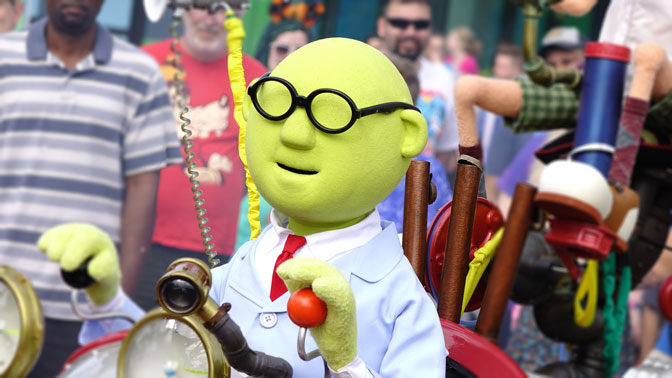 In 2010 my family and I had the opportunity to visit Hong Kong Disney.  While visiting the park, we came across the Muppet Mobile Lab for the first time.  We thought it was funny that the act was presented in Cantonese.  Recently, the Muppet Mobile Lab was brought to Epcot.  I thought you might like the comparison between the English and Cantonese versions, as well as full details of the current Epcot offering.
Before jumping into the great videos and photos, here's a few details you may want to know.
What is it?
Muppet Mobile Lab is a show experience that features Dr. Bunson Honeydew and Beaker.  It offers you a peak into the "groundbreaking" work in science.  For example they hope to blast a chicken into space.  You'll see that in the Epcot video below.
Where is it located in Epcot?
The Muppet Mobile Lab appears behind Spaceship Earth in the large opening between the two Innoventions buildings and before the pin trading cart.  It's really easy to spot when they arrive
When does it appear?
The Muppet Mobile Lab isn't listed on the official Times Guide or on the Disney website.  I've observed it a few times and placed the times that they appeared on Character Locator.  I won't promise you they will be there, but they usually are there right around those times.
Muppet Mobile Lab in Epcot 2016
Muppet Mobile Lab in Hong Kong Disneyland 2010
Here's some photos of the experience for your enjoyment.
If you have any questions, feel free to ask!
Share the post and follow me on YouTube too.