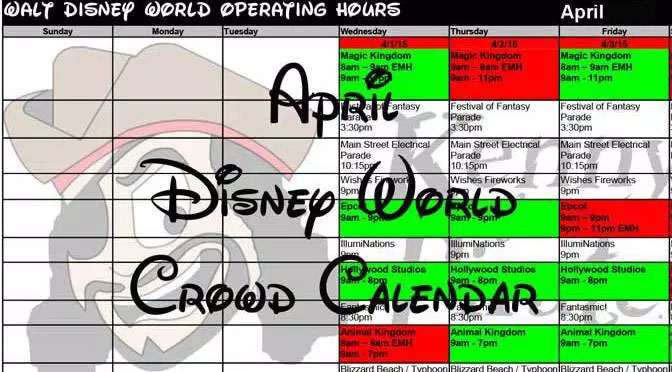 I just completed creating my April 2017 Crowd Calendar with INITIAL park hours, Extra Magic Hours and night entertainment.  Here's a few details you may find important:
There are still no EVENING Extra Magic Hours listed for Hollywood Studios.  At this time Hollywood Studios doesn't show EMH beyond the end of February 2017.  It could be another Disney oversight, or are they planning to phase out the Evening EMH at Hollywood Studios like they did at Animal Kingdom?
Fantasmic is only listed for the LAST 4 days of the month currently.  This could be updated later.  We shall wait and see.  Star Wars Fireworks aren't usually listed 6 months out, so it's not too shocking that those aren't included.  Currently, Star Wars Fireworks times are only provided through early November.
There is still no night time parade listed for Magic Kingdom beyond October 9, 2016.  Many believe that Paint the Night will receive some re-tooling and be shipped to Walt Disney World after the first of the year, but we'll wait to see if that rumor is true.
Magic Kingdom offers two weeks of Early Extra Magic Hours almost daily.  You know what that means?  Disney feels that Walt Disney World will be busy.
The park hours are merely an initial offering and will adjust frequently over the next 6 months.  With that said, I've made a bunch of changes to the Crowd Calendars from October through March over the last few days, so be sure to check your dates.  January even received some Extra Magic Hour park switcharoos.
[si-contact-form form='6′]