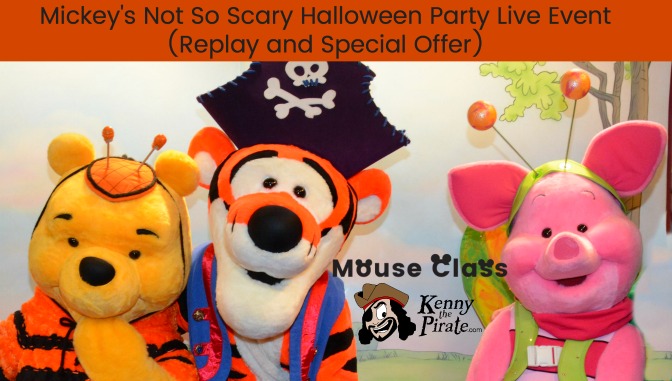 The first official Mickey's Not So Scary Halloween Party LIVE Webinar event with Mouse Class and Kenny the Pirate is now available on replay!
If you missed our live event with over 200 attendees (and more than 150 replays 48 hours post-launch), you won't be left behind!
Everything you learn in our webinar replay can be found inside the Character Locator and the special Mouse Class Workbook.
With the Character Locator you can:
Create your own touring plans
Plan beyond your Halloween party day
Make last minute changes to your personalized Halloween party plan
Find food, characters, entertainment and more
Because of all the Disney data inside Character Locator, planning your own personalized Disney trip has never been easier. PLUS, it offers you the freedom to impulsively change your plans as you walk through the parks.
Sign up here to get the link to our MNSSHP Live Event REPLAY & Special Offer!
We are offering a replay plus an optional bundle package for all replay registrants.
Our Mickey's Not So Scary Halloween Party replay bundle will include:
The Ultimate Mickey's Not So Scary Halloween Party Workbook + Guide by Mouse Class
One Year Subscription to Character Locator
Custom Halloween Party Plan by KtP
Plus, a downloadable Mickey's Not So Scary Halloween Party Map with everything clearly marked!
Price of bundle for replay registrants: $58.00 $50.00
The replay COSTS NOTHING to watch!
The live event replay, touring plan, workbook + guide, and character locator are all exactly what you need to go to the Mickey's Not So Scary Halloween Party at the Magic Kingdom to be as efficient as possible with the limited amount of party time allotted. 
Here's a list of what we have created for you in our workbook:
Step 1: Before You Leave Home
Step 2: Party Day Tasks
Step 3: Hotel Out-the-Door Checklist
Step 4: Park Arrival
Step 5: Before You Leave the Party
Step 6:

Midnight

Stage Show
Exclusives Checklist
Appendix A: Movie & Music List
Appendix B: Working with Disney Rules and Customer Service
Appendix C: Example Party Touring Plans
Based on all the abundant amount of feedback Mouse Class received from their first round of students who purchased, plus the additional information provided through the kick-off of the first Halloween party, Mouse Class has updated their workbook with more information!
Anyone who previously purchased the workbook during our first live webinar will receive the updated workbook.
Happy Halloween!!