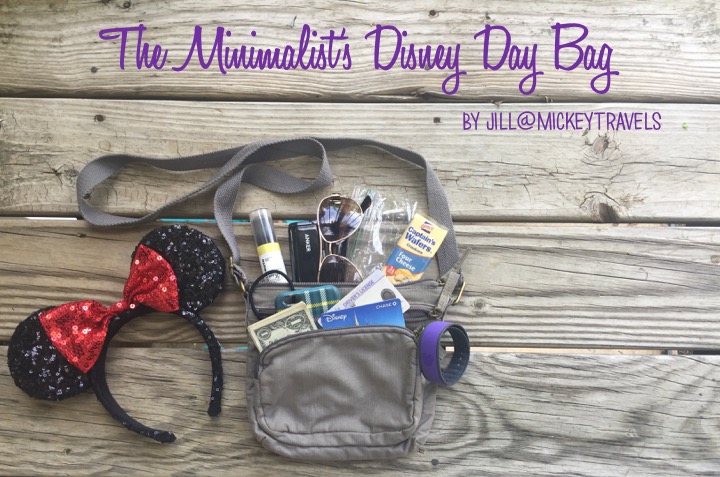 How to Pack your Disney Day Bag Like a Minimalist
This guest post by Jill Dowling will offer a chance to see how little you can carry with you while touring the parks.
Disclaimer: this is the exact bag I use (Mossimo from Target) when I am traveling WITHOUT children (cause Lord knows there is no way I could pack this light when traveling with my children). I love how this bag can be worn across my body and has 3 separate compartments to separate all my things.
MagicBand – The #1 most useful item at the Walt Disney World resort is your MagicBand! Your MagicBand acts as your "key to the world," unlocking your resort room, getting you into the parks, paying for meals with dining credits, making purchases on property, associating photos with your Memory Maker account, and much more! Best of all, MagicBands are complimentary when you stay at a Disney Resort hotel!
Photo ID – It's always smart to carry your photo ID, whether for purchasing alcoholic beverages or simply in case an emergency situation arises.
Sunglasses – I think this one is self-explanatory. I hate when the sun is in my eyes, so I always pack a pair of sunglasses for a day at the parks.
Cell phone – My cell phone is basically an extension of my arm. When you load the My Disney Experience app onto your smart phone, all the park information you need to know is in the palm of your hand, including all your reservations and FastPass times, and attraction wait times.  You'll want Character Locator for character locations, schedules and touring plans too!  I also use my cell phone to capture those "can't miss" photo opportunities when a PhotoPass photographer is not around.
Portable cell phone charger – If you are anything like me, you will quickly drain your battery using your cell phone to check Character Locator plans,  the MDE app and take photos. I love the Anker portable cell phone charger. You charge it beforehand and simply plug it into your cell phone for a mid-day full charge. You can continue having fun while your cell phone charges in your bag!
Cash – I like to carry some cash with me in the parks for various reasons. I usually pack about $20 in small bills.
Disney Visa credit card – Although you can link a credit card to your MagicBand for making purchases on property, there are some great vacation perks for Disney Visa cardholders that require you to present your card. Some dining and merchandise locations offer discounts and there are designated Meet & Greets exclusively for Disney Visa cardholders so pack your Disney Visa to take advantage of these perks!
Thomas Roth Instant Mineral SPF 30 Powder sunscreen – A friend of mine introduced me to this product last year and it's amazing! The Florida sun is hot and strong! I recommend using a cream or spray sunscreen before leaving your resort in the morning and using powder sunscreen to touch up throughout the day. It's lightweight, so easy to apply, doesn't feel sticky, and my kids love how it leaves a little bit of "pixie dust" shimmer on their skin! It's not inexpensive, but it lasts a while! I've had mine for 3 years and it's only about half empty.
Snacks – I like to pack a small snack for times when I need a pick-me-up between meals. I like crackers, but you can bring anything that will not melt. Some other ideas are applesauce pouches, granola bars (without chocolate!), beef jerky, fruit snacks, and travel boxes of cereal.
Sandwich-sized Ziploc bag – There are a handful of rides in the Disney Parks on which you will get you wet. Kali River Rapids especially can soak you! I like to pack a small Ziploc bags to protect any items that I don't want to get damaged.
Ponytail holder – Anyone with long hair will probably understand when I say it's hard to keep your hair looking great in 90-degree weather while walking 10 miles each day and riding thrill rides. I like to have an elastic band handy to pull my hair back so it stays out of my face.
Other tips & tricks…
Depending on the time of year, I like to dress in layers. I will often wear a lightweight, long-sleeved shirt that can easily be tied around my waist for when it gets warmer during the daytime.
If you are staying at a Disney resort, Disney offers package delivery service where you can ship items purchased in the parks to your resort so that you don't need to carry them around with you all day.
It's important to stay hydrated while touring the parks! Rather than carrying around a heavy water bottle, you can request a free cup of ice water at any quick service location!
Other items that you may find useful: inexpensive fold-up poncho, lip balm with SPF, Band-Aids/pain medication (although you can get these at a first aid station), and pins if you enjoy pin trading.
And finally, don't forget your EARS! ºoº