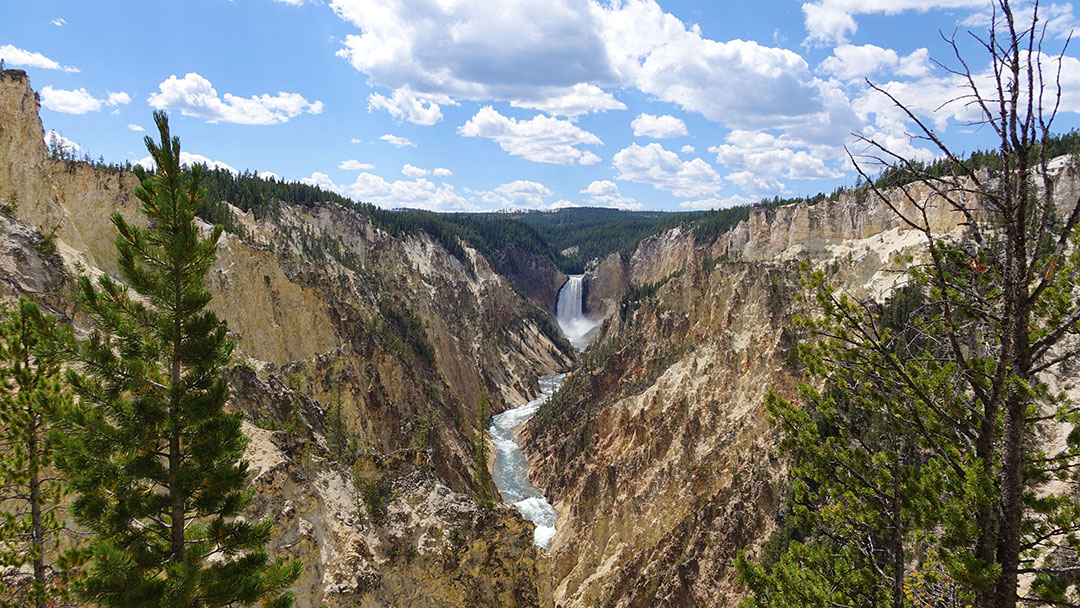 Our plan for the day was to see the remaining waterfalls in Yellowstone National Park including the Grand Canyon of the Yellowstone.  Of course, our National Park days aren't as well planned as your day in Walt Disney World with Character Locator, but fun just the same!  Here's our story of waterfalls and detours including one very painful, yet rewarding experience.
As we entered the park, we saw these beautiful animals grazing along a hillside.  It's day 5 and we still haven't seen a bear or a moose!  Come on wildlife, show up at a respectable distance so we get some photos.  Every day my girls are on watch for even a glimpse of a bear at 100 yards or more.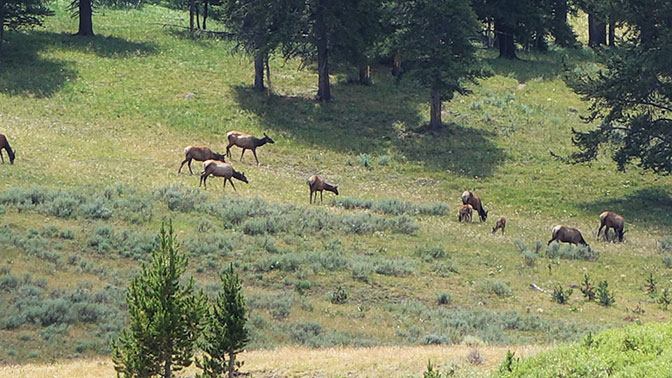 Before visiting the South End of the Grand Canyon of the Yellowstone, we stopped for our picnic lunch.  In case you're wondering, it's called a pic-a-nic and this is Jellystone.  Hey Boo Boo!  All the tables in the area were taken, so we improvised with this awesome stump and fallen trees.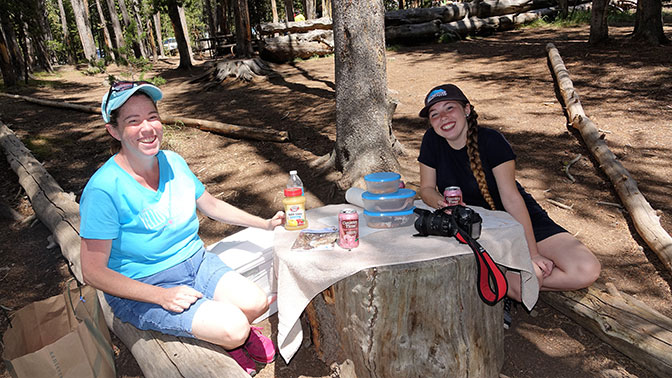 The picnic area is only a short walk to this amazing view.  I'll warn you not to get into the water because it is only a short distance from 2 major water falls.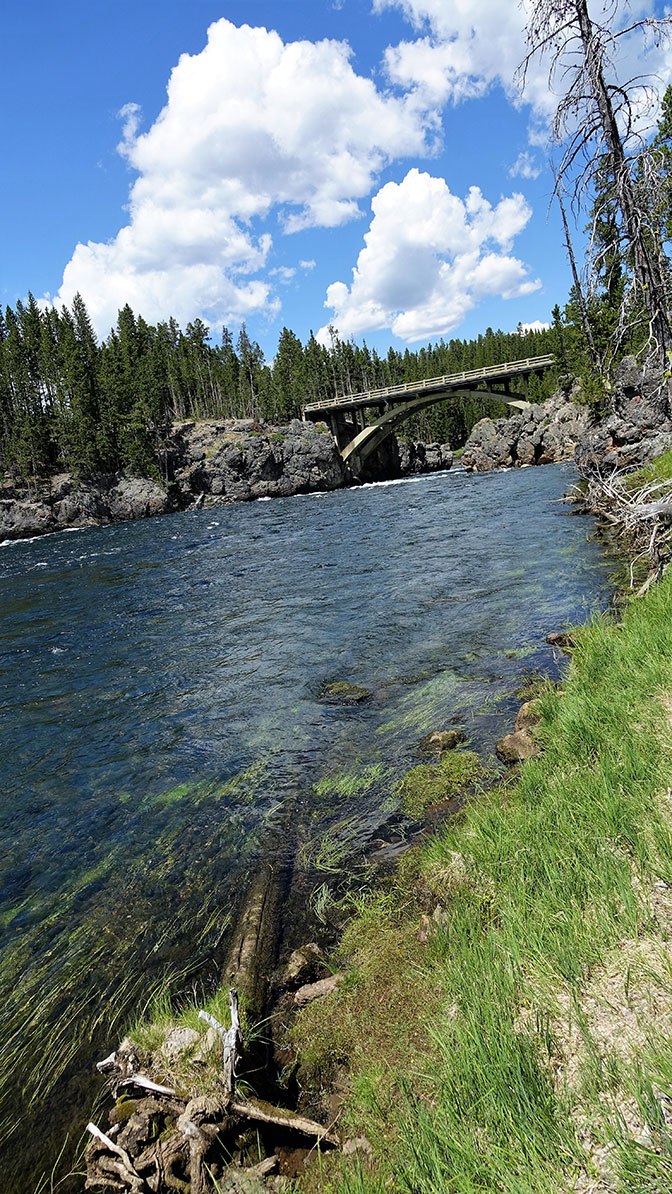 Before visiting one of the falls, Debbie needed to complete a Ranger Talk in order to get her Junior Ranger badge, so we listened to Colm as he discussed how Yellowstone inspires art like sketches, paintings, photography, poetry, books and songs.  He was a good speaker and loves Star Wars.  He wants to know which Episode you prefer.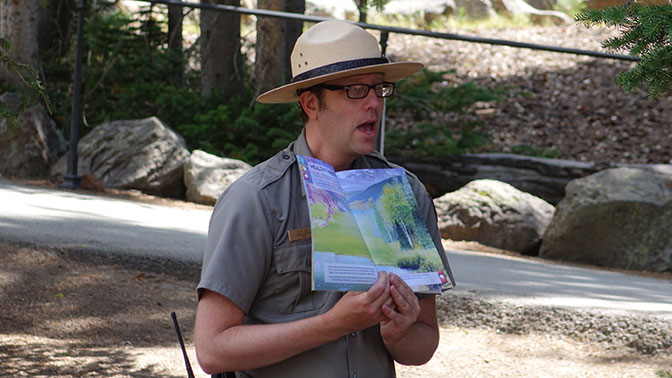 After the talk we made our way over for one of the most spectacular views I've ever seen.  I can see why they call this place Artist Point.  This view is really easy to access as it is just a short walk from the parking area.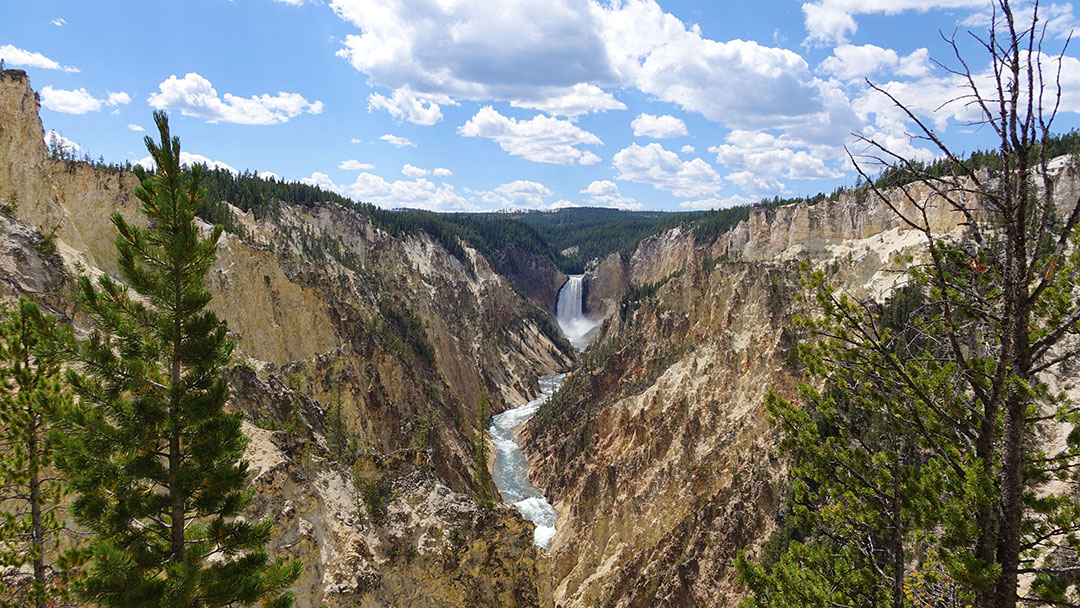 See, it inspired me to go Black and White!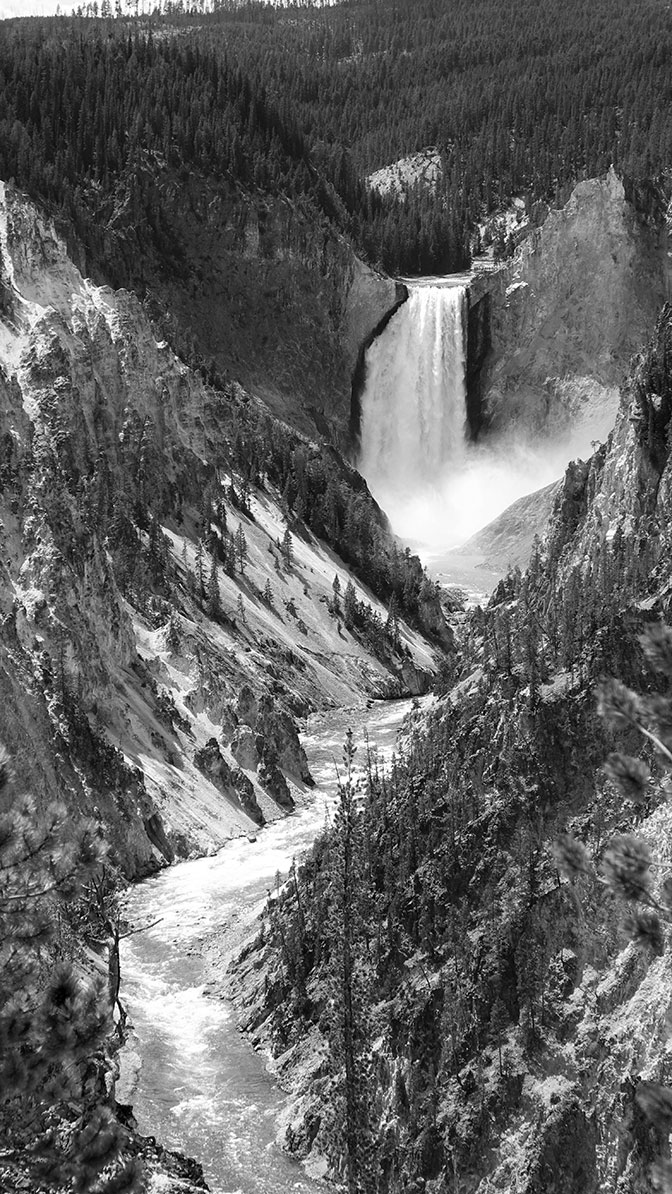 It's a great place for family photos.  You'll find at any of the National Parks, that you'll need to ask someone else to take your family photo and many of those don't come out so well.  I should start a Photopass style system for National Parks!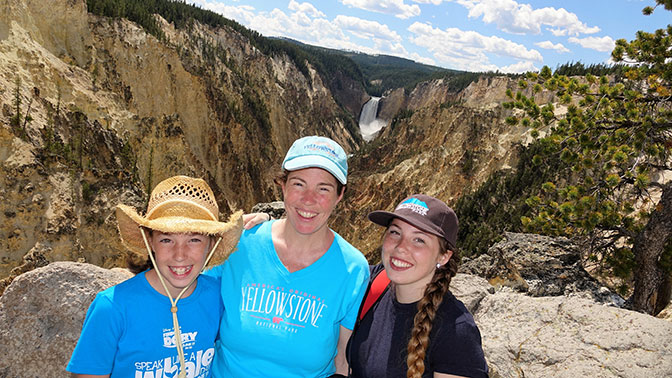 Say Queso!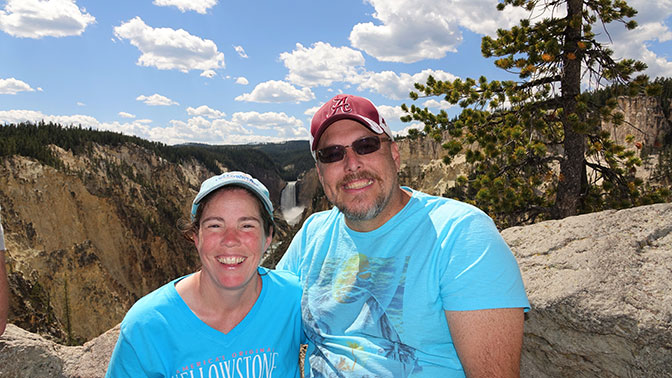 From there we made the short drive down to the viewpoint for the Upper Falls on the South Trail side.  It's not as tall, but you can still hear the roar of the waters.  It's over 100 feet tall vs Lower Falls at over 300 feet.  This was an easy walk from the parking lot.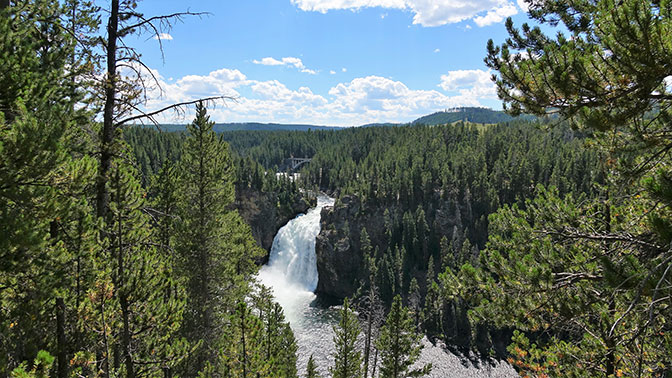 Before we continue with this post, I may have to charge for these next few photos.  Not because they are worth paying for, but because of the pain I had to endure to get them. We took our first detour and we'd pay the price later.   We read the sign that warned us that Uncle Tom's Trail would take us down over 500 feet and 328 steps and thought, "Eh, no big deal."  Well, the stairs are straight down!  By the time you finish the stairs and the rest of the trail to the top you've traversed a 70 story building, down and up!  Don't try this climb if you aren't in good health.
Uncle Tom was an entrepreneur who would help guests in their Sunday finest climb up this hill with rickety stairs and rope ladders.  Those people had guts!  About half way down the stairs my knees were shaking like 10 pennies in a piggy bank.  On the way back my lungs were burning like someone was roasting s'mores in my chest.  It will be a memory we talk about for a long time.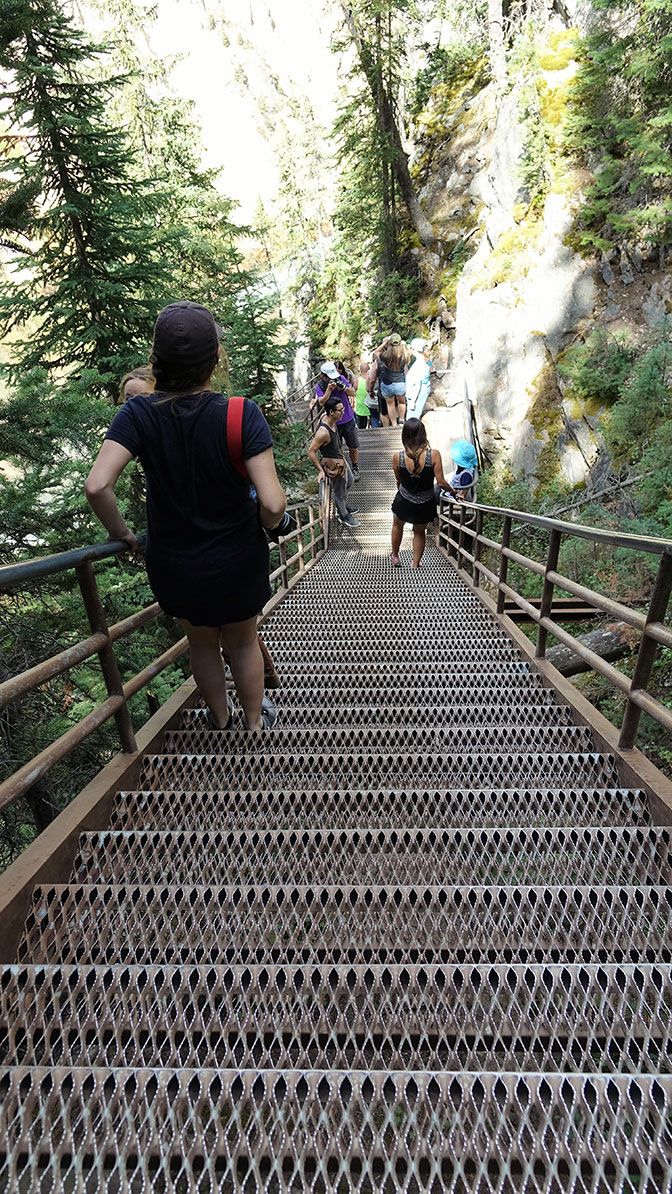 About half way down we saw this double rainbow.  Where's that guy on Youtube that got famous for this?  What does it mean?  What does it mean?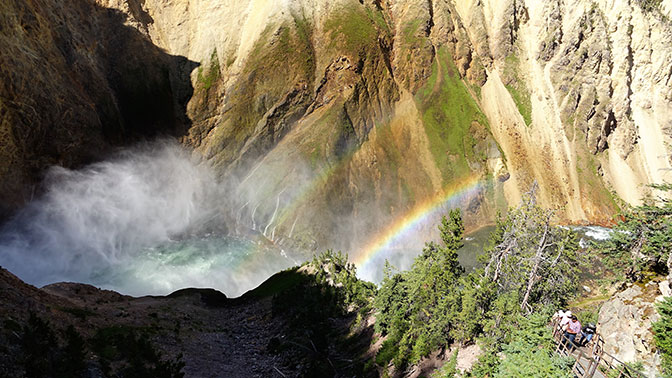 It's a great location for photos with the falls behind you.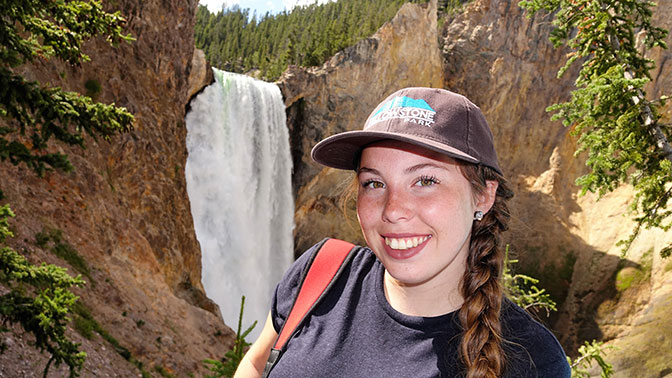 Debbie has always loved wearing boots, but if you take her to Wyoming, Montana and Idaho, she'll go full on Cowgirl Jessie.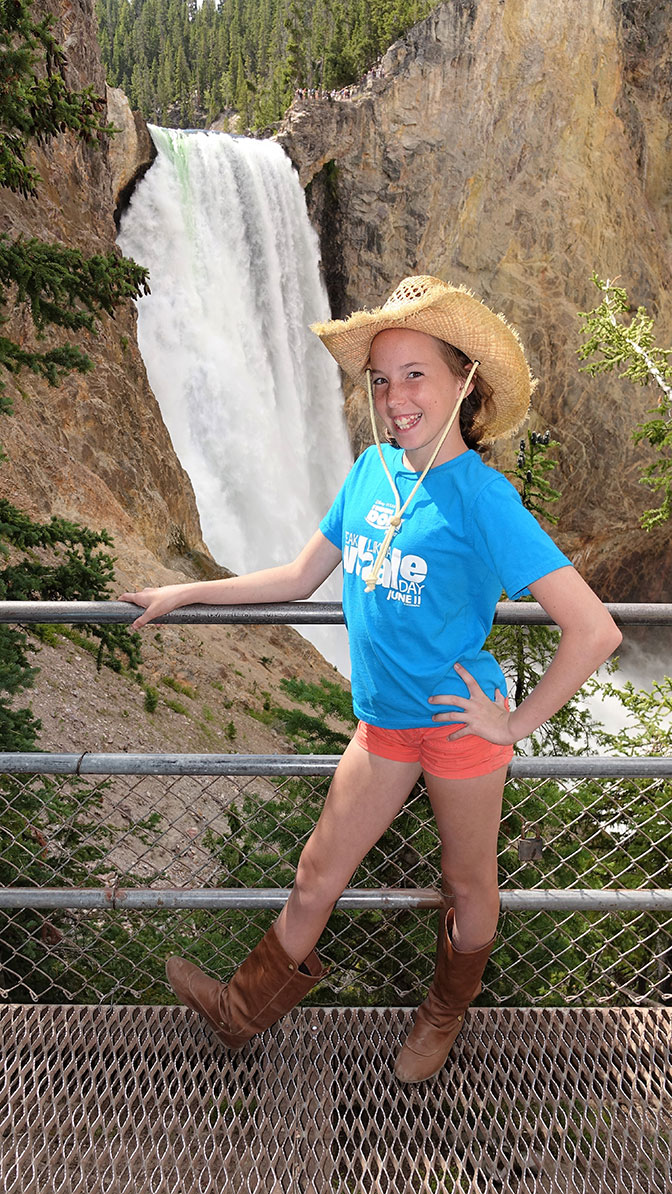 And my beautiful wife of 26 years as well.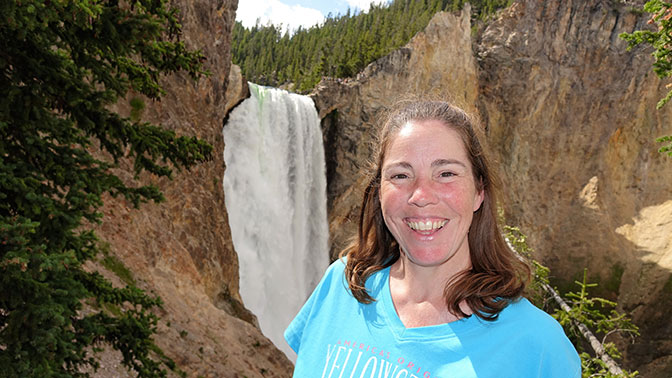 From there we took the car over to the Brink of the Upper Falls on the North Trail.  It's a short walk to the view that overlooks this powerful waterfall.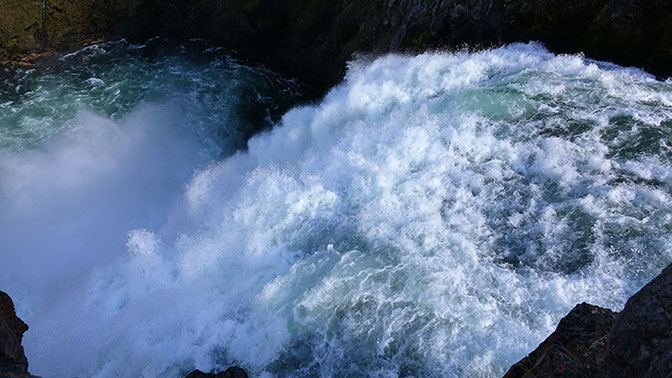 We did a couple of the other view points for the Lower Falls, but the pain from climbing Uncle Tom's Trail hindered us from going down to the lower viewing areas.  Instead, you'll get a photo of an adorable Chipmunk.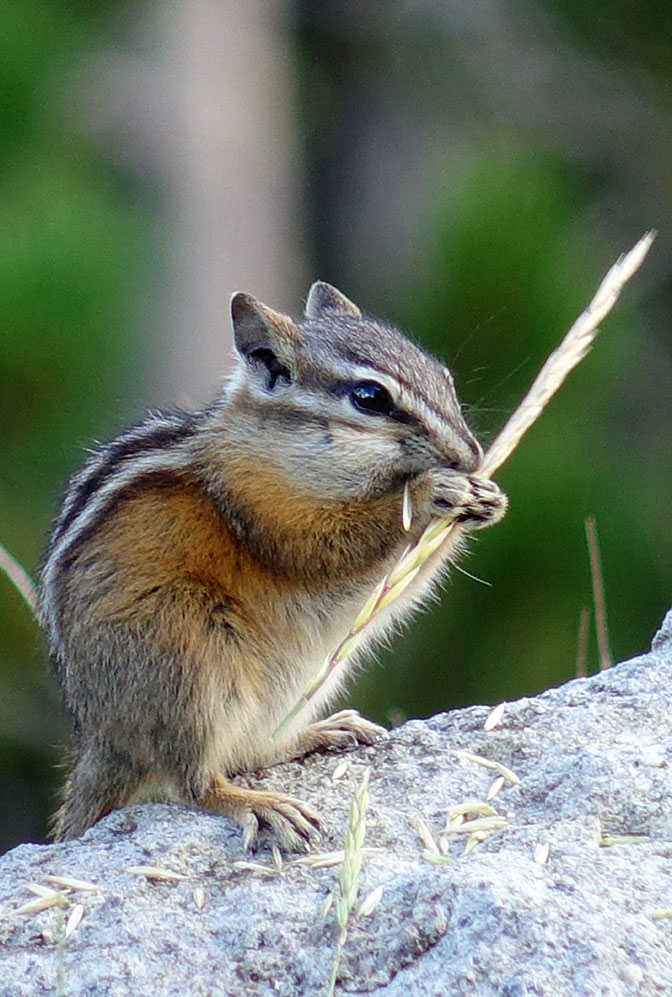 In our ever detouring day, we decided to drive up through the mountains to see Tower Fall.  There is no s, it's just Fall for some reason.  This is the only viewpoint for the Fall, since they closed the walking trail that used to lead to the base of the Fall.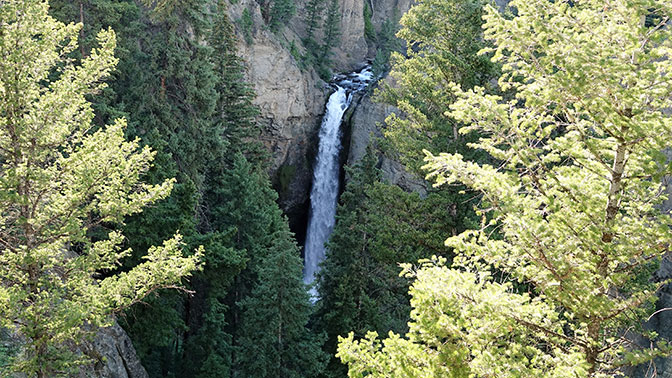 As we made our way back from Tower, we saw a sign for Mount Washburn.  It's a rocky and bumpy drive up close to this summit of over 10,000 feet.  We saw this Golden Eagle in a tree far away.  Sorry it's not a perfect photo, but it was as far as my Sony RX10m2 would zoom, even in digital zoom mode.
It was nearing sunset, so we decided to stay on the top of the world and watch the sunset.  Debbie is a budding gymnast and dancer and wanted me to see if I could capture some photos of her flying through the sky on the top of the mountain.  How did I do?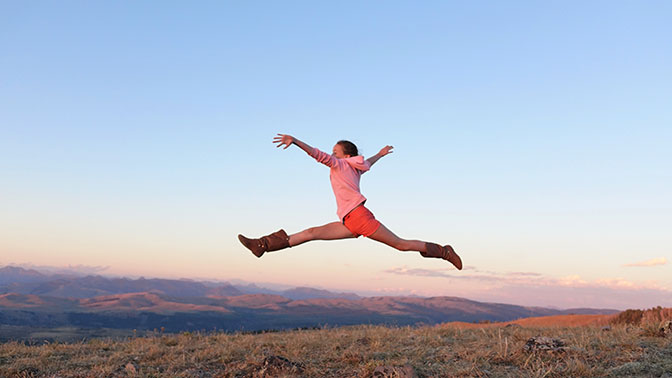 Toes on top of the world.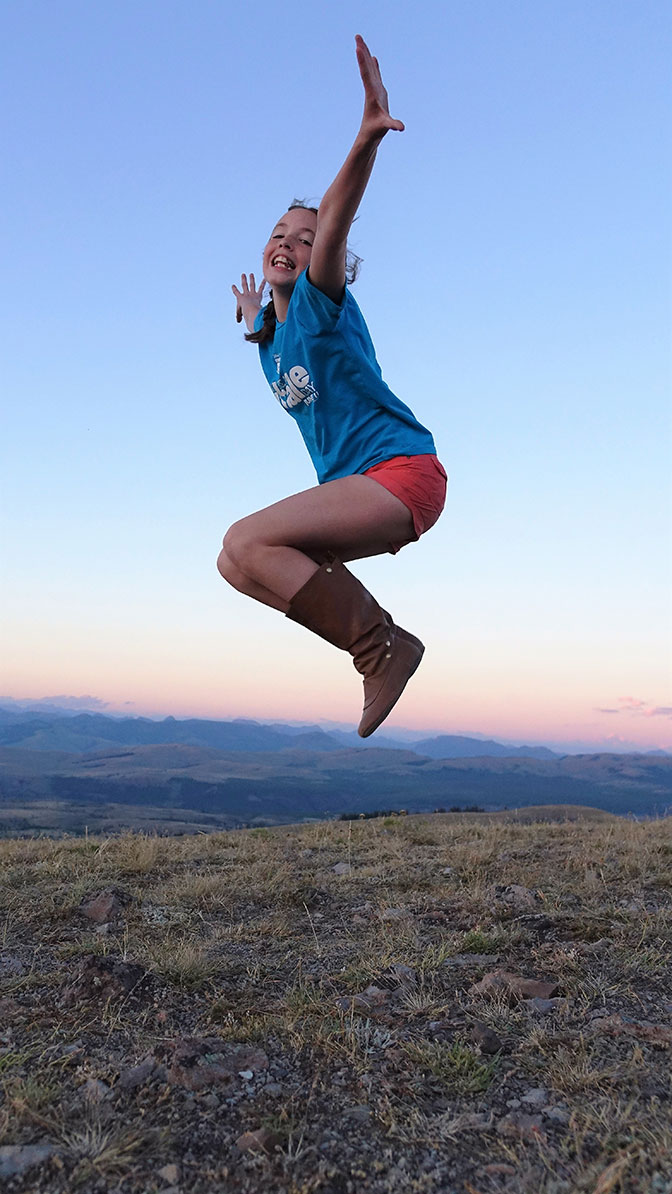 Jordyn and I enjoyed taking photos of the sunset and the quiet stillness of no one around, then we heard a Harley driving by on the road below.  How do you make that sound?  blrbllferelb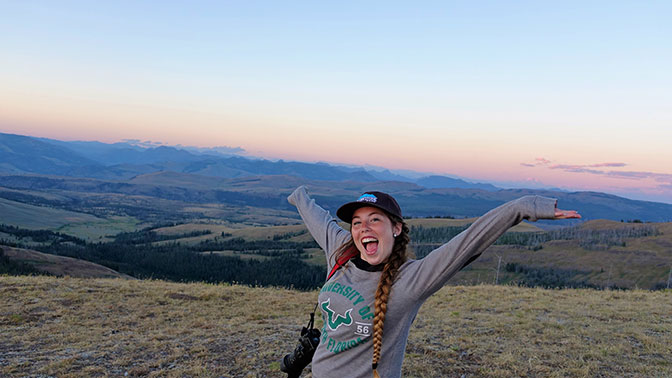 My wife enjoyed resting upon this tree.  We didn't travel all the way to the top of Mount Washburn.  It would have taken a couple of hours to make that trek and the view would be similar, plus my legs and rear end hurt from Uncle Tom's climb.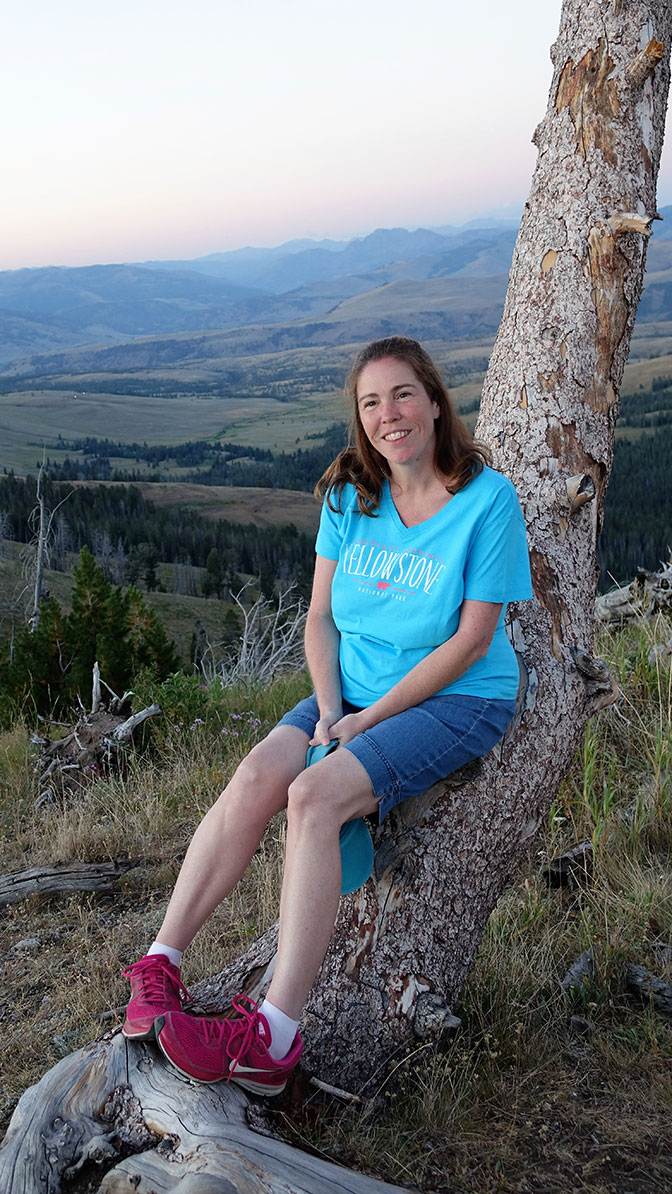 We left as it was about to get dark.  Sometimes the detours provide some amazing memories.  It can be the simple things like skipping stones in the creek and watching the sunset that builds lasting memories with your kids.