After a couple of walking and climbing intensive days of geysers and hot springs, we were ready for a more relaxing day to rejunvenate for a couple more days journeying around the wilderness.  Today we watched a couple of Imax movies, toured a local museum and went horseback riding in the Gallatin Mountains.
West Yellowstone has a single large screen Imax theater that rotates through several movies.  They were showing an overview of Yellowstone, the story of the National Parks, Disney's Bears and Tarzan (live action).  We opted for the 2 movies we might not see otherwise and went with the Yellowstone and National Parks.  Each movie was very good and showed many beautiful features of the parks.  You may want to see the Yellowstone movie at the beginning of your trip to get an idea what is available to see on your trip.  If you buy a ticket to one movie, you get a second for $6.00 per person.  Oh, and they have 50 cent serve yourself soft-serve ice cream too!  Try the Huckleberry/Vanilla swirl.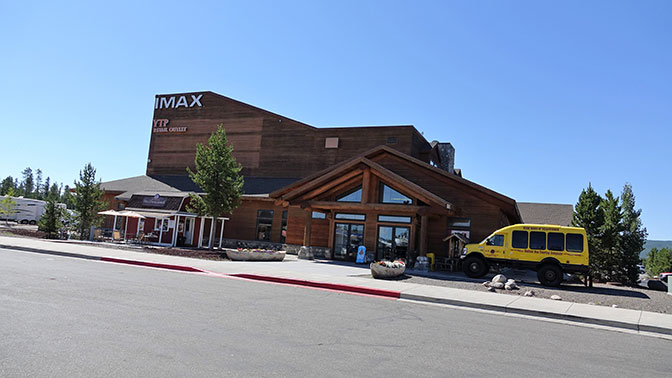 In between movies we ventured across the street to the Yellowstone Museum.  It was $6 per adult, $3 per student and $2 for a child under 12.  It focuses heavily on the history of transportation in the area, but has some other neat features as well.  For a small museum it was very informative.  I enjoyed watching the story of the 1988 Yellowstone Fire and how the announcer said it would "take a miracle to save the Yellowstone Inn area."  The flames were raging 200 feet into the area as the fire rampaged toward the Inn, then suddenly the winds shifted and blew the fire another direction.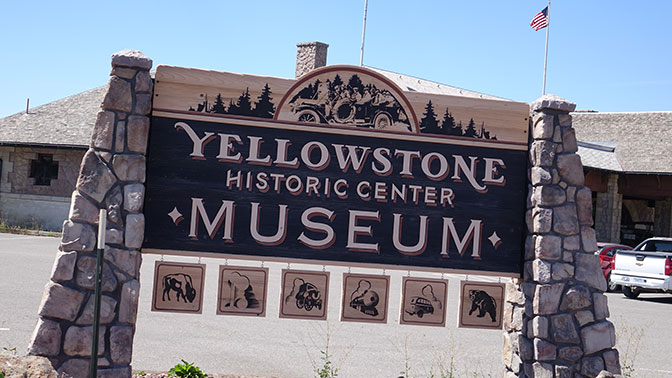 Old Snaggletooth was a long-time member of the West Yellowstone area and frequented the city dump back when it was open for animals to scavenge.  Locals and tourists would park their cars with the lights on just to catch a glimpse of the bears.  Snaggletooth was very popular as he was blind in one eye, had a damaged paw and one tooth jutting out to the side.  His injuries were likely from a fight with another bear.  For some reason two poachers from Idaho killed Snaggletooth, but the local Park Ranger was able to arrest them.  It was decided that Snaggletooth should be saved to tell his story.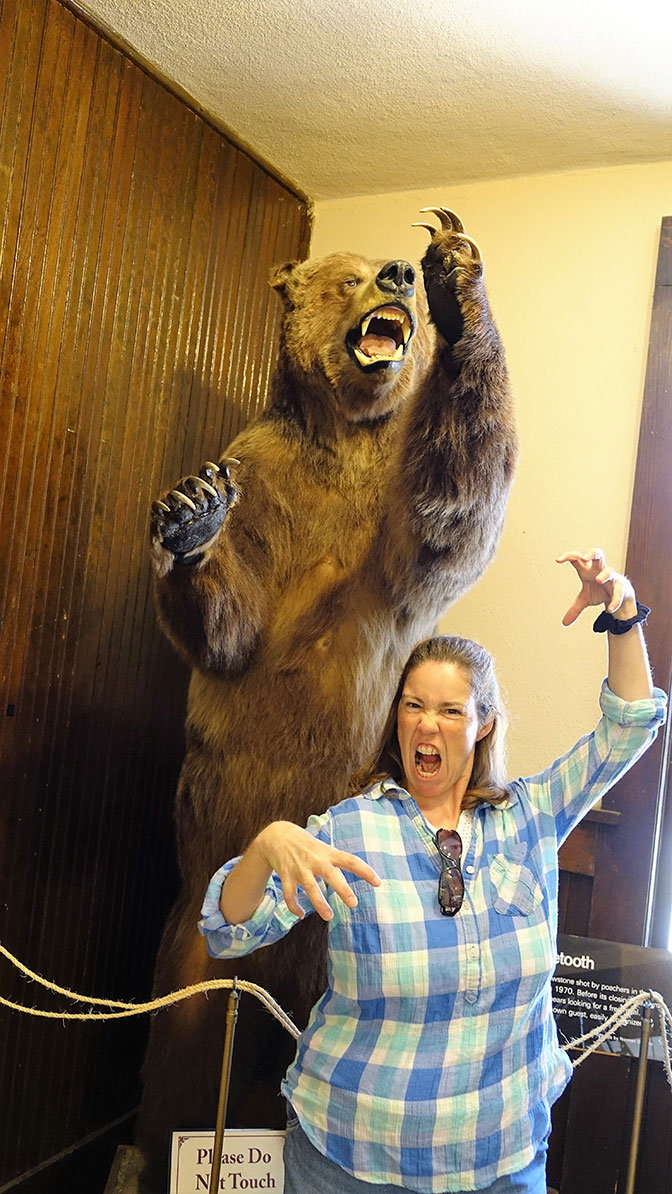 The museum offers a free scavenger hunt for children.  As you make your way around the museum, you check off the various items on your list and when the list is complete they give you a gift.  Debbie got this little Bison.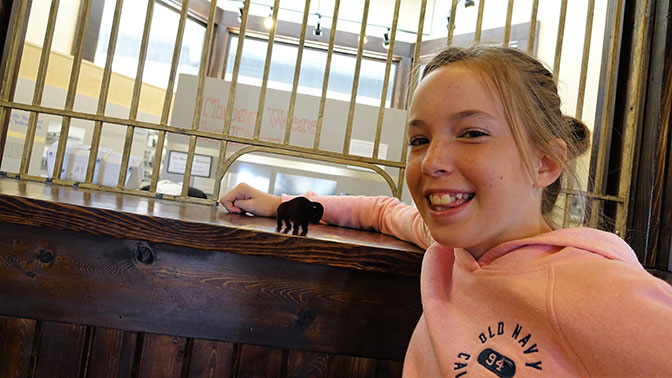 Back when people traveled across dirt roads, people wished to keep their clothing clean as they had limited clothing available on their journey.  Local entrepreneurs began renting these "Dusters" to cover the "Dudes" clothing.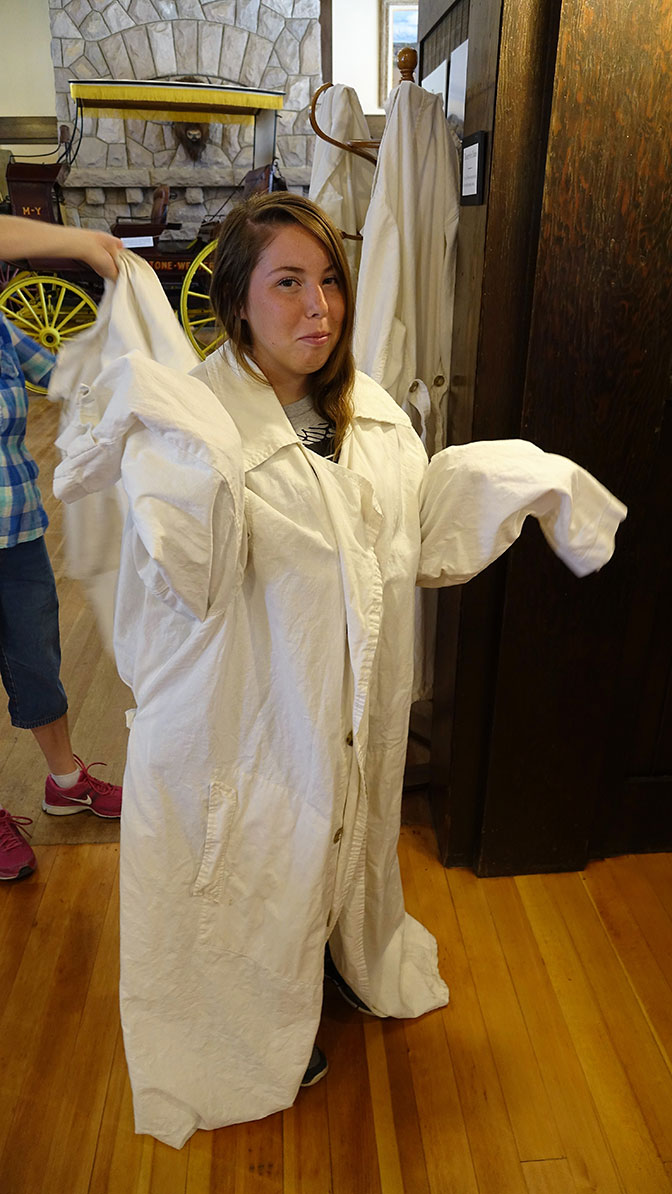 After a couple of hours in the museum we made our way a few miles into the park for a picnic.  This is the first picnic spot on the left as you enter the park from West Yellowstone.  Nice place to eat lunch, right?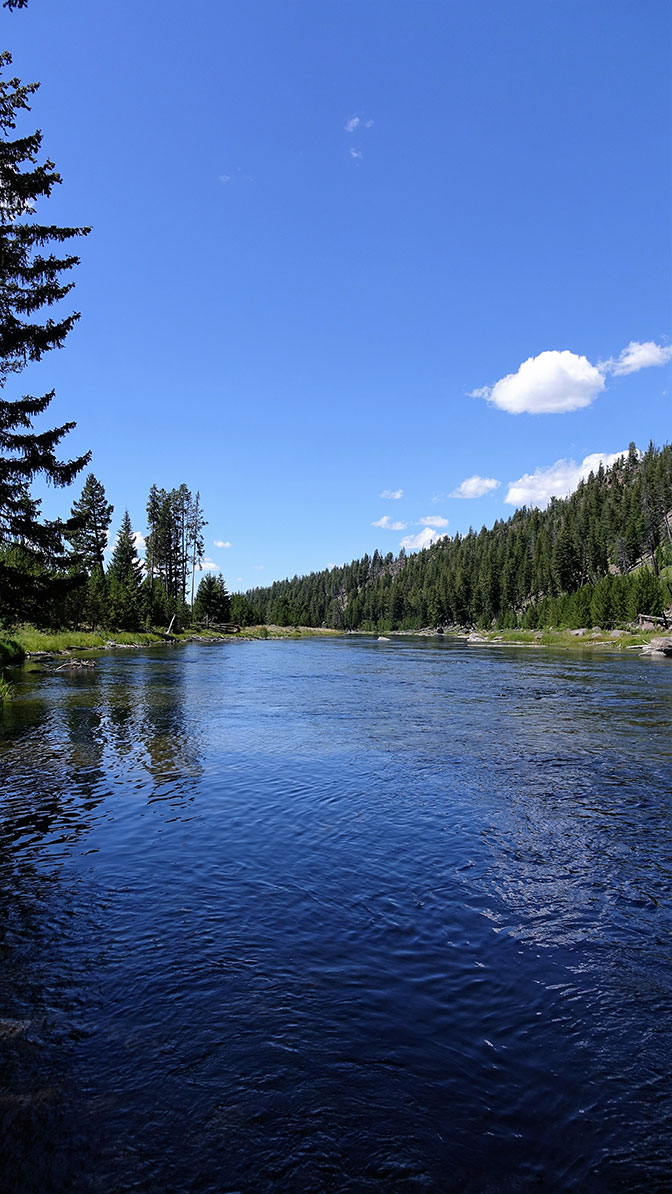 After lunch I taught Debbie how to skip rocks in the stream.  Most of the best skipping rocks had been picked through, so I had to walk out a bit farther to get some flat, smooth stones.  We did this on our visit to Zion National Park a few years ago, but Debbie was too little to remember.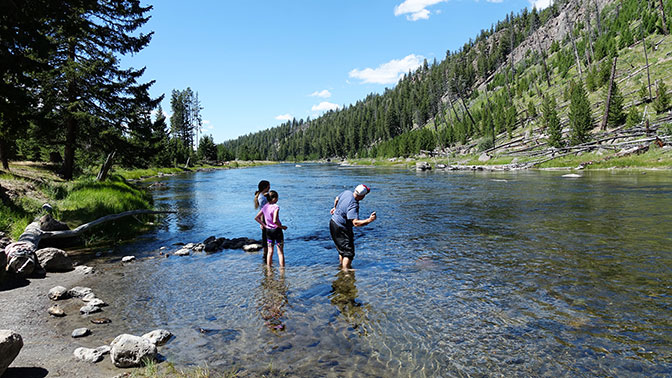 After watching our second Imax film, we did some shopping in a couple of local stores for tshirts and such.  We chose the Diamond P Ranch in between Island Park and West Yellowstone for horseback riding due to its close proximity to our cabin and the fact that it sounded fun to be able to journey up into the Gallatin Mountains on horseback.  Most horseback rides in the area where we were staying were basically just riding around the large pasture land.  We chose the 5:30pm two hour ride.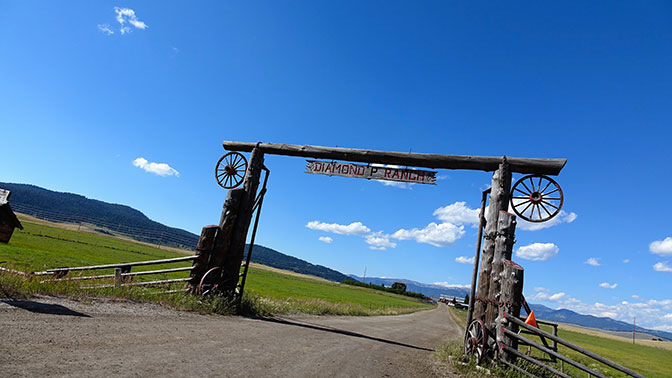 After we checked in, we met our trail guide and were given a few simple instructions about reining the horse and how to get it to go and stop.  I had horses as a child and have ridden several times over the years, so it wasn't new to me, but Debbie had never ridden so it was very helpful.  Preston was our trail guide.  He is from Arkansas and comes up for the summer.
His horse was Leftie.  Leftie didn't seem like he wanted to go on a trail ride that day, he was turning and twisting and tossing about before we began.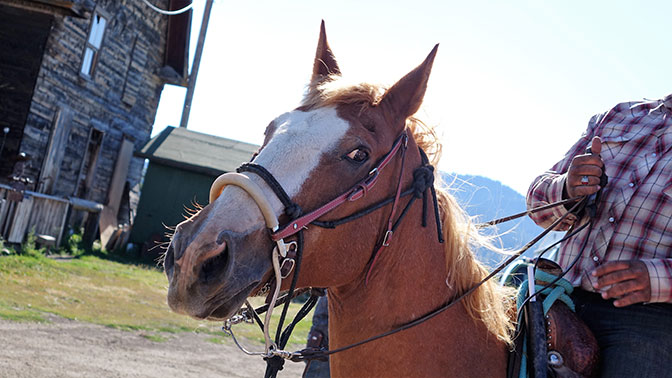 Debbie was excited to get this lovely white horse named Sir Sprinkles by some, but some called him Sparkles.  The horse responded to just about anything she called him.  Despite being a fairly large horse, he was very tame and Debbie enjoyed riding him.  We had her wear the helmet for her first ride into the mountains.  Helmets are optional on the ride.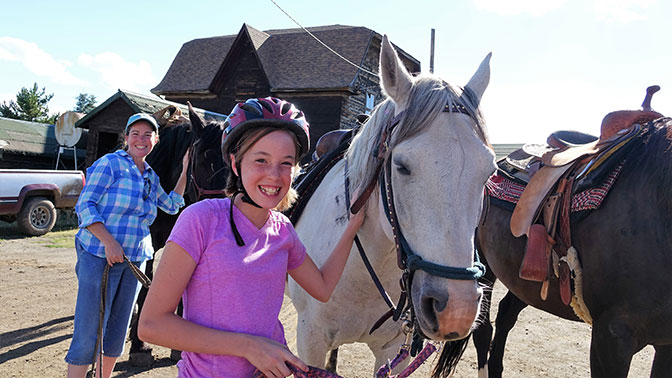 My wife rode Watermelon, who happened to be the largest horse in the pack.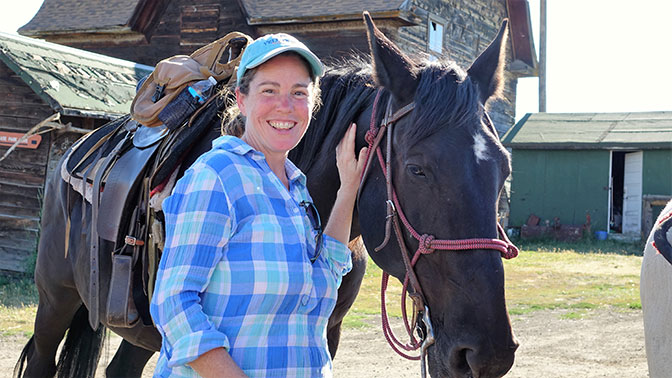 Jordyn rode upon a horse that some called Scar, but Preston called him "Barfight."  He had a large scar running down his back hip.  Jordyn said he was really gentle and easy to ride and followed direction well.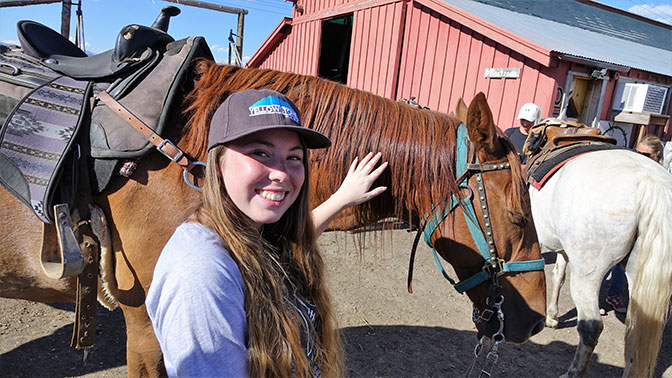 By chance, what horse do you think I ended up with?  Black Bart!  Yup a pirate with a pirate horse and my favorite of all pirate stories of how a tea totaling, Christian, English sailor ended up being a feared pirate.  Black Bart was easy to ride, but he was REALLY hungry.  They asked us to not let them graze while we were riding but Bart didn't seem to like that instruction too much. Pirates are a bit of a freewilled bunch.  Black Bart had another nickname, Bart the Fart as he passes gas frequently.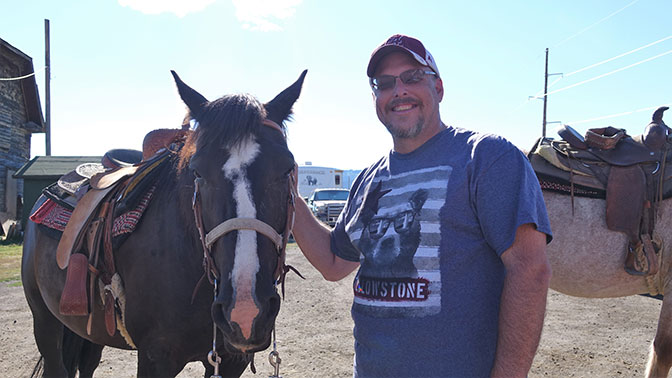 You begin at the ranch across the street from the mountain and the trail guides stop traffic so the horses can walk across.  There were only a couple of times  our horses ever reached a gallop.  Most of the time it was just a smooth, gentle walk.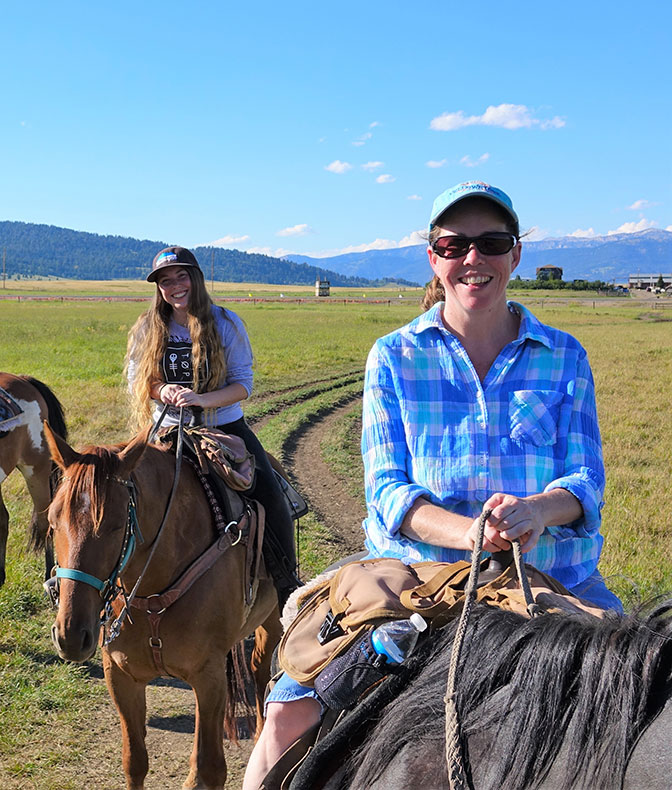 As we reached the highest point with Lion Head in the background, Debbie was still all smiles.  After an hour my rear end began to ache though.

Here's a nice shot of Jordyn on Scar.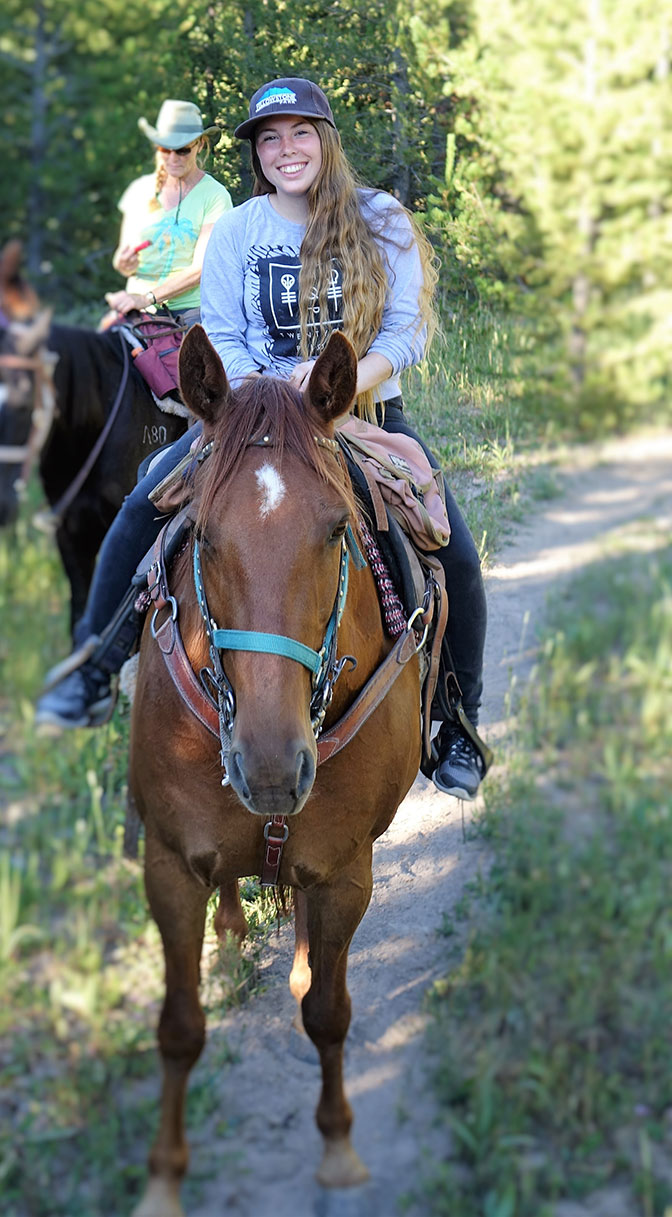 The trail guides try to entertain with stories, jokes and nicknames as you go along.  Preston took the photo of us all 4 together in the 1.2 seconds that Black Bart didn't try to eat dinner, then snapped this funny selfie.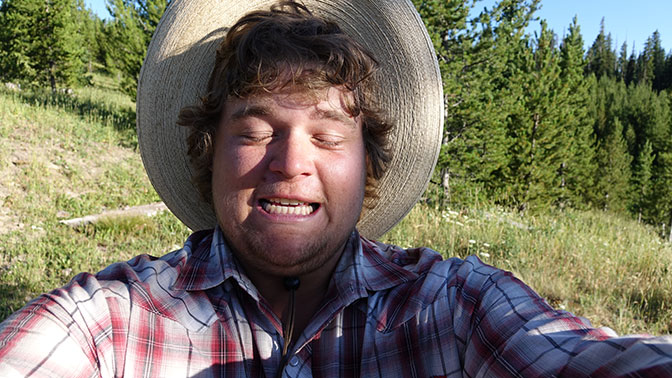 We had a great day together and we're building memories for a lifetime to go along with our saddle sores :).  The two hour ride was a lot of fun and I enjoyed my interactions with all the cowboys and cowgirls at the Diamond P Ranch.
Off to the Grand Canyon of the Yellowstone!