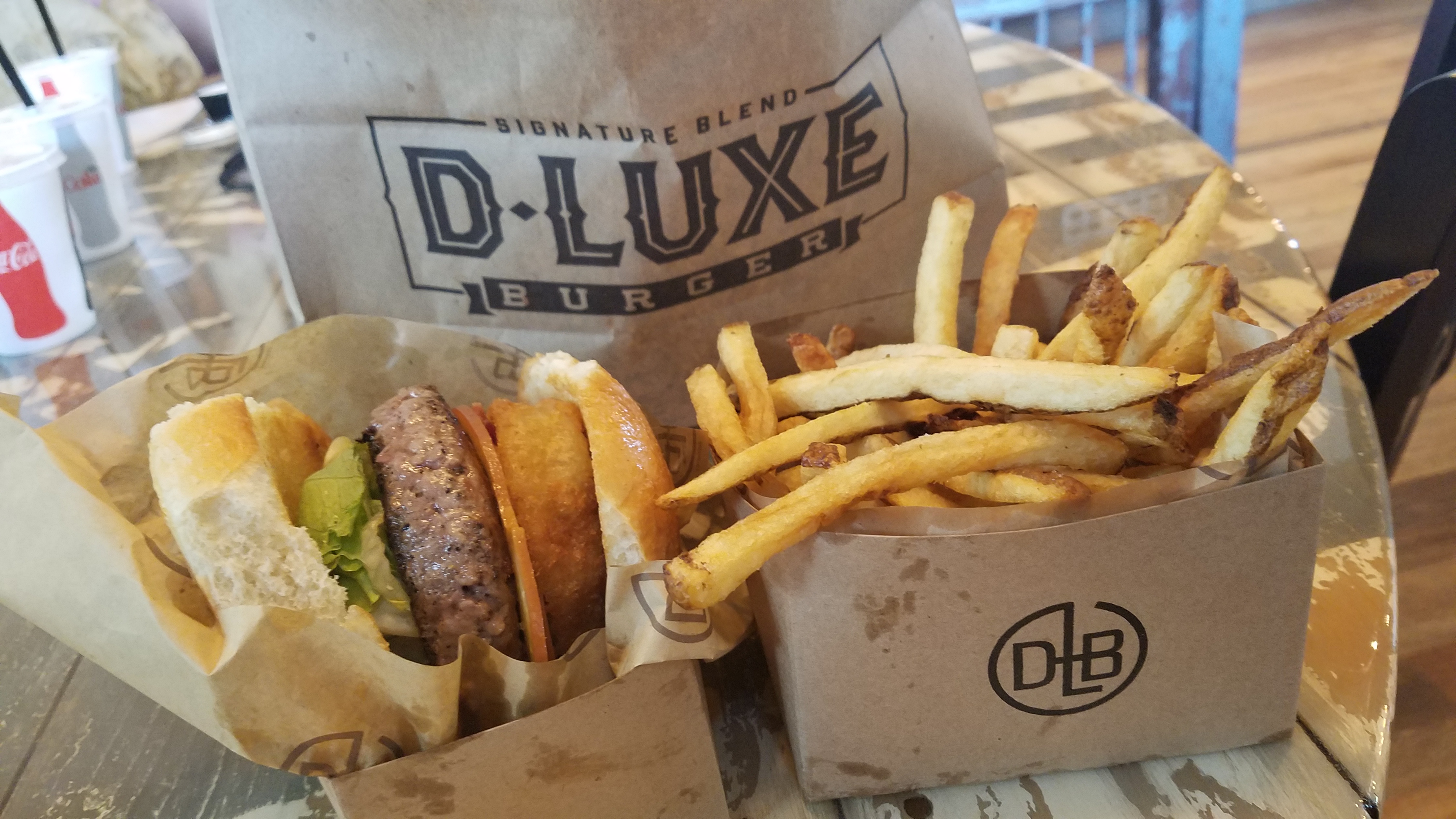 My family and I recently visited D-LUXE Burger in the new Town Center of Disney Springs.  I had heard some good things about this new burger place and being the burger aficionado that I am, we just had to try it.  Here's our review of the place:
The Atmosphere
D-LUXE Burger offers a unique Florida ranch inspired look.  I love the look of the outside of the building.  It's a nice lite green and cream with simple dormer windows.  The designers did a good job with this design.  We actually felt that all of Disney Springs Town Center should look like this rather than the odd European mall that it actually became.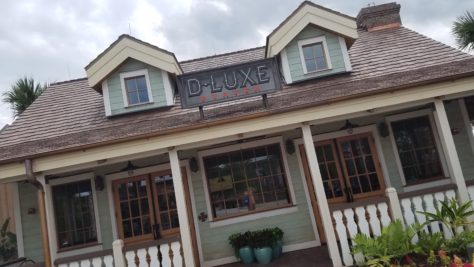 The inside continues the eclectic ranch feel with a casual, rustic appeal.  It kind of feels like an upscale version of many barbecue restaurants we've visited over the years.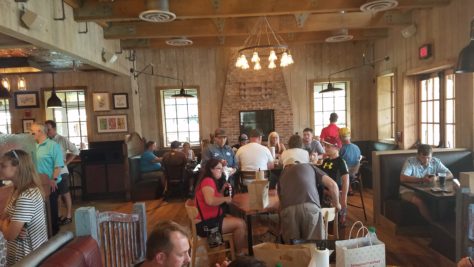 As you enter, you'll notice the large advertisement for the shakes.  We'll cover that later, but it is an important part!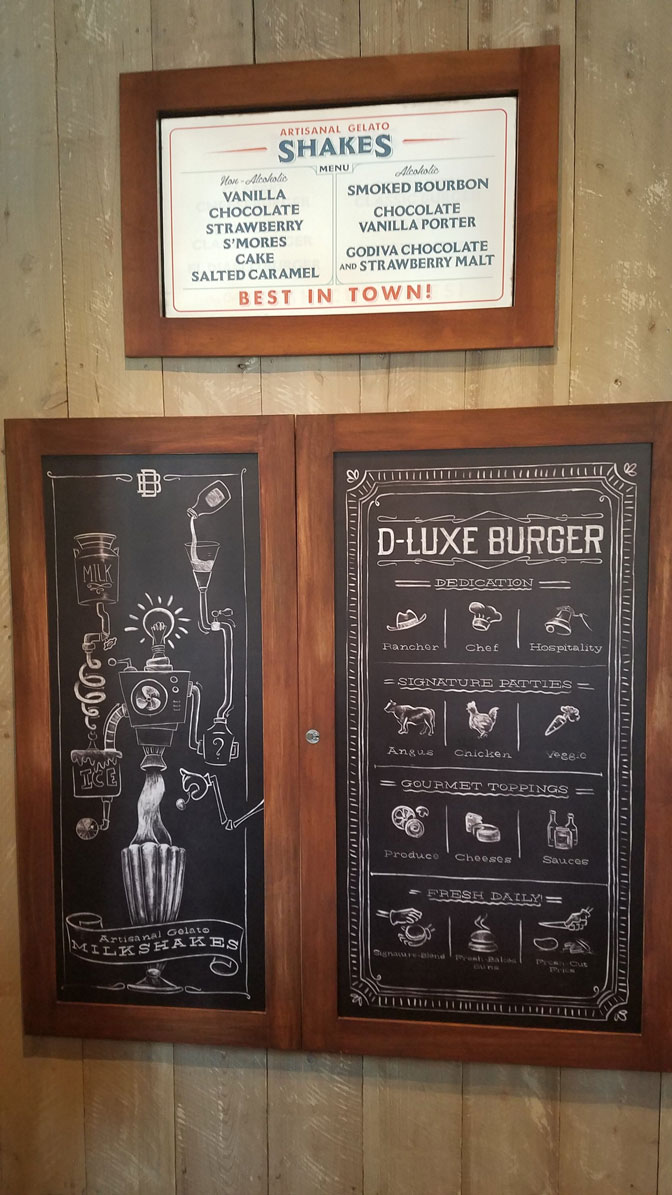 It's placed Quick Service style with customer service assistants ready to take your order.  You place your order and pick up any milkshakes which are custom made and they give you a beeper to inform you when your food is ready.  You return to a side pick up window to retrieve your food later.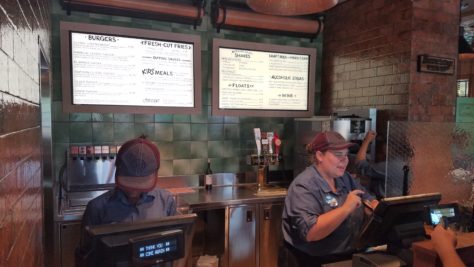 There's indoor and outdoor seating.  A small bar area along the window allows barstool seating while there are a variety of large and small booths.  It is a generally busy location, so finding an indoor seat could be cumbersome with limited indoor seating available.  Outdoor seating does offer a nice view of the Disney Springs, but expect it to be quite hot during the daytime.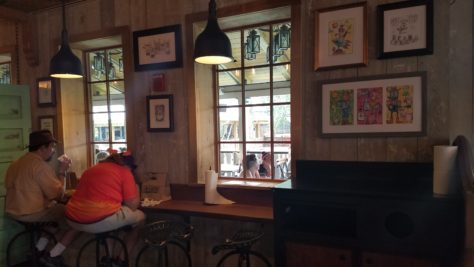 The menu
The menu is pretty simple.  You're given 4 burger choices, one chicken choice and one veggie burger choice.  The burgers are said to be "Signature blend" of a variety of beef sources.  The restaurant says they offer "Fresh-cut Fries" with a variety of dipping sauces, Artisanal Gelato Shakes, floats and a variety of alcoholic beverages and shakes.  (Click for a full-sized menu)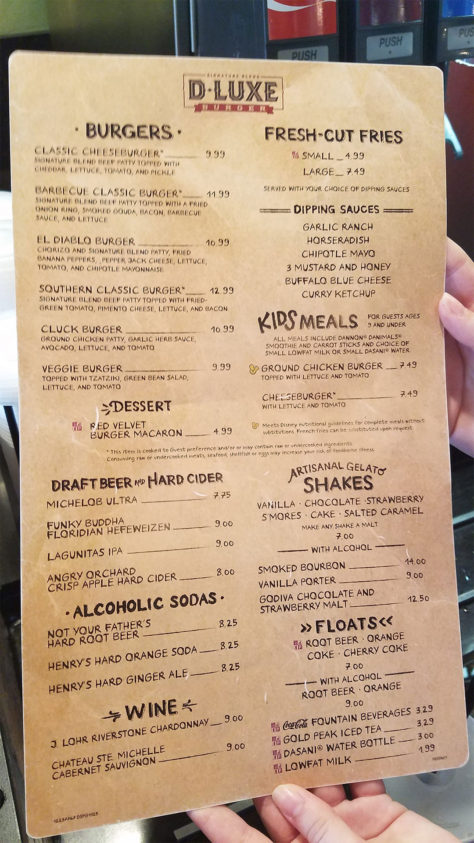 Food quality
We ordered the Classic Cheeseburger and the Barbecue Classic Burger and a large order of "Fresh-cut Fries."  I've paid $10 for burgers before and I know which burgers I like and which burgers I don't care for.  I'll place these burgers in the second category.
The burgers at D-LUXE Burger are very large, so we had only ordered 2 for our group of 4 so we could split them.  We figured half a large burger and shared fries would be sufficient.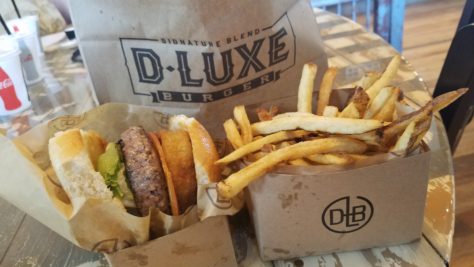 Both burgers were served hot, but both were VERY greasy and basically tasteless.  They are prepared medium, but you can request them well done, if you prefer.  We took them as they are prepared, without onions.   After a few bites of the barbecue burger my daughter and I were like, "We paid $10 for this?"  A greasy, tasteless burger?  I tasted just the beef and found it to have little or no seasoning.  I guess you're supposed to add some of the dipping sauces?
The lettuce and tomato were crisp and tasty and the bun was light and fresh.  The barbecue sauce on the burger had a good flavor, but there was little of it found on the burger.
The fries.  Our first order of fries were very hard to eat.  It tasted as though they weren't cooked properly and were still hard in the middle.  We requested assistance and were told "It could be the marinade."  The gentleman said they marinade their fries in some way and if they are left in the marinade too long, they can become hard.  He kindly brought us another order.  We ate a few of those and they were easier to consume, but we didn't really care for the taste.  It had some sort of odd lime taste to them.  I had to cover each fry in ketchup to consume them.  

The only redeeming quality that we found at D-LUXE Burger was the S'mores shake that I ordered.  It tasted EXACTLY like a fresh S'more cooked over an open fire.  The shake was thick, but drinkable and topped with marshmallows and chocolate sauce and finished with a small graham cracker.  It was truly a delicious indulgence.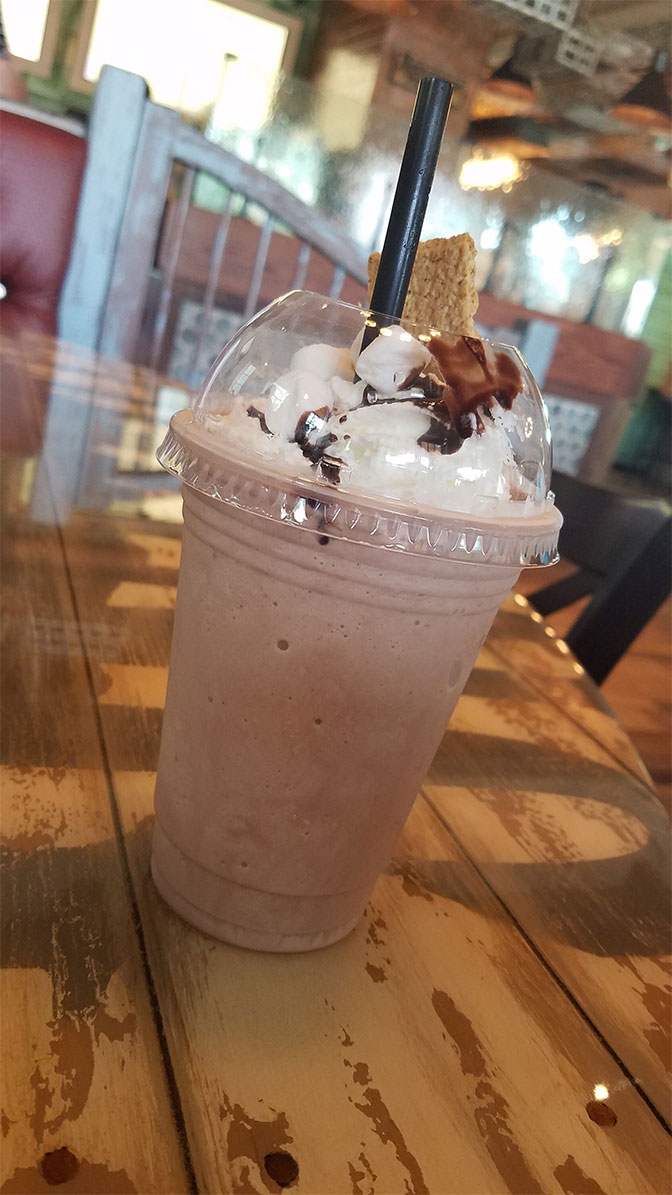 Overall, I would not return to D-LUXE Burger based upon this meal.  I would rather visit Shula Burger on Highway 192 for a similarly priced meal that has great flavor.  Heck, I'd rather eat at 5 Guys Burgers and Fries, Whataburger or even Burger King.  The shake was the only positive food choice for us.
Feel free to share your experiences in the comments below or on my Facebook Page.