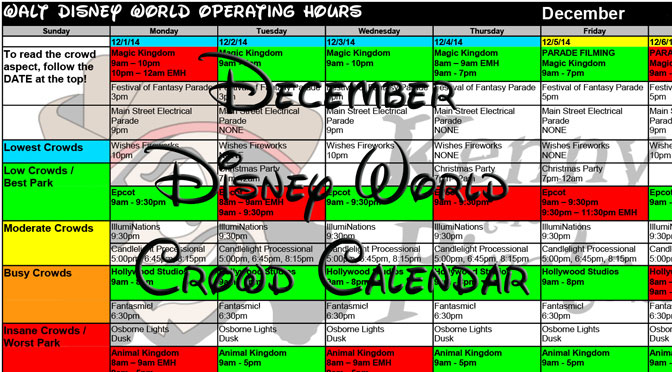 Disney World finally releases official, but preliminary park hours and Extra Magic Hours for Decemeber 2016.
Get all the latest KennythePirate Disney news and planning advice in your inbox!
I posted my predictions for park hours and Extra Magic Hours on my December 2016 Crowd Calendar over a week ago and most of my predictions were accurate.  I had to adjust a couple of park hours and I removed Animal Kingdom Extra Magic Hours, but if you looked over the info to plan your best parks, you were the winner.
Disney has chosen not to list Animal Kingdom as having any type of Extra Magic Hours for December at this time.  It could mean they will add them later or it could be possible that Animal Kingdom won't offer morning Extra Magic Hours.
Animal Kingdom is staying open until 11pm nightly through September 5 and it's expected to continue with some type of after dark experiences indefinitely, but they rarely provide all the detail you need to plan your trip, like exactly when Extra Magic Hours are and how long the parks actually stay open.
I expect a lot of changes to the December hours between now and December, but it's unlikely we'll see many Extra Magic Hour changes.  It is likely they will add Magic Kingdom morning Extra Magic Hours during the week from Christmas to New Years and park hours will definitely extend for crowds.
Be sure to check out my December 2016 Crowd Calendar for details and feel free to share with others!