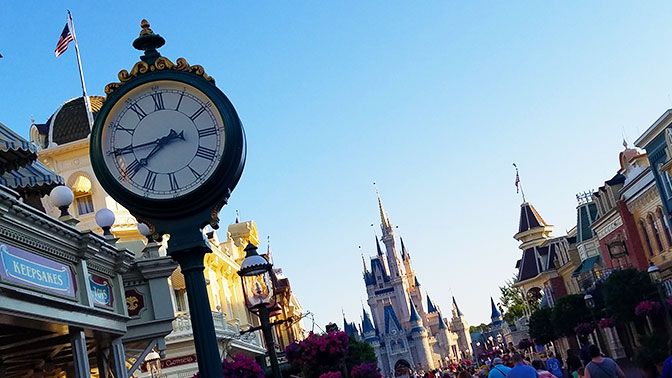 Disney World began a new offering they call "Early Morning Magic" today.  It shouldn't be confused with Extra Magic Hours, which are a no additional cost benefit for Walt Disney World resort guests.  Early Morning Magic costs $69 per adult and $59 per child and provides up to 1 hour and 15 minutes of additional early access to the Magic Kingdom on days that don't offer any form of Extra Magic Hour.  It includes access to 7 Dwarfs Mine train, Peter Pan's Flight and the Many Adventures of Winnie the Pooh.  Here's some info from my experience this morning.
First, I'll begin by stating that I paid for this experience out of my own pocket, as I usually do.  I wasn't comped and didn't win this in any form.  Second, my opinions are just that, opinions.  You can formulate your own based on your experiences and desires.
I drove my car to the Transportation and Ticket Center.  I arrived at the toll booths at 7:02am.  No one was accepting MagicBands or payment.  I found a sign that instructed me to proceed to my destination.  I parked my car on the front row of the Preferred parking as there were no parking attendants.  I figured it seemed as though it was included in the cost of the event.  By 7:11am I had walked to the Monorail / Ferry area.  No monorails were running, so I was encouraged to take the Ferry.  I noticed that the small boats were transporting Monorail Resort guests and buses were bringing in other resort guests.
At 7:21am we loaded the Ferry and made it the the Magic Kingdom landing at 7:31am.  I found that all the guests arriving this early were heading left, so I followed suit.
A CM had a sign for tours and reservations.  I checked in with a sweet lady and received my yellow wristband that was being used to let operations Casts know we were Early Morning Magic guests.  Only guests with the yellow band were allowed to enter breakfast and rides weren't available to those without the band until 8:45am.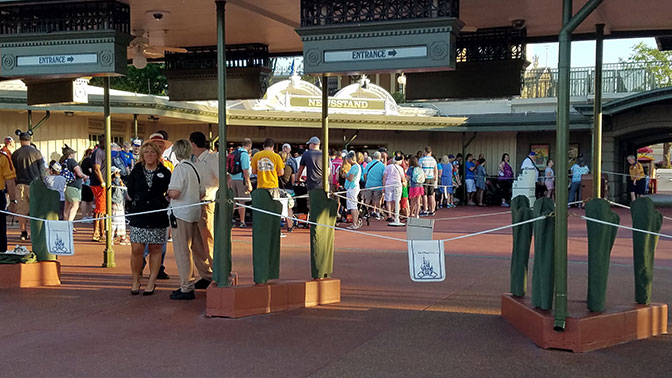 At 7:41am the Magic Kingdom was opened for tours, breakfasts and this event.  I strolled leisurely up Main Street and took a few photos.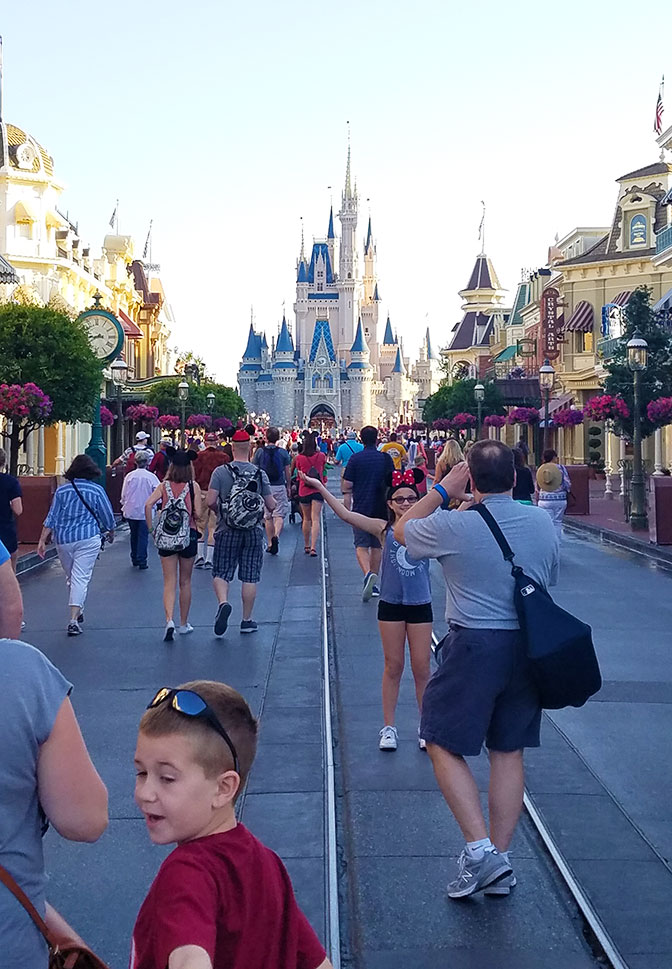 Speaking of photos, I merely used my Samsung S7 for photos today.  I saw many breakfast guests stopping for early morning photos with Photopass along Main Street and near the Partners statue.  I decided to begin my morning at 7 Dwarfs Mine Train.  I rode it at 7:50am with ZERO wait.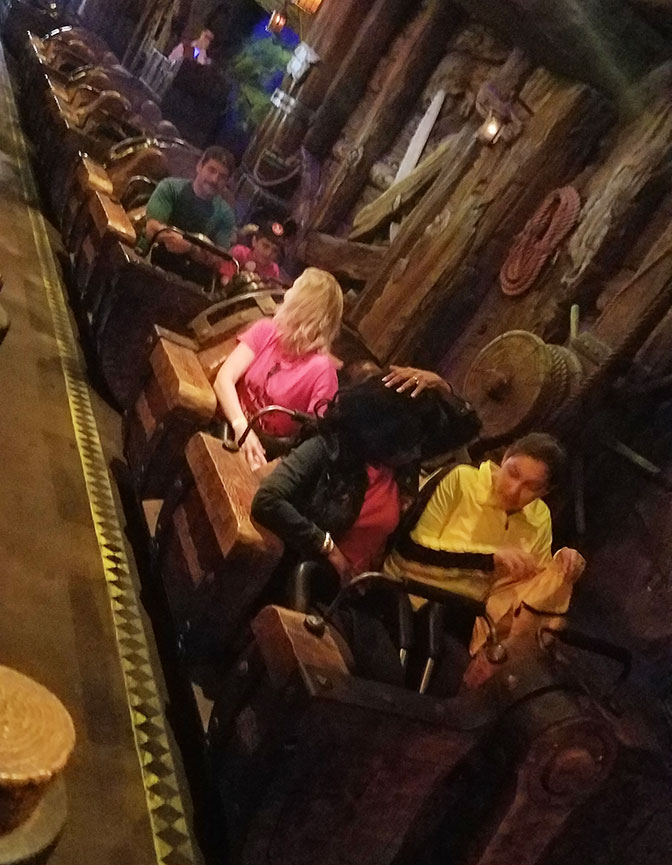 You'll see this ZERO wait a few times in this post.  I rode Winnie the Pooh with ZERO wait.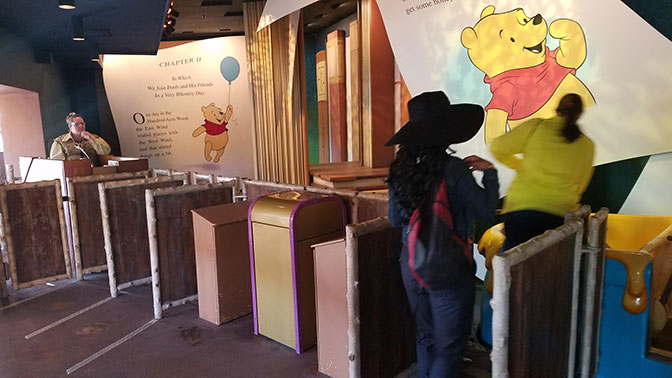 I then rode Peter Pan's Flight with ZERO wait.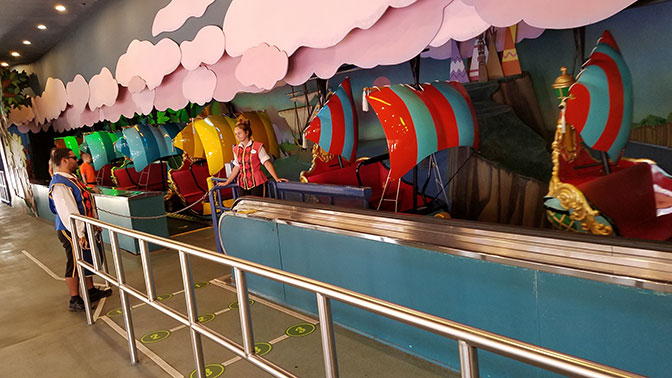 From about 8:15am to 8:35am I chose to eat some breakfast. Pinocchio's Village Haus was the chosen location for the breakfast buffet.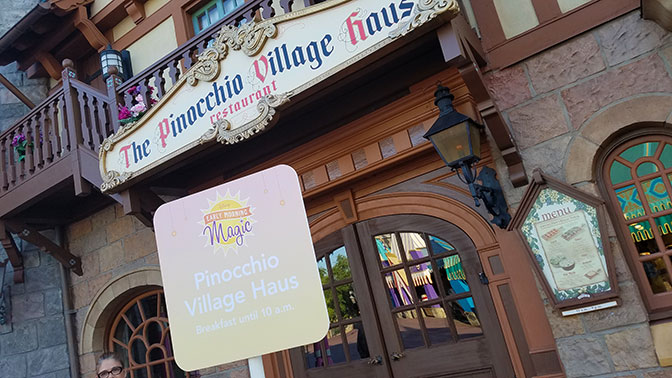 It offered generous amounts of scrambled eggs, vegetable frittata, pork sausage, smoked bacon, breakfast potatoes, sausage, waffles (sorry no Mickey), hams and cheeses, pastries, greek yogurt and fresh fruit.  I found orange juice, apple juice, milk, coffee and tea.  It is served buffet style, so eat all you want!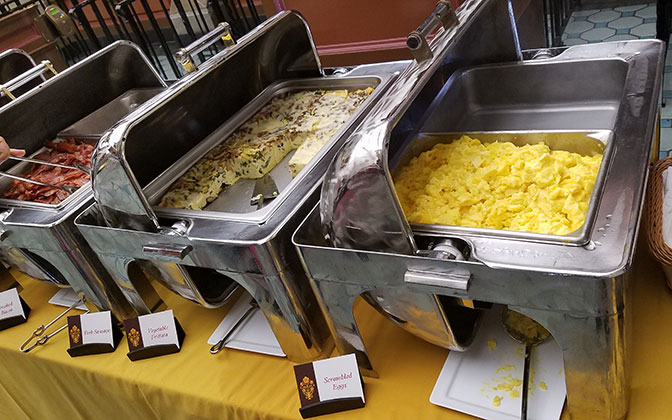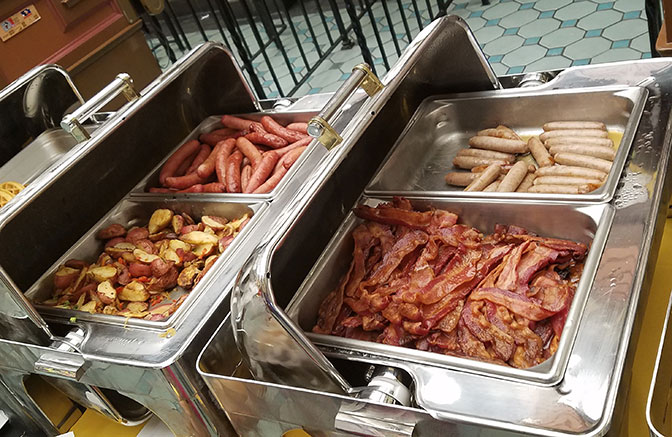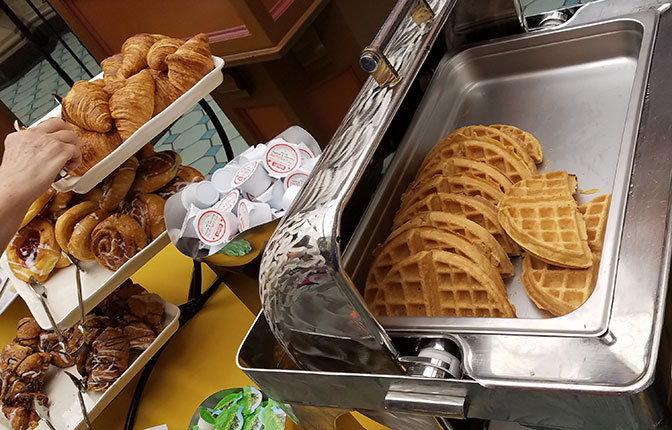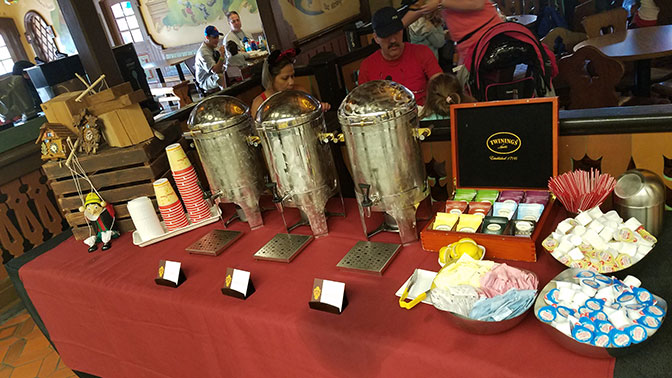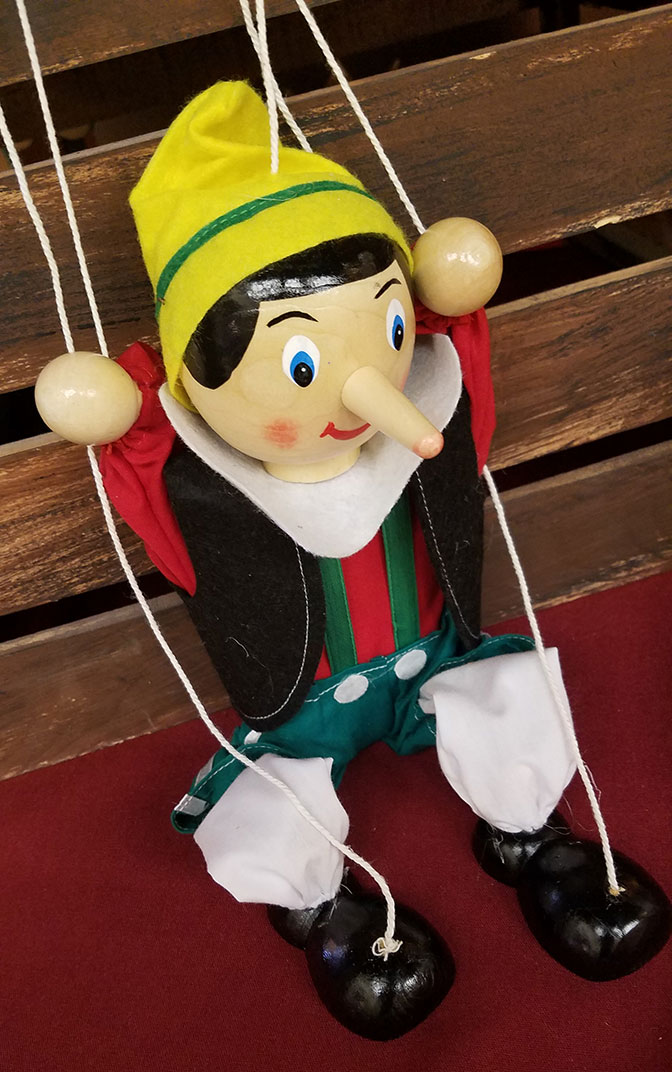 I found the breakfast to be really delicious.  Cast Members are on hand to interact with you and assist as well.
Speaking of interaction, I found the Cast Members at the attractions and the breakfast were very kind, helpful and happy and added to the experience.  I remember many years go visiting the Magic Kingdom for Extra Magic Hours and the park was nearly empty and the Cast were playing with my children.  It brought me back to that time.
I rode 7dmt 2 more times before lining up to meet Anna and Elsa at 8:45am.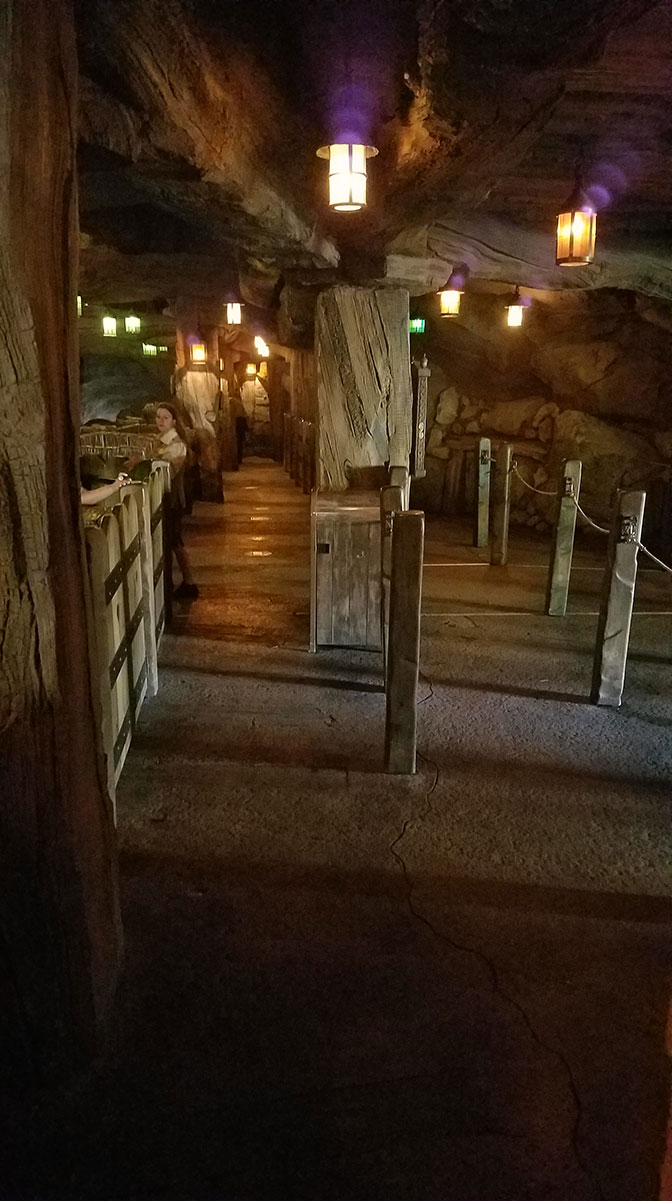 I noticed that Be Our Guest breakfast guests weren't allowed to queue for any attraction until 8:45am, but that still gave them a little jump on the regular day guests.  By 9:08am I had been on 7dmt 3 times, Peter Pan's Flight, Winnie the Pooh, ate breakfast and met up with Josh from EasyWDW to meet Anna and Elsa and rode Big Thunder together.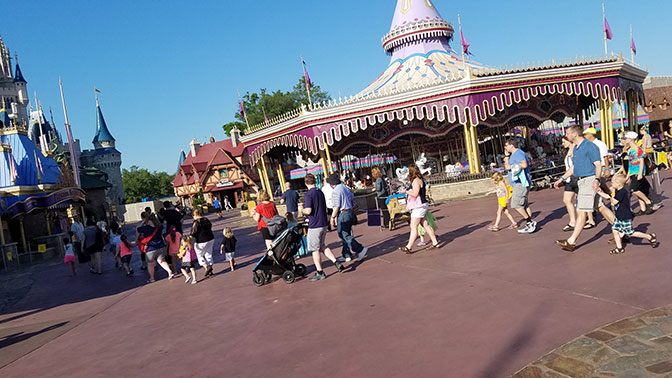 For those who wish to get a jump on the crowds or ride their favorite ride several times, this could be a good expenditure.  I was able to follow up those attractions during Early Morning Magic with rides on Haunted Mansion, Big thunder Mountain, Splash Mountain and Pirates of the Caribbean by 10:30am.  My total wait time was 20 minutes, for everything.  I never ran or even walked fast.  I had Fastpasses later for Space Mountain, Buzz Lightyear and Tomorrowland Speedway.
Here's some answers to your questions on Facebook:
When is it offered?
Most Tuesdays and Saturdays, currently through June
Is Disney transportation running?
Yes, buses, ferries and little boats.  No monorails.
Do they still offer the Welcome show?
Yes!  It's no different than any other day when people are entering for breakfast for pre-park opening.  Schedule for Welcome Show is always on my Crowd Calendars.
How crowded was it?
ZERO waits
How was the food?
Delicious and hot.  As much as you want.
Does this event affect lines for attractions?
Not really.  It may have put a dozen people in line for Anna & Elsa, but didn't affect waits at all.  Remember, most guests can't even make it to the park until 10-11am anyway.
Is it worth it?
It's up to you to decide that, but I really enjoyed my morning.
Are characters available?  
No.  Fairytale Hall didn't open until 8:45am, but it did put me ahead of the crowd for Anna/Elsa and could have met Cinderella/Rapunzel with a short wait.
Do you think this will replace Early Extra Magic Hour?
No.  I don't see that happening.
Is this better than Early Extra Magic Hour?
It's different.  I can just ride 3 things over and over and pig out with this.  Extra Magic Hour still requires some pre-planning to get the most out of it.  It would be more difficult to ride 7D and meet Anna & Elsa with no waits with Extra Magic Hour.
Does ride access stop at some point?
No, but once the crowd arrives at 9am, you're better off going to do other headliners like I did.
When's the best time to eat?
I think my timing was perfect.  If I had waited until the park opened, I wouldn't have been able to get into the other attractions with no wait.
Would you choose this morning version or the evening version?
Well, I didn't buy a ticket to the evening version ;)
Can I have your job?
Sure!  Begin working a few thousand hours now and within 4.5 years you'll be there :)
It's about the same cost as a hard ticket party with fewer hours, so you'll need to decide if it's worth it for you.  Here's some pros and cons to help you decided.
Pros:
ZERO wait times for all three attractions with ability to ride over and over
Very casual and laid back time in the park
Delicious hearty breakfast
It felt like Disney World was trying to create a nice, relaxing "Attraction Breakfast."
Cost for this is about the same as a breakfast at Cinderella Castle.  I could have met 4 Princesses in short time too.
Cons:
Costs $69 per adult and $59 per child.
Cost for the event is in addition to a daily admission ticket usage.
You cannot use Disney Dining Plan credits.  I think many guests would give up 2 credits per person for this opportunity.
If I missed your question, feel free to post it here or share on my Facebook page!
Get all the latest KennythePirate Disney news and planning advice in your inbox!
Are you planning a vacation? Reach out to our trusted travel agency sponsor Authorized Disney Vacation Planner
Mouse Class Travel
!