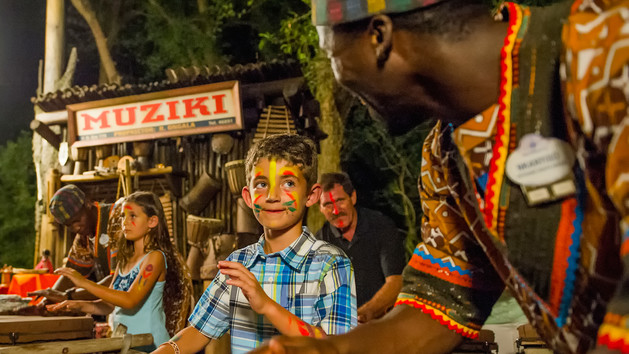 Beginning April 22, 2016 Disney's Animal Kingdom will debut several new night offerings.  Animal Kingdom has always been a great park to visit at night, but these new entertainment and dining opportunities will renovate the park after dark.
As of March 15, 2016 the park hours have not yet been extended to demonstrate how long the park will be open each night, but Disney has stated it will remain open as late as 11:30pm to accommodate guests wishing to take in the new offerings and show times for Rivers of Light haven't been revealed.  I'll add them to my Crowd Calendars and Character Locator as soon as I receive that information.
1.  Rivers of Light
Where's it located?  In Asia, right across from Expedition Everest
What is it?  A new nighttime show featuring lights and water effects.
Seating capacity: 5,000 on concrete benches with no backs.  It will be ADA compliant.
When will it occur? First show will be 15 minutes after sunset with up to 3 shows per night with each 60 to 90 minutes apart.
Will it offer Fastpass+?  It's widely believed that this show will offer Fastpass+
Will it offer dining packages?  Yes, it should offer dining packages, but the details haven't been released.
Celebrate the kinship of all living things during this nighttime water and light show awash with breathtaking special effects.  Be enchanted by a brilliant spectacle of glowing lanterns, magical fireflies, dancing fountains and animal spirits.
As sunlight fades and the stars begin their twinkle, remember the instinctual feeling that we are all bound together by earth and spirit—past, present and future. Listen as the lagoon responds to the whispers of the world, cradling creatures with a symphony that swells with wild murmurs and shimmering secrets of the universe.
So begins a new light—a vibrant awakening of flitting fireflies leading a legion of lanterns cascading in a ceremonious procession across the water. With a single chime, there falls a hush—and in its place steps storytellers bearing benevolent gifts of light. These intriguing figures promise to paint the night with visual wonders, enticing you to join them on a marvelous journey.
Before your eyes, clusters of lantern light shift and shape into animal spirit forms—the Tiger, Turtle, Elephant and Owl. The storytellers call upon the Temple Lotus who materializes along with her 4 sisters, each bursting forth with dazzling fountains of water and light. These mystic hosts work in harmony to captivate your senses, conjuring stunning imagery of animals from across the world in a musical performance that can only be described as dreamlike. Spellbound, you are transported across Asian jungles and tropical oceans to African savannahs and North American mountains.
Your journey culminates in a triumphant blend of music, light, color and earthly elements. The Aurora Borealis, in its magical splendor, springs with unbridled joy as a menagerie of animals transcend above the cosmos, becoming glittering star constellations in the heavens. Immersed within a grand celestial finale, you are bestowed with an inspirational message of peace and oneness with nature.
Eastern festival traditions merge with innovative technology to make Rivers of Light come alive. Featuring evocative, never-before-seen footage from Disneynature, grand theatrical imagery, virtuosic live performances, a soaring original score, and innovative special effects—this nighttime spectacle employs a host of magical devices to create an experience unlike any other.
Fireflies in Flight
The flickering ornamentation of fireflies illustrates the migration of light—a central motif of the production. As the story unfolds, original video projections and choreographed laser animation combine to create the appearance of glowing fireflies, illuminating enchanting moments of the celebration like living pixie dust.
Spirited Storytelling
Mysteriously, the show's "storytellers" never utter a word. Instead, they communicate volumes through fascinating forms of authentic Asian dance, music, song and shadow puppetry.
Light, Lanterns and Lotuses
Showstopping features include nearly 100 Asian lanterns, undulating hues of larger-than-life animal spirits and floating vessels awash in brilliant radiance. Powerful fountain jets erupting like embers from a fire and a 28-foot-tall Temple Lotus add to the visual splendor of these elements, each magically drifting into scenes—adding color, drama, shape and choreography.
A Living Landscape
Encircling the very heart of the Discovery River Lagoon and her 2 village amphitheaters is the thick embrace of a lush tree-scape. It is host and home to a unique variety of life, both in body and spirit form. This organic landscape is a central character itself, and an ever-changing canvas for the story's unveiling.
2.  Tree of Life Nighttime Awakenings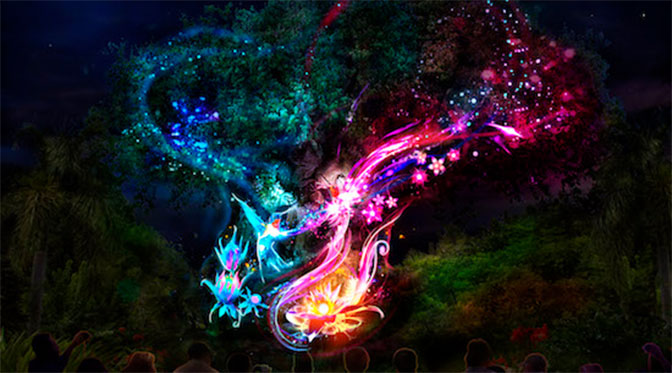 After the sun sets, animal spirits within the great tree come alive and reveal themselves in mesmerizing color and light.During the evening hours, pay special attention to the Tree of Life at the center of Disney's Animal Kingdom park. At various times, flickering fireflies magically appear and awaken the wondrous animals spirits carved into the tree's towering trunk—bringing to light a stunning visual extravaganza swarming with vivid color and animated imagery.
Witness a graceful young doe embark on a thrilling cross-country journey. Behold love blossoming between 2 hummingbirds. See a spry fox spreading gifts of love among the denizens of a wintry forest. A feast for the eyes, each approximately 3-minute-long revelation celebrates the eternal balance and harmony that exists in all living things, big or small, and is sure to inspire and delight the entire family, big and small.
3. Discovery Island Carnivale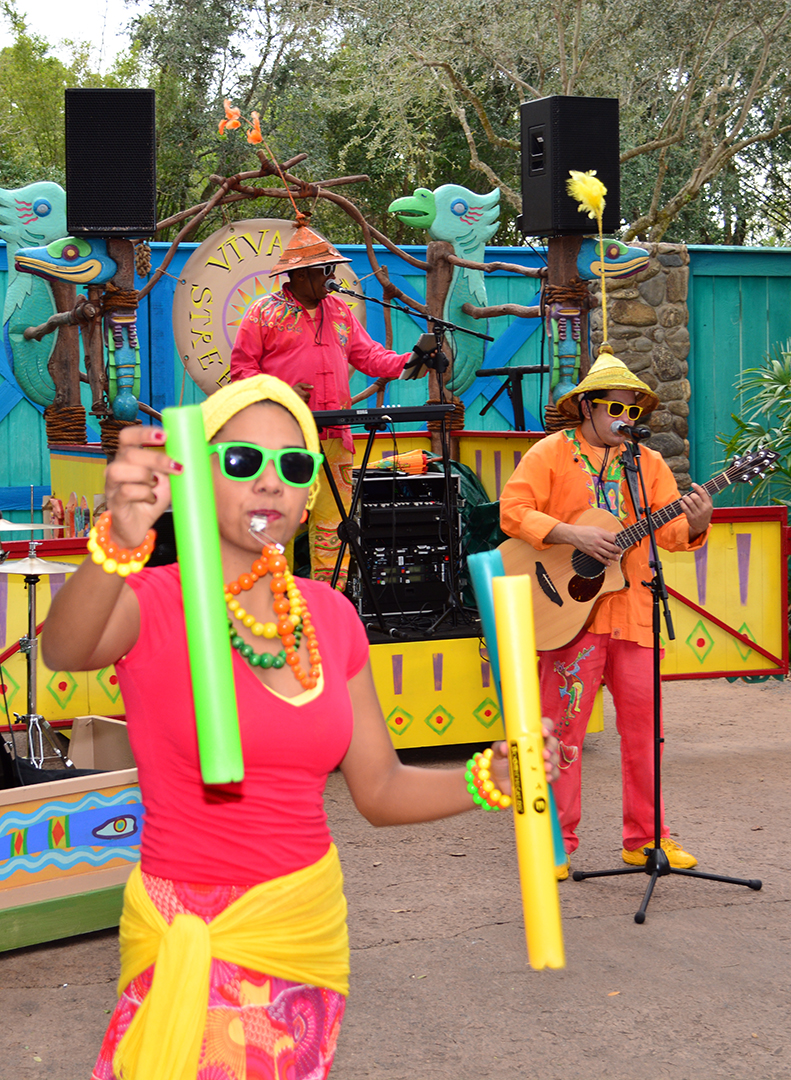 Join a cavalcade of dancers, stilt walkers and musicians for a nighttime dance party in the streets of Discovery Island.  Revel in the beauty and harmony of all living things during a jubilant jamboree inspired by Carnival celebrations around the world.
In late afternoon when the sun is beginning its descent at Disney's Animal Kingdom park, listen for the distinctive drumming of Latin and world-beat rhythms as they fill the air around Discovery Island—that's when the Discovery I
sland Carnivale, an exuberant dance party to end the day and welcome the night, begins.
The Viva Gaia Band and a spirited group of Islanders welcome you to a larger-then-life gala celebrating the wonder and beauty of nature and who we are together—the "Nature Family." Bursting with cheerful music and spectacular costumes that take inspiration from the living creatures of the air, land and sea, this seemingly spontaneous, free-spirited jubilee winds its way from one end of Discovery Island to the other, eventually arriving at the Discovery Island stage where the exhilarating festivities get into full swing.
Over the course of several hours, the unflinching beauty of nature is on dazzling display. Clap your hands, dance, laugh and experience unbridled joy into the evening—the pulsating bass, lively beats and playfully outlandish outfits inspiring all around to join in the high-energy excitement. Watch as Danza del Arpa, one of the Island musicians, takes to the stage to play the Paraguayan harp, as if calling upon the animal spirits within the Tree of Life.
In the moonlight, everyone appears to glow. It's a celebration of the night, and a celebration of nature—and it's surely one you'll never forget.
4. Harambe Wildlife Parti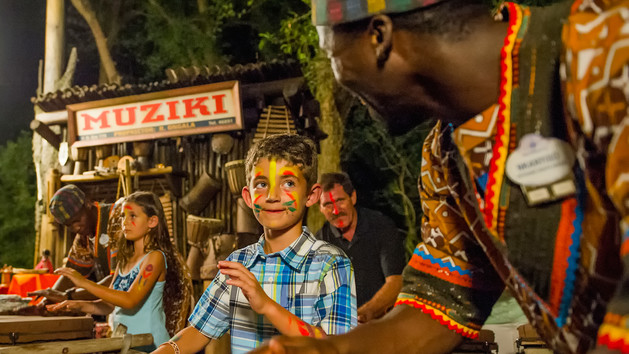 When the sun sets, singers, dancers, acrobats and musicians descend on Africa—come and join in the celebration!  On the lookout for a night you won't forget? Head to Harambe where "party animals" have taken over the streets.
Harambe, the African village within Disney's Animal Kingdom park, is a popular daytime destination known for its excellent street musicians, stunningly beautiful theater district, vibrant marketplace, diverse eateries and lively daytime street parties. But after the sun sets, Harambe's excitement soars even higher with the Harambe Wildlife Parti.
Be a part of this lively street festival that kicks off in late afternoon when Afro-Pop musicians the Burudika Band take to the stage in Harambe's Old Square and perform music popular in Africa. Clap your hands and kick up your heels to the blissful beats—it's almost impossible to resist dancing in the streets!
Wander past the main stage and into the bustling marketplace to discover even more exotic entertainment just around the corner, including:
Muziki
Located in Harambe's drum circle, this delightfully unusual goodwill shaman perched high atop regal stilts invites children to join him as he plays his own instruments, dances and makes them official drummers of the day.
Karibu Sisters
Resembling regal African cranes, these 3 women add to the rhythm of Harambe Marketplace through elegant dance, acapella songs and acoustic renditions of African party music.
Harambe Soccer Meerkats
Cheer on the village's finest soccer players as they ramble through the streets rallying anyone within sight for a quick pick-up game—entertaining with comic soccer moves inspired by African animals and delighting with skillful acrobatic teamwork and dancing.
Harambe Village Acrobats
Wearing costumes of grass, beads, bells and feathers set against a mosaic of African prints, this troupe of skilled performers move with the synchronicity of circus performers as they drum, dance, tumble and climb into man-made pyramids and break away into spinning, tumbling towers.
Boasting music, dance and an ever-changing landscape of performances and things to see and do—Harambe's Wildlife Parti offers the excitement of an African village bursting with non-stop entertainment and surprises for all who visit.
5. Kilimanjaro Safaris – Nocturnal Encounters
After the sun sets, venture out onto the savanna for a nighttime safari tour—and see the animals in a whole new light.Experience a different breed of discovery when you explore the wilds of the Harambe Wildlife Reserve at night. Previously off limits to visitors after sundown, this unforgettable journey aboard a rugged, all-terrain caravan takes you deep into the wilds of Africa, where creatures both big and small await your arrival amid the tranquil shadows of the lush brush.
During your adventure, witness the rarely seen nocturnal habits of the reserve's many animal residents, including lions, elephants, hippopotamuses and hyena. Spy a careless crocodile slumped upon a rocky plot. Behold spirited zebras galloping silently across a vast plain. Catch sight of a curious cheetah, lazily reclining in the brush. Strategically placed lighting evoking both the setting sun and rising moon—plus side-sweeping headlamps attached to your safari vehicle—ensure you won't miss a moment. And as always, your friendly safari guide is on hand to share expert knowledge about the animals and their unique nocturnal habits.
So climb aboard, lean back and take in the sights of Africa by night; it's sure to be one drive you won't soon forget!
6. Tiffins Restaurant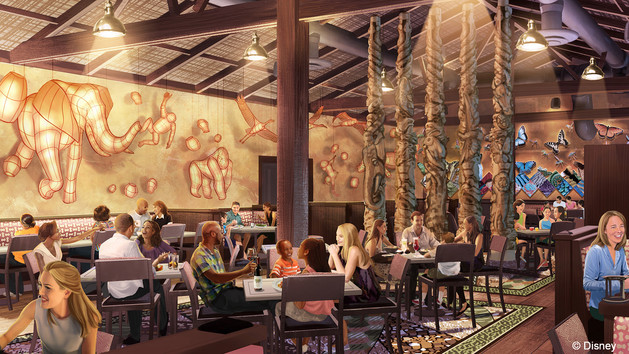 Seek and you shall find a treasure trove of mouthwatering delights from far-off places places for lunch and dinner.
Roam the road less traveled at Tiffins, thanks to a globetrotting menu of artfully prepared fare fit for a weary traveler. Begin your expedition with lobster-popcorn Thai curry soup, grilled octopus or—for those who like to travel light—an archeologist salad drizzled with champagne vinaigrette. Go off the beaten track with frog legs tempura, black-eyed fritters or cheese and chicken liver pâte before planting your flag with the Berber-spiced lamb chop, pork tenderloin or miso-glazed black cod.
Seafarers, fortune hunters and vagabonds will no doubt find new discoveries in the pan-seared duck breast and leg confit, Wagnu strip loin and braised short rib, or the whole-fried sustainable fish. Leaving no stone unturned? Satisfy your sweet tooth with crème brûlée, peanut butter mousse or a classic ice-cream sundae.
For an additional cost, Guests 21 years of age and up can pack additional provisions with a selection from the renowned wine list—many of which are available by the glass—in addition to a noble assortment of after-dinner liqueurs, dessert wines and specialty drinks.
No matter which direction your compass points, you're sure to encounter an unimaginable abundance of delectable food at Tiffins.
All menu items are subject to change without notice.
Celebrate the bold spirit of global discovery—and the Imagineers and animal experts who built Disney's Animal Kingdom park.
Dining inside Tiffins is like sharing a meal inside a renowned adventurers' club: the theme of travel can be seen and felt everywhere you look. Hike your way through the rustic front doors and behold an enormous map of the globe, before unearthing 3 elegant dining rooms honoring the spirit of Africa, Asia and some of the world's most exotic animals.
Lavish artwork—including photograph collages, paintings and sculptures inspired by actual notes and field sketches of the Imagineers who created Disney's Animal Kingdom park—can be found throughout the restaurant, while earth tone colors give this hideaway an authentic, warm and inviting feel… perfect for explorers looking for something new.
Even the name of the restaurant harkens back to exotic, distant places: "Tiffins" refers to the light lunch meal prepared for working men in India, and the tiered containers the meals were served in.
7. Nomad Lounge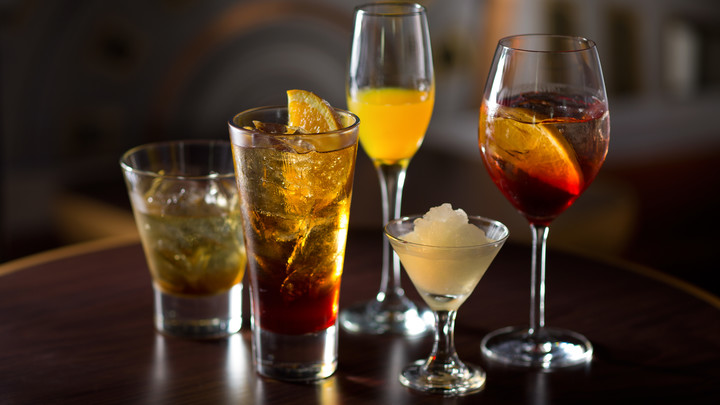 Escape the ordinary with exotic bites; then document your own travel stories for display near the bar.
Whereas the focus of Tiffins is on the globetrotting adventures of the Imagineers and animal experts who developed and built Disney's Animal Kingdom park, Nomad Lounge invites all to stake a claim in their own wanderlust over mouth-watering small plates and a large selection of beer, wine and mixed drinks.
Festive banners hang in the center of the lounge, each posing a different question about traveling the world and the thrill of discovery. During your visit, take a few moments to jot down answers to these questions on decorative tags provided by Cast Members. Later, your responses will be hung on a "tag chandelier" suspended above the bar for all to see.
The Menu
Toast to a good journey with a refreshing beverage served alongside a scrumptious snack.
Drawing inspiration from distant locations around the world, the freshly-prepared cuisine at Nomad Lounge includes vegetarian summer rolls, Indian butter chicken wings, seared Wagyu beef skewers and honey-glazed coriander-spiced pork ribs.
As any world wanderer can attest, Nomad Lounge also serves up a renowned selection of libations and spirits from around the globe. Sip specialty martinis or indulge in after-dinner liqueurs such as Bailey's Irish Cream, Tia Maria and Amaretto di Saronno. Freshly ground coffees like espresso, cappuccino and coffee colada with rum and coconuts, and dessert wines such as Apple Icewine, are also available—perfect for the long day's journey or following a long day of journeying.
Information and many photos are  ©Disney used for informational purposes