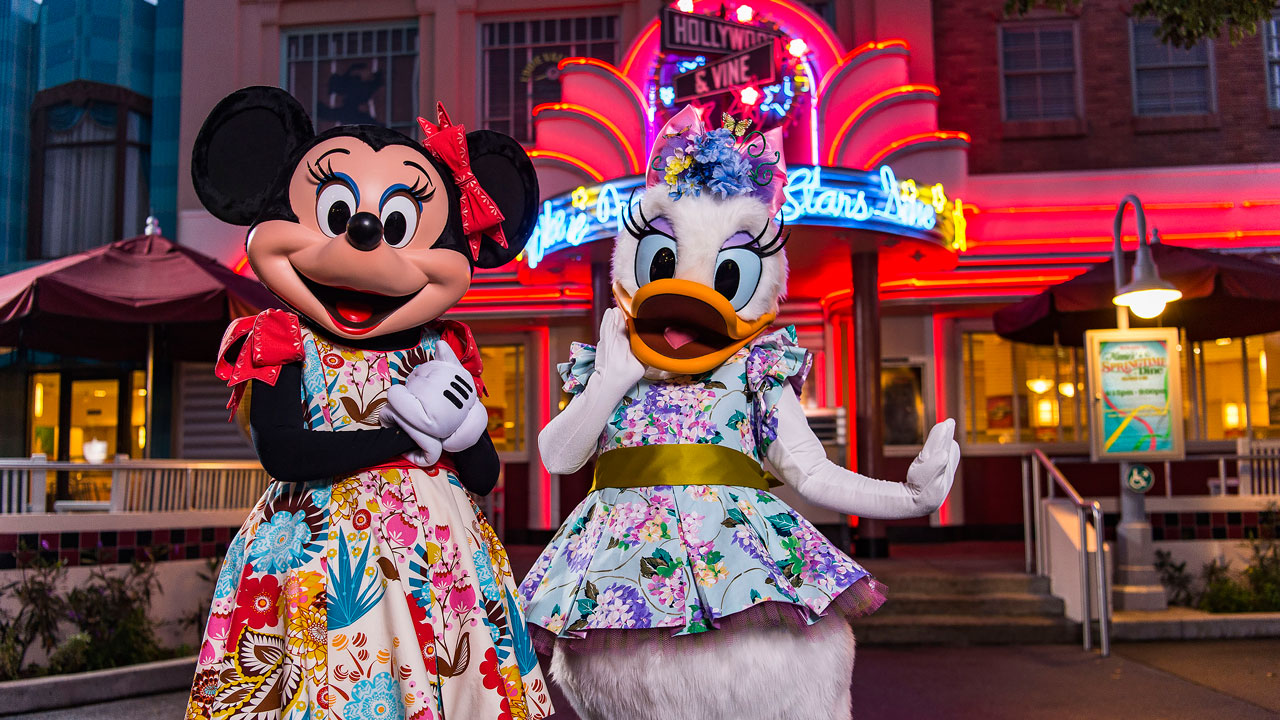 Minnie Mouse is ready for Spring in her new flower print dress and she's inviting you to join her and her friends Mickey, Donald, Daisy and Goofy for Dinner at Minnie's Springtime Dine at Hollywood and Vine in Disney's Hollywood Studios.
It's a garden party with all kinds of classic picnic foods with some Disney cuisine twists.  You'll find refreshing coconut-lavender lemonade and springtime salads like watercress or basil-lime fruit salad. Hearty entrées include barbecue meatballs, buffalo baked chicken, lobster and shrimp mac 'n cheese, herb-roasted pork and more. For dessert, passion fruit cheesecake, key lime tarts and banana cream puffs are just a few of the delicious offerings.
You can book Minnie's special dinners at Hollywood and Vine for the following dates for DINNER ONLY.  Breakfast and Lunch features Disney Jr pals.
January 4, 2016 – March 20, 2016
Minnie's Silver Screen Dine
Celebrate Hollywood blockbusters at a banquet honoring the glitz and glamor of Tinseltown!
March 21, 2016 – June 5, 2016
Minnie's Springtime Dine
Shake off winter's chill with a fabulous fete marking the bright and beautiful delights of spring!
June 6, 2016 – September 11, 2016
Minnie's Summertime Dine
Heat things up at a beach-inspired bash welcoming the excitement of the season!
September 12, 2016 – November 6, 2016
Minnie's Halloween Dine
Head to Minnie's favorite haunt as all her pals gather for a frightfully festive Halloween feast!
November 7, 2016 – January 6, 2017
Minnie's Holiday Dine
Deck the halls at a dazzling dinner party filled with holiday cheer and the joy of the season!
I recently enjoyed the Silver Screen Dine and really enjoyed the refreshed food selections and it's always fun seeing some great Disney characters in new costumes.  I'm really looking forward to the Halloween Dine which should begin booking in a few days!
I'm planning to attend the first evening of Minnie's Springtime Dine and I'll bring you photos and a review!
Reservations are now open, and can be made by visiting DisneyWorld.com/dine or by calling 407-WDW-DINE.