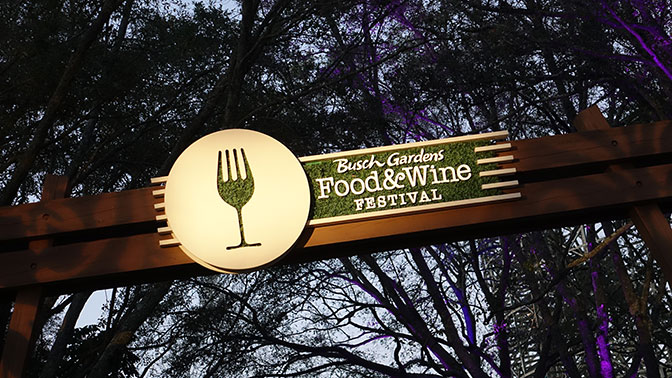 My daughters and I recently visited the Busch Gardens Food & Wine Festival.   Here's some photos and commentary that will help you understand the park and the event a little better.
Busch Gardens is one of the most beautiful theme parks you'll visit.  It's filled with vibrant foliage, a wide assortment of animals, some of the best thrill rides in the Southeast and some great character meets.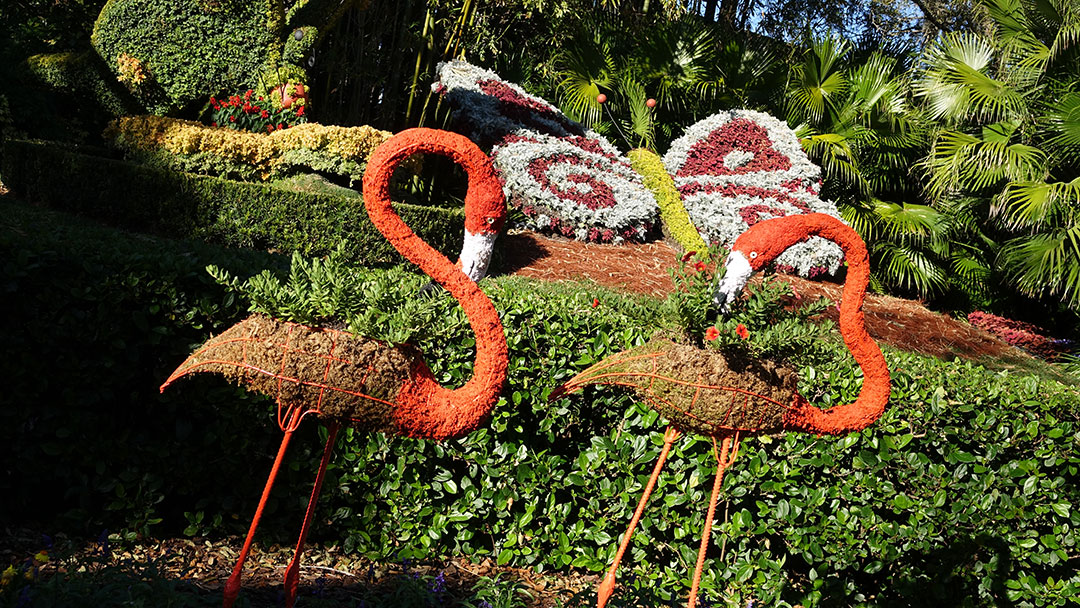 Our day began by purchasing our new passes.  Currently, you can buy a "Fun Card" for $99 and get a full year at Busch Gardens and Adventure Island.  Online they also offer a great deal with buy a day pass and get their dining plan for free.  I opted for the annual pass so I get the free parking and in park discounts and my kids got the Fun Card.  Annual passes of all kinds are very reasonable in the Central Florida market.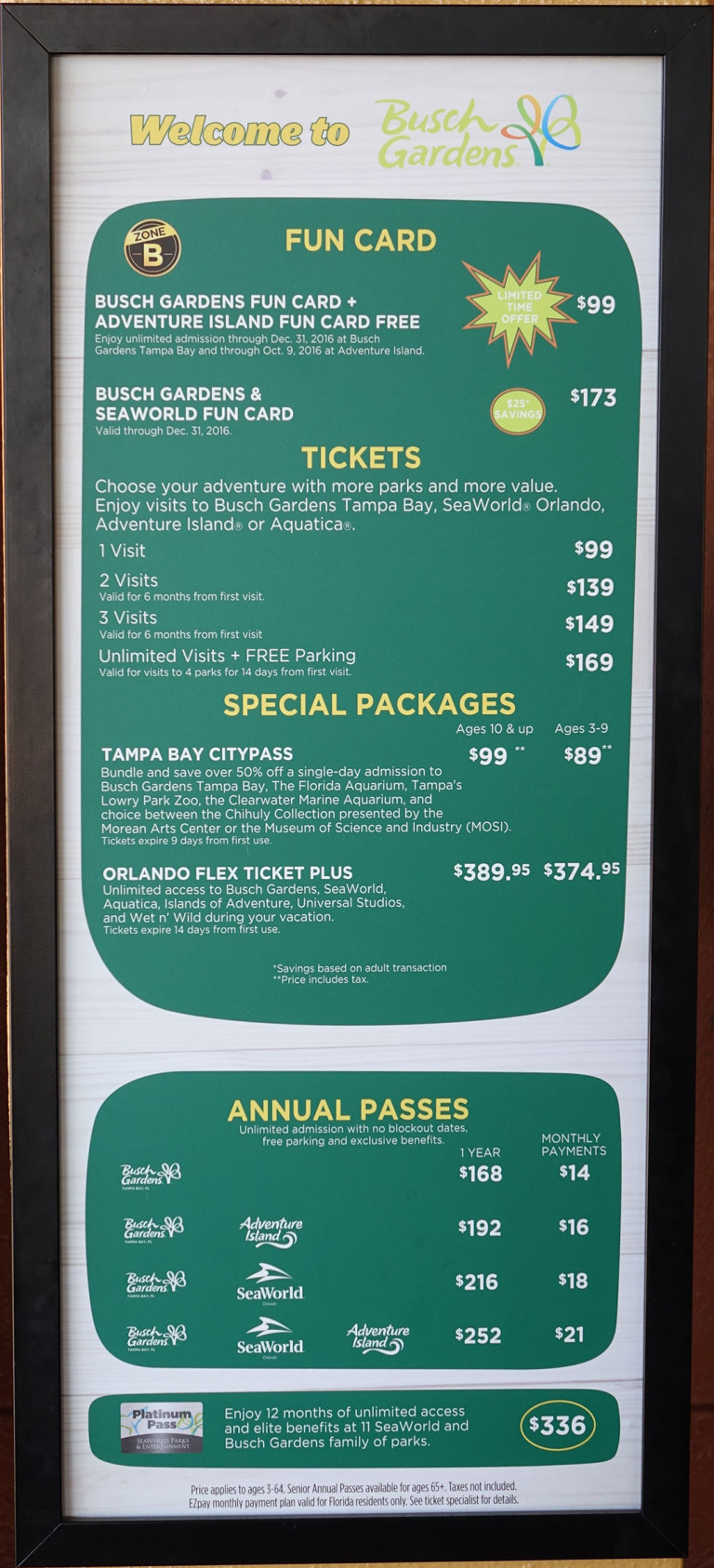 As we entered, this gentleman was greeting everyone and passing out free guidebooks for the Food & Wine Festival.  Guidebooks do a nice job letting you know where topiaries, food and wine booths and more are located and offers the menus.  Prices aren't included on the guidebook or online, but I could help you if you're interested.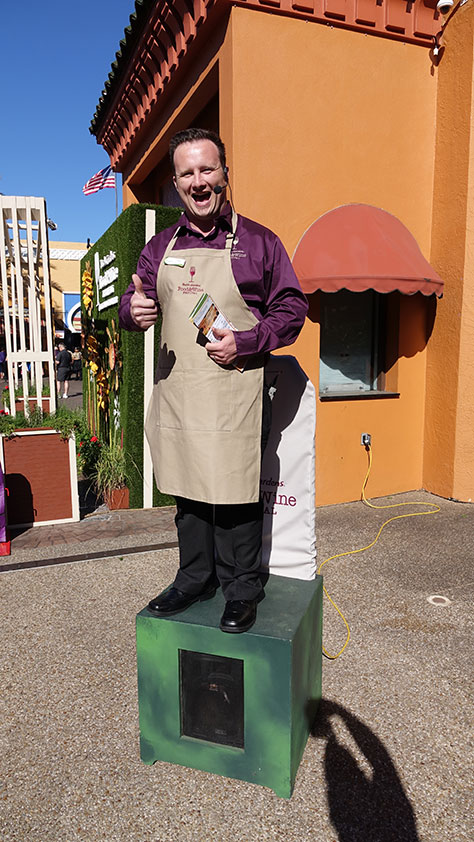 With the Annual Pass, I got received 10% off the All-Day Dining Deal.  All-Day dining is provided at 5 dining locations in the park.  I'd describe them as serve yourself, as they are sort of cafeteria style in serving.  Lines for dining can move very slowly, so I prefer to eat early lunch and early dinner.  You receive one entree, one dessert or side and a fountain drink or bottled water.  Dining Deal also allows you to drop into one of these locations and just grab a drink, snack or dessert once per hour.  I highly recommend the Zambia Smokehouse!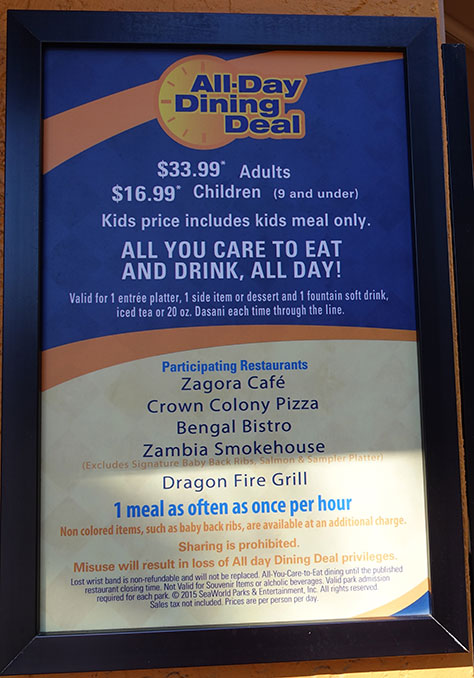 Many animals in Busch Gardens are very close to guests, so you can see them and film them easily.  You are protected from them harming you, of course.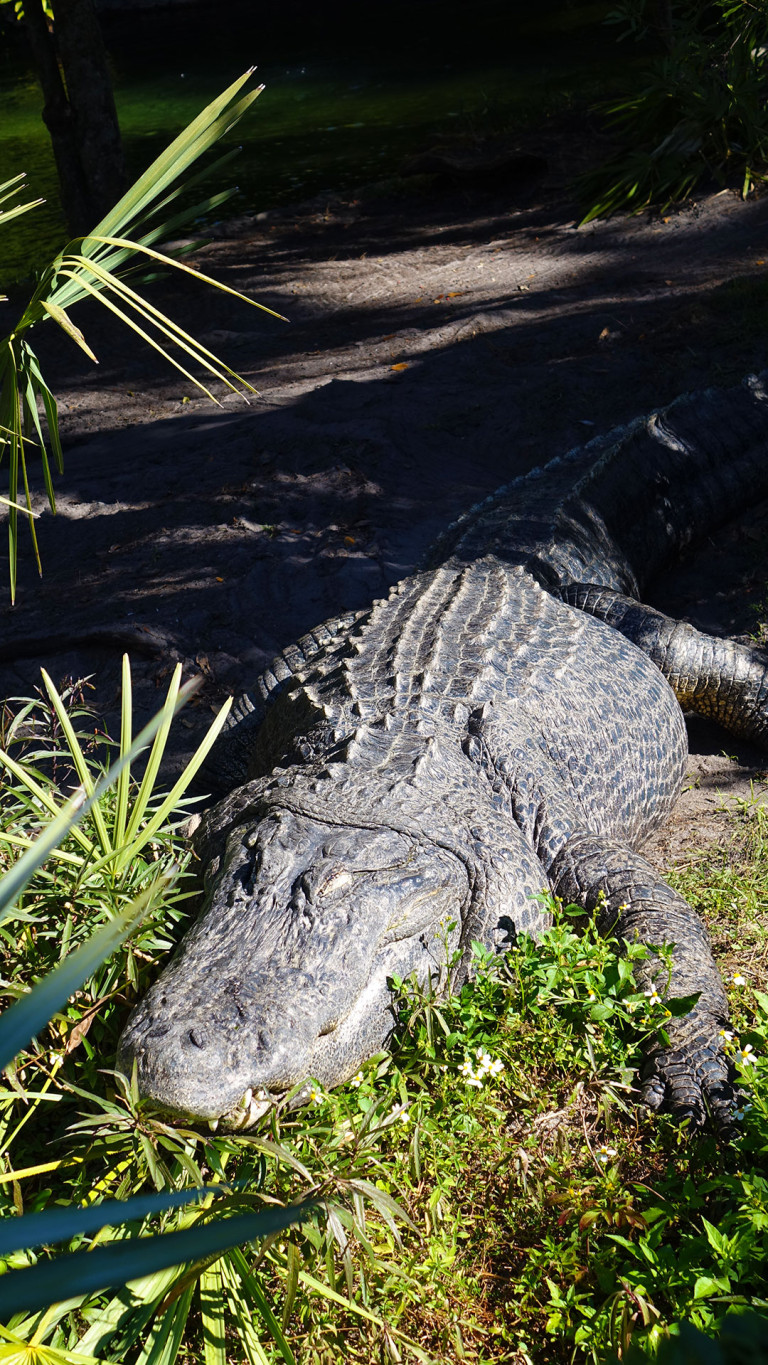 One of the highlights of Busch Gardens is the Cheetahs that are close enough to view and photo.  Usually 4 times per day, the trainers have them do a short sprint or 2 for guests and to encourage exercise.  As a comparison, Cheetahs in Animal Kingdom's Kilimanjaro Safari are VERY far away from the vehicle.  Cheetahs here are close to a walkway.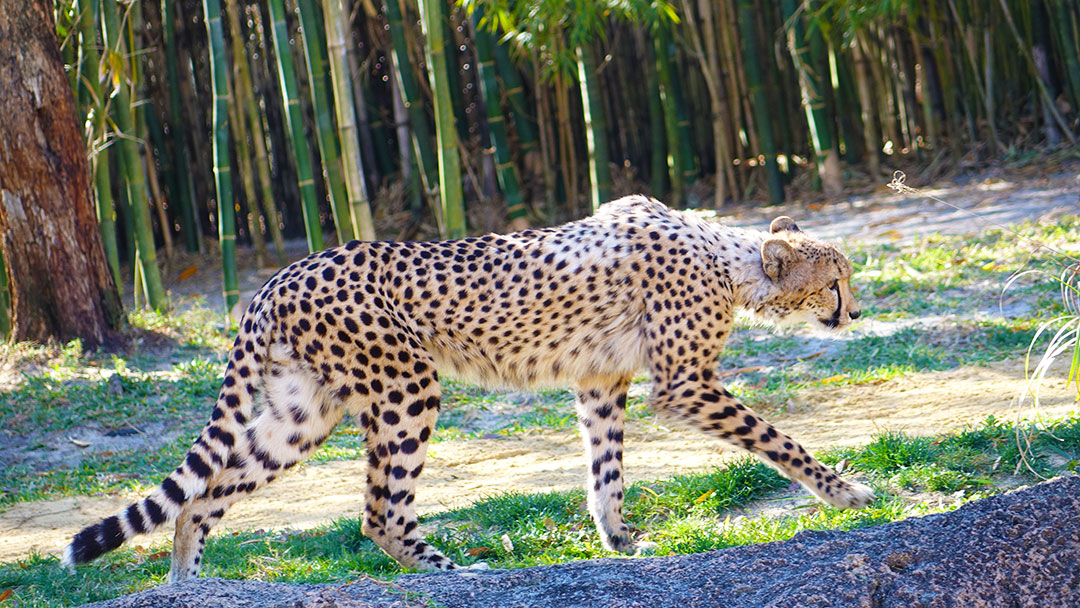 Our favorite coaster to begin our day is Cheetah Hunt.  If you get here before park opening, you might be able to ride a couple of times before lines build.  Usually Cheetah Hunt and Sheikra have long waits later in the day.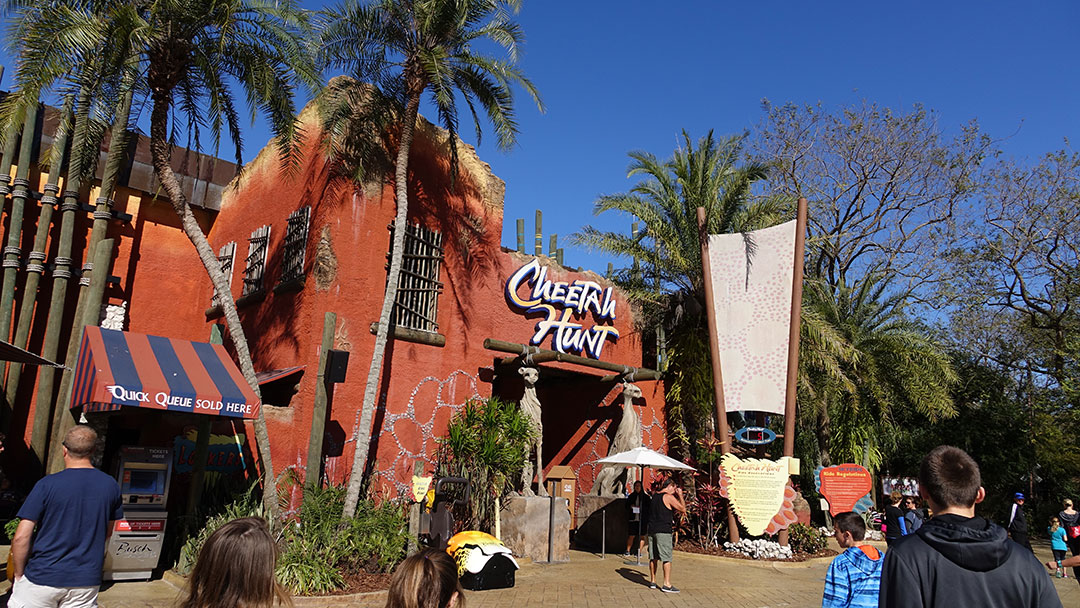 Weeeeeeeee!  Cheetah Hunt has 3 launch points and many air-time camel back hills.  My favorite is the quick switchbacks over the water.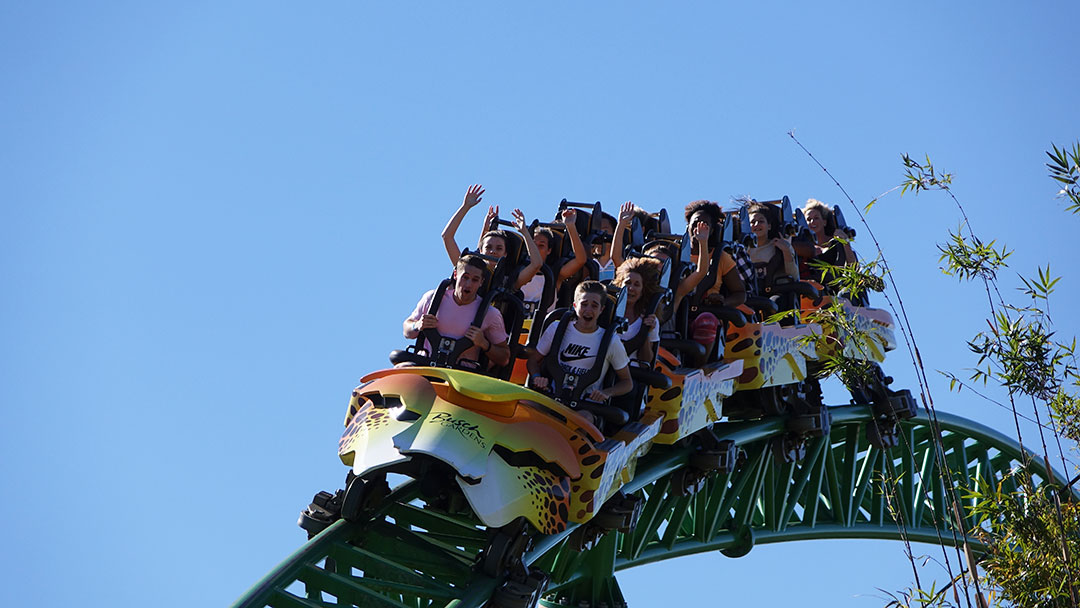 We usually take the Skyride from Congo to Stanleyville, but it was closed, so we walked up the pathway to Pantopia.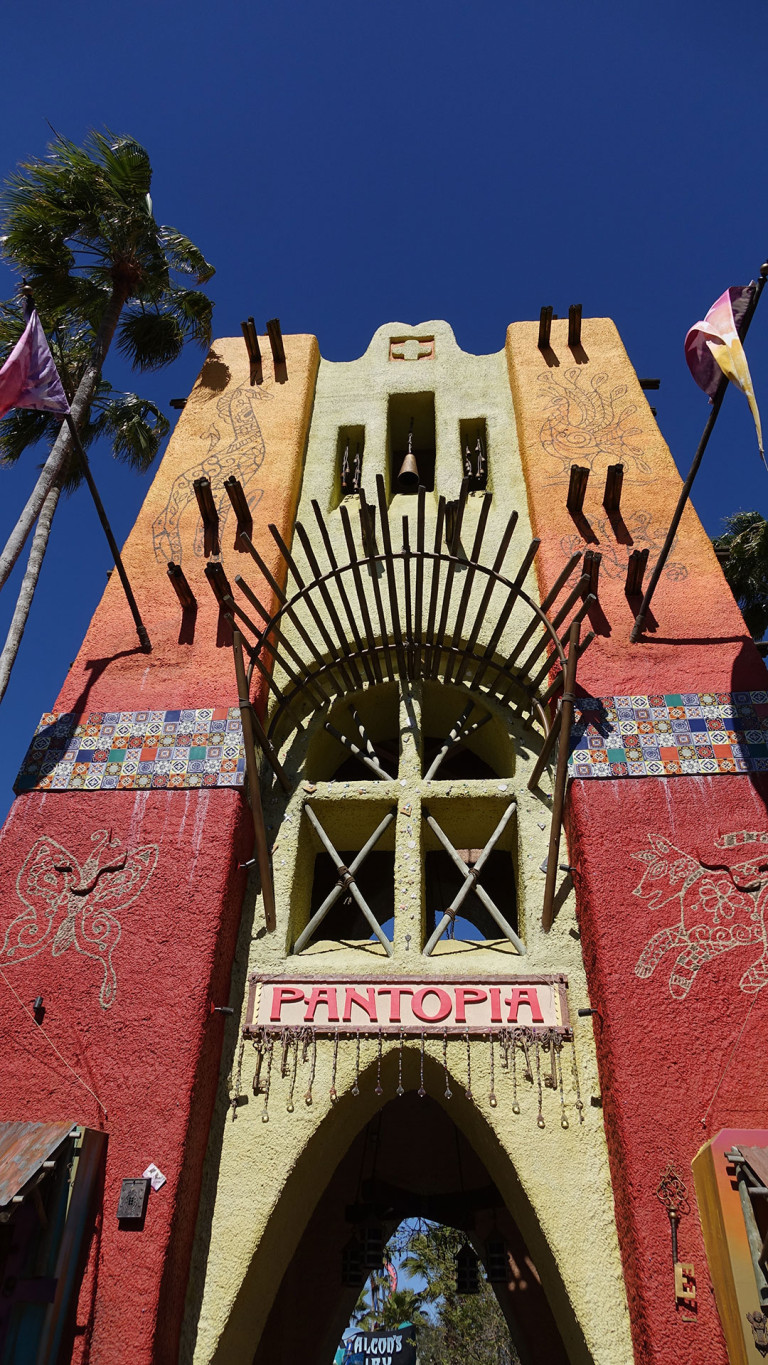 Falcon's Fury is a unique ride and isn't for the faint of heart.  I takes you up over 300 feet in the air, then tilts you inward so you are fully facing the ground, held only by the restraint system, then drops you.  We think it's a blast, but your opinion could vary.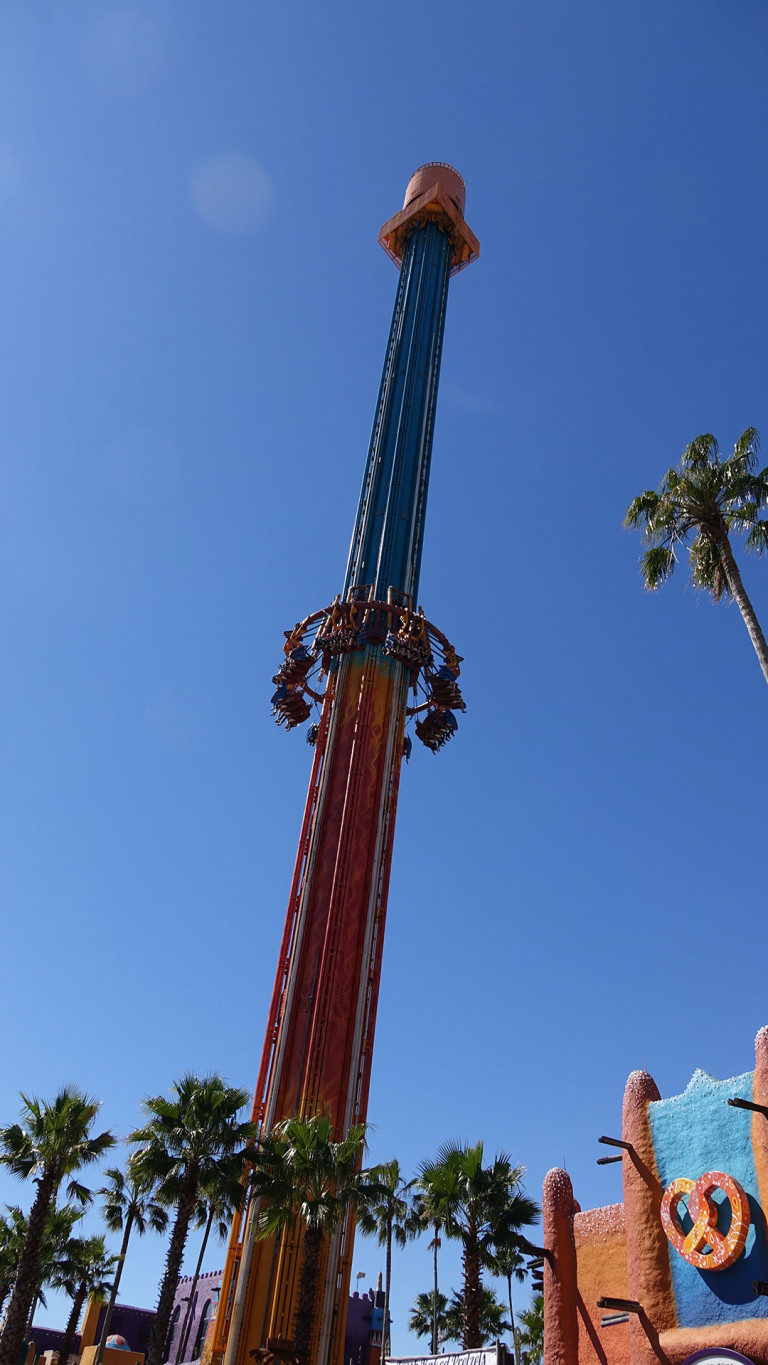 We then rode the SandSerpent. It's a simple wild mouse coaster, but it does toss you suddenly side to side frequently.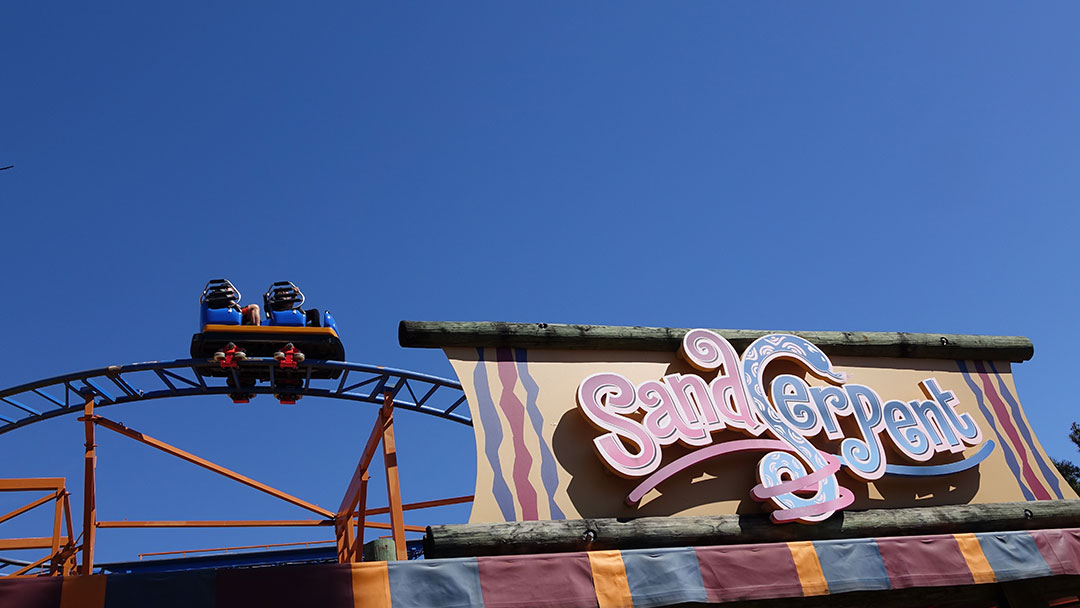 Whoa horsey!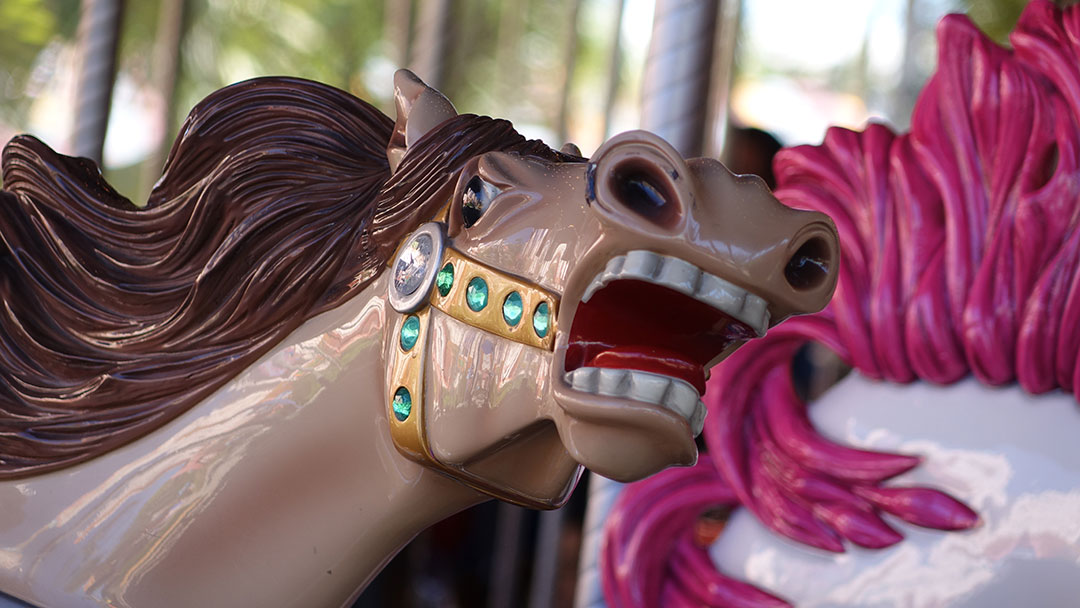 Falcon is getting his fury in topiary form.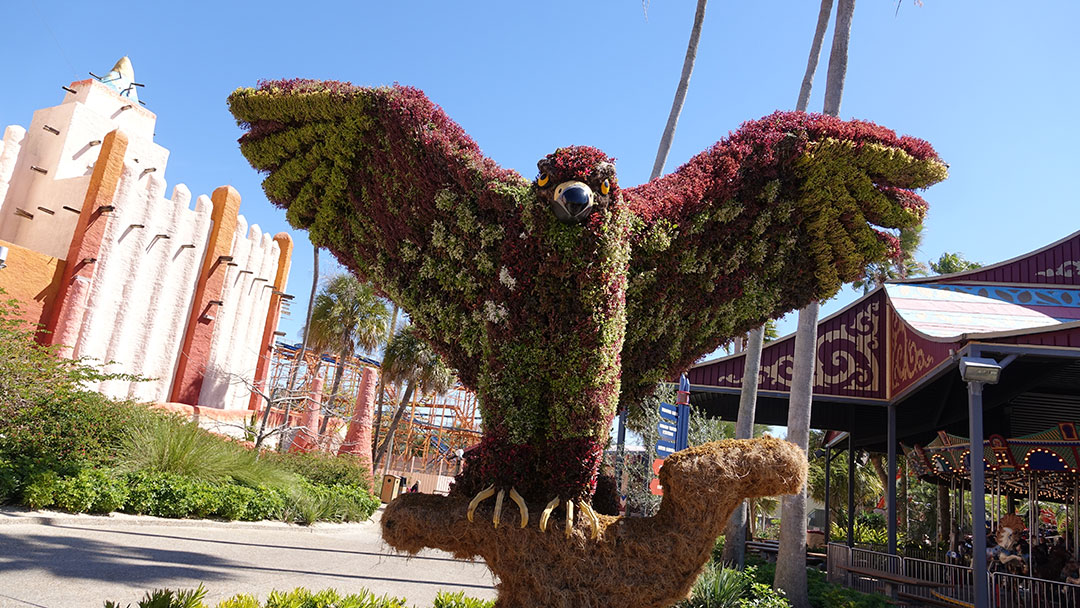 I told you it's a beautiful place.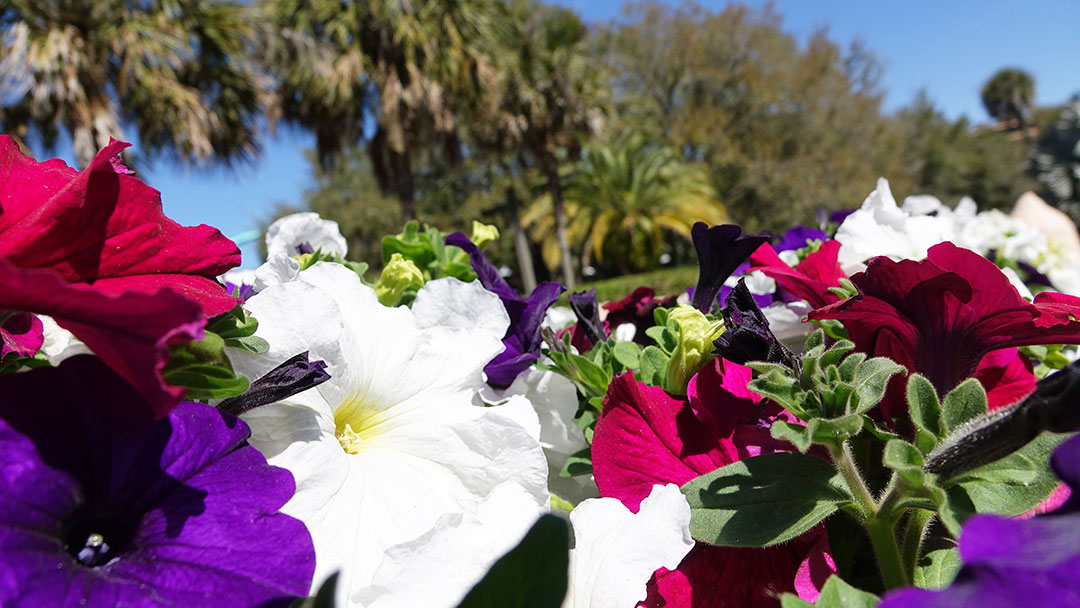 Windy days aren't the best for a flower photo.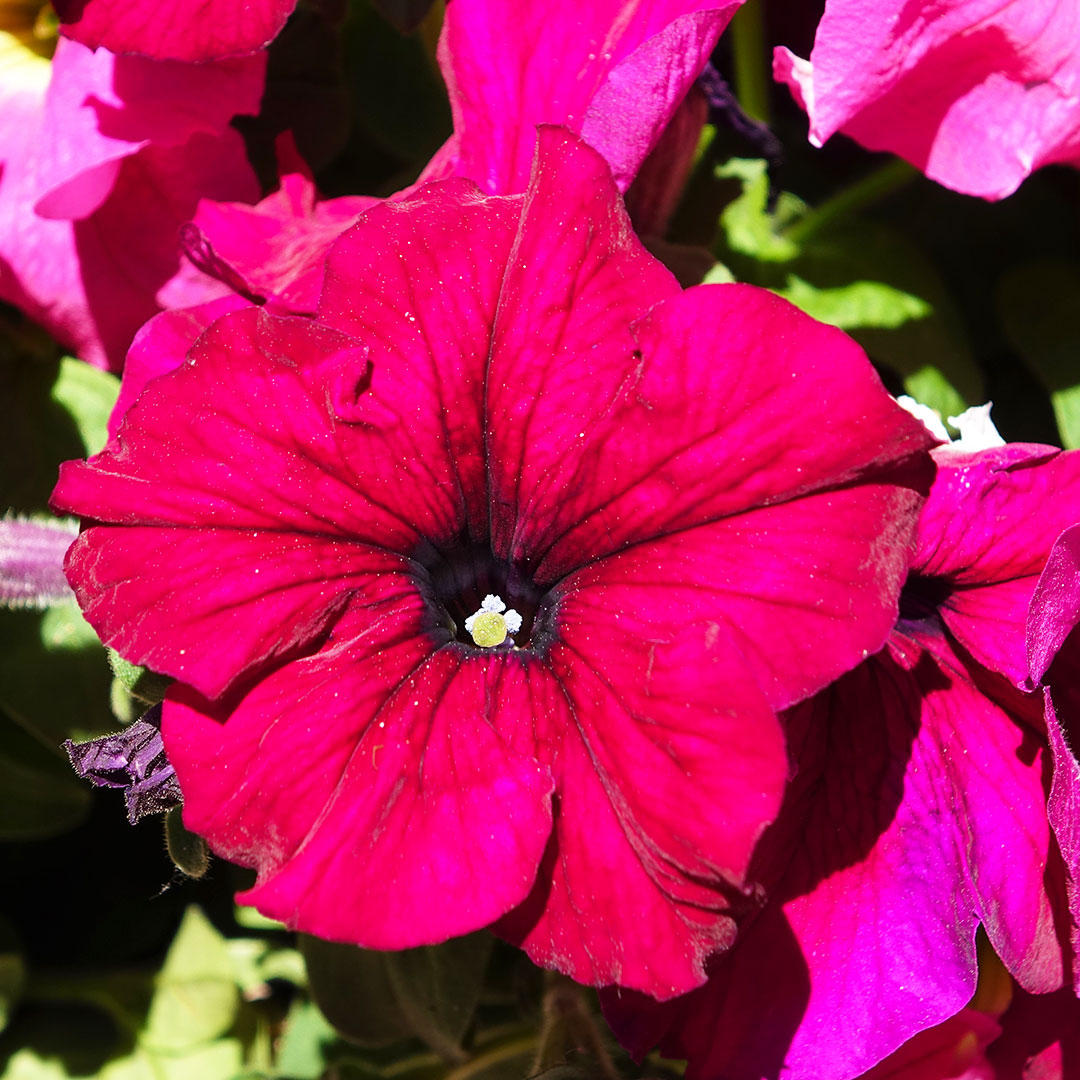 Little remote control jungle boats like they used to offer in Magic Kingdom can be a fun diversion for children.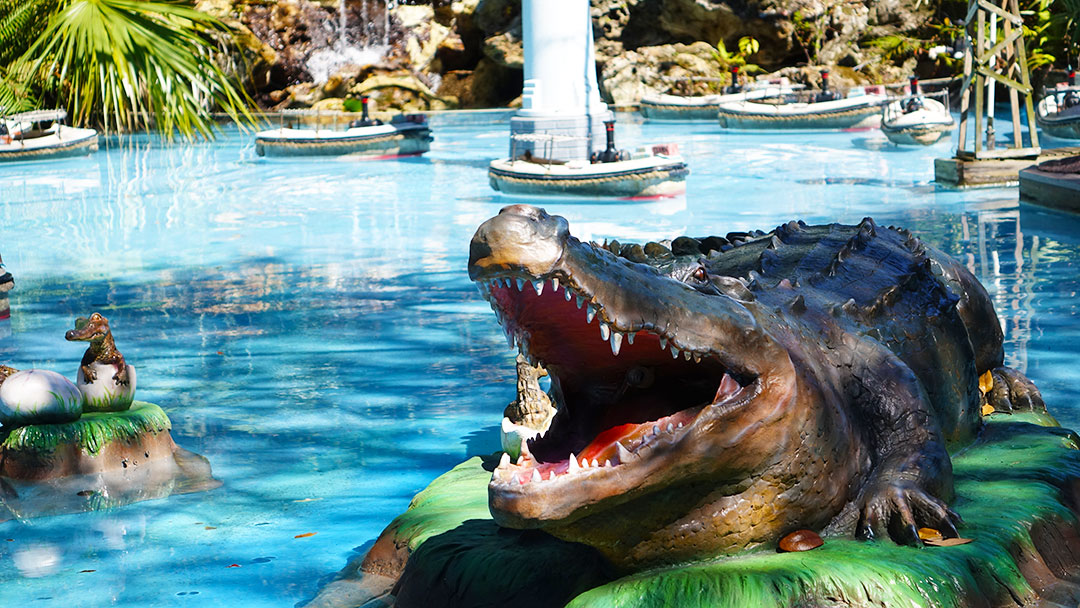 Sheikra is one of the best coasters around.  It's called a "dive" coaster and it actually goes inward slightly beyond 90 degrees to bring a real thrill.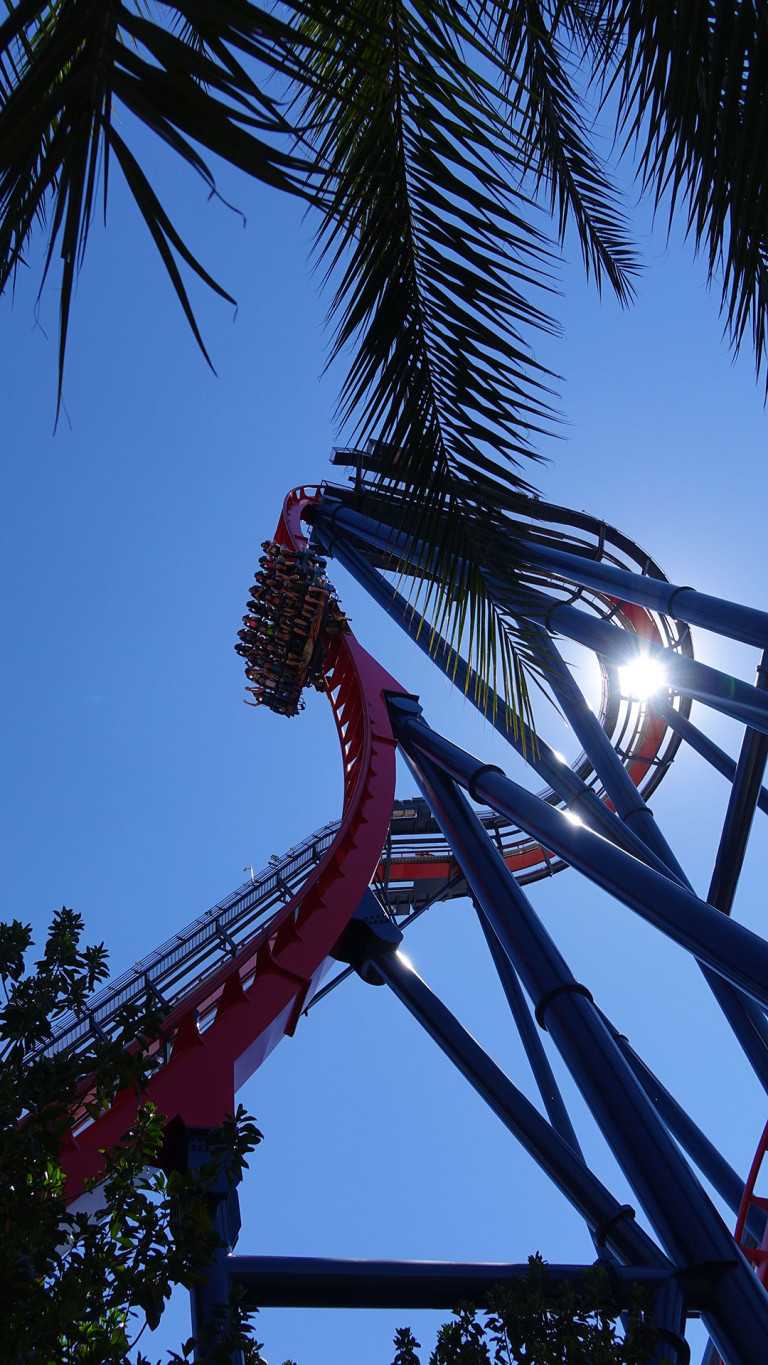 Smile and say….Ahhhhhhhhhhhhhhh!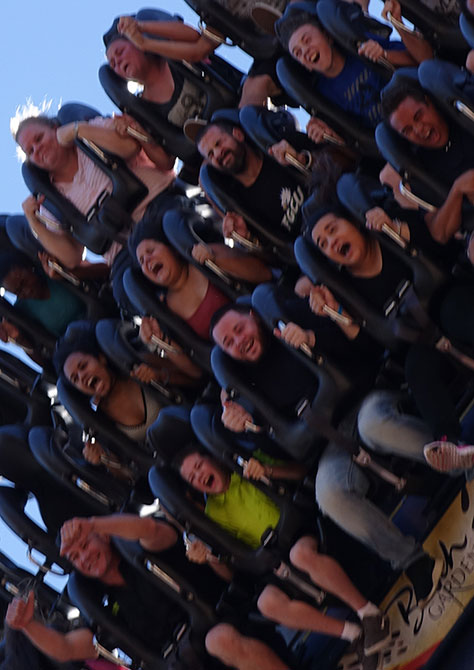 Boneheads like this guy are the reason Universal implemented metal detectors at their large coasters.  What photo could you actually get?  You could lose your fruit phone and possibly injure a guest near you.  Don't take your phone on big coasters people!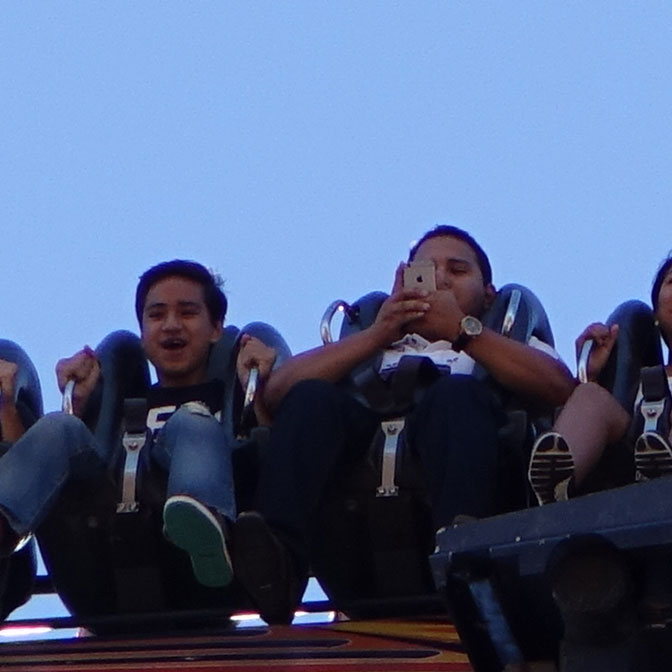 My girls liked Montu, but Kumba was a bit too many corkscrews for them.  I do fast, diving and dropping, but don't really enjoy spinning and corkscrews.
Busch Gardens has a great children's play area with ropes courses, climbing areas and such.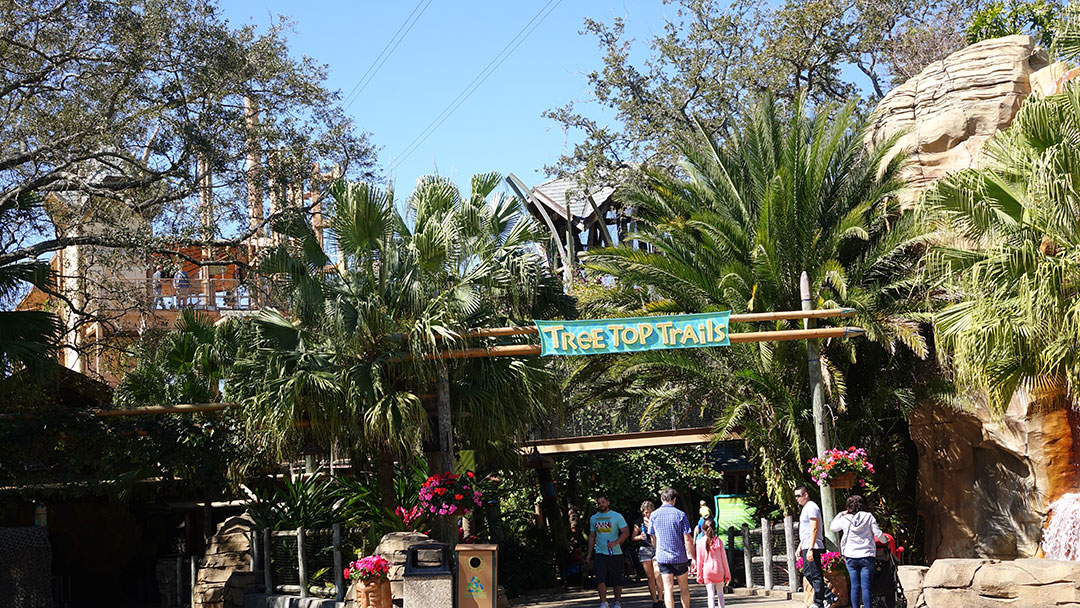 Jungle Flyers is located inside.  It loads really slowly, so do this early or late in the day for a shorter wait.  I takes you out and back a few hundred feet, but my little girl enjoyed it.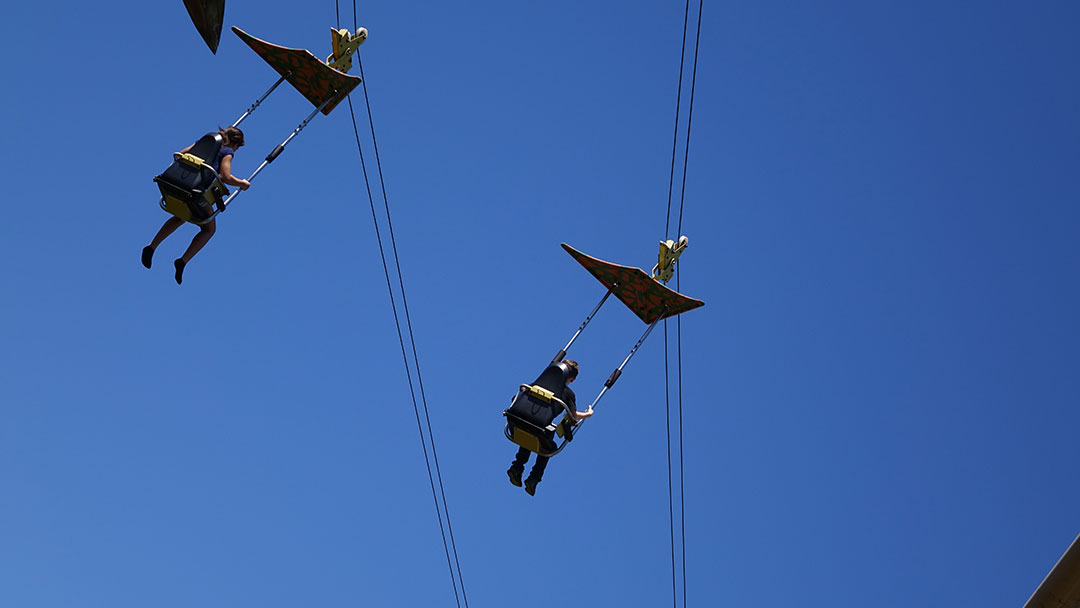 We stopped at Zambia Smokehouse for lunch and my lovely ladies received these free Cheetah hats.  Rawr.  If you plan to purchase the Dining Deal, do so in the front of the park.  It was a really slow process at the checkout and I wasn't aware that the sampler platter wasn't included, so they took it away and brought me a substitution of tasty Brisket.  You're given a wristband per person that is scanned at each meal. You also get BOGO on Ice Cream bars in the park.  My wristband was applied too tightly and it hurt my wrist.  Place a finger on your wrist to keep that from happening when the team member applies yours.  Food was delicious and hot.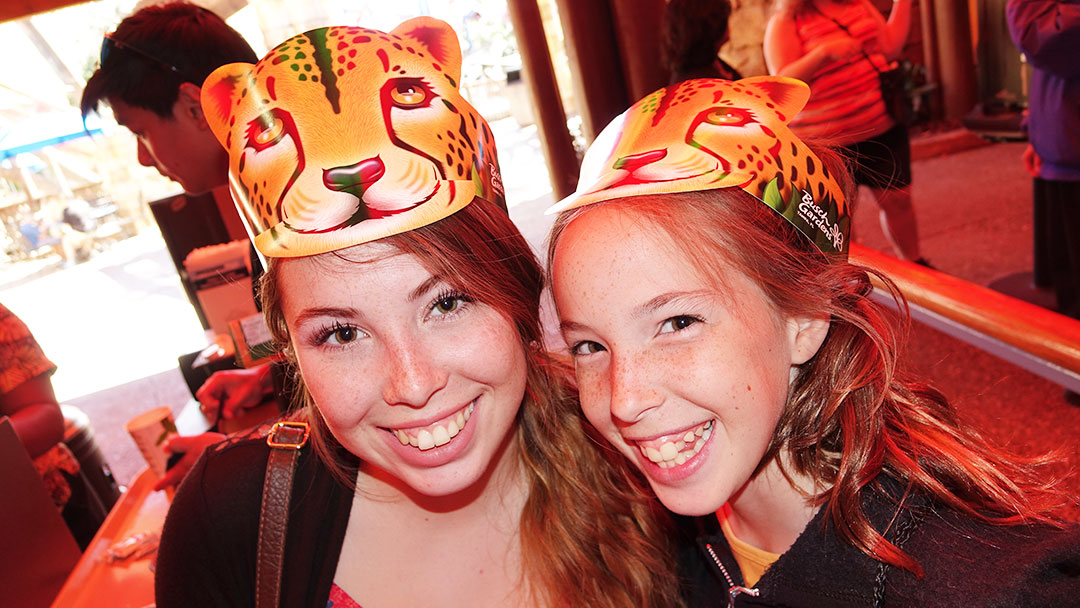 Water flume ride is simple, no real theming like you may be accustomed to at Disney parks, but still good fun, especially the gentle splash at the end.  I told my girls I should stand at the bottom of the ride and sell photos of their reactions.  $1 per transfer and I'll leave with nice pocket full of change.  Photo services are offered at some rides.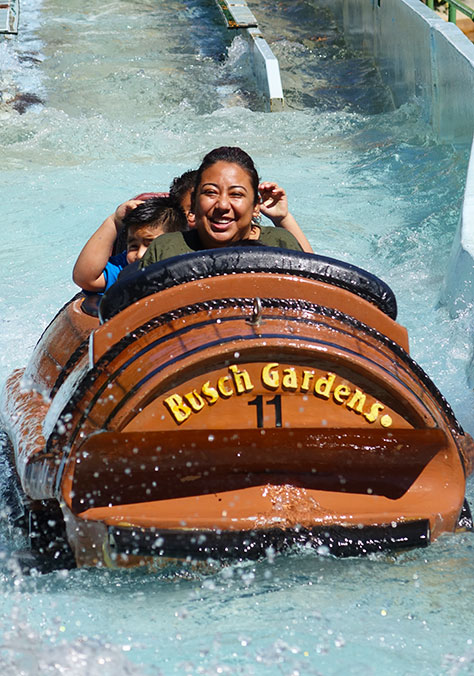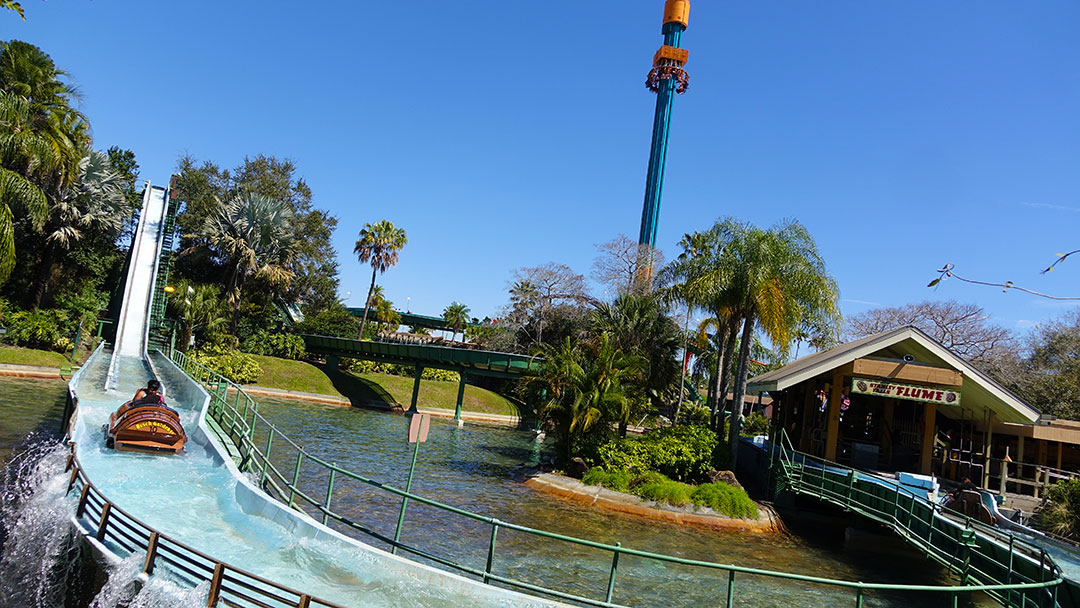 Riding the train at Busch Gardens is your opportunity to view many animals along the savannah.  It takes about 30 minutes to make the full circle and offers 3 stops.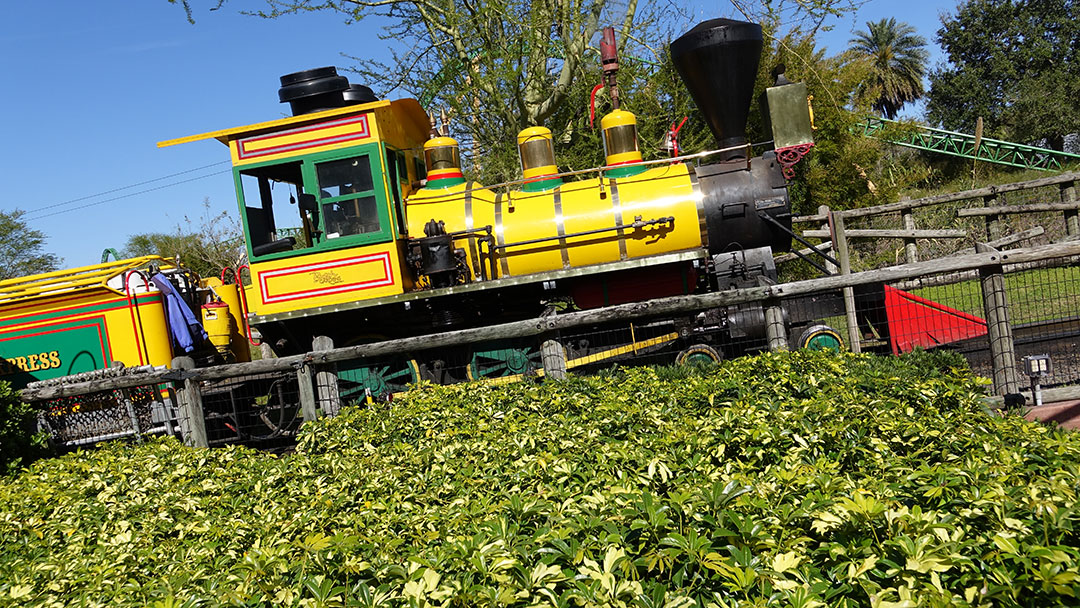 Black with racing stripes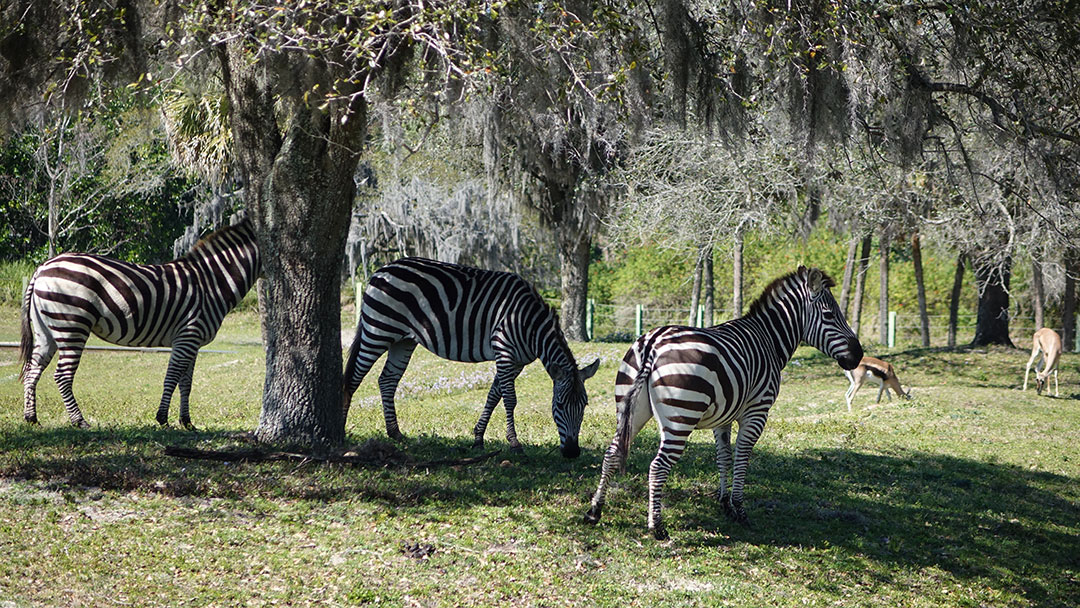 Where the deer and the antelope plaaaaayyyyeee!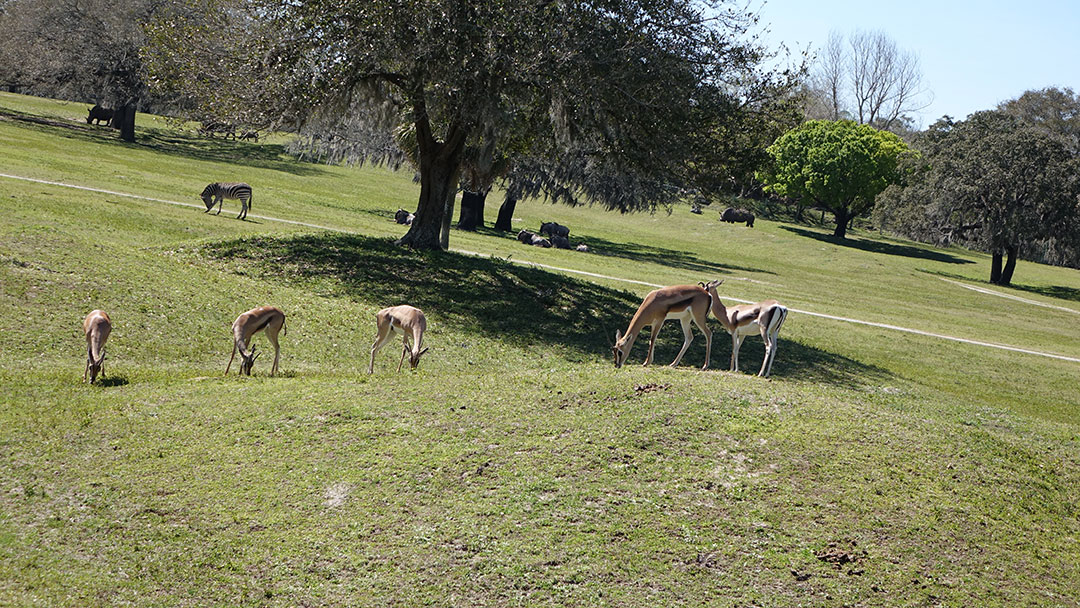 Roll tide!  Elephants are easily viewed along the walking path and the trainers were having them play ball when I arrived.  Alabama is traditionally a football school, but Coach Avery is training us to play basketball again.  We haven't been as good since Wimp was fired.  Coach em up!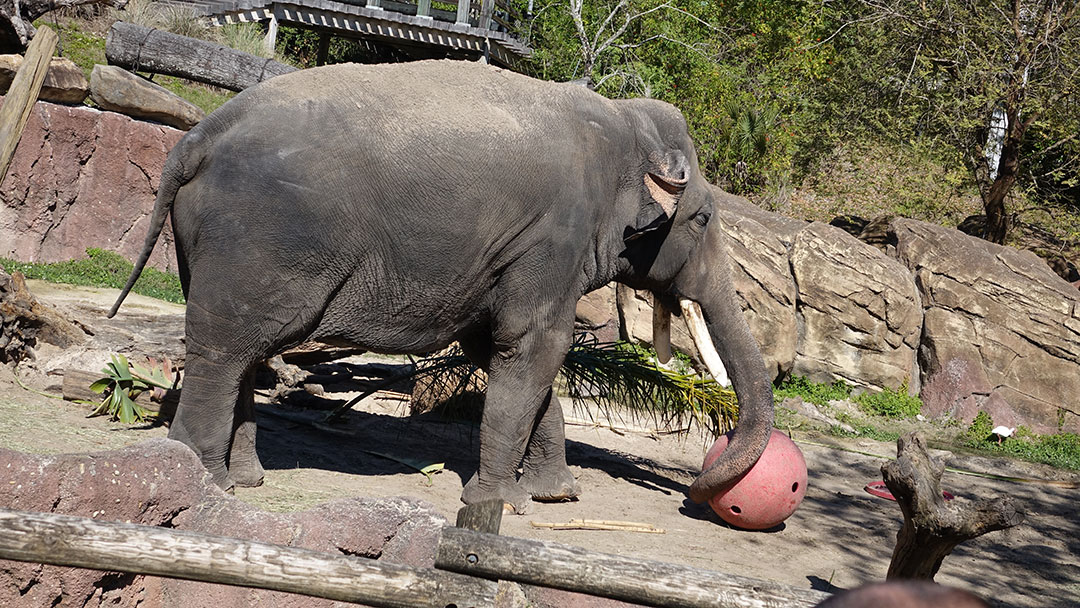 Penguins enjoyed following Debbie's hand as she waved back and forth.  Now she wants a penguin.  She can have her penguin when I get a dolphin in my backyard.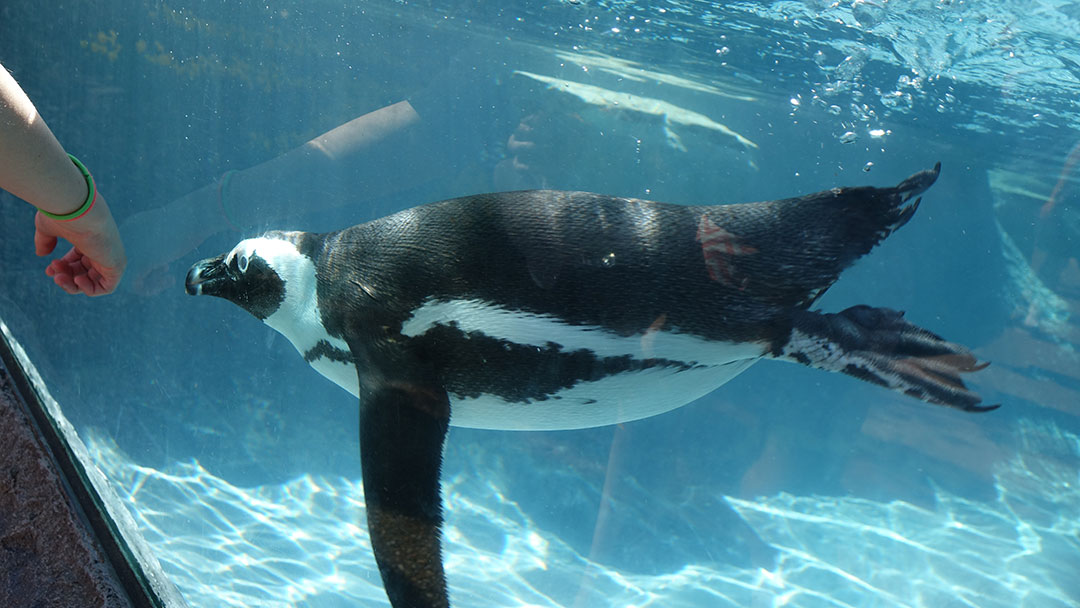 You can even feed kangaroos!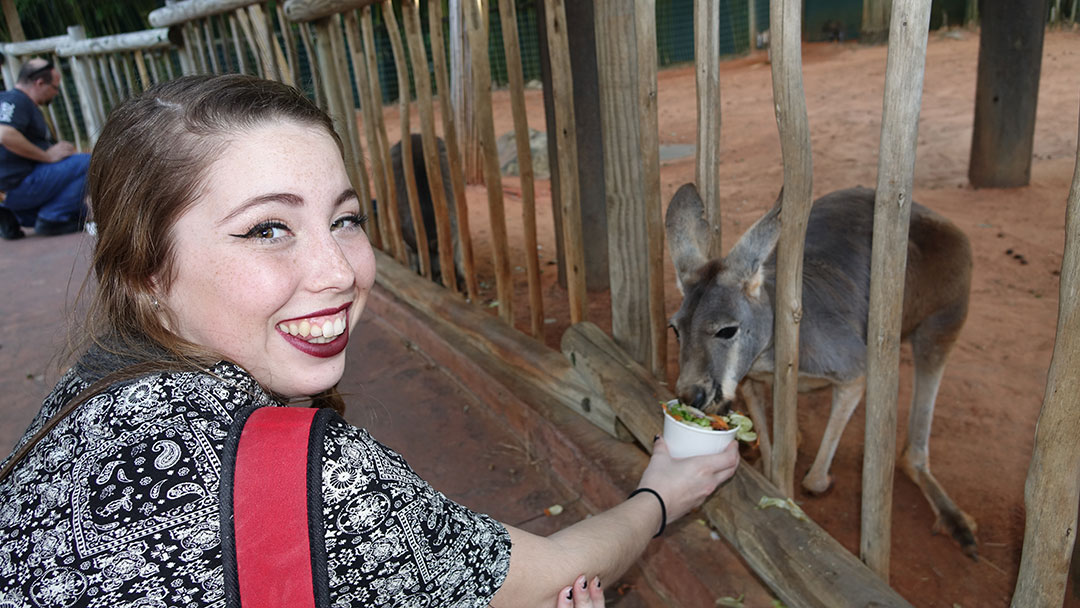 We tried to enter the new animal show in Pantopia.  We thought arriving 15 minutes early would be enough, but it was closed already.  We learned to arrive 30 minutes early.
Instead we attended Iceploration.  It's the story of a grandfather and grandson.  Granddad wants the kid to stop playing video games and explore, so he carries him all over the world to explore.  Hey, where's the granddad like this?  Oh, I guess I'll become that guy!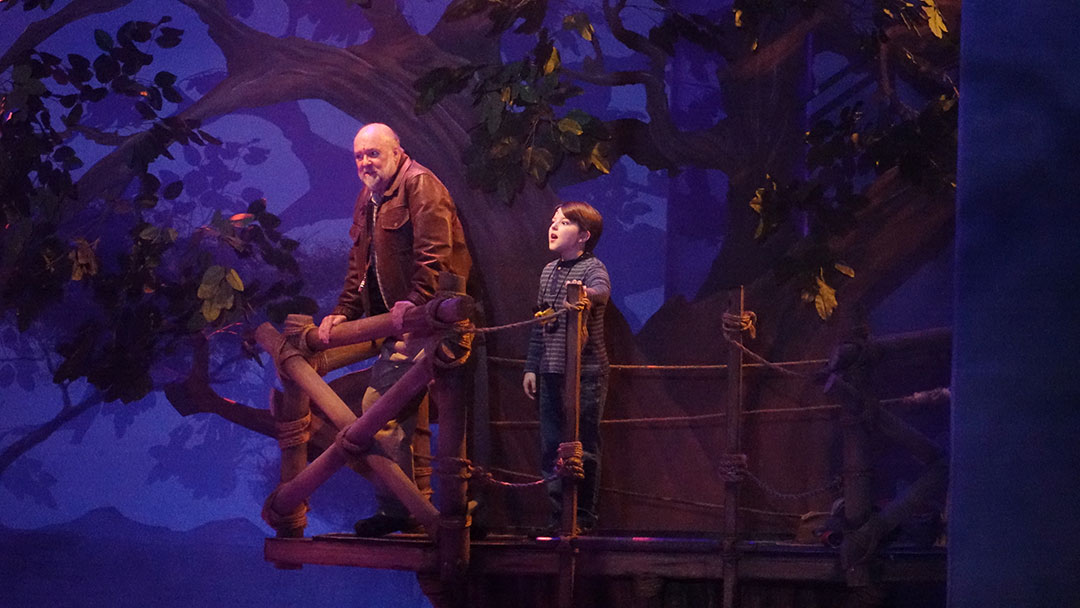 Iceploration is a display of grace and fluid movement. It uses ice skating to tell a series of explorer stories including the savannah, under the ocean and such.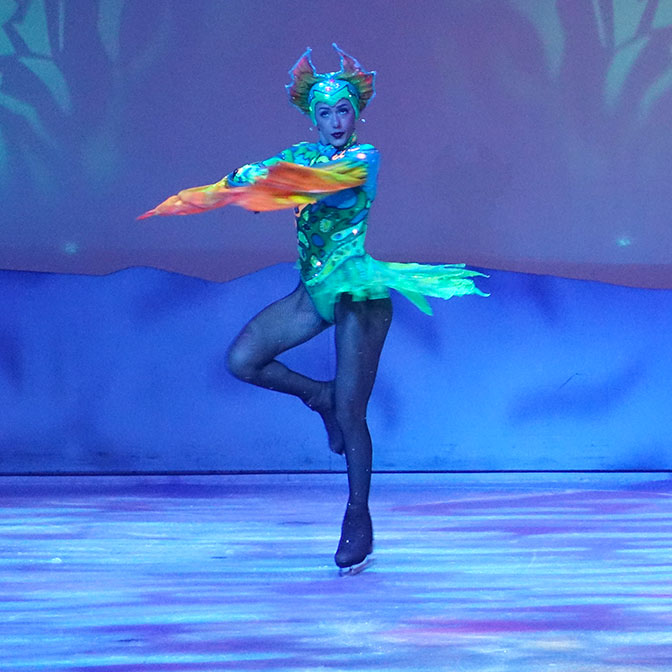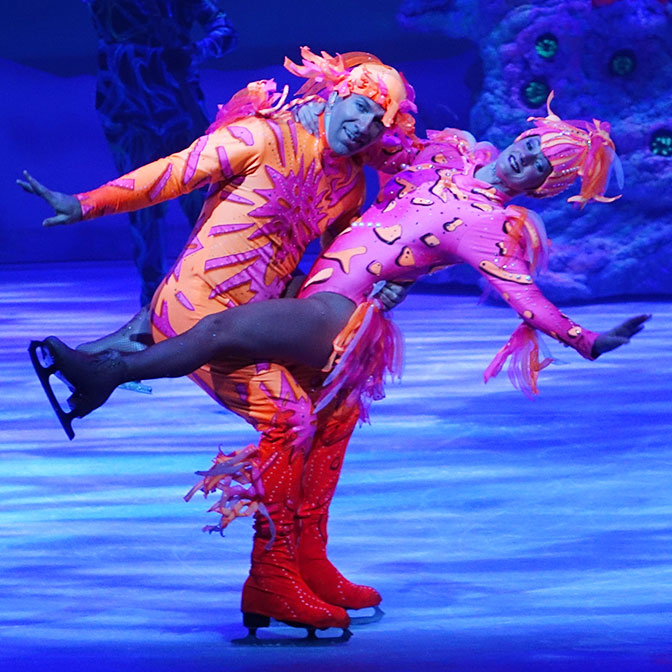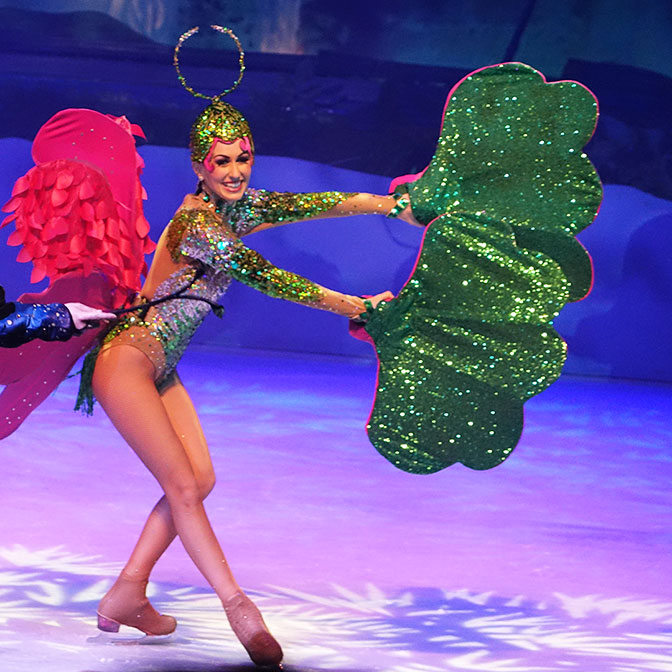 Iceploration even has some tumble monkeys!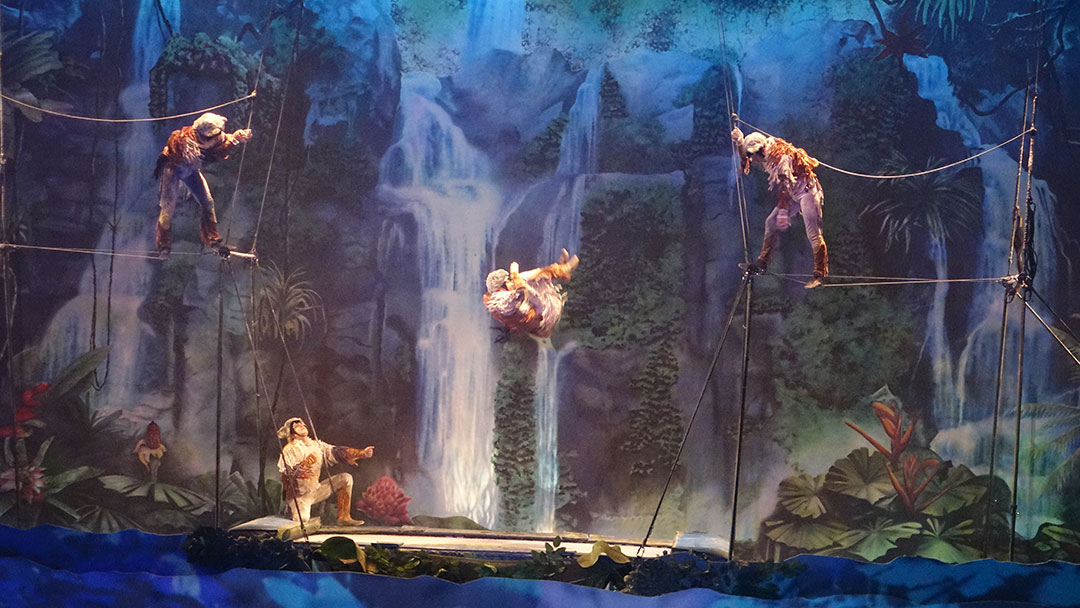 We then went to check out the food and topiary offerings for the Food & Wine Festival.  As you enter the area, you'll see this group of theme park bloggers ready to snap your photo.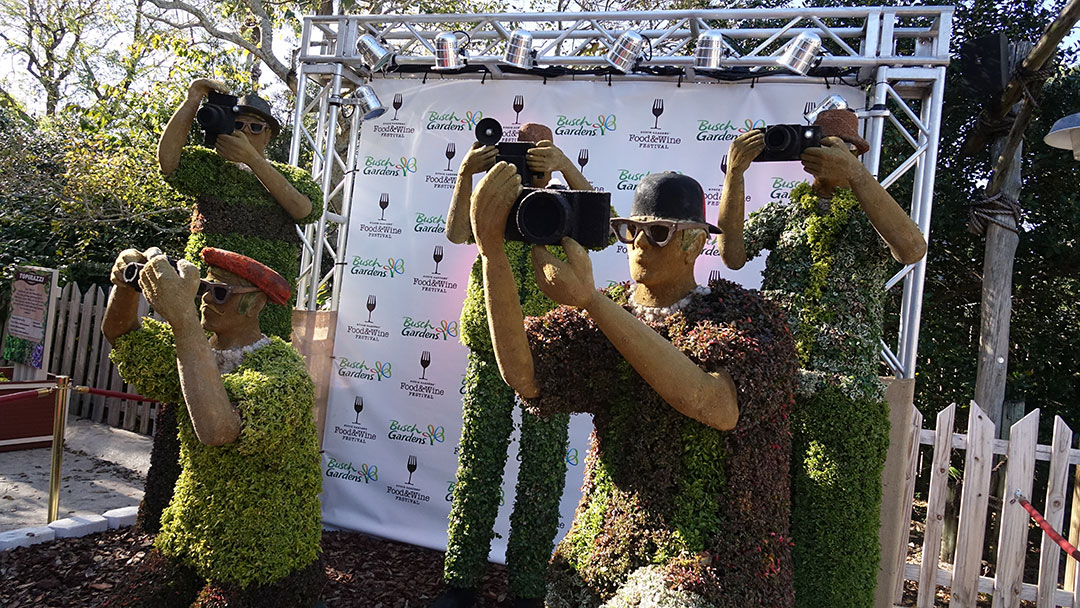 Hey Bonnie!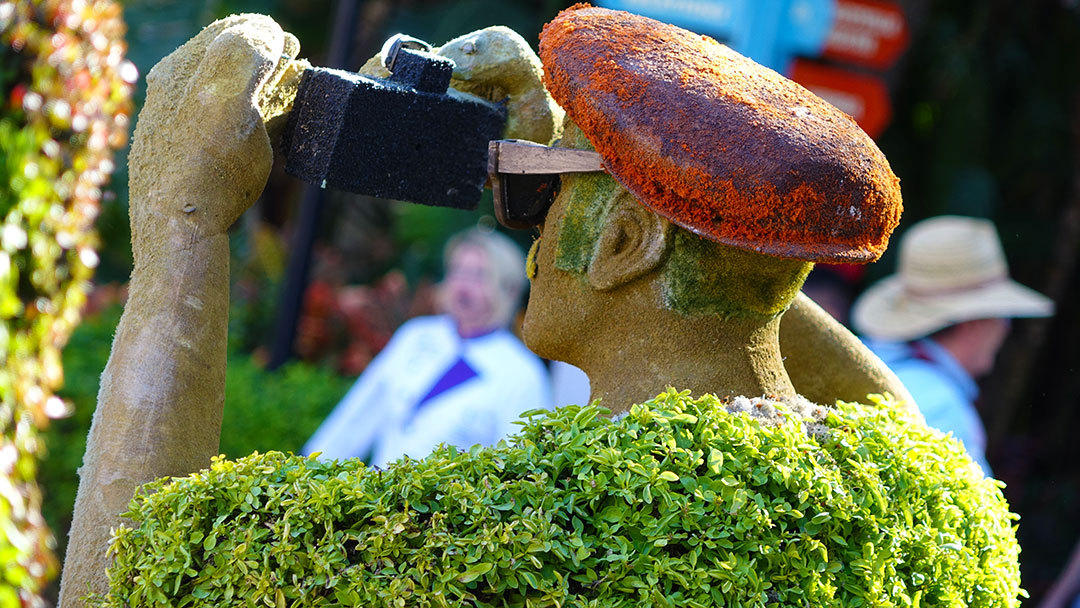 Acck!  It's a giant sssssnake.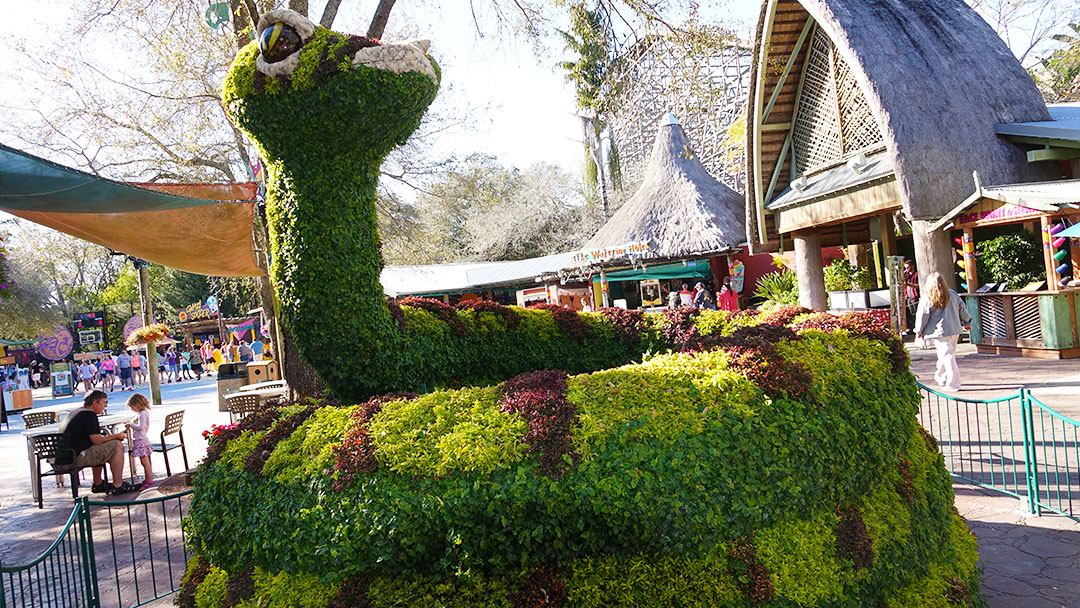 Nice stage!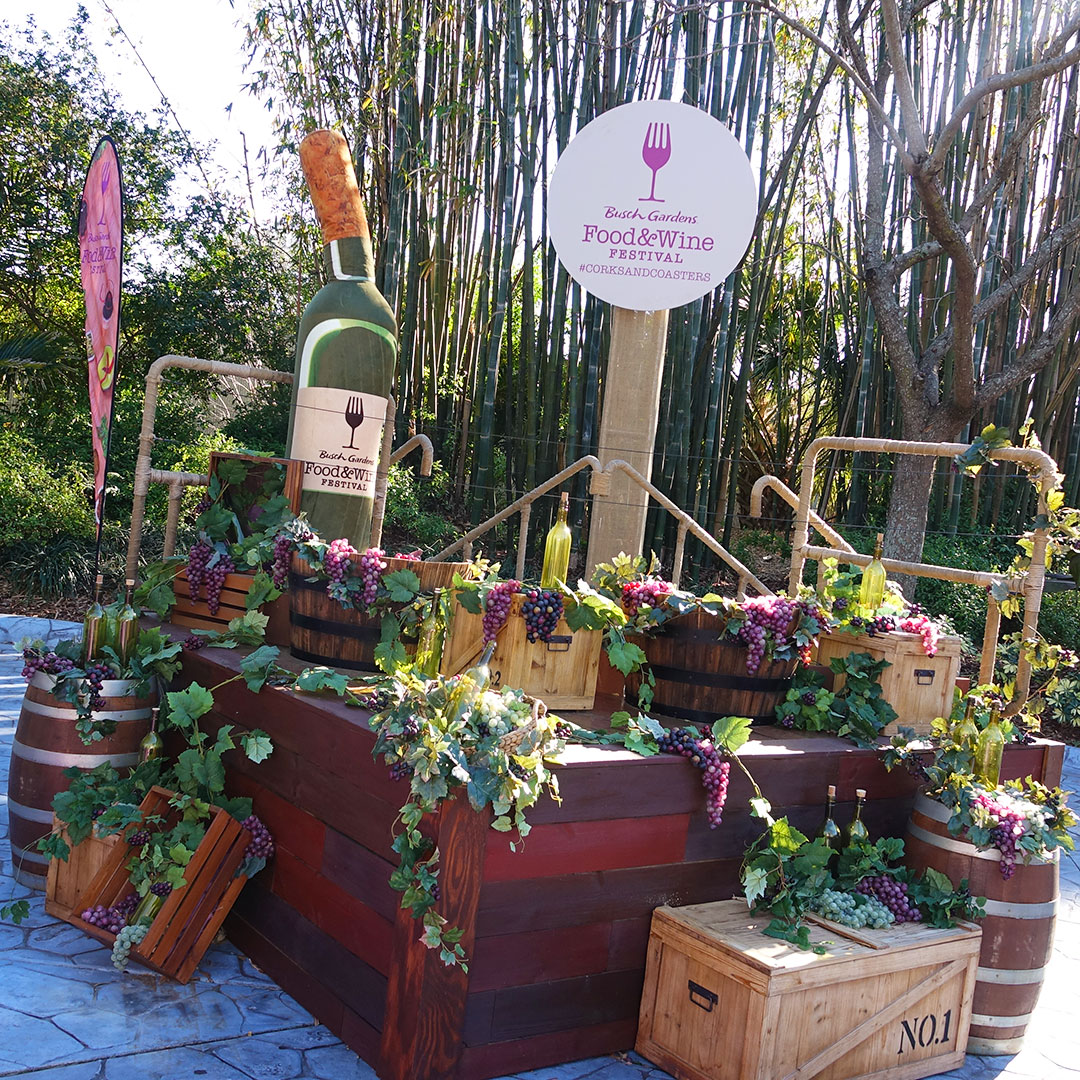 Amazing carvers hard at work.  Most of their work will only last a couple of days, so you see new things each weekend.  Ice carvers also come out after the concerts, but I didn't get any good photos.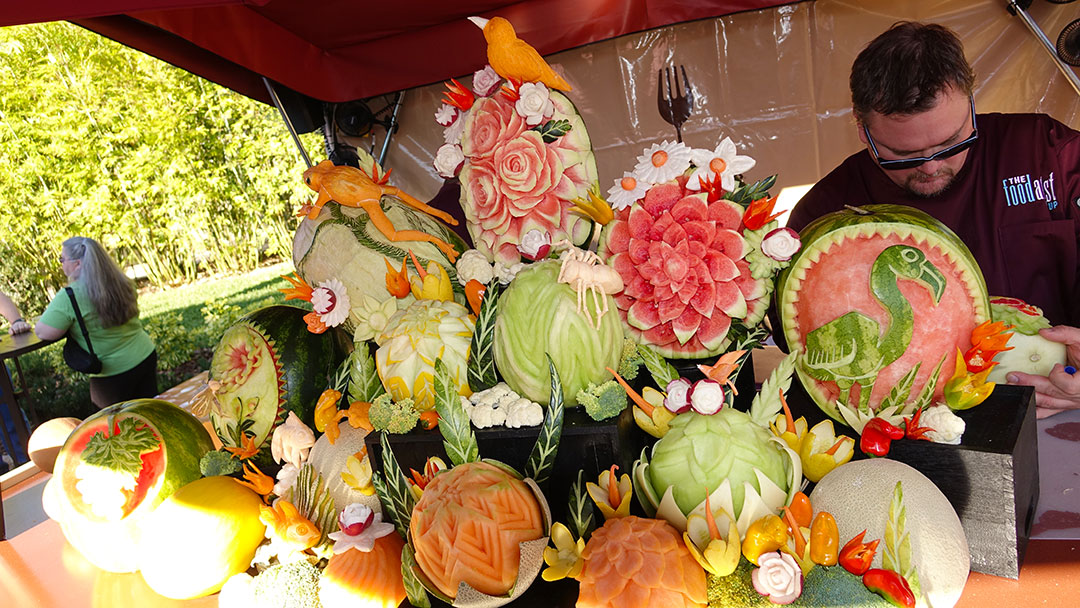 It's a cookie!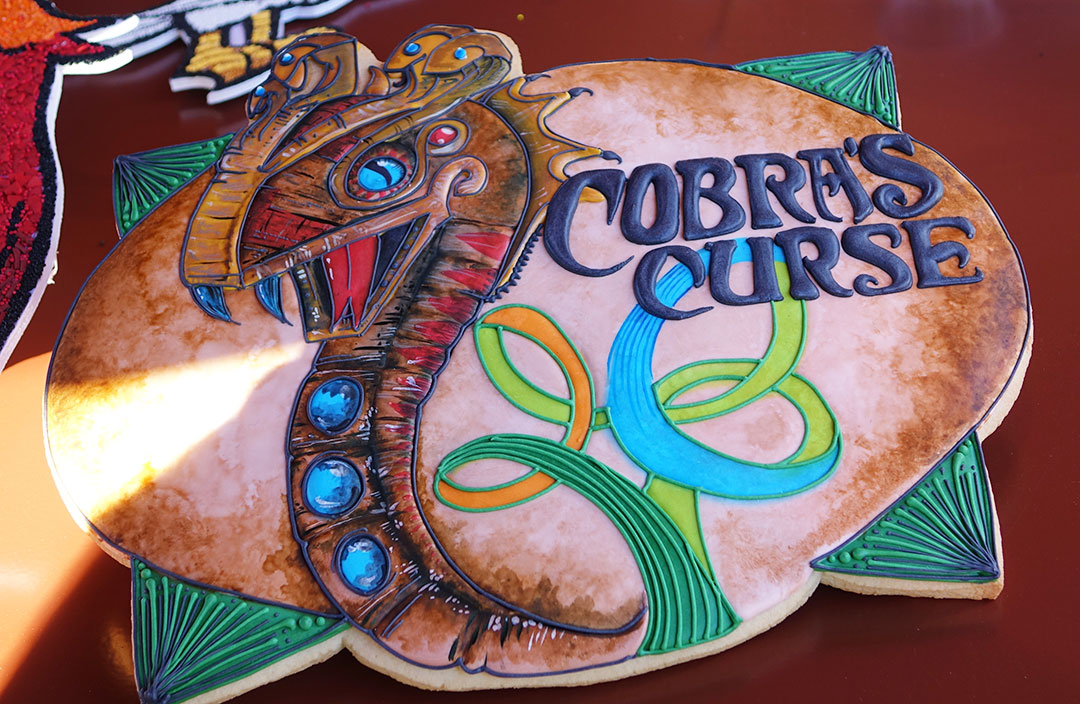 You've waited this long, so I'll show you some photos of some of the food available.  I'm not usually a lamb person, but this was incredibly tasty.
Macaroni and Bacon is to die for.  It's very Gouda.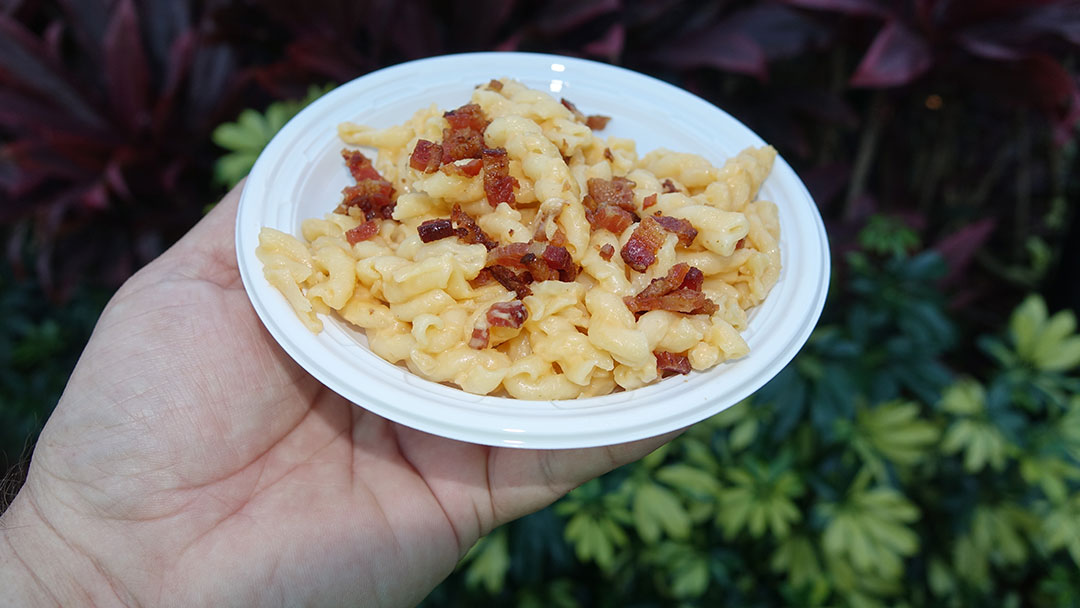 Duck fat infused french fries weren't to my taste, but others seemed to be enjoying them.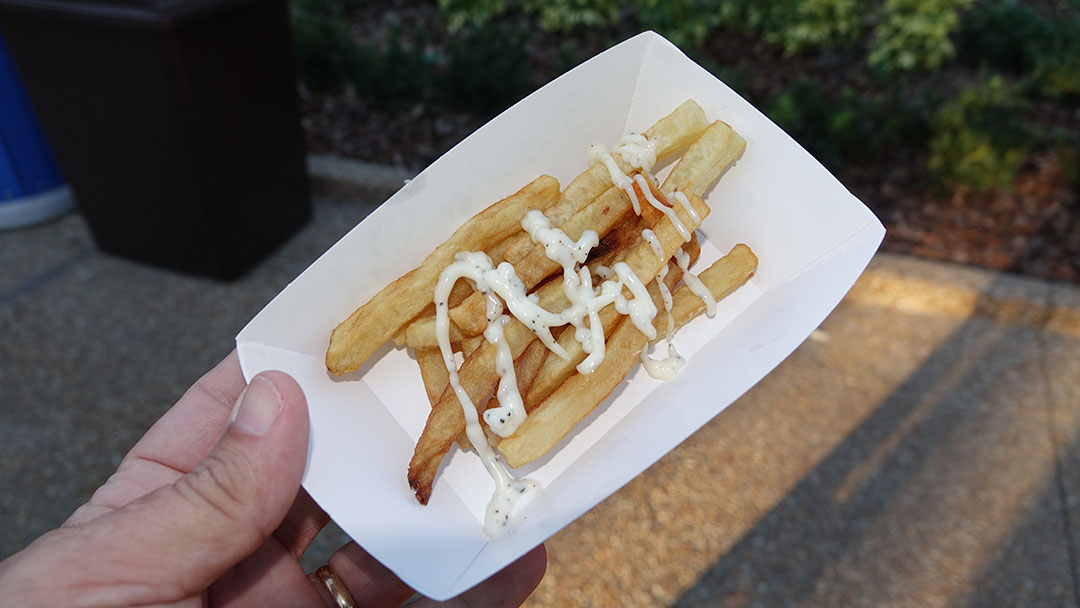 Bread pudding was terrific.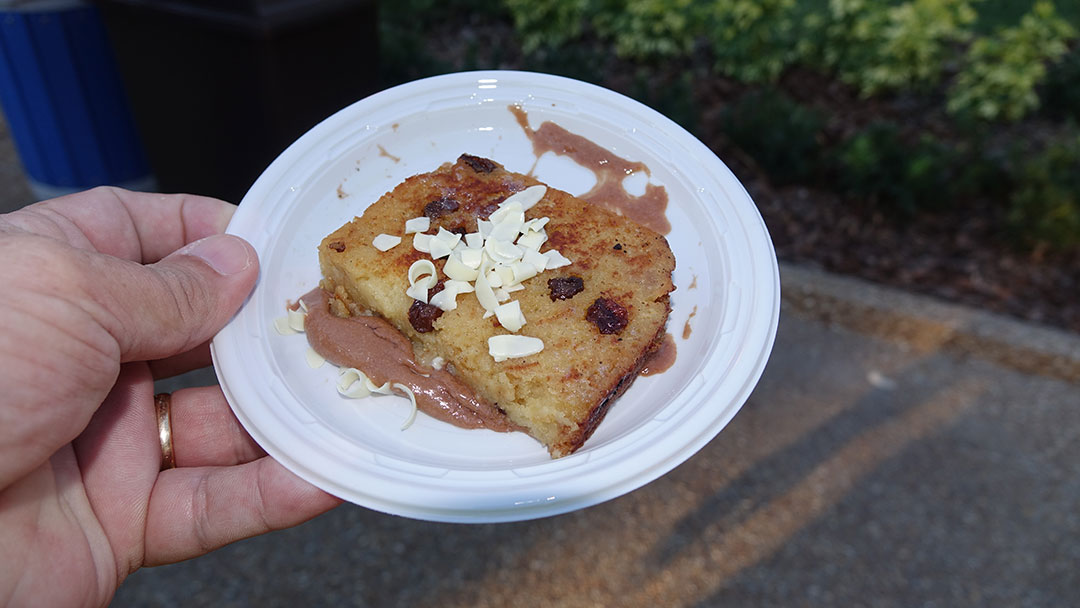 See what I did there?  :)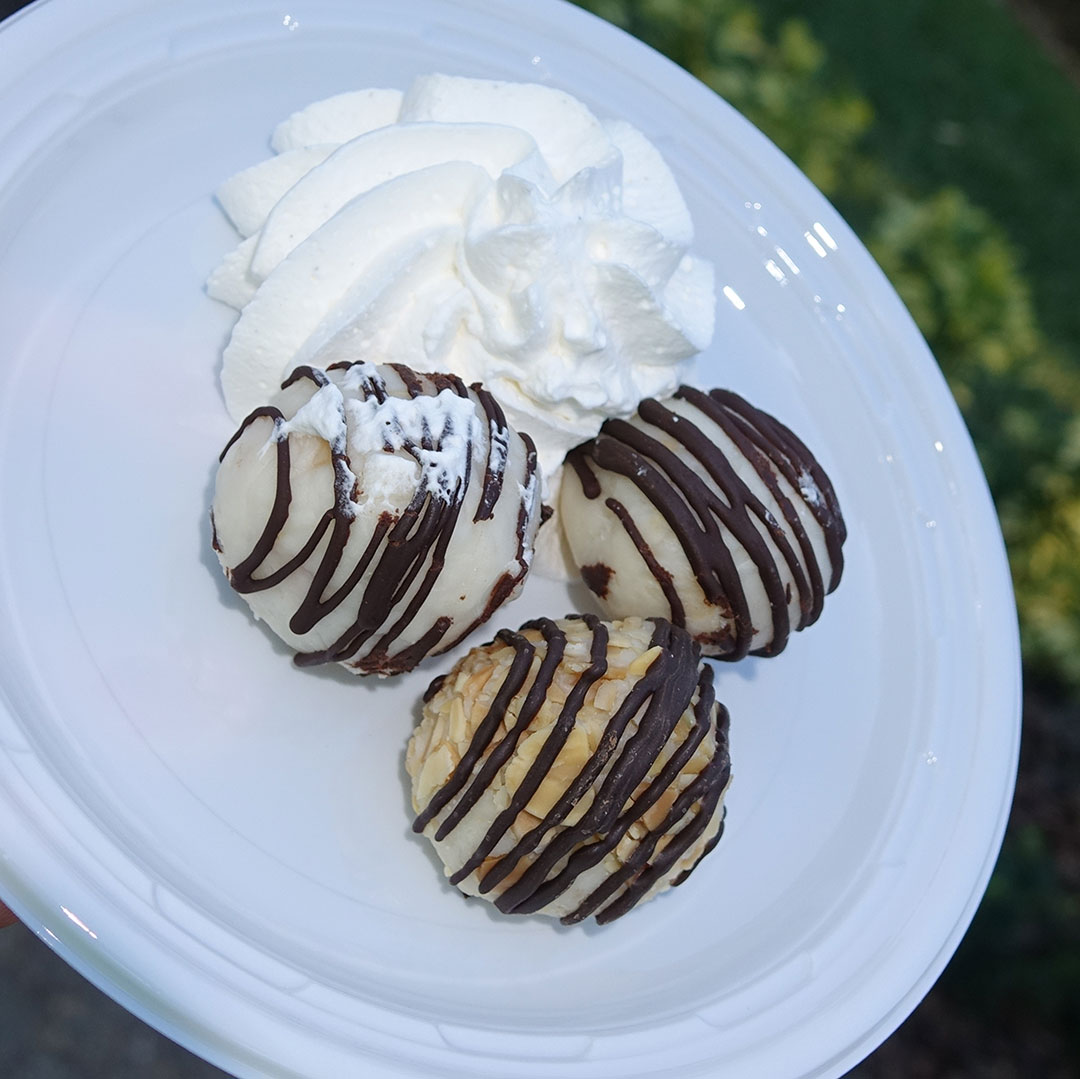 Refreshing ham and fruit plate.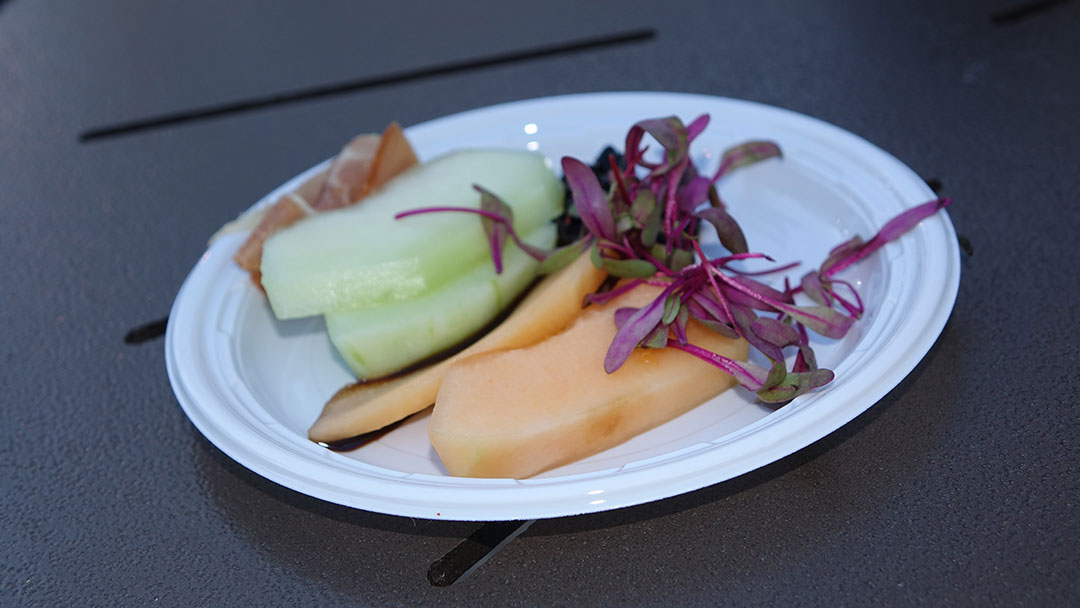 Shrimp and grits is a great dish.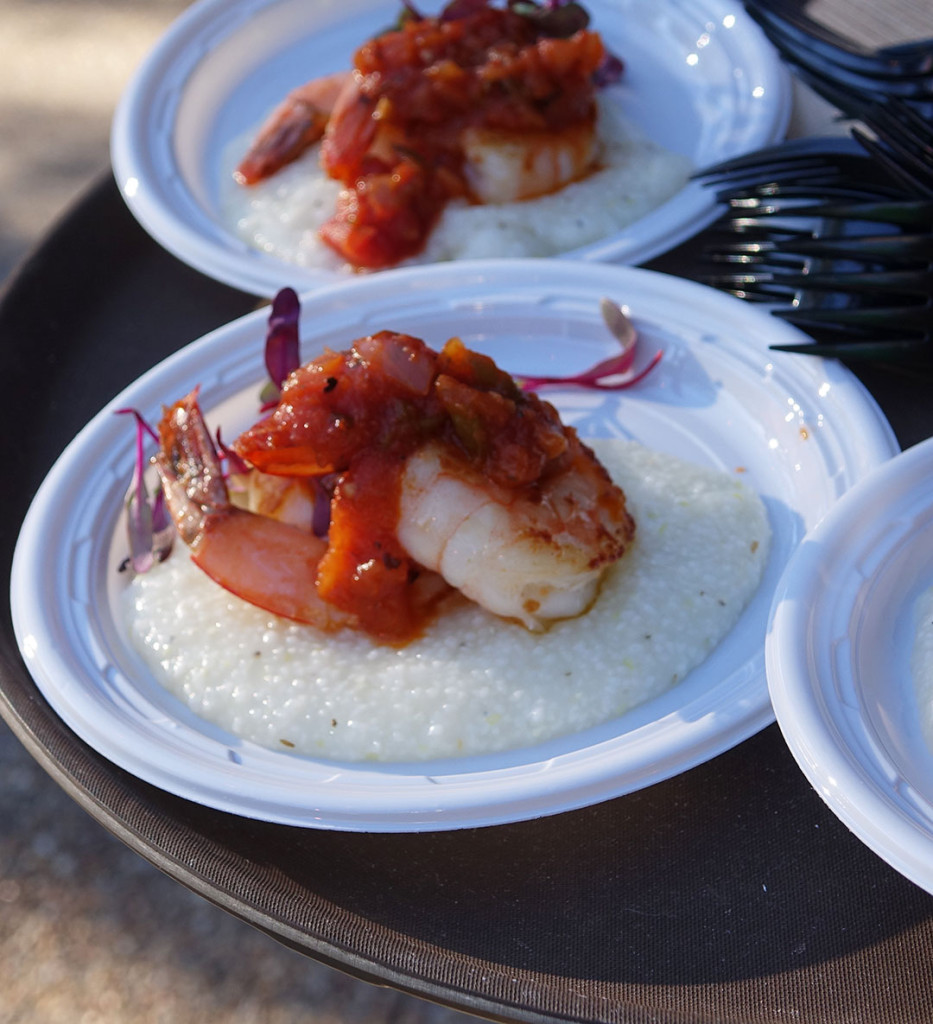 Over 100 different wines and beers are offered in the Festival and they even sell full bottles that you can pick up before leaving.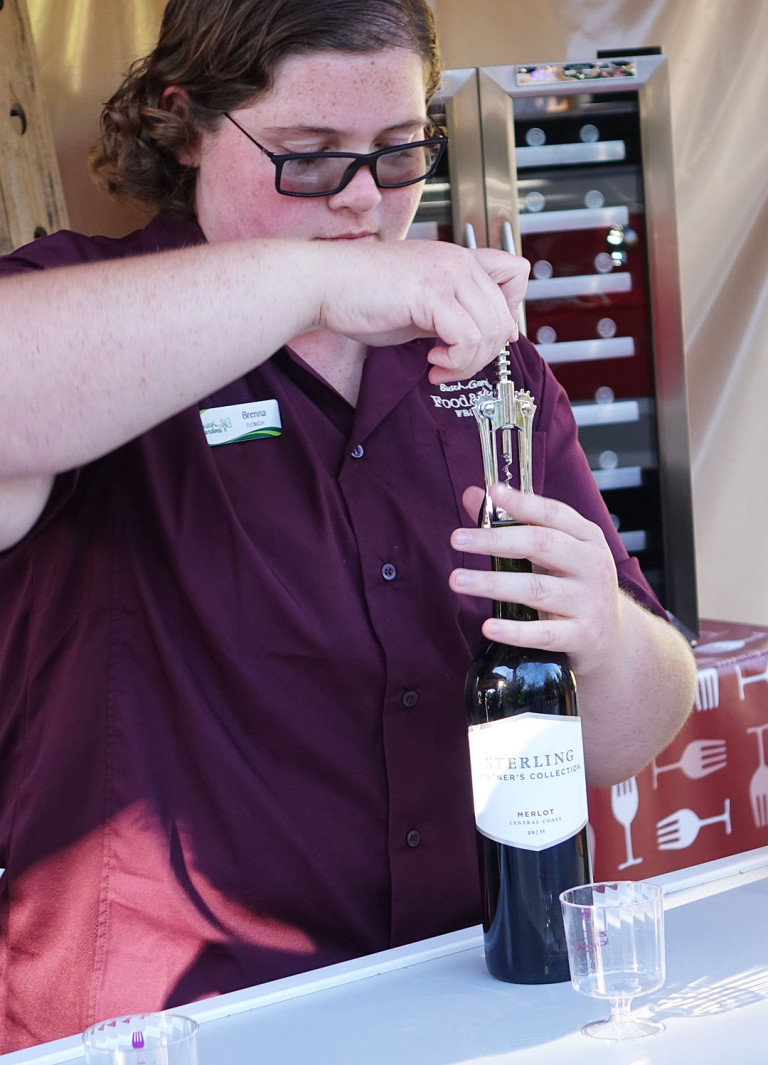 A Divine like character was out and about.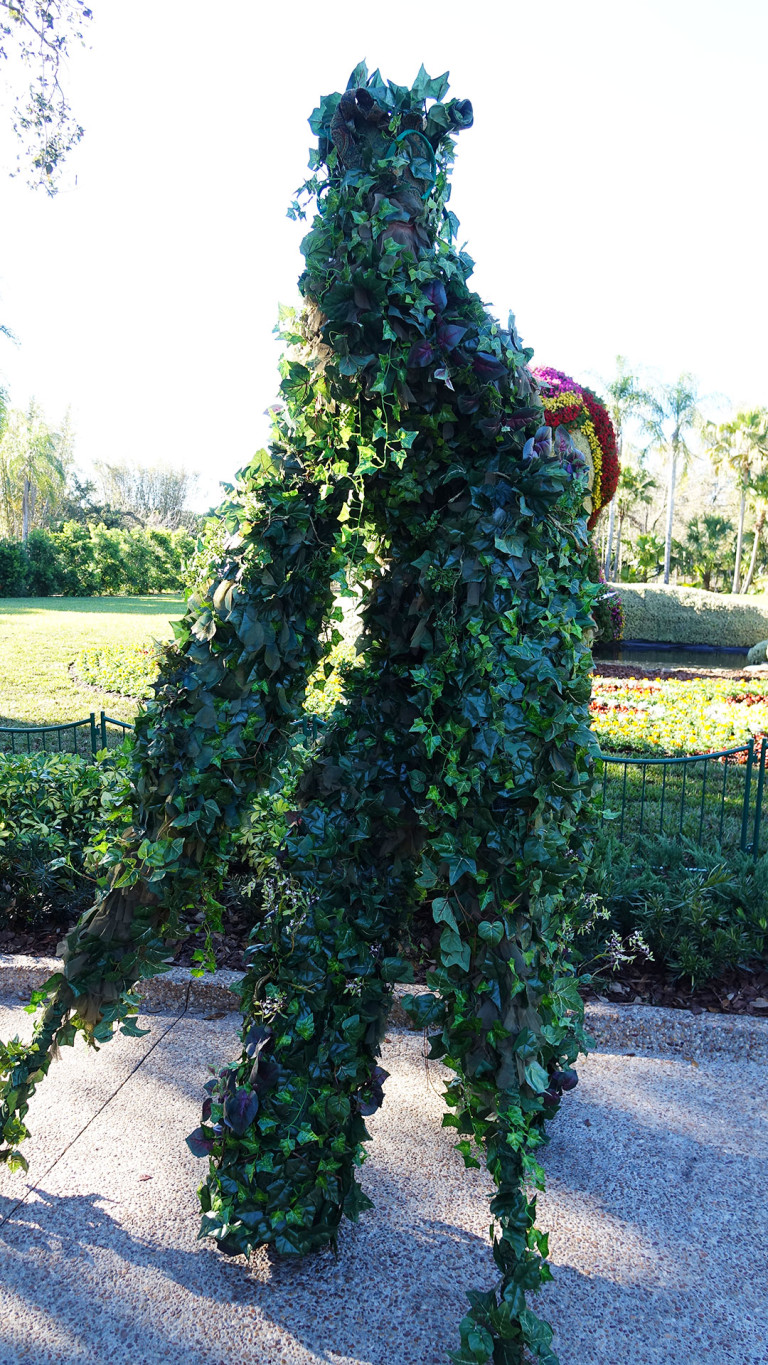 Sesame Street character topiaries.  We didn't have a chance to visit Sesame Street area today, but we'll return again.  I've seen the A is for Africa show previously and met several characters.  I was told that Madagascar characters still appear on weekends since their show has closed.  I couldn't find a schedule or location for them.  I guess the intrepid reporter needs to do some research.  I liked meeting King Julian and the gang after the show in the past.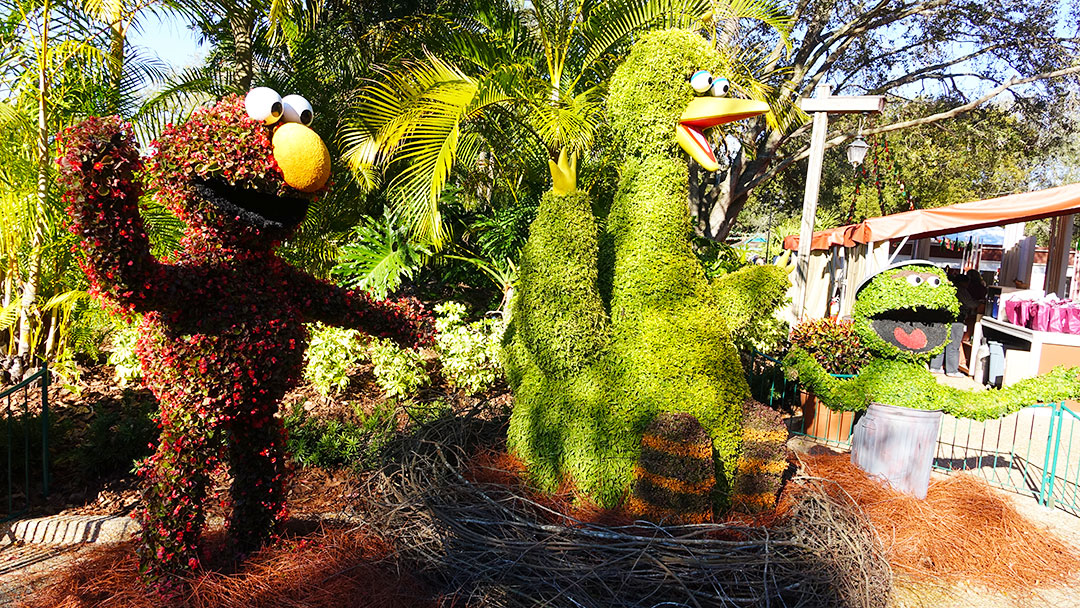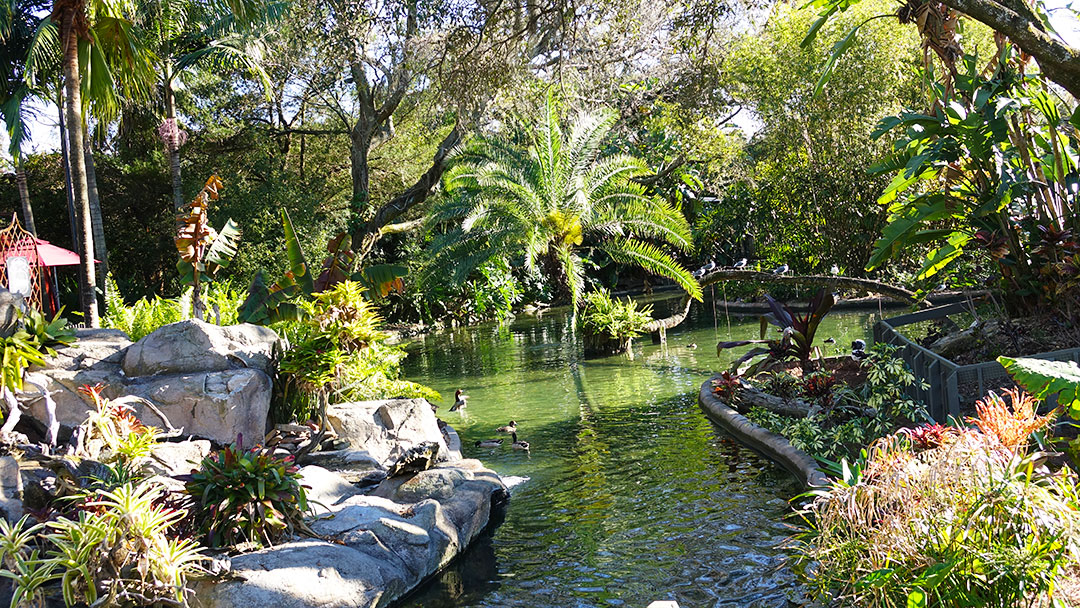 We visited on a Sunday when Huey Lewis and the News were going to be in concert and found all the food and drink booths were very popular, especially the ones that offered anything southern inspired.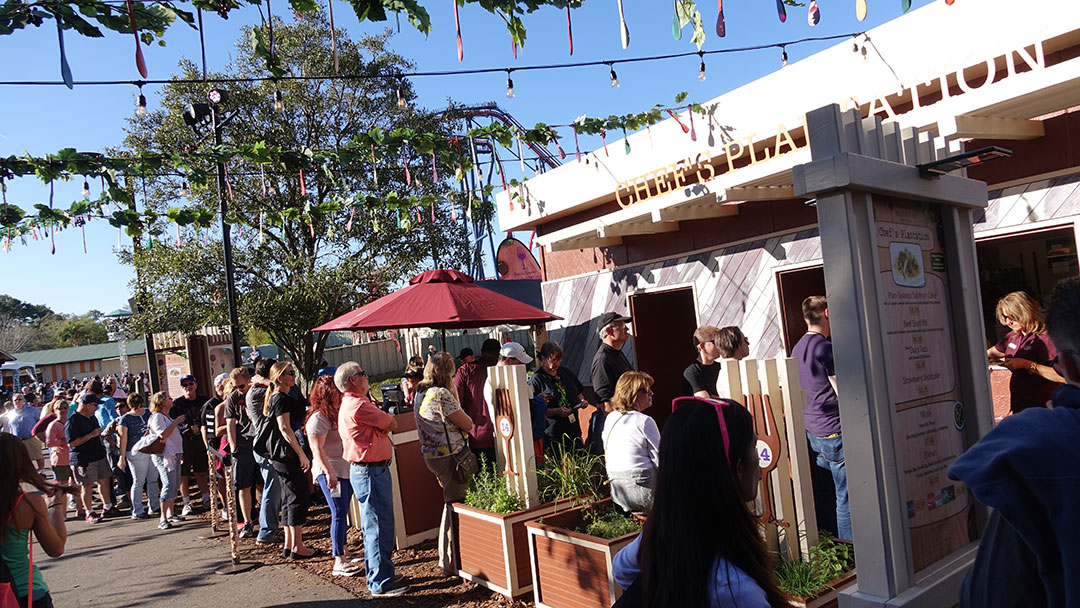 We arrived 1 hour and 15 minutes before the concert and the seats were filing fast.  We chose the far right side and had a decent view.  You can pay $34.95 per person and have a center section seat, if you so desire.  I found the right side better because the sun set behind a giant tree.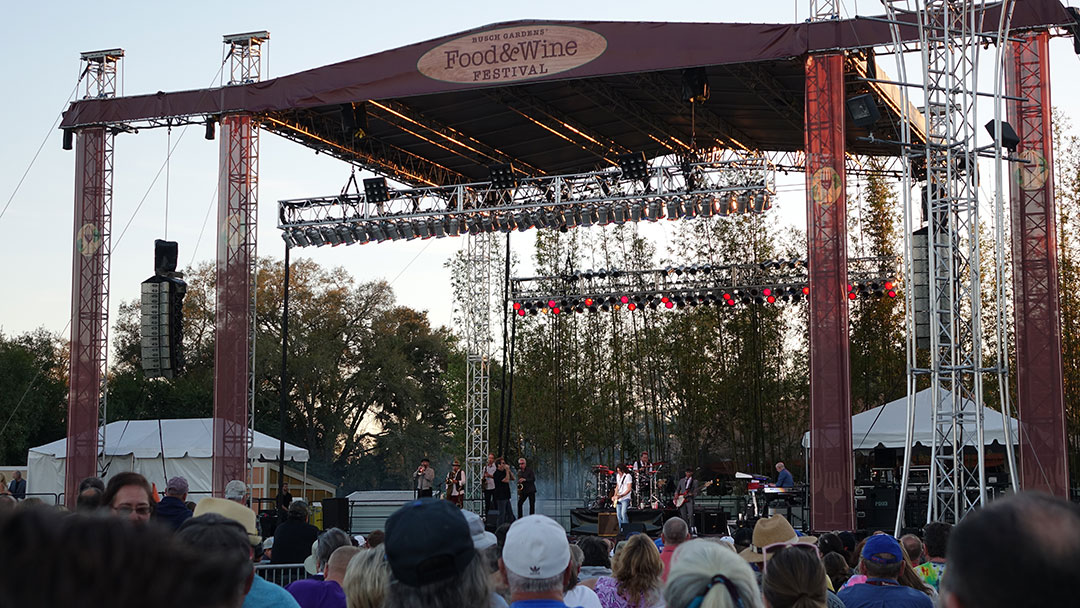 Huey Lewis and the News live.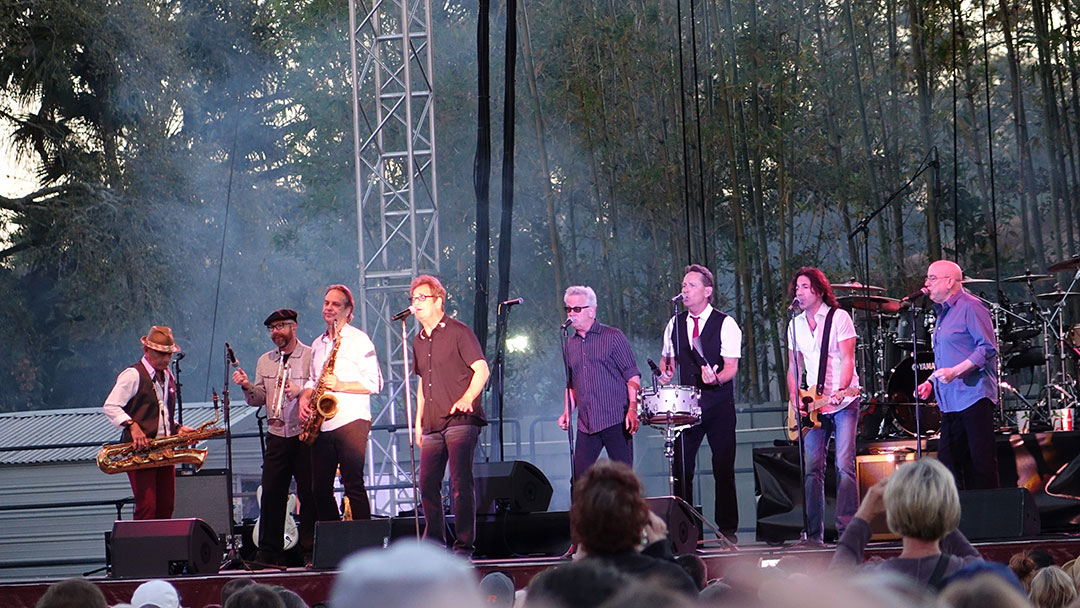 Still belting it out after all these years.  Great concert with all their classics and a few new songs thrown in.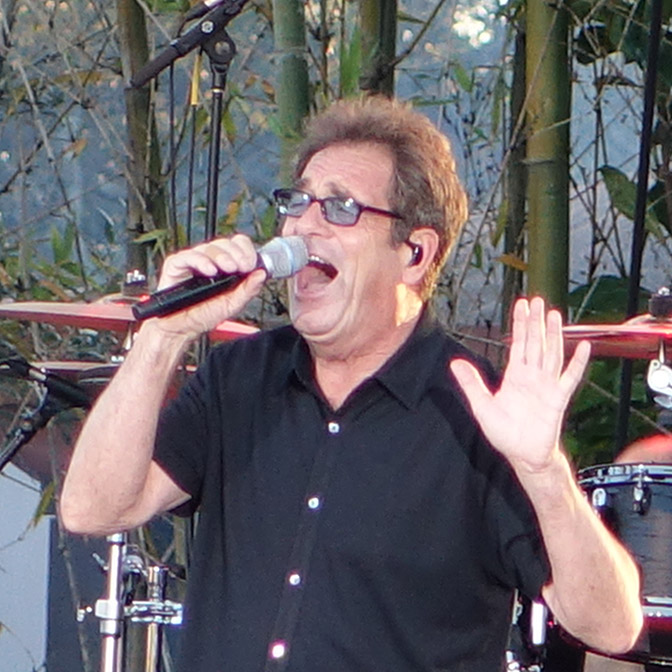 I'd recommend visiting Busch Gardens Food & Wine Festival (weekends through April) if you enjoy delicious food, love live music and enjoy thrill rides.  But Busch Gardens also has great animal encounters and many rides and experiences for little ones as well as great live shows.