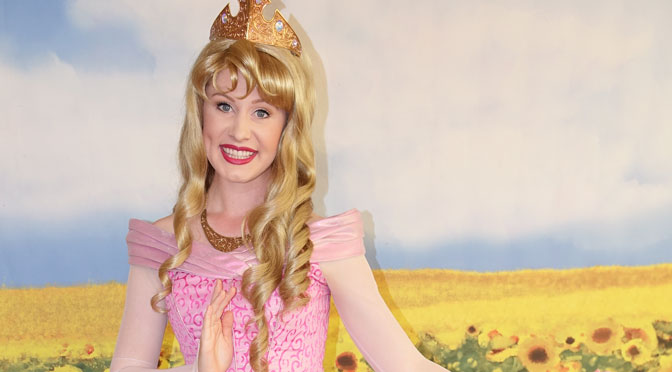 I visited the Magic Kingdom on February 23, 2016 and thought you might enjoy seeing some photos and videos from my afternoon that included Space Mountain with the lights on!
I know you want to see a photo and video of Space Mountain lights on, you'll have to hold on a bit.  I've got artsy photos and witty commentary to share first.  I began my day at the ttc and took some photos of Minnie and Mickey topiaries.  Many people don't notice them facing the monorail.  Oh by the way, all the photos are linked to my Flickr account for full unedited quality.
Mickey Floral is bright and colorful against the dreary sky that would bring some showers later on.  Choo choo.  Lots of people love riding the train.
Marie and Pluto were in their regular flag pole positions with their regular 30 minute lines.  Fortunately it was in the low 70's instead of June-September scorching heat that most endure.  Minnie is in Marie's spot early mornings!
Dapper Dans were vocalizing for the guests near the Fire Station. Someone asked me if you continue where you left off on the Sorcerers of the Magic Kingdom game, even months later.  I haven't played since May and my game is still saved in Frontierland.  Wanna join for a round?
Most guests clamor for the photo with Walt and Mickey, but walk right past Roy and Minnie.  Roy would have been okay with that.  He was the guy who helped make Walt's crazy ideas reality and didn't mind not being in the spotlight.  He's kind of like my brother Bootstrapbob.  He does all the awesome programming for Character Locator.
Citizens of Main Street were out including Mayor Weaver, Chief Smokey, Victoria trumpetto and a couple other ladies.  Someone asked if I know which days each appears, but I'm not sure about that.  I guess I need to visit every day for a few weeks and figure that out.
Let your cricket be your guide!  Your conscience might lead you to Epcot instead.
Fire truck?  What's the fire truck doing out at noon?  It's rarely out for rides in Disney World.  One thing I love about Disneyland is how all the vehicles run until like 2pm everyday.  I've been told WDW doesn't do it because of the crowds.  Yeh, Disneyland is empty everyday too.
So, the fire truck was out because the trolley wasn't running, so it's the Main Street Firetruck show today.
If you haven't seen the trolley show, you should.  Music will get stuck in your ear like that bug did for that lady on Survivor recently, but you won't bleed.
Hungry!  I'm hungry!  I decided to drop into the tavern, but it was closed.  I guess Disney World saw on my Crowd Calendar that it was a low crowd week.
I opted for Pecos Bill's instead around the corner.  A whopping 5 items to choose from these days.  I considered the fajitas or the Southwest Salad. 
Cheese doesn't come on these things???
Oh shredded cheese to your hearts delight!  Fixins bar has the roasted corn, guacamole, pico, jalapenos, cheese, sour cream.
You can also get salsa.
Final stage has onions, limes, lemons and more sour cream.  You could almost bring a bowl and make a salad.   Don't, please don't, I was just kidding.  Don't make yourself look impoverished on your $5000 vacation.
I chose the taco salad.  It was surprisingly good for a theme park salad.  I don't smother it in a lot of stuff, but added some cheese and corn.  Note to self, free water comes in a small cup!  Order more cups next time.  On the health side, I'm still slowly losing weight.  Walking these theme parks and taking photos burns some calories, but most of it gets burned trying to find ways to start sentences without a capital t.
Dale returned one direction and Chip from another.  Dale was holding the rope for Chip, then decided it would make a good jumprope, but Chip wasn't very athletic.  Chip n Dale are always good for a laugh.
My major reason for this afternoon jaunt was to spend a few minutes with an old friend.  Gordon won as a Haunted Mansion butler when I won the pirate Disney Dream Job.  He's a great guy and it's always fun catching up with him and his lovely and kind wife.  Dream Job 2007 really made an impact on many lives including mine.  John Addis did a terrific job organizing our experiences.
Looks like she is about to break into a chorus of Oklahoma
Haunted Mansion paused for a moment here, so here's a photo.
Crane is still up behind the castle.  It's there to intentionally ruin your vacation photos. 
Okay, fine, it's there because they are painting more Castle turets.  Kid said, "look they are painting them silver."  Mom, "Oh must be another dumb celebration."  Nope, it's a primer!
It began to rain, so I took a spin on the Peoplemover.  I had noticed that Space Mountain was down and knew it would give me that thrill of lights on Space Mountain.  (Building anticipation).  Here's Walt's vision for Epcot.  Instead we got a World's Fair that isn't kept updated and Innoventions that is 2 character meets plus a few video games.
Usually dark in here.
Here ya go.  Hulking metal structure.  You can see how small the drops actually are.  Did you know it travels about the same speed as Primeval Whirl?
Mad tea party was closed for refurbishment.
Because guests can't tell it's closed by surrounding it in a themed shroud…

Hmmm, what's this line?  At first I thought it was the line for 7D mine train FP+, but it wasn't.
Suzy and Perla have been out a lot lately in place of Fairy Godmother.  Internet rumors are funny, because people are saying Fairy Godmother is removed.  Nope, you sometimes see here and sometimes not.
Speaking of interweb.  One post on my website created an internet furor.  My site saw tons of views on that one page where I reported that Lady tremaine was leaving.  I wouldn't have that info if it weren't for people behind the scenes who wished to remain anonymous.
Marie the cat was out a little later than normal due to the rain shower.  She was in front of the Emporium as people filled the Fastpass+ area in flag pole area.

Another funny internet rumor said Princess Aurora would only be available for character meals.  Nope, she is currently not in Epcot, but still meets in same place in Magic Kingdom daily.
Well, that was my day in the Magic Kingdom.  I hope you enjoyed the fun and photos.